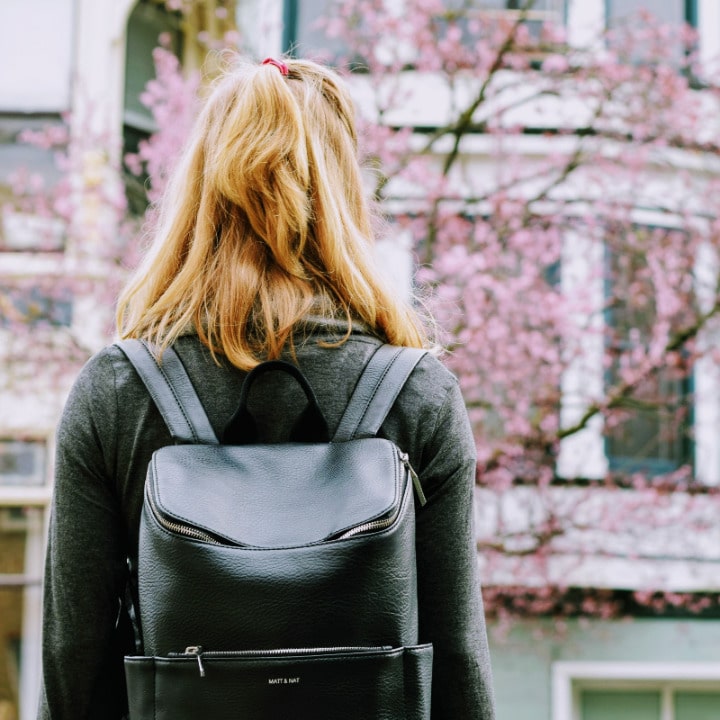 When we travel, we pack essentials. But where do we put them all?! The travel bag or backpack is highly underrated. These items can save you time, space, and money if you do some research.
We've compiled a list of the best carry-on travel backpacks for women that save space, look good, and don't break the bank.
Here are the 14 best carry-on travel backpacks for the ladies!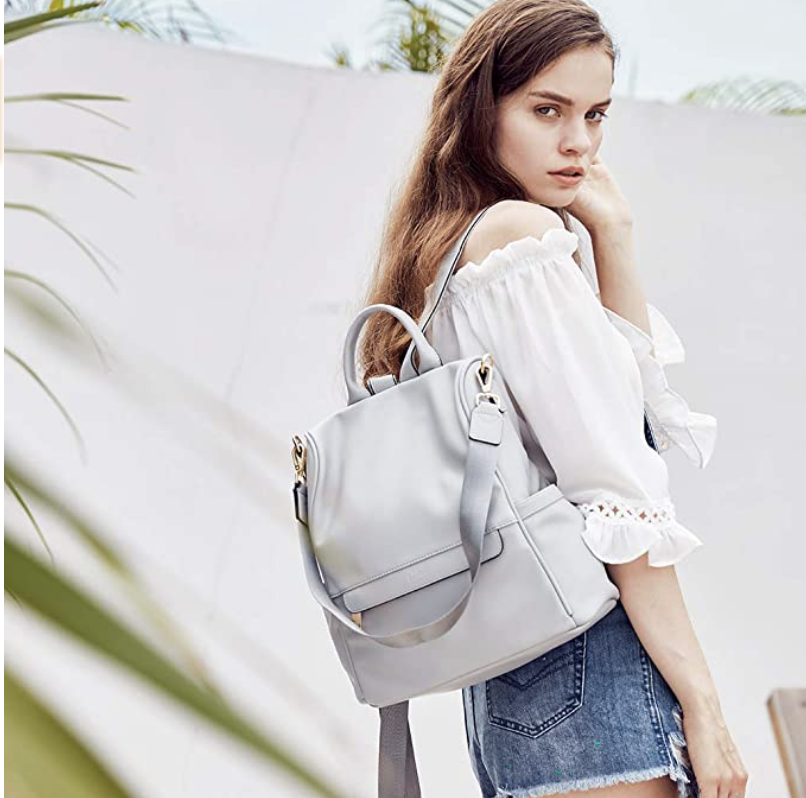 The Women's Stylish 2 in 1 Anti-Theft Travel Bag is a large capacity backpack with several pockets, a rugged build, and an anti-theft design.
With the main compartment's access in the back of the bag, it makes it almost impossible for anyone else to access what's inside while you're wearing it.
Made of PU leather, it's durable and long-lasting too. You'll love how easy it is to use this backpack, carry it, store it, and feel safe while using it too!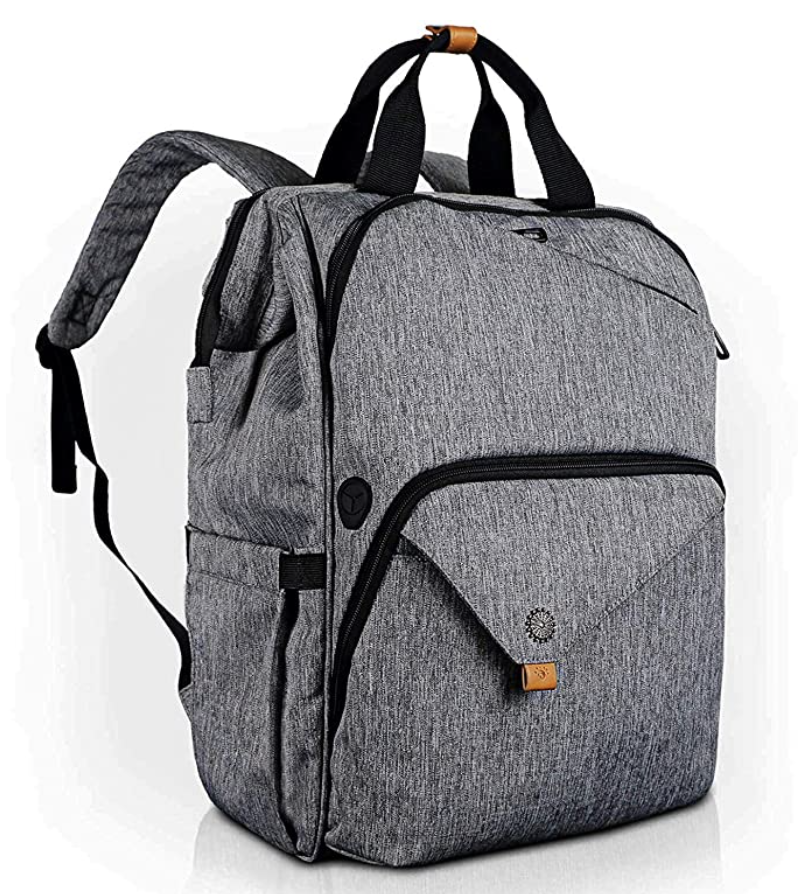 Whether you're traveling domestic or international, we love the look of this sleek gray backpack. Made with strong water-resistant fabric, this pack is comfortable, durable, and will keep your items dry.
The laptop sleeve is the perfect size, protecting up to a 15.6-inch device, wrapped snugly so it doesn't bounce around.
The straps are breathable and adjustable so you won't hurt your back and shoulders. This spacious backpack offers room for a few days worth of clothes and outside pockets for small items that you need to grab quickly.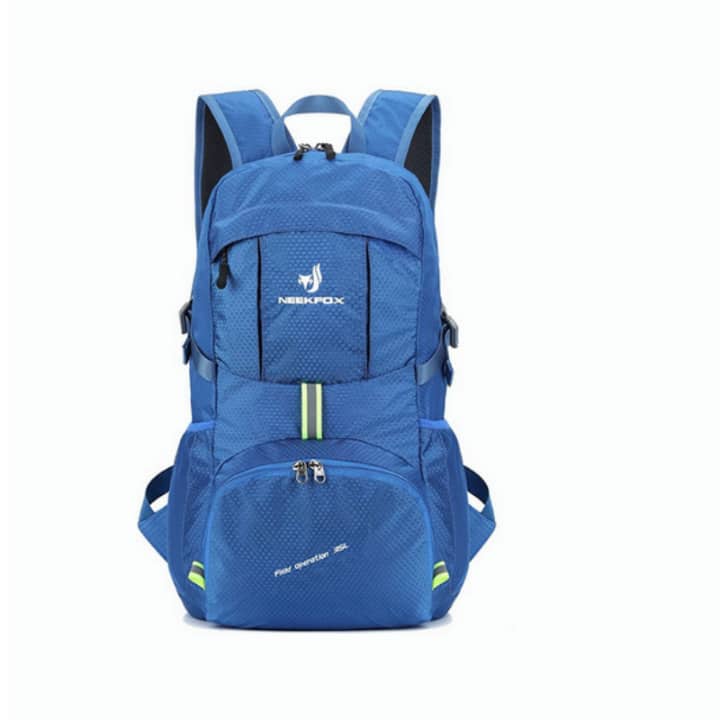 The Neekfox Daypack is a 35L hiking and camping backpack that can be used for an array of activities.
Are you an adventure junkie? Do you love being outside? This is the backpack for you. It's built with strong straps to distribute the stress on your back evenly, it's water-resistant, and it features a chest strap with a durable whistle buckle.
It's light, spacious, and can be folded up and tucked away for any adventure.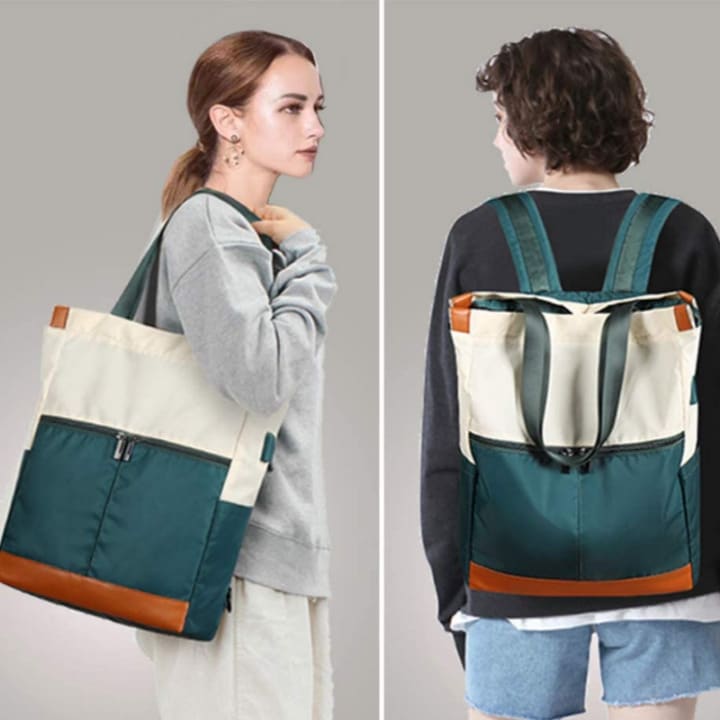 The COOLCY Convertible Travel Backpack sits high on our list for several reasons. We love the high quality waterproof scratch-resistant nylon and leather material, the convenient USB charging design, the large capacity, and the bag's overall versatility.
Carry it as a backpack with your laptop, notebooks, pens, pencils, everything you need or you can use it as a shoulder bag and carry it like a tote when you go shopping, to yoga class, wherever!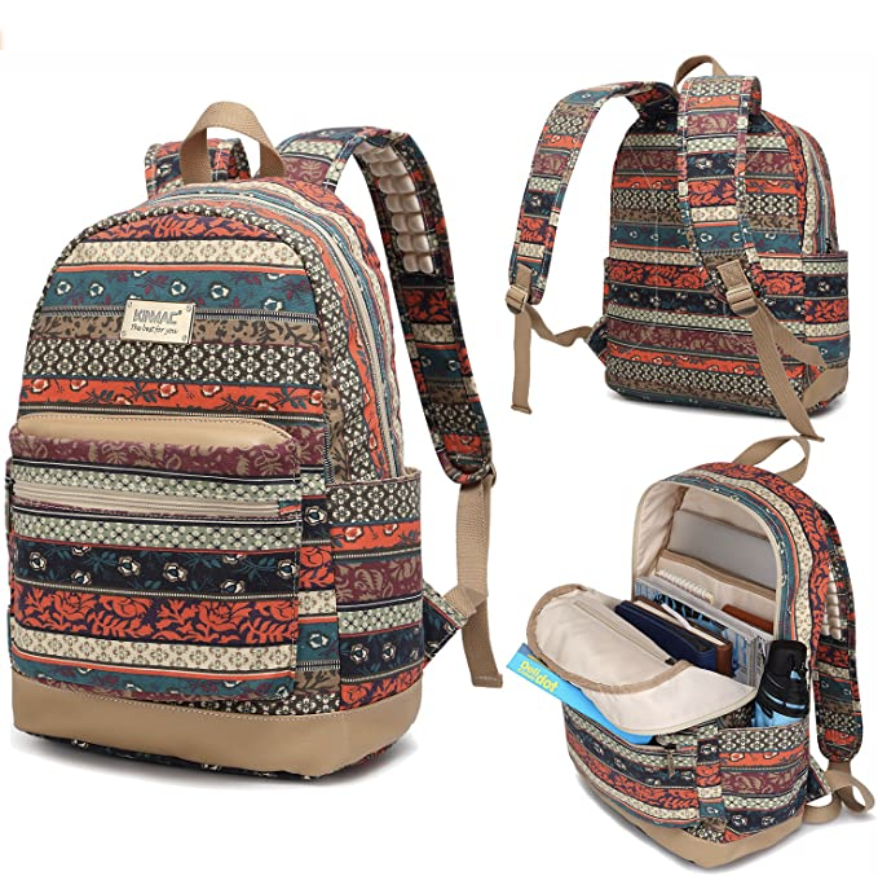 Kinmac's New Bohemian Water Resistant Laptop Backpack has it all…
Of course, the stylish "new bohemian" design is beyond cool. But it gets better because it's water-resistant material with massage cushion straps!
On top of that, it boasts a laptop slot (up to 15.6 inch) and USB charging port.
It's lightweight, comfortable, and you can buy one in other designs for every outfit! This would be perfect for a day trip or for packing in your suitcase and carrying instead of a purse while traveling.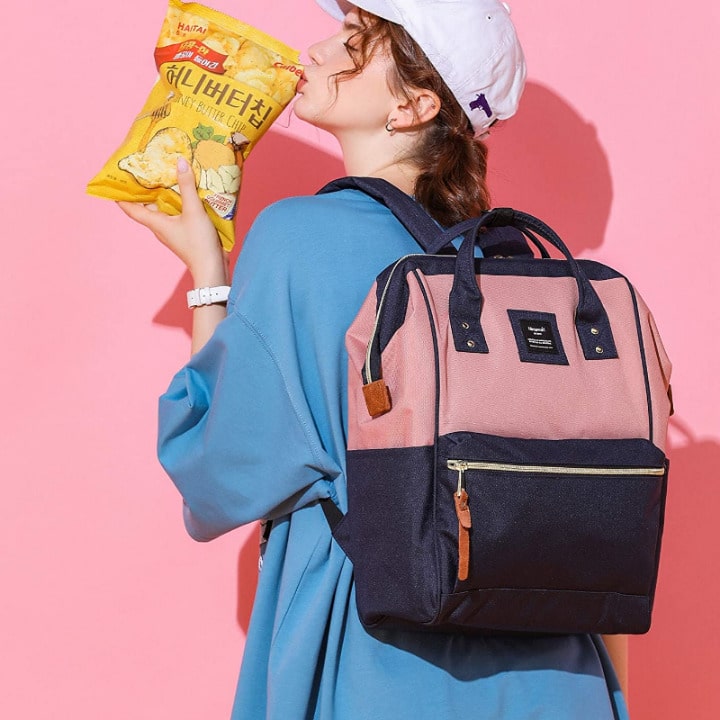 The Himawari Laptop Backpack is a solid travel backpack because it can hold so much. This backpack is made of eco-friendly waterproof canvas, features several pockets for storing both large and small items, and it's fashionable.
What more do you need? With a convenient USB port for charging your electronic devices and being comfortable to carry, this backpack is perfect for travel, as a school backpack, and even as a diaper bag.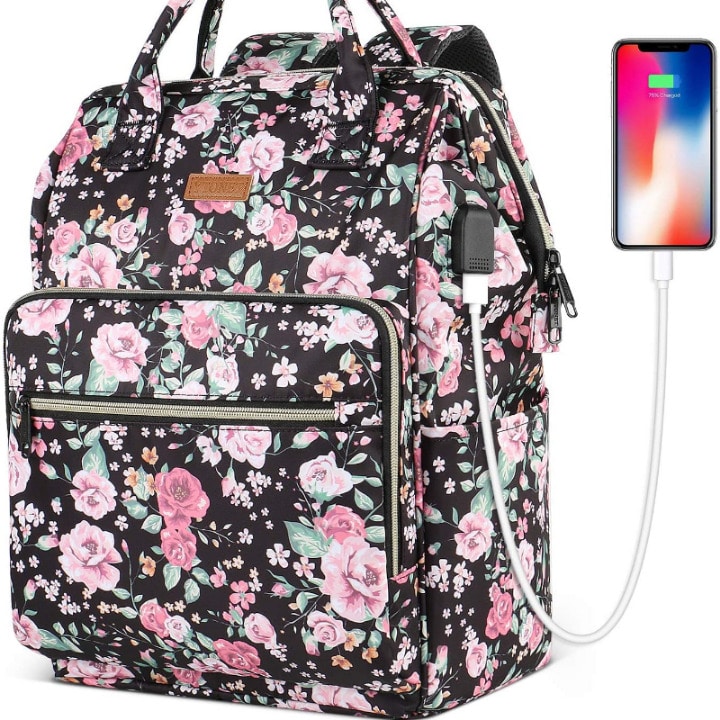 This floral travel backpack adds that little extra feminine touch to the travel backpack. The backpack is made of durable Nylon material with metal zippers and tons of storage space.
It features a laptop pocket, a front PFID storage pocket, an elastic pocket, a USB port, and an anti-thief pocket that sits on the back of the backpack behind you.
We like how bright and easy to spot this backpack is, making it stand out from the crowd, but we also like the purse/backpack hybrid versatility that it provides.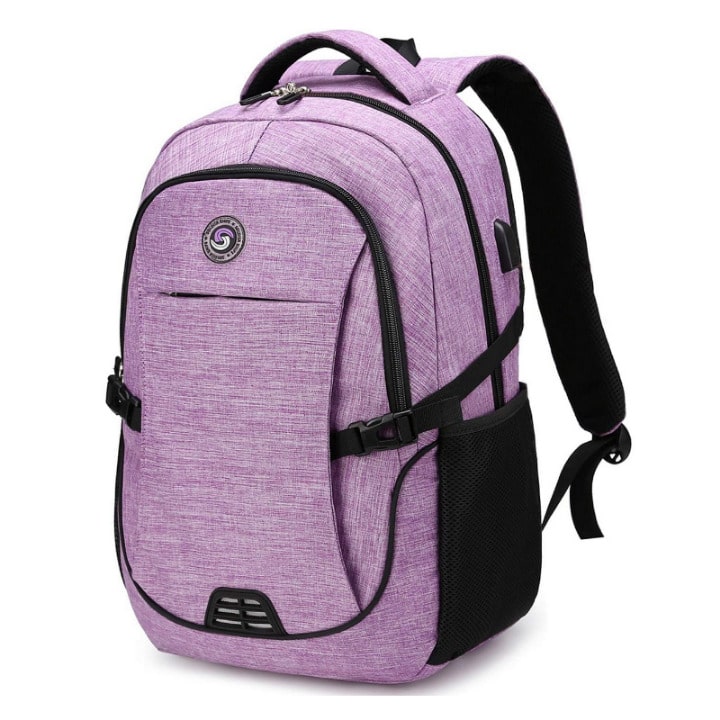 The Shrradoo durable waterproof backpack protects your items from damage and water damage. This backpack features a separate laptop pocket, durable handles, a key fob hook, USB port, and other various storage compartments for all of your items.
This is a versatile bag great for the airport, walking around the city, or everyday use.
We love the different designs of the CAMTOP Laptop Backpack. Choose from floral or marble designs. This backpack can carry a 15.6 inch laptop, tablet, notebook, wallet, cell phone, folders, and other items like a water bottle or umbrella in the side pocket.
It's easy on the back with strong, adjustable straps, helpful for charging devices using an external USB port, and sits perfectly on your suitcase as you roll it through the airport.
We love this backpack because you can travel with it, bring it to school, take it to work, bring it to grandma's, so many things you can do!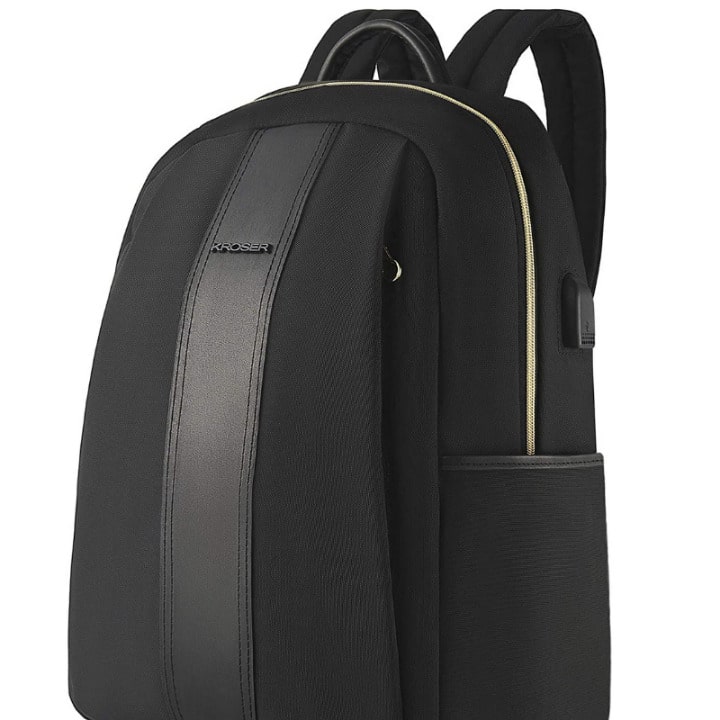 The Kroser Backpack is a sleek, stylish backpack that's perfect for the fashionable woman. Making a statement with this chic black design, this backpack is more than just looks.
It features a laptop pocket, large storage space, quality zippers, side pockets, a back strap for travel, and water-resistant fabric.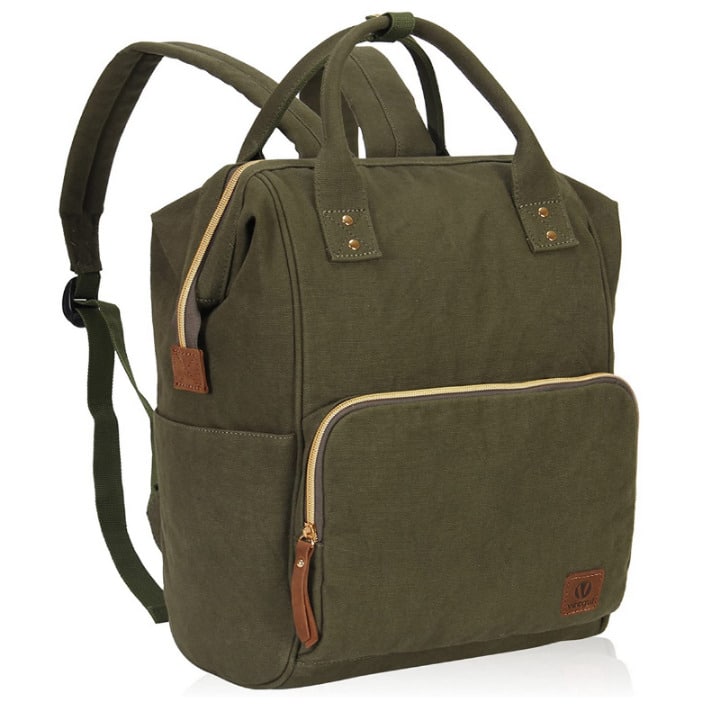 The Veegul Multipurpose Backpack is made of 95% durable cotton canvas and 5% genuine leather trim. The backpack has a 'youthful' look to it, but it's not childish, well, unless you choose to use it as a diaper bag!
It features an easy-access 'doctor bag' style opening, a rear vertical zipper pocket for easy access, side pockets for water bottles or umbrellas, and more. This backpack does not feature several little inside pockets, so keep that in mind.
It features one main pocket, the front zipper pocket for small items, and the additional rear zipper pocket.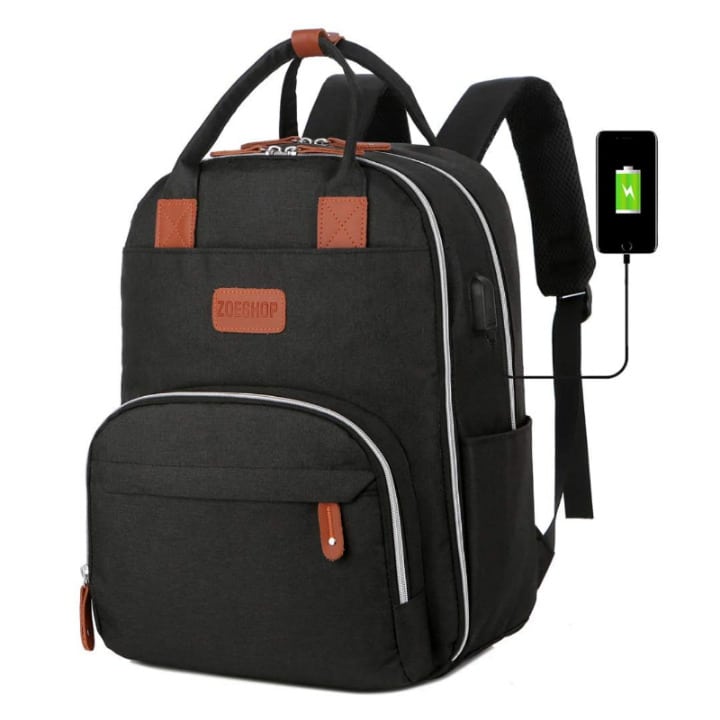 This laptop backpack features multiple compartments, is made of heavy duty polyester fabric, is water-resistant, and includes a USB charging port.
One fantastic aspect of this backpack is the two smaller pockets within the front zipper pocket that can be used for lotion, perfume, and makeup bottles. This stylish functional backpack holds so much and is perfect for when you're on the go.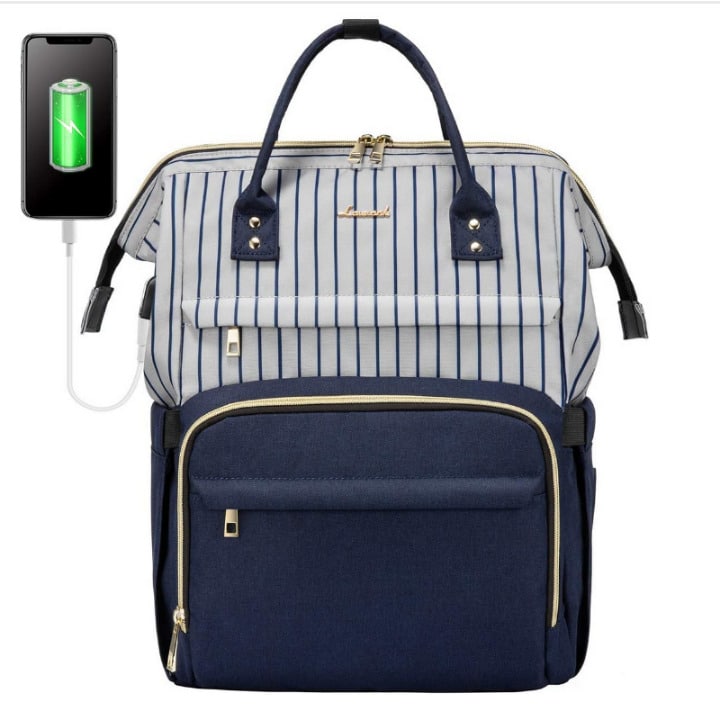 The Lovevook Striped Backpack is chic, stylish, functional, and portable. With a big open top that zips closed, it's a great way to store all those odds and ends as you travel.
The front zipper pocket features smaller pockets as well as a mesh pocket for extra things. This backpack features a phone pocket on one side and a tiny napkin pocket too – perfect for storing tissues while traveling!
The backpack also includes a USB port to help with charging devices and a trolley strap so it can sit comfortably on the top of your luggage while getting from A to B.
This canvas vintage backpack is made of high-quality canvas and leather making the bag ultra tear-resistant, scratch-resistant, durable and waterproof. It has plenty of room for both large and small items.
This backpack would be considered ideal for day-to-day use or day trips while traveling. It's fashionable, charming, and easy to store.
Now that you've seen our list of the best carry-on travel backpacks for women, what did you think? Leave us a comment below!