Are you fascinated by the Middle Ages? Vienna gives you a unique opportunity to explore sites that have preserved the spirit of the Medieval era.
While you tackle this list of historical places to visit in Vienna, you've also got to find the perfect place to stay. Luxury Vienna provides a wide range of accommodation options right in the city center. This way, you will be close to the sights and the city's excellent transport infrastructure.
Now, let's dive into the heart of Vienna's Medieval past. We'll guide you through five historical places to visit in Vienna that will take you back in time and help you uncover the city's enchanting past.
1. Heiligenkreuz — Active Medieval Monastery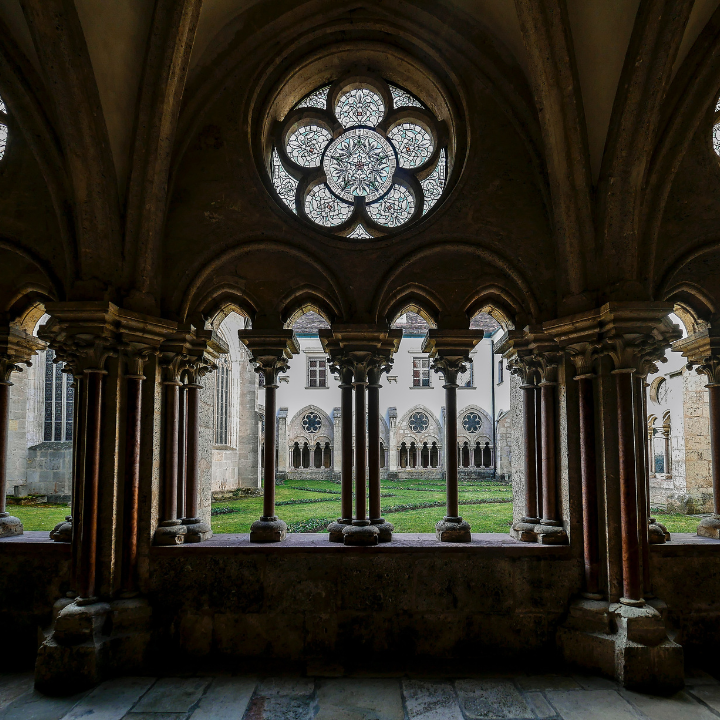 Stepping into a place where the ancient walls echo with centuries of prayer may give you a pleasant shiver. That's what you may feel at Heiligenkreuz, an active medieval monastery located just a short drive from Vienna. It was founded in 1133 by the Cistercian Order. So, Heiligenkreuz holds the status of the oldest continuously operating Cistercian monastery in the world.
Upon entering the monastery grounds, you will be struck by the harmonious blend of Romanesque and Gothic architecture. Take a stroll through the peaceful courtyard, visit the magnificent Chapter Hall, and admire the stunning stained-glass windows in the Abbey Church. Don't forget to pause and listen to the soothing Gregorian chants performed by the monks during their daily prayers.
A visit to Heiligenkreuz is not only a journey through time. It is also an opportunity to experience the serenity and spirituality that have defined monastic life for centuries.
2. Kreuzenstein — Reconstruction Castle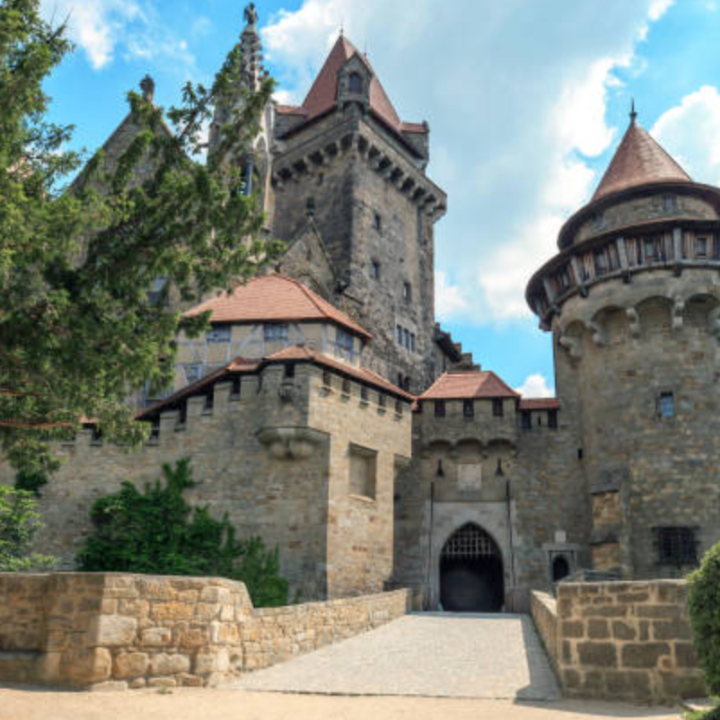 Nestled atop a hill just north of Vienna, Kreuzenstein Castle awaits your visit. This majestic castle is a stunning example of a reconstruction.
The first castle is believed to be built in the early 12th century by one of the first lords of the castle, Dietrich von Grizanestaine. It was largely destroyed during the Thirty Years War in 1645. Johann Nepomuk Graf Wilczek took on rebuilding Kreuzenstein castle in the 19th century from 1874 until 1906.
Indeed, the Kreuzenstein Castle brings the Middle Ages back to life. Step through its gates, and you'll be transported to a time of knights, lords, and ladies. As you explore the castle grounds, you'll discover a picturesque courtyard, an impressive tower, and an ornate chapel. Don't miss the fascinating weapons and armor collection, a true testament to the era's warfare and craftsmanship.
Visiting Kreuzenstein Castle is an adventure for the whole family. Children will delight in the thrilling tales of knights and battles. If you are a history enthusiast, you will appreciate the castle's authentic details. You will quickly come to realize why it's on our list of historical places to visit in Vienna.
3. Dürnstein Fortress City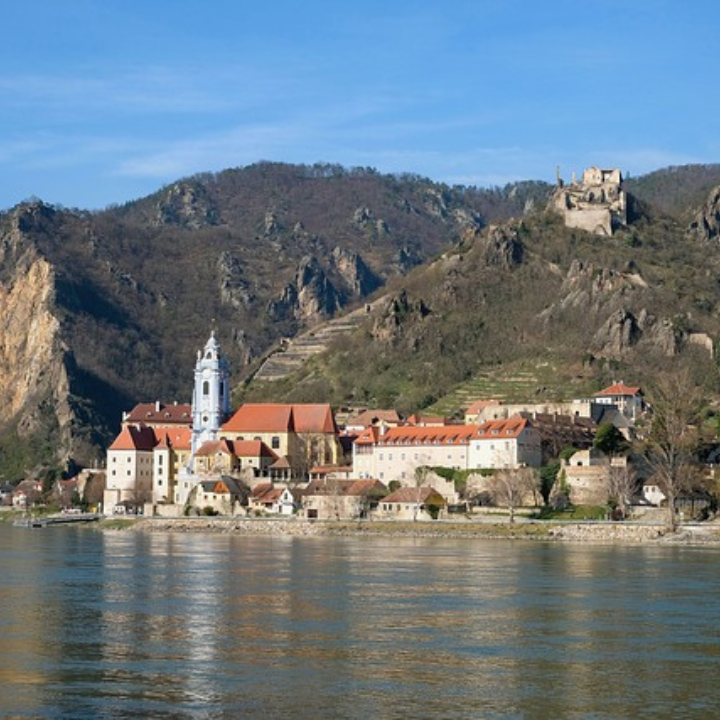 When visiting Vienna, you can't miss an opportunity to see Dürnstein. This fortress city preserved the essence of the Middle Ages pretty perfectly. As a charming medieval town nestled along the banks of the Danube River, it boasts narrow cobblestone streets that wind past colorful buildings.
As you wander through this charming town, be sure to visit the ruins of Dürnstein Castle, which majestically sits above the village. From this point, you'll enjoy breathtaking views of the surrounding Wachau Valley, a UNESCO World Heritage Site.
The castle holds a special place in history. It was once the prison of King Richard the Lionheart during the 12th century. Also, visit the striking blue-and-white Baroque church, which makes a beautiful contrast to the medieval atmosphere.
4. Laxenburg Palace — the Habsburgs' Romantic Fairytale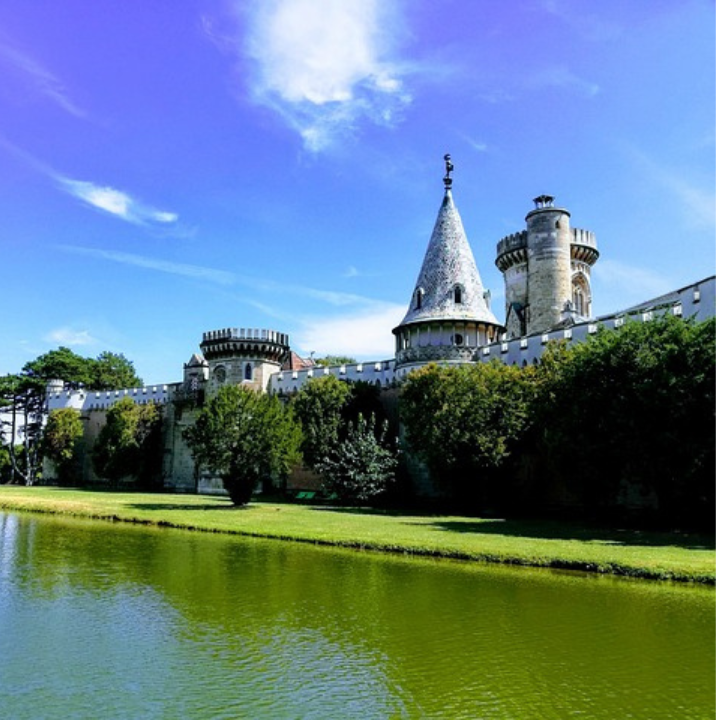 Step back in time at Laxenburg Castle Park. This enchanting spot lets you explore the rich heritage of the Habsburgs. Additionally, you will make a delightful break from the city's lively atmosphere here, as it is situated outside of Vienna.
Take a leisurely stroll through the majestic palace grounds. You'll be amazed by the stunning gardens, peaceful ponds, and winding paths that unfold before you. At the very heart of the park, you'll find the enchanting Franzensburg Castle. Standing tall since the early 19th century, it now houses a captivating museum for you to explore. Discover all sorts of medieval artifacts and treasures that will for sure spark your curiosity.
Once you make it to this place, you will immediately understand why it is considered one of Europe's most important historic landscape gardens.
5. Rosenburg — Rose Castle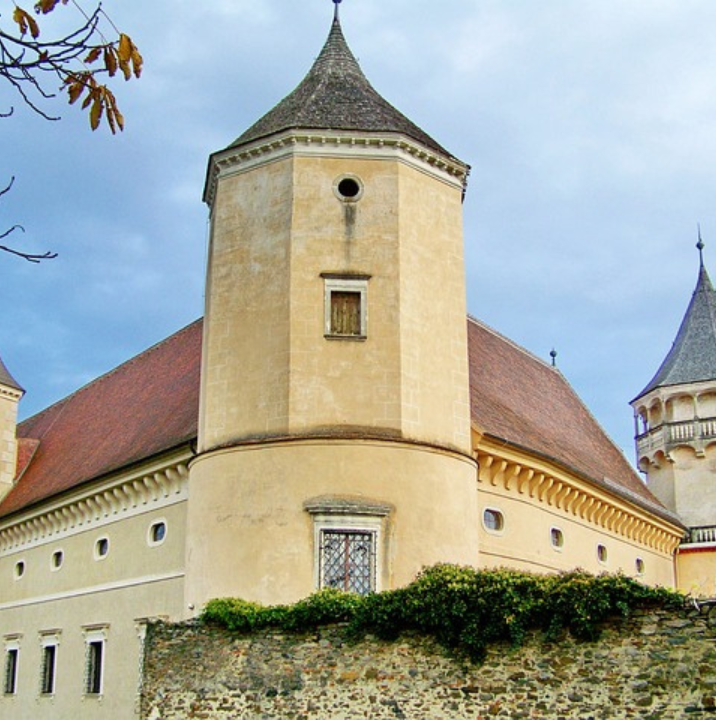 Venture into the heart of the scenic Waldviertel region and discover Rosenburg. This enchanting fortress has an unmistakable pink hue, so it is also affectionately known as the Rose Castle.
As you approach Rosenburg, you'll be captivated by its fairytale-like appearance. Intricate towers and battlements will bring you closer to the Middle Ages. Inside, be sure to explore the Knights' Hall, adorned with stunning frescoes, and an impressive collection of medieval weapons and armor. Moreover, the castle's splendid gardens feature an array of roses, which creates a delightful atmosphere for leisurely strolls.
Rosenburg Castle not only offers a mesmerizing glimpse into the past; it also hosts a variety of events — for example, jousting tournaments and theatrical performances that bring the medieval era to life.
Medieval Atmosphere — Beauty and Significance of the Era's Cultural Heritage
Vienna and its nearby regions present a fascinating voyage into the exciting realm of the Middle Ages. From the peaceful Heiligenkreuz Monastery to the enchanting Laxenburg Palace, these five remarkable locations allow you to delve into the area's rich history and cultural legacy.
For an added adventure, consider wandering through the city's historic center. Recognized as a UNESCO World Heritage Site, this area is sure to leave a lasting impression.
Now that you've seen our list of 5 Historical Places To Visit In Vienna, what do you think? Have you been inspired to add Vienna to your Travel Bucket List? Leave us a comment below!