"Camping food" and eating outside has its own special set of requirements.
• Will it withstand the travel to the camping spot?
• Can I leave it unrefrigerated without killing people?
• Can I wrap it in tinfoil and throw it on a fire?
• Can I eat it with my hands?
• Can I eat it and then use the inedible remains for something else?
Camping food hackers take these points very seriously.
Well, you can check off all the above when it comes to Banana Boat S'mores! (For those of you skeptical of how to use banana peels get a load of this list).
Seriously, how delicious does this look!?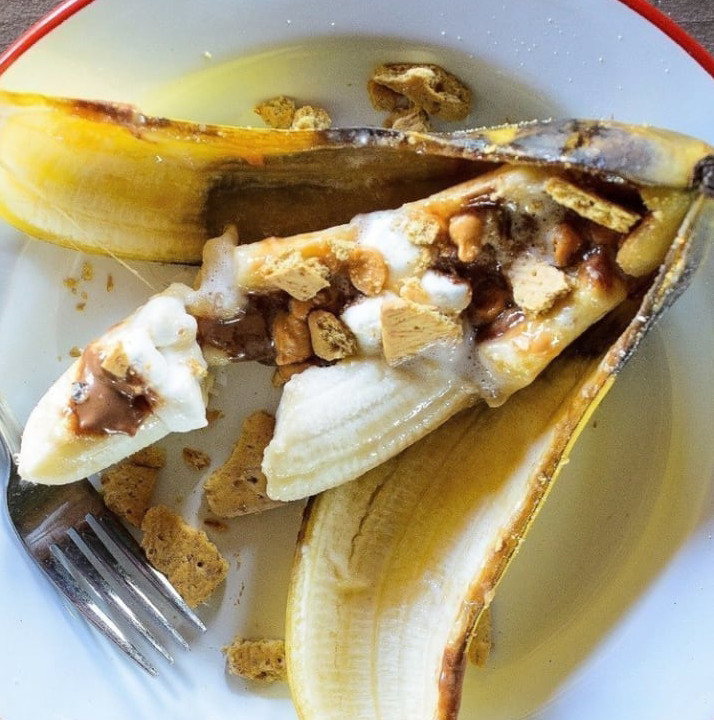 Bananas are already the most portable snack there is. Add some chocolate, throw in marshmallows, wrap in foil, and ta-da!
I suspect pulling out this trick will make instantly more popular with the crew (like you had any issues with that anyways 😜). Thank you to the Kitchn for this sweet recipe!
Campfire Banana Boat Chocolate Caramel S'mores
Serves 4
4 ripe bananas
12 marshmallows (3 to 4 per banana), or a handful of mini marshmallows
12 squares dark chocolate (3 to 4 squares per banana)
1/4 cup caramel chips
8 graham crackers (2 per banana), crumbled
Cut a slit in the each banana, and open the skin up slightly. Scoop out a few small chunks of banana (and eat!).
Stuff 3 to 4 marshmallows in the scooped out sections of the banana, then tuck a square of chocolate beside each marshmallow. Sprinkle a few caramel chips over top.
Close the skin of the banana as much as you can, and place the bananas directly on a campfire grill. Alternatively, wrap the bananas tightly in foil and place directly on coals. (Be extra careful when pulling them out of the coals and opening.)
The banana skins will blacken as the bananas cook. Grill until the chocolate and caramel melt, and the marshmallows begin to look squidgy, 5 to 7 minutes.
Using metal tongs, carefully transfer bananas on plates. The bananas might release some water, if they do, use a paper towel to wipe off.
Sprinkle the crushed graham crackers over top, and serve with a spoon for scooping.
Recipe Notes
Bananas cooked directly over the grill will have a slightly smokey flavor. When wrapped in foil, they have less smokey flavor and will take a few more minutes to cook.
—
This is just one of 20 Camping Food Hacks That will Blow Your Mind featured on BuzzFeed. There are also some interesting ones involving oranges, a great new use for old tic tac containers, and an impressive technique to get into a can when you forget the opener at home. Check it out and all the rest here!