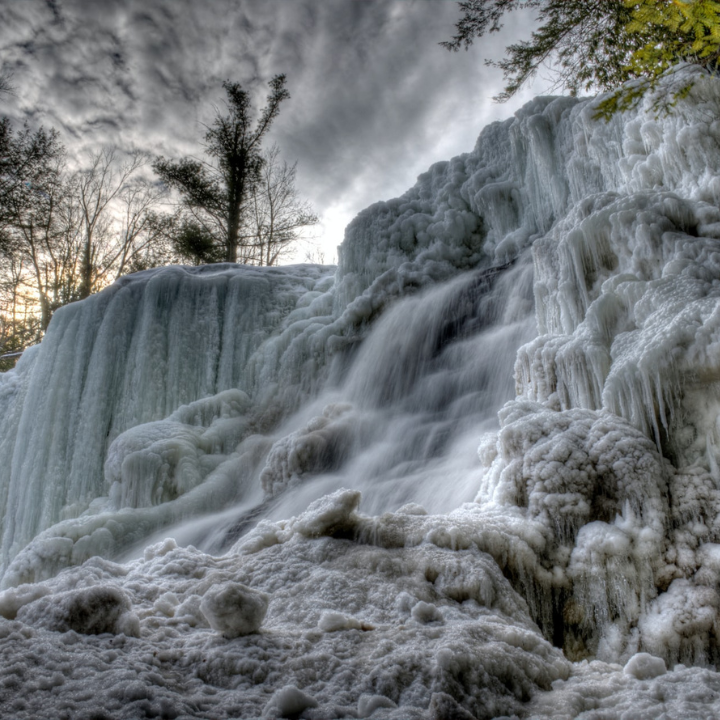 Waterfalls are beautiful and enticing as they rush down mossy rock faces and splash into pools below.
There's nothing quite like rounding a bend on a familiar trail and coming face to face with a cascade of water that seems to go on forever as it plays behind the trees and cascades over the stones. Hiking to a North Georgia waterfall is a popular pastime for Blairsville locals and Blue Ridge visitors and is the perfect outdoor excursion for anyone searching for a breathtaking natural wonder.
Here are some of our favourites:
Anna Ruby Falls
To create Anna Ruby Falls, two waterfalls in North Georgia, Curtis Creek descends a few feet, and York Creek overflows at 50 feet. On sunny days, the bright blue sky makes the water glitter as giant trees, and moss-covered rocks surround it.
Eventually, Anna Ruby Falls falls into Smith Creek, emptying into Unicoi Lake and the Chattahoochee River, then traveling 550 miles to Florida's Apalachicola River and the Gulf of Mexico!
It's easy to get worn out and achy after hiking to Blairsville waterfalls, swimming in the water pools, and picnicking in the bright sunlight. The cabins in Blairsville can be the perfect place to unwind and recover after a long and exciting day spent visiting the waterfalls around Georgia.
Cabins offer comfortable and quaint places in the beautiful foothills. On your trip to Georgia, book a place to rest after a long day hiking and visiting the falls. You may consider the following falls on your visit: The simple half-mile trip to Anna Ruby Falls, located about 75 minutes from Blue Ridge near Helen, Georgia, begins at the Anna Ruby Falls Visitor Center, which is located outside Unicoi State Park.
From the parking lot to the foot of the falls, there is a paved path that is walker-friendly. Along the way, there are benches and viewing platforms at the top.
Minnehaha Falls
Another well-liked spot is Minnehaha Falls, accessible within 2 hours from Atlanta and 1 1/2 hours from Blue Ridge. Visitors can observe stunning falls by taking a short, enjoyable stroll along Lake Rabu.
See Angel Falls while you're there for another pleasure along Lake Rabun. From Lake Burton, you can take a pleasant stroll along Moccasin Creek to Hemlock Falls in Moccasin Creek State Park.
In the summer, wade in the shallow waters of Dicks Creek Falls in the Chattahoochee National Forest and enjoy a lovely stroll with incredible vistas. In Helen, Georgia's historic downtown, High Shoals Falls and Blue Hole Falls offer two breathtaking waterfalls in a short trek. Don't forget to check out the Beech Bottom Trail and the Jacks River Trail that leads to Jacks River Falls in Georgia's Cohutta Wilderness.
With thousands of acres of wilderness to explore, hiking enthusiasts will find many chances for outdoor adventure here! Spend the day trekking and have fun with a simple half-mile hike, a modest round-trip hike, or a more challenging trek.
The Spouting Rocks of Trahlyta
Trahlyta Falls plunges 110 feet down a stone incline carpeted with lush moss and seems like a set of stairs. The North Georgia waterfall is a natural attraction that makes you want to linger for a long time.
To get up close and personal with the waterfalls, hikers must first cross a wooden boardwalk, then arrive at an earthen dam, then go all the way around the green Trahlyta Lake, where, on clear days, Blood Mountain can be seen reflected on the water, and finally descend to a viewing platform.
Vogel State Park, in Blairsville, Georgia, is the second oldest state park in Georgia and is located in the Chattahoochee National Forest; the Trahlyta Lake Trail, which is scenic, pet-friendly, and easy to hike, is located there. The trailhead for the pet-friendly over-a-mile loop may be found near the Vogel State Park Visitors Center.
Raven's Cliff Descent
Raven Cliff Falls is a popular tourist destination since it is breathtaking and worth the walk, around 2.2 miles. The stunning 40-foot-tall split rock bearing the mesmerizing falls can be reached by following Dodd Creek over a wooden bridge, hiking through a hardwood forest, and passing many smaller waterfalls. Take a detour off the trail to a swimming hole and cool off from the summer heat with the kids and the dog.
About an hour outside of Blue Ridge, in Helen, Georgia, on the Raven Cliff Trail, you'll find the breathtaking Raven Cliff Waterfall. The trailhead is easily accessible from Richard B. Russell Scenic Highway.
The trail is lovely year-round, but springtime is especially nice because of all the wildflowers in bloom.
The Drops at Helton Creek
Helton Creek Falls is beautiful year-round, but its summer pool is where many people and their pets choose to cool down.
This stunning North Georgia waterfall pair cascades over river boulders and downed hemlock trees into a rocky pool below. Helton Creek Falls is located in the Chattahoochee National Forest, south of Vogel State Park, only a few minutes from Blue Ridge and Blairsville.
Once you locate the trailhead along Helton Creek Road, it's a short, easy hike through the woods to the falls.
The Amicalola Falls
Amicalola Falls is perhaps one of the most breathtaking waterfalls in North Georgia. Cherokee for "tumbling waters," this 729-foot waterfall is the state's tallest and may be reached after a challenging but rewarding 1-mile hike.
To put it mildly, Amicalola Falls is a sight for the eyes and the soul, with a bridge positioned directly in front of the falls and scenic mountain vistas along the way. Walking past a picnic and playground area, you may reach the final pool at the end of the falls, which features stunning tree-lined scenery.
The Amicalola Falls in North Georgia is so well-known that a state park with the same name protects the area around them. In Dawsonville, Georgia, within the Chattahoochee National Forest, Amicalola Falls State Park is about 45 minutes from Blue Ridge.
Fall Branch Falls
You may reach the beautiful Fall Branch Falls by hiking through the Appalachian forest, home to many species of wild fern and rhododendron trees.
Follow Fall Branch Creek uphill, and see numerous lesser waterfalls and lush mossy regions before reaching this beautiful North Georgia cascade. This is a moderate hike that covers less than a mile in total. If you're in Cherry Log, Georgia, on the Benton MacKaye Trail, you may reach Fall Branch Falls in about 20 minutes from Blue Ridge. Follow Stanley Creek Road until its end at the trailhead.
When you reach Fall Branch Falls, you can peacefully sprawl on the wooden platform and enjoy the misty surroundings.
Sea Creek Waterfalls
Sea Creek Falls is also a 30-foot waterfall in North Georgia that plunges into a little pool below. There is a stunning double waterfall less than half a mile round-trip away, surrounded by woods and stone, primarily flat.
Feel free to cool off and unwind in the pool with your four-legged friends by dipping their paws or wading in. Find Sea Creek Falls at Suches, Georgia, within the 45-minute drive from Blue Ridge in the Chattahoochee National Forest's Coopers Creek Wildlife Management Area. Accessible at all times of the year, the trailhead may be found by taking Forest Service Road.
Wearing waterproof hiking boots is highly recommended because the trail can get muddy.
Long Creek Falls
This intermediate North Georgia waterfall walk is about 2 miles round-trip and follows Noontootla Creek over a picturesque valley and past several more minor falls. As it emerges from behind a grove of hemlocks and rhododendrons, this stunning waterfall plunges over rocky outcrops and into a riot of color along the creek below.
Around the intersection of the Appalachian Trail, the Benton MacKaye Trail, and the Duncan Ridge Trail is where you'll find Long Creek Falls in the Chattahoochee National Forest. Take Blue Ridge's Forest Service Road 58 to the Appalachian trailhead, where you can stop for a picnic or a round of catch-and-release trout fishing.
The best vantage points of the waterfalls may be found along a blue-blazed side trail, which can be found after a short while of trekking.
The Waterfall at Dukes Creek
Dukes Creek Falls is located at the confluence of Dukes and Davis Creeks and offers various vantage points, the first of which is accessible to those in wheelchairs, from which to take in the sight of the three waterfalls that drop a total of 150 feet over rough rocks into the creek below.
On this outdoor adventure in North Georgia, you can see Yonah Mountain from where you start. A two-mile hike to a waterfall begins at the Dukes Creek trailhead, five miles north of the Raven Cliff Falls Trail, just north of downtown Helen, Georgia, about an hour from Blue Ridge.
Bring some food and drink with you if you plan to spend time at the falls and in the cool, damp mountain air.
Desota Falls
About an hour and a half drive from Blue Ridge, you'll see Desoto Falls, located along Frogtown Creek. It encompasses the upper, middle, and lower falls and a recreation area spanning 650 acres.
The three-mile trail boasts five waterfalls for hikers to take in, and they're welcome to bring their pets along. Driving from Blue Ridge to Tallulah Gorge State Park, a grand canyon containing a suspension bridge with stunning river and waterfall vistas of Tallulah Falls and Hurricane Falls, takes around one and a half hours. This park is a favorite hiking destination.
It is possible to walk the entire length of the gorge in just under two miles, but you will need to get permits in advance. If you don't like hiking the magnificent trail, you can take in the scenery from the observation deck higher up.
The Waterfalls on Emery Creek
Emery Creek Falls Trail is another breathtaking North Georgia waterfall trail that ends at two waterfalls tumbling over stepped granite.
Emery Creek Waterfall winds past verdant trees and plants on its way to a tranquil pool below. The 20 or so creek crossings and the sight of vintage vehicles tucked away in the woods make this hike an unforgettable outdoor adventure.
Three miles from the trailhead on Old CCC Camp Road in Chatsworth, Georgia—near Ellijay and about 45 minutes from Blue Ridge- you'll find Emery Creek Falls, a popular destination for experienced hikers.
Make sure to bring rain gear, as this trip is known to be a soggy one.
Items to Carry On a Waterfall Adventure in Blairsville, Georgia
Too many times, you've probably sprained your ankle, fallen and scraped your knee, or kicked a boulder or a tree limb by accident. It is, therefore, impossible to overstate the value of a sturdy pair of boots.
While traveling, but especially on a trek, your feet are some of the most vital body components. It's crucial to take measures to safeguard them from harm; a sturdy shoe with ankle support and traction can help with this. Unless the water is shallow, hiking boots are the only acceptable footwear for a hike.
So you'll want to think about carrying an extra pair of water shoes, or at the very least, sandals.
Wearing a hat with a wide brim and sunglasses helps prevent skin cancer and cataracts without using harmful chemicals for both men and women. Thus, you might think of these items as some of the more apparent necessities for your trip.
When combined with chemical means of sun protection, such as sunscreen, the risks of sun exposure are significantly mitigated.
Hats with protection for the back of the neck are popular, and you can find them in stores that specialize in camping gear. Such shielding can sometimes grow uncomfortable, but at least you won't have to apply sunscreen on the backs of your necks.
The scenery of North Georgia is replete with waterfalls in many different locations. Some of these can be reached quickly and easily by walking along paved paths, while others call for more advanced skills in navigating.
As a result, when you visit the falls, you should follow the guide that was just given. You should also bring hiking supplies to be fully equipped for the hike; remember to keep your load as light as possible.
Now that you've seen just how beautiful the waterfalls are in Blairsville, GA are you ready to add it to your Travel List? Comment below and let us know.