Welcome to the Journo blog!
We're honoured and grateful to have you as part of our travel-addicted community. We believe that life isn't meant to be lived on your couch. It's meant to be an absolute thrill, an adventure that you'll look back on at the end of your days with pride. Journo exists to help you break the mold, to encourage you to #BurnYourCouch and live the life YOU were meant to live… not the one your friends and family think you should. So, it's our mission at Journo to help you travel far more, for much less money, and remember and share your adventures in a more beautiful way than you ever thought possible.
A 60 Second History…
I'm Dane Homenick, founder of Journo. I've been lucky enough to see a decent chunk of the globe (over 30 countries so far). Like you, I 
love
traveling. I hit the jackpot a few years back when I convinced the love of my life, Makaela, to join me on the adventure of a lifetime – buy a sailboat and cruise the world! We packed our lives into a couple duffle bags, headed out to Ft. Lauderdale on, as I called it, 'The Great Boat Hunt of 2014' and found our baby: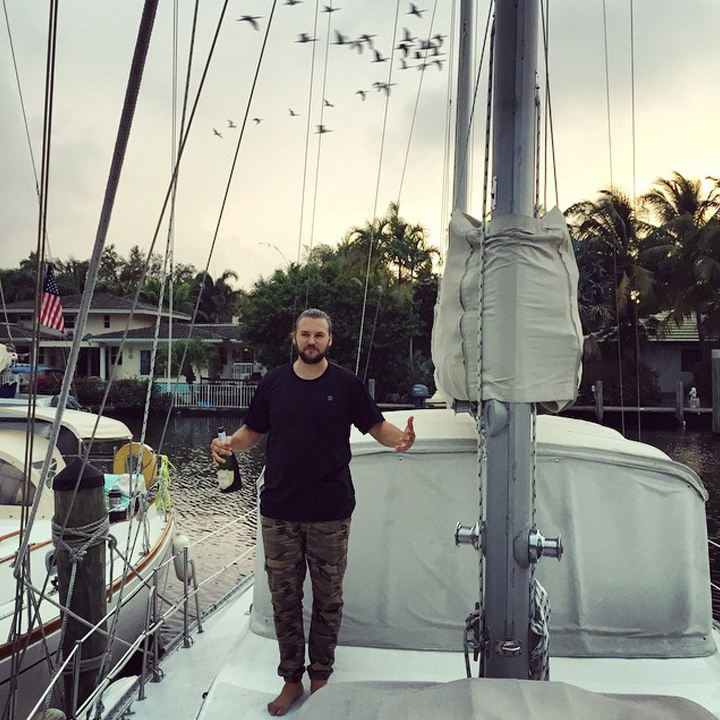 We then hit the sea, crossed the gulf, and arrived in the beautiful Bahamas. But within a week of our being at sea, I realized I blew it… Unlike ALL the other trips I'd been on, I wanted better memories of this one… No more pics and vids scattered in 10 different places (online OR offline), no more confusion on when or where something awesome happened… no more unorganized mess of files and memories. These days at sea with my lady were going to be some of the best days of my entire life, and NO WAY was I going to forget them! So I made a conscious effort to journal daily. My favourite time for this was at sunset, in the cockpit with a glass of vino by my side. One night within a week of our crossing, Sea Otter was "on the hook" (at anchor) in a secluded bay, not another boat around, and the sunset that night was
astounding
. One of those strikingly red ones that make you go "dammmmmn." And there I am, trying to invoke my inner-Melville and describe in my paper journal this unbelievable sunset (they really are that much better at sea 😉)… But after rewriting the description 10 times I threw in the towel… Some things just NEED a picture or video to explain. Simply put: I blew it.
As if
I thought I was a good enough writer for this big task of documenting these incredible days… Ha! And the very next morning the concept for Journo was born. Since then, it's taken on a life of its own and, we're incredibly thankful to say, gained a tremendous following of amazing people. We've also been listening closely to our users and, in addition to the Journo app, have built some cool things they've said they wanted. Here they are:
What We Make
It all started with
Journo
, our take on how travel journaling should be. It fulfills one-half of our mission: to help our community remember and share their adventures in a more beautiful way than they ever thought possible. Add old trips, or get ready for your next one. Automatically track your routes, collaborate with friends, print gorgeous mementoes, and a lot more.
Download now
and try it for yourself, free for 14 days (no credit card required):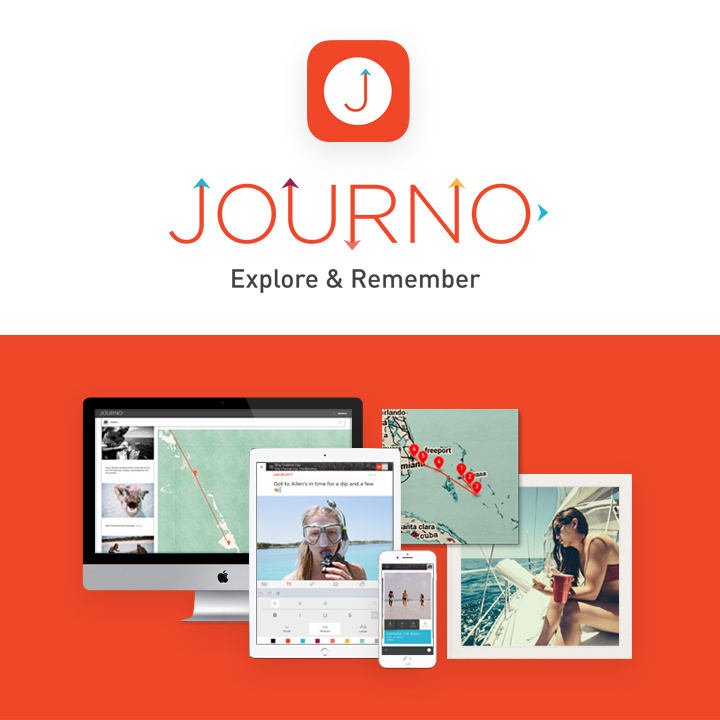 As our community grew, we discovered that the Journo app was only one piece of the puzzle. So we grew our mission to include helping our members travel far more often, for much less money. We went to work and created a solution that has been a hit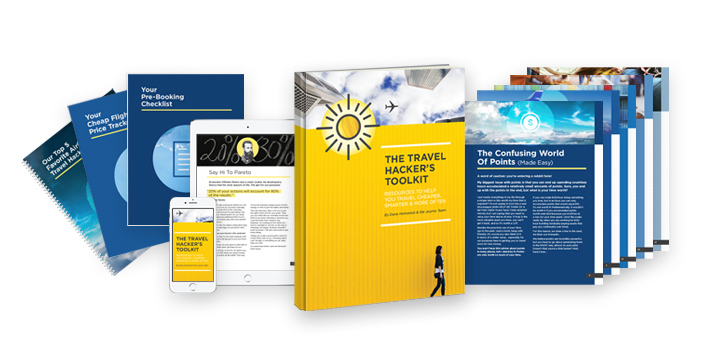 The toolkit gives you step-by-step instructions on how to book dirt cheap flights, earn points the smart way and fly and stay for free, and a whole lot more. Learn more about what's included 
here
. And we didn't stop there… We created a couple RFID-blocking products to keep your important digital (and non-digital) items safe abroad: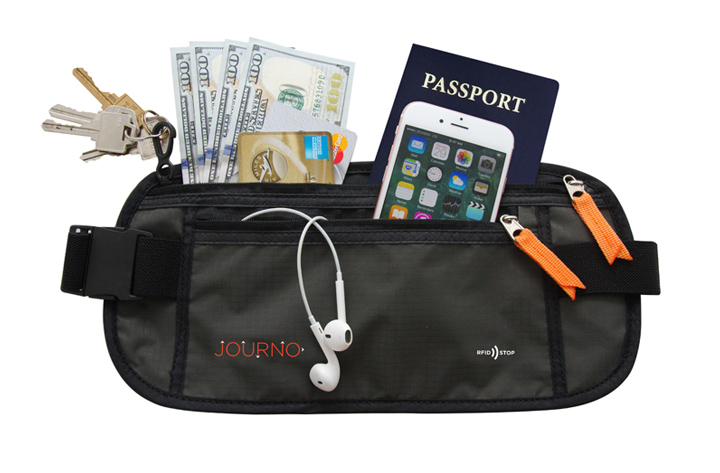 It's become fairly easy for thieves to "skim" the information off of your passport and credit card using RFID technology. So we created these money belts to prevent that from happening to you so you can travel without worry of becoming a victim of identity or credit card theft. We've built these to last and offer a lifetime guarantee. You can
grab one in our shop here
or, if you prefer, you can
buy on Amazon.com here
.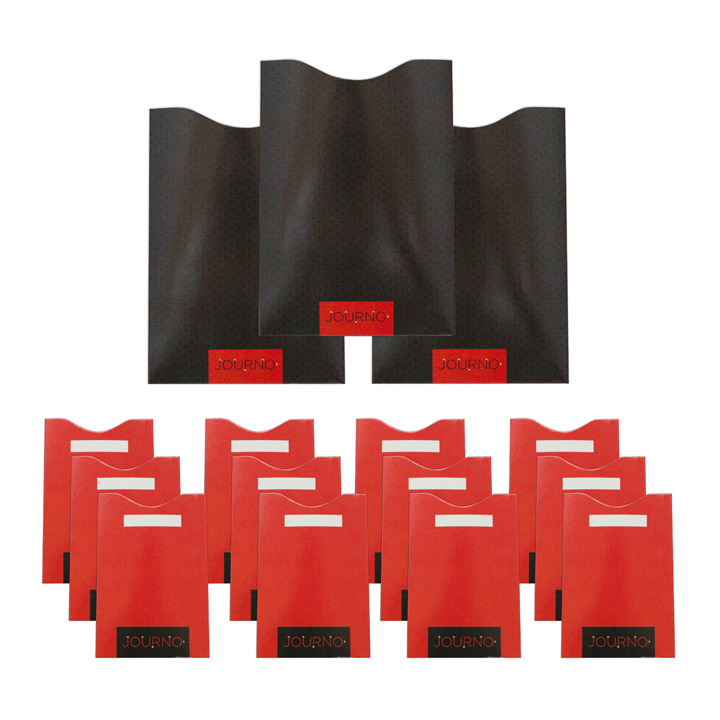 Sold as a big pack so you have enough for all your cards, and a few extra to play Santa Clause and give to friends. These are built with the same RFID-blocking technology, but done in a smaller, bite-sized way so you can just throw your cards in, and place directly in your wallet or purse… just like you do now but using these will keep you safe from skimming thieves at home or abroad. Check them out
in our shop here
, or
on Amazon.com here
.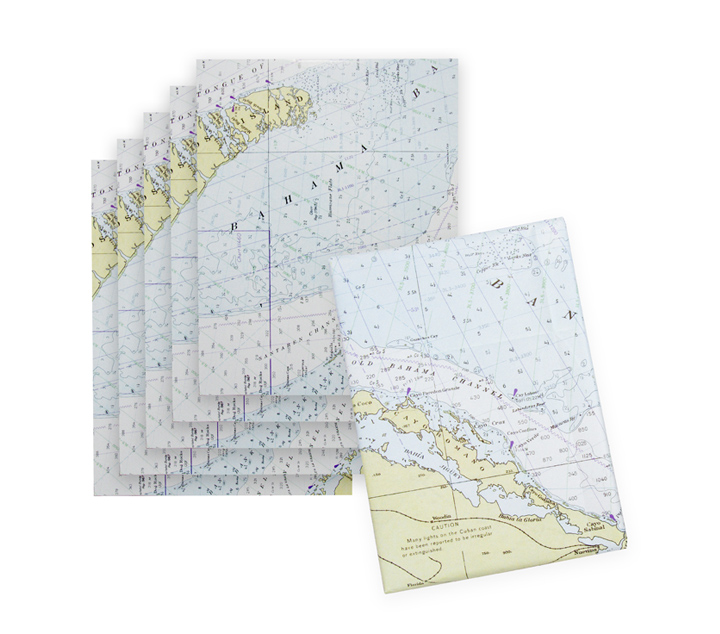 This one is a crowd-favorite 😉⚓️. My lady, Makaela, and I live on our sailboat Sea Otter and instead of tossing outdated charts we used them as gift wrap… And our friends 
loved
them! So we decided to make them for our fellow-travel lovers. You get 5 sheets per pack, and they're a thick-stock so they don't rip mid-wrap.
Buy in our shop here
, or
buy on Amazon.com here
, and make that next gift extra special.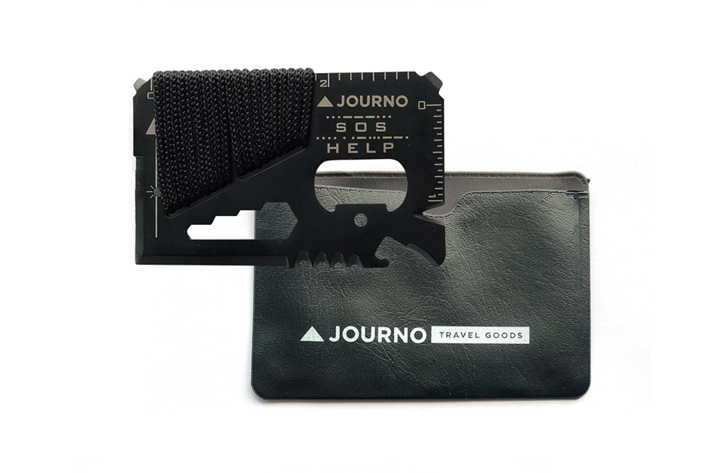 We called this multi-tool
Old Faithful
because she'll never let you down when you are in a pickle! This card sized multi-tool can be transformed into 14 different tools including a corner knife, saw blade, can opener, lanyard hole, rope knife, beer bottle opener and many more. Bring it along camping, hiking, fishing, biking, sailing, wilderness survival, a sunny cruise, backpacking trip, a beach vacation or even odd jobs around the house – Old Faithful is sure to come in handy just when you need it.
Buy in our shop here
or 
Amazon.com here
! And if you act quickly we have some available for free
here
!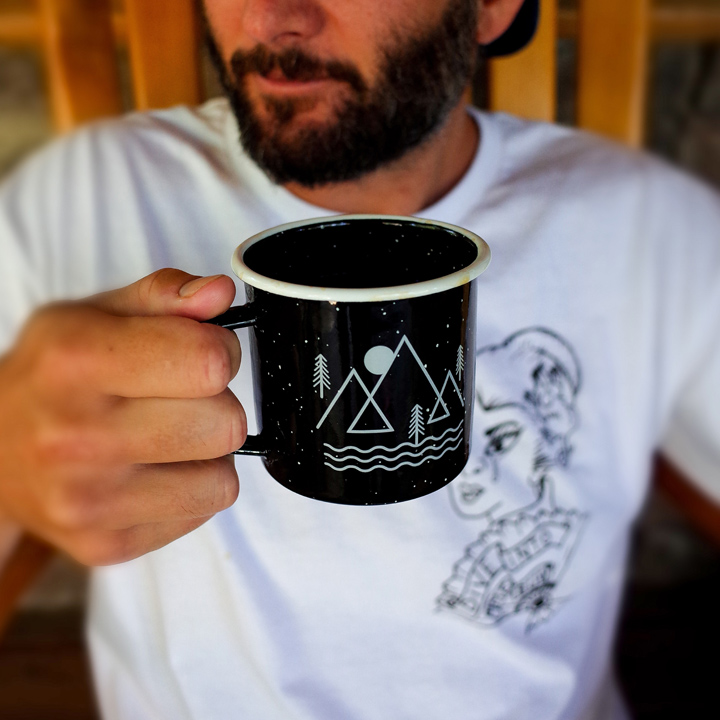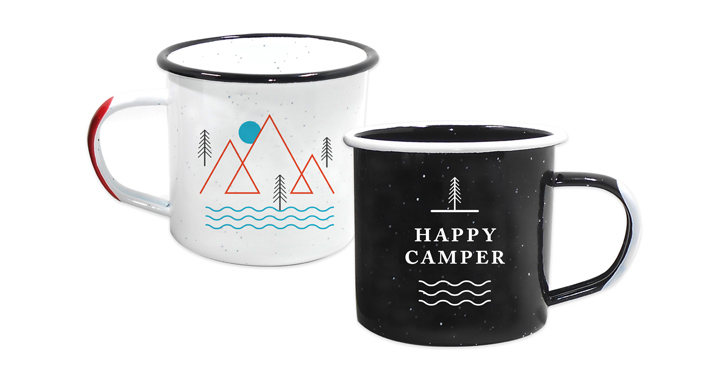 These vintage camping inspired enamel mugs are perfect for coffee, water, and whiskey (or all three). Lightweight, durable they are built tough and incredibly lightweight making them a perfect tag along for any adventure (not just camping 🙂
Available in two color combs (black & white or color) as well as a special double pack that comes with one of each!
Get your paws on them over in our shop here, or buy on Amazon.com here.
Join Us For Travel Inspiration
We post cool stuff in the world of travel that we think you'll probably love. So you should like our page on Facebook
here
. And follow us on Instagram
here
. Then you might as well follow us on Twitter
here
.
Thank YOU For Being Here
We're grateful you came over to check us out. Feel free to peruse, learn a few things, and have some fun. Also, we're only an email away and love meeting new members of our community! Email us anytime
here
and say hi!