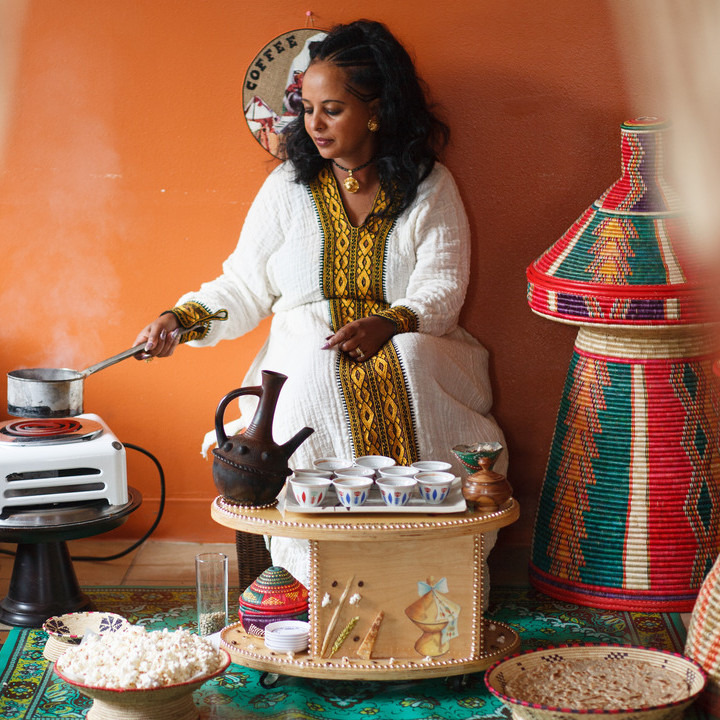 We are living in a fast paced coffee culture here in the west.
How often do we really think about the little beans that fuel our lives?
As you can imagine, coffee has a rich history. And it all began in the Ethiopian highlands back in the 19th century with a goat herder named Kaldi…
After noticing his flock snacking on the red berries of the Coffea arabica tree and seeing how energetic they became afterward, he decided to try it out for himself. (Hats off to you fine sir)
Soon enough he was as hopped up on caffeine as his goats! Delighted, he brought a batch to a nearby monastery where they were used for their stimulating effects during long hours of prayer. Who would have thought: ☕️ = 🙏 .
There was resistance to the beans at first and the religious leaders tossed them into the fire to destroy them. But the intoxicating aroma of them roasting only further enticed these early taste-testers and soon they began steeping them in warm water and, well, that was that.
The discovery and use of coffee have played an integral part of Ethiopian social and cultural life ever since.
Central to it is the coffee ceremony…
This ancient ritual is worlds away from the to-go cup where special care is put into every aspect of the experience. From adorning the room with aromatic grasses and flowers and incense to cleaning the beans, roasting them, grinding and pouring.
This is time set aside to slow down and, in some households, the ritual happens 3 times a day. 😋
Kezira Restaurant in Seattle is bringing this slower Ethiopian coffee culture to the West in a city obsessed with caffeine. In The Ethiopian Coffee Ceremony—an Ancient Practice Alive in Columbia City you can read more about the nuances of the ceremony and see some gorgeous photography documenting the practice.
Have you ever been lucky enough to witness, enjoy (or perform!) an Ethiopian coffee ceremony? We'd love to hear from you – tell us how it was in the comments below!
Photo by Kyu Han