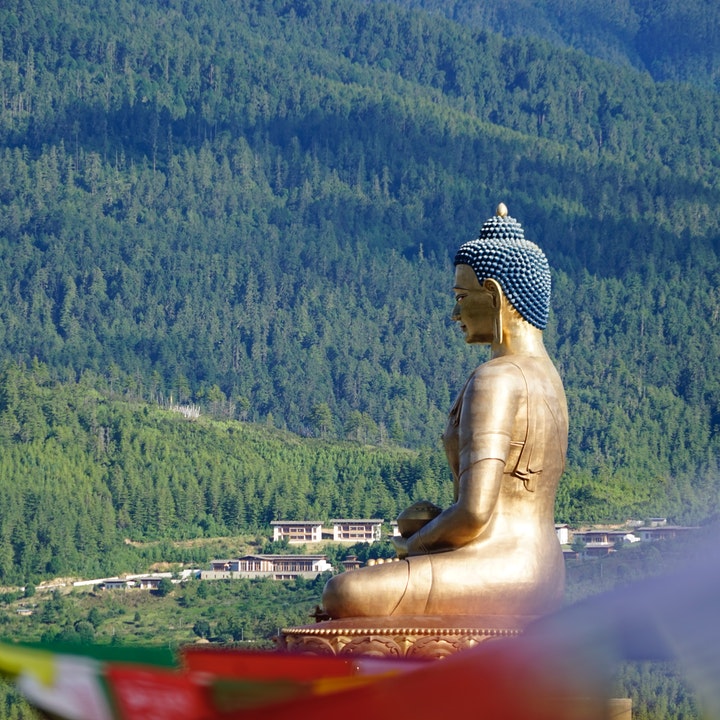 Bhutan lives by the idea of Gross National Happiness (GNH), a measurement of the collective happiness in a nation. Sounds like a pretty cool place to visit, right?
With no traffic lights, a strong Buddhist culture that's been preserved for centuries, and chilies aplenty, it's time for travel to Bhutan.
Druk Yul, the local name for Bhutan, means "Land of the Thunder Dragon."
Ready?Here is our guide for travel to Bhutan in 2022.
General Information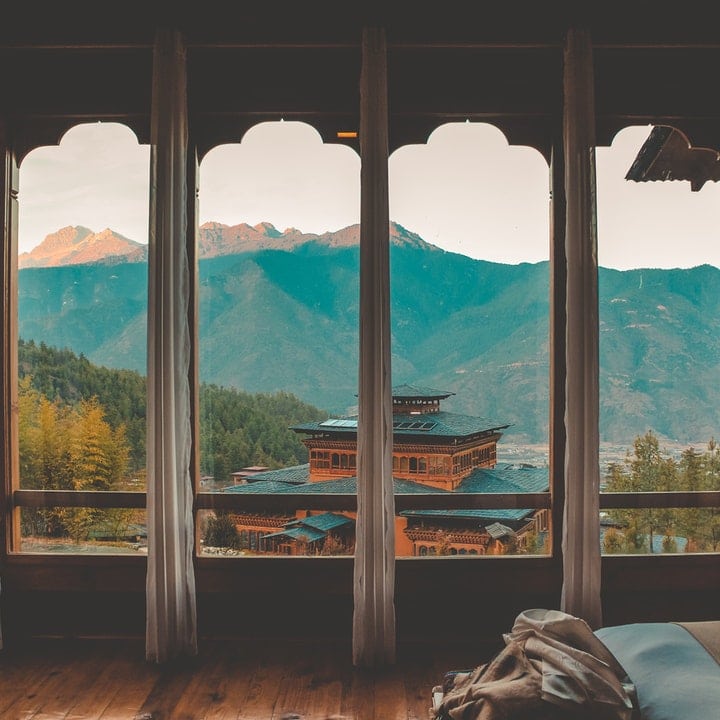 • Population: Roughly 754,000
• Capital: Thimphu
• Location: Bhutan is a southeastern Asian country that sits on the Himalayas' eastern edge. It shares borders with Nepal, Bangladesh, China, and India.
• Flag: Yellow and orange triangles split diagonally across the flag while a dragon sits in the middle holding jewels in each claw.
• Time Zone: Bhutan Time, 6 hours ahead of UTC
• Currency: The currency of Bhutan is the Ngultrum. In some parts, Indian rupees are also accepted.
• Language: The official and national language of Bhutan is Dzongkha, a Sino-Tibetan language.
• Climate: The climate varies in the country, from subtropical to temperate in the highlands and polar-type climate with year-round snow in the north.
• Religion: Roughly ⅔ of people in the country follow the state religion, Vajrayana Buddhism. Others also follow Hinduism.
• Travel Visa Information: To find out if a visa is required for your country — and easily get yours if needed — check out iVisa.com.
• Best Time to Visit: October through December for clear skies and sunny skies
Health & Safety
• As of February 2022, the CDC does not recommend travel to Bhutan if you are not vaccinated. If you are not fully vaccinated, avoid travel to Bhutan.
• Find information regarding COVID-19 and Bhutan here: https://in.usembassy.gov/our-relationship/bhutan-affairs/american-citizen-services-information/
• Follow the CDC guidelines for current travel advisories, as well as the U.S. Embassy guidelines.
Typical Costs in Bhutan
When you travel to Bhutan, you can expect to spend money reasonably. The typical cost of a double-occupancy room in a hotel in Bhutan is roughly 4,400 BTN, which equals roughly 58 USD.
When dining out, expect to spend roughly 795 BTN on a meal, or 10 USD. The more luxurious and upscale you go, the more money you will spend. 
Food To Eat in Bhutan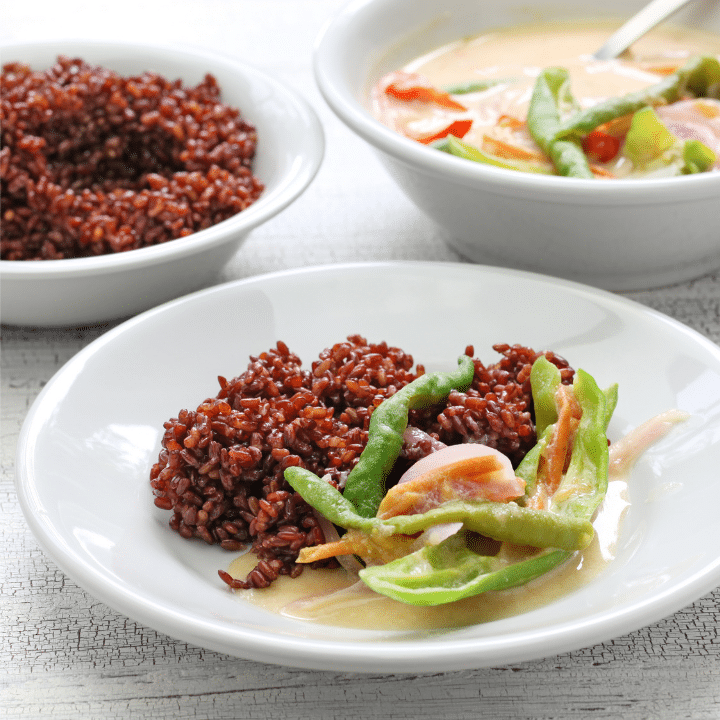 • Ema datshi is the most well known Bhutanese dish, made of chilies and cheese. This is a stew that locals eat made of green, yellow or red chilies, yak or cow's milk cheese, onions, and tomatoes. Beware: These chilies are hot!
• Most dishes in Bhutan are served with red rice, so you will undoubtedly try it with or without planning on it. The red color of the uncooked rice comes from the antioxidant, the flavonoid anthocyanin. As it cooks, the color fades to a paler red or pink. The rice paddies where red rice are grown are irrigated with mineral-rich glacier water.
• Jasha Maroo or Maru is a spicy chicken stew – made with a mix of chilies, onion, tomato, garlic, coriander leaves, and ginger. It can sometimes be made with beef and is always served with red rice.
• Kewa datshi consists of potatoes and cheese. The potatoes are sliced thin and sauteed down with cheese and butter.
• Another classic Bhutanese dish, Phaksha Paa is pork with red chilies. It's simmered until tender with mooli, ginger, bok choy, and chili powder. It's topped with dried pork, fresh green chili strips, and served with rice.
• Travel to Bhutan and try the dumplings! Typical fillings include minced pork or beef, cabbage, or fresh cheese mixed with spices.
Drinks To Try in Bhutan
• If it's available, try a locally brewed ara (or arag), a fermented drink made from rice, maize, millet, or wheat.
• Chang is technically a Tibetan beverage, but it is very popular in Bhutan. It is an alcoholic beverage made from cereal.
Top Cities to Visit in Bhutan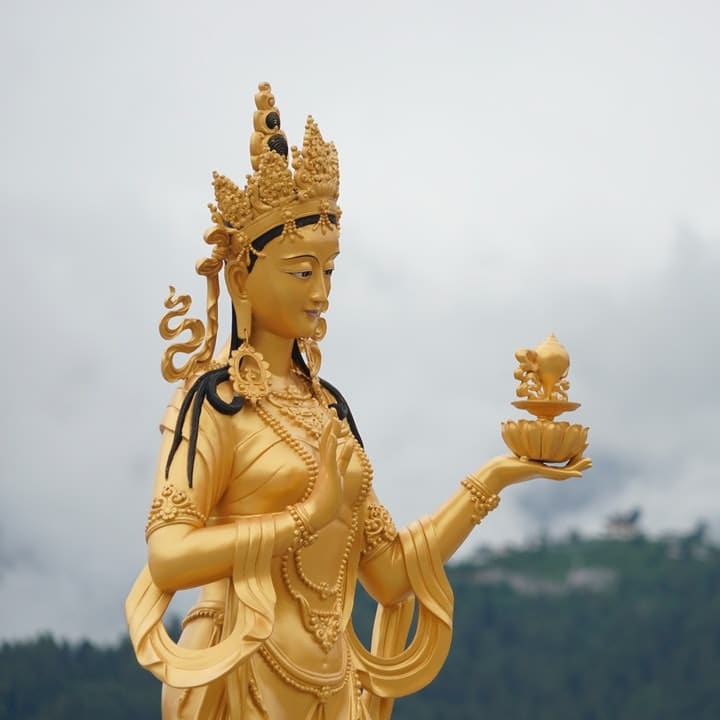 • The Bhutanese capital, Thimphu, is a charming spot nestled in the Himalayas. You'll find colorful clothing, streams running along the mountains, fresh air, red chilies hanging from roofs, and adorable cafes. Visit the Dochula Pass, Buddha Dordenma, and Tashichho Dzong.
• If you like history and countryside, then the city of Punakha is a must visit for you. Two of Bhutan's rivers converge here and at their confluence is the Punakha Dzong, a beautiful structure. Check out the Punakha Dzong, the Punakha Suspension Bridge, Khamsum Yulley Namgyal Chorten, Chimi Lhakhang Temple, the Royal Botanical Park, and more.
• Bumthang is the religious heartland of Bhutan, home to the oldest religious temples and monasteries. You will learn a lot about this country in this city. Visit Kurje Lhakhang (one of the most important temples in Buddhism), Tamshing Lhakhang Temple, and Burning Lake.
• The historical town of Paro is another must when you travel to Bhutan. Luckily, the country is about the size of Maryland, so you won't need to cover too much ground! Visit Paro Taktsang, Chele Le Pass, Rinpung Dzong, and the National Museum.
Must-See Sights in Bhutan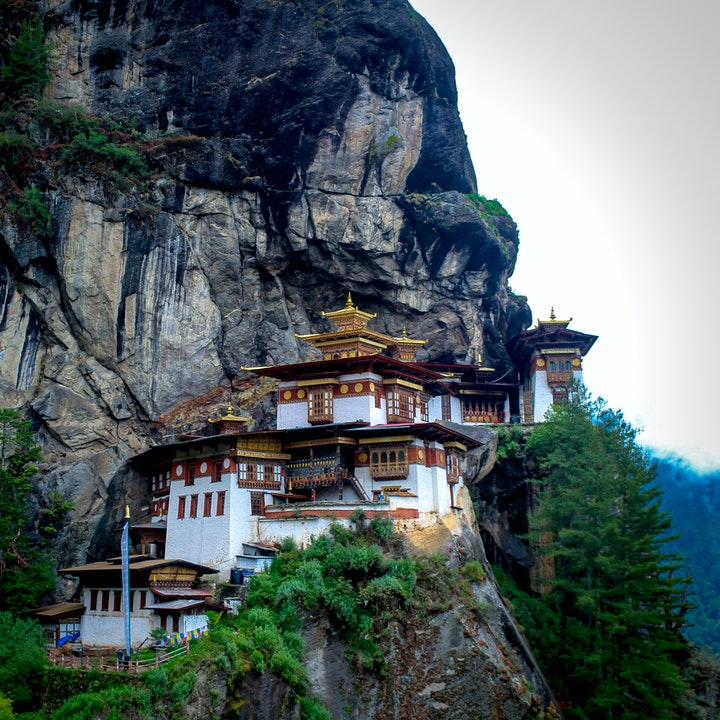 • Paro Taktsang སྤ་རོ་སྟག་ཚང་།
• Punakha Dzong སྤུ་ན་ཁ་རྫོང་།
• Buddha Dordenma Statue
• Tashichho Dzong བཀྲ་ཤིས་ཆོས་རྫོང༌།
• Dochula Pass
• National Memorial Chhorten རྒྱལ་ཡོངས་རྗེས་དྲན་
• Chimi Lhakhang
• Phobjikha Valley
• Gangtey Monastery
How To Get Around Bhutan
Bhutan does not have many options for local transport. It is only possible to travel by private car and driver. There are no passenger railways and only one main highway.
Bucket List Experiences in Bhutan
• Visit all the amazing temples!
• Discover Gross National Happiness.
• Enjoy a dance festival during Tschechu.
• Explore the countryside on a motorbike.
• Visit Dochula Pass – a beautiful mountain pass with 108 memorial stupas known as "Druk Wangyal Chortens." It's iconic!
• Hike to the Tiger's Nest – a monastery high up on a cliff.
Where To Book Flights
The cost of airfare can quickly eat up your budget.
>> Click here to find the best flights to Bhutan.
Where To Book Accommodations
Bhutan is home to some fantastic hotels.
>> Click here to find the best hotel deals in Bhutan.
Housesitting is a great way to cut down on travel costs.
>> Click here to find housesitting opportunities in Bhutan.
Hostels are an affordable option when it comes to accommodations.
>> Click here to find hostels in Bhutan.
Booking a vacation rental can help to save the budget.
>> Click here to find vacation rentals in Bhutan.
Best Travel Tours/Packages in Bhutan
GAdventures: Bhutan Adventure – 10 days
On treks through remote trails and visits to Paro, Thimphu, and Punakha, nature lovers, photographers, and culture junkies will uncover a purity of experiences, traditions, and kindness.
ToursByLocals: Amazing Bhutan Guided Tour –  6 Days
Amazing Bhutan will take us through cities across Thimphu, Punakha/Wangdue and Paro. The program includes best sightseeing available in each cities and mixture of cultural, nature, hikes/walks and meeting locals and understanding the happiness.
TourRadar: Spirit of Bhutan – 8 days
Start and end in Paro! With the In-depth Cultural tour Spirit of Bhutan – 8 Days, you have a 8 days tour package taking you through Paro, Bhutan and 2 other destinations in Bhutan. Spirit of Bhutan – 8 Days includes accommodation in a hotel as well as an expert guide, meals, transport and more.
Additional Reading About Bhutan
Books: Married to Bhutan; Beyond the Sky and the Earth; Butter Tea at Sunrise; The Circle of Karma
Podcasts: The World Nomads Podcast: Bhutan; Hello from Bhutan!; Learn Dzongkha

Movies: Lunana: A Yak in the Classroom; The Red Phallus; Hema Hema: Sing Me a Song While I Wait
Other Things You Should Know:
• Bhutan is a Himalayan kingdom, make sure you are comfortable with altitude change!
• Smoking in public and the sale of tobacco is prohibited in Bhutan. You can bring up to 200 cigarettes but you will need a permit.
• Bhutan believes in responsible and eco-friendly tourism – they are one of the world's leaders in the green space!
Now that you've seen our guide for travel to Bhutan, what did you think? Did we miss anything? Leave us a comment below!