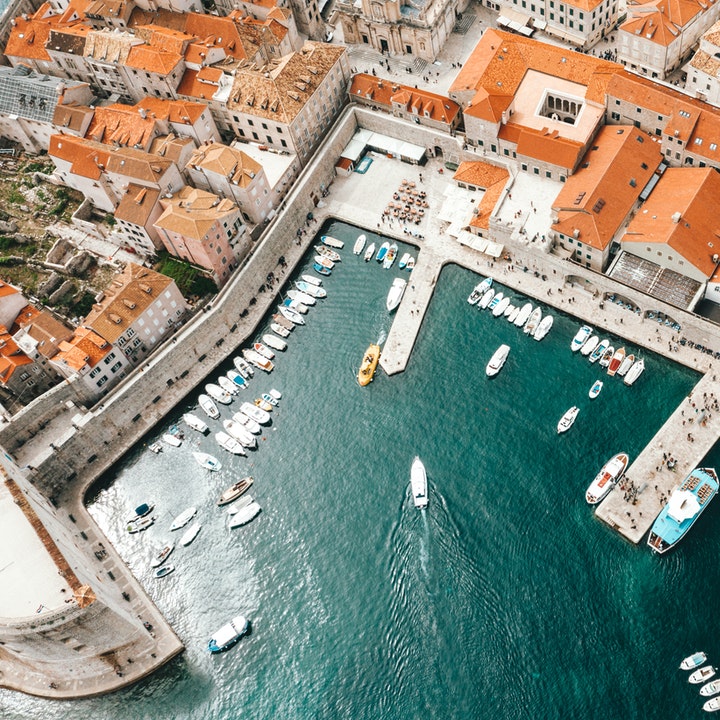 Marvel at the old city walls of Dubrovnik, enjoy a lively underground bar scene, and take a boat ride inside the Blue Grotto of Bisevo. It's time to travel to Croatia!
Croatia offers a mix of cultures, beautiful beaches, and tasty foods like strukli, black risotto, and fritule.
Here's our guide for travel to Croatia.
General Information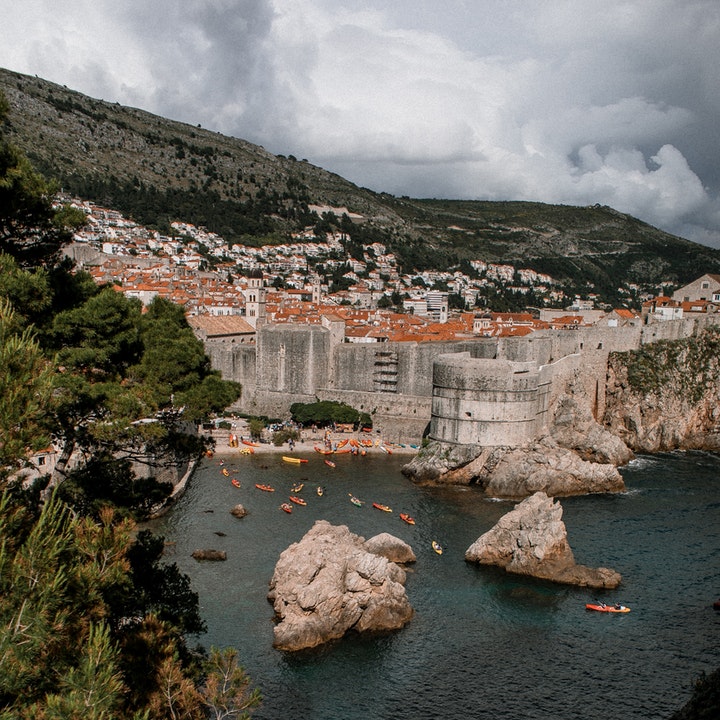 • Population: Roughly 3.8 million
• Capital: Zagreb
• Location: Located in southeastern Europe, Croatia sits on the Adriatic Sea, sharing borders with Slovenia, Bosnia & Herzegovina, and Montenegro.
• Flag: The flag consists of three equal stripes in red white and blue, and the coat of arms in the middle.
• Time Zone: Central European Standard Time
• Currency: Croatian kuna
• Language: Croatian
• Climate: Most of the country has a moderately warm and rainy continental climate.
• Religion: There is no official religion, the country practices freedom of religion. However, most of the country identifies as Christian.
• Travel Visa Information: To find out if a visa is required for your country — and easily get yours if needed — check out iVisa.com.
• Best Time to Visit: The best time to travel to Croatia is fromJune to September, when the weather is sunny and temperatures are ideal for boating and swimming.
Health & Safety
• As of February 2022, the CDC does not recommend travel to Croatia, levels of COVID-19 are still very high. If you must travel to Croatia, make sure you are vaccinated. You will need to provide proof of vaccination or a negative COVID-19 test result to travel to Croatia.
• Find information regarding COVID-19 and Croatia here: https://hr.usembassy.gov/
• Follow the CDC guidelines for current travel advisories, as well as the U.S. Embassy guidelines.
Typical Costs in Croatia
For the most part, travel to Croatia is fairly reasonable. Prices vary with accommodation depending on location, luxury level, and other factors. As in many places, sit-down dinners are more expensive than eating street food or fast food.
Food To Eat in Croatia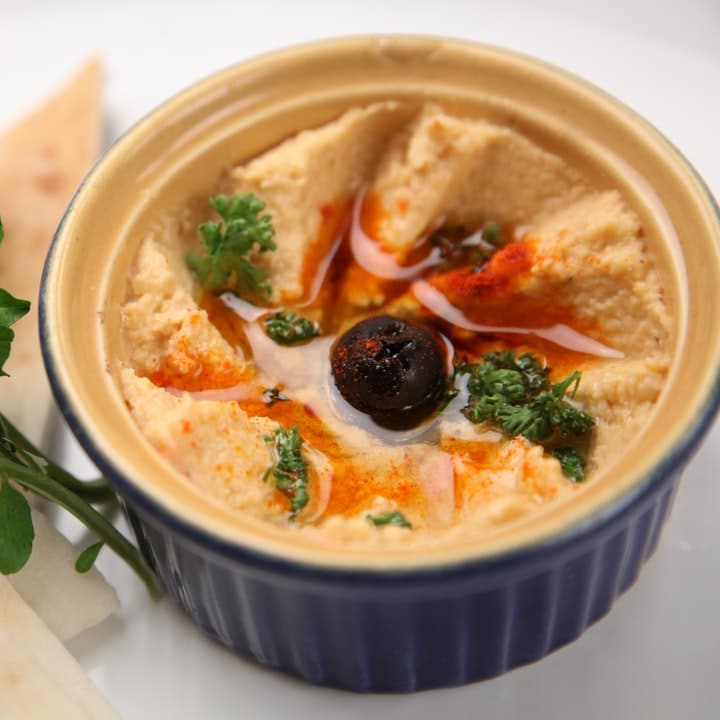 There are different kinds of food in Croatia, depending on the region. Dalmatian food, found along the Dalmatian coast, and on the islands, is typical Mediterranean cuisine while Zagreb food is more similar to central European countries.
• Travel to Croatia for delicious food like the crni rizot or black risotto. This is in its simplest form a risotto made with squid ink! You'll find it on menus everywhere and oftentimes the dish is served with other kinds of seafood as well.
• Strukli is a pastry filled with cottage cheese and sour cream. It began in Slovenia, but it is now a very popular dish in Zagreb. It is either boiled in water or baked in an oven.
• Octopus salad is common on most menus in Croatia, it's worth a try! A basic version includes octopus, onion, tomato, olive oil, and lemon juice.
• Fritule are balls of dough made with flour, raisins, local schnapps, and lemon zest. They are deep fried and irresistible.
• Ćevapi is a popular street food found in Croatia. They are small sausages that are grilled and then stuffed into a pita-like bread, with red pepper, tomato sauce, sour cheese, and onions.
• Pasticada with gnocchi is known as the "Queen of Dalmatian cuisine," and it can be found nearly everywhere, including in the homes of the locals. Here's how it's made: Baby beef's fake filet is marinated in wine vinegar for several days, braised for hours, first in its own juice, and then red wine. It is served with gnocchi.
• Istarski fuzi are quill-shaped homemade pasta. It is usually served with different stews: mushrooms, truffles, chicken, or beef stew.
• Soparnik is a typical Dalmatian dish, it is a savory pie filled with Swiss chard.
• Arancini is a typical sweet that hails from southern Croatia. They are candied orange peels.
• Krostule is a yummy, crispy, crunchy pastry found in Croatia. The dough is cut into long thin strips, tied in a loose knot, and then deep-fried in oil and sprinkled with powdered sugar.
• Brudet is a fish stew usually served with polenta.
• Peka is not necessarily one specific dish, but a way of cooking. Custom to Croatia and surrounding countries in the area, peka is baking meat, seafood, and vegetables under a bell-like lid, covered in embers. The mixture cooks for two hours, the meat is turned halfway through, sauce and spices are added too.
Drinks To Try in Croatia
• There are many local wines and local beers made in Croatia. Try some of them! Here's how to ask for a drink at the bar: Molim vodu vino (wine) or pivo (beer).
• Maraschino is a cherry brandy, made from Marasca cherries, grown in the region of Zadar. It is one of the most original drinks you can enjoy when you travel to Croatia.
• Schnaps, grappa, or as local calls it rakija, is a local brandy made from grapes. Some of the most popular versions include medica, grappa with honey; travarica, a grappa made of herbs; orahovaca, grappa with walnuts; biska, grappa with mistletoe; rogac, grappa with carob; mirta, with myrtle, and more.
Top Cities To Visit in Croatia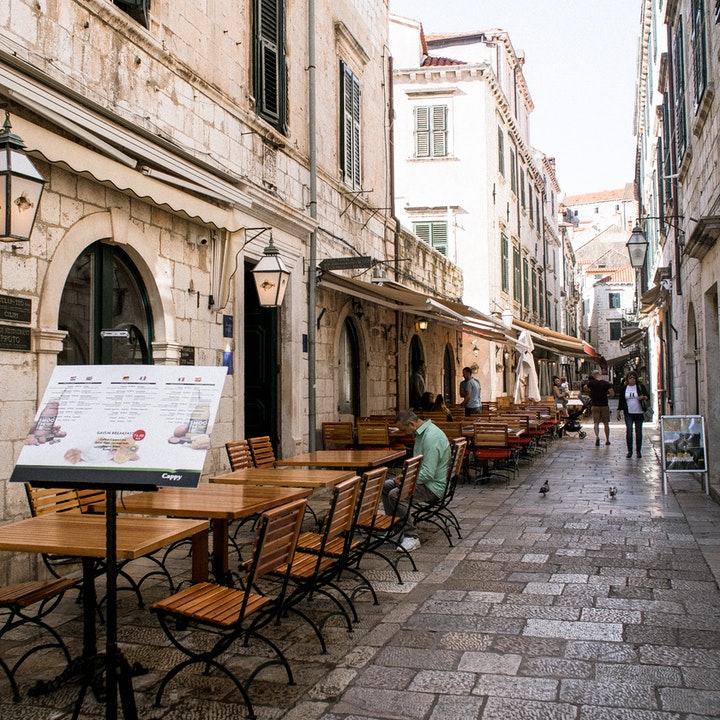 • Dubrovnik is a tranquil city that sits between the Adriatic Sea and the Dinaric Alps – meaning it really has the best of both worlds. The city walls are its most recognizable feature, and it's a sight you literally cannot miss. 😉 Go back in time and walk along them, walk through pedestrian-only Old Town and Stradun (UNESCO site), and explore Lopud Island.
• Zagreb is an excellent example of a city with a little bit of everything – it brings together the history of the city with contemporary art and culture. Visit Tkalčićeva Street, Upper Town, St. Mark's Church, Maksimir Park, Mirogoj Cemetery (which doubles as an art gallery), and climb Sljeme. Zagreb is known for a lively underground bar scene, with tons of places to enjoy live music. Check out A Most Unusual Garden.
• Did you know the Croatian city, Split, has been under Roman, Venetian, Austrian, French, Italian, and Yugoslav rule? Now you do! The Old City is a UNESCO World Heritage Site. Travel to Croatia to see the Blue Cave on the island of Bisevo, Diocletian's Palace, Klis Fortress, and the Cathedral of Saint Domnius. Psst! Attention Game of Thrones fans! A few scenes were shot in Split, Croatia.
• Visit Zadar to sip cocktails on white-sand beaches, experience Roman ruins, and marvel at Zadar's Sea Organ. If you have the time in your itinerary, Greeting to the Sun – Il Saluto al Sole in Zagreb, is a giant disco floor that lights up using solar power energy from the sun – so check it out at night! Great spot to bring the kids.
• Find beaches, medieval villages, bars, restaurants, and nightclubs all in Hvar – a popular spot for vacationers and many celebrities. Walk through fields of lavender, drink wine at Stari Grad Plain, a UNESCO World Heritage site, and snorkel in the coves.
Must-See Sights in Croatia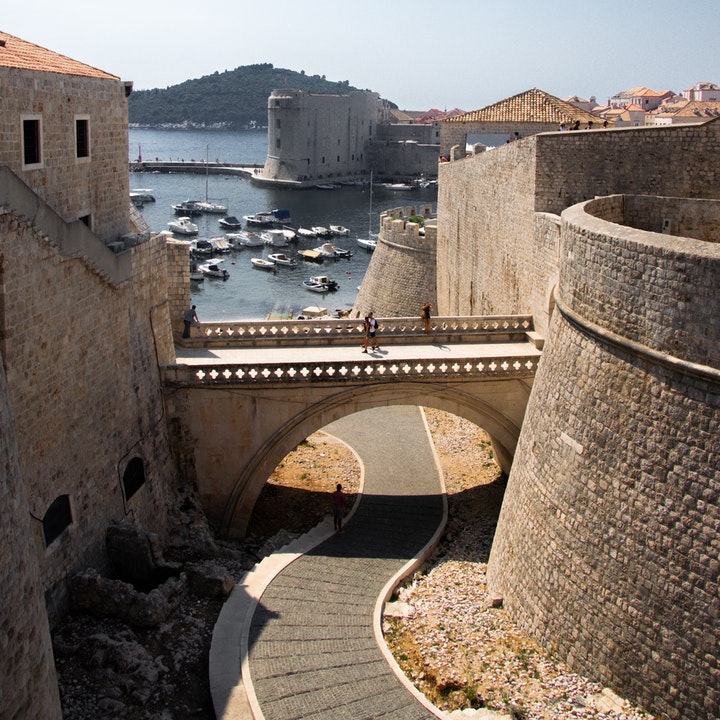 Travel to Croatia to see:
• Plitvice Lakes National Park
• Rovinj
• Dubrovnik
• Trogir
• Golden Horn Beach
• Krka National Park
• Walls of Dubrovnik
• Diocletian's Palace
• Zadar's Sea Organ
• The Blue Grotto
• Pula Arena
• Euphrasian Basilica
• Museum of Broken Relationships
• Meštrović Gallery
• Rector's Palace
How To Get Around Croatia
There are plenty of affordable ways to get around Croatia. Consider using the inexpensive bus, ferries, or catamaran ferries for sea transport between cities. Trains run less frequently and are slower than buses, so this option is not ideal. Bicycles are a great way to explore cities or on each island.
Bucket List Experiences in Croatia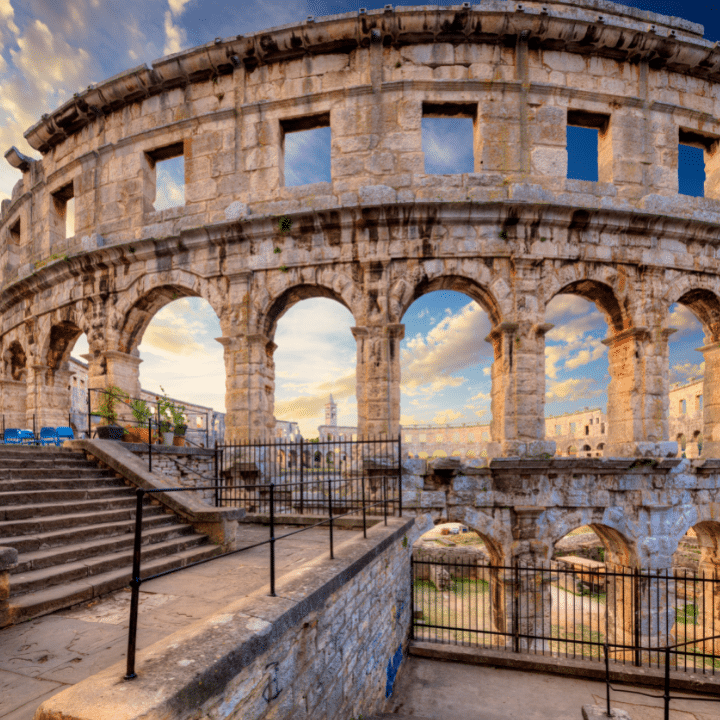 • Travel by boat to see the Blue Grotto/Blue Cave in Bisevo. This is something you simply cannot miss when visiting this country!
• Explore Pula Arena – one of the six largest remaining Roman amphitheatres in the world.
• Walk Dubrovnik's city walls, which date as far back as the 12th to 17th centuries.
Where To Book Flights
The cost of airfare can quickly eat up your budget.
>> Click here to find the best flights to Croatia.
Where To Book Accommodations
Croatia is home to some fantastic hotels.
>> Click here to find the best hotel deals in Croatia.
Housesitting is a great way to cut down on travel costs.
>> Click here to find housesitting opportunities in Croatia.
Hostels are an affordable option when it comes to accommodations.
>> Click here to find hostels in Croatia.
Booking a vacation rental can help to save the budget.
>> Click here to find vacation rentals in Croatia.
Best Travel Tours/Packages in Croatia
GAdventures: Dubrovnik to Athens – 9 days
With magnificent Dubrovnik as a launching pad, you'll head south through Montenegro and undiscovered Albania, then hit Corfu and its fabulous beaches en route to a history fix in ancient Athens. Along the way, you'll climb the lanes of walled towns and get down in exclusive clubs.
TourRadar: Croatia Sailing Adventure – 8 days
Start and end in Split! With the Sailing tour Croatia Sailing Adventure, you have a 8 days tour package taking you through Split, Croatia and 5 other destinations in Croatia. Croatia Sailing Adventure includes accommodation, an expert guide, meals, transport and more.
ToursbyLocals: The Blue cave, Stiniva beach, islands Vis, Paklinski, Bisevo & Budikovac – private speedboat tour (from Hvar)
Vis is one of the most authentic, most beautiful and the most historic islands in the world. It is also a famous filming location (Mamma Mia II was filmed there). As a big lover of nature and sailing I have been visiting Vis and the Blue cave for years and I never stop getting amazed.
Additional Reading
Books: The Hired Man; Chasing a Croatian Girl: A Survivor's Tale; Girl at War; Café Europa: Life After Communism
Movies That Will Make You Fall in Love with Croatia: Mamma Mia II; Diana; Ibiza; Game of Thrones
Podcast: Croatia Underrated
Check out these Journo Adventures of travelers that have visited Croatia! @Emoland explored Old Town in Dubrovnik on a grand European tour, and @NJDiary2018 visited several islands north of Dubrovnik!
Now that you've seen our guide for travel to Croatia, are you ready to go? Did we miss anything? Leave us a comment below!