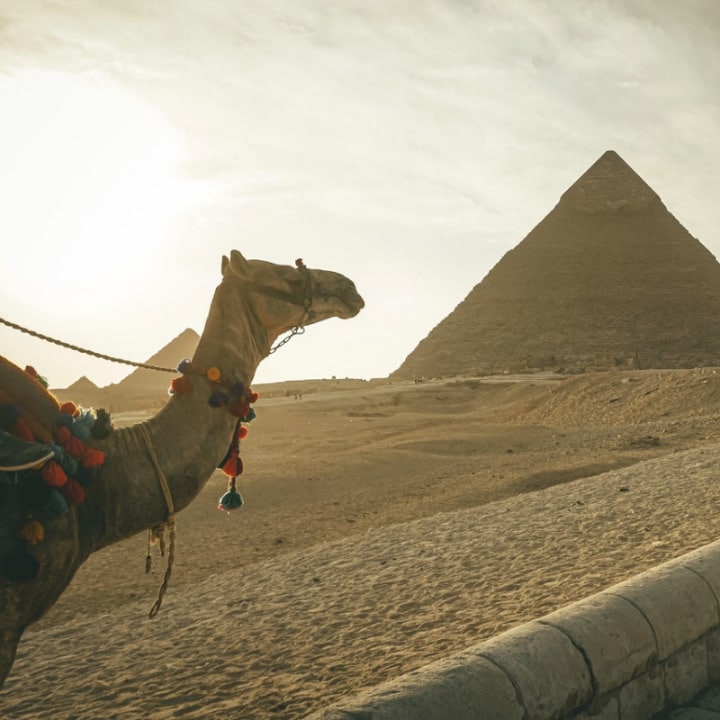 If you're looking to step back in time and learn an incredible amount about the ancient world, it's time to travel to Egypt.
In this Mediterranean country that links northeast Africa to the Middle East, visit the last remaining wonder of the ancient world (Pyramids of Giza) and stroll through the many museums that house ancient Egyptian artifacts.
Haggle in the bazaars, ride a camel, sandboard in the desert, visit the beautiful mosques, and find out how to spell your name in hieroglyphics.
General Information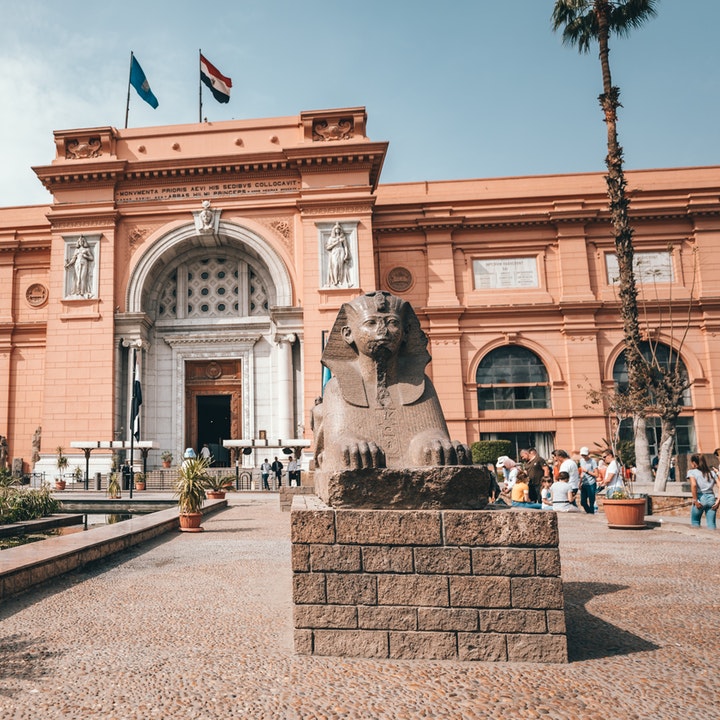 Population: Roughly 102 million
Capital: Cairo
Location: Sitting on the Mediterranean Sea, Egypt links northeast Africa to the Middle East, sharing borders with Libya, Sudan, and Israel. 
Flag: The flag consists of three horizontal bars in red, white, and black. In the center of the flag sits Egypt's national emblem, the Egyptian eagle of Saladin.
Time Zone: Eastern European Standard Time
Currency: Egyptian pound (E£)
Language: The official language is Arabic and the national language is Egyptian Arabic, also known as Masri/Masry.
Climate: Egypt has a hot, sunny, and dry climate with very very little rainfall. 
Religion: Egypt has the sixth world's largest Muslim population and the largest Christian population in the Middle East and North Africa.
Travel Visa Information: To find out if a visa is required for your country — and easily get yours if needed — check out iVisa.com.
Best Time to Visit: In the winter, from October to April, you may experience less severe heat. 
Health & Safety
As of May 2022, according to the CDC, the status of COVID-19 cases in Egypt is unknown. If you must travel to Egypt, make sure you are fully vaccinated. In addition, before you travel to Egypt, be sure you are fully vaccinated for polio, as well as several other diseases.
Find information regarding COVID-19 and travel to Egypt here: https://eg.usembassy.gov/
Follow the CDC guidelines for current travel advisories, as well as the U.S. Embassy guidelines.
Due to political unrest over the years, please check with your country's guidelines and warnings before you plan any travel to Egypt.
Typical Costs in Egypt
The average price for accommodation for one person in Egypt is E£277, or roughly $15 USD per night. The average meal will cost E£78, or $4 USD. As always, street food or fast food is cheaper than sit down restaurants.
Food To Eat in Egypt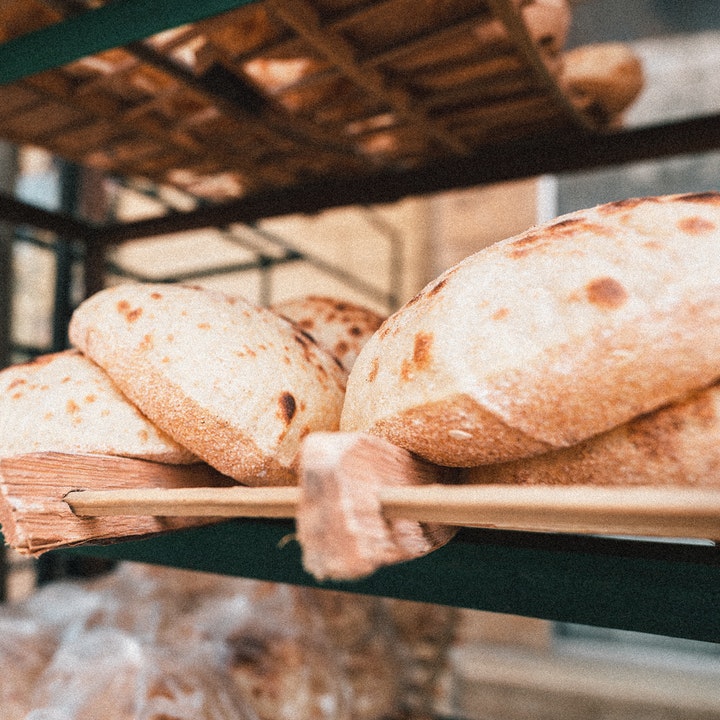 Aish Baladi is a fluffy bread that looks like a pita, baked several times daily – you can find these all over the country. These little pockets are known for sopping up all the delicious Egyptian cuisine on their plates. 
Kabab wa kofta is an Egyptian classic. It consists of lamb, beef, onion, garlic and spices, and fresh mint. The ground meat is formed into balls or long shapes and cooked on skewers. It's served with salad and bread, of course.
Ful Mudammas are popular street food and are usually enjoyed for breakfast. Starting with a bean base that is sprinkled with chopped parsley, hard-boiled eggs are added, and pita bread is served alongside. The dressing is made of olive oil, salt and pepper, pepper flakes, lemons, crushed garlic, and ground cumin.
Koshary has been deemed the national dish of Egypt and a must-try for travel to Egypt. This is a mix of lentils, chickpeas, rice, macaroni, tomato sauce, and fried onions. You can find this dish in many homes, as well as a popular street food in Cairo. The dish is cheap and will keep you full and energized for exploring Egypt. Try it at Koshary Abou Tarek, a restaurant known for it.
Om ali is a traditional bread pudding that folklore says was named after Sultan Ezz Din Aybak's wife from the 13th century. It is made with pieces of phyllo dough or puff pastry, blended with almonds, raisins, pistachios, coconut, milk and cream, then sprinkled with cinnamon and baked in the oven. Yum!
Ful wa Ta'meya is another staple of Egypt, the falafel! It is made of crushed fava beans that is later made into a paste, then fried. 
Drinks To Try in Egypt
Sahlab is a winter drink, made from the starch in the ground bulb of an orchid, that is then mixed with milk, sugar, and rosewater.
Kerfa, or cinnamon tea, is made from ground cinnamon, sometimes served with milk.
Yansoon is an aniseed-flavored drink, often recommended for sore throats and colds.
Haggle around the bazaar and enjoy a fresh fruit juice, there are many options!
Traditional Qahwa is a Turkish-style coffee, served sweet. For Western coffee ask for "Nescafe." You'll have to order the Qahwa with the name depending on how much sugar you want in it – without sugar it is called Saada; one with little sugar, say Riha; if you want it sweet Masbut; but if you want it very sweet, say Ziada.
Top Cities to Visit in Egypt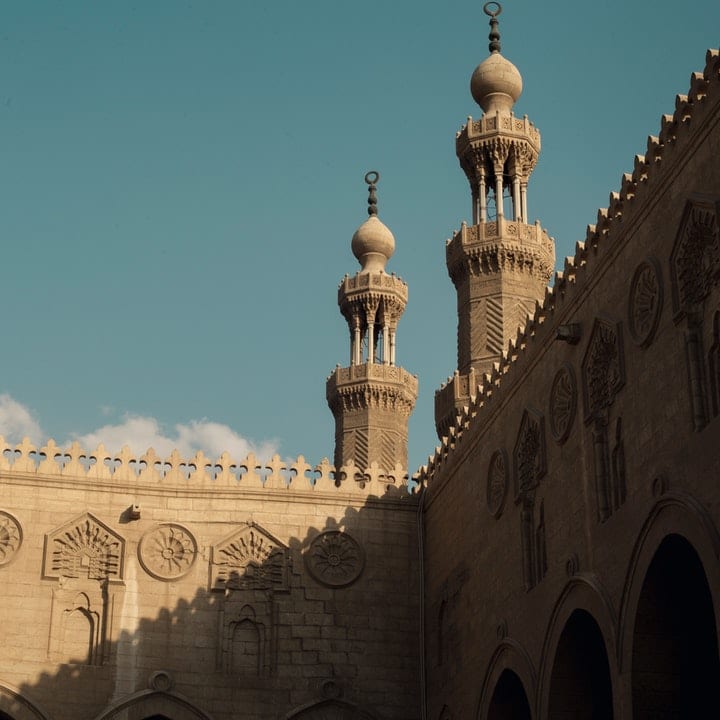 Cairo is the bustling, energetic capital of Egypt. With all that energy, comes crowds and congestion. However, it's a must-see and there are ways to conquer the crowds. The Egyptians know the city as Umm ad Dunya – the Mother of the World. In Cairo, you can see the Pyramids of Giza, the Sphinx, The Egyptian Museum of Antiquities, old Cairo (UNESCO World Heritage site), and so much more. Travel to Egypt and be prepared to learn A TON about this world.
Alexandria is the city for history buffs! Once home to the Lighthouse of Alexandria – one of the Seven Wonders of the Ancient World, Alexandria is filled with historic facts and sights. Visit the Serapeum of Alexandria, Bibliotheca Alexandrina (honors the Great Library of Alexandria – which burnt down in the 1st century), Abu al-Abbas al-Mursi Mosque, Montazah Palace Gardens, and more.
Luxor is a city on the east bank of the Nile River, on the site of ancient Thebes. In this city, you can visit two huge surviving ancient monuments, Luxor Temple and Karnak Temple. In addition, you can take a hot air balloon ride over the Valley of the Kings, where thousands of artifacts live.
Sharm El-sheikh has become one of Egypt's most popular beach resorts. It's hot in the summer and warm in the winter, a perfect tourist vacation destination. Scuba dive, wind surf, have a coffee at Farsha Cafe, visit Al-Mustafa Mosque, visit Ras Mohammed National Park, and enjoy star gazing in the Sinai desert. 
Must-See Sights in Egypt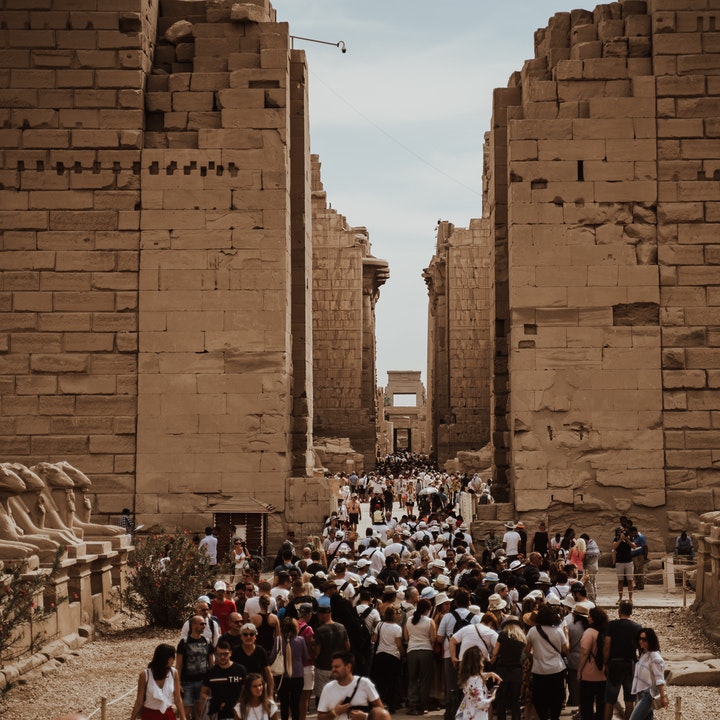 Pyramids of Giza (The only remaining Wonder of the Ancient World)
Great Sphinx of Giza
Luxor Temple
Karnak Temple (pictured above)
The Egyptian Museum
Bibliotheca Alexandrina
Valley of the Kings
Saqqara Necropolis
Abu Simbel Temples
The Khan el Khalili Bazaar
Philae
Old Cairo (World Heritage site!)
Colossi of Memnon
Salah Al-Din Al-Ayoubi Castle
The Nile River (longest river in the world)
Pyramid of Khafre
Citadel of Qaitbay
Valley of the Queens
Mosque-Madrasa of Sultan Hassan
Al-Azhar Mosque
Aswan High Dam (largest embankment dam in the world)
Mortuary Temple of Hatshepsut
Eastern Desert
Hanging Church of the Virgin Mary
How To Get Around Egypt
There are many ways to get around Egypt. In Cairo, the metro system is reliable and easy to use. Buses can take you almost anywhere and are reliable and safe. Trains are limited but they also exist. If you want to rent a car, rent a car with a driver, so you don't need to worry about the traffic laws and parking.
Bucket List Experiences in Egypt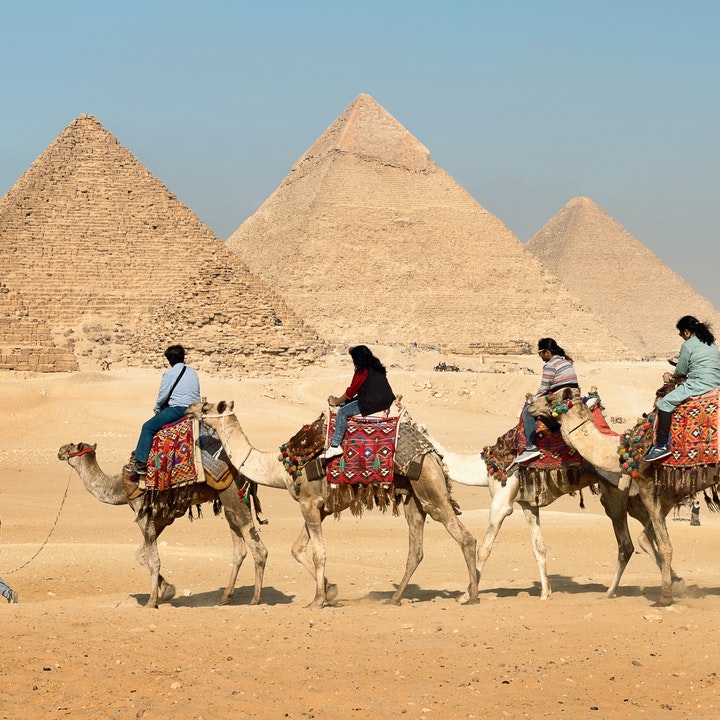 If you travel to Egypt, there is one must-do. Visit the Pyramids of Giza – how many people can say that they've visited an Ancient Wonder of the World?!
Go camping in the White Desert.
Go on a cruise on the Nile River!
Go on a sunrise hot air balloon ride.
Explore Alexandria!
Ride (or at least pet) a camel.
Go sandboarding in the Sahara Desert!
Visit a mosque. Be sure you are dressed appropriately and read our guide on responsible travel.
Where To Book Flights
The cost of airfare can quickly eat up your budget.
>> Click here to find the best flights to Egypt.
Where To Book Accommodation
Egypt is home to some fantastic hotels.
>> Click here to find the best hotel deals in Egypt.
Housesitting is a great way to cut down on travel costs.
>> Click here to find housesitting opportunities in Egypt.

Hostels are an affordable option when it comes to accommodations.
>> Click here to find hostels in Egypt.
Booking a vacation rental can help to save the budget.
>> Click here to find vacation rentals in Egypt.
Best Travel Tours & Packages in Egypt
TourRadar: Best of Egypt – 9 days
Reveal the incredible wonders of Egypt and the lifegiving Nile over 9 days in comfort and style. Journey from the buzzing heart of Cairo to the breath-taking Pyramids and the Sphinx. Fly to Luxor to save much valuable time. Sail to amazing monuments and temples scattered along the banks of the Nile on a deluxe Nile Cruiser for 4 nights. Savour the local lifestyle on a traditional felucca boat before flying back to Cairo. Sample the authentic cuisine and create memories of a lifetime.
GAdventures: Egypt Boats & Bazaars – 8 days
This compact adventure offers maximum Egypt at minimum cost. Stare in amazement at the pyramids and float down the Nile on a felucca. Embrace the culture and meet remarkable people as you dine on traditional fare with a local family in a Nubian village. You'll enjoy basic accommodation and transport to the best sights. Walk through the Valley of the Kings or explore Karnak — it's your call. Don't just dream of Egypt, wake up in the Land of the Pharaohs and open your eyes to adventure.
ToursByLocals: 4 days Cairo, Luxor and Alexandria Private tour
Live inside the adventure of ancient Egypt with a wonderful visiting of the Great Pyramid of Giza, Step Pyramid and Memphis.
Additional Reading
Books To Read Before You Visit Egypt: Cairo: The City Victorious – Max Rodenbeck; Walls of Freedom: Street Art of the Egyptian Revolution; Playing Cards in Cairo – Hugh Miles; Sex and the Citadel – Shereen el-Fiki; Sinai: Egypt's Linchpin, Gaza's Lifeline, Israel's Nightmare – Mohannad Sabry
Podcasts: The History of Egypt Podcast; Egypt Travel Podcast; HistoryExtra podcast
Movies To Make You Fall In Love with Egypt: Cleopatra; Mummy; The Pyramid; Cairo Time
Check out Journo adventurer @JamKip's journey through Egypt! She visited pyramids, rode a camel, and saw so many cool sights!
Have you read our list of the 10 Best Countries To Visit in the world?
Now that you've seen our guide for travel to Egypt, what did you think? Did we miss anything? Leave us a comment below!