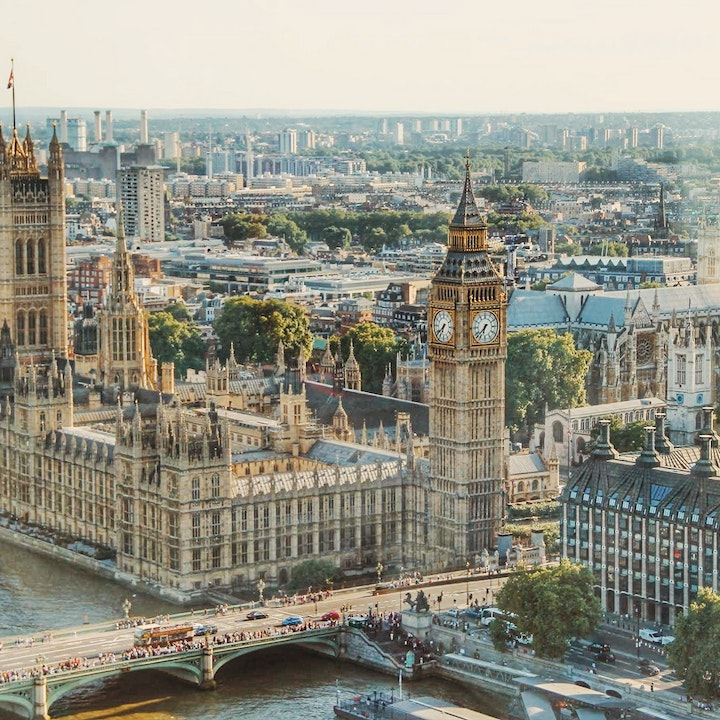 Travel to England for tea and scones, the changing of the guards, tons of art and music, and lots of history to learn.
While this country is known for its fun accent and dreary weather, it offers so much more than that! (One of those things being a cheese rolling event where people chase cheese down a hill.)
Stroll through the cosmopolitan streets of London, soak in the Roman Baths in Bath, have a beer at The Cavern Club in Liverpool, and follow Harry Potter's footsteps in Oxford.

Take a look at these travel journal prompts before you start your journey and make sure you get ready with the Pack This! App.
General Information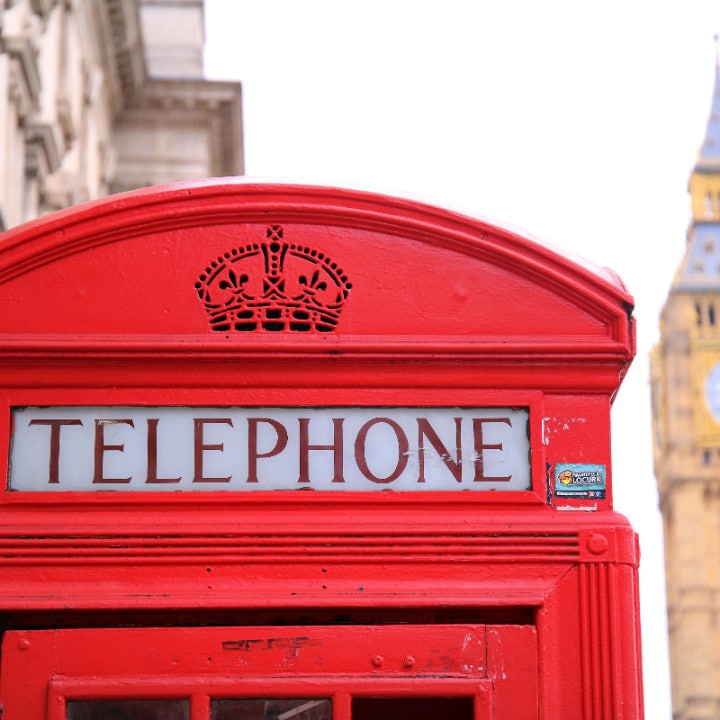 Population: Roughly 56.4 million
Capital: London
Location: As a part of the United Kingdom, England shares borders with Wales to the west and Scotland to the north.
Flag: A white background with a red cross in the center. The flag is derived from Saint George's Cross.
Time Zone: Greenwich Mean Time
Currency: The British pound
Language: The national language is English.
Climate: England has a temperate maritime climate, with mild temperatures. The weather is damp relatively frequently, but the area's rainfall is spread evenly throughout the year.
Religion: Christianity is the most widely practiced religion in England. There is no official religion.
Travel Visa Information: To find out if a visa is required for your country — and easily get yours if needed — check out iVisa.com.

Best Time To Visit: Visit during May, June, September, and October, for mild to warm weather.
Health & Safety
As of August 2022, the CDC does not recommend traveling to England if you are not vaccinated. If you must travel to England, be sure you are up to date with your vaccines.
Find information regarding COVID-19 and travel to England here.
Follow the CDC guidelines for current travel advisories, as well as the U.S. Embassy guidelines.
Typical Costs in England
The average cost of food per day in England is £30. The fancier the restaurant, the more expensive the meal! So if you're sticking to a budget, consider street food.
Food To Eat in England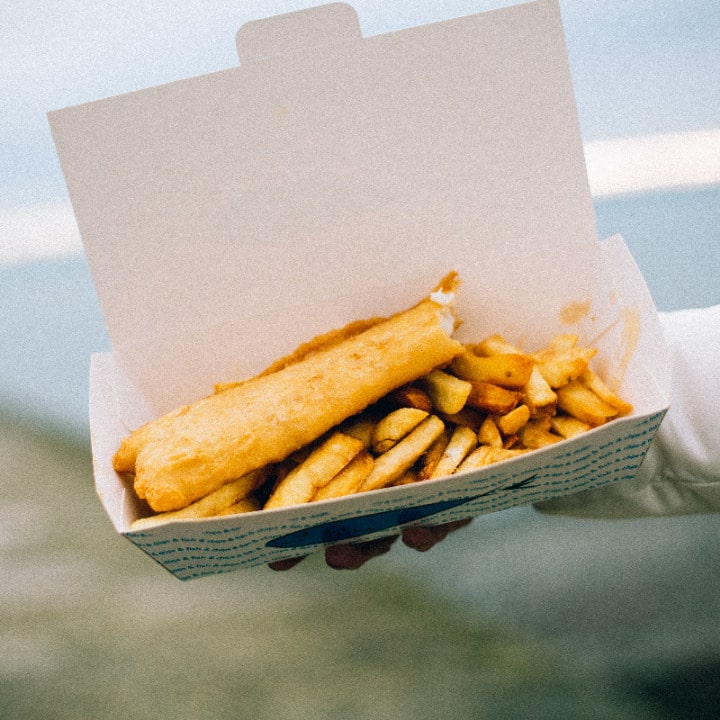 Not sure where to head for dinner tonight? Check out our guide with 7 Tips And Tricks To Help You Choose A Great Restaurant While Traveling.
Tea and scones, please! Venture into a tea room and enjoy tea, scones with clotted cream and jam. You're going to love them when you travel to England!
If you enjoy seafood, the fish and chips in England are like nowhere else in the world. Fresh battered fish, usually cod or haddock, and fries. Yum! You can get this classic staple in almost every restaurant, but we think the best versions are from the food stalls on the streets.
A full English breakfast, which is not the same but can be compared to a full Irish breakfast, features bacon, eggs, British sausage, baked beans, fried tomato, fried mushrooms, black pudding, and fried and toasted bread. It is a hearty meal that has become a British staple. A must-try and one of 52 breakfasts around the world.
Bangers and mash is a comfort dish in England, and it's easy to see why. The dish features sausage, mashed potatoes, and gravy.
Beef wellington is a popular dish that you may have heard of or enjoyed your own version of! This dish includes a filet of steak coated with pâté and duxelles (a mushroom mixture), wrapped in puff pastry, and baked.
Finger sandwiches or tea sandwiches are another tea time staple. These are small sandwiches cut into triangles or rectangles, with no crust. The fillings are simple and light, including egg salad, cucumber and cream cheese, or smoked salmon and cream cheese.
Sticky toffee pudding is a British favorite for good reason. It includes a moist sponge cake, made with finely chopped dates, covered in toffee sauce. The dessert is often served with vanilla ice-cream.
A Victoria sponge cake is different from a regular sponge cake. It is lighter and fluffiier and usually made up of two sponge cakes, with a layer of jam and fresh whipped or vanilla cream between them. It is then sprinkled with powdered sugar. The infamous dessert is named after how Queen Victoria would have enjoyed it.
If you travel to England during the Christmas season, you will inevitably come across a mince pie. A mince pie is made with mincemeat, a mixture of fruit and spices.
Drinks To Try in England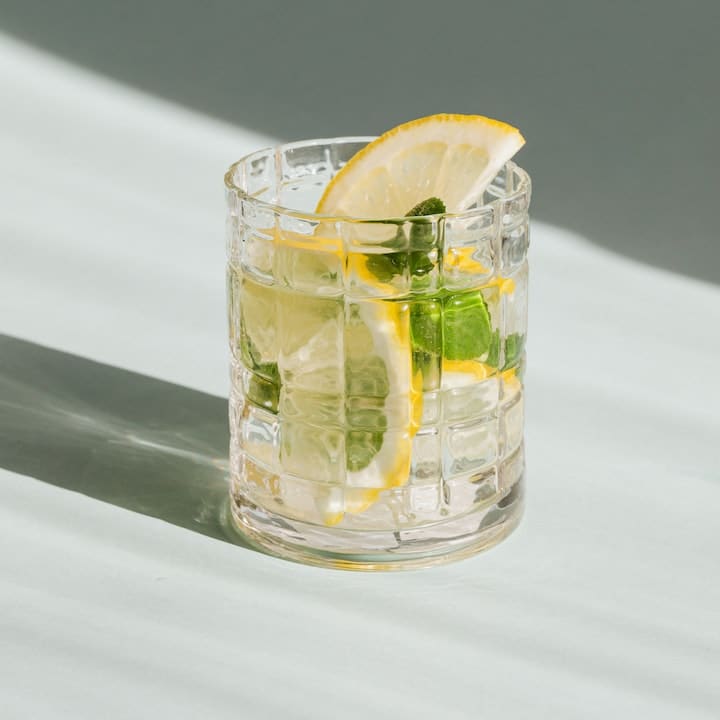 It is a must that you try traditional English tea when you visit the Brits. Wherever you go in the country, there will be plenty of opportunities to try English tea. Take advantage of them! Having tea is a favorite pastime of British culture and you'll hear locals say, "Fancy a cuppa?"
Many popular martini recipes started in London, like the Breakfast Martini or the Espresso Martini. If you enjoy a cocktail or two, we invite you to try the martinis in England. Did you know The Connaught Bar, in London, was named #1 of the 50 Best Bars in the World in 2021?
Although Gin and Tonic was not started in England, the British version is sure to razzle dazzle your taste buds. It is a classic in the country. Try gin from a wide range of distilleries.
Top Cities To Visit in England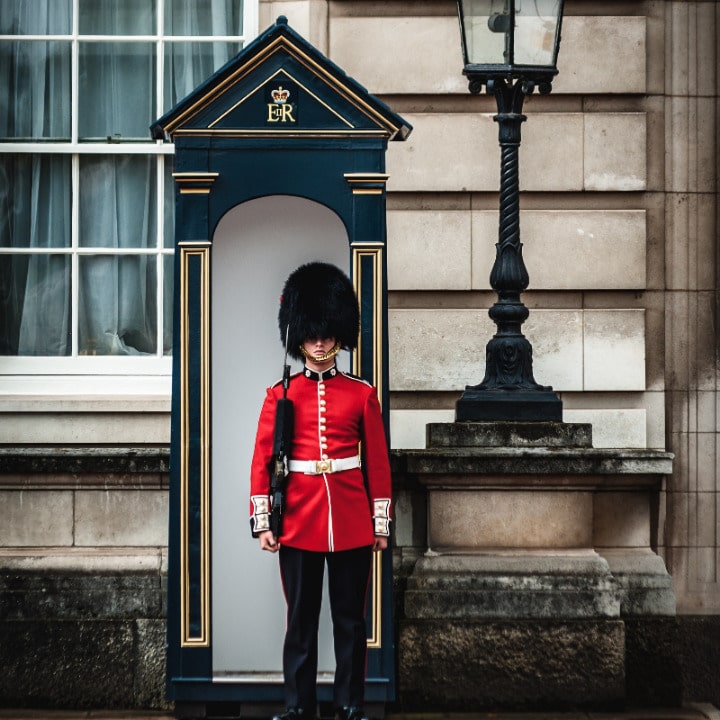 There's so much to do when you travel to England — say hello to Big Ben, enjoy tea time at a tea shop, soak up Dorset's Jurassic Coast, and experience the hustle and bustle of London.
London, England's capital city, is full of history and should be a stop on your itinerary when you travel to England. Walking through and around the city center you'll see traditional rituals like the changing of the guards at Buckingham Palace, the old-school red telephone booths that are Insta-famous, and plenty of pubs and shops for tea. Visit St. James Park, Westminster Abbey, Abbey Road, Camden Market, Borough Market, the Shoreditch neighborhood, Covent Garden, Hyde Park, the London Eye (save your money, you don't need to go up in it) Tower of London, and Tower Bridge. History buff? Make a stop at the Churchill War Rooms, the National Gallery, and the British Museum. Lots to do!
Manchester is a city of soccer, art, and music. The city is well known for its soccer team and for producing famous bands like The Smiths and Oasis. Explore The John Rylands Library, The Manchester Museum, Etihad Stadium, Science and Industry Museum, Manchester Art Gallery, the National Football Museum, Northern Quarter, Manchester Cathedral, and more.
Liverpool is known for some pretty cool things and for being the home of some pretty cool people! The Beatles! If you are a music fan or a Beatles fan, this city should be on your itinerary when you travel to England. Take a ride on the Magical Mystery bus and learn all about the Beatles' childhoods. Check out Royal Albert Dock, Liverpool Cathedral, the Cavern Club, Museum of Liverpool, and Crosby Beach.
Bath, once the home of Jane Austen, will please literary and spa lovers alike. The city is home to thousands of buildings with architectural merit, as well as the Thermae Bath Spa, which was a favorite spot of the Celts and Romans. How cool! Visit Bath Abbey, the Roman Baths, Pulteney Bridge, The Circus, and just stroll around to see the incredible architecture. Stop in a pub. Eat, drink, be merry.
Birmingham is England's second largest city and it is home to tons of canals, the filming location of Peaky Blinders, and Cadbury chocolate – yum! Whoever you travel to England with, whether that be friends, family, or a solo trip, will enjoy Birmingham. Visit Cadbury World, the Birmingham Back to Backs, Aston Hall, the Birmingham Library, and Snobs. Foodies will love this city with more Michelin stars than any UK city outside of London.
The southern city of Brighton, about an hour's train ride from London, is known for being a fun place to be because of its quirky neighborhoods, art scene, and diverse communities. Go on rides at Brighton Pier, relax at the beach, go listen to live music, and visit the Royal Pavilion.
Oxford, the city of Dreaming Spires, is a must for literary fans for several reasons! Tour the beautiful Bodleian Library at Oxford University, visit the University of Oxford Botanic Garden, and peek inside Oxford Prison and Castle. Stroll through University Parks and take a picture with the Bridge of Sighs. A visit to Oxford is an opportunity for you to live your Harry Potter dreams, too.
Must-See Sights in England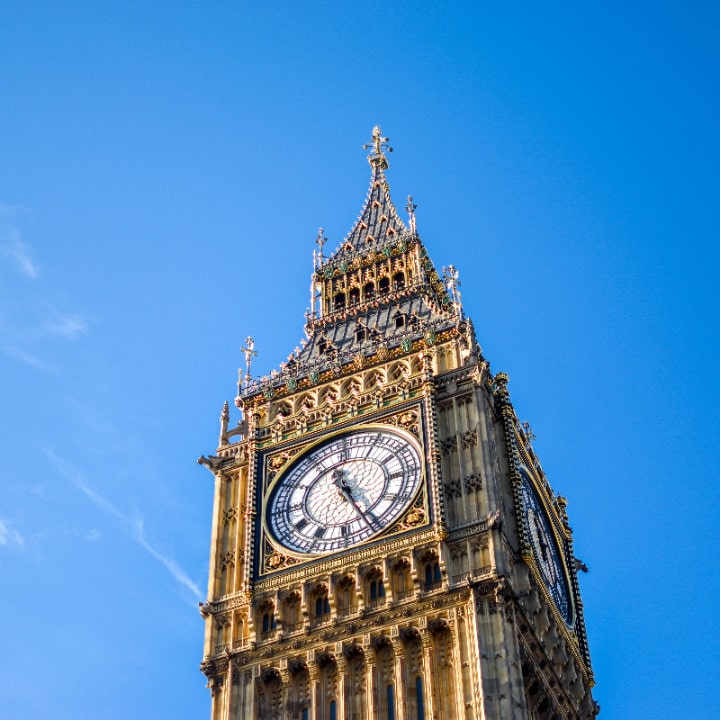 Big Ben
Westminster Abbey
Buckingham Palace
Tower of London
Trafalgar Square
Stonehenge
National History Museum
British Museum
Churchill's War Rooms
Hyde Park
Windsor Castle
Borough Market
Eden Project
Cotswolds AONB
The Roman Baths
Kensington Palace
Hadrian's Wall
Piccadilly Circus
Royal Albert Hall
Abbey Road
Kensington Gardens
St. James's Park
Tintagel Castle
Durdle Door
The Lake District
How To Get Around England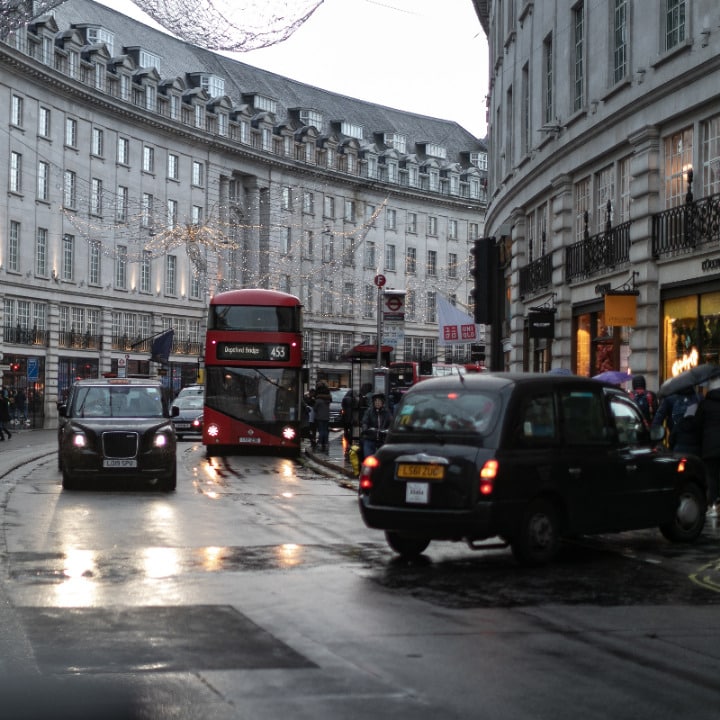 Travel to England and you will find that it is relatively easy to travel around the country.
Bus: There are plenty of buses to get you to and from where you need to go. If you are planning to go far into the countryside you may need to take a train and then a car.
Train: A reliable train system.
Rental car: Not necessary unless you want to drive around the country or will be where public transportation doesn't reach.
Taxi: A viable option, but more expensive.
Bucket List Experiences in England
1. Visit Stonehenge.
2. Make a call in a red telephone booth.
3. Watch the changing of the guards at Buckingham Palace.
4. Watch a play in Stratford-Upon-Avon.
5. Enjoy a proper tea.
Where To Book Flights
The cost of airfare can quickly eat up your budget.
>> Click here to find the best flights to England.
Where To Book Accommodations
England is home to some fantastic hotels.
>> Click here to find the best hotel deals in England.
Housesitting is a great way to cut down on travel costs.
>> Click here to find housesitting opportunities in England.

Hostels are an affordable option when it comes to accommodations.
>> Click here to find hostels in England.
Booking a vacation rental can help to save the budget.
>> Click here to find vacation rentals in England.
Best Travel Tours/Packages in England
ToursbyLocals: Discover Stonehenge Half Day Tour From Bath
It is one of the world's best-known tourist attractions; cars and lorries crawl past along the main road and thousands visit each day. It is of course Stonehenge the famous prehistoric stone circle. But come with me to look beyond the stones!! The famous henge is a small part of an extensive prehistoric landscape, rich in mysterious monumental structures, some of which were ancient when the circle of huge stones was built. So come along with me to meet the ancestors, find out more about who, how and why and most importantly marvel at the mystery of Stonehenge.
TourRadar: England Discovery – 6 days
Discover the best of England in just six days. You will visit the most interesting spots of the city of London and discover some unique sites in the vicinity.
TourRadar: London Explorer – 8 days
History comes alive on this most epic of London trips. You're in for a royal time at Windsor Castle and the Changing of the Guard at Buckingham Palace. See life unfold from the water as you cruise to Greenwich and feel the buzz and spirit of one of London's oldest markets – Borough Market.
Additional Reading
Movies/Shows That Will Make You Fall in Love with England: The Harry Potter series; Peaky Blinders; Sherlock Holmes; Notting Hill; The Queen; Sense and Sensibility; Pride & Prejudice; Calendar Girls; The Great British Baking Show; Jane Eyre
Books: Pride & Prejudice by Jane Austen; The Harry Potter books; Letters from London by Julian Barnes; White Teeth by Zadie Smith
Podcasts: London Visited; Monocle; BBC World Service: The Inquiry; The Allusionist; The Bugle
Check out these Journo Adventures of other travelers who have been there! @Caitjohns22 learned about the Oyster card, @fgfats had a blast with his family, and @sfriesen explored the Tower of London before hopping to Belfast!
Don't forget England is home to one of 14 Cheese Traveler Destinations To Try The World's Best Cheese and we named it on the 12 Culinary Bucket List Experiences every foodie needs on their list.
Now that you've seen our guide for travel to England, what did you think? Did we miss anything? Leave us a comment below!