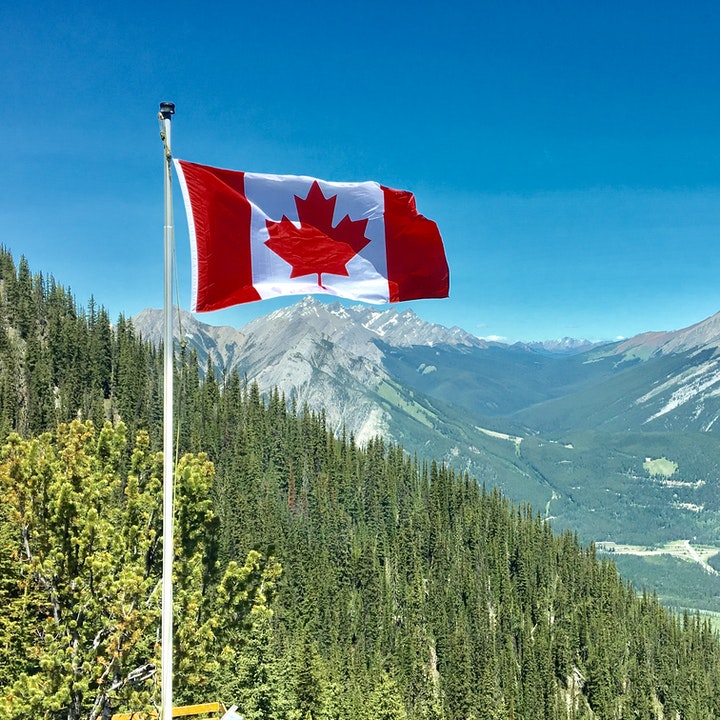 When you travel to Canada, you are welcomed with beautiful mountains and glaciers, a mix of English and French culture, and the world's longest coastline of approximately 151,000 miles.
We've boasted about the 12 Best Cities to Visit in Canada, but what about everything else you need to travel to Canada? We've got it all here.
Ready to pack your bags? Don't forget your international travel checklist planning guide and your travel journal!
General Information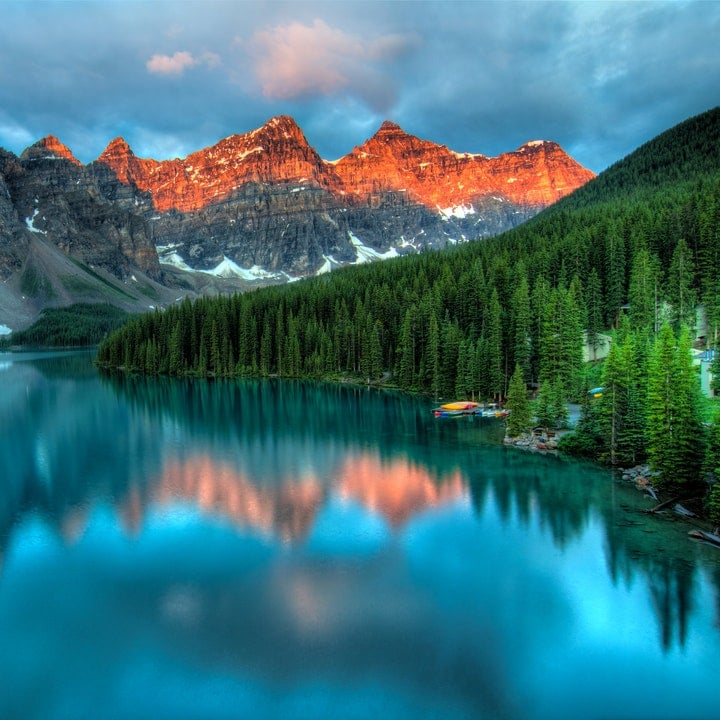 • Population: Roughly 38 million
• Capital: Ottawa
• Location: North America, above the United States
• Flag: Red and white with a red maple leaf in the center
• Time Zone: There are 6 time zones. From west to east: Pacific, Mountain, Central, Eastern, and Atlantic.
• Currency: Canadian dollar
• Language: The official languages of Canada are English and French.
• Climate: Temperatures vary across Canada. The interior and Prairie provinces experience harsh winters and wind chills due to the continental climate.
• Religion: No official religion, freedom of religion.
• Travel Visa Information: To find out if a visa is required for your country — and easily get yours if needed — check out iVisa.com.
• Best Time To Visit: Visit May through October, weather is the best and depending on when you go, you will not pay tourist prices or deal with tourists!
Health & Safety
• As of December 2021, the CDC does not recommend travel to Canada, as COVID-19 cases are High. If you must travel to Canada, make sure you are fully vaccinated and following all travel guidelines.
• Find information regarding COVID-19 and Canada here: https://ca.usembassy.gov/
• Follow the CDC guidelines for current travel advisories, as well as the U.S. Embassy guidelines.
Typical Costs in Canada
• When you travel to Canada, expect to pay similar to what you would pay in the United States for food and accommodation. You can book a more luxurious stay, but that will cost more. With dining, you will spend roughly $10-$15 on a meal, with fancier restaurants costing more. In addition, utilize public transportation when you can, rather than paying for taxis everywhere.
Food To Eat in Canada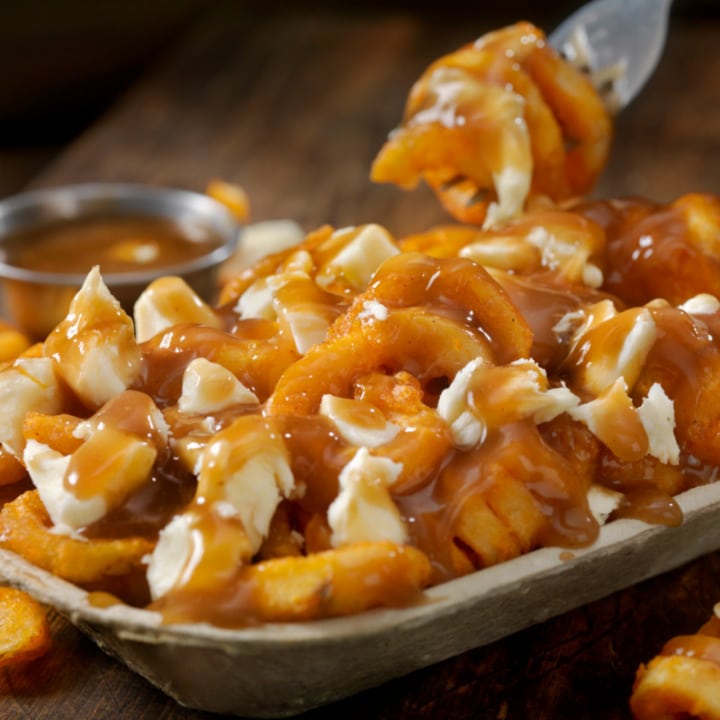 • Do we even need to mention this one? Poutine, of course! Find it everywhere – french fries topped with cheese curds and gravy. It first appeared in rural Quebec in the late 1950s, and it slowly gained popularity. It can be found in top dining restaurants, fast food joints, and festivals. One of our favorites from our list of popular street food around the world.
• Bannock is bread. That's all you need to know. But seriously, bannock has become extremely popular in Canada – with lots of different versions to try, as well as baked or fried.
• What would travel to Canada be without a taste of the infamous Maple syrup? Did you know that Canada produces 71% of the world's pure maple syrup? We didn't! If you love syrup or natural remedies, you have to try the maple syrup in Canada – right from the maples!
• Butter tarts are a traditional part of Canadian cuisine. They are made from flaky pastry shells and filled with butter, sugar, and egg filling. Yum!
• New Yorkers, beware. The Montreal style bagels might be giving the legendary NYC bagel a run for its money. They are denser, thinner, baked in wood fire ovens, and often covered in poppy or sesame seeds.
• Saskatoon berry pie features the Saskatoon berry, which comes from a shrub with edible berry-like fruit, native to North America from Alaska across most of western Canada and in the western and north-central United States. Grab a slice when you travel to Canada, you will not regret it! The flavor is said to be sweet and almondy.
• Donair should not be confused with gyros because the flavor is very different, but we could call it a cousin. A Greek restaurateur introduced the bite back in the 70s on the East Coast of Canada, in Halifax. Originally made with lamb, beef was substituted and the legendary East Coast Donair was born. It includes pita bread stuffed with ground beef, black pepper, onion powder, garlic powder, salt, paprika, cayenne, dried oregano, evaporated milk, white sugar, and vinegar.
• BeaverTails are slabs of deep fried dough, covered in a variety of yummy toppings. They are gooey, crispy, and sweet. Toppings can include but are not limited to peanut butter, Nutella, Reese's Pieces, bananas, etc.
• There are several chip flavors that can only be found in Canada. The most well known might be the ketchup chips. Yes, you either love or hate the condiment, but when you travel to Canada, you can try it in chip form too.
• Tourtière is a savory meat pie enjoyed usually during the holidays, but can be found year-round in Canada.
• More chips! All-dressed chips combine the flavors of ketchup, barbecue, sour cream and onion, and salt and vinegar. These chips are incredibly popular and have been described as a "slightly elevated barbecue chip." Try them out for yourself!
• Nanaimo bars are layered bars with a crumb base layer, custard, and a thin layer of chocolate on top.
• Lobster rolls are popular in Canada, for good reason. If you like seafood and if you love lobster rolls, then you absolutely need to try them when you're in Canada.
• Travel to Canada and get your hands on Timbits from Tim Horton's or Tim Horton's in general. Tim Horton's does not exist everywhere, so try the infamous fast food/coffee/doughnut place while you can. Timbits are similar to Munchkins, but not the same!
• Peameal bacon is made from lean boneless pork loin that is trimmed, wet-cured, and rolled in cornmeal. According to everyone that lives in Canada, it is absolutely a must try.
• Montreal-style smoked meat is the result of beef brisket salted and cured for a week with spices. It's then smoked and steamed. Eat it as a rye bread sandwich or on top of poutine.
Drinks To Try in Canada
• Ice wine is a dessert wine produced from grapes that have been frozen while still on the vine. The water freezes but the sugar does not, allowing for a more concentrated grape juice.
• Bagged milk is less an item to try for the taste and more for the experience. In the United States, milk is enjoyed out of a plastic jug or a paper carton but when you cross over the border, you will find many people in Canada enjoying their milk out of plastic pouches or bags. In the 1970s, Canada rushed to change from the Imperial measurement system to the metric system, and DuPont introduced thin, polyethylene milk bags at the time. It made it easier to adapt to the new metrics and just stuck.
• Crown Royal comes in a purple velvet bag, and it's Canadian whiskey. Smooth to drink, easy to enjoy, if you like drinking, give it a try.
• Canada Dry is ginger ale! The drink that saves you when you're not feeling well or if you have motion sickness! If you've never had it, Canada is the place to try it.
• The Caesar is the Canadian take on a Bloody Mary, made with vodka, Clamato juice, Tabasco, and Worcestershire sauce. It doesn't sound very appetizing, but it works. Restaurants are dressing up the garnishes too – with burgers, hot dogs, sliders, onion rings, and more.
Top Cities to Visit in Canada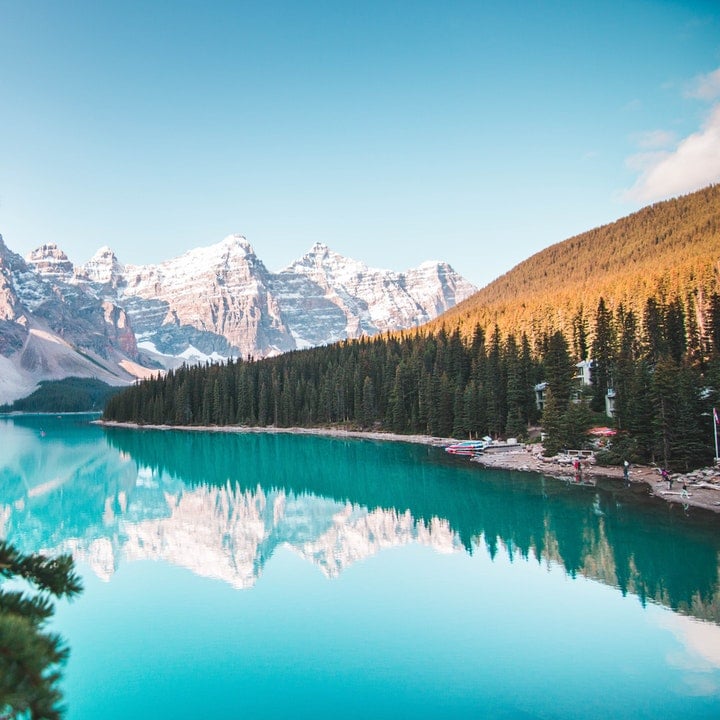 For a full guide on cities to visit when you travel to Canada, check out our post about the 12 Best Cities to Visit in Canada.
• Toronto is Canada's largest city and with different kinds of people and cultures comes art, fashion, entertainment, celebrations, and culture of all varieties. Be sure to ride the glass elevator up the CN Tower(the tallest freestanding structure in the Western hemisphere) or watch one of its free light shows year round. Check out the Royal Ontario Museum, the downtown Distillery District, the Bata Shoe Museum, and High Park. Indulge in the delicacies of Pakistani, Persian, Portuguese, Italian, Greek, Japanese, Chinese, Vietnamese, you name it!
• North America's oldest French-speaking city brings the French-Canadian identity, the French language, and gorgeous views as it sits atop the St. Lawrence River. The stunning architecture of Quebec City will charm you and make you feel like you've stepped into a fairytale with cobblestone streets and 18th-century homes. Get ready to cross another off your list: Old Town in Quebec City is a UNESCO World Heritage site. You'll be overjoyed with dozens of boulangeries, patisseries, and creperies in this city. Be sure to check out Chez Boulay-Comptoir boreal for the best pastries in Quebec City and one of the many French restaurants for French cuisine.
• Montreal is said to be Canada's cultural capital, and we can see why! The city has a vast array of eateries and bars for all hours of the day and night, including pubs, patisseries, and late-night stops. Try Bistro 1843, Le 409, or Restaurant Tandem for delicious dining, La Banquise for Montreal's best poutine, and St-Viateur Bagel Shop for bagels boiled in honey water for that little bit of sweetness. With all this lovely grub, Montreal is known for celebrating the arts in all forms! There are approximately 250 theater and dance companies, over 90 festivals (pre-COVID-19), artsy neighborhoods, and the incredible Festival International de Jazz de Montréal.
• Vancouver, similar to the other cities we've mentioned, is known for North America's best Asian cuisine and will make you want to dine out again and again. Also known as "Gastown," Vancouver combines memorable activities and neighborhoods with beautiful natural vistas, like Stanley Park and the VanDusen Botanical Garden. L'Hermitage Hotel offers stunning rooms, a great location, and tons of amenities, making it a great option for your next trip to Vancouver, whether for business or pleasure. There are plenty of theaters, museums, public markets, and local activities to take part in when visiting this city. On the North Shore, take your pick of snow sports, mountain biking, and rainforest hiking trails, only 30 minutes away from the city by car.
• Banff is not your stereotypical French, culture-gushing Canadian city. It is nestled inside Banff National Park, Canada's first National Park, and one of the most beautiful. Hike through the gorgeous forest, paddle along the jewel-toned lakes, go skiing along the slopes, and enjoy the hot springs. You'll snap the most picturesque moments for your Instagram too. Is there anything more magical than visiting a city that sits in a National Park?
Must-See Sights in Canada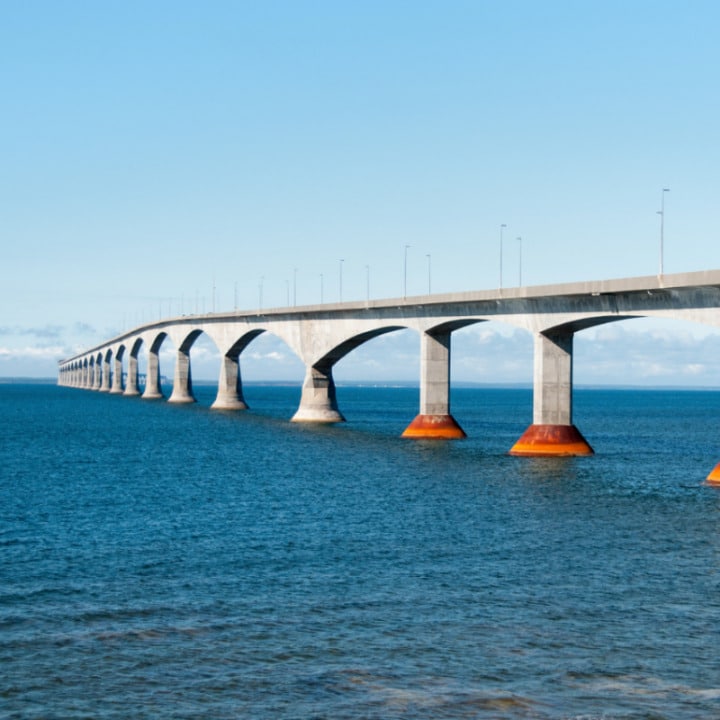 • CN Tower
• Moraine Lake
• Banff National Park
• The Butchart Gardens
• Capilano Suspension Bridge Park
• Jasper National Park of Canada
• Casa Loma
• Peyto Lake
• Granville Island
• Lake Louise
• Notre-Dame Basilica of Montreal
• Lake Minnewanka
• Niagara Falls
• Drumheller
• Old Quebec
• Ottawa's Rideau Canal
• The Confederation Bridge
How To Get Around Canada
Once you're in Canada, consider traveling by train, car, or bus. The trains can be expensive depending on when you go and how early you book tickets. There are options to travel from U.S. cities into Canada via train and more. Consider the privately owned Rocky Mountaineer, which offers popular multi-day trips through the Canadian Rockies. Travel by car and you will have all the flexibility you need and the ability to travel to more isolated areas. Just be mindful of wait times at border crossings. Traveling by bus is another great option – they are comfortable, more affordable than trains, and also offered more widely than trains.
Bucket List Experiences in Canada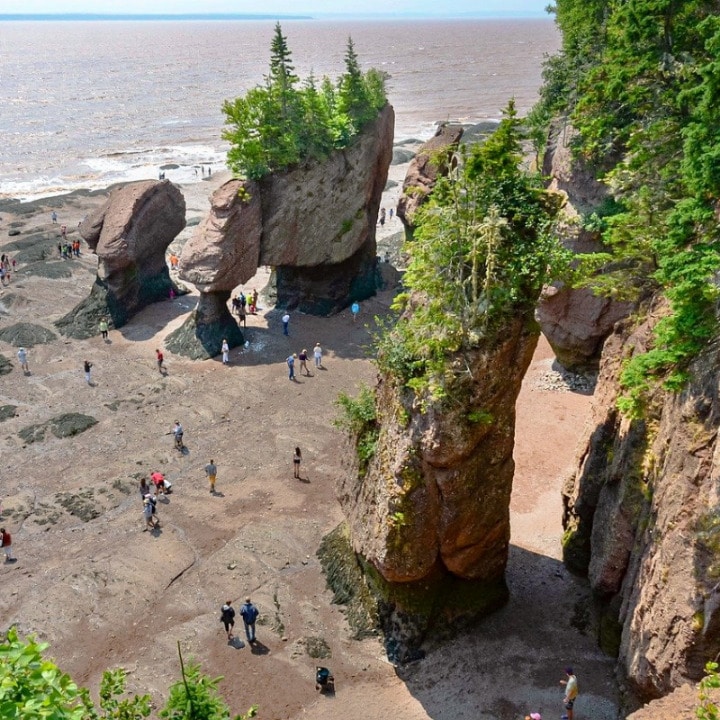 • Ski the Rockies.
• Drive the Cabot Trail.
• Visit a Maple Farm.
• Watch the Northern Lights.
• Get "Screeched In" or "Kiss The Cod" in Newfoundland.
• See Niagara Falls!
• Walk on the ocean floor at the Hopewell Rocks.
Where To Book Flights
The cost of airfare can quickly eat up your budget.
>> Click here to find the best flights to Canada.
Where To Book Accommodations
Canada is home to some fantastic hotels.
>> Click here to find the best hotel deals in Canada.
Housesitting is a great way to cut down on travel costs.
>> Click here to find housesitting opportunities in Canada.
Hostels are an affordable option when it comes to accommodations.
>> Click here to find hostels in Canada.
Booking a vacation rental can help to save the budget.
>> Click here to find vacation rentals in Canada.
Best Tours/Travel Packages in Canada
TourRadar: Rockies Winter Highlights – 5 days 
The mountains and forests of the Canadian Rockies, blanketed in snow, are some of the most impressive natural landscapes on Earth. Lacking the crowds of summer, the winter world is magnificent in its quiet solitude. On snowshoes you can get to places that would be impossible to access in summer, including the backcountry of Kananaskis (where much of the movie 'The Revenant' was filmed), across alpine lakes, and off-the-beaten-path in Banff National Park. Our expert guides will have you snowshoeing confidently following a short introduction to winter walking techniques. Strap on ice cleats to enjoy 'ice walking' within beautiful Johnston Canyon and take your pick of classic winter activities such as dogsledding, icefishing, ice skating, cross country skiing, or a sleigh ride at lovely Lake Louise. At night, return to comfortable lodges, warm up by the fire, and soak in the hot tub. This package is a wonderful combination of guided day tours and optional activity add-ons, making it easy to customize to the level of activity that suits your interest and ability.
ToursbyLocals: Explore Banff and Lake Louise – Private Hiking Tour
A trip to the Canadian Rocky Mountains would not be complete without a hike within Banff National Park. Banff National Park is Canada's first National Park and is one of the parks within the "Canadian Rocky Mountain Parks" UNESCO World Heritage Site. A hike in the park offers magnificent views, meadows full of spectacular wildflowers, animal sightings, turquoise lakes and rugged peaks.
GAdventures: Active West Coast Discovery Canada – 8 days
Get your heart pumping and your bodies moving with this eight-day adventure through some of British Columbia's most sought-after landscapes. Venture by ferry to Vancouver Island and embark on hikes in East Sooke Provincial Park and the famed Juan de Fuca trail. Camp under the stars, hike up mountains in Squamish and Whistler featuring views of alpine lakes and glacier capped peaks, and see for yourself why the west coast is the best coast.
Additional Reading
Books: So You Want to Move to Canada, Eh?: Stuff to Know Before You Go; A Number of Things; The Promise of Canada
Movies That Will Make You Fall in Love with Canada: One Week; The Sweet Hereafter; Brokeback Mountain
Podcasts: The Big Story; I Hate It But I Love It
Check out these Journo Adventures of travelers that have visited Canada! @Layle enjoyed a cross Canada adventure, @Indy traveled all the way from Australia, and @Meh traveled through Canada all the way to Alaska!
Now that you've seen our guide for travel to Canada, what did you think? Did we miss anything? Leave us a comment below!