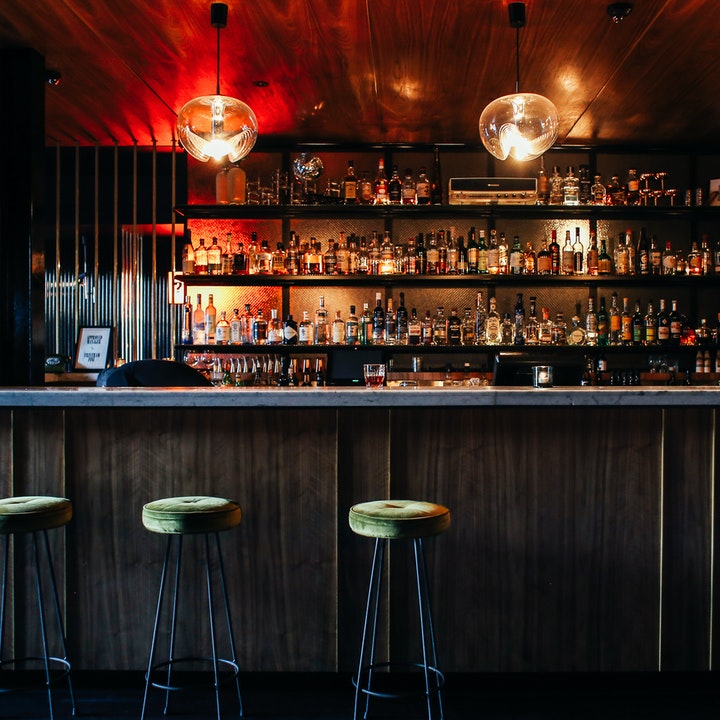 The list of the best bars in the world will continue to grow, just like our list of travel destinations and must-sees.
From visiting a unique dive bar in Brooklyn to a classy London pub, each bar brings something unique to the bar scene. These unique bars made the list of the World's Best Bars in 2020 and have scored high in atmosphere, location, design, and more.
The World's 50 Best Bars is an annual list that celebrates the best bars in the industry, was first published in 2009, and is voted on by more than 500 drinks experts from across the globe. The next list will be announced on December 7th, 2021.
Ready to check em' out? Here are the 50 best bars in the world.
50. Presidente
📍Buenos Aires, Argentina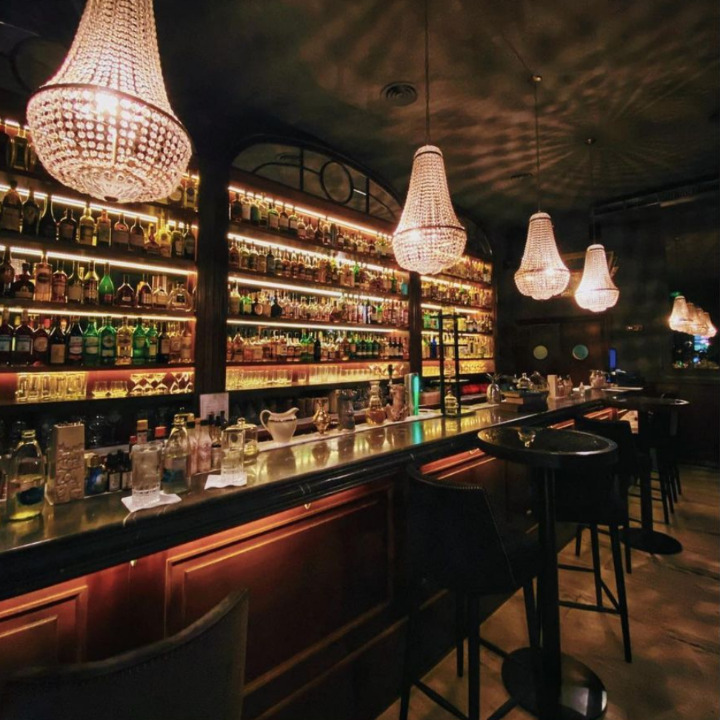 At #50 on the list of the best bars in the world is Presidente, located in Buenos Aires, Argentina. This bar features a bright backlit bar, high ceilings, and original features. It is a great place for Argentinian food, wines, and sparkling wines to get a good taste of the region.
49. Charles H
📍Seoul, South Korea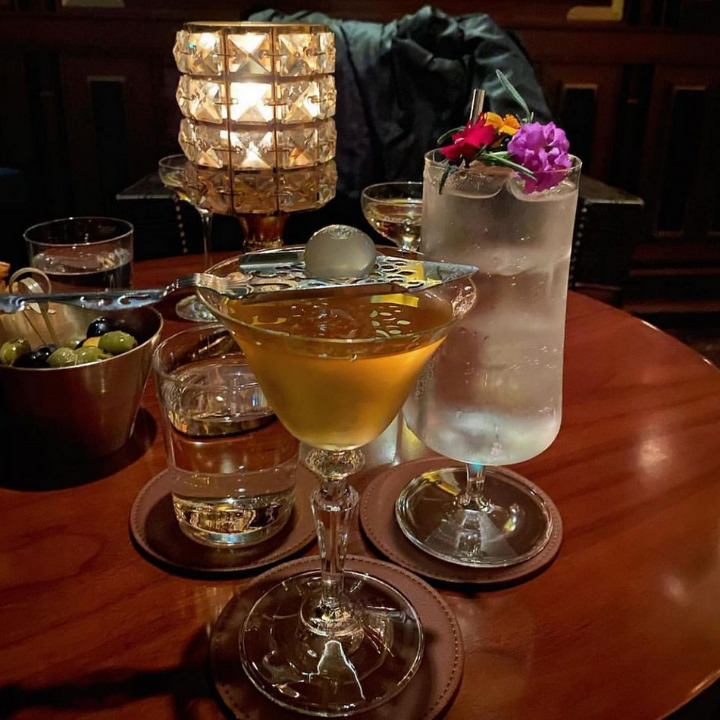 In the Four Seasons Hotel in Seoul, you'll find Charles H. Described as, "Exotic, glamorous and steeped in the worldly romance of its namesake bon vivant, the legendary Charles H. Baker, this intimate bar is discreetly hidden away on our lower level is where cocktail connoisseurs go to find the perfect drink."
Try the signature drink Le Comedian, made with rye whiskey, dark rum, Pedro Ximinez sherry, and hints of cacao. 
48. High Five
📍Tokyo, Japan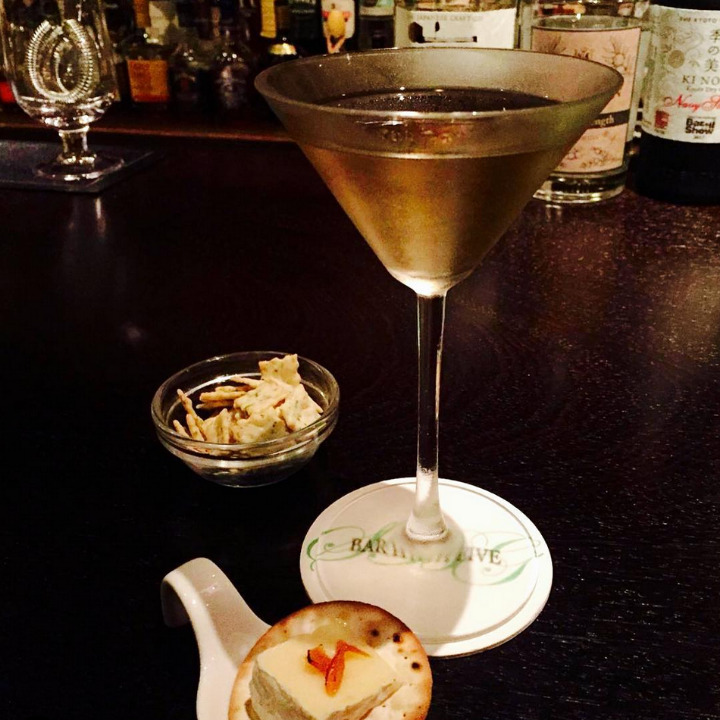 There is no menu at High Five, in Tokyo, instead, the staff will read you and discuss with you in English, Mandarin, or Japanese, your likes and dislikes and take it from there. They will surprise you with a classic, their take on a classic, or a house original. Fans enjoy the Hojicha (roasted tea) Old Fashioned.
47. Alquímico
📍Cartagena, Colombia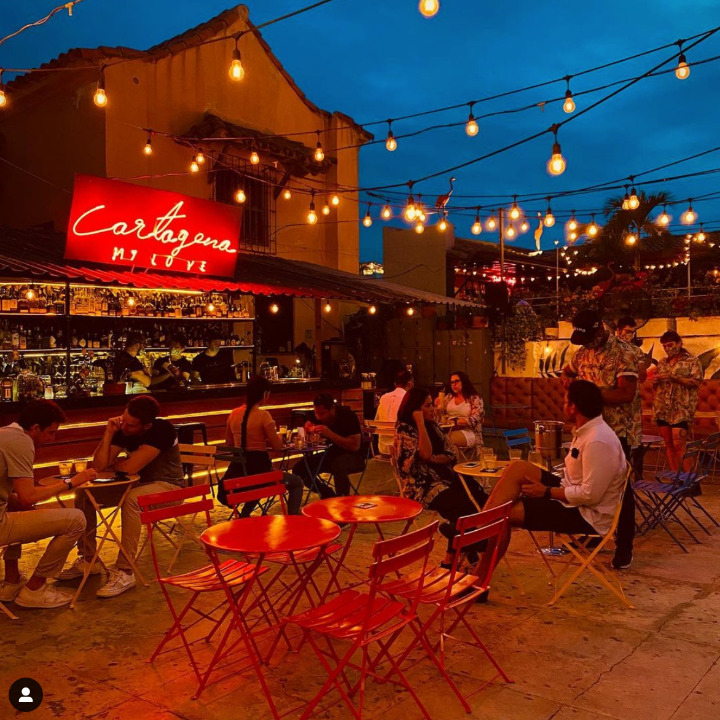 The mission of Alquímico is to "promote local culture, integrating various bars with exclusive cocktails based on experimental infusions and our own dishes, inspired by world recipes, with Colombian ingredients and techniques." This bar's team started growing organic fruits, herbs, sugarcane and specialty coffee, as well as planting trees as a reforestation project.
46. Room by Le Kief
📍Taipei, Taiwan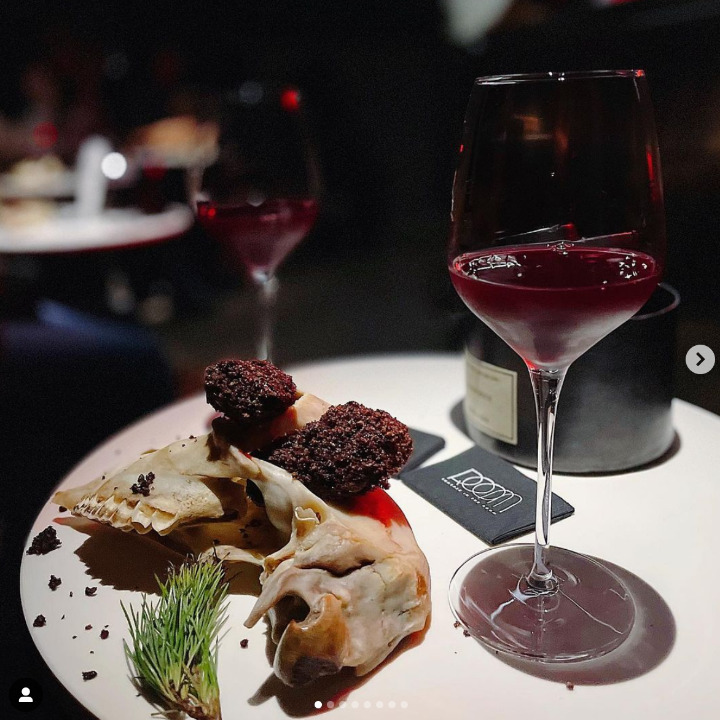 Room by Le Kief hopes to bring guests into something new and throw away the simple classic bar design. Cocktail and food pairings go above and beyond, they each center around a theme, and guests are allowed in at different time slots. The bar brings together mixology, food, and life.
45. Drink Kong
📍Rome, Italy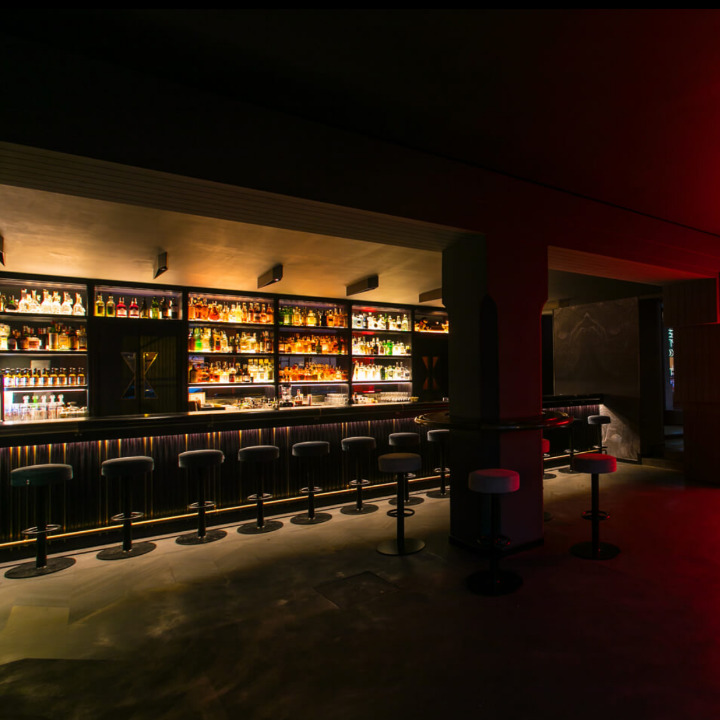 Drink Kong's site greets visitors with: " DISCOVER THE SPIRIT IN YOU, THE LONG FORGOTTEN FLAVORS, GIVE YOURSELF A BREAK FROM THE WORLD OUTSIDE AND LIVE THE KONG EXPERIENCE." That sounds interesting, right? The bar combines science and tradition to create an elegant and minimalist cocktail menu with contemporary drinks.
44. Bar Trigona
📍Kuala Lumpur, Malaysia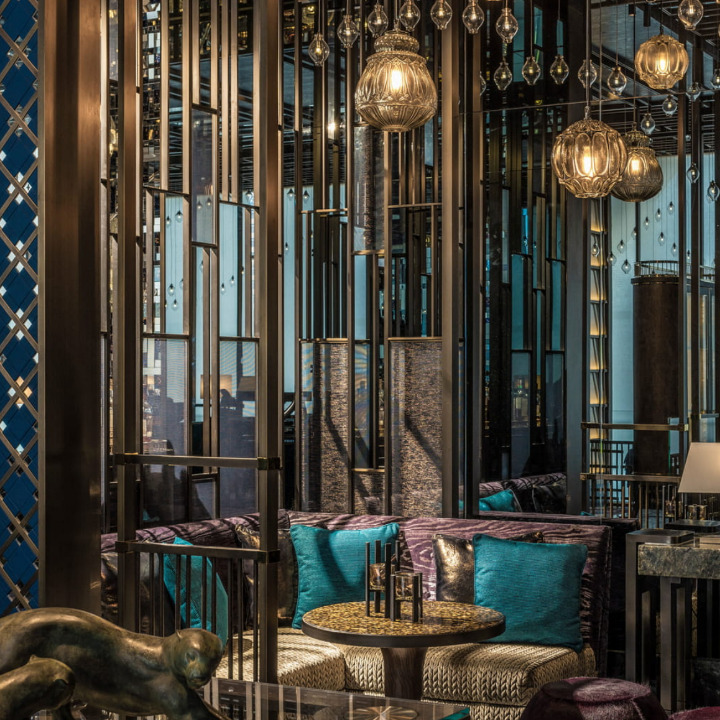 Trigona is a bar that's all about sustainability, classic cocktails, and a gorgeous interior. At #44 of the best bars in the world, try the Trigona Old Fashioned, made with Rye whiskey, cynar, trigona honey, and cedarwood bitters. This bar uses all parts of the fruit in cocktails and works closely with the kitchen to reduce waste.
43. Indulge Experimental Bistro
📍Taipei, Taiwan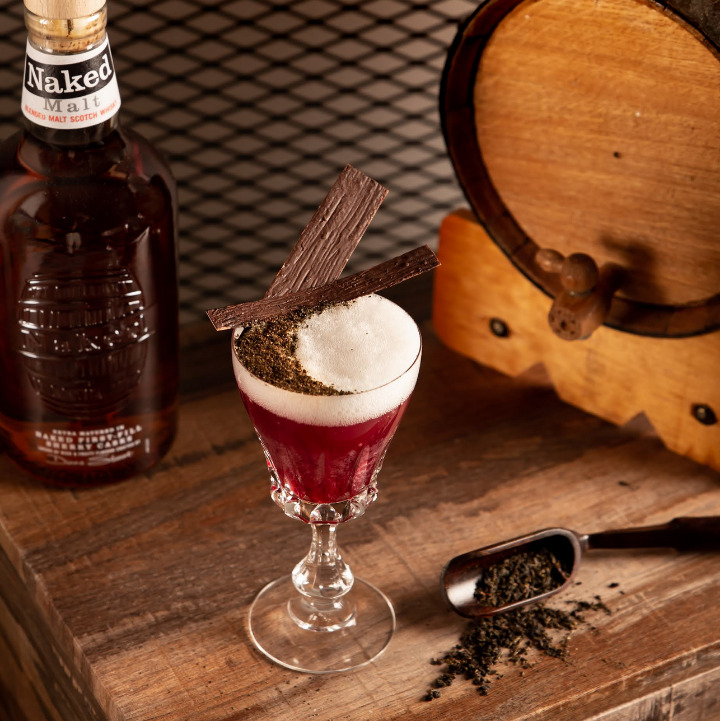 Indulge Experimental Bistro in Taiwan features a bright cocktail menu, similar to the interior design of the bar. The goal of Indulge Experimental Bistro has always been to include Taiwan's under-appreciated culture and rich produce on the menu.
42. Sober Company
📍Shanghai, China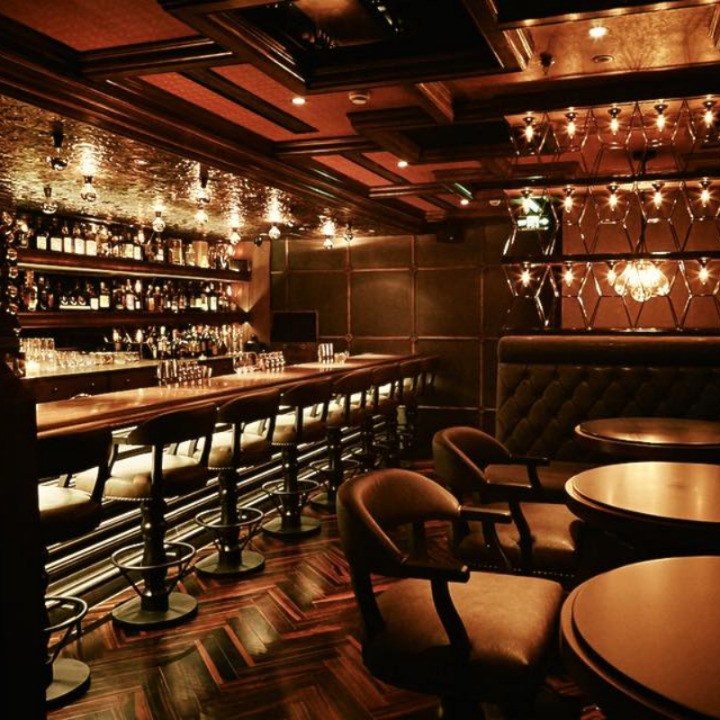 When you visit Sober Company in Shanghai, you'll need a few hours to experience the multi-level bar. Start at the cafe, then make your way to Sober Kitchen and Sober Society. Here's a cool secret: collect a token at each concept and when you have LL three, you will be able to gain access to the speakeasy Tipsy.
41. Artesian
📍London, England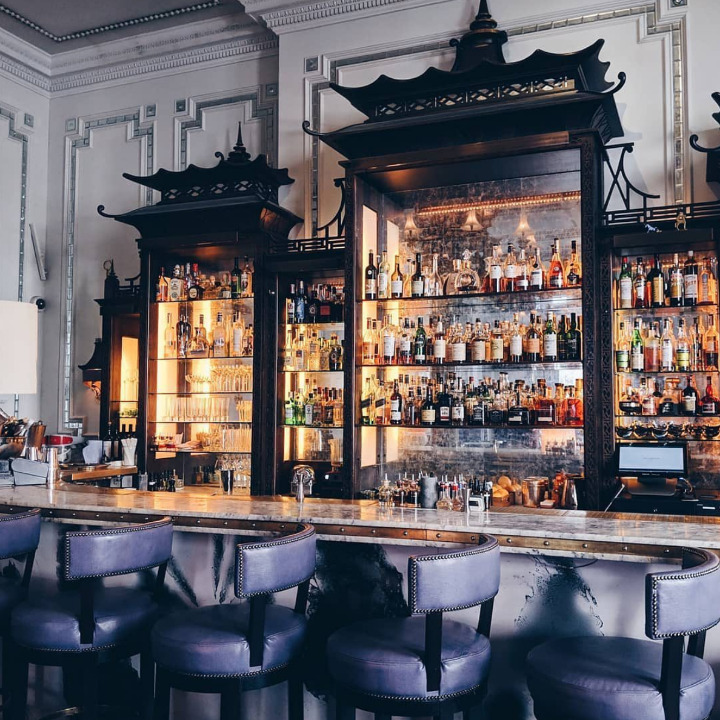 Artesian is a busy hotel bar with five-star cocktails and service. Try the Banana Bread 1933, made with Woodford Rye Whisky, Oloroso sherry, banana bread syrup, discarded Banana rum, or the Treat Yourself 2.0, made with Grey Goose La Vanilla vodka, regal rogue wild rose vermouth, clarified strawberry milkshake (v), and Taittinger Rose Champagne. You'll love this bar's modern spin on classic cocktails.
40. Bar Benfiddich
📍Tokyo, Japan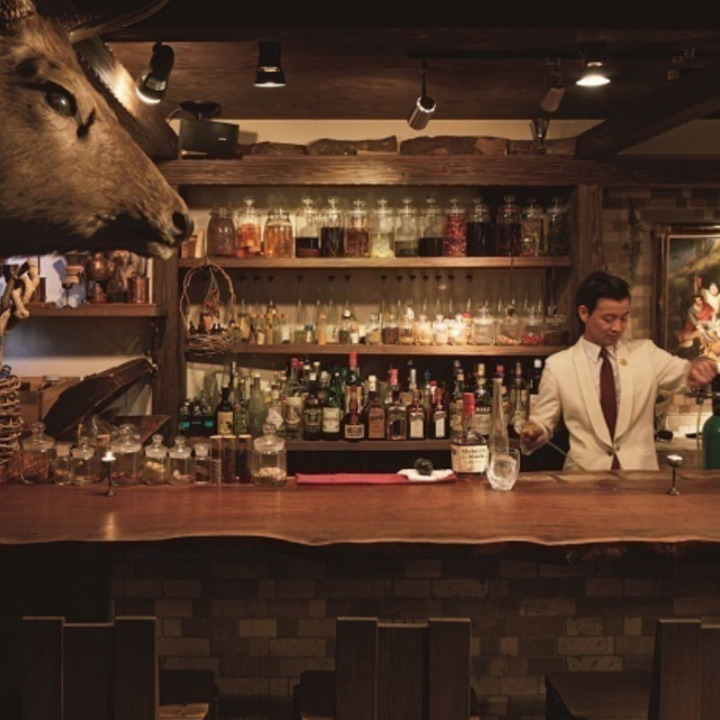 Bar Benfiddich is a gem in Tokyo, run by a modern farmer, Hiroyasu Kayama. There is no bar menu, in traditional Japanese style. You might want to try the hot-buttered Chartreuse, an absinthe brewed with high-class gyokuro tea.
39. Bulletin Place
📍Sydney, Australia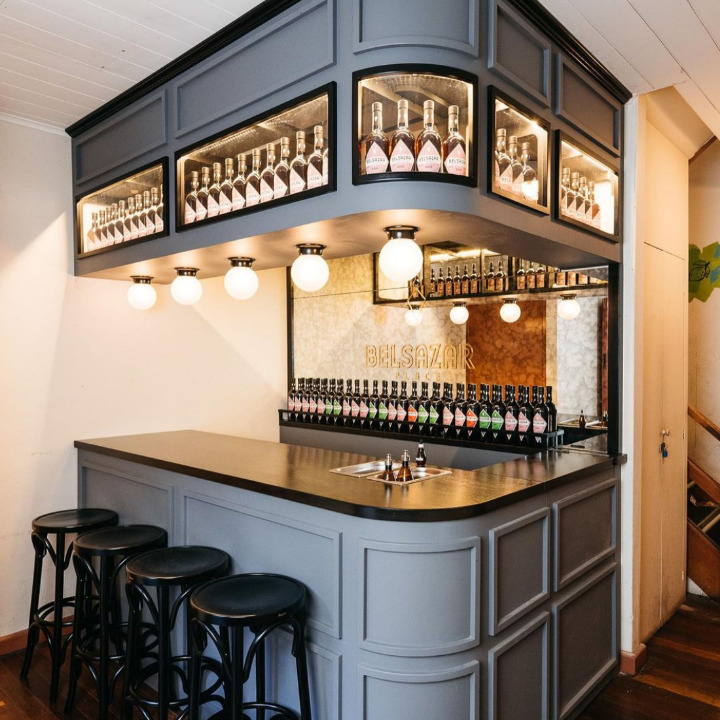 Bulletin Place, a great spot in Australia, is unfortunately now closed.
38. Employees Only
📍New York City, U.S.A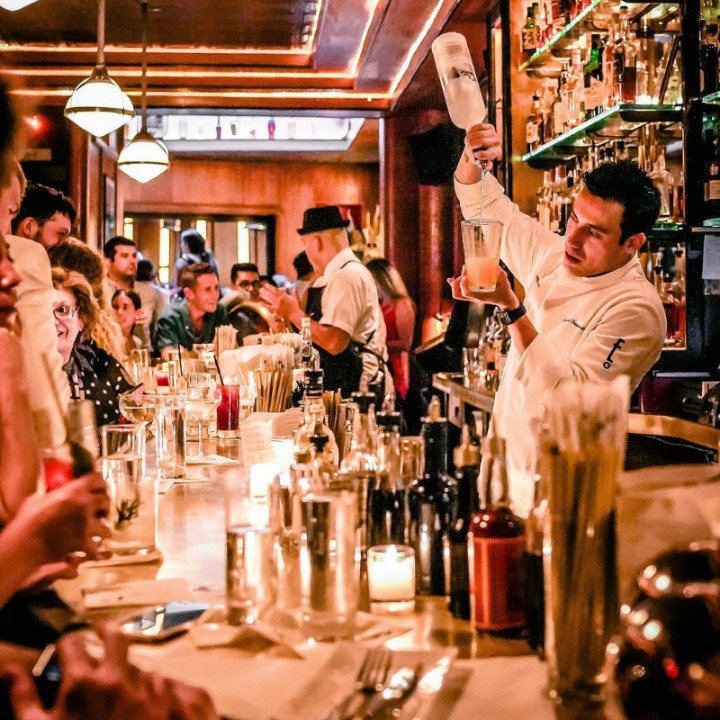 Employees Only is the only bar to have appeared in all 12 editions of The World's 50 Best Bars. It's a speakeasy located in the heart of the West Village, delivering big drinks, yummy food, and fun. Try the Manhattan Cocktail, The West Side, or Ready Fire Aim.
37. Buck & Breck
📍Berlin, Germany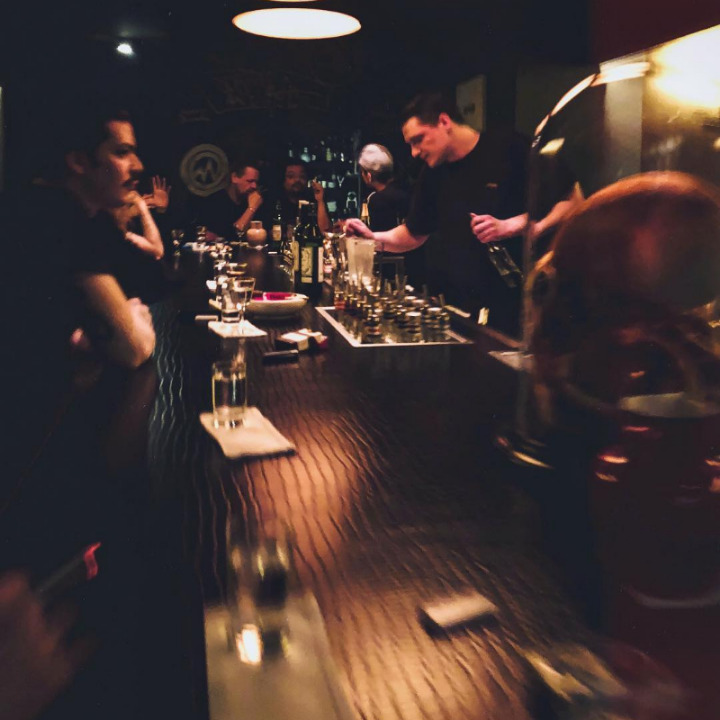 Germany's first bar on the list hails from the cultural hub of Berlin. Buck & Breck is a neo-speakeasy, that is dark as night inside. It's a bar with high standards and proper drinks.
36. Tjoget
📍Stockholm, Sweden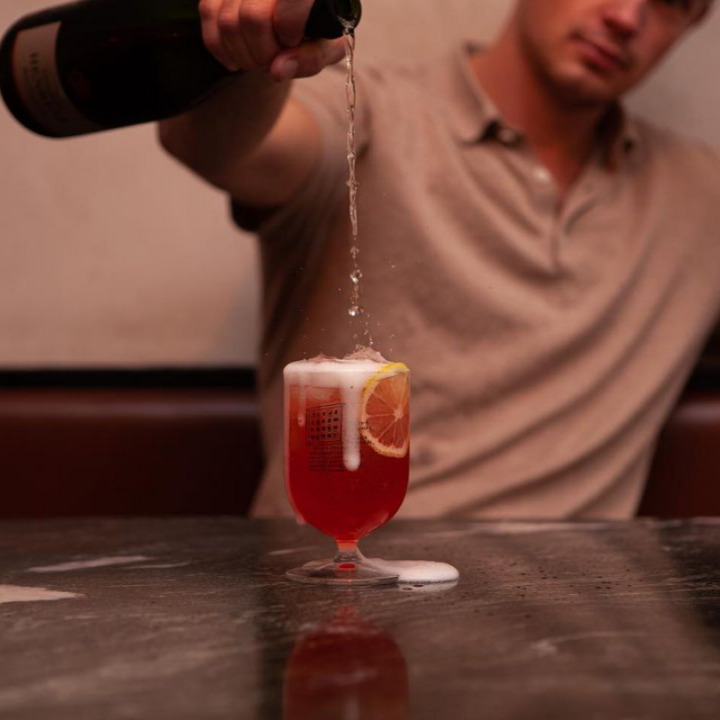 You won't be bored at Tjoget, which features a wine bodega, a beer café, a pan-Mediterranean dining room, and a cocktail bar. This bar offers an ever-evolving cocktail menu and the concept is rooted in southern Europe and the Middle East and offers both rural and urban sophistication.
35. The Bamboo Bar
📍Bangkok, Thailand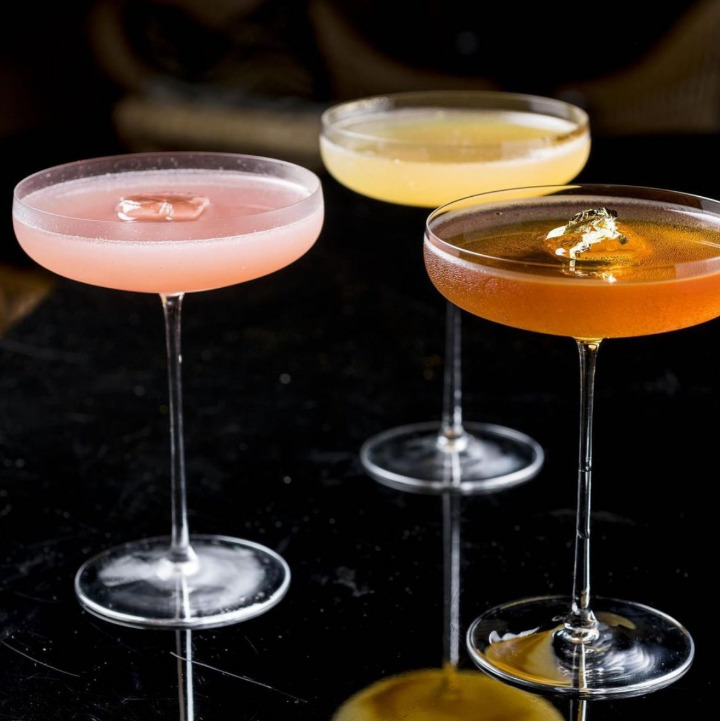 The Bamboo Bar is now a beloved bar in the heart of Bangkok, especially for jazz lovers – because it was Bangkok's first jazz venue. With the 1950s atmosphere, try the Hawker or the Hang Lay.
34. Three Sheets
📍London, England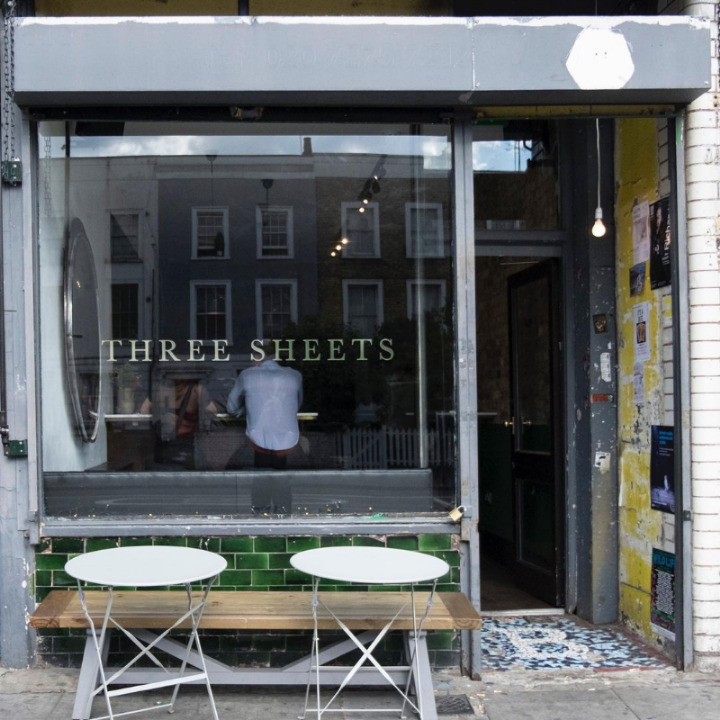 London is home to several of the best bars in the world, and Three Sheets comes in at #34. The bar welcomes you with a no-nonsense approach, a small clutter-free bar, and exposed brick and marble. Try the French 75 or My Lady Garden.
33. Swift
📍London, England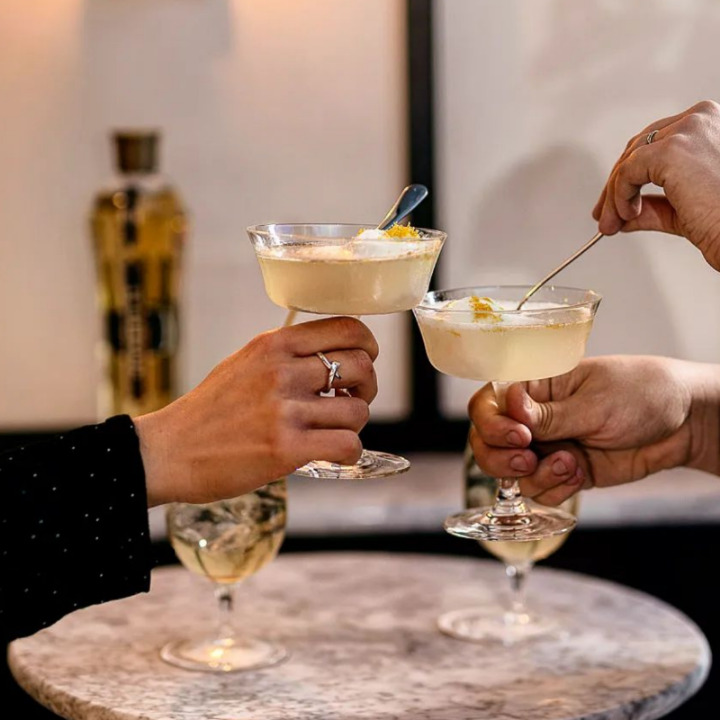 Part of the Swift experience is that there are two different experiences within the doors of this bar. On the first floor, there is a bright, clean modern interior. Downstairs, the colors are deeper and more relaxed. Enjoy drinks from both menus, but be sure to try Swift's Irish Coffee, known to be the best around.
32. Panda & Sons
📍Edinburgh, United Kingdom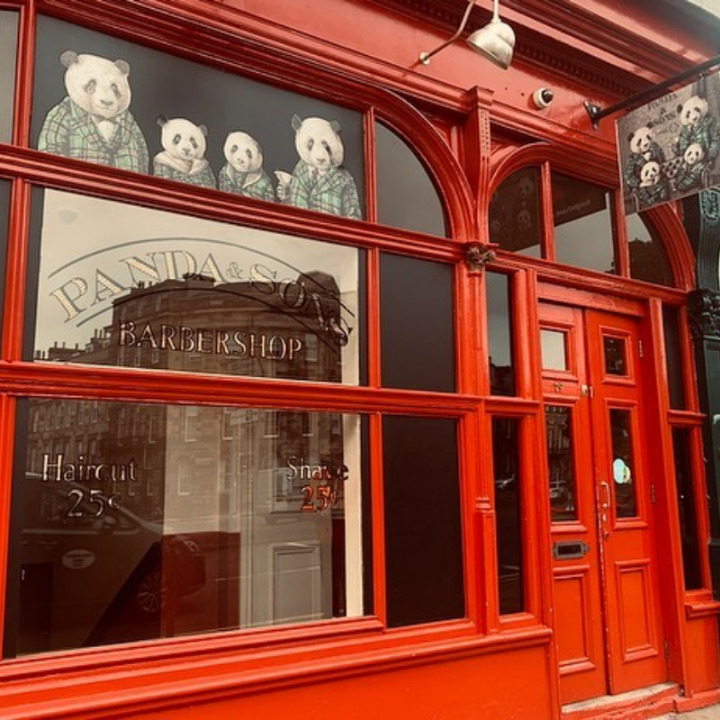 Panda & Sons is a signature Queen Street basement bar in Edinburgh's New Town. The bar describes itself as, "A hidden bar fusing the classic Prohibition style Speakeasy and a nod to the Vintage style Barbershop. All we can say is that if you find a Barbershop with some foreign currency you have made it to the Libation Destination!"
31. Baba Au Rum
📍Athens, Greece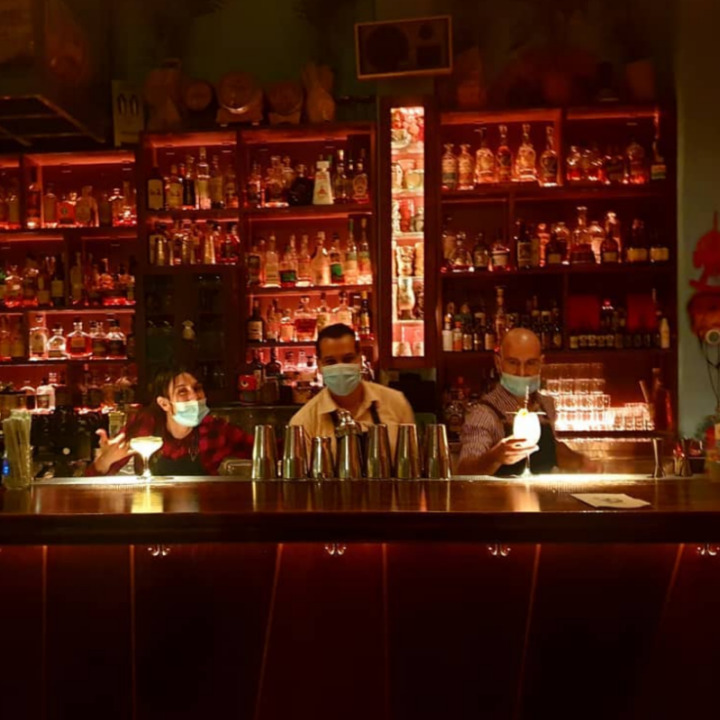 Travel through history and culture at Baba Au Rum in Athens. This bar is a modern rum sanctuary featuring drinks like Baba's Zombie, made with a blend of five hand-selected rums, fresh juices, bitters, spices and "forgotten" ingredients for you to determine.
30. Himkok
📍Oslo, Norway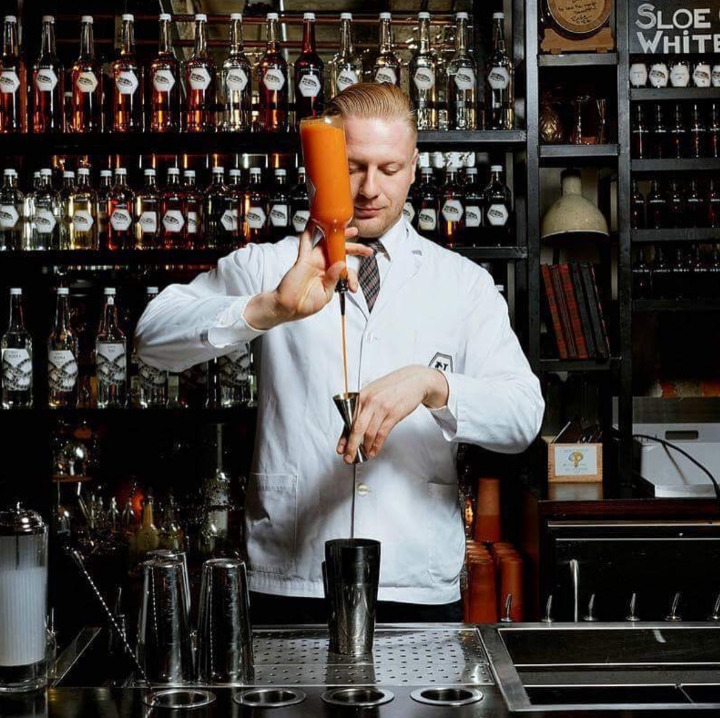 When traveling to Oslo, walking down the street, you might walk right past Himkok. But once you get inside, you'll see why it's #30 on the list of the best bars in the world. The bar's layout features multiple floors and at first, you will find the tiny distillery that produces roughly 80% of all spirits used in house.
29. Lyaness
📍London, England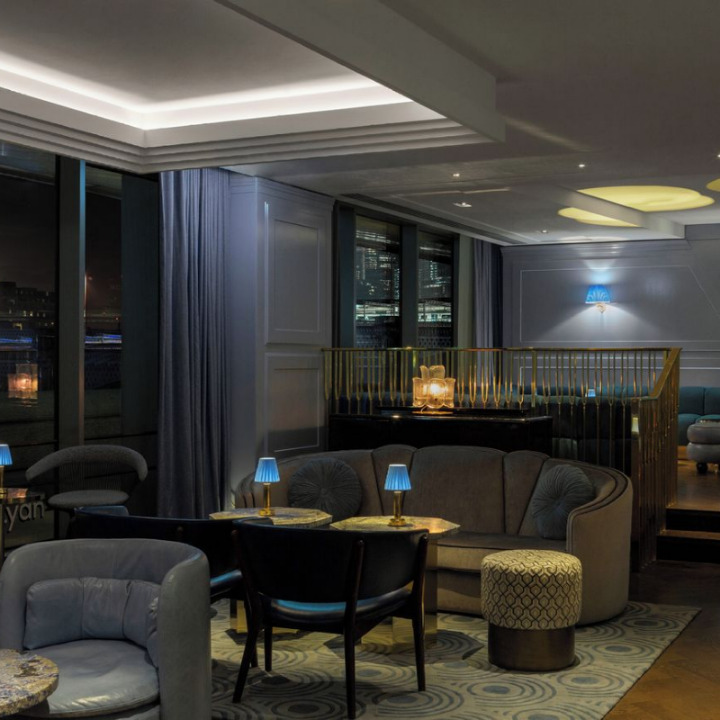 Lyaness, a suave English bar, sits just meters from the Thames. The bar prides itself on finding flavors and ingredients that are so out of the ordinary and making them delicious. Try the Golden South Sea Pearldriver, made with Bombay Sapphire, Bacardi Cuatro, Golden Levain, beurre noisette, and strawberry.
28. Cantina OK!
📍Sydney, Australia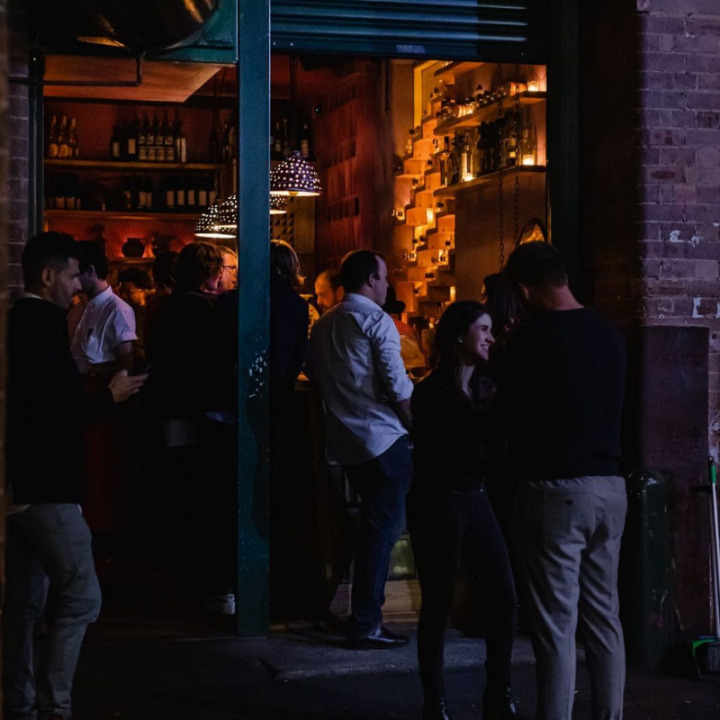 Catina OK!, a quirky little bar located in Sydney Australia, is #28 on the list of the best bars in the world. The bar is big enough for just two bartenders to mix drinks, and the star of the show is Mezcal and tequila.
27. El Copitas
📍St. Petersburg, Russia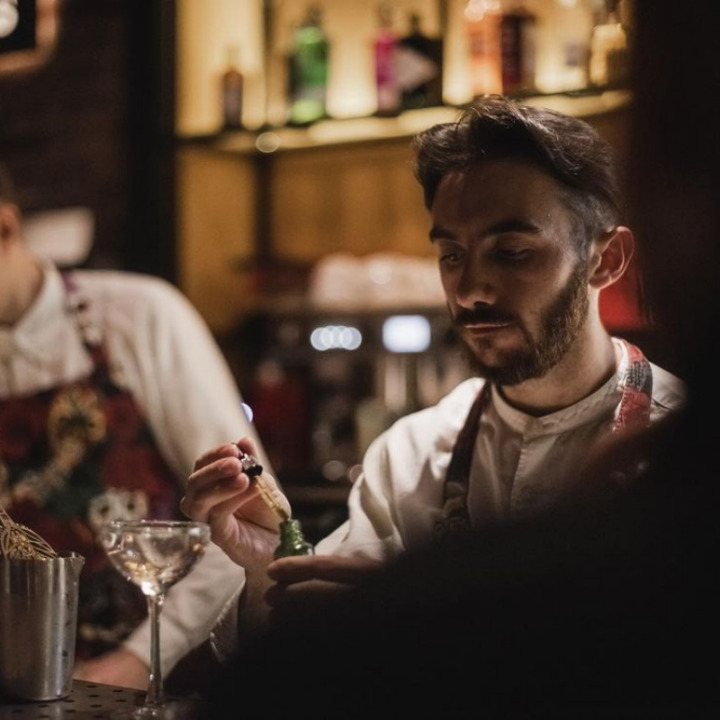 El Copitas is located in a basement in Russia, but it's one of the world's best agave bars. Bringing Mexico to Russia, guests sit around a large table and enjoy a welcome cup of tequila. The menu changes with the seasons, to incorporate seasonal ingredients too.
26. Two Schmucks
📍Barcelona, Spain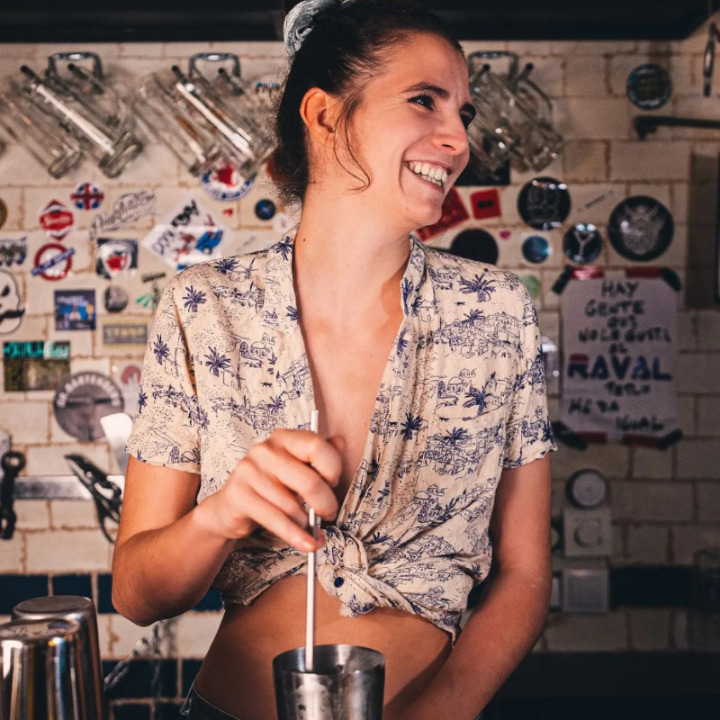 Two Schmucks calls itself a 5-star dive bar, for good reason. Coming in at #26 on the list of the best bars in the world, Two Schmucks keeps two things constant and at the forefront of the menu: the neighborhood and flavor. Try the Curry Colada, made with a clarified blend of rums, pineapple, coconut, and Madras curry.
25. 1930
📍Milan, Italy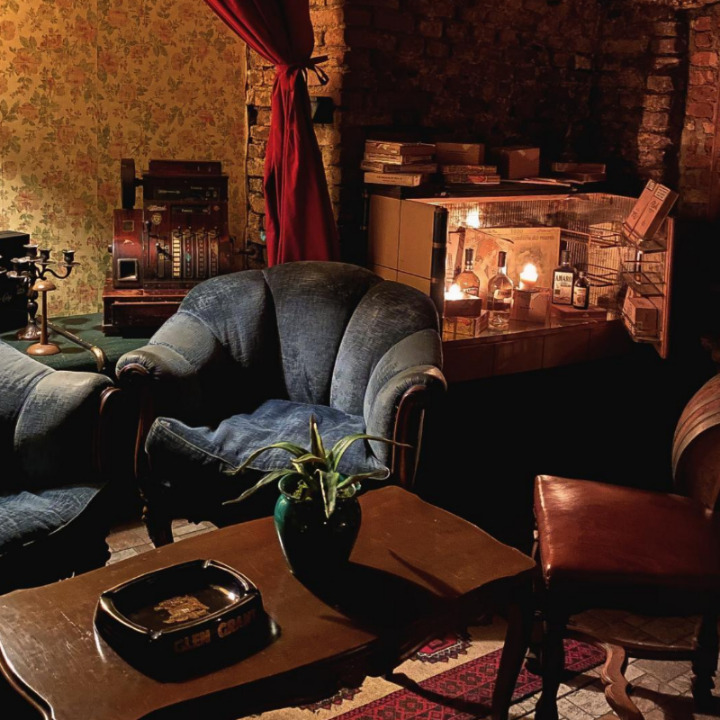 1930 is a bar with a secret location and speakeasy-looking decor and design. But the drinks are not that of the Roaring Twenties, but rather of the future. Try the Asado, made with rotovap'd pulled pork spirit, smoked gum syrup, chimichurri crust, and then smoked again with dried meat.
We're intrigued by the moody, cozy characteristics of this unique bar in Italy. 
24. Little Red Door
📍Paris, France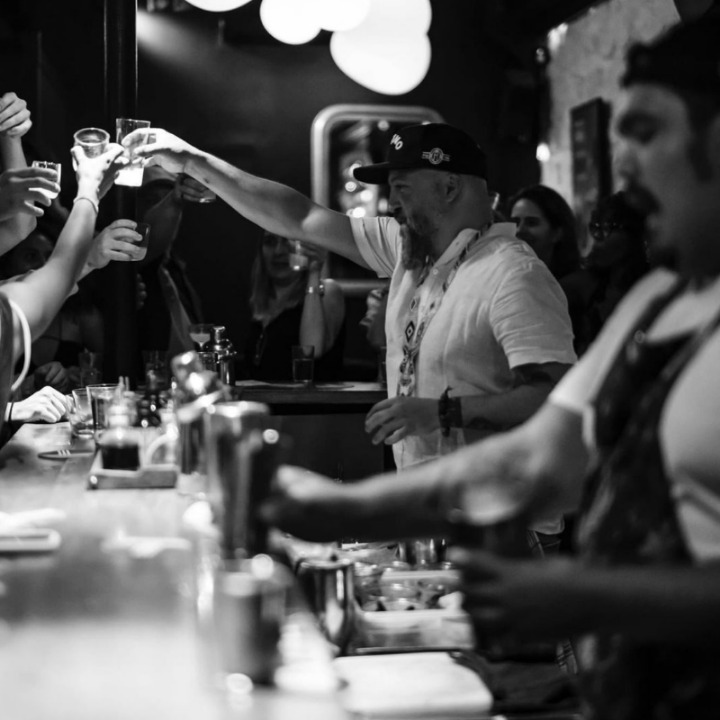 Little Red Door is a cosmopolitan, artistic Parisian spot. The warm, inviting, cozy cocktail bar sits in the heart of the third arrondissement of Paris. Playfully pushing boundaries with each drink.
23. Zuma
📍Dubai, UAE
Zuma was created in 2002 and it presents a "sophisticated twist on the traditional Japanese Izakaya style of informal eating and drinking." This bar/restaurant features modern Japanese cuisine that is authentic but not traditional. With locations all over the world, in Dubai, try the Rubabu, made with Rhubarb infused sake, vodka, fresh passion fruit lemon juice, and sugar syrup.
Psst! Also named the Best Bar in the Middle East and Africa. 
22. Salmon Guru
📍Madrid, Spain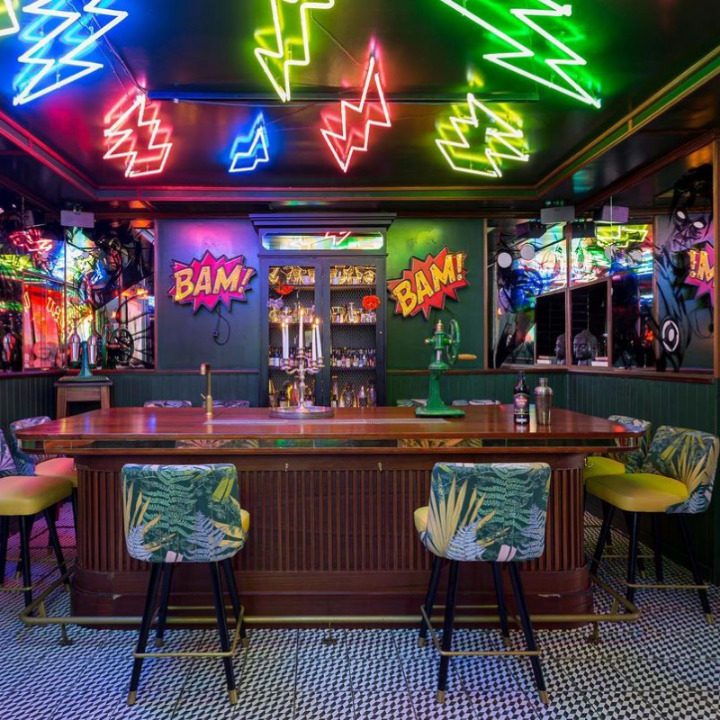 Salmon Guru is Madrid's destination bar – meant to last until the next big thing. Four years later, Salmon Guru is still going and it's made its way onto the list of the best bars in the world. This unique bar plays with flavors in the original cocktails, classic cocktails, and gastronomy. A quirky place like no other.
21. Carnaval
📍Lima, Peru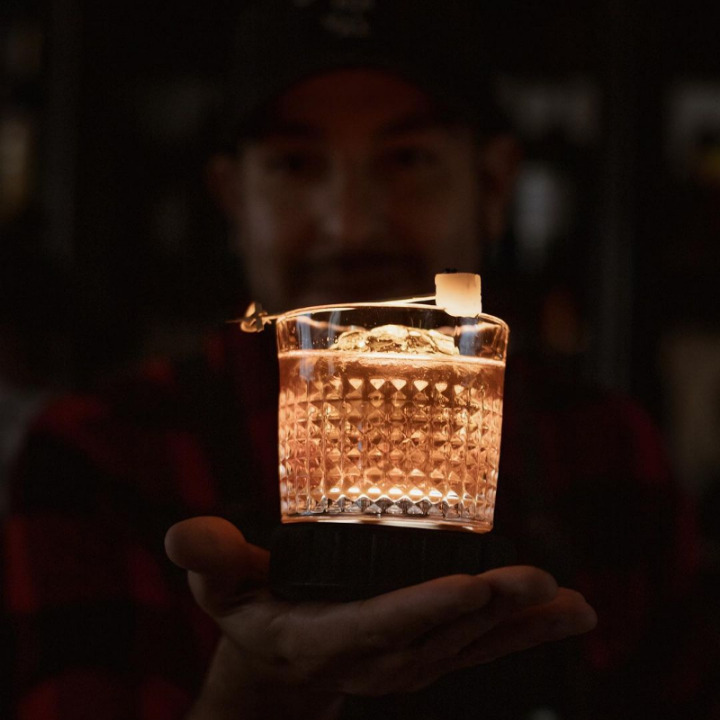 The pandemic didn't stop Carnaval in Lima. The team designed a cocktail box with all the ingredients to assemble drinks at home (ice included). How cool is that! The bar is always looking to turn cocktails on their heads.
20. American Bar
📍London, England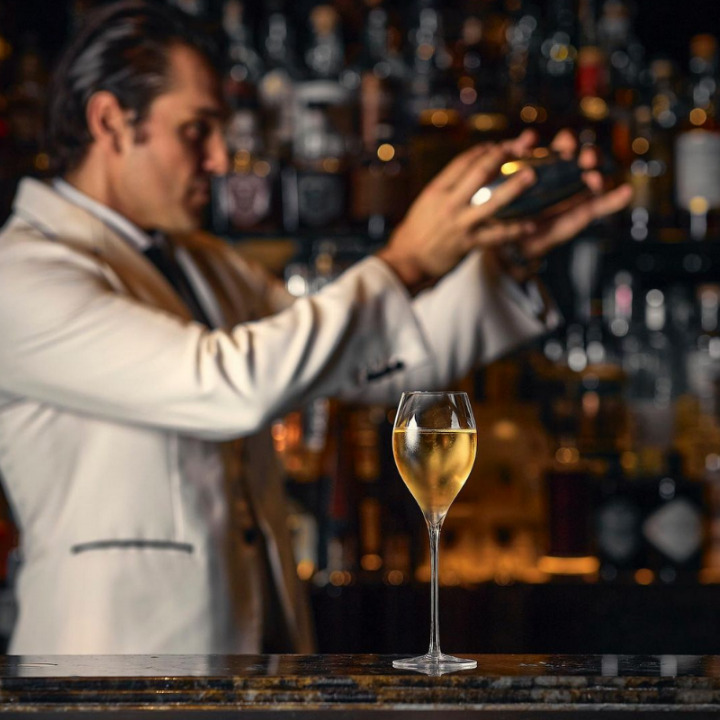 American Bar has been serving up American-style drinks since 1893, making it the longest-surviving cocktail bar in the UK. Closed in 2020, the bar reopened with a new Head Bartender, Shannon Tebay; the hotel's first female head bartender since Ada Coleman over a hundred years ago. She's also the first American to be head of the team!
19. Paradiso
📍Barcelona, Spain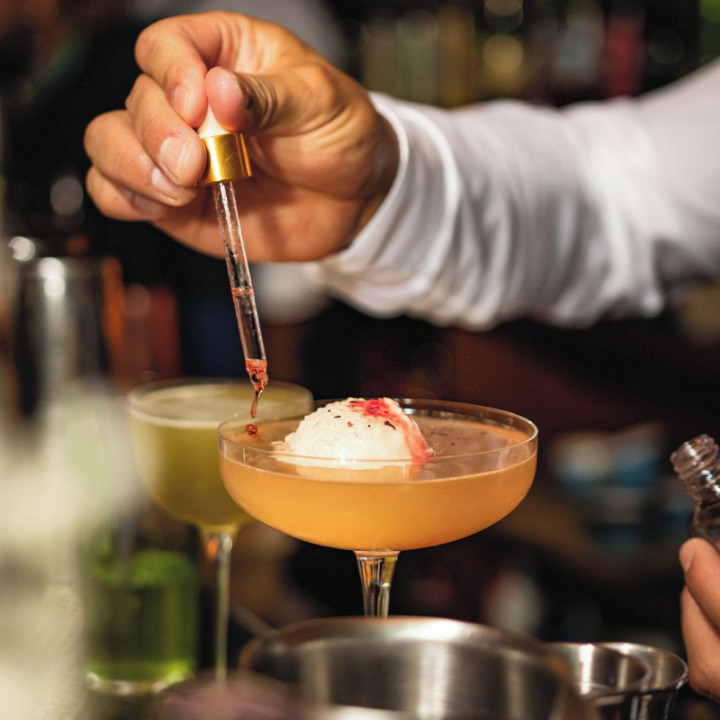 Paradiso takes a new spin on the classic bar entrance, with a speakeasy-inspired entrance through a pastrami bar refrigerator, and a Dali-esque wooden interior. One thing's for sure – this bar makes drinking cocktails fun and mysterious. It's one of the most unique bars we've ever seen – with drinks that change color, taste, disappear, etc. Paradiso will keep you on your toes.
18. Native
📍Singapore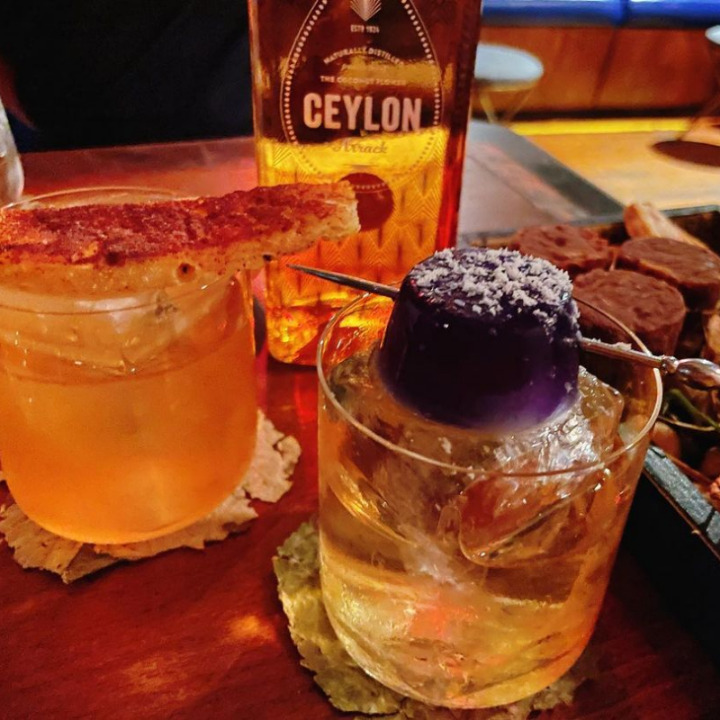 Native, located in Singapore, is committed to utilizing both local and regional ingredients to bring the best bar experience to guests. In addition, the team is always coming up with new cocktail concoctions, many of which stick around for a while. The team is also a huge advocate of zero waste and collaborates with other bars on their menu.
Try the Sarapan, made with coconut distillate, toasted bread crumbs, Pandan, butter roasted coffee, and soy gula melaka. 
17. Licoreria Limantour
📍Mexico City, Mexico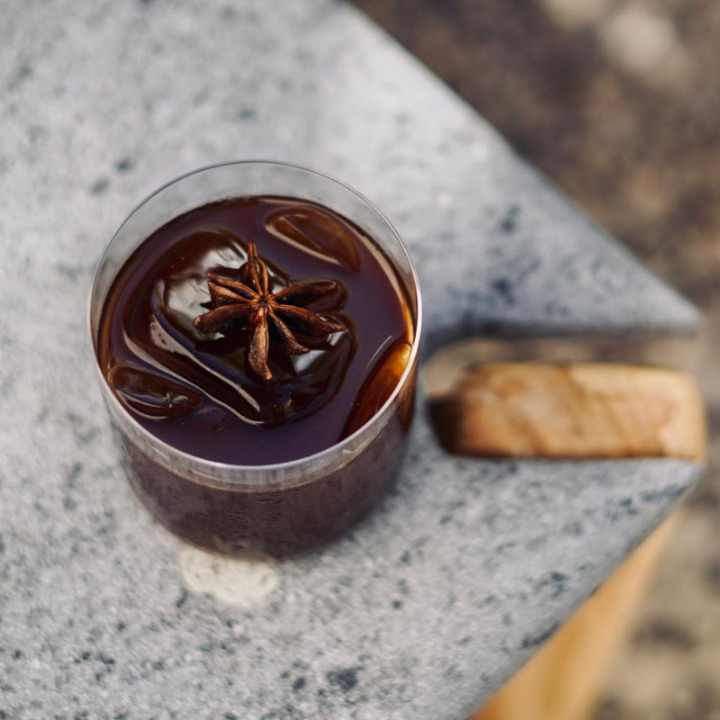 Licoreria Limantour is an inviting party bar, but it's cozy and snug enough if you just want to go out for a drink and enjoy yourself. One drink you'll love – the Margarita Al Pastor, made with Blanco Tequila, Cointreau, taco mix, and green lemon. Yum!
16. Katana Kitten
📍New York City, USA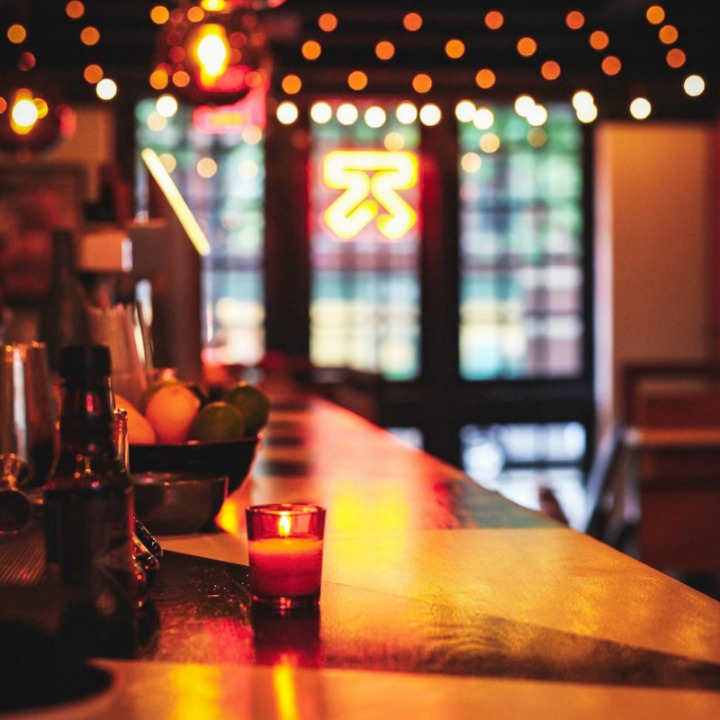 New York City takes another spot on the list of the best bars in the world with Katana Kitten, a Japanese-inspired American dive bar. Let's be honest, dive bars can be so much better than a stuffy, fancy bar. Try one of the Toki Highball, made with toki japanese whisky, lemon oil, koume or a Boilermaker, a beer with whisky on the side.
15. The Old Man
📍Hong Kong, China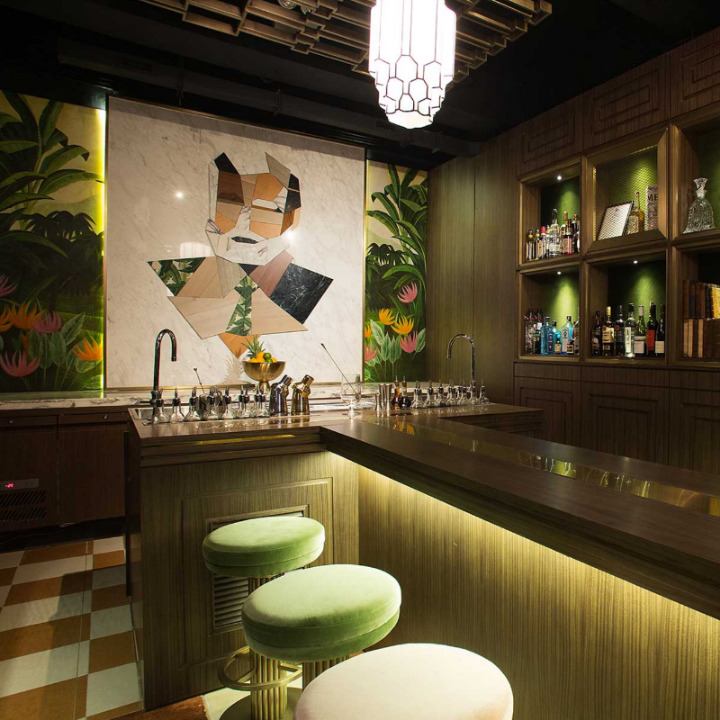 The Old Man is an homage to Ernest Hemingway, in both the design of the bar and the design of the menu. If you're a big Hemingway fan, you have to check out this bar that takes inspiration from his life and writing. Try the True At First Light #1953, made with rotovap wild moss gin, acacia honey vinegar, olive oil, black salt, and bergamot.
14. Manhattan
📍Singapore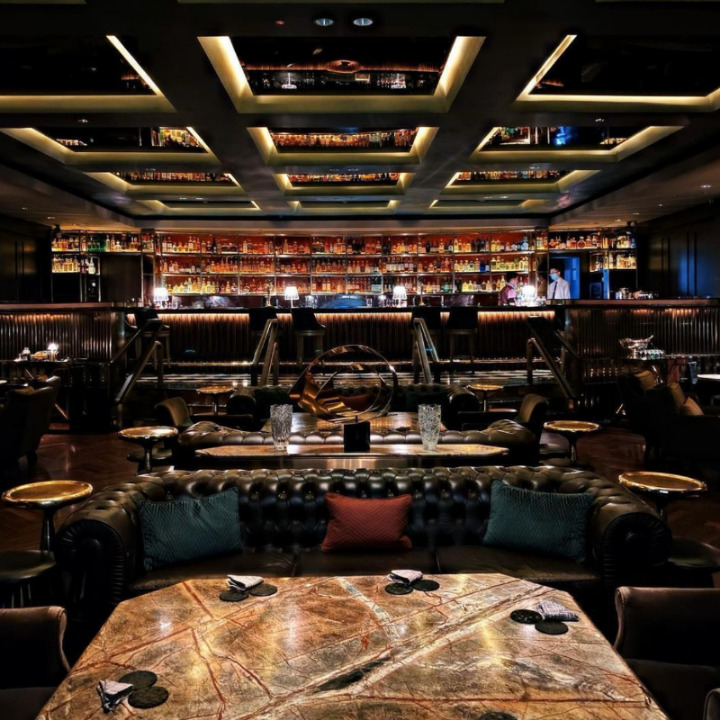 From the island of Manhattan, to Singapore! Manhattan's design and menu transport guests to the Golden Age of New York and old Hollywood glamour. Enjoy artisanal spirits, classic cocktails, and bar bites, all crafted from the world's first in-hotel rickhouse.
13. NoMad Bar
📍New York City, USA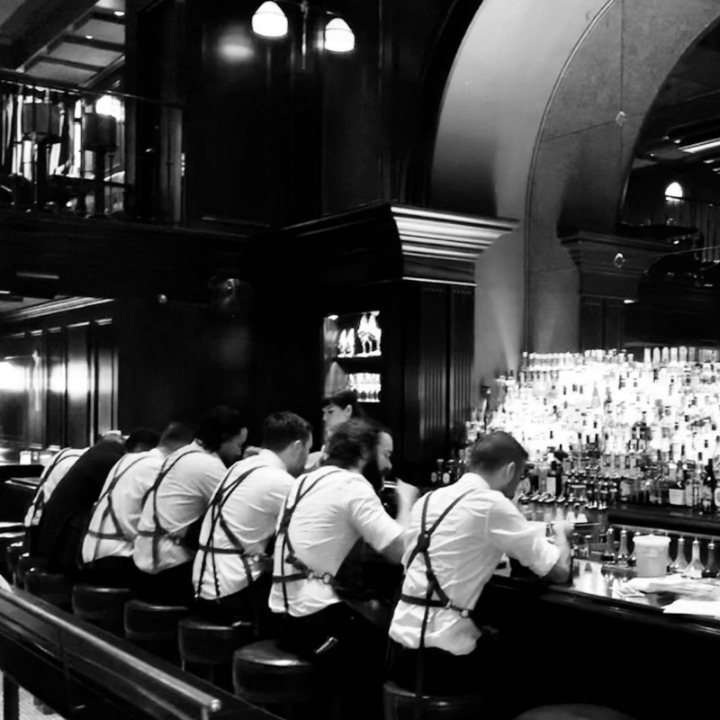 Across the ground floor of this luxury hotel in Manhattan, are a series of dark rooms each offering something different to guests. NoMad New York started in 2012 in a Beaux Arts building on Broadway just north of Madison Square Park. Unfortunately, the bar located in New York City is permanently closed. But there are locations in London, Las Vegas, and Los Angeles to visit.
12. Attaboy
📍New York City, USA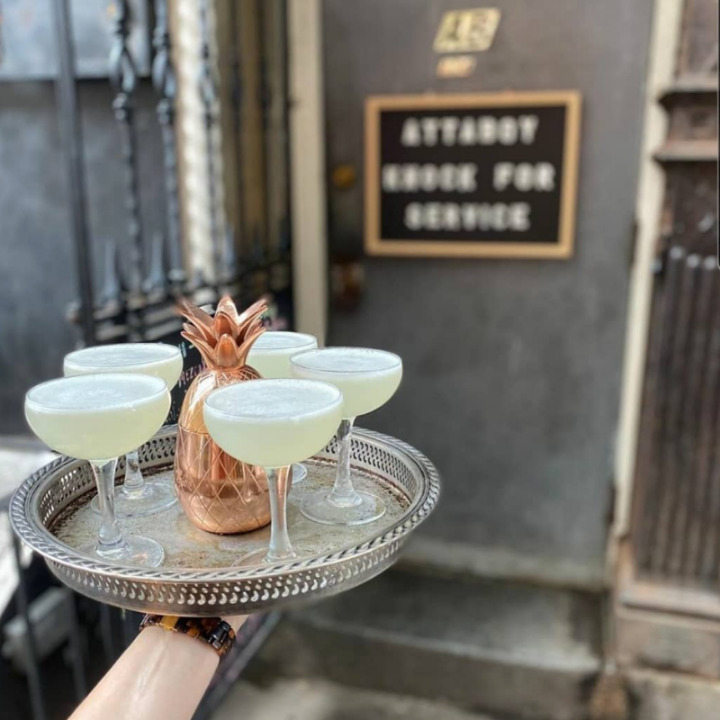 New York City's Attaboy was intended to be an everyman's cocktail bar with a laid-back attitude. Don't expect to see a menu at this bar, there is none! It's one of the best bars in the world with no actual menu! Tell the bartenders what you're feeling, flavors you like, and they'll take it from there.
One drink you can try is The Penicillin, a scotch, and honey creation, which to many is the best scotch cocktail invented.
11. Maybe Sammy
📍Sydney, Australia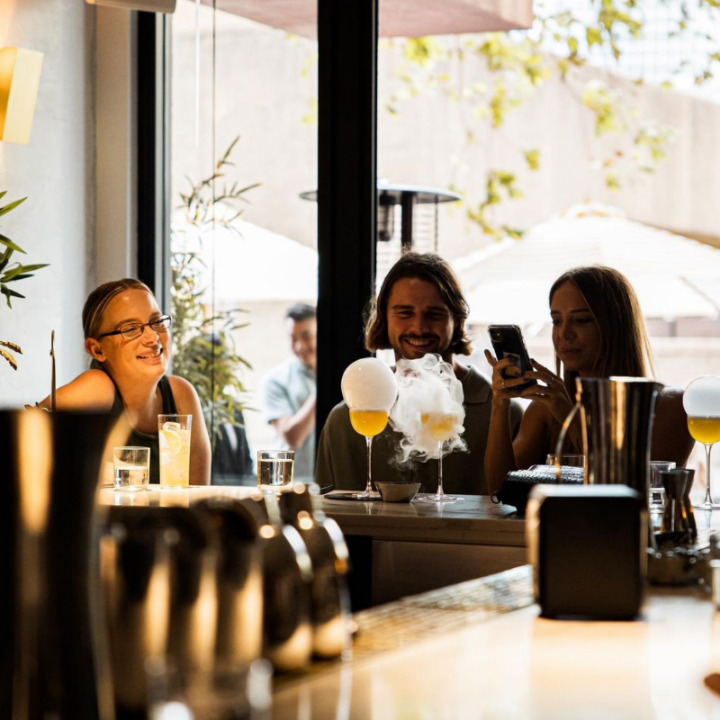 Reopening October 20th, 2021, Maybe Sammy is rated one of the best bars in the world and the winner of the best bar in Australasia. Maybe Sammy, "takes inspiration from the roaring Fifties, the rebirth of cool, the era where fashion and fun prevailed. A time when The Rat Pack and Hollywood glamour were revered and admired." We really love the Great Gatsby-vibes this place gives off.
The bar offers a menu full of drinks that commemorate Sammy Davis Jr., try the 'Once in a Lifetime,' made with Ketel One Vodka, rhubi mistelle, toasted coconut, coconut water, citrus, and Bergamot bubble.
10. The SG Club
📍Tokyo, Japan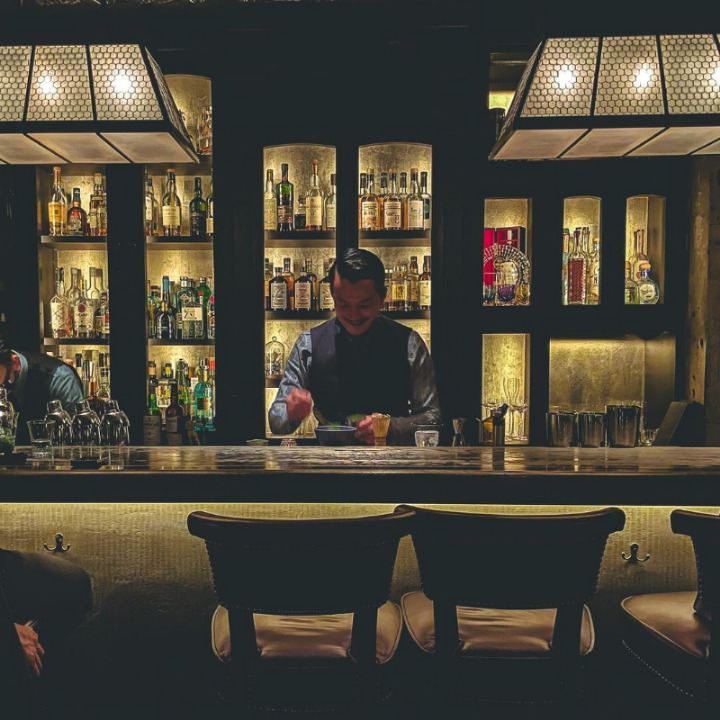 In the 10th spot of the best bars in the world, we introduce The SG Club in Tokyo, Japan. The SG Club is technically four bars in one, there's a bar on the entrance level, an upstairs cigar bar, a bar downstairs for banquettes, and a hatch for take-out cocktails. Each with contrasting styles, you'll love the design of this place.
9. Jigger & Pony
📍Singapore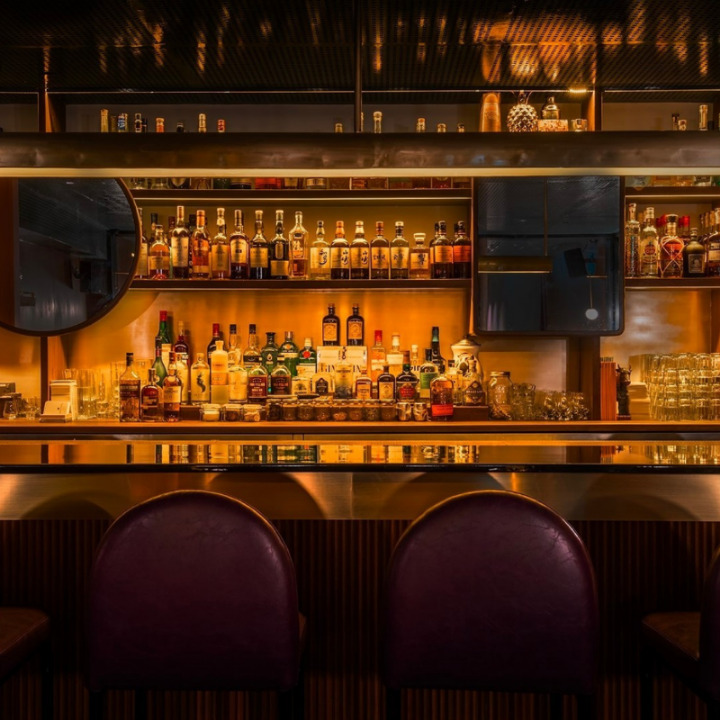 Filling the 9th spot of the best bars in the world 2020 list is Jigger & Pony in Singapore. Recently crowned number one on the list of Asia's 50 Best Bars, Jigger & Pony has something for everyone. In the magazine-style menu, find fun twists on classics, plenty of non-alcoholic options, and yummy bar food.
8. Coa
📍Hong Kong, China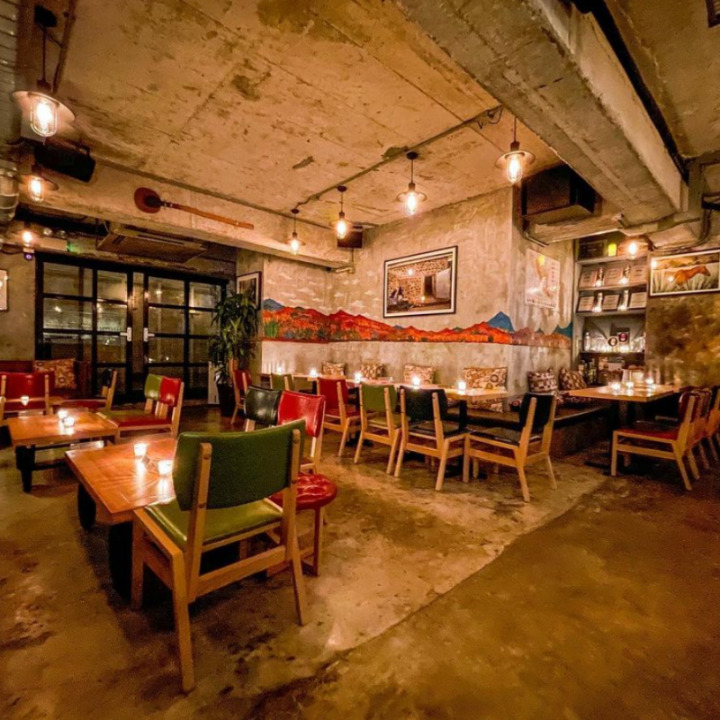 Think of Hong Kong's Coa as a shrine to agave, with a collection of over 180 hand-crafted spirits including tequila, mezcal, raicilla, sotol, bacanora, charanda, and more. The word 'coa' refers to the machete like tool for harvesting agave, the owner of the bar, Jay Khan, was inspired by his frequent trips to Mexico. Did we mention there's a 41-page menu?
Try the La Paloma de Oaxaca, made with Tequila blanco, Mezcal joven, lime, grapefruit soda, and worm salt or the Ancho Highball, made with Tequila blanco, salted plum, ancho chile, guava soda.
7. Florería Atlántico
📍Buenos Aires, Argentina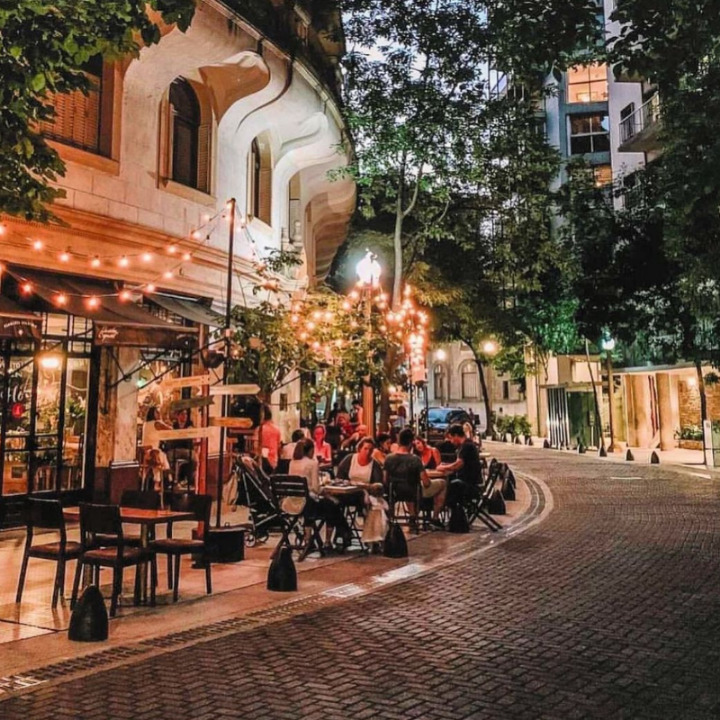 Buenos Aires has always been the melting pot of South America and it's home to one of the top 100 bars in the world.
Take a look at the description of Florería Atlántico's story, "We are the ones who love wine and cocktails, the sea and fire, flowers and music, cities and their ports, the elegant secluded and southern region, mythical monsters and legends to discover. We are Aline Vargas and Renato Giovannoni. We bring stories in hotels and bars, in Brazil and Argentina, on trips around the world and in our beloved Buenos Aires, in fields and wineries, in nights of drinks and blind tastings, in distillates made with our hands and open bottles to friends and strangers."
Doesn't that just sound really cool and inviting?! Psst! This bar was also named the Best Bar in South America. 
6. Kwānt
📍London, England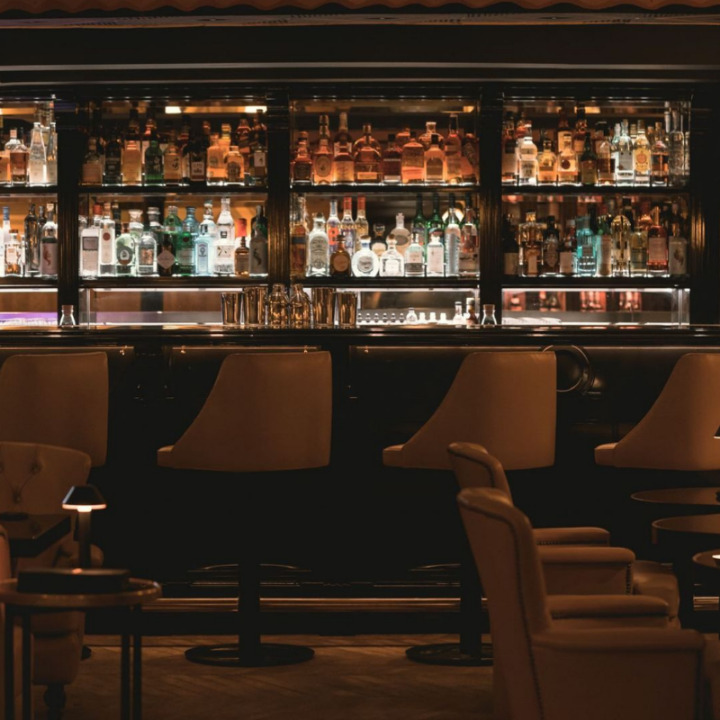 London is home to some of the coolest bars in the world. Kwānt transports visitors to another time. The word kwānt, means attractively unusual or old-fashioned, and boy does this bar fit that bill. It's a tropical bar from say, the 1940s? Try the Hacienda, made with tequila, vermouth, lacto-fermented purple carrot, fino sherry, mezcal, agave nectar, and lime juice.
5. Tayēr + Elementary
📍London, England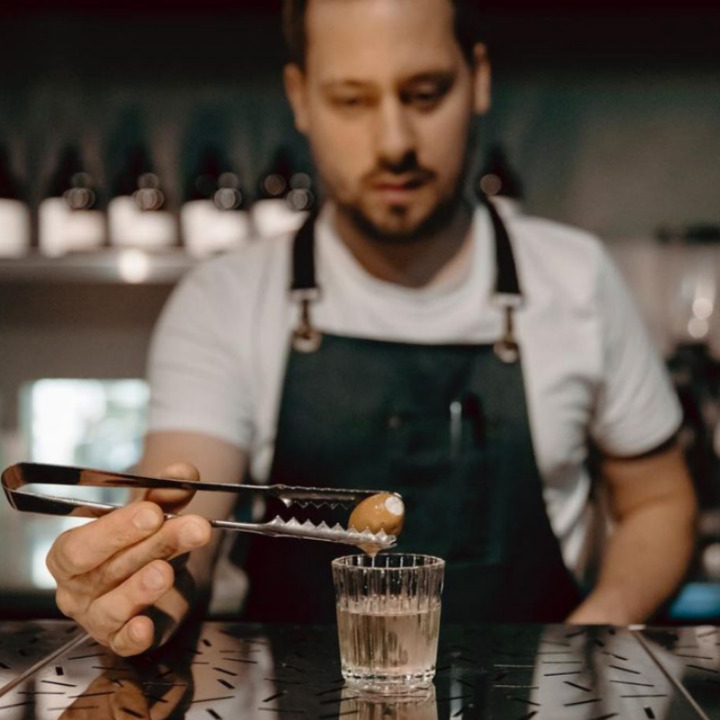 Tayēr + Elementary is a two-part bar located in London. Elementary greets you with floor-to-ceiling windows, while Tayēr sits behind the concrete partition and gets a little more serious. Expect simple, classic drinks from each bar. Try Jasmine Mai Tai with rum, orange curaçao, their own Muyu Jasmine Verte, almond and citrus. Yum! Visitors say the trademark drink at this spot is the One Sip Martini.
4. Atlas
📍Singapore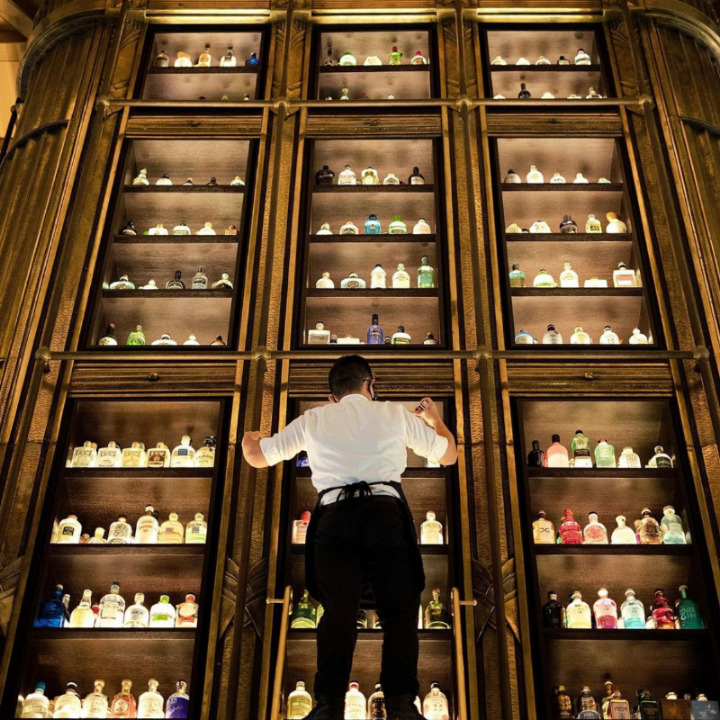 In a building commonly referred to as Gotham, sits Atlas, a bar celebrating the great art deco lobbies of Europe and their rich traditions. The bar boasts one of Asia's finest collections of gin, spirits, and champagne from around the world. Psst! Atlas was also named the Best Bar in Asia.
3. The Clumsies
📍Athens, Greece
The Clumsies brings Athenian hospitality to life. It's set in a townhouse in downtown Athens, bringing a friendly, homely feel to all who visit. To get a better understanding of The Clumsies, the site reads:

Concept Perfect Imperfection
The Clumsies
A fail-proof recipe
Ingredients and quantities: Many "whoops!". A generous serving of favorite mistakes. Several droplets outside the shaker. Quite a few spatters on clothes and surfaces.
2. Dante
📍New York City, USA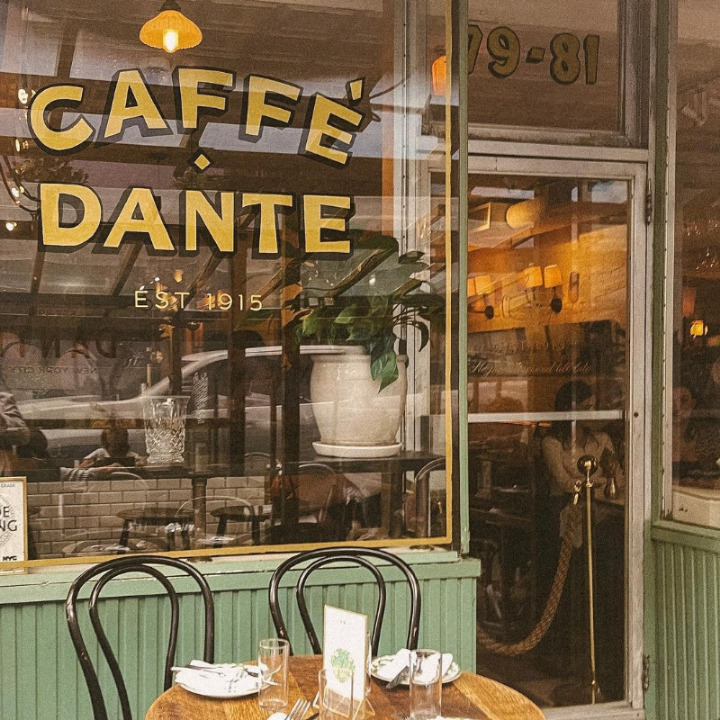 Dante, a bar tucked away in Greenwich Village, on the island of Manhattan, has been serving New Yorkers and visitors alike since 1915. Technically, this bar has seen two pandemics! The bar is now a registered New York City landmark, and when you enter this quaint little spot you'll feel the history and camaraderie surrounding you.
Not to mention the extensive list of Negroni's on the menu and other signature cocktails like the Garibaldi, made with campari and fluffy orange juice. Psst! Dante was also crowned the winner of Best Bar in North America.
1. The Connaught Bar
📍 London, England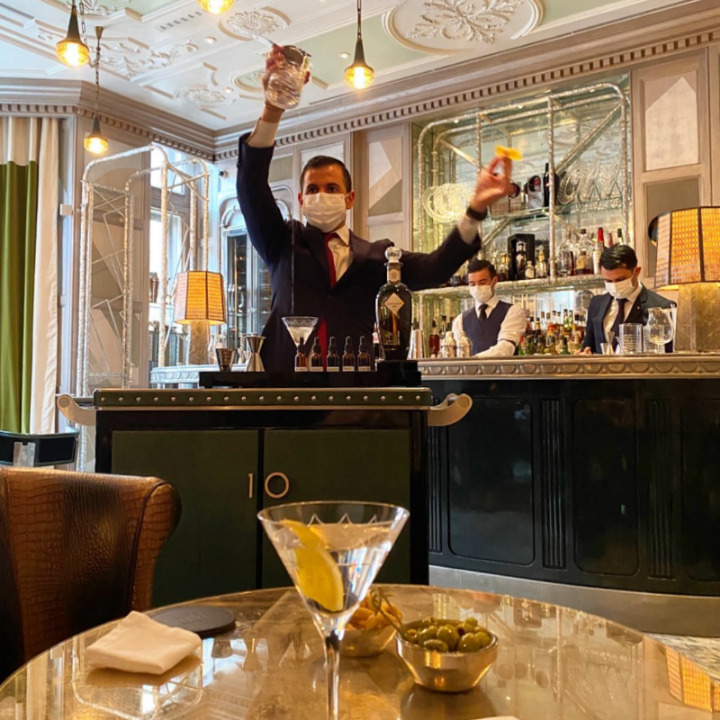 The Connaught Bar, a part of a Mayfair hotel in London, combines the design of David Collins Studio. The bar celebrates both English and Irish Cubist art of the 1920s. Behind the bar, you'll find a friendly Italian staff and on the menu? Exciting cocktails like the Connaught Martini, made with Tanqueray No.10 Gin, a blend of dry vermouths, and a selection of bitters. Psst! The Connaught Bar was also named Best Bar in Europe.
Now that you've seen the list of the best bars in the world (as of 2020), what did you think? Leave us a comment below!