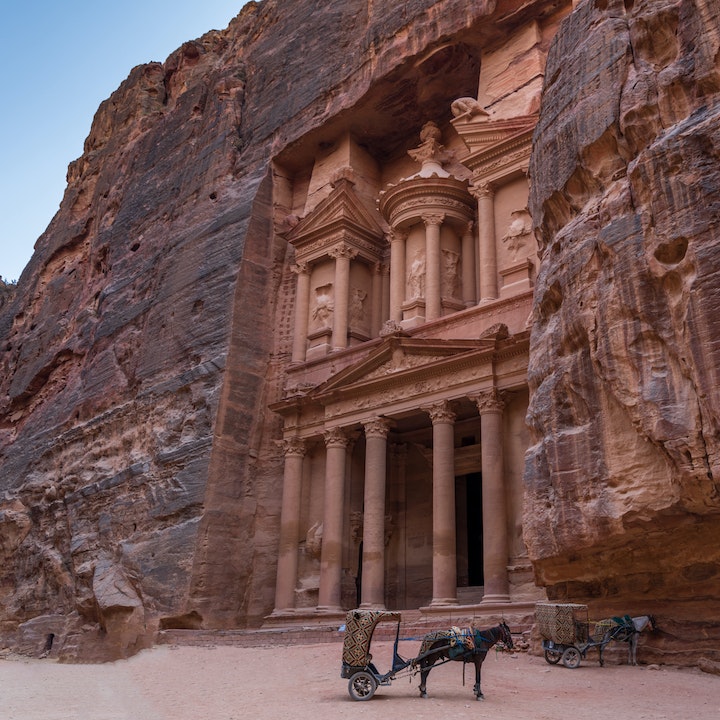 Located in the Levant region, Jordan is influenced by the cultures of North Africa, the Middle East, Persia, and the Mediterranean.
In this spot, you'll learn about ancient roots, visit Roman ruins and cultural museums, and buy souvenirs and more at colorful souks.
It's a no brainer! Travel to Jordan if you want to knock a few things off your bucket list – the country is home to 6 World Heritage sites, including Petra, which is also one of the 7 Wonders of the World.
A few tribes of Bedouins, the nomadic desert people, still live in Jordan today and you can learn about their culture in the capital city of Amman.
Take a look at these travel journal prompts before you start your journey and make sure you get ready with the Pack This! App.
General Information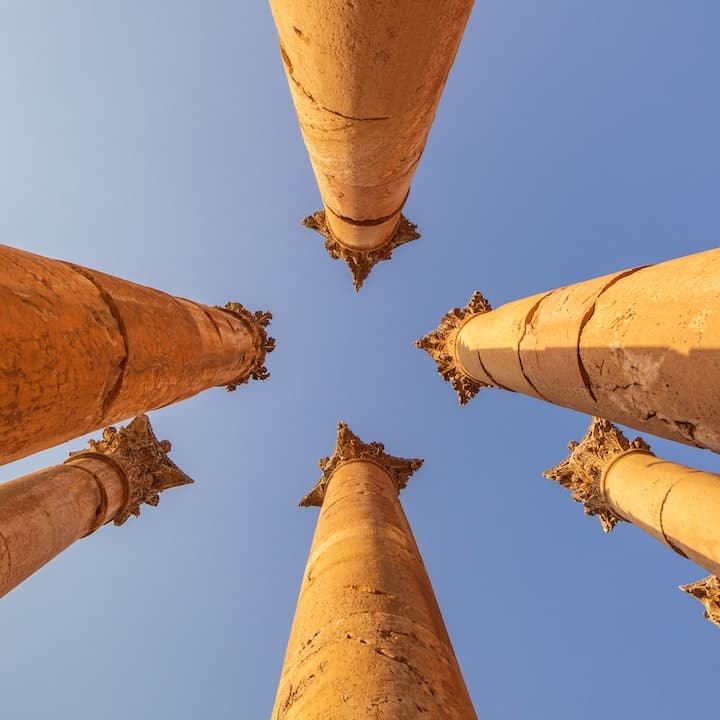 Population: Roughly 11 million
Capital: Amman
Location: Located in the Middle East, Jordan sits at the crossroads of Asia, Africa, and Europe on the East Bank of the Jordan River. The country shares borders with Saudi Arabia, Iraq, Syria, Israel, the Palestinian West Bank, and the Dead Sea.
Flag: The flag consists of horizontal stripes of black, white, and green connected by a red chevron. This flag is based on the 1916 flag of the Arab Revolt against the Ottoman Empire during World War I.
Time Zone: Eastern European Time
Currency: Jordanian dinar (JOD)
Language: Arabic
Climate: The climate varies greatly. Further inland, there is less rainfall and greater changes in temperature. The highlands and mountains see a Mediterranean climate, and the eastern areas of the country are arid deserts.
Religion: Sunni Islam is the dominant religion and Muslims make up about 95% of the country's population. The country is also home to some of the oldest Christian communities in the world, dating as early as the 1st century AD after the crucifixion of Jesus.
Travel Visa Information: To find out if a visa is required for your country — and easily get yours if needed — check out iVisa.com.
Best Time to Visit: The best times to visit Jordan are spring (March to May) and fall (September to November).
Health & Safety
As of August 2022, the CDC does not recommend travel to Jordan if you are not fully vaccinated. If you are not up to date with your vaccines for COVID-19 and other diseases, avoid travel to Jordan.
Find information regarding COVID-19 and travel to Jordan here: https://jo.usembassy.gov/
Follow the CDC guidelines for current travel advisories, as well as the U.S. Embassy guidelines.
Typical Costs in Jordan
Travel to Jordan and a week's worth of accommodation for one person usually costs around JOD604, or $851.91 USD. Public transportation is much more affordable than a taxi ride. The average cost of eating a meal in Jordan for one day is JOD21, or about $30 USD.
Food To Eat in Jordan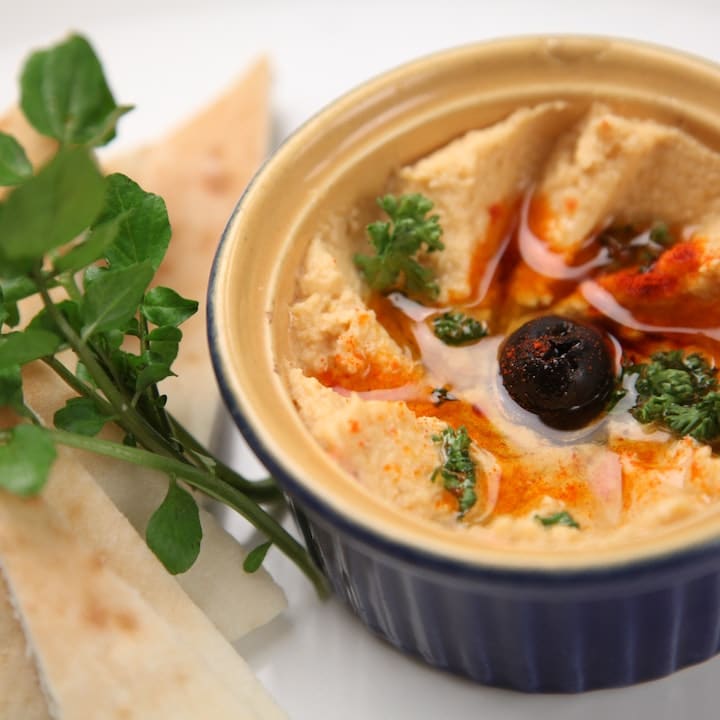 Not sure where to chow for dinner tonight in Jordan? Read this guide on how to choose a great restaurant while traveling.
Falafel, common in the Middle East, consists of ground chickpeas and spices, that are formed into small balls and deep fried. They are eaten as snacks or can be found as street food in Jordan.
Moutabel, similar to baba ganoush, is a dip made from roasted eggplant, tahini, and yogurt. Olive oil, lemon juice, and salt are added for seasoning and it results in a creamy dip.
Hummus is one of those dishes you can find almost anywhere in Jordan. The dish is a classic and a staple in Middle Eastern culture and a must in travel to Jordan. It consists of chickpeas, lemon juice, olive oil, and tahini.
An Arabic salad in Jordan usually includes finely diced cucumber, tomatoes, and bell peppers in lemon juice and lots of olive oil. A refreshing starter for any meal.
Manakish, or Arabic pizza, is a round of dough, topped with za'atar (an herb thyme spice mixture) and olive oil, and can include toppings like white cheese, eggs, or ground meat.
Shawarma gets its unique taste from the method in which it's cooked. Layers of thin meat are stacked on a sword-like spit and revolving either vertically or horizontally over heat. It's cooked, shaved off with a sharp knife, and wrapped in bread with either garlic sauce or tahini and pickled vegetables. If you have an opportunity to try Shawarma from a restaurant at home, you do not need to travel to Jordan to experience the deliciousness of this dish – but we suggest you do!
Shish Kebabs are made of minced lamb that is mixed with parsley and salt, then made into big sword-like skewers, and grilled over hot charcoal.
Drinks To Try in Jordan
Turkish Coffee is a common drink to enjoy in Jordan for breakfast, lunch, and probably dinner. The coffee is thick, muddy, and spiced with cardamom. Although Arabic coffee is also an option, Turkish coffee is more common. Coffee must always be served to your left, and you must never serve coffee with your left hand unless you're expressing disrespect or anger. When a guest comes to visit, you should be ready with a cup of hot coffee because lukewarm or cold coffee is considered rude.
Mint tea is black tea with some fresh mint leaves at the bottom of the glass. Mint tea is commonly enjoyed after a meal in Jordan.
Top Cities To Visit in Jordan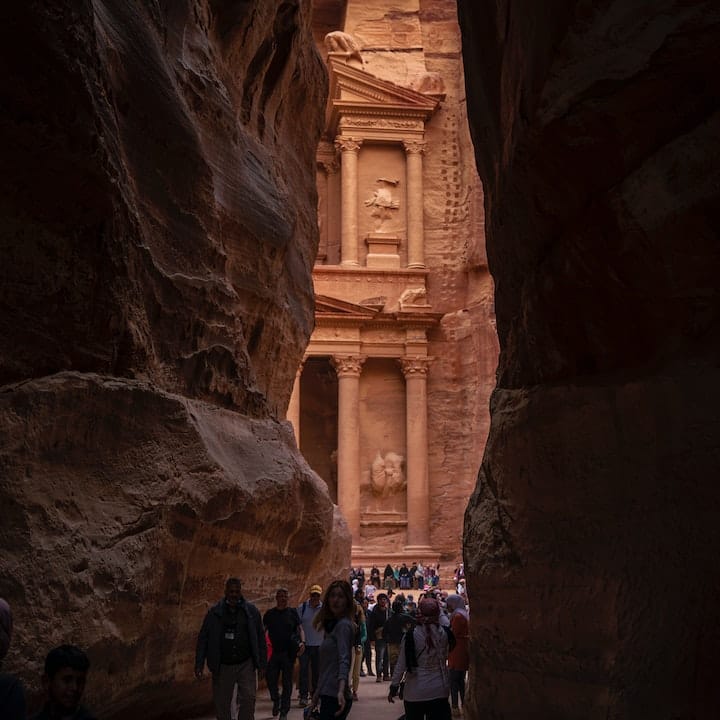 Amman, the capital of Jordan, is a bustling modern city that is home to some incredible pieces of history. One stop you must make for incredible views and more: the citadel, which has been occupied since the Bronze Age. While the city is ranked the 29th most expensive city in the world, according to the Economist Intelligence Unit, there are ways to see everything on a budget. Visit Rainbow Street, Tiraz (to learn about the Bedouins, nomadic desert people), The Jordan Museum, the Roman Theatre, The Temple of Hercules, and more.
If a visit to Petra isn't on your bucket list, you might feel differently after reading this post. The city holds a spot on both the UNESCO World Heritage list and the 7 Wonders of the World. The "Rose City", named for its pink sandstone cliffs is everything – beautiful, mysterious, historical, and enchanting. Walk the Siq, the famous gorge that leads to Petra and you'll see the Treasury, the Dam, the Street of Facades, and the Theatre. If you want to see this gorgeous city through candlelight, consider taking a tour by night.
Wadi Rum is full of rock formations, sand dunes, and sandstone mountains. Visit Lawrence's Spring, Lawrence's House, and take a gander at the many luxurious tents for glamping in Jordan. The Wadi Rum Protected Area is listed as a mixed natural and cultural site. Here you can find, according to UNESCO, "the combination of 25,000 rock carvings with 20,000 inscriptions trace the evolution of human thought and the early development of the alphabet."
Must-See Sights in Jordan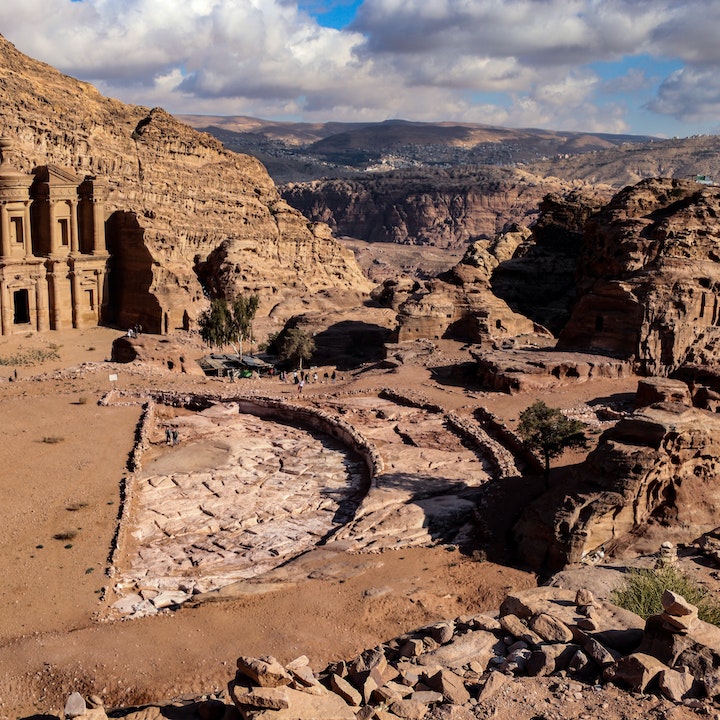 Petra
Wadi Rum Reserve
The Treasury
Mount Nebo (where Moses first set his eyes on the Promised Land)
Roman Theater in Amman
Amman Citadel Hill
Al-Siq
Dana Biosphere Reserve
The Monastery
The Baptismal Site of Jesus Christ
Triclinium
Royal Tombs
Roman Temple of Hercules
Fortress of Machaerus
Qasr Al-Mashta
Lawrence's Spring
Colonnaded Street, Jerash
Ajloun Castle
Aqaba
Dead Sea
The Jordan Valley, Al-Ghor
Ma'in Hot Springs
Temple of Artemis, Jerash
Church of St George
Umm Qais, Irbid
Wadi Mujib
…and so many more!
How To Get Around Jordan
Travel to Jordan and you will find that there are a few options for travel, but your choice will depend on a few factors like budget and itinerary. One of the best ways to see Jordan is with a guided tour.
Rental car: If you can adapt to the way of driving in Jordan, renting a car is a great, affordable option. Otherwise, we do not recommend it. Driving in Jordan often means ignoring street signs, excessive honking, and people parking wherever they want to, including in the middle of the road.

Taxi: Available in cities. Always agree on the destination and ask the driver to turn the meter on. Pay in cash and carry small bills.

Uber & Careem: Trustworthy rideshare services, where you can pay in the app and the cars tend to be much cleaner. Here's an expectation to keep in mind: if the driver is male, male passengers sit in the front and females in the back. There are some female ride-share drivers in Jordan, so the expectation is reversed: female passengers sit in front and male passengers sit in the back.

Bus: Use for adventure, not for convenience.

On foot: You can do so much on foot in Jordan, take advantage of this free form of transportation!
Bucket List Experiences in Jordan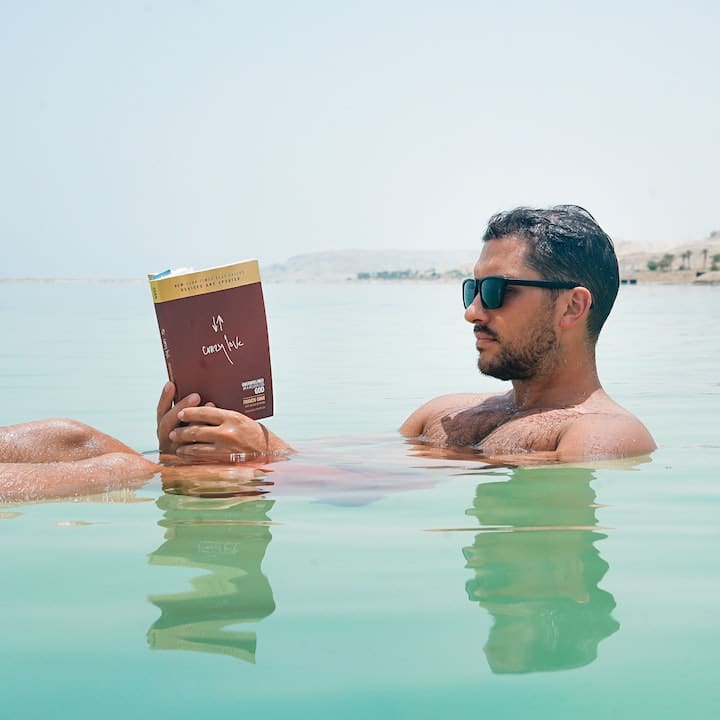 A visit to Petra is a bucket list item within itself. But, to see Petra at night is another experience – to be guided by candlelight.
Float in the Dead Sea.
Stand where Moses first saw the Promised Land.
Go stargazing in Wadi Rum.
Go canyoneering in Wadi Mujib.
Hike the Jordan Trail. You can see the whole country on foot in 30 to 45 days.
Visit a traditional, colorful souk, or bazaar.
Where To Book Flights
The cost of airfare can quickly eat up your budget.
>> Click here to find the best flights to Jordan.
Where To Book Accommodations
Jordan is home to some fantastic hotels.
>> Click here to find the best hotel deals in Jordan.
Housesitting is a great way to cut down on travel costs.
>> Click here to find housesitting opportunities in Jordan.
Hostels are an affordable option when it comes to accommodations.
>> Click here to find hostels in Jordan.
Booking a vacation rental can help to save the budget.
>> Click here to find vacation rentals in Jordan.
Best Travel Tours/Packages in Jordan
GAdventures: Highlights of Jordan – 8 days
Explore ancient sights and lost cities, overnight in a Bedouin tent and dine amidst the dramatic desert scenery of Wadi Rum. Take in Petra's fascinating history and marvel at its thrilling beauty, and still have a chance to relax in the therapeutic waters of the Dead Sea. This eight-day trip is ideal for the traveler who is short on time but wants to soak up the colors, culture, and history of a country that's small in size, but big in adventure.
TourRadar: Jordan Discovery – 8 days
Discover the rugged beauty, delicious food and rich heritage of Jordan. Explore Petra in depth, sleep like a Bedouin in Wadi Rum and float in the salty waters of the Dead Sea; the lowest point on earth.
ToursByLocals: Full day private shore excursion to Petra from Aqaba
Pick you up from Aqaba City. You will be transferred by an air-conditioned vehicle for about 1. 5 hours to the rose-red city in Petra, a must-see in the Middle East, one of the New Seven Wonders of the World, a city carved in stone more than 2, 000 years ago. Walk the Siq, a narrow path of 1.2 km, which is the main entrance to the city. At the end of the Siq, a narrow gorge, you behold the Treasury, the most-photographed feature of Petra. From there you will be walked along the Street of Facades, the Royal Tombs. Other monuments we will visit are the Theatre, the Byzantine Church. After lunch, you will be driven back to Aqaba city.
Additional Reading
Movies/Shows That Will Make You Fall in Love with Jordan: Theeb; Captain Abu Raed; 17
Books: Seven Pillars of Wisdom: A Triumph; Married to a Bedouin; Appointment With Death
Podcasts: Travel to Jordan – More Than Just Petra; The World Nomads Podcast
Check out the Journo Adventures of readers who have been there! @jenneaklingenberg enjoyed tons of good eats with her family and soaked in the culture.
Did you know many people travel to Jordan for surgeries and other medical procedures? The country has been a destination for medical tourism in the Middle East since the 1970s.
Now that you've read our guide on travel to Jordan, what did you think? Packing your bags soon? Leave us a comment below!