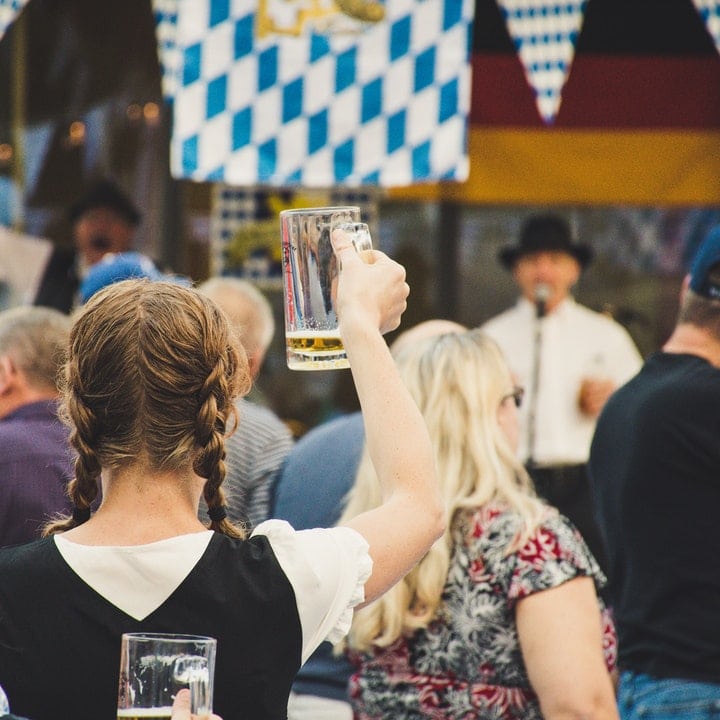 The beauty of this world is best enjoyed in person, but reading and learning about different places, cultures, and events is a close second.
The 2021 Oktoberfest in Munich, Germany, will not be held this year because of the COVID-19 pandemic. Do you know the history of Oktoberfest? Do you drink Oktoberfest beer?
Keep reading to learn 22 things you didn't know about Oktoberfest.
Oktoberfest is the world's largest folk festival.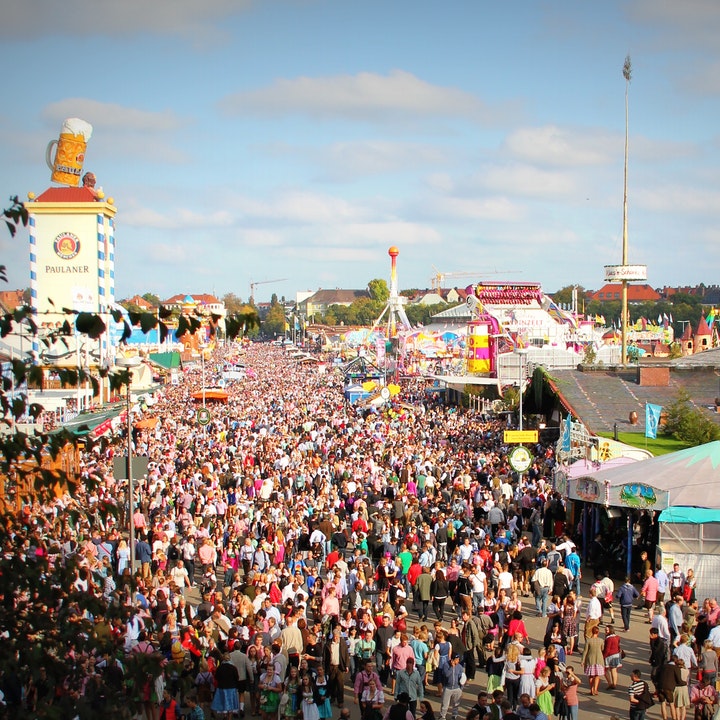 This might not come as a surprise to you, but this event attracts roughly six million visitors to Germany every year. Check out 5 Harvest Season Festivals Around the World.
The festival was born from a wedding and a horse race.
The history of Oktoberfest is quite an interesting one that you've probably never heard of. It actually grew out of royal wedding festivities and ended with a horse race!
According to the official site of Oktoberfest, "Andreas Michael Dall'Armi, Member of the Bavarian National Guard, had the idea of celebrating a wedding a little differently for a change. Prince Regent Ludwig of Bavaria, the later King Ludwig I, and Princess Therese of Saxony-Hildburghausen were to be honored with a huge horse race. The financier and cavalry major shared his idea with King Max I Joseph of Bavaria who was impressed from the get-go.
The couple was married on 12 October 1810 with the festivities taking place on 17 October on the grounds of Theresienwiese [Therese's green], to be later named after the bride, and featuring the exact horse race suggested." 
Oktoberfest is celebrated in September and October.
It's not called Septemberfest! It really is just not as catchy. But in the history of Oktoberfest, most people think the festival runs only in October or throughout the entire month of October, and that is simply not true. It runs for two weeks and ends on the first Sunday in October.
Lederhosen is the traditional garb, and it's the name of a town in Germany.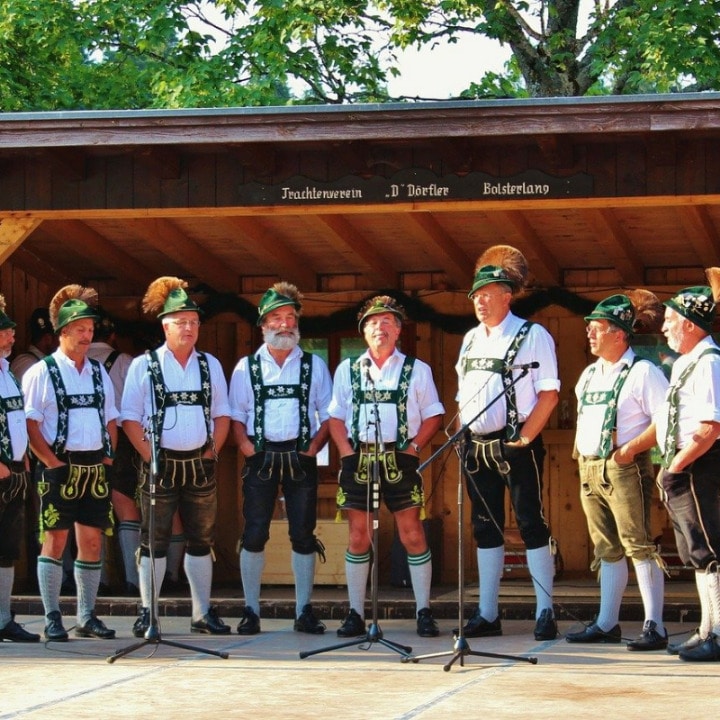 Lederhosen is the traditional garb of the festival and an important part of the history of Oktoberfest. The next time you're driving through good ol' Deutschland, you will pass the town of Lederhosen when driving south from Leipzig on the A9 highway.
Oktoberfest wasn't always that popular.
A festival with food, fun, beer, music, and friends? In the beautiful country of Germany? What's not to like about that? Well, in the 1800s challenges like war and cholera came up. That seemed to put a damper on the festival spirit.
Only beers made in Munich are sold at Oktoberfest.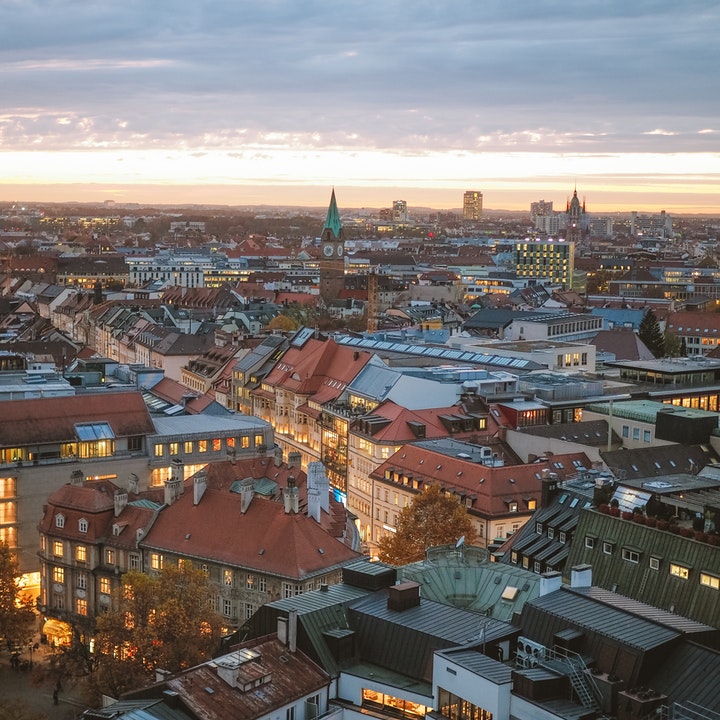 This is surprising, Oktoberfest is all about beer and fun! And only six local breweries serve on the premises: Paulaner, Spaten, Hacker-Pschorr, Augustiner, Hofbrau and Lowenbrau. You're getting true Oktoberfest beer in true form, at the festival where it all started!
There are 17 large tents and 21 small tents at Oktoberfest and the Oide Wiesn.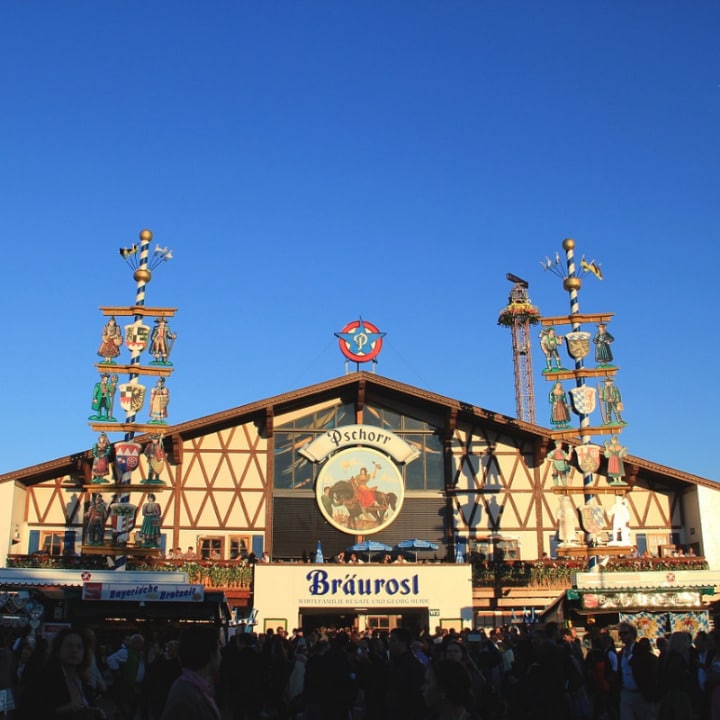 That's a total of 38 tents of beer, food, and fun at the largest folk festival in the world. Wow! You must reserve tickets for the large tents. Each tent creates its own Oktoberfest atmosphere with a menu, beer, and music.
A few fun facts about the large tents: The German Crossbow Championships have been held in the Armbrustschützen tent since 1935, the traditional Steckerlfisch "fish on a stick" is the highlight of the famous Fischer-Vroni tent, and in the Hacker-Festzelt tent, you'll feel like you're sitting under an open blue sky with white, fleecy clouds, different from other tents. 
In 1950, Mayor of Munich, Thomas Wimmer, tapped the first keg in the Schottenhamel tent for the first time.
This began the tradition of mayors kicking off the event each year. Visitors to the festival cannot start drinking their beers until this first keg is tapped and the Mayor says, "O' zapft is," which indicates a tap with a wooden hammer with which a barrel of beer is opened, meaning it's time to party!
Firecrackers are set off at the statue of Bavaria, announcing to the festival that hosts can start serving beer.
The bow on a woman's dirndl will tell you if she's single or dating.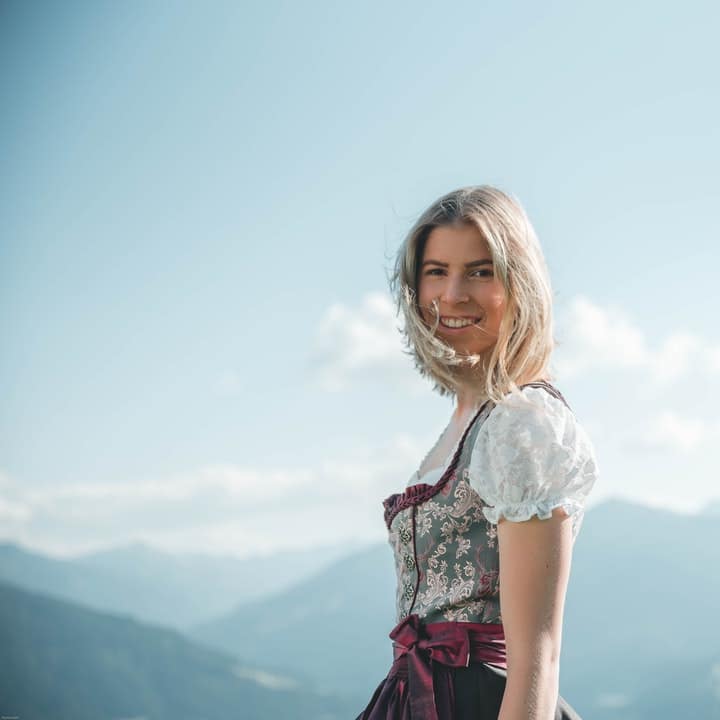 The dirndl is the traditional garb of Oktoberfest for women. According to tradition, if the dirndl wearer wears the bow to the right, she is married, engaged, or in love, i.e. spoken for.
If the bow is worn to the left, she is single, available, and probably not married. If the bow is tied in the middle, this is symbolic of being either a virgin, or the latest interpretation is, "it's none of your business." If the bow is tied in the rear, that means she is either a widow, a child, or she is a waitress. Who knew that bows could play such a role in Oktoberfest?! Psst!
The world's most expensive dirndl costs $100,000, made with pure wild silk requiring 300 hours of labor to embroider 150,000 Swarovski crystals. 
Café Mohrenkopf is the only tent at the Wiesn with its own bakery.
It is also the oldest tent that serves coffee on site, since 1950. It serves a dessert delicacy, the famous "mohrenköpfe," which is a sweet made of fresh whipped cream covered in chocolate. Say no more.
Locals call a 'stein' a 'mass.'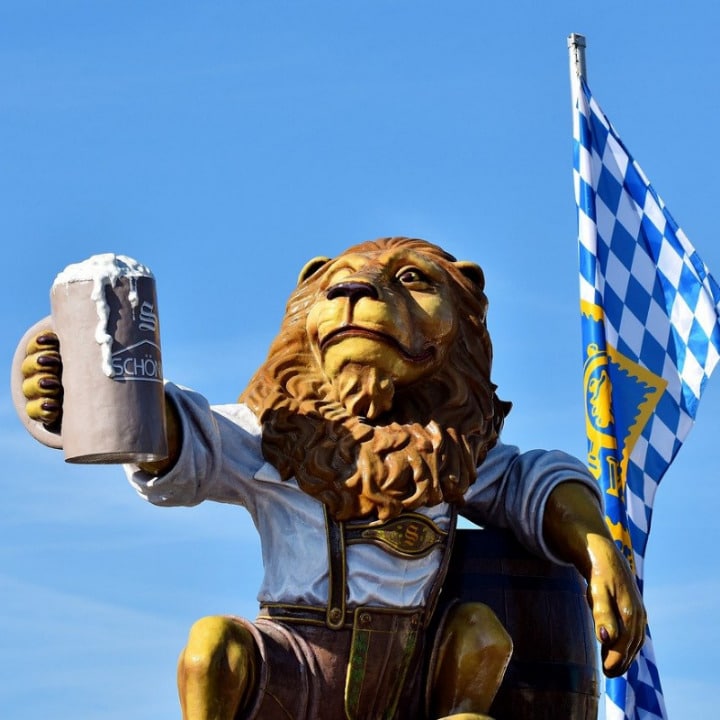 This is helpful information to know when you attend the festival. While most people outside of Germany will call it a beer stein or a stein, the locals call it a mass. One stein of beer costs roughly 11 Euros, and the festival is free, so all you'll need to budget for are the pilsners you indulge in.
There is A LOT of beer consumed.
Now, as you can imagine, there's a lot of Oktoberfest beer consumed at the festival. Especially since there are at least six million visitors every year. Well, in 2013, over 2 million gallons of beer were served. If you love reading about beer, check out 7 Weird & Wonderful Beers of the World.
There's a wine tent.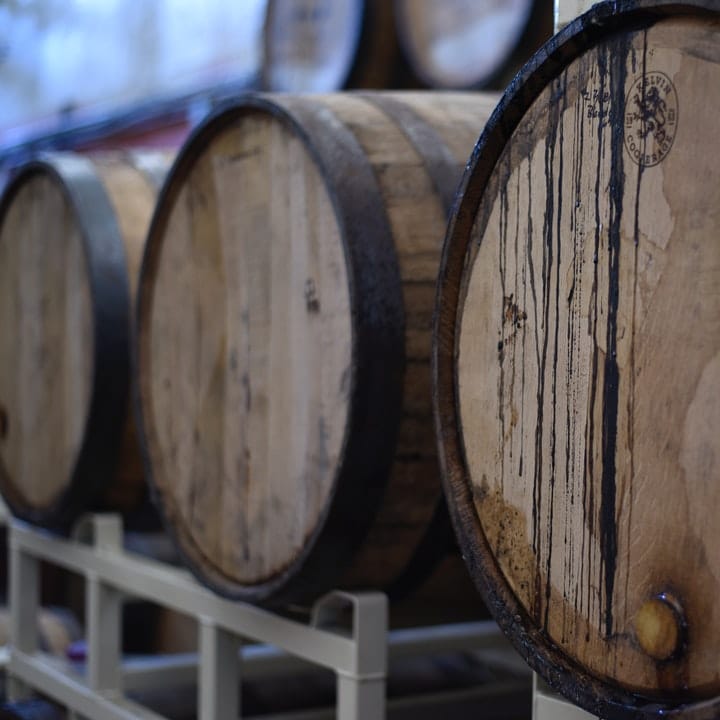 Did you know there's more than beer at Oktoberfest? That's right, there's a wine tent that serves wine and champagne. So even if you don't like beer, you can enjoy the Oktoberfest atmosphere, the yummy grub, music, and some vino. Psst! Have you read about Germany's Gluhwein in A Brief History of 8 Traditional Holiday Drinks?
The gingerbread heart is a sweet Oktoberfest tradition.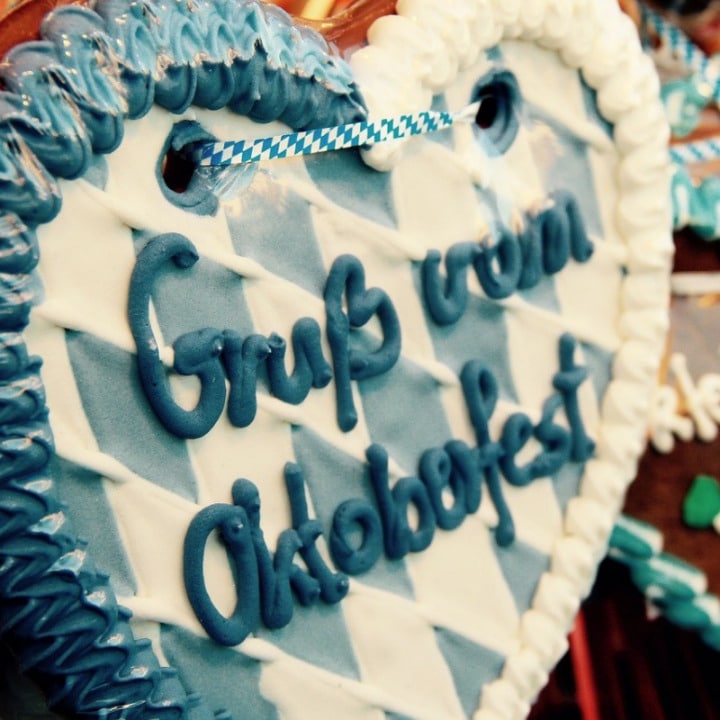 At any German festival in any part of the world, you've probably seen the adorable gingerbread hearts that are often decorated with icing and hung for decoration.
Gustav Tschernich, a master confectioner, and his wife Herta gave the Wiesn heart its typical shape. He dispensed with the otherwise popular chocolate coating for gingerbread during deliveries to Wiesn dealers, in order to avoid smears on dirndl blouses and traditional shirts.
While gingerbread was not invented in Germany, the gingerbread hearts with sayings are typical Munich. The most common souvenirs to scoop from Oktoberfest are the gingerbread hearts and Wiesn clothespins, or "Glupperl." 
Men traditionally went commando under their lederhosen.
There's been quite the discussion around whether or not underwear is needed under the lederhosen. The answer is: the lederhosen should fit pretty snug to the body, so there probably isn't room for much underwear. There is no right or wrong way to do it, but in the history of Oktoberfest, going commando has been widely accepted.
'Oide Wiesn,' a historical festival, started in 2010.
In 2010, a separate historical festival took place in addition to Oktoberfest, called 'Oide Wiesn,' to remind festival-goers of the festival's history. This was created to celebrate the 200th anniversary of Oktoberfest, but it ended up becoming a staple that has taken place every year since. The festival is family-friendly, there's horseracing, and other programs offered.
In one Wiesn mug of beer, there are 500 kilocalories.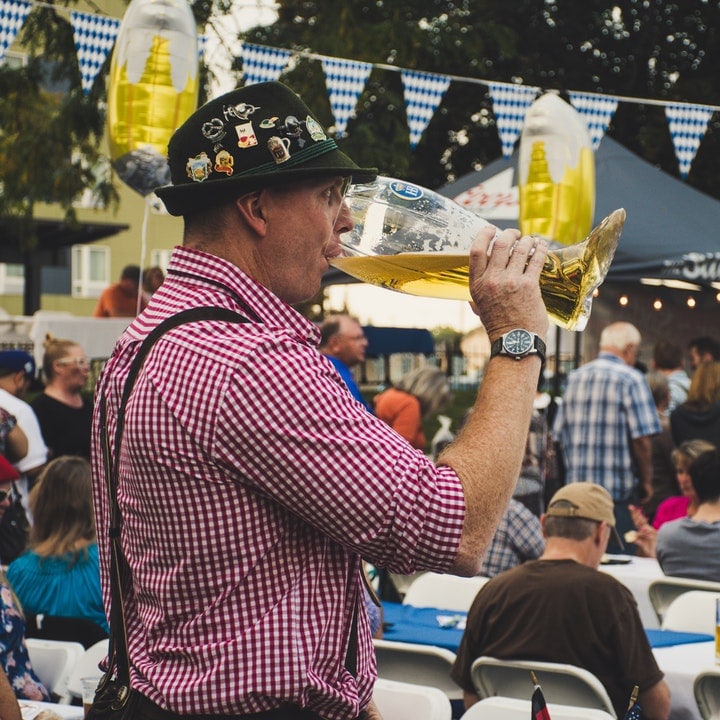 If you're looking to stay on your diet, be careful with Oktoberfest beer.
In just one mug, there's 500 kilocalories or the equivalent of a plate of penne all'arrabbiata. Here's why the calories are so high: "Oktoberfest beer has a higher original gravity than normal light beer and is always served in full pulls. Original gravity is the percentage of non-volatile substances dissolved in water from malt and hops before fermentation." This is mainly sugar and protein.
In 1881, the first roasted chicken outlet opened.
The roasted chicken outlet leads the path for the traditional chicken that continues to be served to hungry Oktoberfest visitors to this day. The world's oldest chicken tent, Ammer Hühner- und Entenbraterei, has been serving up the yummy poultry since 1885.
The largest Oktoberfest outside of Germany takes place in Canada.
Did you know that outside of Germany, the largest Oktoberfest is in Kitchener, Ontario (formerly Berlin) and surrounding cities in the Waterloo Region of Canada. The event attracts over 700,000 visitors annually.
In 1980, there was a bomb attack at Oktoberfest.
On September 26, 1980, a bomb exploded at the main entrance to Oktoberfest killing 13 people and injuring over 200 others. Several years later, in 2014, investigations into the case reopened.
Oktoberfest has been canceled 25 times throughout its history.
In the history of Oktoberfest, the event has been canceled 25 times. The reasons for cancellation include war, disease, and inflation. We think this gives it a free pass, right? Yeah.
"Quiet Oktoberfest" started in 2005.
To keep the Oktoberfest, and the beer tents both family-friendly and elderly-friendly, the "quiet Oktoberfest" was developed. During the day, the orchestras in the tents can only play brass music or traditional folk music, and can play other music after 6pm.
Do you have relatives in Germany? Why not plan an ancestry travel vacation?
Now that you've seen our list of 22 things you didn't know about the history of Oktoberfest and the festival, what did you think? Leave us a comment below!