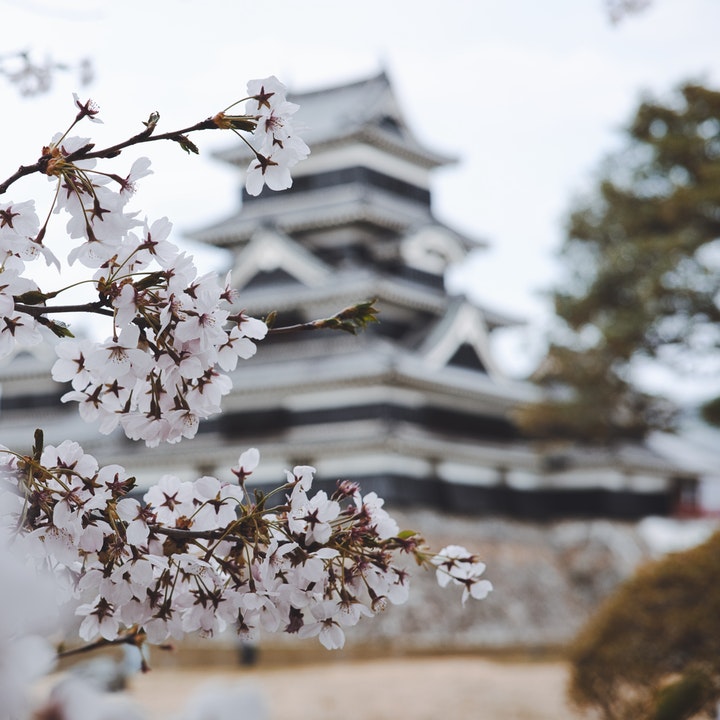 Japan welcomes you to visit with an incredible amount of temples and shrines, teahouses serving all the matcha, beautiful cherry blossoms, and gardens galore.
Add travel to Japan to your list of upcoming trips – it will wow you with its authentic cuisine, tea ceremonies, geisha performances, and a breathtaking mountain range. 
When you travel to Japan, take a look at our guide below to get started with planning. Psst! Get your travel journal ready for this one, you're going to need it!
General Information
• Population: Roughly 125 million
• Capital: Tokyo
• Location: An island country in East Asia, located in the northwest Pacific Ocean.
• Flag: A white banner with a crimson-red circle in the center.
• Time Zone: Japan Standard Time (UTC +9:00)
• Currency: Japanese yen
• Language: Japanese
• Climate: Mainly temperate, but varies greatly from north to south.
• Religion: Full religious freedom. Many practice Shinto or Buddhism.
• Visa Requirement: To find out if a visa is required for your country — and easily get yours if needed — check out iVisa.com. 
• Best Time to Visit: Remember, since the climate can vary greatly, if you aren't skiing, travel to Japan from March to May or from September to November. Keep in mind these are the popular times to visit too!
Health & Safety
As of September 2021, the CDC does not recommend travel to Japan, as COVID-19 cases are high. If you must travel to Japan, make sure you are fully vaccinated before you arrive.
• Find information regarding COVID-19 and Japan here: https://jp.usembassy.gov/
• Follow the CDC guidelines for current travel advisories, as well as the U.S. Embassy guidelines.
Typical Costs in Japan
You can find accommodation for almost any budget in Japan. Stay in a hostel for $15-25 a night, private double rooms in hostels and guesthouses for $60-$80 a night, and stay in a ryokan for at least $120 per night.
Food can also be very affordable. For instance, expect to spend maybe $9 for a bowl of ramen and $5 or less for street snacks. If you want to splurge on fancy sushi, you'll pay more.
Food To Eat in Japan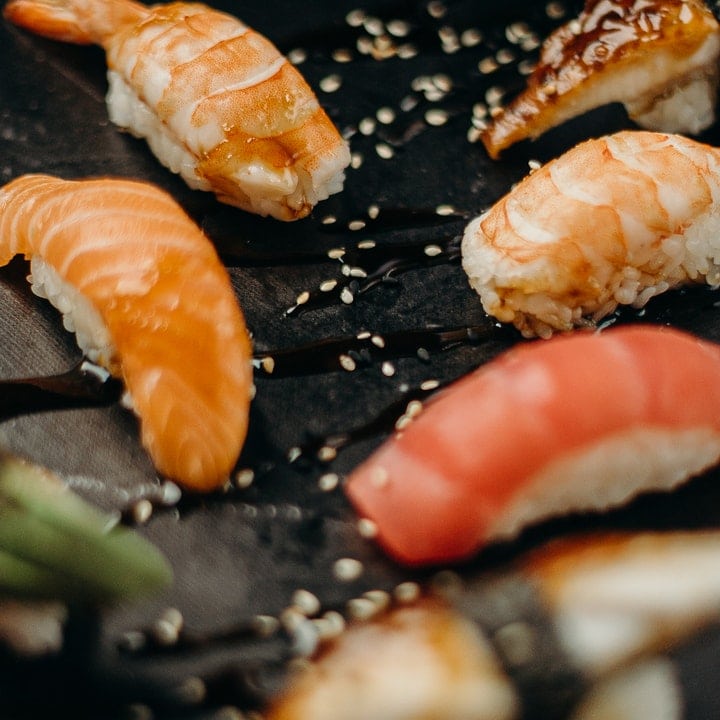 • When you travel to Japan, it's clear that there will be boatloads and boatloads of sushi and sashimi. Even if you're not an avid sushi lover at home, you're going to want to try it in Japan. Sushi rolls are created with seaweed, rice, and a plethora of ingredients from seafood and vegetables. Be aware there are many kinds of sushi including Maki (most common), Uramaki, Nigiri, and Temaki. Sashimi is raw fish served with wasabi and soy sauce. Psst! Did you know that sushi technically started in southern China? That's right, Japan is home to the modern version, but that's not where it started!
• Ramen is everybody's favorite, simple dish. It might have helped you survive college too. But ramen in Japan is a whole new ballgame, with wheat noodles served in a soy sauce or miso soup mixed with many kinds of ingredients like pork, green onions, seaweed, and egg. This is the real stuff! Pro tip: it is not considered rude to slurp your noodles in Japan, it's seen as a compliment to the chef. 😉
• Okonomiyaki is a Japanese savory pancake dish consisting of wheat flour batter cooked on a teppan. Additional ingredients include cabbage, meat, seafood, okonomiyaki sauce, aonori, katsuobushi, Japanese mayonnaise, and pickled ginger.
• Tempura refers to a way of cooking something in which the item is battered and deep-fried, creating a light, crispy texture on the outside. You can find a wide variety of tempura-battered items, mainly shrimp and vegetables.
• Wagyu refers to Japanese beef or cattle. It's delicious and comes in a variety of grades, so that is something you need to be aware of. Here's a good understanding of it: You will choose the Yield Grade (aka how much quality meat the cow produces) A, B, or C, with A being the best; and a Quality Grade 1-5, with 5 being the best.
• Miso Soup is a soup that is created when miso paste is added to dashi (stock made with dried fish). Most people in Japan eat miso soup at least once a day, and you probably have it every time you go to a Japanese restaurant at home. It's light and brothy, and sometimes includes tofu, seaweed, green onion, bean sprouts, and daikon radish.
• A bento box is technically not a dish, but rather, it's a way of eating a meal, and it's popular in Japan. A bento box is a much nicer, much cooler version of a boxed lunch or a TV dinner! Many people living in Japan will send children to school with bento boxes or pack them for their spouses at work. They include rice, noodles, meat, fish, vegetables, etc. See all those pretty bento boxes on Instagram? There's a trend in bento boxes to make them look pretty — oekakiben or "picture bento". Will you share your bento box when you travel to Japan?
• Gyoza are Japanese potstickers or dumplings. You can order them fried, boiled, or deep-fried. Fillings usually include chives, thin slices of cabbage, mushrooms, and finely minced pork or chicken. Gyoza are made with thin wrappers as opposed to Chinese dumplings, which use a thicker wrapping. 
Drinks To Try In Japan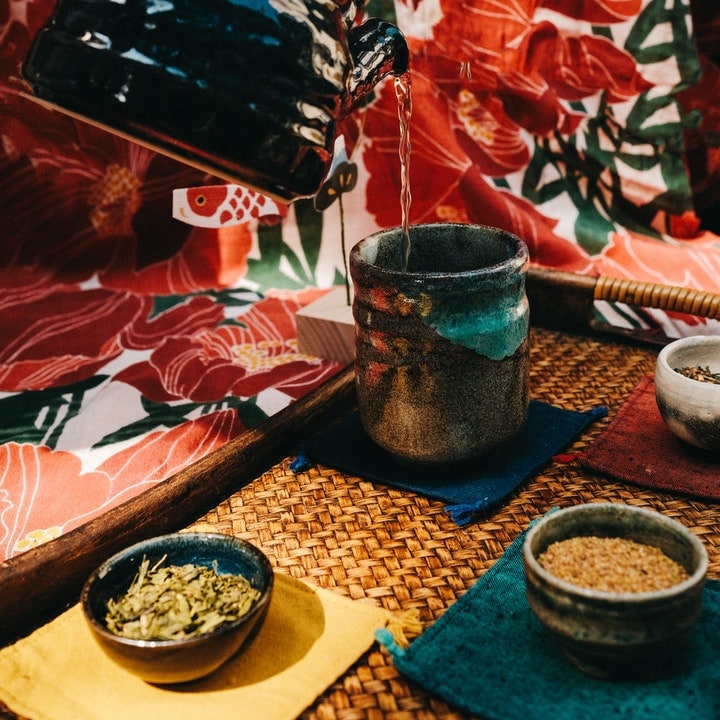 • Matcha, matcha, matcha! The Western world has grown to love and know matcha lattes, etc., over the past few years, making it a must-try in Japan. Matcha is a deep-green, somewhat bitter tea powder, that creates green tea and it's a staple for travel to Japan.
• Sake, or Japanese rice wine, is an alcoholic drink that is made by fermenting rice that has been polished to remove the bran. Sake can be enjoyed either hot or cold. In Japan, sake is most often served at a special ceremony or celebration.
• Shochu is an alcoholic beverage in Japan that can be made from rice, sweet potatoes, barley, buckwheat, or brown sugar. So many kinds to try!
• Genmaicha is a green tea made with roasted brown rice. Sounds unique! It's been referred to as "popcorn tea" because a few grains of the rice pop during the roasting process and resemble popcorn. Also, the tea has been named the "people's tea", as the rice served as a filler and reduced the price of the tea. This made it more affordable for the poorer Japanese over the centuries.
• Sakura tea is a Japanese infusion created by steeping pickled cherry blossoms with boiled water, deeming it the "cherry blossom tea."
Top Cities To Visit In Japan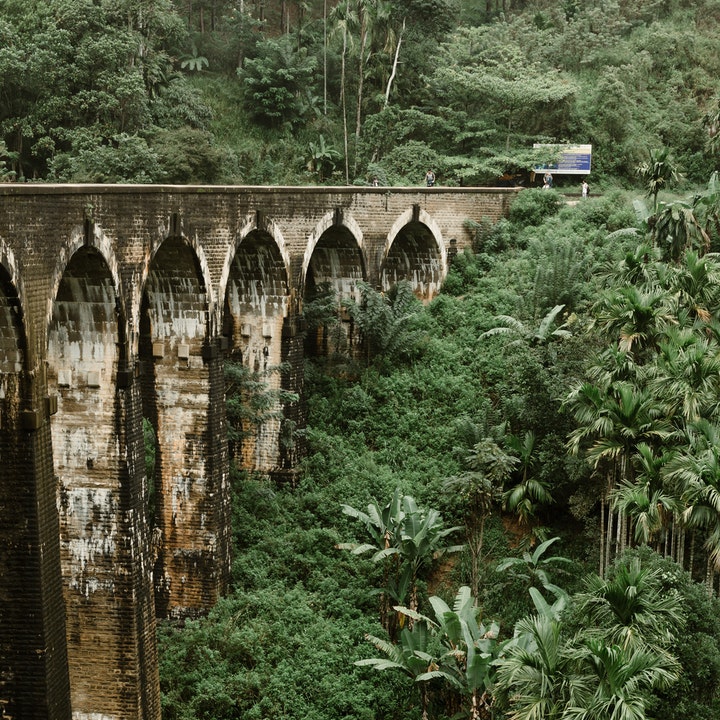 • Tokyo has so much to offer when you travel to Japan. While this city is known to be cutting-edge, it simultaneously brings us back in time with temples, teahouses, and gardens. Wow! Where to start? Check out the Shinjuku Gyoen National Garden, Meiji Jingu Shrine, and 10th-century temple, Asakusa. Experience the nightlife of Shinjuku and eat your heart out.
• Kyoto is another Japanese city that seamlessly links the past and the present. There are shrines, temples, and plenty of UNESCO World Heritage sites to cross off your list. Start your adventure in Kyoto with the Fushimi Inari Shrine, then see the life-sized Thousand Armed Kannon statues of Sanjūsangen-dō, and be sure to add a traditional geisha performance into the itinerary. Psst! Explore Arashiyama Bamboo Grove, there's nothing quite like it.
• Osaka, known as the culinary capital of Japan, features lots to do and lots to eat! Check out Osaka Castle Park, Osaka Castle, Minami for shopping, Kuromon Market, Hozenji Temple, and try a craft beer at Tachibana. Finally, travel to Japan to see Japan's oldest Buddhist temple, Shitennoji. Visit on the same day as the temple's flea market for lots of great finds.
• Nagoya is Japan's industrial powerhouse, but we promise there's more to it than that. Visit Atsuta Jingu, Nagoya's holiest shrine, for a close-up look at a site that is entirely devoted to Shinto. Go shopping at Osu Kannon, a mall that's the size of a small neighborhood, and take in the beauty of Tokugawa Garden and Art Museum.
Must-See Sights in Japan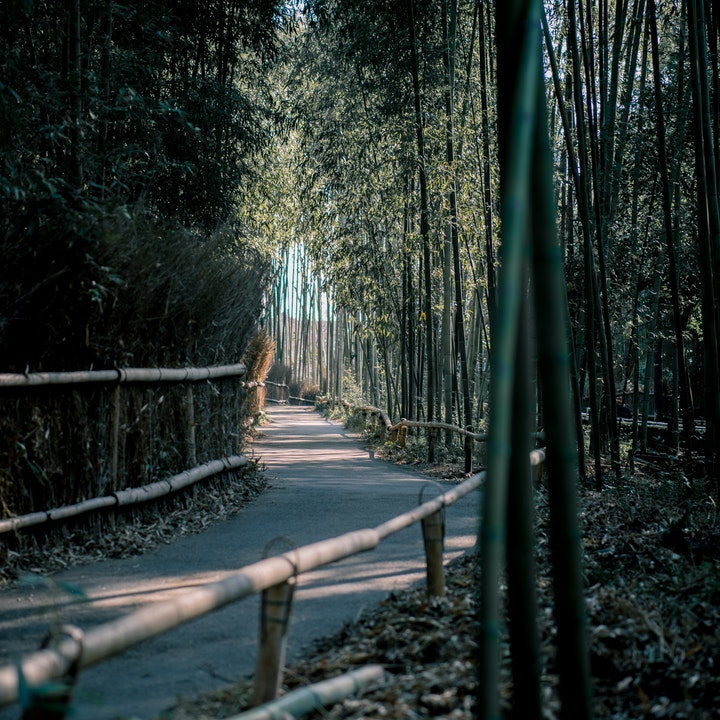 • Mount Fuji
• Fushini Inari Taisha
• Kiyomizu-dera
• Kinkaky-ji
• Senso-ji
• Osaka Castle
• Himeji Castle
• Cherry blossoms
• The Imperial Palace in Tokyo
• Hiroshima Peace Memorial Park
• Arashiyama Bamboo Grove
• The Island Shrine of Itsukushima
• Historic Nara
• Chūbu-Sangaku National Park and the Japanese Alps (UNESCO World Heritage site!)
• The Atsuta Shrine
• Hakata Gion Yamakasa
How To Get Around Japan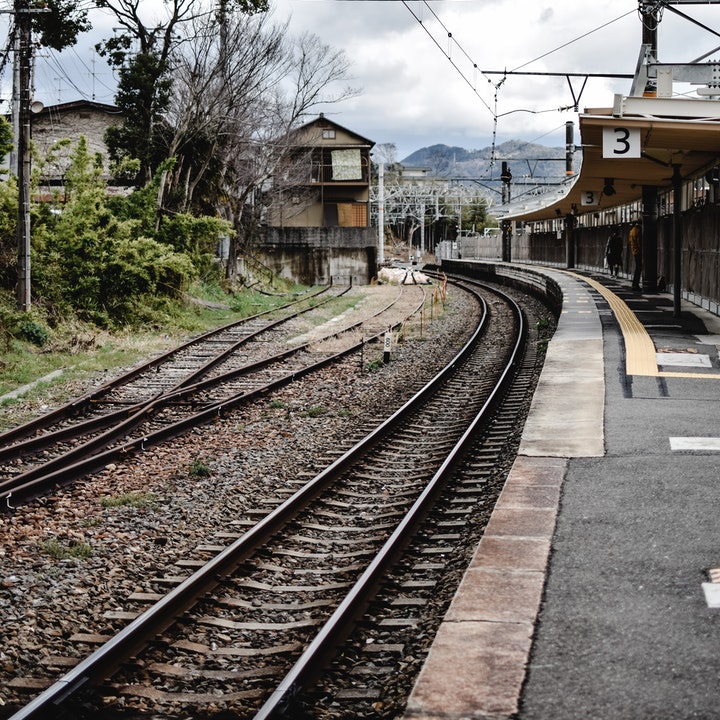 Did someone say bullet train?! That's right. Japan is one of the few places in the world where you can take a train ride faster than the speed of a bullet! This is a great option if you're looking to travel from one end of the country to another, but also, to experience the bullet train. Japan also has a great network of trains to get around the country, subways, and buses too.
Bucket List Experiences in Japan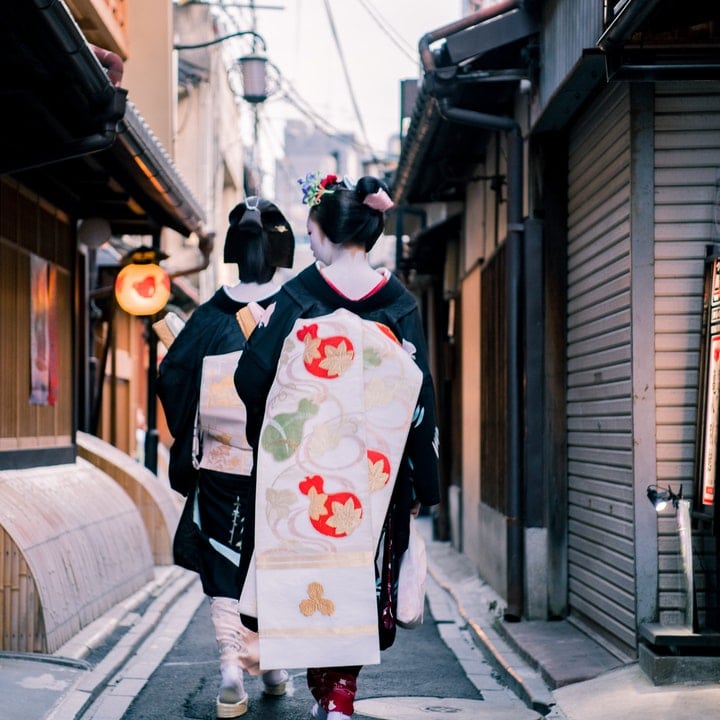 • Attend a traditional tea ceremony. Sado, the Japanese traditional tea ceremony, refers to serving tea to guests in a designated style.
• Watch a traditional geisha performance.
• When you travel to Japan, you must try to see the cherry blossoms in season! Then, you'll have a new appreciation for the Sakura tea. 😉
• Stroll through Arashiyama's Bamboo forest.
• Find zen in a traditional Japanese garden. Try Ginkaku-ji (Silver Pavilion) or Saiho-ji (Kokedera, the Moss Temple).
• Climb Mt. Fuji.
Where To Book Flights:
The cost of airfare can quickly eat up your budget. Click here to find the best deals on flights to Japan.
Where To Book Accommodations:
Japan is home to some fantastic hotels. Click here to find the best hotel deals in Japan.
Housesitting is a great way to cut down on travel costs. Click here to find housesitting opportunities in Japan.
Hostels are an affordable option when it comes to accommodations. Click here to find hostels in Japan.
Booking a vacation rental can help to save the budget. Click here to find vacation rentals in Japan.
Best Travel Tours/Packages in Japan
TourRadar: Japan in One Week – 8 Days
Kon'nichiwa Japan! We may only have a week, but what a week it is. Starting in the orchestra of light, sound and history that is Tokyo, we'll get locally guided tours of temples and palaces, visit a Robot cabaret and soak in a traditional Onsen before whizzing to Kyoto via a bullet train.
Here, we'll walk through zen gardens, explore mystical temples and spot Geishas before taking the short trip to Osaka, where we'll have plenty of time to nip to Universal Studios or simply eat our way around the local street food stalls.
Tours By Locals: Half Day Kyoto Tour
Experience traditional best things in Kyoto such as Japanese sweets, Art studio visit, Yuzen dyeing, Macha Green tea, modern Kyoto, in addition to visiting major destinations in Kyoto.
TourRadar: Japan Express – 9 Days 
Home to sumo wrestling, sake, geishas, karaoke and onsens, Japan's got a lot going for it. And on this nine-day Lonely Planet Experience to some of its most acclaimed cities, you'll get to see the country at its best. Take in the neon nightlife of Tokyo, relax in the manicured gardens of Nikko and discover thousands of years of culture and history in Kyoto.
And have you heard about the food? World-class sushi, ravishing ramen, delectable donburi – you certainly won't be going hungry. With your local leader to point you in all the right direction and plenty of time to explore at your own pace, experience the culture and charm of the Land of the Rising Sun.
Additional Reading
Podcasts: JapanesePod 101, Learn Japanese Pod, The Japanese Page
Books: Coin Locker Babies by Ryū Murakami, Convenience Store Woman by Sayaka Murata, The Sailor Who Fell from Grace with the Sea by Yukio Mishima
Movies to Make You Fall in Love with Japan: Seven Samurai, Spirited Away, Tokyo Story, Akira, Ringu(Hollywood remade this to be The Ring)
Check out these Journo Adventures of travelers who have spent time in Japan: @audreytomkiewicz enjoyed an Ogumotori hike, @Strevor played with snow monkeys, and @knuejf visited the Itsukushima Shrine.
Now that you've seen our guide for travel to Japan, what did you think? Leave us a comment below!