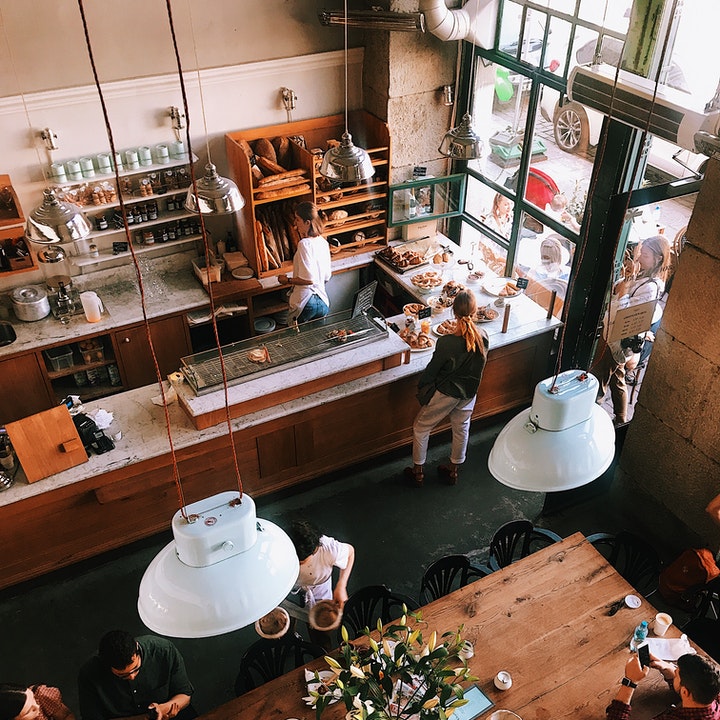 As travelers, we know the importance of visiting a great coffee shop. The ability to sit down for a tasty cup of coffee, chat with locals, and utilize the free Wifi is unmatched. Not to mention the cool coffee shop vibes!
In this post, we celebrate the 21 Best Coffee Shops In The World. They are true must visit famous cafes.
While we are forever indebted to these lovely little cafes and corner bodegas, we can keep the coffee shop spirit alive by returning again and again, whether we are working remotely or just for a cup.
As we dive into our list, keep in mind there are tons and tons of coffee shops around the world. We are focusing on the must-visit cafes, which we chose for design, Instagrammable features, location, options, quality of coffee, atmosphere, the list goes on and on! Grab your travel mug and let's get to the java.
Almond milk, no sugar. Do you know the 10 Unique Ways the World Enjoys Coffee?!
Cafe Central in Vienna, Austria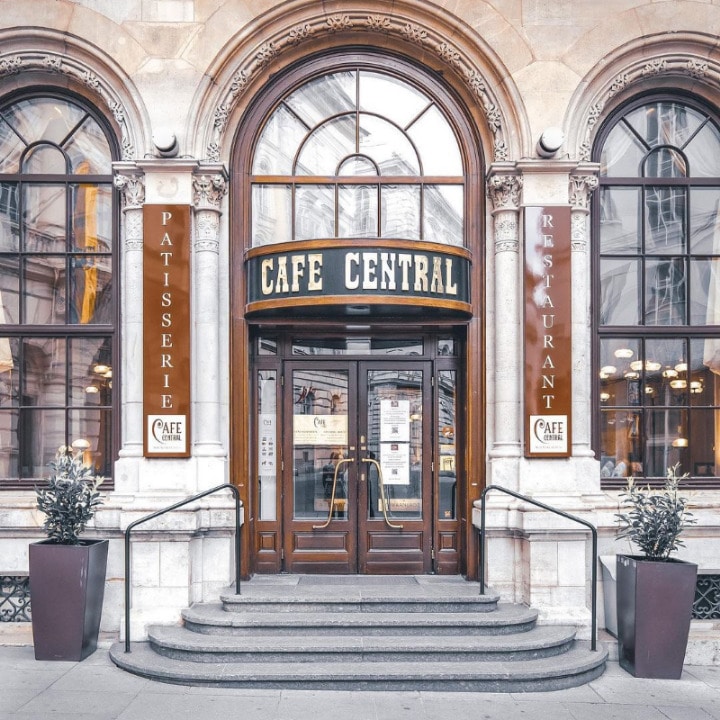 Cafe Central is not your average coffeehouse located in Vienna, Austria. Known for being a spot where some legendary intellects would gather, Cafe Central is a beautiful coffee shop that boasts Venetian Trecento-era architecture. Check out the description on their website which gave us a good laugh:
"A revolutionary (Trotsky), a psychoanalyst (Freud), several writers and poets (including Polgar, Zweig, and Altenberg) and an architect (Loos) walked into a café. What sounds like the start of a joke was an everyday occurrence at Café Central (est. 1876). Over coffee, cake, and the odd cigar, some of the greatest poets, philosophers and, – it has to be said – storytellers the world has ever seen, got together in Vienna's most attractive coffeehouse."
Municipal House in Prague, Czech Republic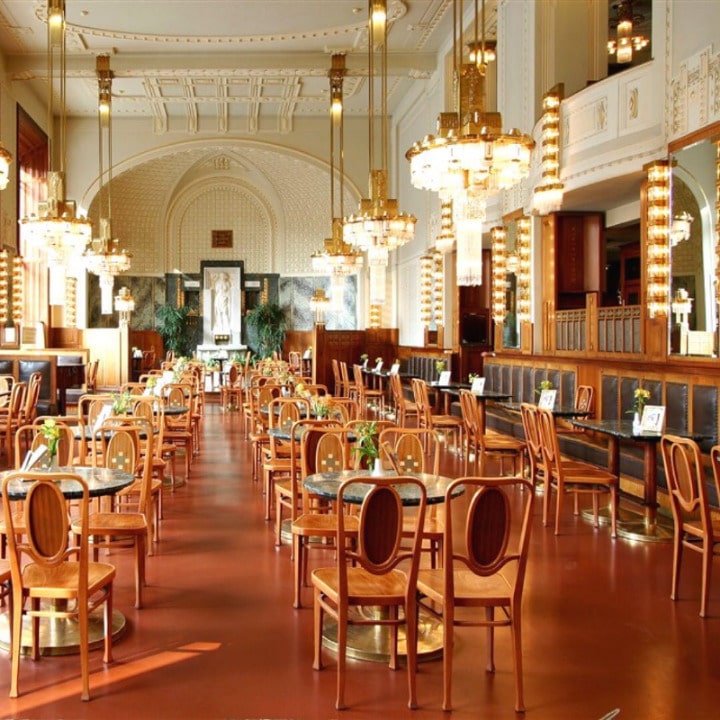 When you visit Prague, you'll find there are many coffee shops. Municipal House is one of the best coffee shops in the world because of the beautiful art nouveau architecture and interior design. Artists, musicians, and poets frequented this spot in the 1900s.
Today, you'll see more travelers and tourists, however, you'll gain a deep appreciation for art. You can also book private tours in one of the building's many halls.
New York Cafe in Budapest, Hungary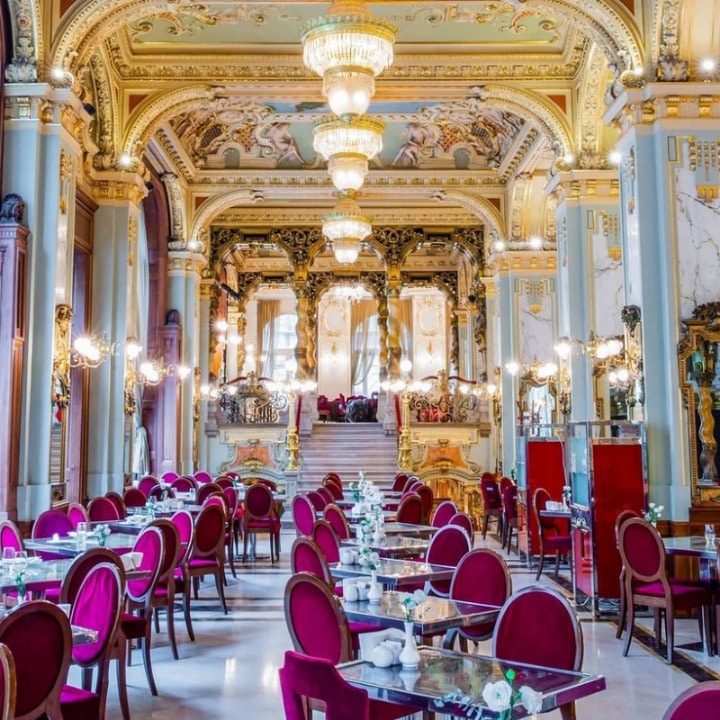 The New York Cafe in Budapest has probably popped up on your Instagram a few times, it is called by many to be, "the most beautiful cafe in the world." The New York Palace was built in eclectic Italian Renaissance-style and opened on October 23rd 1894.
The café menu recalls the multicultural cuisine of the Austro-Hungarian Monarchy. Simply breathtaking, you'll want to snap some pics as you stop for a coffee.
Cafe Du Monde in New Orleans, Louisiana, USA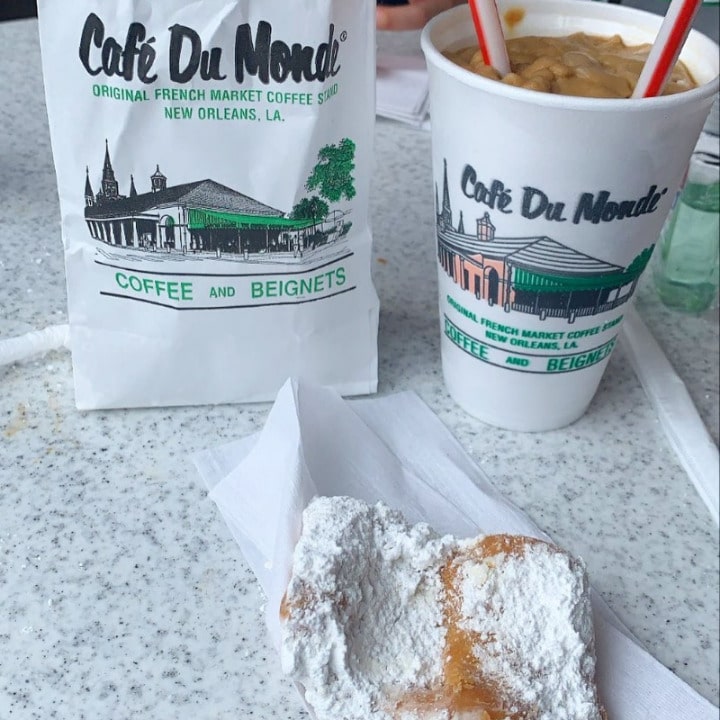 Cafe Du Monde, the original French Market coffee stand since 1862, is a must-visit in New Orleans and sits at #1 on our list of the best coffee shops in the world for the delicious dark roast coffee, beignets, and chicory.
People visit from around the world for the yummy beignets, which are square French-style doughnuts covered in powdered sugar.
Els Quatro Gats in Barcelona, Spain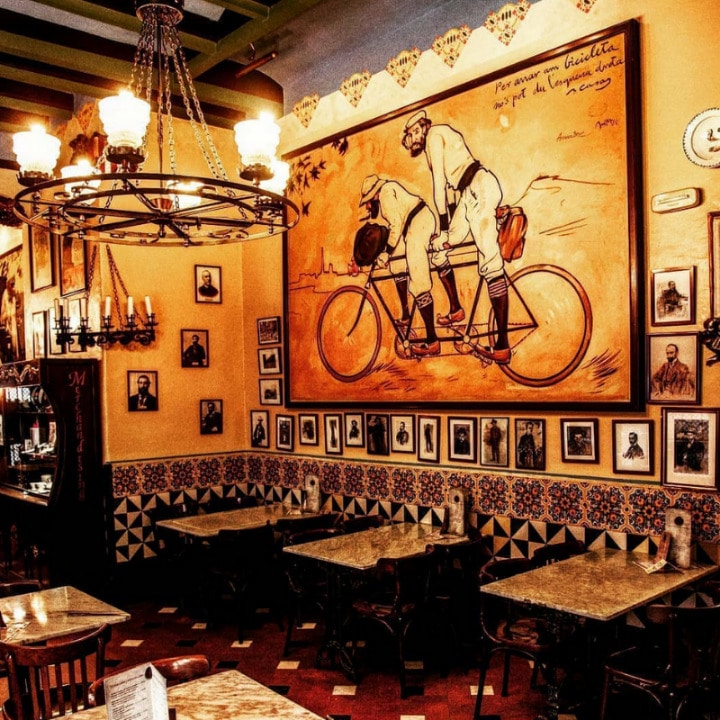 This stunning, artsy cafe in the multicultural city of Barcelona was founded in 1897, closed in 1903, and re-opened in 1987. Els Quatro Gats is known for being a hub of creativity bringing together artists and musicians.
Sit back and enjoy the artwork in this fun, creative cafe before you stroll around an even more fun, creative city. Pro tip: make sure you visit Park Guell and Montserrat!
The Lhong Tou Café In Bangkok, Thailand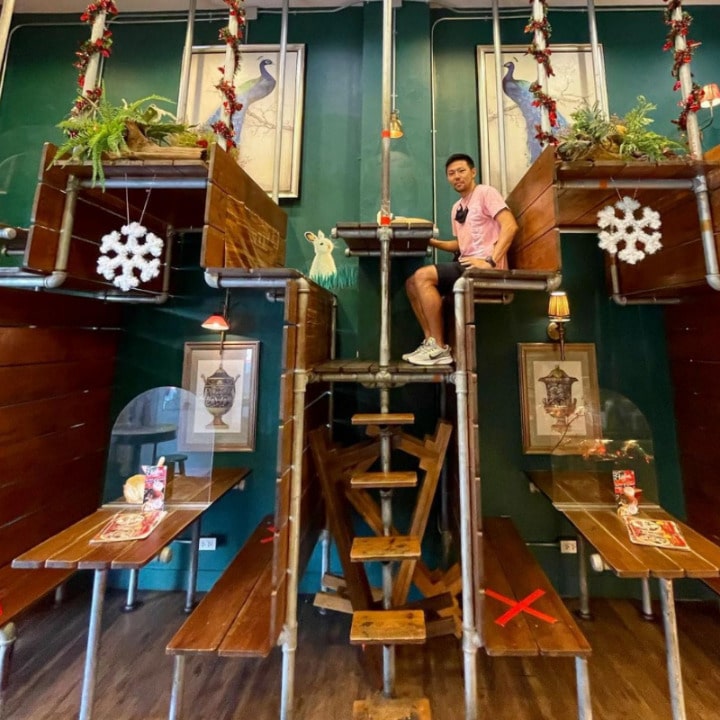 The Lhoung Tou Cafe is a Chinese coffeehouse with a unique interior design. You can choose to sit at either an upper or lower deck, but be prepared to climb if you want to sit on an upper deck.
A fun experience with yummy food and drink too. Thailand is #8 on our list of the 10 Best Countries to Visit in the World.
Café A Brasileira in Lisbon, Portugal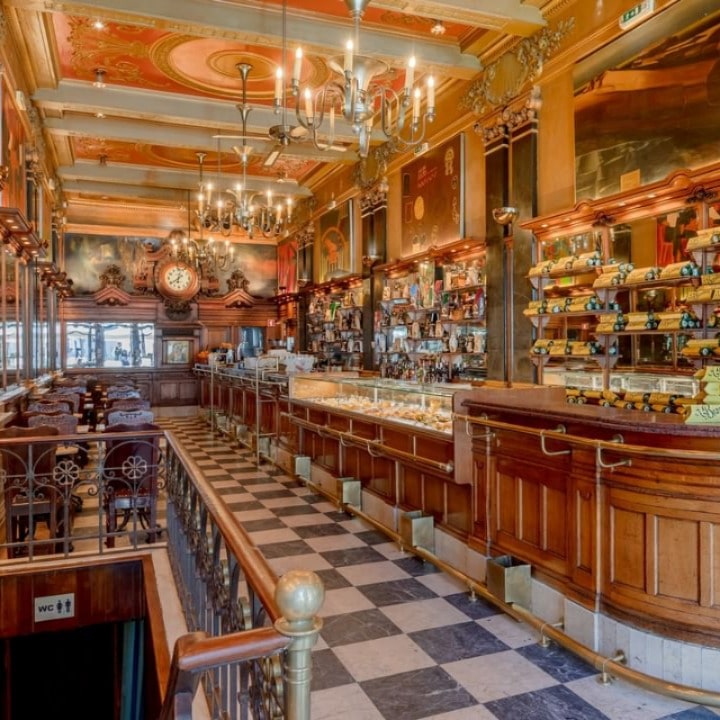 Café A Brasileira was founded in 1905, in Chiado, in a space that was once a shirt shop, by Adriano Telles, a former Portuguese emigrant in Brazil. At the time, coffee was not appreciated in the area like it is today. However, the inviting interior design lead lawyers, doctors, teachers, writers, artists, and revolutionaries who participated in the establishment of the republic in 1910 to gather here.
This cafe is so widely visited by travellers from around the world, it's become one of the top 3 cafes in Lisbon.
Café Gijón in Madrid, Spain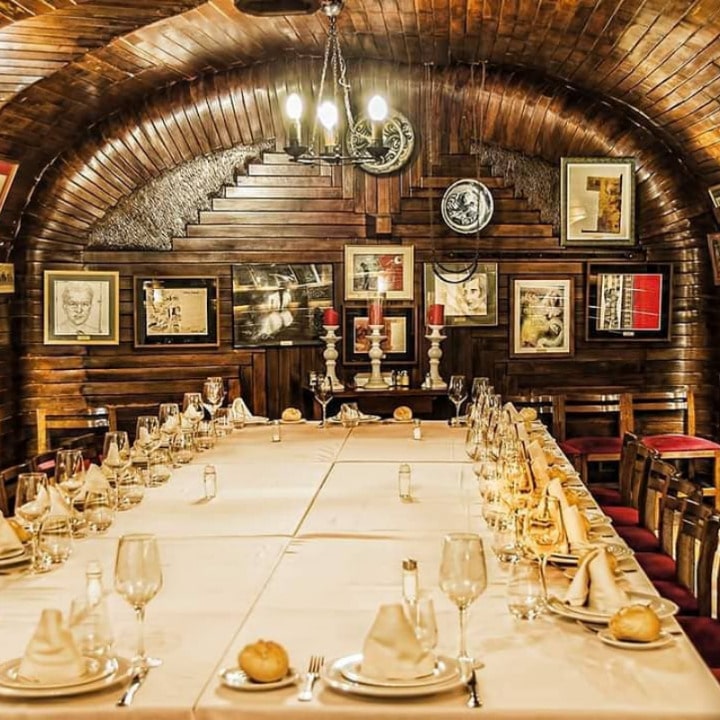 Established in 1888, Cafe Gijon, after the Spanish Civil War became a meeting-place for intellectuals, writers, and artists collectively known as Generation of '36. This historically significant cafe sits on the main boulevard in Madrid across from the railway station.
It's easy to locate, interesting to sit inside, and is known as a 'Literary Cafe' as well. Read about the 7 literary cities for the book lover.
Les Deux Magots in Paris, France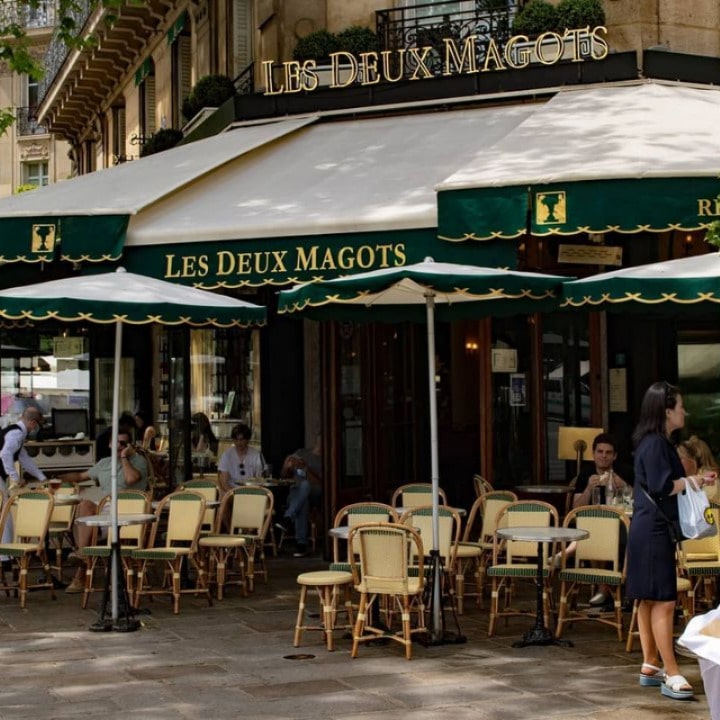 Les Deux Magots is a renowned cafe in Paris that is synonymous with literary and artistic life. It played an important role in the cultural life of those both living in and visiting Paris. It was frequented by famous artists including Elsa Triolet, Louis Aragon, André Gide, Jean Giraudoux, Picasso, Fernand Léger, Prévert, Hemingway and others.
Blacklist Coffee Roasters in Subiaco, Australia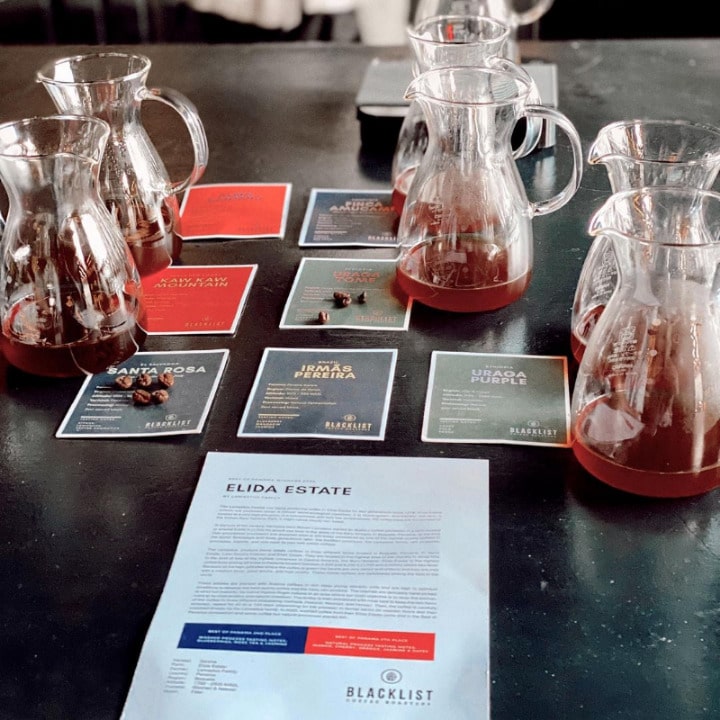 Blacklist Coffee Roasters is a small chain in Australia, however, their first 'cellar door' concept store has opened in Subiaco. Here's what that means. Sit at the filter brew bar and sip on rare and high-end single-origin coffees from crystal wine glasses, with each pour accompanied by detailed tasting notes. Essentially, you are at a wine tasting…for coffee.
This may be one of the coolest coffee experiences out there. Australia is #6 on our list of the 10 Best Countries to Visit in the World.
Romeow Cat Bistrot in Rome, Italy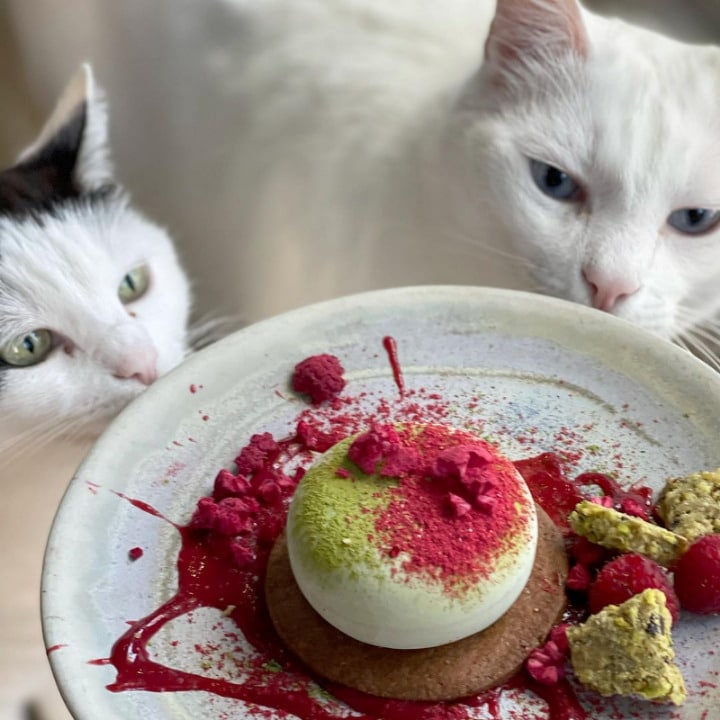 In this cozy yet elegant bistro in Rome, you'll be surrounded by cats! Yep, that's why Romeow Cat Bistrot makes our list of the best coffee shops (or cafes) in the world. This cafe elevated the experience of the typical cat cafe with an exquisite menu and 6 sweet feline friends.
If you're looking for a less than traditional cafe experience, this is the spot for you.
Majestic Café in Porto, Portugal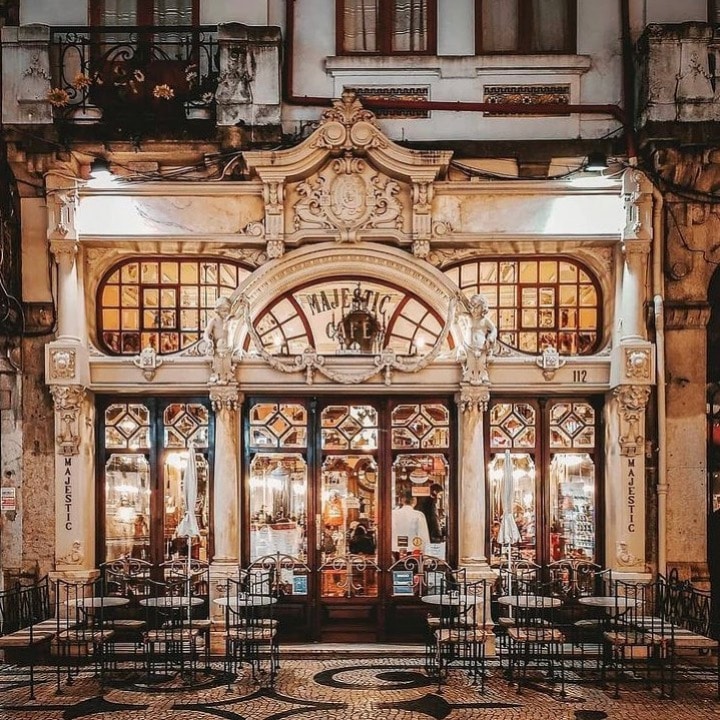 Established in 1921, The Majestic Café, designed by architect João Queiróz and inspired by the works of his master Marques da Silva, is still one of the most beautiful and meaningful examples of Art Nouveau in Porto today.
The marble facade and beautiful floral elements and winding shapes are a reflection of the decorative style of that time.
The Original Starbucks in Seattle, Washington, USA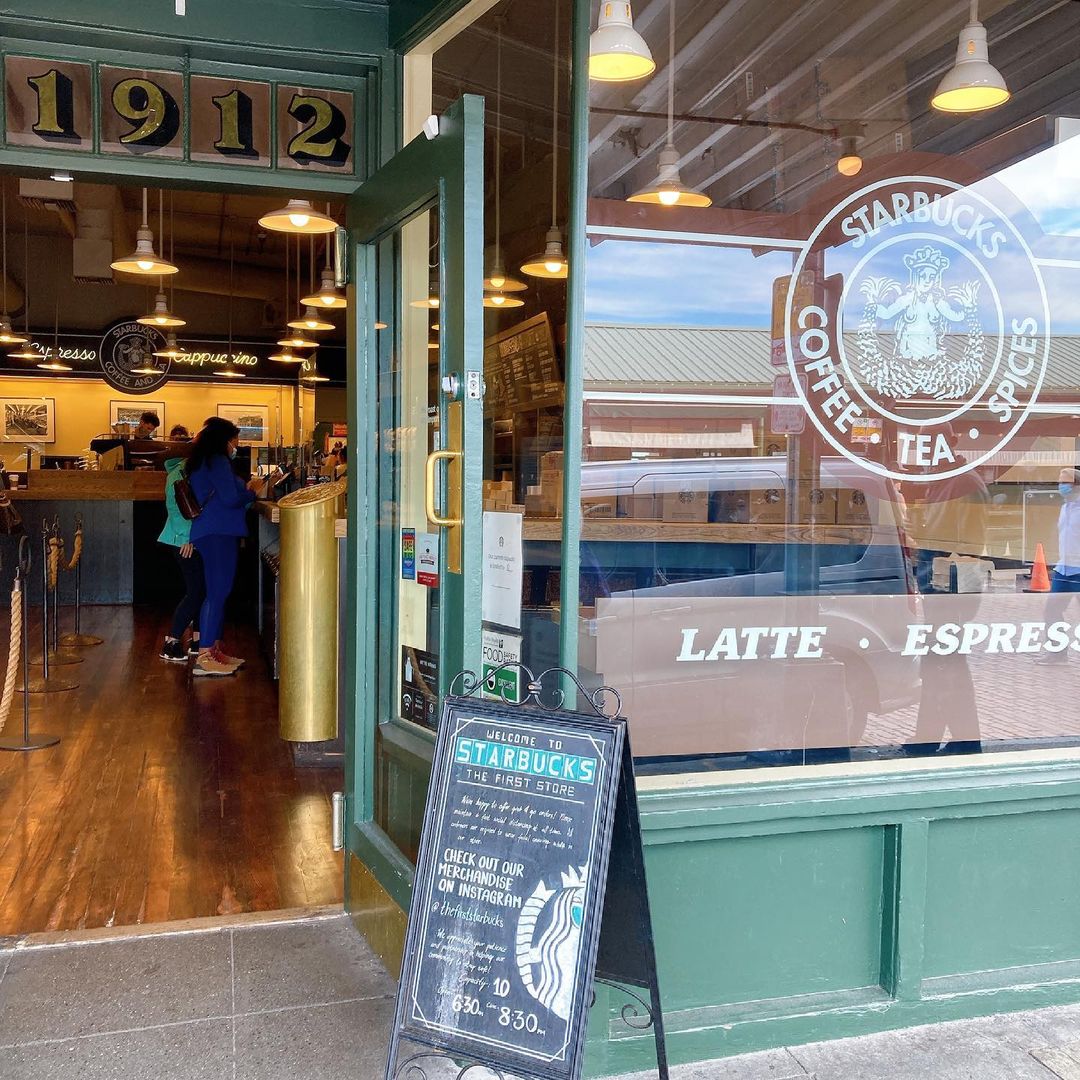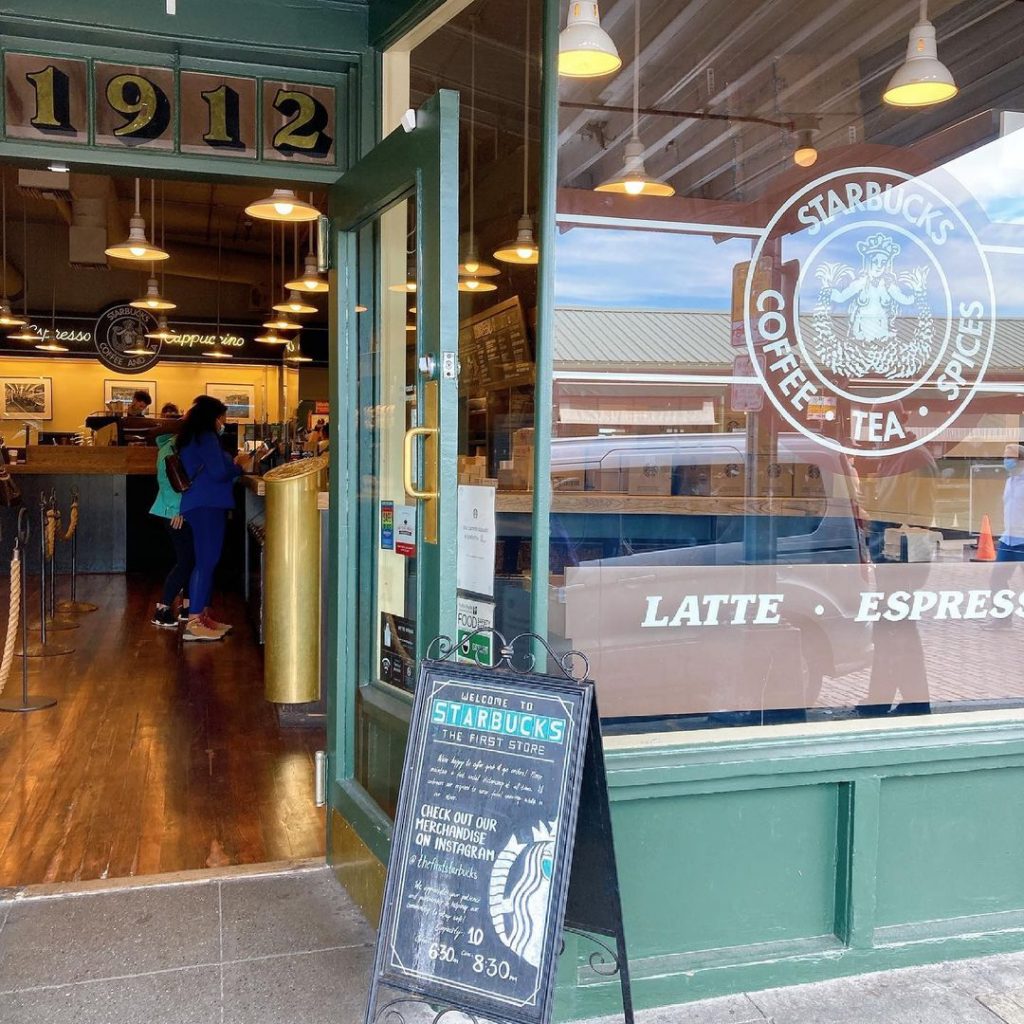 The Pike Place Starbucks store, or what we all call "the original Starbucks" is an iconic spot when visiting rainy Seattle. For coffee-lovers who just can't live without their Starbucks, this spot is for you. When you walk in you are greeted by a plaque, a sign that reads 1912 (the year it was established), and original Starbucks designs.
It certainly feels like a step back in time and makes it on our list of the best coffee shops in the world.
The Note Coffee in Hanoi, Vietnam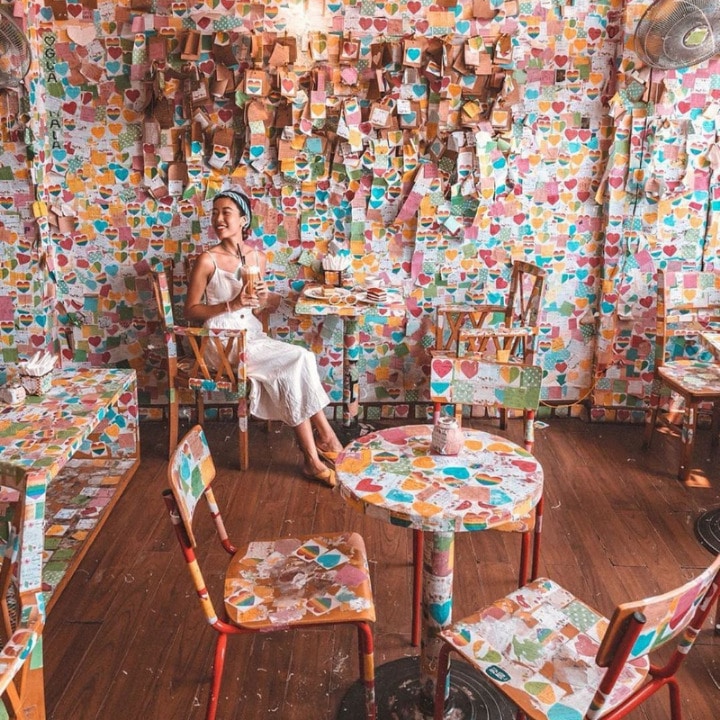 The Note Coffee is a coffee shop on a mission to spread positivity with each cup of coffee. In this coffee shop, friends, strangers, relatives all leave sticky notes on the giant wall of sticky notes with positive messages or thoughts. It is a sweet, charming little shop in Vietnam.
The shop has also started a social impact group called "Ask Me Anything" where participants stand in touristy areas and are able to answer questions about the city, cuisine, culture, etc. Vietnam is #5 on our list of the 10 Best Countries to Visit in the World.
Caffe Florian in Venice, Italy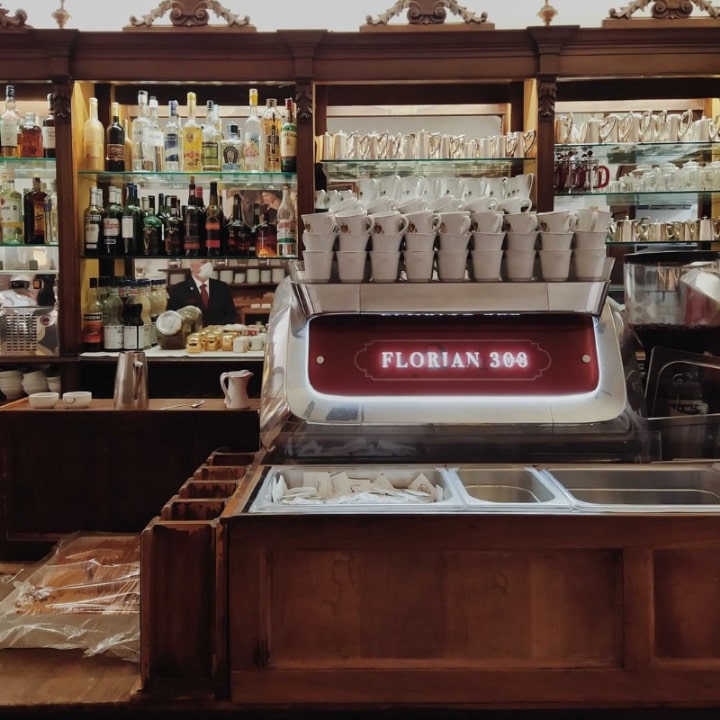 Caffe Florian, located in Venice, Italy, was established in 1720 and is the oldest coffee house in continuous operation in Italy. But even more enticing, Caffe Florian is the oldest cafe in the world! This cafe wants you to sit and enjoy beautiful music, be served on silver trays, enjoy lively St. Mark's Square, and soak in the history.
The company's main goal is to "Protect and preserve this rich artist and cultural heritage."
Cafe Tortoni in Buenos Aires, Argentina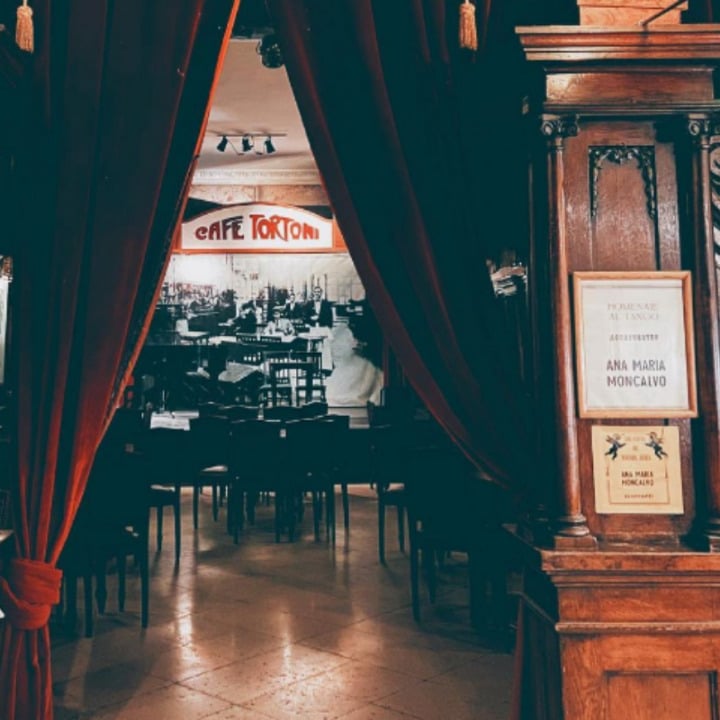 Cafe Tortoni is a French-style cafe that was established in Buenos Aires in 1858. Here you can enjoy churros with chocolate, breakfast, coffee, and chopped meats and cheeses. In the basement, there is a stage for jazz and tango artists, and for the presentation of book and poetry contests.
Sant'Eustachio il Caffe in Rome, Italy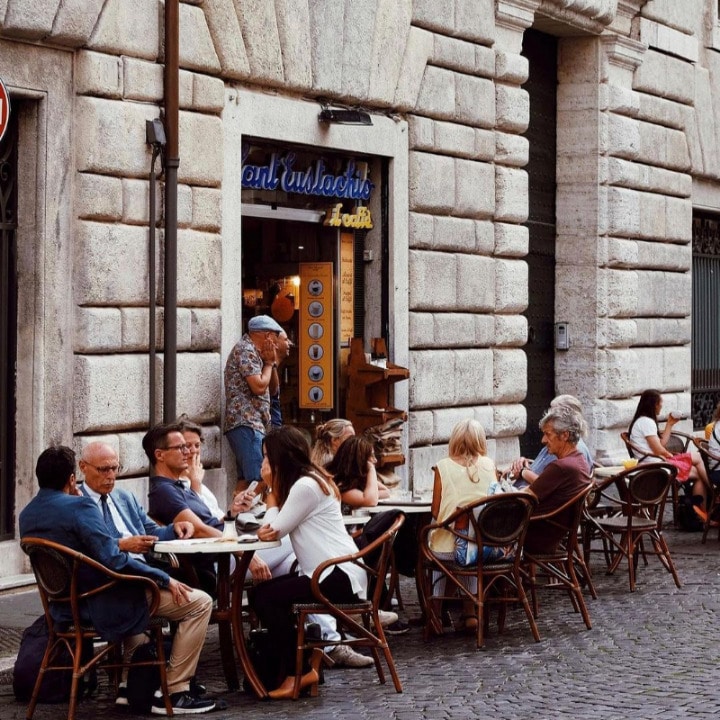 Sant'Eustachio il Caffe in Rome, Italy, is an old wood-burning roasting company founded in 1938. At that time, the room, built in masonry and with ergonomic shapes, was very innovative and modern. The beautiful building is Palazzo Cenci Maccarani, designed in 1500 by the famous architect Giulio Romano, known for Palazzo Tè in Mantua.
Psst! Did we mention Italy is #1 on our list of the 10 Best Countries to Visit in the World?
Mocha Café in Chennai, India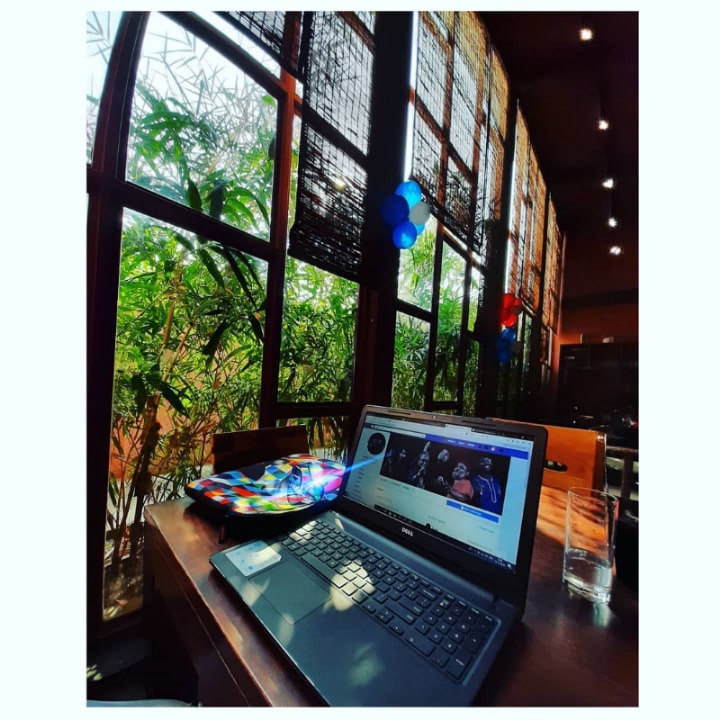 Mocha Cafe, located in Chennai, India, wants you to take a break from everyday life. With a yummy food and drink menu, it seems pretty easy to do so.
The overall idea of Mocha, "Mocha is a state of mind. Each visit is an unparalleled experience, each outlet is a standalone haven chosen carefully, to initiate it into the Mocha fold. Once found, it is recreated as a complete retreat in the middle of the bustling metropolis – the result is what hundreds of thousands have come to love – the oasis that Mocha is, a place to suspend reality for a few moments. Go ahead, and take a 60 minute vacation. Life can wait."
The Giant Chiang Mai in Chiang Mai, Thailand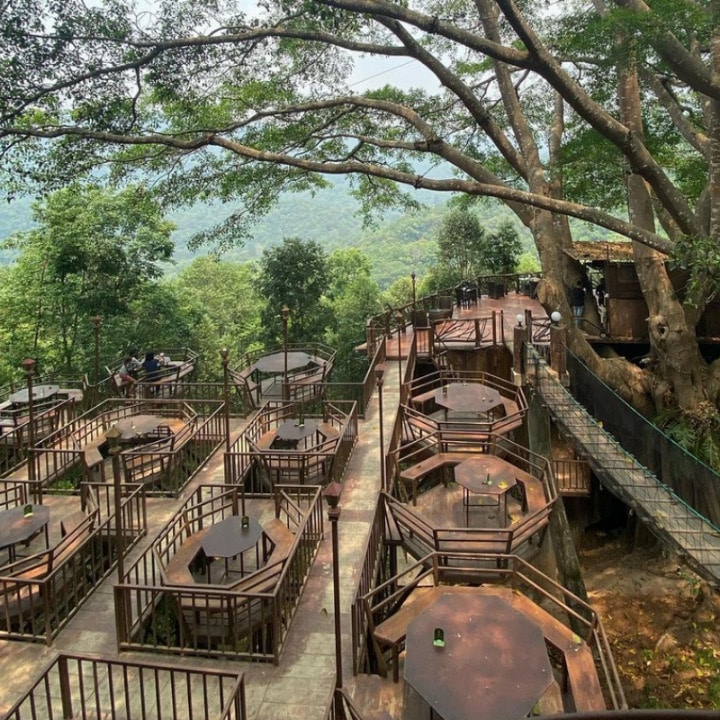 This tree top cafe is a must-see cafe when you're visiting the beautiful country of Thailand, it sits in the trees! Grab a cheap coffee and enjoy the view!
Le Procope in Paris, France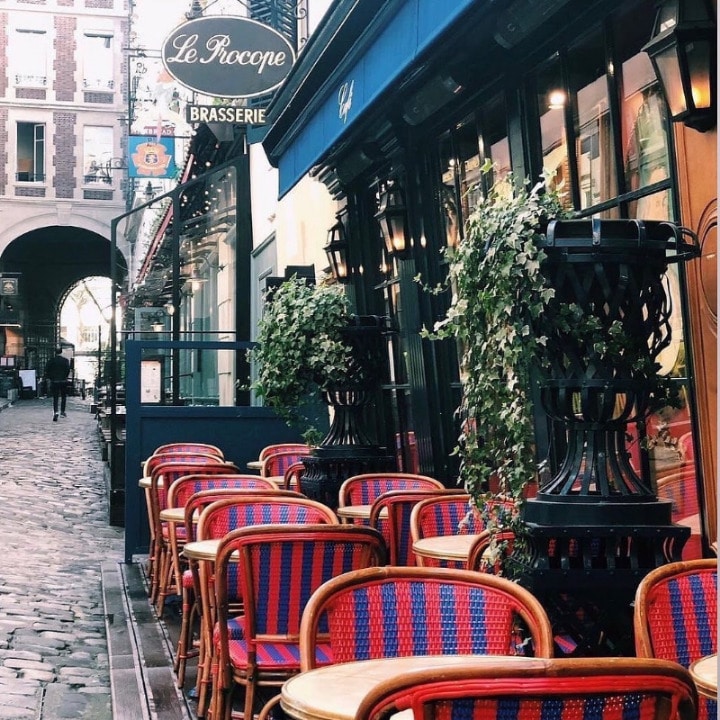 Le Procope is the oldest cafe in Paris, and was a central meeting point for many influential figures. The cafe offers a traditional French cuisine and a small terrace hidden away from the hustle and bustle of the city. Time to live your dream of sitting and chatting away in a cute little Paris cafe!
Coffee Mining Manufacture in Lviv, Ukraine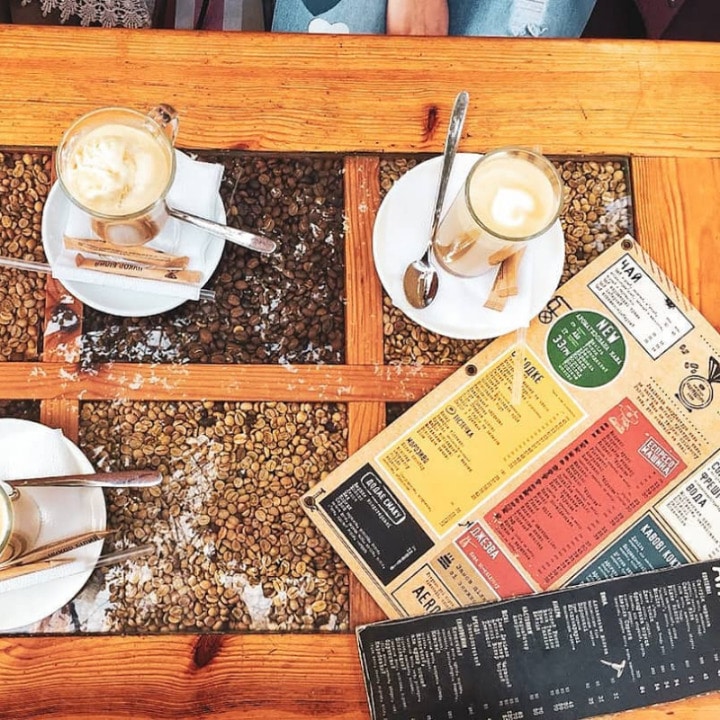 At the Coffee Mining Manufacture in Lviv, you can schedule a tour to watch coffee mining and see where the coffee is kept. How cool is that?! This institution's history goes way back to 1675, founded by Yuri Kulchytsky, when coffee beans were laid in the mine as minerals. You can enjoy the coffee in a cute little cafe on Rynok Square.
All this talk about coffee talk has got us itching for our next cup! Be sure to check out the Atlas Coffee Club too, a fun way to taste coffee from all around the world, in the privacy of your own home, every 2 or 4 weeks.
Now that you've seen our list of the 21 best coffee shops in the world, what did you think? Where will you go next? Ready for a cup of coffee? Leave us a comment below!