Do you dream of ditching the 9-5 routine?
Tired of the hours of commuting to a job you feel tied down in? Sick of trudging home after 8 hours of sitting in a stuffy office? Looking into jobs for digital nomads?
If you fantasize about quitting your job and traveling but still want a steady income, then read on amigo.
The truth is the standard 9-5 can really drag a person down. Often the environment is the culprit. The harsh lighting, the tiny cubicle with no window, the uncomfortable chair and overall smell of stifled creativity.
So between commuting to your workplace every day and the general expenses of life, you end up living to work not the other way around.
Luckily there's another way…
And it involves remote work (aka telecommuting), location independence, or becoming a digital nomad.
What's a digital nomad?
Here's how Wikipedia describes them:
Digital nomads are people who use telecommunications technologies to earn a living and, more generally, conduct their life in a nomadic manner. Such workers typically work remotely—generally from foreign countries, coffee shops, public libraries, co-working spaces and even recreational vehicles—to accomplish tasks and goals that traditionally took place in a single, stationary workplace.
Now doesn't that sound dandy? 😎
Short of starting your own online business where the flexible lifestyle is a given, remote jobs are a happy medium. You get all the perks of a regular job but with the flexibility of making your own hours, choosing your location and the dress code. Pajamas, bikini, birthday suit 🙈. You decide.
The big key – where most of the jobs are for entry-level remote work – are in the tech industry. Hence the term digital nomad. Decades ago there wouldn't be nearly as many opportunities but, thanks to advances in technology, there is a massive sub-genre of remote gigs and workplaces that have become a reality.
That said, you don't necessarily have to work in Tech to be a digital nomad. Once a place for software developers and graphic designers, the industry is quickly opening up with jobs in HR and recruiting, accounting and finance, pharmaceuticals, education training and beyond.
If you can do it on a laptop chances are there's someone looking to hire you.
Be warned: the key to becoming a digital nomad is remembering you aren't on vacation.
It goes without saying that you must be reliable, have a strong work ethic, and prioritize your time to get the job done…
But how, when, and where you get the job done – that's a big difference.
You can flip your mornings from being stuck in gridlock traffic to rolling out of your hammock and watching the sunrise while catching up on the day's emails. #jackpot!
So without further ado, scour these sites to find something suited to your future job as a digital nomad! These resources are remote-specific. Some being entry-level, and some are more advanced.
They're all different so go through each one and find a remote gig that will unlock your freedom: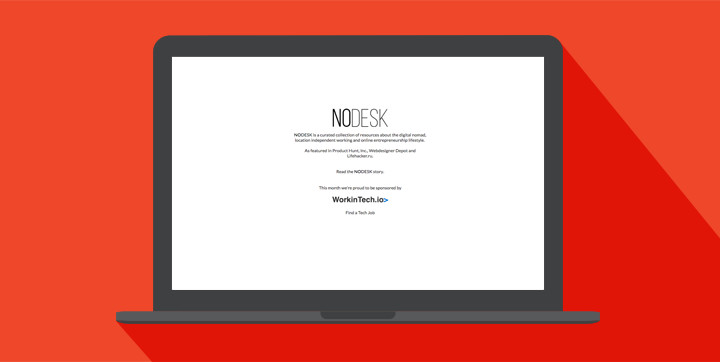 The NoDesk story begins with an itch to learn how to code, transforms into a web app mapping the Israeli startup funding ecosystem, and then a side-project that went from 50 visitors a day to 10,000.
Since being featured on Product Hunt, NoDesk has become a go-to spot for people looking to learn more about the digital nomad, location-independent working, and online entrepreneurship lifestyle.
A kind of an encyclopedia for the remote worker… this is a great spot for your remote job search and preparation for the journey ahead.

FlexJobs was founded by Sara Sutton Fell in 2007 when she was looking for a flexible job after starting a family.
Frustrated with the lack of good resources and time wasted weeding through scams and junk, FlexJobs was born.
Anyone who wants a job with some kind of flexibility including telecommuting, part-time, and freelance, this is the place to go.

Working Nomads team Peter Marcely and Marie Uherková have been curating lists of remote jobs since 2014.
They offer a wide array of professional categories including development, management, human resources, education, health care and administration.

Rodolphe Dutel is passionate about the remote work lifestyle with an impressive resume to back it up.
This site will give you tips on how to land a remote job, hook you up with a community, and help you find the perfect nomadic gig.

RemoteOK is a daily aggregator of remote jobs created by Pieter Levels.
Back in 2014, he set a personal challenge to launch 12 startups in 12 months (read more about the insanity on the Wired coverage here). RemoteOK was one of the projects that came out of his experimentation, helping the remote work movement along.

"…with the ubiquity of WiFi, how is it possible that most of us are still tied to our cubicles?" – Clarence Kin
Although remote work is becoming more recognized and accepted within the professional world, finding remote-friendly opportunities can still be a challenge.
Clarence Kin saw the need and in 2015 created Jobspresso – connecting high-quality postings and the job seekers looking for them.

When Filip Defar, EuropeRemotely's creator, was tired of figuring out which remote jobs didn't require a US citizenship he took matters into his own hands.
With a bent towards developers living in Europe, EuropeRemotely will send you weekly updates of new openings that hit the will hire remote and worldwide category.

Outsourcely found that people looking for remote jobs are overwhelmingly looking for stability, not temporary short term positions.
So they pride themselves on taking that to heart for both employer and employee. They've got a comprehensive site that outlines what to expect when hiring and working remotely.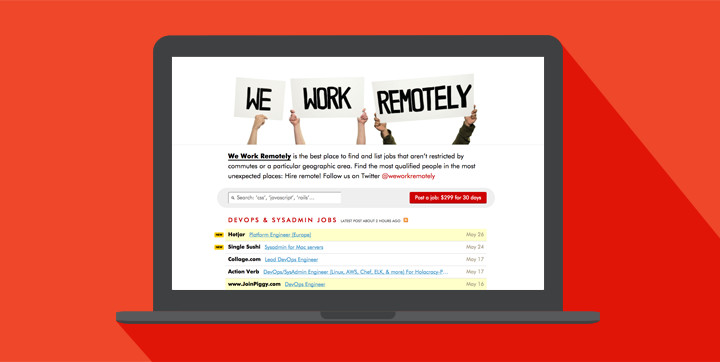 This one finds and lists jobs that aren't restricted by commutes or geographic areas.
Run by Tiny, who's also behind Dribble, Buffer, MetaLab, and more, these guys know their way around the tech industry! This no-fuss site is updated by the hour and organizes jobs for digital nomads looking to score.
Work From Home Jobs
aggregates the best work from home and remote jobs postings from different online job boards into a single place. Finding work at home job opportunities has never been easier or quicker.
Good luck with the hunt!
Did we miss any big players? Where has been the best place you've found when looking for remote work? Let us know in the comments below!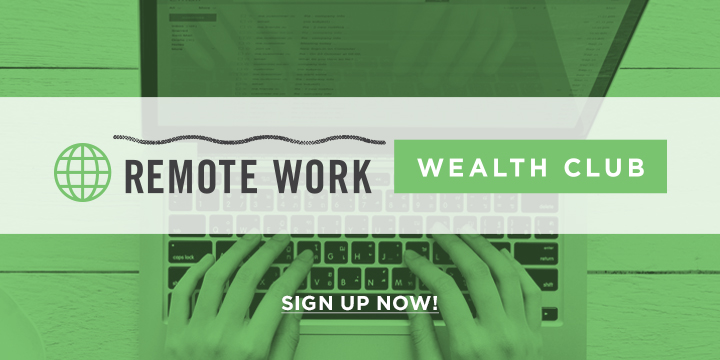 Are you looking for more guidance when it comes to making your remote work dreams happen? We highly suggest you check out the Remote Work Wealth Club. 
Get access to masterclasses, interviews with the experts, getting hired secrets along with checklists, worksheets, and much more! These are the tools that will give you the edge on standing out and getting hired for the remote work you want. Find out more here.