We surveyed our clients a while back to gather their insights on Journo.
We found out what they liked, what they didn't and what they wanted to see. From that, we created a hit list that took this invaluable feedback and put it into update plans creating Journo V 1.2.6.
Our first task – and this one was a doozie – was to tackle the nitty gritty of entry functionality. They wanted more flexibility and options while writing…
And that's just what we did!
The following outlines and explains the updates made to Journo Version 1.2.6. We're pretty pumped on this one and hope you love it too! 🔥🔥🔥
First things first, simply tap the blank page to pop up your keyboard to start writing (as you've always done), and use a swipe down gesture (starting from above your keyboard) to collapse it: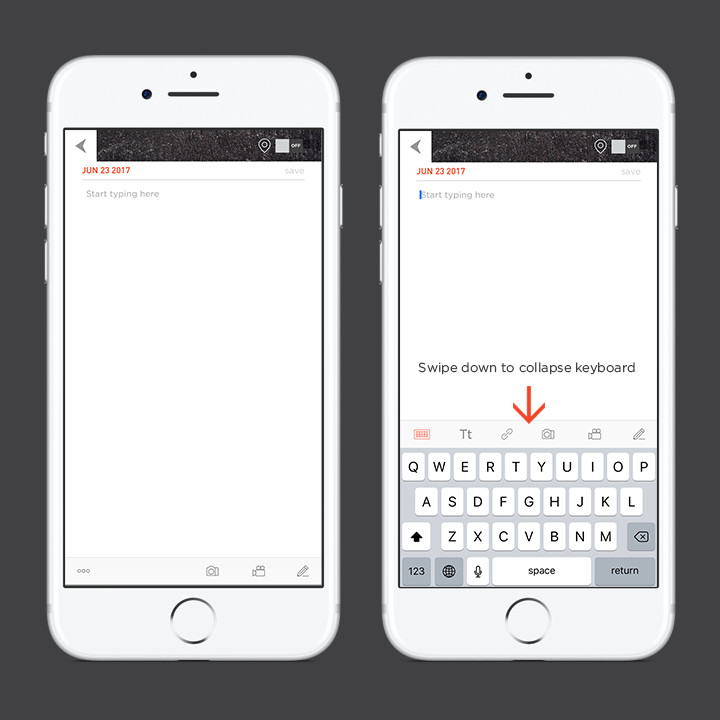 The next thing you're going to notice is that your keyboard is decked out with a few more icons than you're used to. From the left, we added a keyboard icon, a type formatting icon, and a link icon (in addition to the photo, video, and draw buttons you're already familiar with):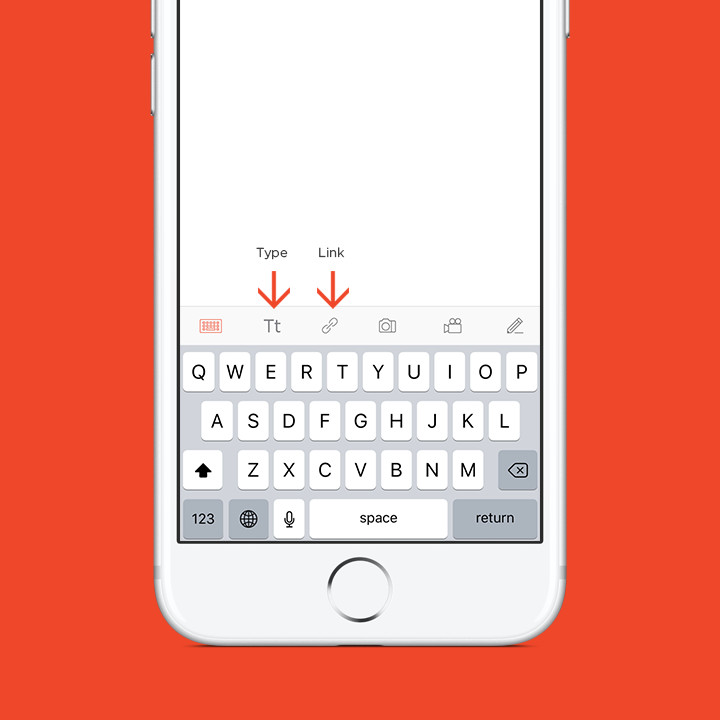 You can easily toggle through all off these while writing an entry. When you tap on the type icon, a toolkit will appear, giving you the ultimate entry customization… design it to your heart's desire! This is the magic of V 1.2.6 🙌: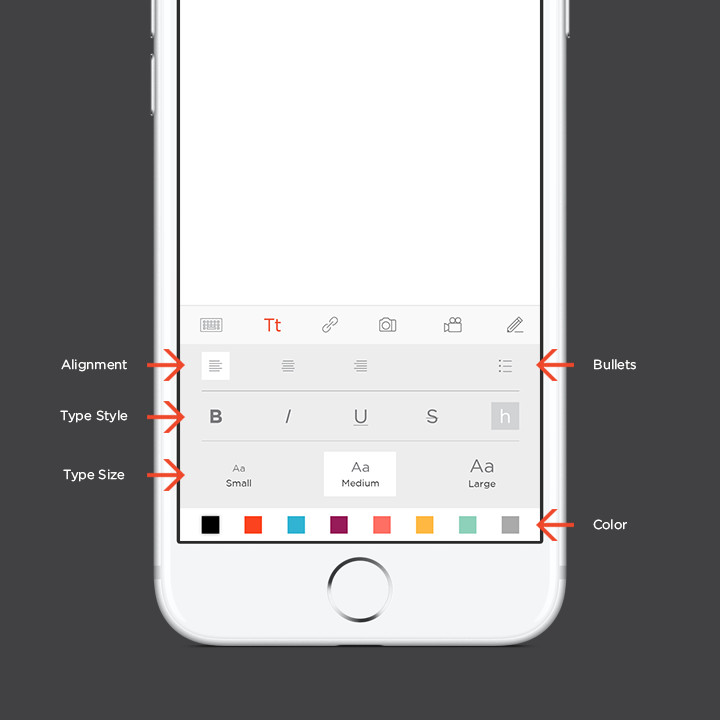 As you can see, we've included a lot of options:
Left, center, and right text alignment.
Bullets for lists and todos.
Change your text to bold, italic, underlined, strikethrough or highlighted (I'd highlight this one but even Wordpress doesn't allow it!)… all with a tap of a button.
3 different type sizes to choose from.
And font 

C

O

L

O

R

!
These options provide endless combinations to spice up your Journo entries. To activate a type style just tap on it, and tap again to deselect. Plus, you can turn on multiple styles at once to combine them: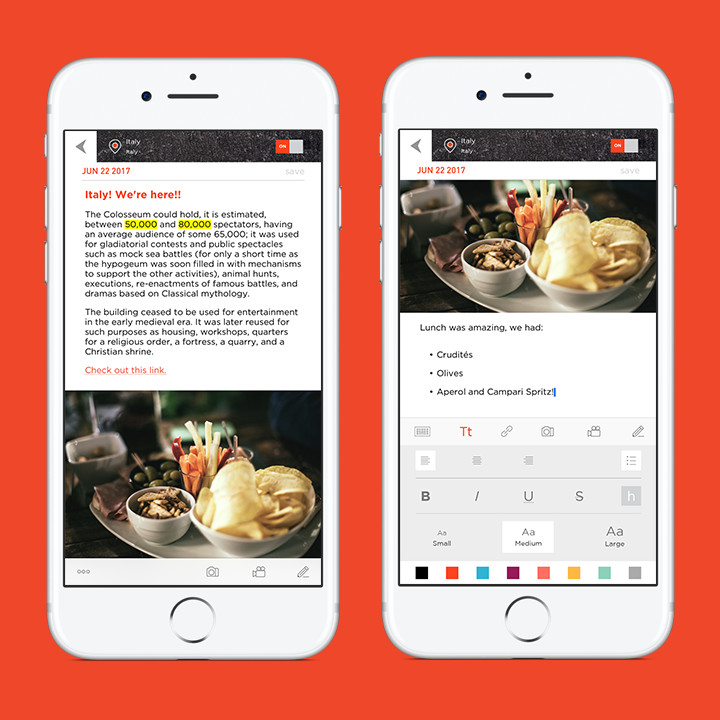 The link icon allows you to add web links to entries. All you got to do is select the words you want to turn into a hyperlink and tap the link icon. You'll then be prompted to paste in the URL and you're done!
You can also edit links at any time by selecting the linked text and tapping on the icon again, it'll pull up your URL which you can then change: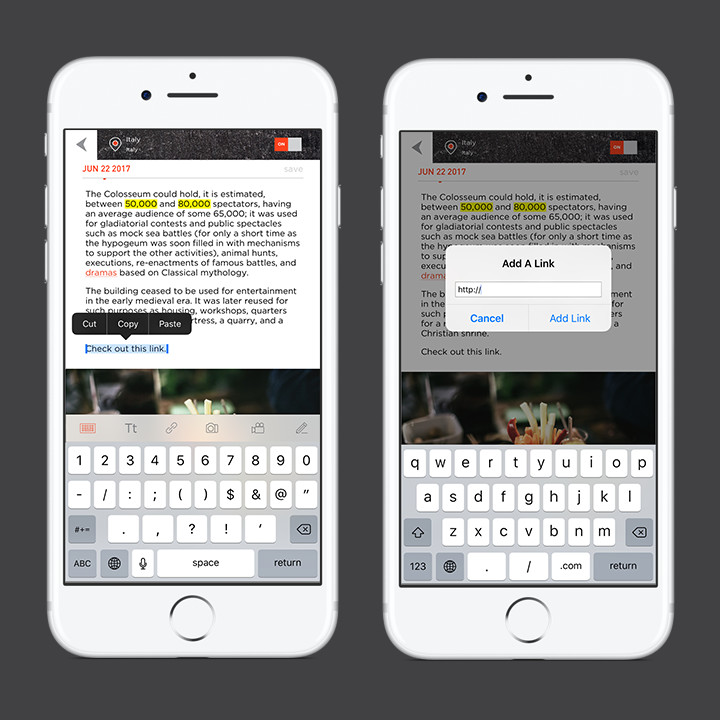 We hope you love the latest Journo version as much as we do. And as always you are our true test! 💕
Please let us know what you think, or if you have any ideas for the next update, in the comments below. Thanks!