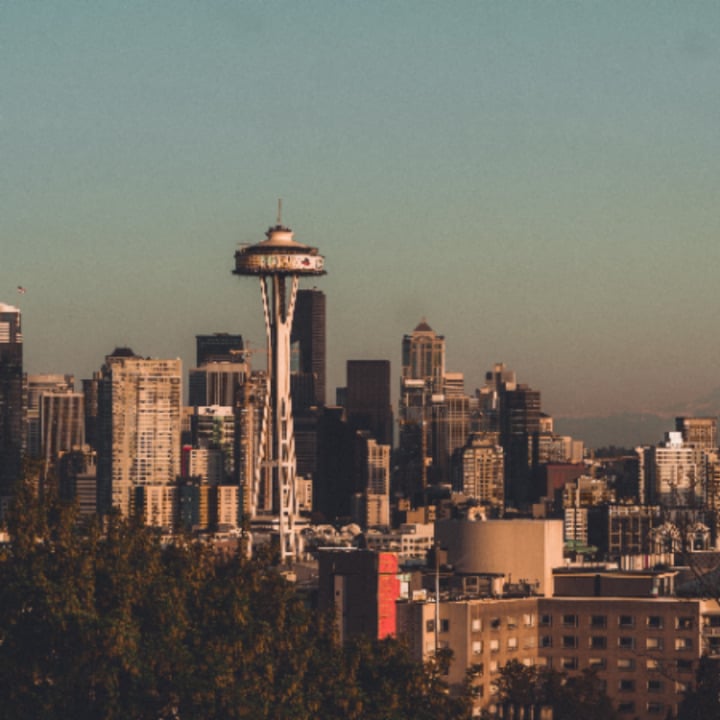 Seattle, Washington, is known for being the birthplace of Starbucks, rainy weather, and the roots of some incredible rock and pop music. But here's a little secret: when you're visiting Seattle, you'll soon realize that the rain doesn't stop anything!
Seattle, located in the Pacific Northwest region of the United States is home to adventurists, foodies, and craft beer and coffee enthusiasts. Need help visiting Seattle?
In this guide to Seattle, you'll find:
• The Basics of Seattle
• A Little Bit of History
• Best Things To Do in Seattle
• Where To Eat & Drink
• How To Get Around
• Best Places To Stay
• Tips From Locals
The Basics of Seattle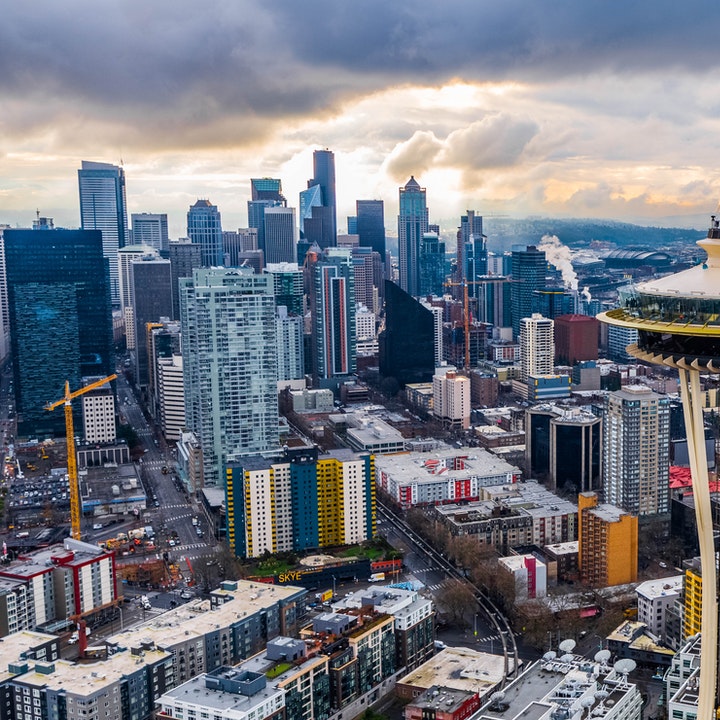 In Seattle and the Pacific Northwest (PNW), English is spoken (as in most of the United States), the American dollar is the currency used, and the weather is rainy more often than not. However, temperatures do not hit extremes in the PNW, they stay moderate.
Remember to pack: rain boots, a rain jacket, and comfortable walking shoes. Use Pack This app so you don't forget anything!
A Little Bit of History
Did you know Seattle has an underground? Basically, it's an underground city. After the great Seattle fire in 1889, which burned the entire city to the ground, the decision was made to raise the city's streets up out of the swampy, hilly ground that Seattle was originally built on. With the street being built up – businesses that had already rebuilt found the first and second stories of their buildings facing a concrete wall. Yikes!
Best Things To Do in Seattle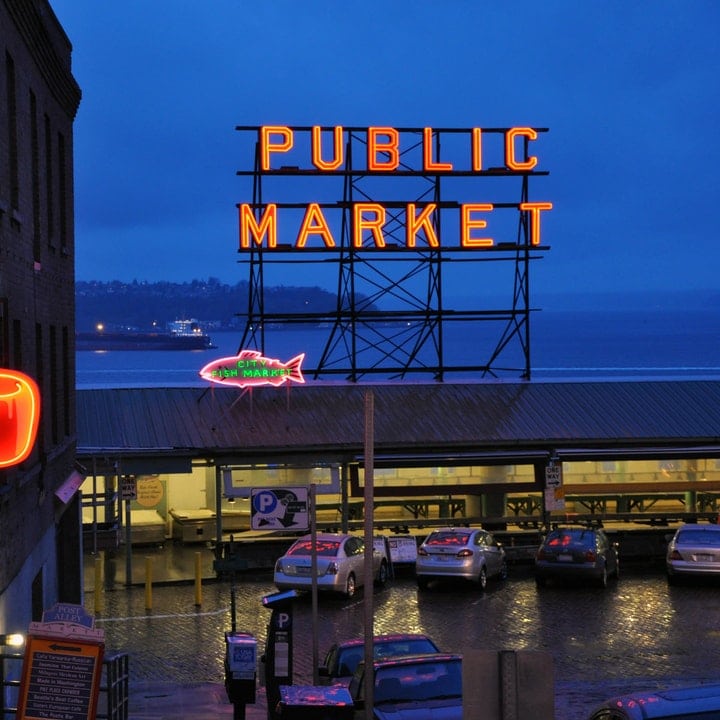 Yes, go take a photo with the infamous sign, and then stroll through Pike Place Market. Inside the market, you can shop for gifts, small items, produce, fish, dried flowers, and dine at one of the many restaurants. Walk by the Pike Place Fish Market, an open air fish market, known for their fish tossing and singing. Seriously, it's fun to watch! Starting at 6:30 am, the men toss fresh fish to each other, some of them weighing up to 15kg. Spending time in Pike Place Market is one of the best things to do in Seattle.
Every city has its oddities. In Seattle, it's The Gum Wall. Located in Post Alley, go visit the Gum Wall. It's a wall full of gum. Even when it was cleaned off, it became a wall of gum again. Psst! Grab a cup of coffee from Ghost Alley Espresso.
Bill Spiedel founded the Underground Tour in 1965 and ever since then, this tour has become a staple when visiting Seattle. It's one of the best things to do in Seattle because it will teach you so much about the city's history, bring you to the parts of the Underground that are still accessible but off limits to the public, and make you laugh along the way.
Look for the art! As you walk around Seattle, you'll quickly realize there are tons of pieces of artwork plastered across the city – on the electrical boxes, walls, sides of buildings, etc. Look for them all! Also, take a drive to the Fremont troll – a cool little oddity in the city.
While the Space Needle is Seattle's most well known building/iconic structure, it is worth the ticket and experience. I wouldn't recommend visiting the top of every tall building in New York City, but in Seattle, this view is worth it and more. With your ticket, you can read some information about the Space Needle, take an elevator to the top, and stand on the rotating glass floor that looks over the city. In addition to The Space Needle, you can book a bundle ticket for Chihuly Garden and Glass. This is an entire museum dedicated to beautiful blown glass art structures and pieces.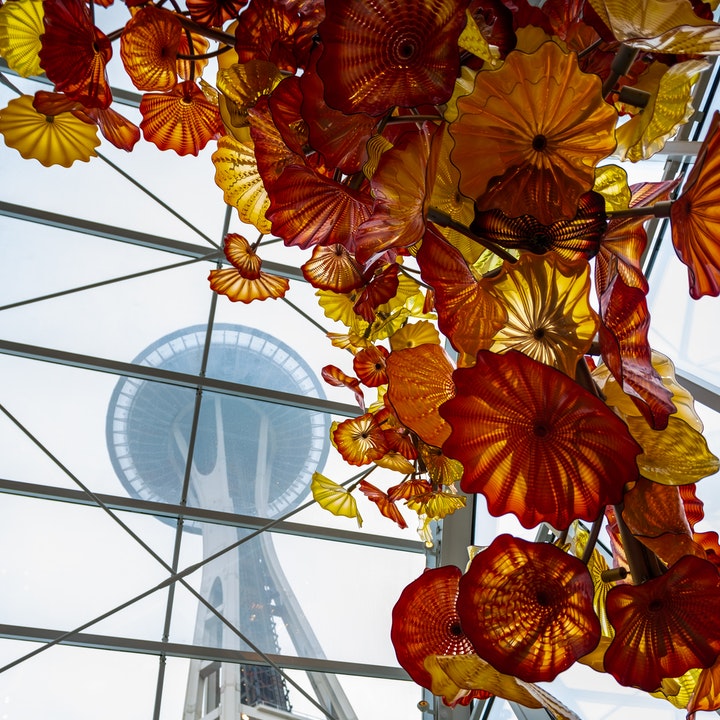 Located right next to the Space Needle, visit Jimi Hendrix's smashed guitars at MOPOP. The Museum of Pop Culture hosts several exhibits on music and film, with tons of cool props and costumes on display. Visit Jimi Hendrix's smashed guitars, a Nirvana exhibit, a huge guitar sculpture, and more.
If you're spending some time in the city and looking for a day trip, one of the best things to do when visiting Seattle is to take a tour of Olympic National Park, or go on your own tour. While this technically doesn't sit in Seattle, you can take a ferry out of Seattle and visit this UNESCO-World Heritage site. There are a few tour operators that host day trips, which gives you an opportunity to see one, two, or three of the park's ecosystems: glaciated mountains, coastline, and temperate forests/rainforests. All in one park!
Where To Eat & Drink in Seattle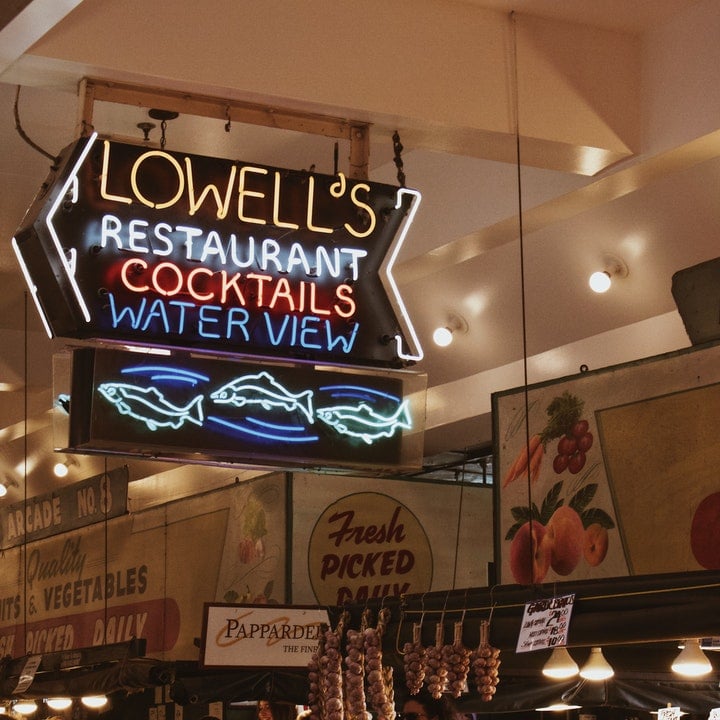 Piroshky Piroshky
Piroshky Piroshky is a popular Russian bakery that opened its doors in 1992 in Washington and indulging in these pastries is easily one of the best things to do in Seattle. With four locations, the bakery hopes to bring a taste of Russia to its customers with both savory and sweet options. I tried the Beef & Onion pastry, Pumpkin Braid (seasonal), and the Jalapeno Cheddar sausage – each had its own distinct flavor, but was wrapped in a gorgeous flaky, buttery pastry. You'll notice there's always a line outside of this place, but it moves quickly.
There are plenty of other places to try around the market and in the area. Beecher's, also located in New York City, owns a location very close by Piroshky Piroshky. The items look a little different, including a Salmon Mac & cheese but its still the same delicious homemade cheese and you can still watch them make it through the windows.
The Original Starbucks
Are you a coffee lover? Big Starbucks fan? If you didn't know this, Starbucks started in Seattle, Washington. The original Starbucks, located at 1912 Pike Place, opened its doors in 1971 and if you choose to visit the company's flagship location, you'll see some pretty cool stuff. There's the original plaque, the original logo, the original brass labels they would use on coffee bins, and the floors, fixtures, and counters are all original too. If there's no line (go in off hours) and you love coffee, this is one of the best things to do in Seattle for your trip.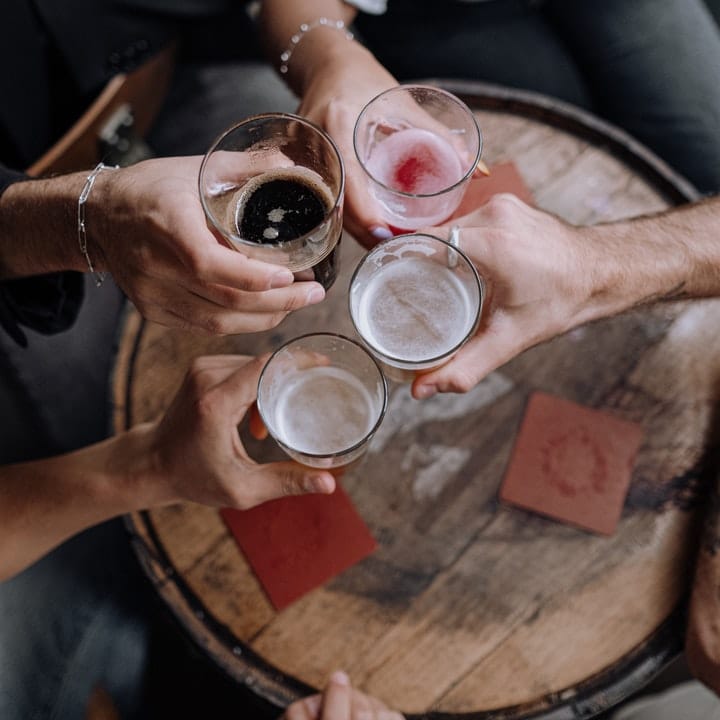 Old Stove Brewery
Conveniently located in downtown Seattle, Old Stove Brewery (check out the cool stove logo), started in 2016-17, is a family-friendly, dog-friendly taproom and restaurant located in the heart of Seattle. While you're trying all the delicious craft brews(like the Old Stove Pilsner or the Hell Hawk Stoudt), order some fries and ask for the sriracha mayo. It's fantastic. Old Stove Brewery makes it on our list as one of the best things to do in Seattle because it brings together friends, family, and craft beer.
Top Pot Doughnuts
Top Pot Doughnuts is just a 10 minute walk from Pike Place Market. Stroll here for great coffee, a fun atmosphere, and delicious doughnuts! I tried the Old Fashioned Chocolate, Lemon, Salted Caramel, and Cookies n' Cream. When visiting Seattle, you'll find there are tons of places to grab a cup o'joe, and most Seattlites often have coffee in their hands. While we love Starbucks, hit up any of the dozens of locally-owned coffee shops when visiting Seattle.
Mcmenamins Six Arms Pub
Located in the Capitol Hill neighborhood of Seattle, a fun place to hang out for lots of reasons, Mcmenamins Six Arms Pub is a great spot to eat, drink, and count chandeliers. This location is home to the most chandeliers of the many Mcmenamins locations (Oregon and Washington). These bars/restaurants are family-owned and known for taking over old buildings and turning them into something new while utilizing the pieces of Seattle's past that were once there. The Mcmenamins goal "is to keep the past in the present, to celebrate and connect us all with the people and events that have helped define each McMenamins property. To that end, we research, interview, and compile materials to identify and commemorate our properties and their surroundings."
Here's what's even cooler – if you're staying in the area for a while (or not) you can purchase a 'Passport' and collect stamps from every Mcmenamins location you visit.
Starbucks Reserve
Across the street from Mcmenamins, you can visit the Seattle Starbucks Reserve. These are like Starbucks – on steroids. Watch coffee beans being roasted and packaged, order special coffee drinks, eat, shop, and even drink! Our favorite part of our visit to the Reserve? Coffee flights, espresso flights, cold brew flights, and espresso martini flights! Try them all!
Jack's Fish Spot
Go eat some fresh, delicious fish at Jack's Fish Spot. In the PNW, they have access to Halibut, Cod, some incredible Salmon, crabs, and more. Order fish n' chips, halibut n' chips, the Grilled salmon, and an order of clam chowder. This is located right across from Pike Place Market. Also check out Three Girls Bakery, right next door.
Optimism Brewery
Optimism Brewery is located in the hip Seattle neighborhood of Capitol Hill. Seattle loves their craft beer – and man is it good. Lots of variety to choose from here, open picnic table style seating, dog-friendly, cool place.
How To Get Around Seattle
There are plenty of easy, cost-effective ways to get around Seattle.
• On foot: Many of the main attractions are walkable!
• Monorail: Easy to use, easy to follow
• Uber/Lyft: Fairly cheap
• Buses: Easy to use
Best Places To Stay
Seattle is home to some fantastic hotels.
>> Click here to find the best hotel deals in Seattle.
Housesitting is a great way to cut down on travel costs.
>> Click here to find housesitting opportunities in Seattle.
Hostels are an affordable option when it comes to accommodations.
>> Click here to find hostels in Seattle.
Booking a vacation rental can help to save the budget.
>> Click here to find vacation rentals in Seattle.
Tips From Locals
"I'm a born, raised and current Seattleite! I've also worked as a tour guide here and my website is all about travel and outdoor adventure in Washington, Alaska and Western Canada.
Some unique to Seattle things to do include:
• Pike Place Market – I know, it's super touristy! But also awesome! I recommend doing a food tour there to help manage crowds and get the inside scoop.
• Ballard Locks – a unique look into Seattle's maritime industry, it's a lovely park and a great place to watch ships passing between the lake and Puget Sound. There is a fish ladder where you can see salmon swimming up when they are running (summer and fall)
• Ferry ride to Bainbridge Island – this makes an awesome day trip and the view of downtown when the ferry departs or arrives is the best in the city! Bainbridge has walking trails, shops, restaurants and wineries walking distance from the ferry terminal. The ferry ride is 35 minutes from the Seattle waterfront
• Smith Tower – a fun prohibition themed bar on the top floor offers some great views without the crowds of the Space Needle.
• Chihuly Gardens and Glass – in the shadow of the Space Needle, this unique museum is all about the colorful and beautiful blown glass art of Dale Chihuly. You can get a paired ticket with the Space Needle if you also want to go there." – Jennie
"Take a Seattle city break and take a trip up to scenic Whidbey Island! After a 2 hour drive through the lush Skagit Valley, you'll arrive at the majestic Deception Pass Bridge. Stop for a photo op and hike down to the beach if you can!Whidbey Island isn't very large–you can drive the length of it in 45 minutes–but each of its towns has their own atmosphere to offer. Quick rule of thumb: stick to the North End for whale watching and hiking (Ebey's Landing and Deception Pass State Park are breathtaking) and then head to the South End for wineries and art galleries.Arrive at the southernmost town, Clinton, to catch the 20 minute Clinton-Mukilteo ferry. You'll be back on the mainland in no time!*I am currently teaching abroad in Budapest, Hungary, but was raised on Whidbey Island." – Denae
"My name is Tess and I'm the creator of the travel blog Traveling Tessie. Seattle is such an amazing city with so much to do! My favorite area is Belltown, a centrally located area that has many restaurant and bar options and is an easy walk to Pike Place Market, the Space Needle, and other popular neighborhoods. Both Pike Place Market and the Space Needle are a must-see when visiting Seattle. Journey to the top of the Space Needle on a clear day and you can see all of the beautiful mountain ranges that surround the city including Mt. Rainier. If you want to get out of the hustle and bustle of the city, you can take a ferry to one of the many islands and spend a day on Bainbridge Island or a weekend on Whidbey Island whale watching." – Tess
Check out how other Journo travel junkies explored this city! @BarefootMartha traveled all over the state of Washington, documenting with fun photos of her and her family along the way. They went to a Seattle Mariners v. Chicago White Sox game!
Now that you've seen our guide to Seattle, what did you think? Did we miss anything? Leave us a comment below!