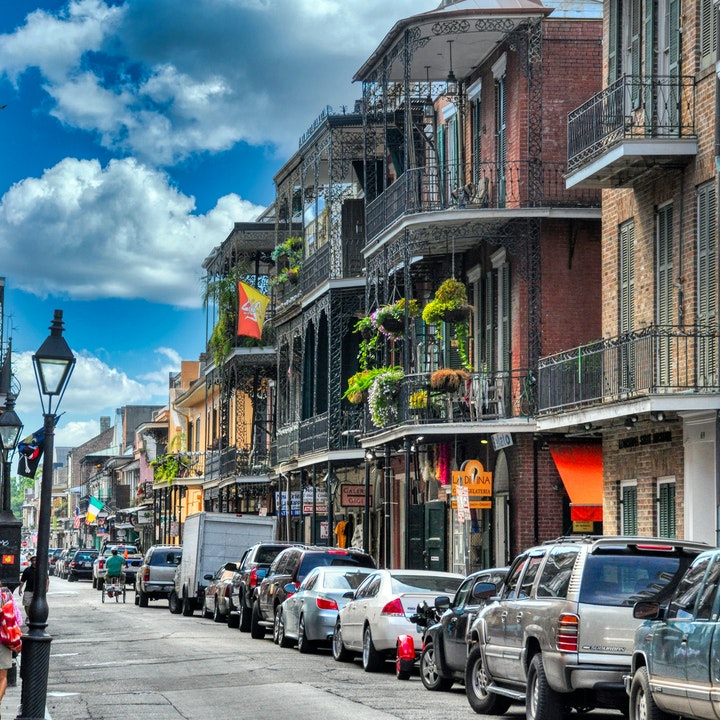 With a mix of African, French, and American influences, New Orleans has an eclectic atmosphere, look, and energy! It will leave you wanting to go back the minute you leave.
In the Big Easy you'll listen to jazz and blues music, enjoy Cajun and Creole food, dance like there is no tomorrow, and you'll learn a ton of history along the way.
Did you know the French Quarter is the oldest neighborhood in the city? And guess what? You're going to want to spend a lot of time there. Here's our guide to an incredibly beautiful and lively city in Louisiana: New Orleans.
Get your travel journal ready for this trip!
In this guide to New Orleans, you'll find: 
• The Basics of New Orleans
• A Little Bit of History
• Best Things To Do in New Orleans
• Where To Eat & Drink
• How to Get Around
• Best Places To Stay
• Tips From Locals
The Basics of New Orleans
In New Orleans, expect to find an invigorating combination of African, French, and American influences, tropical foliage, great nightlife, endless amounts of jazz music, and Cajun food like no other.
You'll be speaking English, using the American dollar, and depending on the time of year that you visit – it will be warm outside. From May through September it is very hot and humid.
Before we get into the top things to do in New Orleans, let's learn a little bit of history about this Louisiana gem.
A Little Bit of History
New Orleans is known as 'The Crescent City' and/or 'The Big Easy.' That's because New Orleans was essentially built around a sharp curve around the Mississippi River and it was called Vieux Carré at the time before the French Quarter was born. The curve resembles a crescent moon – hence the name.
There are several theories as to how New Orleans got its nickname of 'The Big Easy,' and one of them comes from a journalist who was contrasting New York City and New Orleans – New Orleans being 'The Big Easy' and New York being 'The Big Apple.' New Orleans is known for a much simpler way of life as opposed to the Northeast and NYC.
But this is just one way that people believe this nickname came about, another being that musicians could play and parade through the streets, an easy, 'open-arms' policy, that essentially helped New Orleans grow into the iconic jazz and blues scene that it is today.
Best Things To Do in New Orleans
Where to begin! If you're interested in the party scene, New Orleans is a party city for you. However, there are other great things to do in New Orleans if you're looking for something more family-friendly.
If you are looking to party, visit early in the spring for Mardi Gras. Mardi Gras day, AKA Fat Tuesday, is an incredibly fun and colorful celebration in the heart of NOLA.
Stroll along Bourbon Street if it's your first time in the French Quarter (where most Mardi Gras festivities happen), grab a drink in one bar and carry it to the next! On this street and this street only (on Mardi Gras day and the days leading up), tourists throw beads from balconies in exchange for..well…a little show! 😉 If you don't know what we mean, then google it. However, you can also just get beads thrown to you as well.
The streets are alive all day and all night with tons of parties, costumes (visit the fashion show thrown by the gay community on the corner of St. Ann and Dauphine St.).
This is also the street where you will find Marie Laveau's House of Voodoo shop. Read more about her shop here and you'll see why it makes it on our list of the top things to do in New Orleans. You can also read about Louisiana voodoo and the origins of it here.
Aside from Bourbon Street (the most tourist-y street), you can find great bars, restaurants, and get a taste of where the locals like to hangout (except not so much on weekend nights) on Frenchman Street.
If you attend Mardi Gras, make time in your schedule to attend the parades – all ages have fun marveling at the gorgeous, giant floats. Parades take place for the entire month of Mardi Gras.
Stroll along Canal Street, which is a great spot for hotels and shopping, and make your way to Jackson Square – a large open area with a water fountain and tons of artists and artisans selling goods. Close by is Woldenberg Park, a pleasant area to sit by the river, and the iconic Cafe du Monde, one of the 21 best coffee shops in the world.
Tours your style? Well for us, they are one of the top things to do in New Orleans. Take a ghost tour of the French quarter, you can opt for ones with or without cemeteries involved. You'll learn all about the incredible history of voodoo, hoodoo, and vampires in the area.
Ghost tours will inevitably mention Madame Delphine LaLaurie (Kathy Bates plays her role in American Horror Story's "Coven"), a rich socialite who is known for turning her home into a house of horrors – torturing and killing tons of enslaved people in the 1830s.
If you're looking to take a step outside of the city, consider an airboat tour on the bayou. About an hour's drive out of the city, and you can take a small airboat or a bigger group excursion along the bayou and see the amazing wildlife.
Be aware if you are traveling alone at night, and stick to streets that are well-lit. When partying on Bourbon Street, keep an eye on your stuff, and don't leave your cellphone in your back pocket. On Mardi Gras, this area has been known for pickpocketing.
Other top things to do in New Orleans: stroll along Magazine Street, ride a streetcar, visit the cemeteries, see the historic mansions in the Garden District, and attend a concert at Tipitina's.
Where To Eat & Drink in New Orleans
Local dishes you must try when you visit New Orleans include beignets, gumbo, chicory coffee, bananas foster, crawfish, jambalaya, po boys, oysters, pralines, and turtle soup.
Anything you eat in this city will be cooked with love, but these dishes are the absolute staples. Finally, make sure you try a hurricane and a hand grenade drink – they're what NOLA is known for.
Psst! When you try crawfish, remember to "pinch the tail and suck the head" – that's the proper way to do it.
Court of Two Sisters
A jazz brunch is one of our top things to do in New Orleans. Many places will have an outdoor seating area, live jazz music, and incredible food. Located in the French Quarter, Court of Two Sisters is one of those places!
Book a jazz brunch reservation. You'll sit outside in a gorgeous courtyard with a fountain, friendly wait staff, live jazz music, and you'll indulge in the best New Orleans cuisine.
Another great jazz brunch option is at Antoine's, also located in the French Quarter, however, there are tons of jazz brunch options!
Cafe du Monde
Our list simply could not be complete without mentioning the infamous Cafe du Monde, one of the 21 best coffee shops in the world. The original French Market coffee stand started in 1862 and has been serving happy customers ever since.
Warning: the line is long, BUT it moves quickly. Grab a bag of beignets (square pieces of fried dough), and a chicory coffee. What is chicory? Chicory is the root of the endive plant, which is a type of lettuce. The root is roasted, ground, and added to coffee to soften the bitter edge of the dark roasted coffee. It adds an almost chocolate flavor.
We can confirm, it's delicious. Beignets from Cafe du Monde are legendary in this city, but you can grab beignets from other places too – like Cafe Beignet.
Brigtsen's
If you're looking for a nice spot to sit down for lunch or dinner, Brigtsen's is a local favorite. You're going to drool over this menu with New Orleans BBQ shrimp, crawfish egg rolls, roast duck a l'orange, and for dessert – banana bread pudding.
Jean Lafitte's Old Absinthe House
Here's the story behind Jean Lafitte's: "The original Old Absinthe House bar was to cease serving liquor at the start of Prohibition—a powerful message delivered to one of New Orleans' most significant watering holes.
After a few years of below-the-table liquor sales, the bar and all of its fixtures were removed from the Old Absinthe House and moved under cover of darkness to 400 Bourbon Street in order to preserve it.
This speakeasy operation was known as "The Absinthe House Bar" and served bootleg booze to those who were in the know on where to party or at least knew who to ask."
Pretty cool, right? This eclectic little bar is fun for a few drinks, and it's right on Bourbon street so there's plenty more to do and see.
Parkway Bakery and Tavern
Head over to the iconic Parkway Bakery and Tavern, which opened its doors in 1911, for a legendary poor boy, or as the locals call it, "po boy." Comfort food is this joint's middle name and that's why it makes it on our list of top things to do in New Orleans.
Try the Signature Poor Boy made with slow roasted beef and gravy, the James Brown made with slow cooked BBQ beef, Louisiana fried shrimp, melted pepper jack cheese, and hot sauce mayo, or maybe the deep fried creole BBQ shrimp poor boy.
You will find poor boys in all restaurants/food trucks/cafes in Louisiana, and they are a nod to a proud working class ethic that helped form the bedrock of New Orleans. Read the history behind the sandwich here.
Irene's
Irene's is another enticing eatery in New Orleans, on the fancier end of things. Just take a gander at the menu and you'll see what we mean. Dishes to try include Meunière Amandine (Pan seared filet of fish, toasted almonds, sweet potato mash haricot verts, brown butter), Duck St. Philip (Roasted crispy, glazed with a pecan, raspberry pancetta demi, sweet potato mash, and fresh spinach), and Lamb A' La Provence (Grilled lamb chops, roasted garlic potato mash, haricot verts with a rosemary port wine demi). Enjoy both courtyard and indoor dining.
Lafitte's Blacksmith Shop Bar
Lafitte's Blacksmith shop bar, built between 1722 and 1732 by Nicolas Touze, is "reputed to be the oldest structure used as a bar in the United States." Travel to Bourbon Street just to see this bar and experience New Orleans history. If you're a fan of architecture, the structure and fence are in the old French Provincial Louis XV or Briquette-Entre-Poteauxe style used in French Louisiana.
It's pretty amazing this bar is still standing, it withstood two fires because of its slate roofing. This bar is booming most days and nights – don't skip it and try a Purple Drank.
Dooky Chase's Restaurant
Dooky Chase's opened its doors in 1941 as a bar and restaurant, but it originally began as a sandwich shop and lottery ticket outlet. Still family owned and operated, we're sure you'll enjoy the atmosphere and the menu here.
Try the Creole Gumbo, Dooky's Toast, Glazed Chicken Pops, or Oysters Norman. Can you tell that eating is one of the top things to do in New Orleans? For good reason!
St. Roch Market
St. Roch Market is described as a "chef-centric food hall featuring a thoughtfully-curated mix of local food and beverage talent." We're not sure if there's a better way to taste the delicacies of The Big Easy like you can at St. Roch Market.
Dine all day, grab and go, work from this space, or just have a drink – there are so many options!
The Carousel Bar
The Carousel Bar is New Orleans' only revolving bar. With a fun cocktail menu and yummy bar bites, this is a fun little hotspot in New Orleans.
Other bars to explore in New Orleans include Igor's Checkpoint Charlie, Razoo's, Bourbon Cowboy, Pat O's, Lucy's, Barcadia, and Monkey Board.
How To Get Around New Orleans
• On foot: Stay on foot if you will be staying in the French Quarter and can stay close to a streetcar line.
• Streetcar: Easy to use, easy to follow
• Uber/Lyft: Standard price
• Buses: Fairly easy to use
Best Places To Stay & Flights
Where To Book Flights:
The cost of airfare can quickly eat up your budget.
>> Click here to find the best flights to New Orleans.

Where To Book Accommodations:
New Orleans is home to some fantastic hotels.
>> Click here to find the best hotel deals in New Orleans.
Housesitting is a great way to cut down on travel costs.
>> Click here to find housesitting opportunities in New Orleans.
Hostels are an affordable option when it comes to accommodations.
>> Click here to find hostels in New Orleans.
Booking a vacation rental can help to save the budget.
>> Click here to find vacation rentals in New Orleans.
Tips From Locals
"Mid-City is where the locals get their fix of Trinidad and Tobago native
Queen Trini Lisa's award-winning jerk chicken, cashing in on the benefits
of New Orleans' lesser-known status as the Northernmost city in the
Caribbean. Queen Trini has also perfected her special version of Trinidad's
famous doubles–a deeply satisfying vegan street snack of curried chickpeas
folded into two soft pieces of fried flatbread and topped with homemade
coriander, tamarind, and chutney sauces." – Tami
"Go to The Saint located in the Lower Garden District on weekends,
Maple Leaf Bar located on Oak Street has great live music on Mondays, 14
Parishes located on Oak Street for great Jamaican food, Carousel Bar at
Hotel Monteleone is beautiful, cooking class at Southern Food & Beverage
Museum. Go to The Fly (part of a Audubon Park) to throw a frisbee or bbq. Go to Pascal's Manale for New Orleans style BBQ shrimp, Lafitte's Blacksmith Shop for drinks downtown." – Shahinoor
Check out how other travel junkies explored New Orleans! @ryanpage went for a ghost tour in New Orleans and saw several "faux Laveau" tombs!
Now that you've seen our guide for the 17 top things to do in New Orleans, what did you think? Leave us a comment below!