Americans are a patriotic bunch. 🇺🇸 🙌
When it comes to July 4th, everything gets painted red, white, and blue… including food. Nah… especially food! What 4th of July Party would be complete without a feast?
So we've got a smorgasbord of brightly colored grub in this patriotic pallet to impress your friends and family.
But first, have you ever wondered, Why red white and blue? What is the meaning behind the colors Americans are so passionate about?
For that, we need to step back in time to the origins of Independence Day.
The day it all began: July 4th, 1776.
On July 4th, 1776, America became independent from the British Empire.
This official declaration meant that the thirteen American colonies, at war with the Kingdom of Great Britain, regarded themselves as thirteen newly independent sovereign states, and no longer under British rule.
The flag that represented America at this point in history directly following the approval of the document was The Continental Colors (aka the 'Grand Union Flag'). And thought of as America's very first national flag: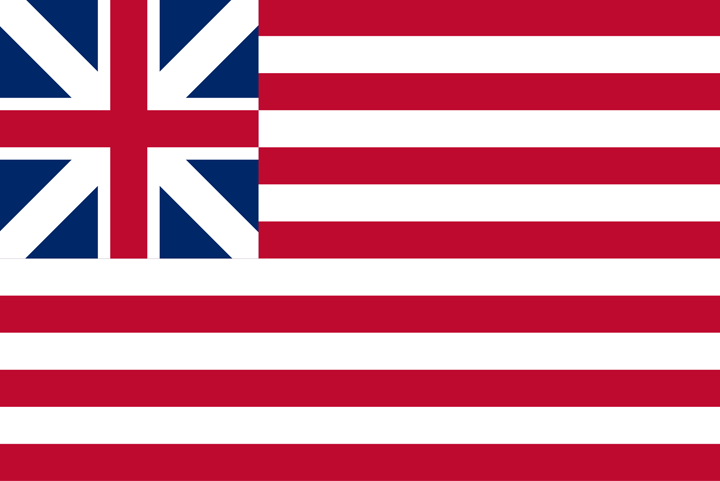 It wasn't until 1777 that the flag adopted the stars we are so familiar with today. And that original design (created by Francis Hopkinson) featured 13 six-pointed stars not the 50 five-pointed ones of today.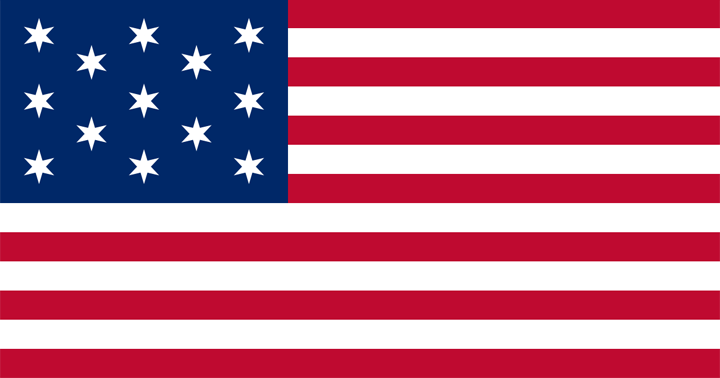 Fun fact: the current U.S flag design has gone through 27 variations since 1777.
Okay, back to the colors…
The symbolism of red, white, and blue is based heavily on The Great Seal of the United States. Charles Thomson, Secretary of the Continental Congress, explained the significance as he presented the seal to Congress:
"The colors, are those used in the flag of the United States of America. White signifies purity and innocence. Red, hardiness & valor, and Blue… signifies vigilance, perseverance & justice."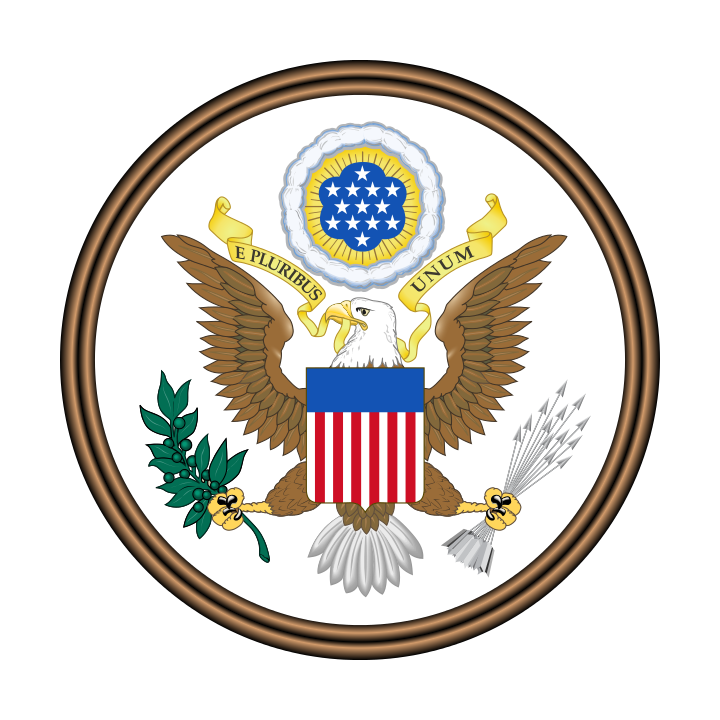 Beyond the colors, Memorial Day is also associated with celebratory fireworks and parades. We can thank John Adams for that, since it was his vision to celebrate the victory…
"…with Pomp and Parade, with Shews, Games, Sports, Guns, Bells, Bonfires and Illuminations from one End of this Continent to the other from this Time forward forever more."
Doesn't that really sum it up nicely?!
And "with pomp and parade" is how they've been celebrating it ever since. 🎉 🍾
In that spirit, let's dive into these 10 red, white, and blue recipes for your 4th of July party!

Pizza has become one of those quintessentially American foods. What better way to dress up your pie than with tomato stripes and purple potato stars? Video on how to make it here.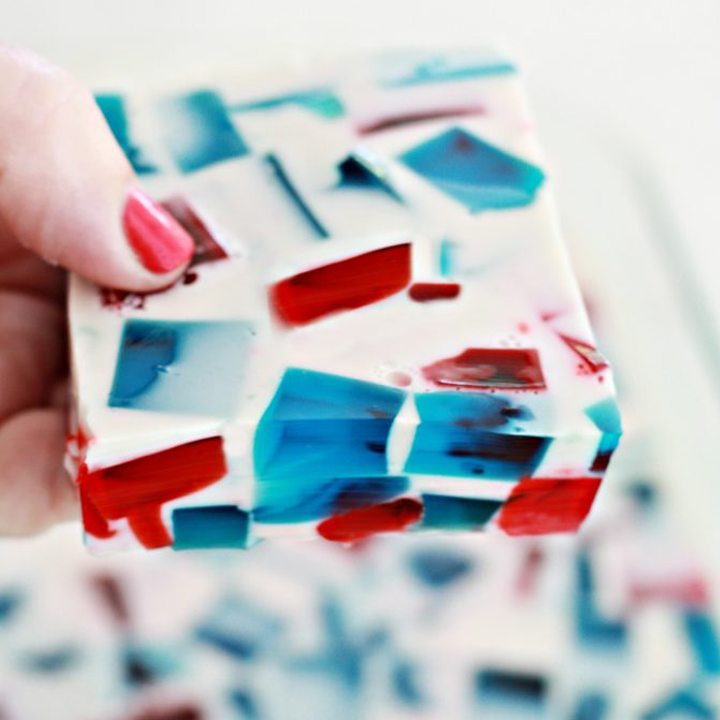 This one is a stunner. The red and blue 'glass' really pop against the milky white jello. Fun one for kids and the grown-ups to enjoy! Find the steps on how to create this masterpiece here.

This pie is gorgeous! Not quite 50 stars on there but it still scores major patriotic points. This classic berry pie is sure to please. Get the details on how to whip one up here.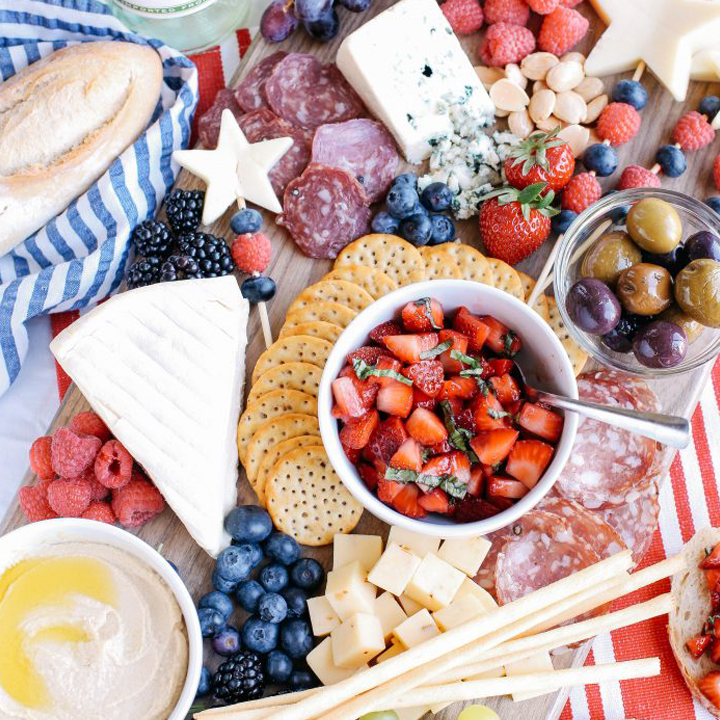 This cheese board is out of control! There is nothing better than a "spread of nibbles" at a get-together and this one hits all the right notes. Something sweet, something salty, something crunchy, something soft… something for everyone!
And all you've got to do is select items in the right color to make it festive. Literally, the easiest thing to throw together last minute for your 4th of July Party. All you need to know and more here.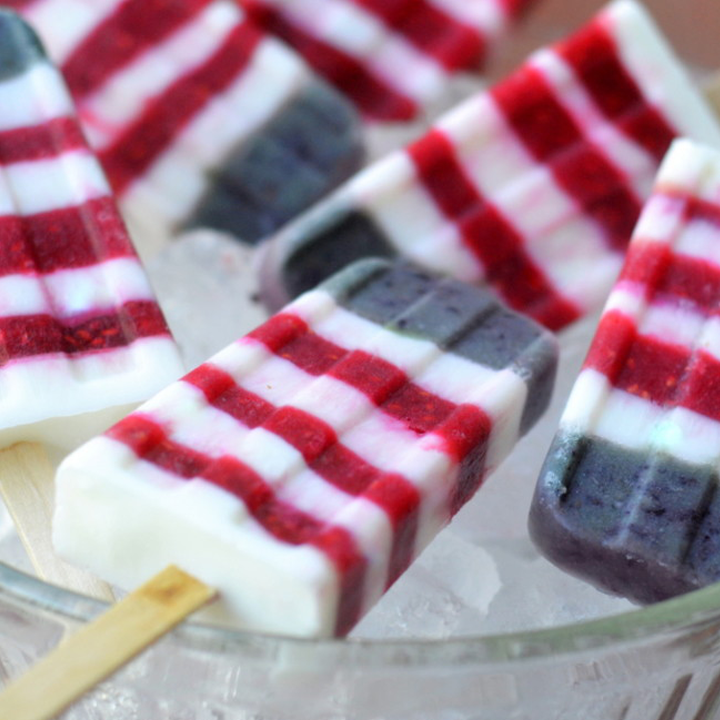 Made with fresh fruit and greek yogurt, these striped popsicles are a healthy and refreshing way to cool down at your 4th of July bbq. Full recipe here. (Dane's a popsicle fiend and lost his mind when he saw these… someone whip that man up a batch! 😜)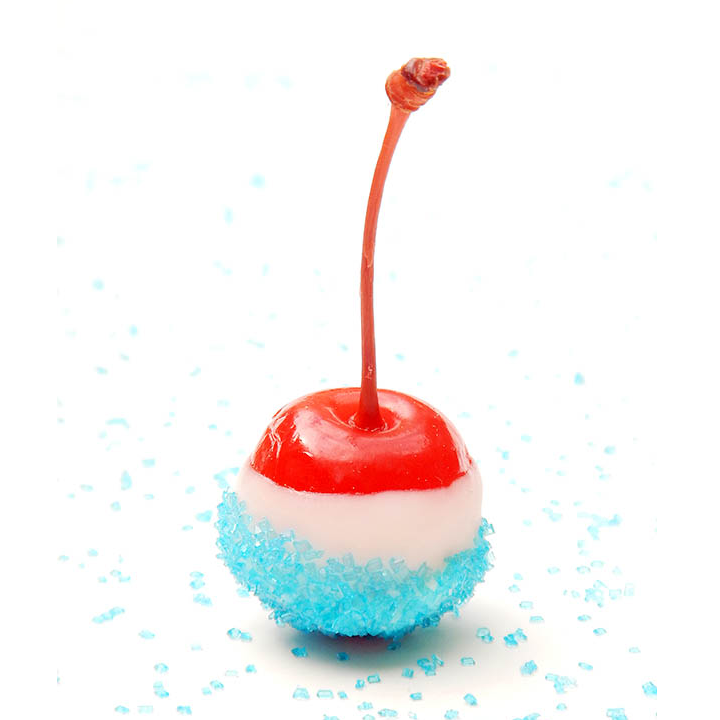 This one is for the young at heart (and to be clear, we don't mean just the young… although there are ways to make this one kid-friendly). Soak cherries in booze, dip, and voila! You will be instantly famous.
Read all the variations and have your questions answered here.

These pretty streaked meringues are a cinch to make and will stand out on the picnic table. Get the deets here.

This cake will disappear fast, I guarantee it! 3 layers of fluffy white cake with red white and blue swirling icing. The photo really says it all. Read about the backstory and how-to here.

You're going to want to kick back and drink this on the 4th of July AND for the rest of the summer. A fresh take on a classic drink. Beautiful photos and all you need to know here.

Delight and feed a crowd with this black olive spangled banner and cherry studded flag! Yup. You definitely want this one in the mix. All you need to know here.
No matter what you get up to, we hope you are surrounded by friends, family, and something red, white, and blue!
So whether it's watching the fireworks display, having a bbq in your backyard, or heading out for a picnic… enjoy your life, liberty, and the pursuit of happiness! ✌️