Smart travelers know…
…it's good practice to:
#1. Bring some cash along, in addition to your bank & credit cards, and:
#2. To stash that cash in several different places.
In the worst-case-scenario and your stuff is lost or stolen while traveling, you won't be totally screwed because in a world where paying with plastic is the norm, cash is still king and will not fail you in an emergency.
Before we dive in, let's review some Do's & Don'ts of traveling with cash:
Travel Cash Do's & Don'ts:
Do's:
• Bring cash in the local currency of the place you're visiting and get it before you go (hitting a foreign ATM can cost you a lot more)
• Carry smaller bills (don't go around showing the fact you have big bills)
• Use a money belt (but don't treat it like a backpack) Need one? You're in luck!
Don'ts:
• Don't keep your wallet in your back pocket
• Don't store your ID, cash, credit cards, and bank cards in one place
• Don't use secluded ATMs
Cash Perks (Other reasons why cash rules):
Just in case you needed further encouragement, think of how many ways cash comes in handy while traveling:
• Makes splitting bills a breeze
• Tip the proper way: rule #1 of tipping abroad is doing it in the local currency (read more about travel tipping here)
• You're never hooped when the ATM/credit card machine is down (or you can't find one)
• Shops, street vendors and places off the beaten path are not guaranteed to accept your plastic cards
Ok, now that you got your cash… where's your stash?
Here are 11 secret hiding places to tuck away your cheddar while traveling that you may not have thought of: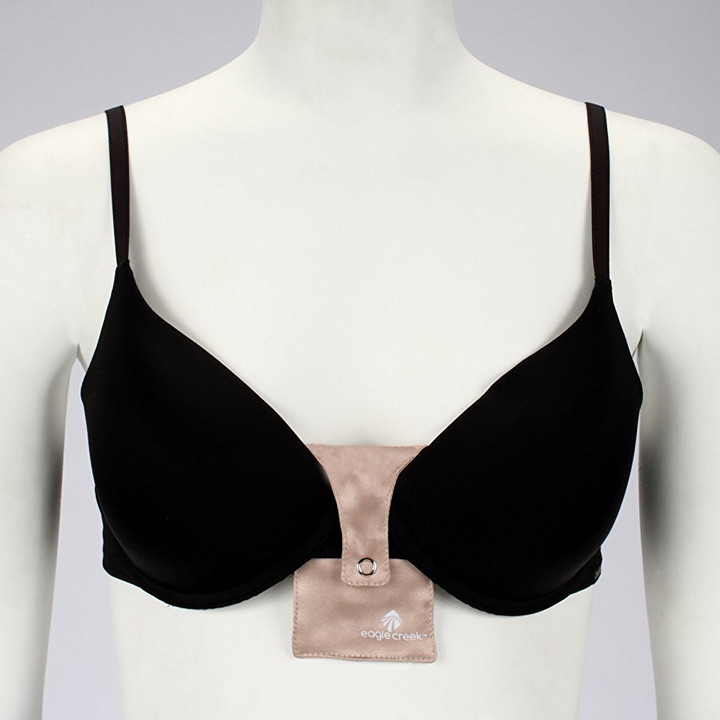 One for the ladies! This handy silk pocket snaps onto your bra and BAM! – you've got your bills out of sight. It's small, discrete and the perfect stash for some emergency cash.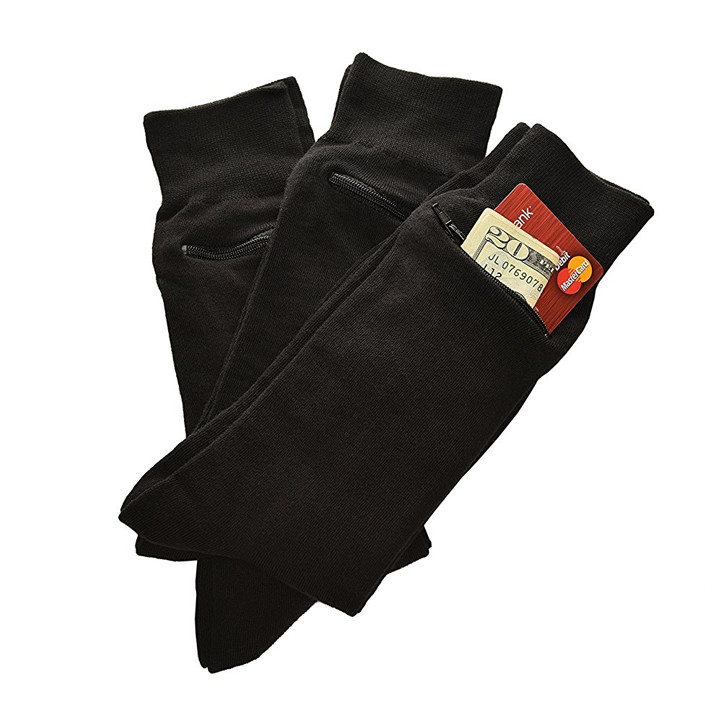 These unisex socks are a step above just shoving cash into the bottom of your shoe (although that isn't a horrible idea in a pinch). Use these sock pockets to conceal money, cards or small valuables.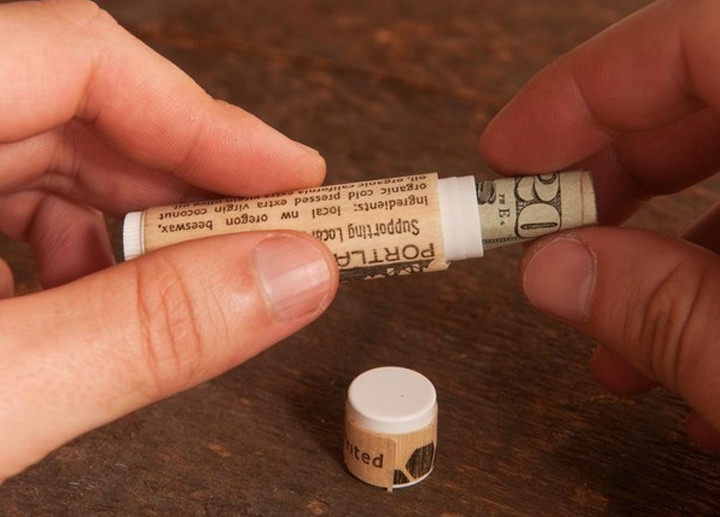 A few simple steps and you can transform an ordinary lip balm container into a mini storage safe!
Find all the steps to make your own here (thank you, Chris, from ManMade!). This solution is exactly what you want in a secret hiding place for your travel cash: small, light and inconspicuous.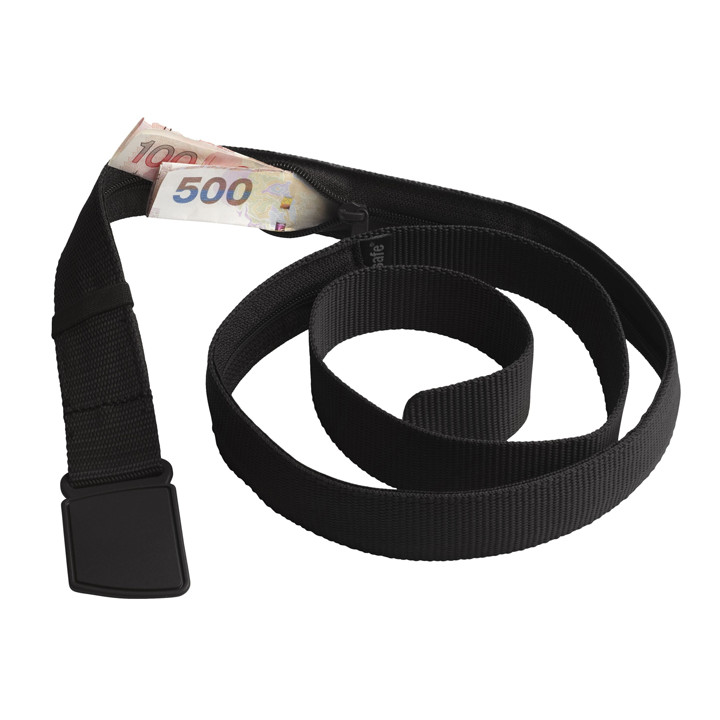 This anti-theft wallet is a different take on the classic money belt because this one will hold your pants up!
A zipper lines the inside of it revealing the perfect sized pocket for holding some bills, emergency numbers and any other small valuables you want to keep out-of-sight. It's also metal-free so there is no worry about setting off security alarms in the airport.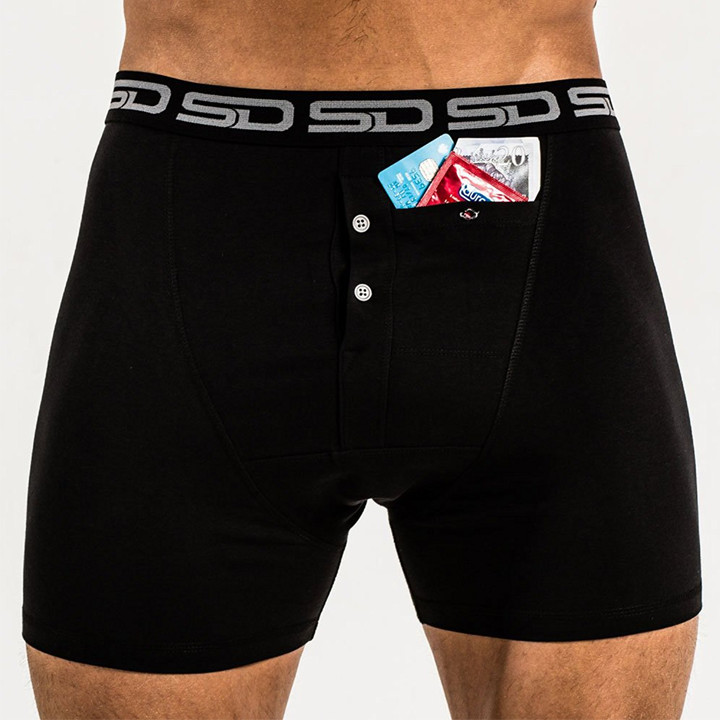 Smuggling Duds is a fun loving brand but they are not messing around with their secret pockets!
They have patented their Stash Pants (hard wearing utility underwear) and take concealing your valuables very seriously. Crotch pockets (with options for men and women) are designed to hold money, cards, and anything else you want to keep close to the family jewels.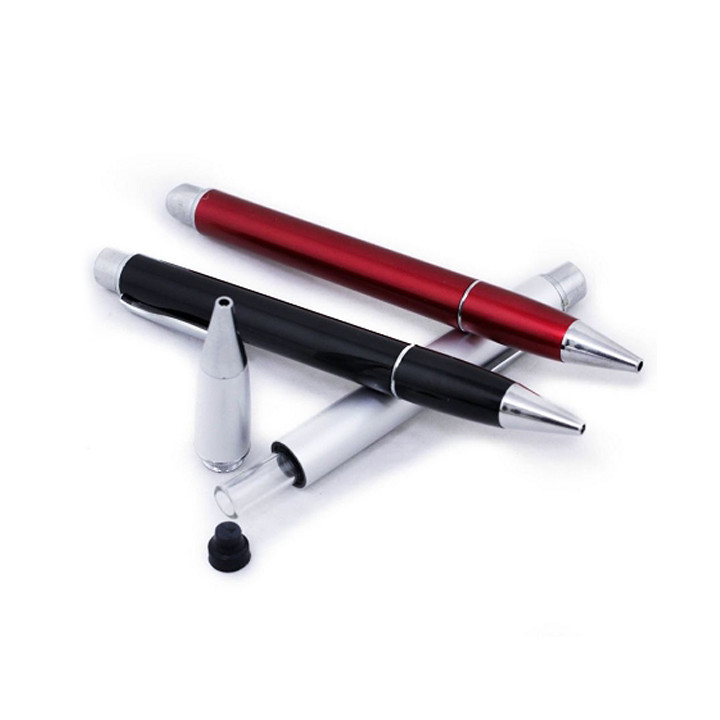 The Diversion Pen Safe Container is a real working pen with a second job as a security guard for the secrets inside. A tiny glass vile is accessed by screwing apart the pen.
You can also make a DIY version that works in a similar way. Instructables has an excellent tutorial here (Thank you Brennn10!) that will explain how to make your very own pen safe. Roll up some banknotes, pop 'em in, and you're good to go.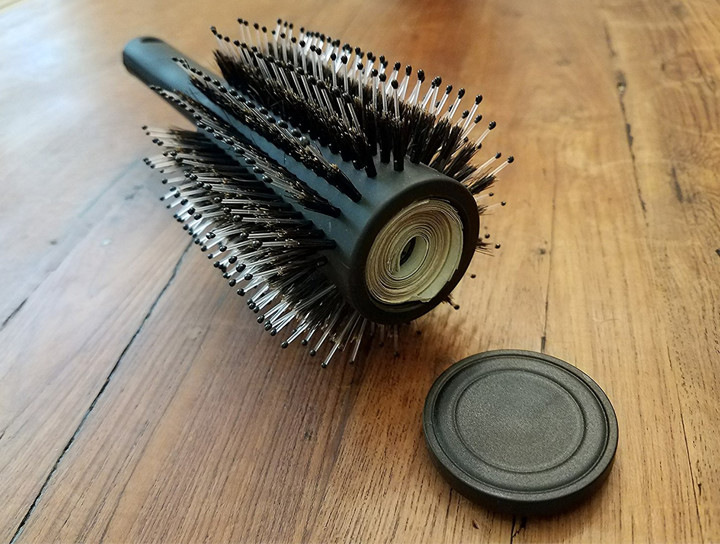 Comfortably stuff the body of this brush with 30 rolled bills! Have your cash concealed in plain sight diversion safe style.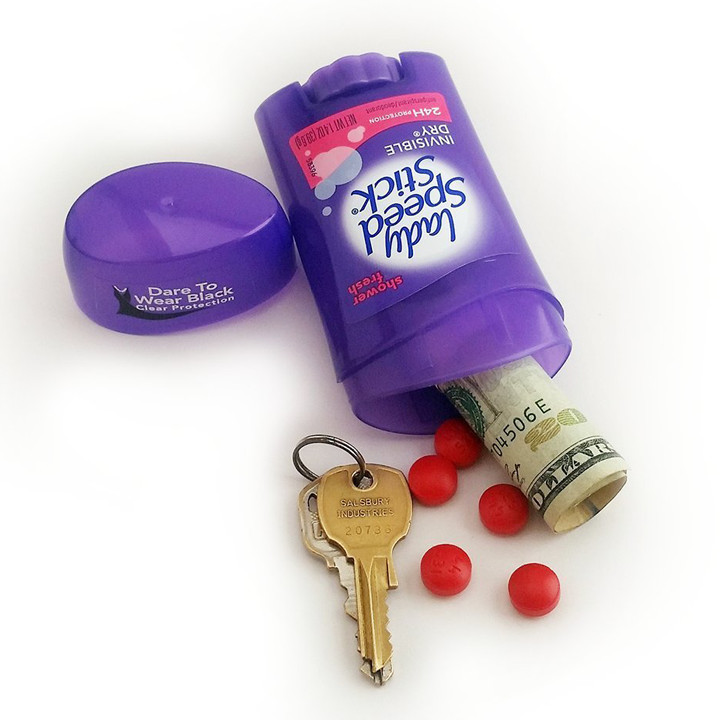 Another great diversion safe that's perfect for travel. What thief is going to rummage around looking for your used deodorant expecting to find cash and valuables? I would guess none.
Feel confident that your most important trinkets and emergency cash are camouflaged from criminals with this Speed Stick Diversion Can Safe Stash.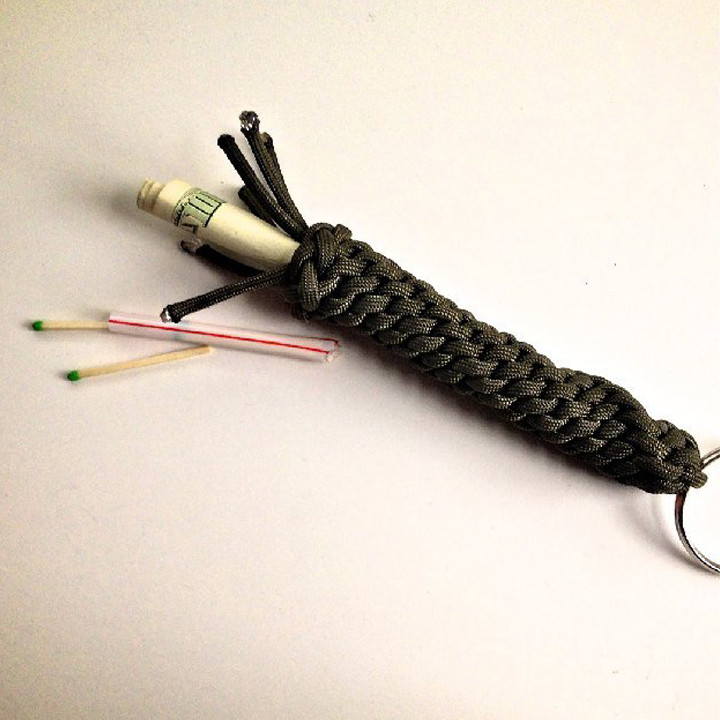 A fun little project that weaves a length of paracord into a keychain fob with just enough room for a few matches and a rolled 20. Read all about it here.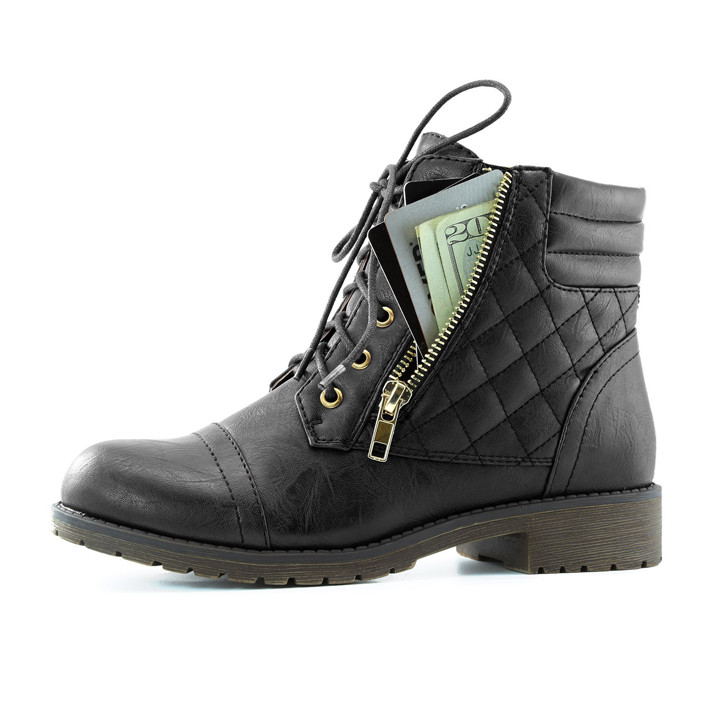 Stylish and functional ankle boot cleverly disguises a pocket as a side zipper. It really looks like just a part of the shoe design. Pocket measures 2.5-inches by 4-inches allowing it to hold credit cards and keys if you feel like it.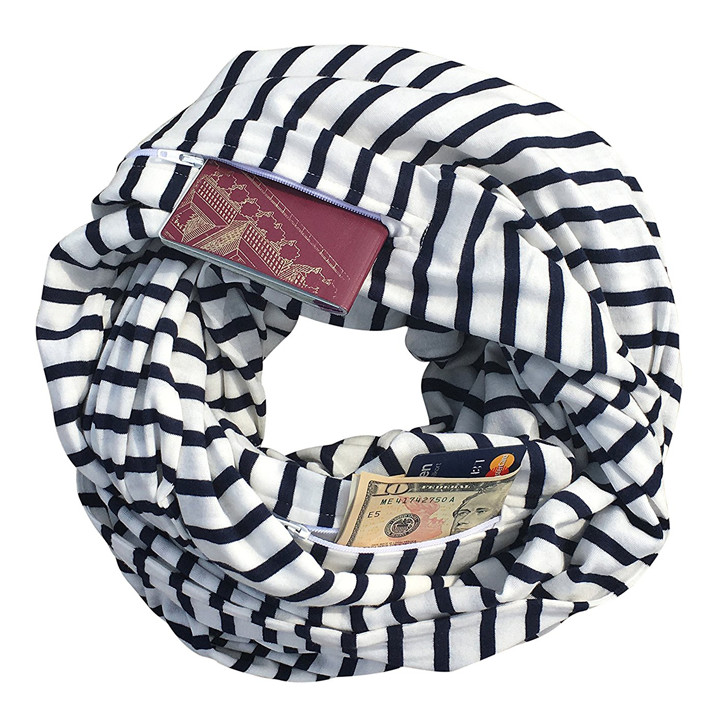 A scarf on its own is a great item to bring along on a trip. It can be used as a make-shift pillow, blanket, umbrella, the list goes on.
And a scarf with a zippered pouch? You'd be silly not to have one. Use is for your secret cash stash and anything else you need on you but you don't want to flaunt to the world.
We hope this list inspires you to get creative with stashing your cash while on your travels!
It's better to have it and not need it than be caught in a situation where you need it and don't have it…
What are your cash-carrying strategies while traveling? Have you used any of the above? Have any that need to be on our radar? Comment below!