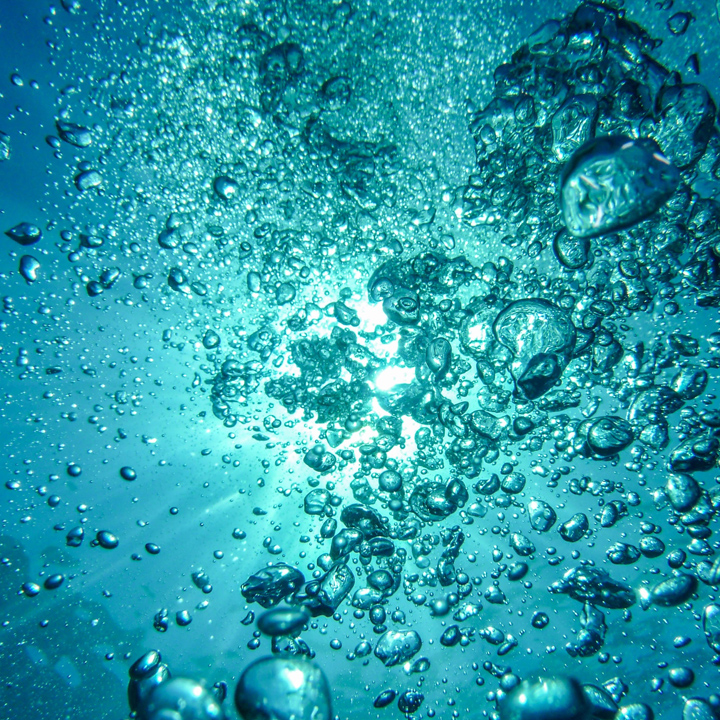 Slip and slide all day or grab a tube and float on a lazy river.
Water parks are a great way to spend lazy days in the sun or get your heart pumping with thrilling adventure. The biggest water parks in the world are sure to make a splash on your next vacation.

Water theme parks are incredibly diverse. Indoor, outdoor, slides, rafts, lazy rivers, and all the water fun you can imagine. Your options are endless. Gather with friends or splash around with your family.
Check out our guide to 12 of the top rated and biggest water parks in the world. 🌊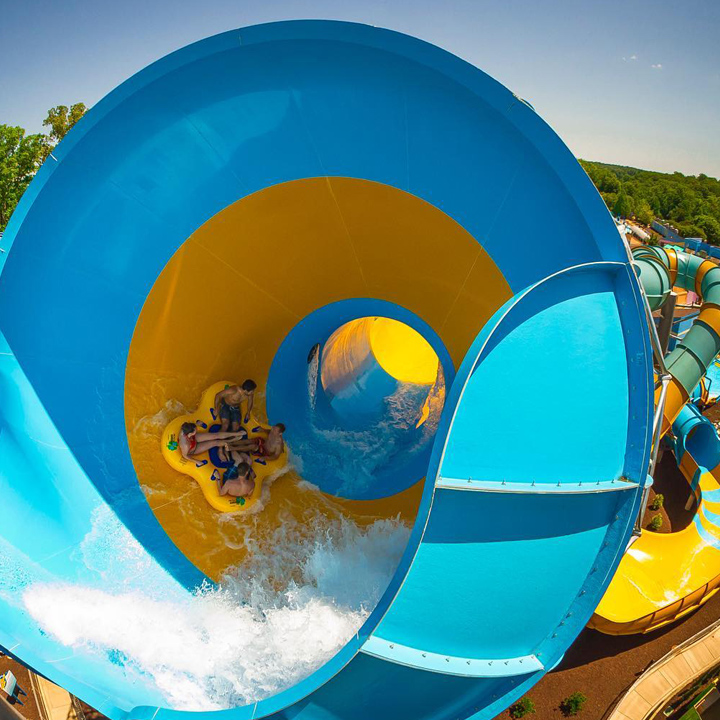 Water Country USA, located in Williamsburg, Virginia, is the largest water park in the mid-Atlantic section of the U.S. Owned by Seaworld, the park offers live entertainment, shops, restaurants, water rides, and other family attractions. Bonus: this park is just a few miles away from Busch Gardens, a popular amusement park in the area.
While there is something for everyone, we recommend checking out a few of the parks super cool rides. The Aquazoid is a raft slide that has open and enclosed sections, and the enclosed sections are almost pitch black – talk about a thrill. The Cutback Water Coaster is Virginia's first water coaster featuring 5 flying saucer turns(quick)  and it's opening in 2019.
Wild Wadi Park in Dubai, United Arab Emirates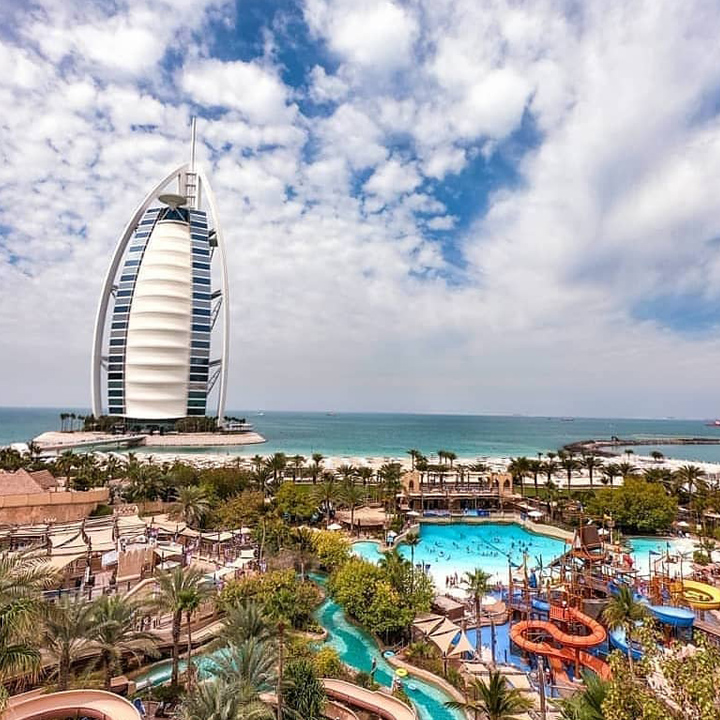 Wild Wadi Park in Dubai is an outdoor water park that features over 30 attractions, a wave pool, and artificial surfing machines. At one point, Wild Wadi Park had the largest water slide outside of North America, but it was removed to include other attractions. The park is home to a 59-foot waterfall that goes off every 10 minutes!
We recommend you check out Breakers Bay, the largest wave pool in the Middle East or Wipeout and Riptide, which is only one of four in the world. This attraction "works by shooting out more than seven tonnes of water per second in a thin sheet across a molded foam structure, producing a realistic wave effect ideal for body-boarding and knee-boarding," according to Wild Wadi Park's website.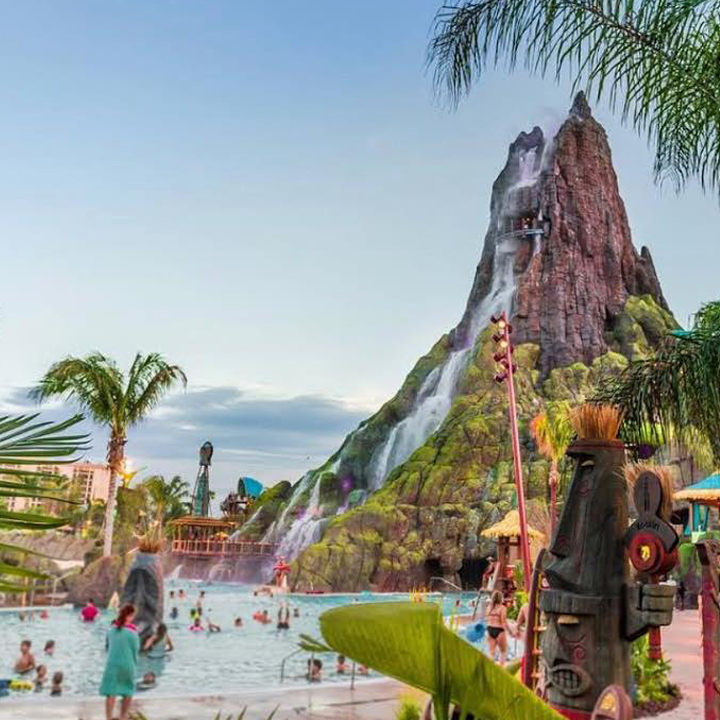 Universal Studio's Volcano Bay in Florida is themed around a 200-foot volcano named "Krakatau." The park features body slides, drop slides, a winding river, beach, and raft rides. The park claims that "thrills and relaxation flow in perfect harmony." It is home to the tallest body slide in America, at 125 feet tall.
This water park makes it super convenient to hold your place in line instead of standing in long lines for rides or slides. It utilizes the TapuTapu experience, which is a waterproof wristband that holds your physical place in line, allows users to pay for merchandise, food, and drinks throughout the park, and interacts with environmental features, sets off water springs, or illuminates lights.
Siam Park in Tenerife, Canary Islands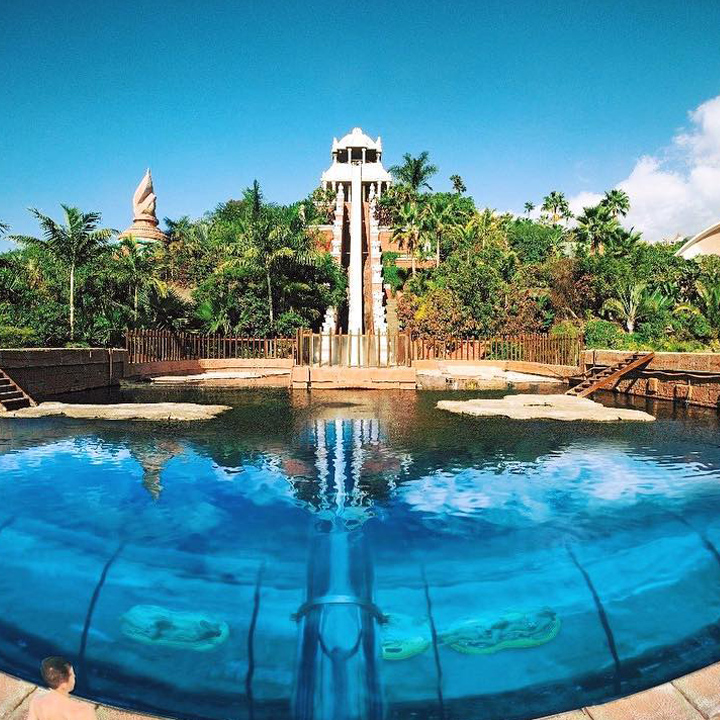 Siam Park is a water park located in Tenerife, of the Canary Islands. It claims to be the best water attraction in Europe. The park has 25 Thai-themed buildings, making it the largest collection of Thai-themed buildings outside of Thailand. To respect the royal families wishes, the designer of the park did not replicate palaces, temples, or statues of Buddha in the park.

The Tower of Power is a vertical, transparent slide and freefall, it will send you through an area with sharks, stingrays and fish. The Wave Palace is a wave pool with the highest waves of any wave pool in the world, 11 feet high. If you're not into these crazy high waves, then check out the Mai Thai River, the world's longest lazy river. Float for days!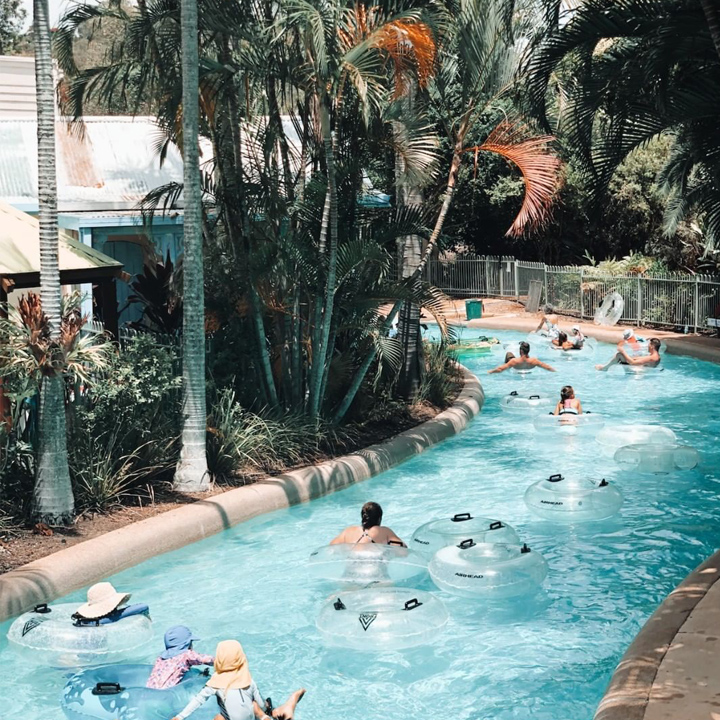 Wet n' Wild is a water park on the Gold Coast, located in Queensland, Australia and conveniently adjacent to Warner Bros. Movie World, a movie-related park. This water park is open year-round and provides heated pools and slides during the colder months.

Kamikaze is two U-shaped half pipe slides which are wet through a water channel, which reduces friction for riders. The ride launches you down a steep slope before coming back up to the other side, and it continues in this boomerang-like fashion until the tubes run out of speed and momentum.
Another popular attraction in this water park is the Blackhole. This ride features two enclosed tube slides twisting around one another. Riders reach high speeds as they go down and are immersed in complete darkness.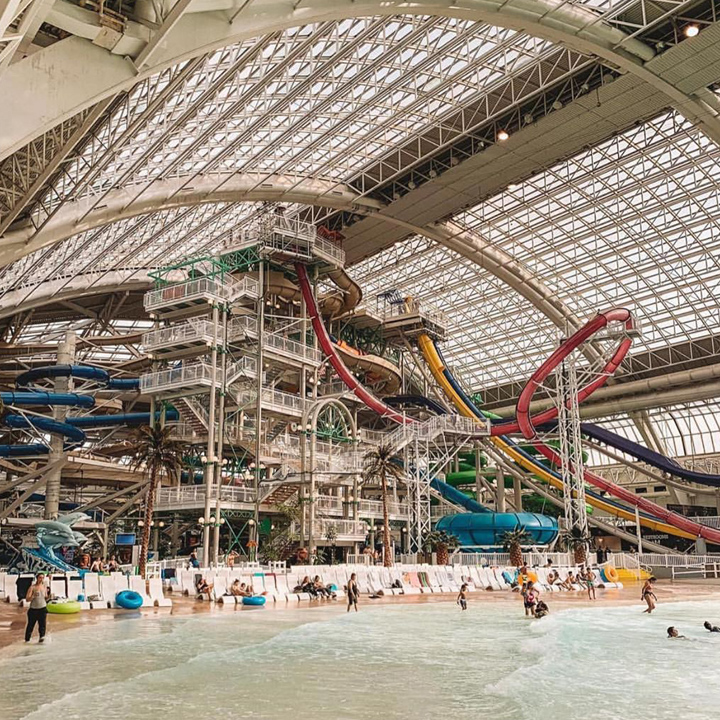 World Waterpark in Canada opened in 1986 and is one of the largest indoor water parks in North America – with a holding capacity of about 5,000 visitors. It's also home to the largest wave pool at an indoor water park. The infamous wave pool, The Blue Thunder Wave Pool, has four wave bays, each powered with horsepower. You'll find visitors floating on rafts, tubes, and just themselves.
The slideboarding slide is for both swimmers and gamers alike, it is combined with a video game. Players can score points by matching the colored lights to the buttons on their boards and unlock new levels.
Area 47 in Tirol, Austria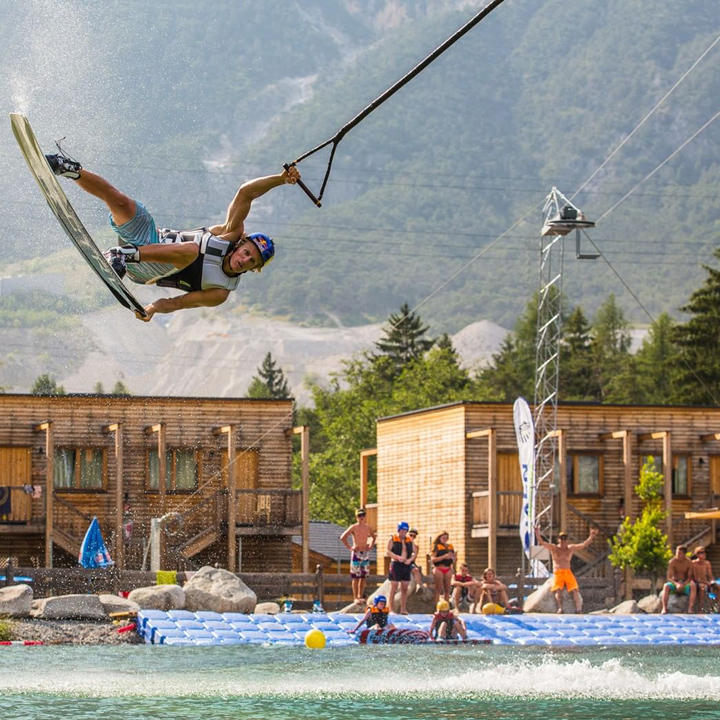 Area 47 is an amusement park and water park located in Tirol, Austria. The park is divided into several different sections including the water area, climbing area, wake area, outdoor area, and offroad area. Over 40 sports are available for fun at this park nestled in the Oetztal valley.
The water area includes a slide park with five slides, a wakeboarding facility, blobbing, cannonball, surf slide, slipn'slide, freestyle ski jump, deep water soloing, and beach playground. Wakeboarding at a water park nestled in an Austrian valley?! Count us in!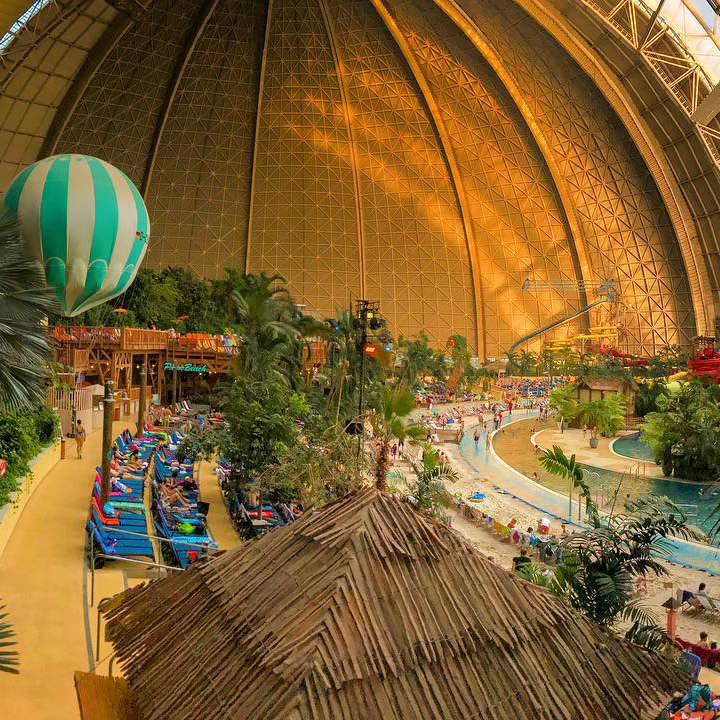 Tropical Islands Resort is a tropical theme park located in Brandenburg, Germany. This park is housed within a former airship hangar, making the dome-shaped building a unique destination for water park fun. This park holds the world record for being the world's largest indoor water park, it can hold up to 8,200 visitors a day.
As an indoor water park that stays about 78 degrees Fahrenheit year-round, the park features the world's biggest indoor rainforest, a beach, tropical plants, pools, bars, and restaurants. The different theme areas include The Tropical Village, The Rainforest, The Tropical Sea, The Bali Lagoon, and The Amazonia. The Tropical Village includes copies of traditional buildings from Thailand, Borneo, Samoa, and Bali. Tropical Islands Resort is an indoor oasis that can take you away to foreign lands. 🌴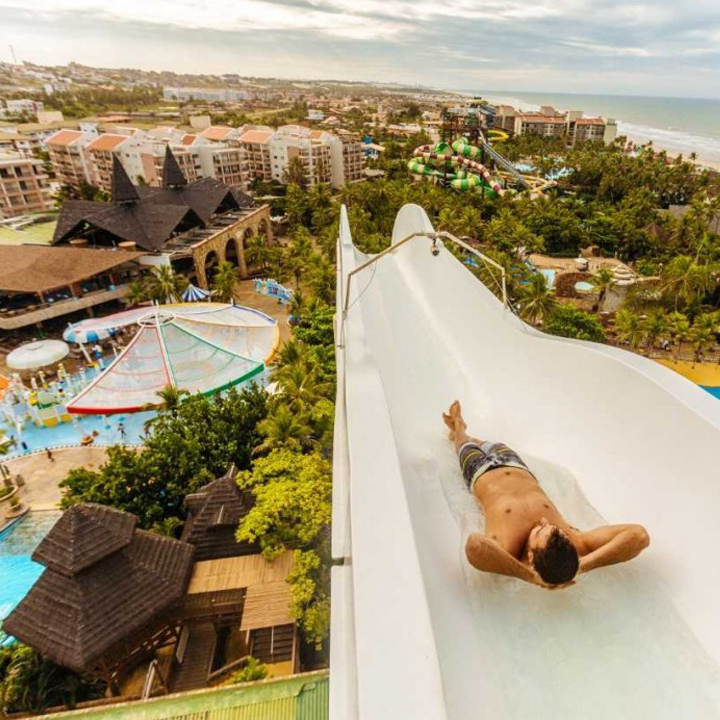 Beach Park is located on the beach of Porto das Dunas in Brazil. It is the largest water park in Latin America, a very popular destination because it includes four resorts: Beach Park Suites Resort, Oceani Beach Park Resort, Beach Park Acqua Resort, and Beach Park Wellness Resort.
At Beach Park,  Acqua Circo (Water Circus) features cannons, jets, showers, fountains, slides, tunnel, fixed peddle boats, and seesaws. A shallow central pool is covered by two tarpaulins, represents a circus big top and provides shade/protection from the sun. The Acqua Show features a giant bucket that drops 1,800 liters of water at a time. Arrepius includes The Skybox, a transparent capsule situated 25 meters above the park, which descends when the capsule floor opens by the press of just one button.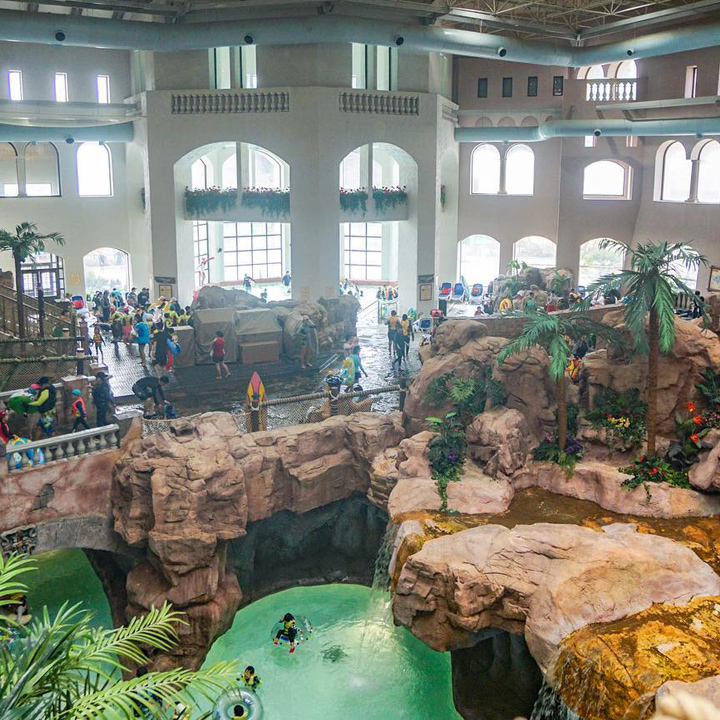 Caribbean Bay is an indoor/outdoor water park located in South Korea. The park includes a wave pool, the world's Longest Lazy River, a Sandy Pool, a Wading Pool for young children, water slides, and a Salt Sauna.

Tower Bumarango is one of the most extreme water attractions in all of South Korea's water parks, tubes slide down a 90-degree slope. The park features tons of slides, climbs, buckets of water, and a lazy river.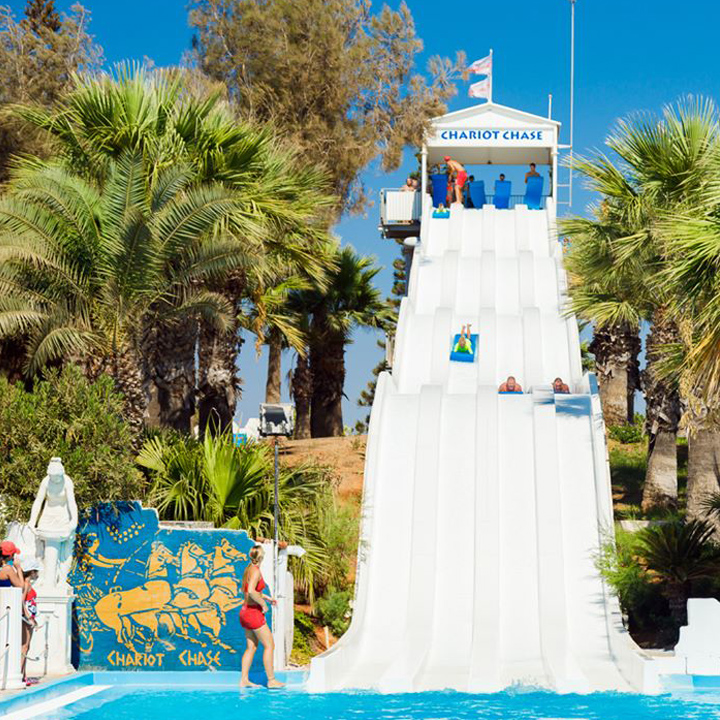 Waterworld Waterpark is Europe's biggest theme water park. Located in Ayia Napa, Cyprus, an island in the Eastern Mediterranean. While this island is culturally Greek, it is not a part of Greece. However, the Waterworld Waterpark is decorated and themed with various Greek figures and gods of Greek mythology contributing to the park's slogan, "Where myth becomes reality."
The park features Aphrodite's baths, Drop to Atlantis, Pegasus Pool, Poseidon's Wave Pool, The Fall of Icarus, The Quest of Heracles, Odyssey River, and Trojan Adventure. The park combines drops, slides, flumes, slippery slopes, and pools to bring you to a Greek oasis.
Yas Waterworld in Abu Dhabi, United Arab Emirates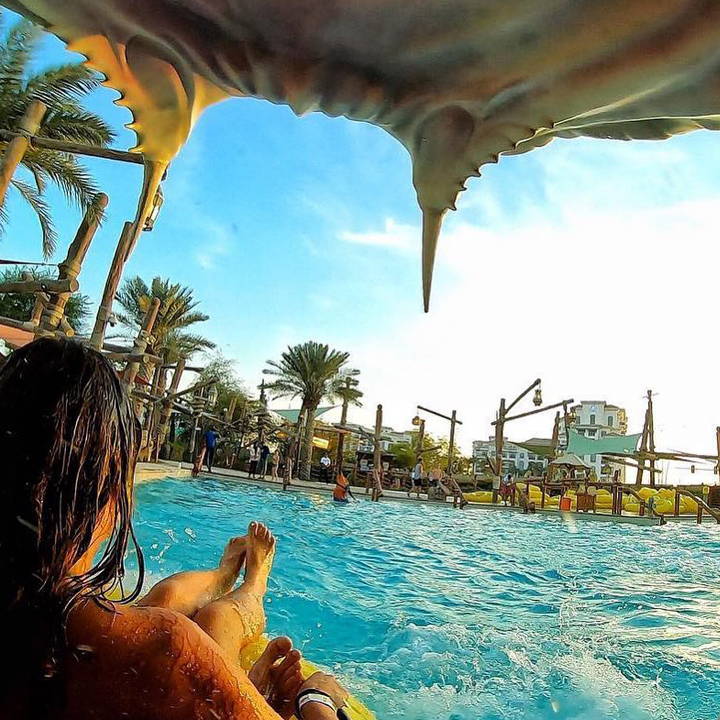 Yas Waterworld is an Emirati-themed water park located in Abu Dhabi of the United Arab Emirates. While this park features many slides, rides, and rivers, it has one unique experience we know you won't forget. Go to the waterpark and the movies! 
The Cinesplash is a 'water cinema' in which the Legend of the Lost Pearl is told through an immersive 12-minute movie featuring water and lighting effects. The Legend of the Lost Pearl is where the park gets its theme.
Now that you have seen our list and learned a little bit more about our world's water parks, which part of the map are you flying to next? Did we miss any? Leave us a comment below!