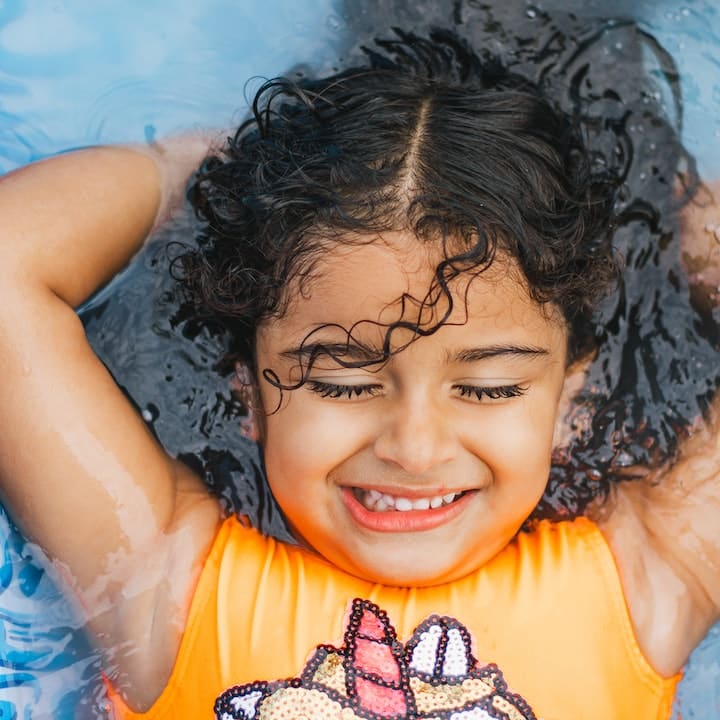 Traveling as a family can be more challenging. You have to plan more, pack more, and spend more (usually). It can also be difficult to decide where to go and what activities you'd like to partake in as a family, depending on how old the kids are.
We know going away for a weekend and spending time at a hotel can easily become a not-super-kid-friendly experience, so we've created this list of kid friendly hotels with waterparks.
Splish! Splash! Here are the 10 best kid friendly hotels with waterparks.
1. Canad Inns Destination Centre Grand Forks
📍Grand Forks, Canada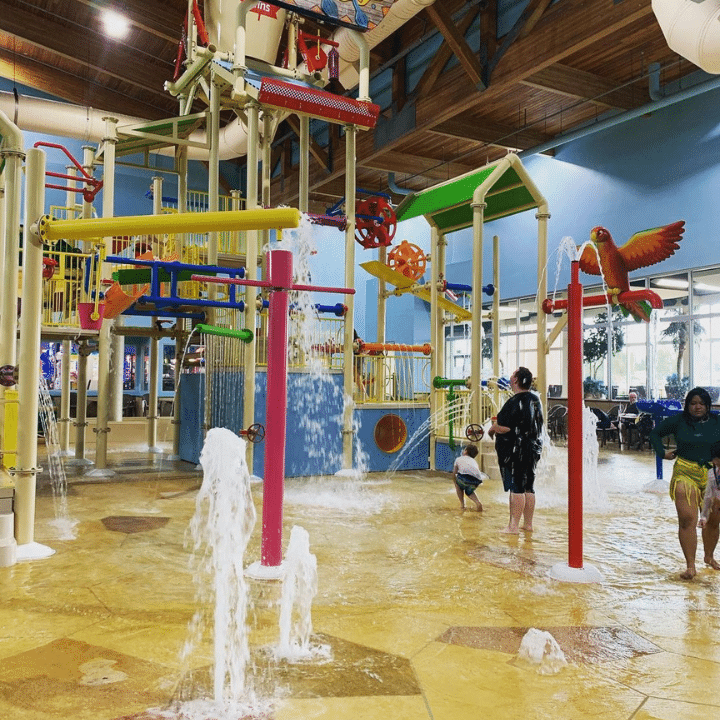 At Canad Inns in Grand Forks, your kids will love playing the arcade games while they enjoy Garbonzo's famous pizza from Garbonzo's Pizza & Arcade. After lunch, take them to Splasher's of the South Seas, a 40,000 square foot indoor waterpark! It's got a kiddie pool, slides, activity pool, a lazy river, and cabanas. Your kids will love this! 
When The Kids Go To Bed:
Even though this is one of the best hotels for kids on our list, it does not mean it's only for kids. There are plenty of fun things to partake in when the kids are in bed. Have an evening at the bar with your sweet or head over to Playmaker's All-American Lounge, a "boutique casino." Play blackjack and enjoy food and drink in a smoke-free environment.
2. Camelback Resort
📍 Tannersville, PA, USA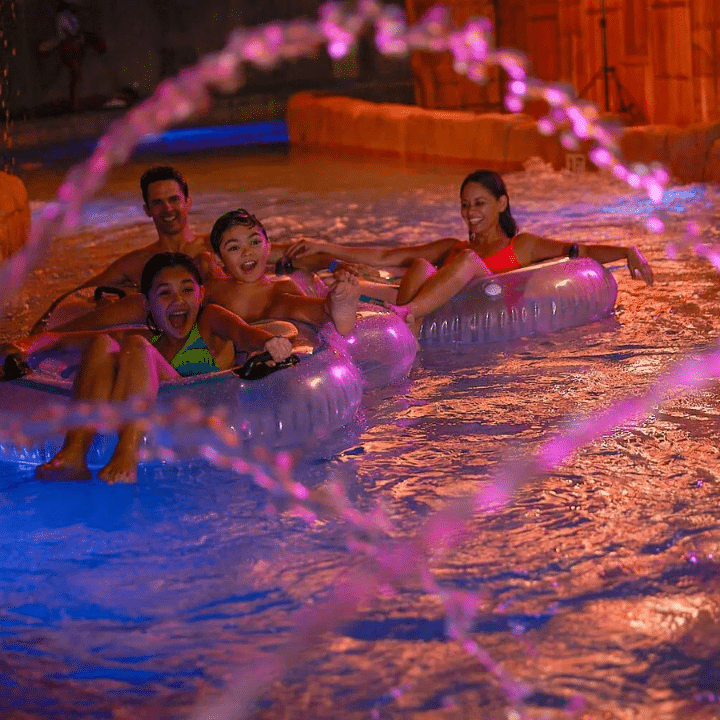 A personal favorite of ours, Camelback Resort rightfully earned its spot on our list of kid friendly hotels with waterparks. Whether you're visiting the resort in winter or summer, there is a waterpark option to meet your needs!
At Aquatopia, the indoor waterpark, try out one of the 13 different water slides – tube slides, body slides, mat slides, bowl slides, kiddie slides! Relax at a nearby restaurant or go shopping. Enjoy a private cabana too!
When The Kids Go To Bed:
A stay at Camelback is fun for everyone. For the adults, you can eat and drink at one of the many restaurants in the resort. Also, there's tons of fun games and activities to try. Inside, there's laser tag, rock climbing, an arcade, a ropes course, and more.
3. DoubleTree by Hilton Boston North Shore
📍 Boston, MA, USA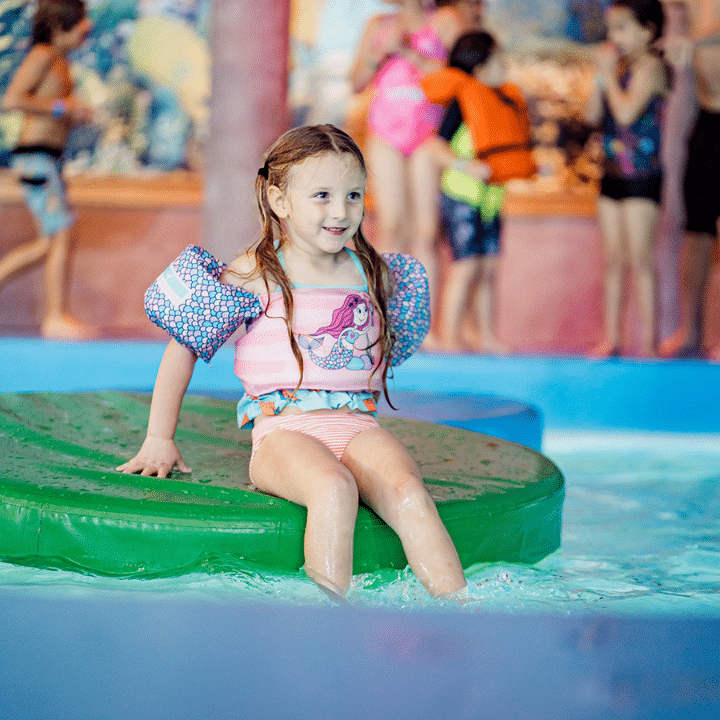 You can purchase packages for this waterpark when you book a stay here! Voted New England's most popular waterpark, Water Park of New England has everything you need for an adventure filled day with your family.
This park features a water-filled jungle gym with shorter open top slides, water cannons, and a huge bucket for kids of all ages! There's a lazy river, a zero depth entry pool for the youngest ones, an outdoor splash pad, 4 thrilling raft waterslides, and so much more.
When The Kids Go To Bed:
As we gathered this list of kid friendly hotels with waterparks we promised we would find fun things for the adults too. You'll stay at DoubleTree by Hilton Boston North Shore, and relax with the on-site fitness center, pool, full-service spa, and recreational game room.
4. Hyatt Regency Scottsdale Resort & Spa at Gainey Ranch
📍 Scottsdale, AZ, USA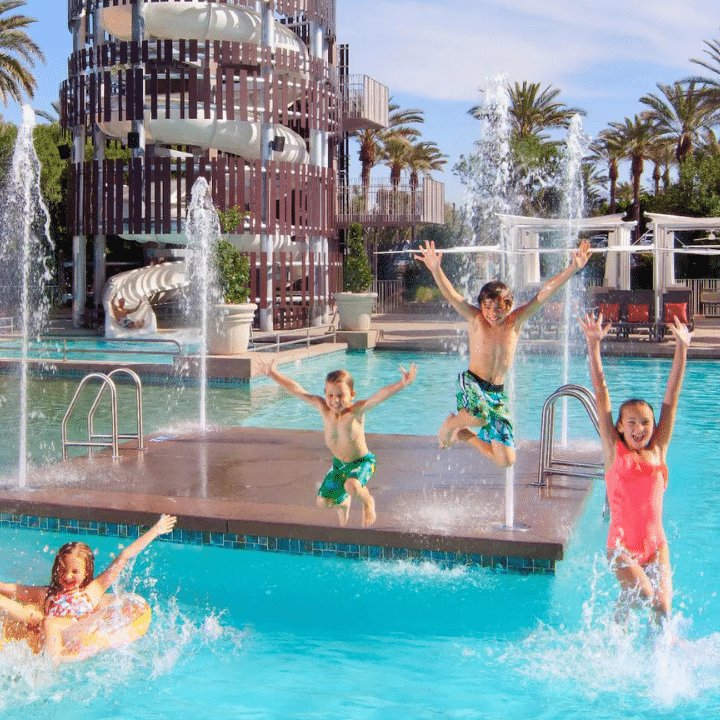 The next spot on our list of kid friendly hotels with waterparks goes to the Hyatt Regency Scottsdale Resort & Spa at Gainey Ranch. Now, it is not a traditional hotel + waterpark type of stay, it's more of a resort, but we would be remiss if we didn't include it here.
This beautiful desert oasis in Scottsdale, Arizona, has something for everyone to enjoy and relax while visiting the Valley of the Sun. Here's what caught our attention: "Splash into our 2.5-acre water playground complete with a sand beach and 3-story, high-speed waterslide, learn key golf techniques from a professional, enjoy your favorite music with nightly entertainment or relax in Spa Avania's Himalayan Salt Room."
When The Kids Go To Bed:
While the kids enjoy this gorgeous waterpark, you will enjoy the spa and salt room, live music, relax in the Grecian-style water temple, play golf, enjoy a meal together or have a cocktail, rent a cabana, and go rock climbing.
5. Arizona Biltmore, A Waldorf Astoria Resort
📍 Phoenix, AZ, USA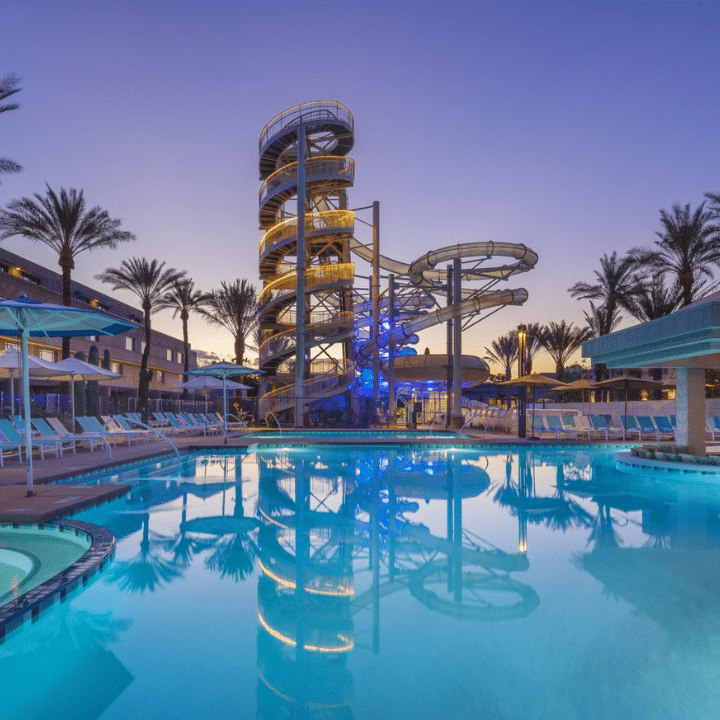 Another less traditional hotel + waterpark combo, the Arizona Biltmore combines glamour, playfulness, and design. This hotel offers seven sparkling pools, including a Paradise Pool with a 65-foot triple "The Twist" water slide and a children's splash pad. Additionally, the resort offers daily family yoga, lawn games, and live music. 
When The Kids Go To Bed:
Adults will love the 15 luxury, air-conditioned private cabanas to relax in, Tierra Luna Spa and Sol Garden, pickleball and tennis courts, history tours, live music at the bar, state-of-the-art fitness center, retail shops, and seven dining options.
6. Glenwood Hot Springs Resort
📍 Glenwood Springs, CO, USA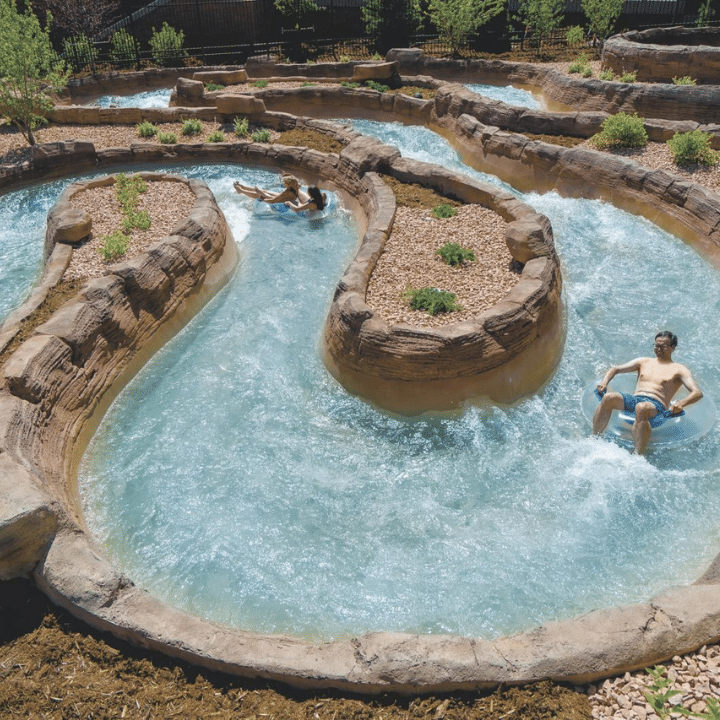 Kid friendly hotels with waterparks are not typically in the most remote places, but Glenwood Hot Springs Resort wants you to think about it a little differently. On the site, the resort says, "Welcome to a place as remote as you want it to be," and we find that to be incredibly relaxing.
Families have been visiting this resort since 1888. But the coolest part about Glenwood is that it is home to the world's largest hot springs pool and it's open year-round from 9am-9pm. The kids will be occupied for hours at the Sopris Splash Zone, which features a whitewater river open air tube ride, a children's play area with three mini-water slides, and the Grand Fountain.
Psst! Your kids can take swim lessons here too.
When The Kids Go To Bed:
When the kids are off to bed or you find you have some free time for yourself, you can enjoy the therapy pool, a private cabana, go shopping, and enjoy a Wellness package – which features access to the full service athletic club where you can enjoy a wet lounge with steam room, sauna, and whirlpool.
7. Timber Ridge Lodge & Waterpark
📍 Lake Geneva, WI, USA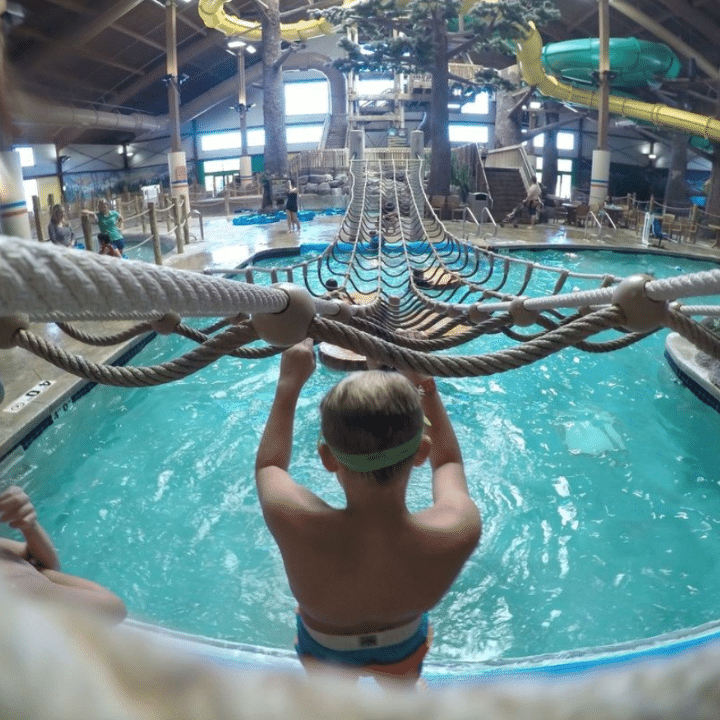 One of USA Today's Best 10 Waterparks, Timber Ridge Lodge & Waterpark at Grand Geneva in Wisconsin should be recognized as one of the best kid friendly hotels with waterparks. Just an hour from both Milwaukee and Chicago, you will find rolling hills, fountains, and golf courses in a tranquil setting!
Moose Mountain Falls Waterpark is a 50,000 square foot indoor and outdoor waterpark that is kept at a balmy 85 degrees – perfect for swimming, climbing, and the occasional moose sighting! Your kids will love this place, no matter their age.
There are safe zones for your littlest littles and more adventurous zones for the older ones. You can bring them to the arcade and mini golf too!
When The Kids Go To Bed:
Play mini golf with your sweetheart or play golf on one of the legendary courses in the area. At this lodge, the kids call the shots, but we know you'll have fun too.
8. Gaylord Opryland Resort & Soundwaves
📍Nashville, TN, USA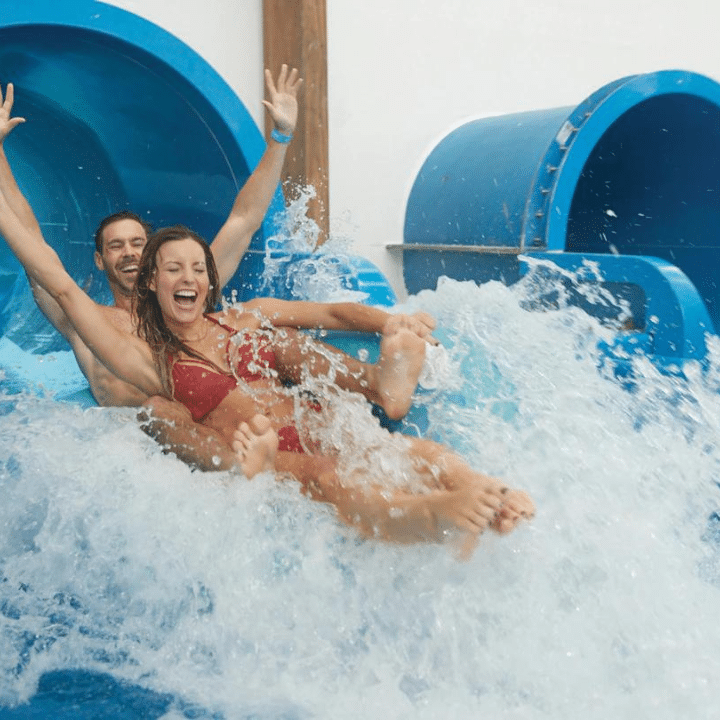 Nashville Opryland Hotel Resort and SoundWaves is fun for both the kids and the adults! The rooms of this hotel are built around 9 acres of indoor garden atriums – so beautiful and relaxing! You'll forget what season or time of year it is. Even cooler – you can request a room that overlooks one of the gardens, and some have patios that you can walk out onto from your room.
There's lots of seasonal programming to take advantage of. The best way to describe this waterpark comes directly from the site, "Shake off your preconceptions and expectations and get in tune with the nation's first truly upscale indoor/outdoor resort water attraction. SoundWaves at Gaylord Opryland Resort in Nashville is a unique indoor waterpark for hotel guests that unites extraordinary environments, exclusive amenities, and relaxing water features.
Discover energetic rides, winding wave pools, immersive music, and an extraordinary oasis for visitors of all ages to enjoy." Sounds pretty cool to us! Also, it's 111,000 square feet of fun.
When The Kids Go To Bed:
Even at kid friendly hotels, there's plenty for the adults! There are adults-only areas in the waterpark, an arcade with VR and rock climbing, indoor and outdoor seasonal cabana rentals, restaurants, bars, and more. Plus, there's lots to do in the surrounding area of the hotel too.
9. The Kartrite Resort & Indoor Waterpark
📍Monticello, NY, USA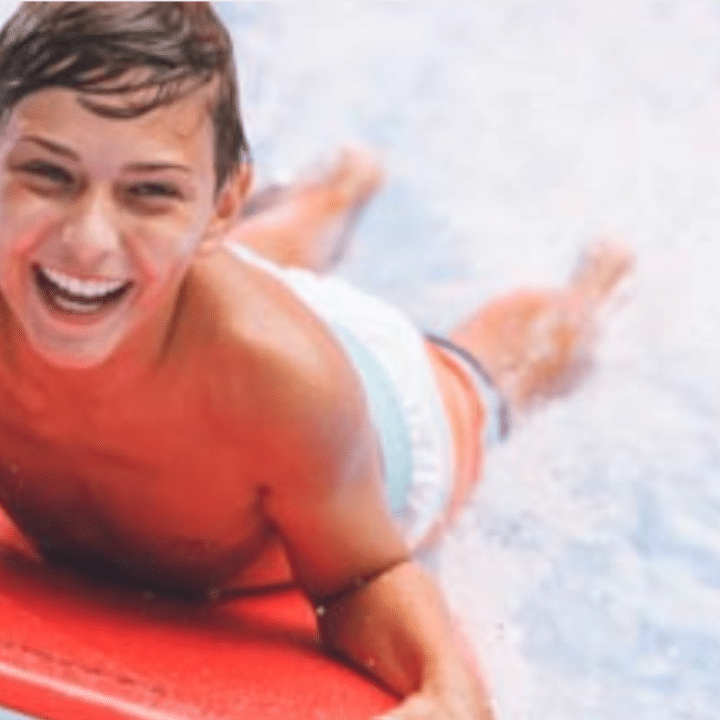 Next on our list of the best kid friendly hotels with waterparks, is New York's biggest indoor waterpark! The Kartrite Resort & Indoor Waterpark is a state-of-the-art, modern indoor waterpark. Here, enjoy an 84 degree summer oasis all year long.
The park features water slides for all ages, a lazy river, splash playgrounds, and more. Indoor adventures include bowling, climbing, a 3D adventure, arcade, VR, and lasertag.
When The Kids Go To Bed:
When the kids go to bed, keep splashing in the waterpark, take a fitness class, check out hiking,, or local attractions.
10. Great Wolf Lodge
📍 Niagara Falls, ON, CA
The Great Wolf Lodge in Niagara Falls wants you to "arrive as a family and leave as a pack." We love that! And we know you'll love this place! There are endless activities including an indoor waterpark, mini golf, arcade, the Great Wolf Stuffing station, laser tag, and bowling. The indoor waterpark has plenty of attractions for toddlers, children, teens, and adults too.
When The Kids Go To Bed:
Relax in the lazy river or soak in one of the whirlpool hot tubs. Enjoy a meal with your sweet or cozy up in your cabin.
Need more ideas for a family vacation? Here are 11 family summer vacation ideas for every type of family. Check out the 12 top-rated and biggest waterparks in the world!
Now that you've seen our guide, are we missing any hotels you love? Leave us a comment below!