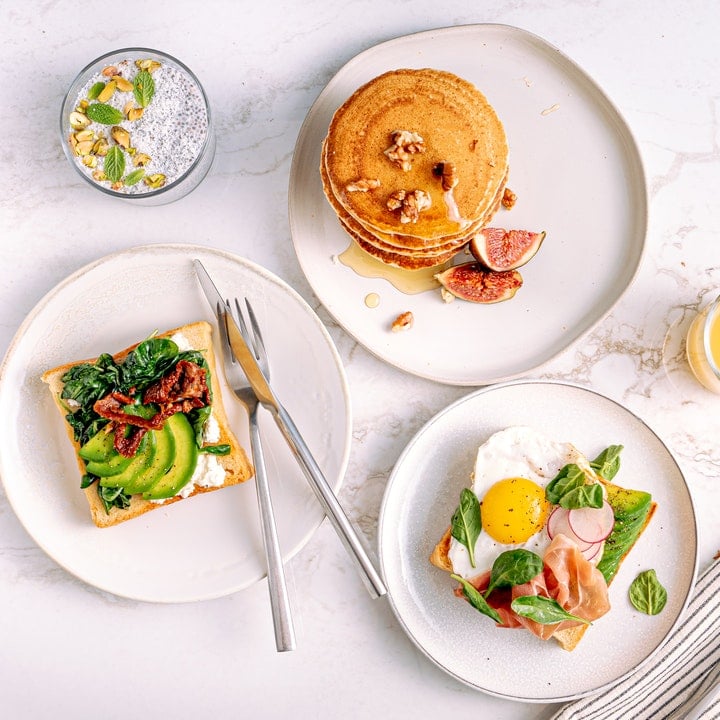 Whether you're starting the day with your favorite source of protein like eggs, a classic stack of pancakes, or something completely different, breakfast is, for many, the most important meal of the day.
When you visit another country, have you noticed that breakfasts around the world are always a little different? We have too! So we created a list of the different ways the meal is enjoyed.
Psst! We've also started each section with how to say hello or good morning in that country. 🙂 
Ready to eat your way around the world? Here are 52 traditional breakfast dishes from around the world.
Antarctica
Morning! Antarctica is a remote location, and it has no native food sources, so breakfast is different from many other places in the world.
In a traditional breakfast, you'll find seafood, Pemmican (a mix of ground and dried meat), Hoosh (Pemmican, biscuits, and melted ice), and sledging biscuits (made with flour, baking soda, salt, butter, and water). 
Argentina
Buenos Dias! To start our list of 52 traditional breakfasts around the world, breakfast in Argentina features two key staples: tostadas (toast) or medialunas, served with coffee and orange juice.
Psst! Argentina is home to Cafe Tortina, one of the 21 best coffee shops in the world. 
Australia
G'day, mate! The Australian "brekkie" vibe is alive and well. In a traditional Aussie breakfast, you will find farm fresh eggs, smokey bacon, grilled tomato, and mushrooms. Extras include sausages, hash browns or beans.
Psst! There's probably some Vegemite on toast somewhere, too. Check out this guide to Australia. 
Bangladesh
সুপ্রভাত! Headed to Bangladesh? You'll be chowing down on chapattis, which are wheat flour flatbreads, served with potato curry or scrambled eggs.
Brazil
Bom Dia! Headed to South America? A typical breakfast in Brazil consists of French bread, coffee, cassava, and fresh fruit. Yummy and simple! 
Canada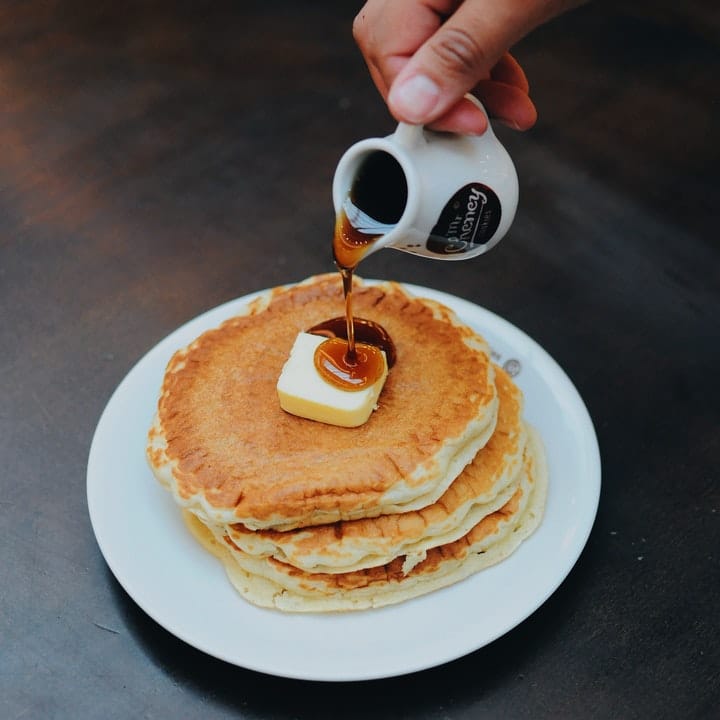 Hello! A typical Canadian breakfast includes cooked eggs, fried pork sausages or bacon, fried or deep-fried potatoes, toasted bread, pancakes, French Toast and syrup, cereal, or oatmeal. It is quite similar to its American neighbor: the USA.
Headed to Canada? Check out this guide for things to do, places to stay, and bucket list items. 
Chile
Hola! There are lots of options for breakfast in Chile. The most common items include empanadas, scrambled eggs, banana milkshakes, coffee, tea, bread with butter and jam, cured meats, curanto, avocado toast, and ulpo.
China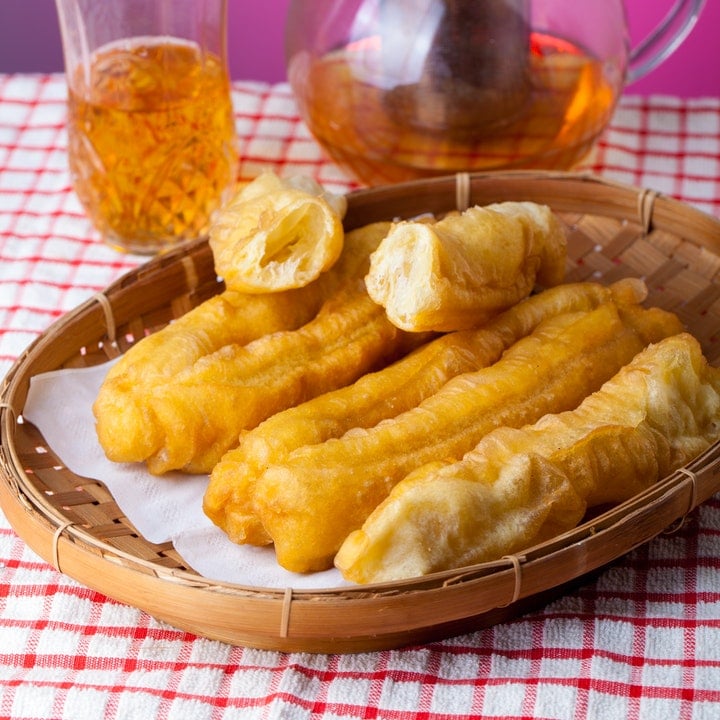 Ni hao! Ever wondered what locals in China like to chow down for breakfast? The meal features soybean milk and deep-fried dough sticks, steamed buns, tofu pudding, wheat noodles, or rice noodles!
Denmark
God morgen! Next on our list of 52 traditional breakfasts around the world is Denmark. A typical breakfast includes rye bread, eggs, and coffee. However, the "hygge" breakfast and way of life can also include granola and yogurt, grød, and sometimes fresh Danish pastries!
Dominican Republic
Hola! A traditional Dominican breakfast includes mangú (green plantains, boiled and mashed) with eggs, fried cheese, and fried salami. Our very own Dane loved this breakfast when he was sailing the world with his family!
Estonia
Tere hommikust! A traditional breakfast in Estonia incorporates black rye bread, cold meat, and cheese – usually eaten as a sandwich. Porridge is another option.
Egypt
صباح الخير A very traditional Egyptian breakfast includes Foul Medames, these are dried fava beans made into a stew with extra-virgin olive oil, salt, pepper, chili flakes, crushed garlic, lemon, and cumin. Foul Medames (pronounced like "fool") are said to have been created and eaten back in ancient times.
Finland
Hyvää huomenta! Number 13 of 52 traditional breakfasts around the world, Finland is known for puuro, an oat-based porridge that is often served with milk, berries, and some butter with sugar. Yum!
France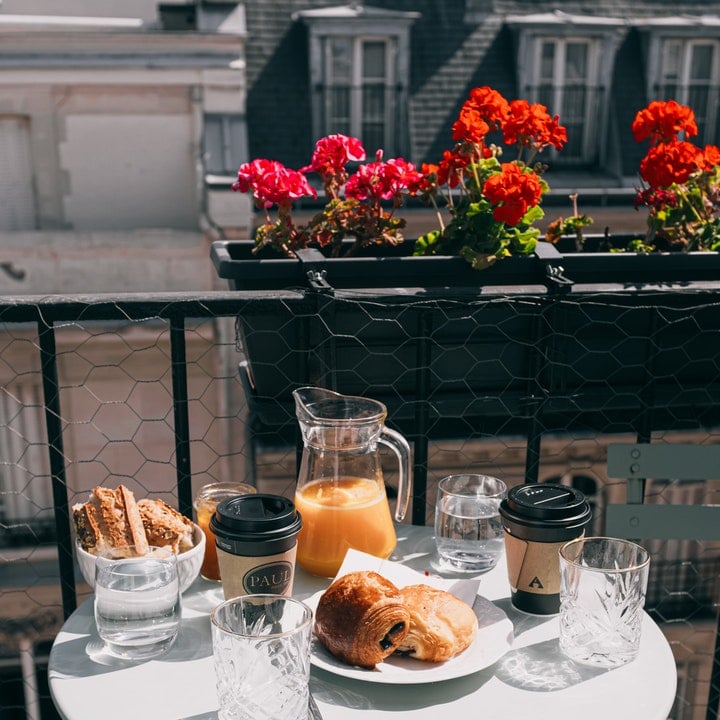 Bonjour, a traditional French breakfast includes coffee, bread, and pastries. There are plenty of variations but most often you will find a baguette or a delicious flaky, buttery croissant!
Check out this guide to France. 
Germany
Guten morgen! A traditional German breakfast incorporates bread, cold cut meats and cheeses, and maybe some jam and honey for the bread. Most countries in Europe enjoy a sweeter breakfast, but Germany's feast is always savory.
Pro tip: Like many other breakfasts around the world, the extra rolls are great for stashing in your purse if you need a snack later in the day! 
Greece
Καλημέρα! There's a joke that a Greek breakfast is a coffee and a cigarette because oftentimes people living in Greece skip breakfast. However, many people still eat breakfast and it usually consists of bread, marmalade, pastries, cheese, and baked goods.
Coffee with a spoon sweet (fruit preserved in syrup that has been boiled with the fruit), Koulouri(a large narrow round of bread that is crispy on the outside, soft on the inside, smothered in sesame), Bougatsa (a pie filled with custard cream, cooked minced meat or spinach filling) are other options.
Once you've finished reading our list of traditional breakfasts around the world, check out this guide to Greece! 
Greenland
Haluu! Similar to a Danish breakfast, in a typical Greenland breakfast you will find salami and cold cuts served on rye bread or rolls, soft cheese, yogurt, and strong coffee.
Coffee lover? Read about these 21 unique coffee shops. 
Haiti
Bonjou, breakfast in Haiti includes several ingredients that you'll find locals eating all day – plantains, seafood, coconut milk, and even spaghetti. Food in Haiti is simple, delicious, and influenced by France, Africa, and other Caribbean cultures.
Iceland
Góðan daginn, a traditional Icelandic breakfast might include one or all of the following: hafragrautur(oatmeal), skyr (similar to yogurt), and lysi(cod-liver oil). Many people take a shot of lysi in the morning because of Iceland's lack of sunlight – so people of all ages need to get their Vitamin D somehow!
Check out this guide to Iceland. 
India
शुभ प्रभात, breakfast in India varies by region (as in many countries), but most often will include one or more of the following: roti (flatbread), dosas (crepes made of lentils), or idlis (steamed rice-dough pancakes), dips and chutneys, as well as spiced potatoes.
Iran
صبح بخیر, a traditional Iranian breakfast incorporates fresh bread with butter, jam, clotted cream, honey, and savory foods like olives and feta cheese. Iranians only drink tea at breakfast time. Omelets made with fresh tomatoes and/or tomato paste are popular.
Other items include Kaleh pâcheh, or head and hoof stew (from a sheep), Halim (a thick porridge of meat—lamb, chicken, or turkey—boiled and mashed with wheat), and Adasi (lentil soup).  
Ireland
Dia dhuit, a traditional Irish breakfast typically consists of fried eggs, vegetables, potatoes, and meats such as bacon, sausages, and black and white puddings. This feast doesn't end there! It is served with Irish soda bread or brown bread, tea, and orange juice.
Once you've finished reading our list of traditional breakfasts around the world, check out this guide to Ireland! 
Israel
בוקר טוב, the Israeli breakfast originated on the Israeli collective farm called a kibbutz. It is usually served buffet style, consisting of fruits, vegetables, salads, breads, pastries, dairy foods, eggs, and fish. Meat is not included in an Israeli breakfast.
Italy
Buongiorno! Similar to Greece, breakfast in Italy is usually quick or on the go. But staples include cappuccino or cafe (espresso), and a pastry or cornetto. Breakfast is a quick, energetic time of the day!
Italy is #1 on our list of the 10 best countries to visit in the world.  
Japan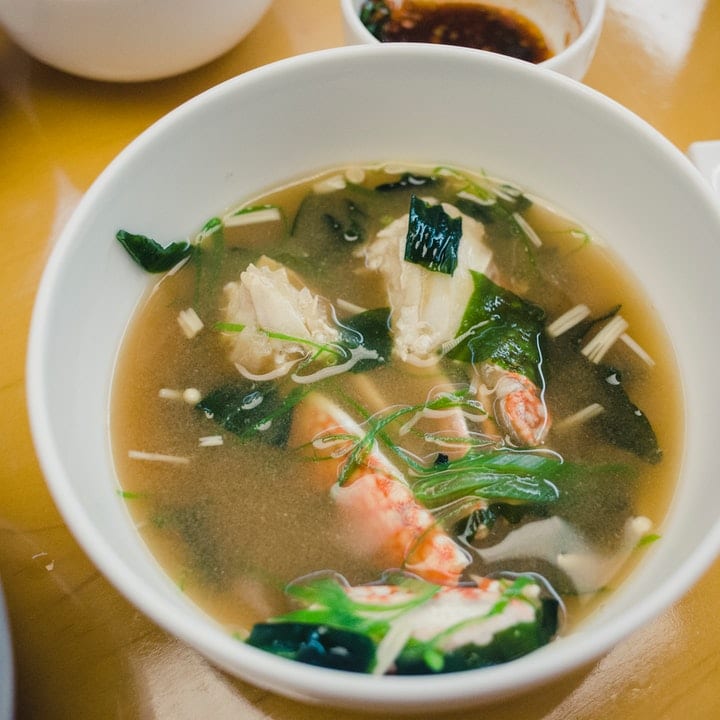 おはよう, a typical Japanese will always feature steamed rice, miso soup, a protein such as grilled fish, and side dishes. This is very different from what is eaten in the West! Traditionally, in the West, rice and miso soup are consumed in the afternoon or evening only.
Check out this guide to Japan. 
Jordan
صباح الخير ! Breakfast in Jordan includes a bowl of hot fuul (boiled broad/fava beans mashed with lemon juice, olive oil, and chopped chillis), served with fresh-baked khubez (flat bread).
Kenya
Habari za asubuhi, a traditional Kenyan breakfast includes Chai (Swahili for tea), which is usually very milky and sweet. With the tea, locals enjoy a hunk of bread and fruit.
Latvia
Labrīt, porridge is common for breakfast in Latvia – made with millet, barley, rye, buckwheat, in different combinations. It's usually topped with something sweet, such as jam or fresh fruit. Eggs are also a staple.
Mexico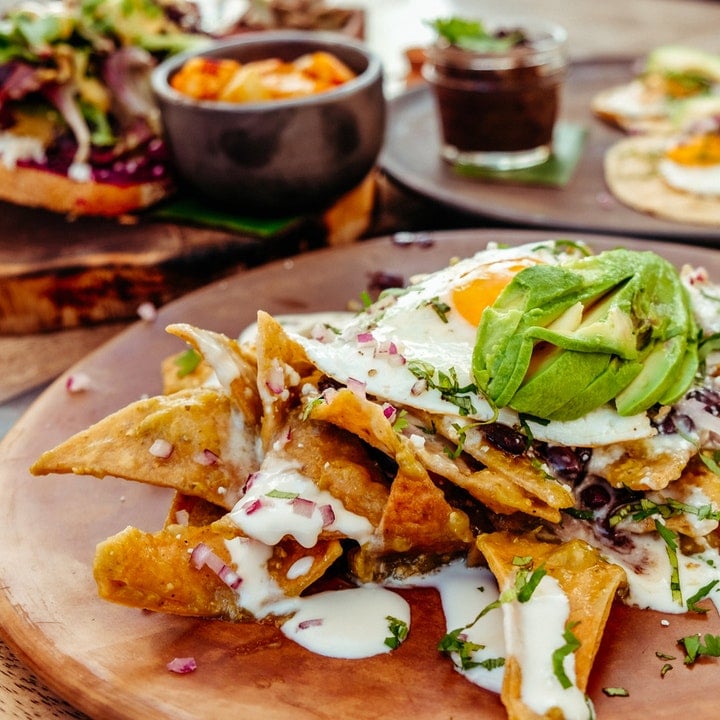 Buenos dias! Chilaquiles is a typical Mexican breakfast dish made with fried tortillas and salsa verde. This is a spicy dish, so watch out! Or tone down the spice. Another option is Mexican scrambled eggs or tamales.
Mongolia
Өглөөний мэнд! A typical breakfast in Mongolia will include homemade bread, Yaks butter, and thick cream, biscuits, and tea.
Nepal
शुभ – प्रभात! A typical Nepali breakfast is eaten mid morning and does not include eggs, oatmeal, or any peanut butter on toast! Breakfast includes freshly boiled and brewed chiya, with or without milk, and plenty of sugar.
Most places offer pastries, doughnuts, or cookies to dunk into your tea, similar to other breakfasts around the world. 
Nigeria
Sannu! Akara and pap are one of the most common items found on a Nigerian breakfast menu. Akara is a bean fritter made from bean paste, and the pap is a paste made from grains.
Panama
Hola! Panama is home to a diverse combination of Spanish, American, Afro-Caribbean, and indigenous influences, and the food is just as diverse! A typical breakfast includes deep-fried corn tortillas with eggs and other items, including fried meat.
A cup of coffee is a must as well!
Peru
Hola! One of the most popular Peruvian breakfasts is Pan con chicharrón (Pork rind sandwich). The sandwich usually includes fried sweet potato, blood sausage, and zarza criolla. Enjoy with coffee, milk, or juice.
Other breakfasts include a fish sandwich, Peruvian Butifarra, and Huachana sausage.
The Philippines
Kamusta! A typical Filipino breakfast includes silog of some form, Pandesal (bread), Champorado(sweet chocolate rice porridge), Arroz Caldo (chicken rice porridge), and other similar dishes.
Poland
dzień dobry! Next up on our list of traditional breakfasts around the world, breakfast in Poland is called śniadanie, and it tends to be hearty, including meats, hard-cooked eggs, breads, pastries, mayo, oatmeal, musefli, cheeses, pickled fruits and vegetables, and jams. The meat can be cold cuts, smoked sausages, and open-faced sandwiches.
Qatar
صباح الخير, a traditional Qatari breakfast features feta, hummus, falafel, pita, Habis (sweetened wheat), cold cuts, Bajena beans, egg with sweet noodles, tomato and egg scramble, and spicy white beans with tomato and eggplant.
In addition to these items, you will find sfiha (flatbread cooked with a minced meat topping, flavored with onion, tomato, pine nuts, and spices) and Lebanese Fatayer (pizza-like dough filled with meat, spinach or cheese). 
Russia
доброе утро, kasha is a national dish of Russia. It's a whole-grain buckwheat that is roasted whole. This is a popular breakfast item, as is porridge.
South Africa
Sawubona! Putu pap, or krummelpap, is a porridge made with maize meal and water cooked to form a dry and fluffy texture. This is a common breakfast item in South Africa, paired with milk and sugar. Like our list of traditional breakfasts around the world?
Check out this guide to South Africa. 
Singapore
Selamat Pagi! A classic breakfast in Singapore features Kaya toast, half-boiled eggs, and coffee. Kaya is a sweet coconut jam usually served in between two slices of toasted bread, with two half-boiled eggs.
Spain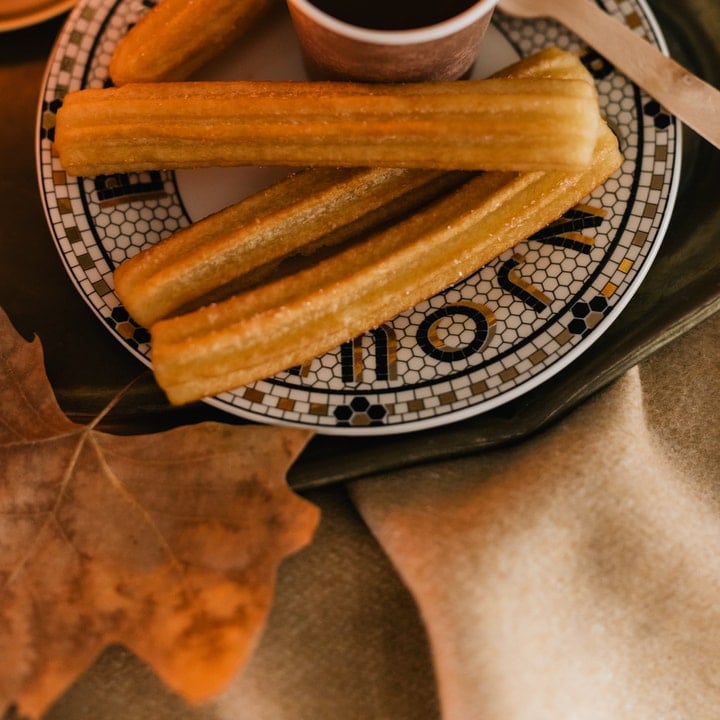 Buenos dias! One of the best things about eating in Spain: churros. Authentic churros are unrivaled and can often be found as a breakfast item. They are long strips of choux dough that are deep fried and usually dipped in a thick chocolate sauce.
Traditional churros are just lightly dusted with sugar. And. Oh. So. Good. 
Sri Lanka
ආයුබෝවන්….A typical Sri Lankan breakfast includes curries (fish, meat, egg, or vegetarian), spicy chutney, hoppers, roti, and rice.
Switzerland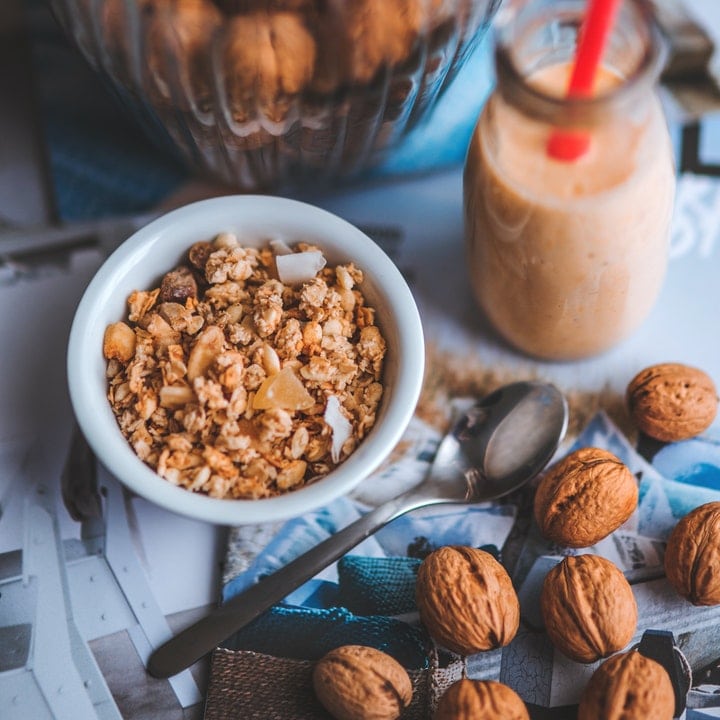 Hallo, the Swiss have mastered the satisfying, simple breakfast known as Muesli, a cereal blend of oat flakes, nuts, and raisins or other types of dried fruit, that is often eaten with yogurt.
Syria
Beyanî baş! In the place of utensils, Syrians usually eat with pita bread. Also, a typical Syrian breakfast includes an assortment of small plates. Other common staples include eggs, cheese, vegetables, hummus, ful medames (a dish of stewed fava beans), olives, jam, and pastries.
Turkey
Günaydın, a classic Turkish breakfast includes black and green olives, cucumbers, cured meats, dips and sauces, eggs, fresh cheese, fresh tomatoes, fresh-baked bread, jams, honey, pastries, and sweet butter.
With so many breakfasts around the world, a Turkish one should be on your list! 
Thailand
อรุณสวัสดิ์, the most common breakfasts in Thailand will include one or more of the following: grilled meats, Khanom krok, doughnuts, Khao tom, Jok, Tom luad moo, Dim Sum, and Roti canai. So many options – from sweet to savory!
Check out this guide to Thailand. 
USA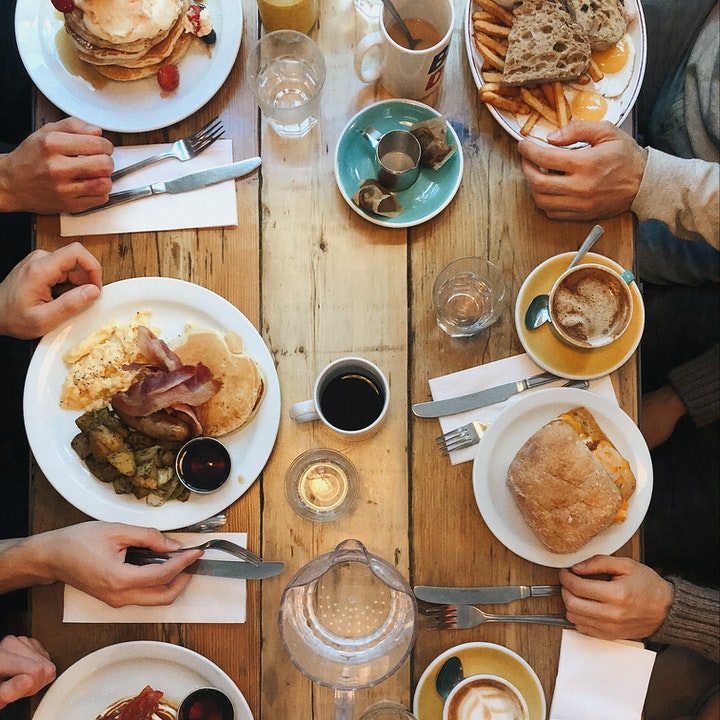 Good morning! While breakfasts around the United States can vary slightly, one thing is for sure: it's going to be big! A typical American breakfast features eggs, bacon or sausage, potatoes, and toast.
Additional options include pancakes, waffles, or french toast. 
United Kingdom
Hello, mate! A typical full English breakfast includes a large plate filled with eggs, bacon, baked beans, mushrooms, grilled tomato, black pudding and toast.
Of the many traditional breakfasts around the world, this is a filling one! 
Vietnam
Chào buổi sáng! Travel to Vietnam and get ready for a delicious bowl of pho — a rice noodle soup traditionally made with beef or chicken, that is topped with raw beef, herbs, lime, crunchy bean sprouts, and spicy fresh chiles.
Breakfast is often enjoyed as a street food, with plenty of places to pick up something along the way. Yum! 
Venezuela
Hola! Take a journey to Venezuela and in the mornings you'll enjoy Mandoca (made with cornmeal, plantains, panela sugar, water, and queso fresco), Cachapa (corn pancakes), Perico Venezolano (an egg-based dish), or arepas (cornbread with an infinite number of combinations). Arepas are most commonly paired with a cup of coffee and hot dipping chocolate.
Yemen
أهلا, wake up in Yemen and you'll enjoy Kubaneh, a popular Yemeni-Jewish bread consisting of flour, sugar, salt, and butter, or maybe Jachnun, a traditional Yemenite Jewish pastry or flatbread. There are several other options too!
Zambia
Moni! A typical Zambian breakfast includes sweet potatoes(kandolo) or scones, fritters taken with milk tea, bread with pumpkin jam or eggs taken with milk tea, mealie meal porridge with groundnuts, milk, baobab, or busika extracts. And fruit!
Now that you've seen our list of 52 traditional breakfasts around the world, what did you think? Did any of these surprise you? Leave us a comment below!