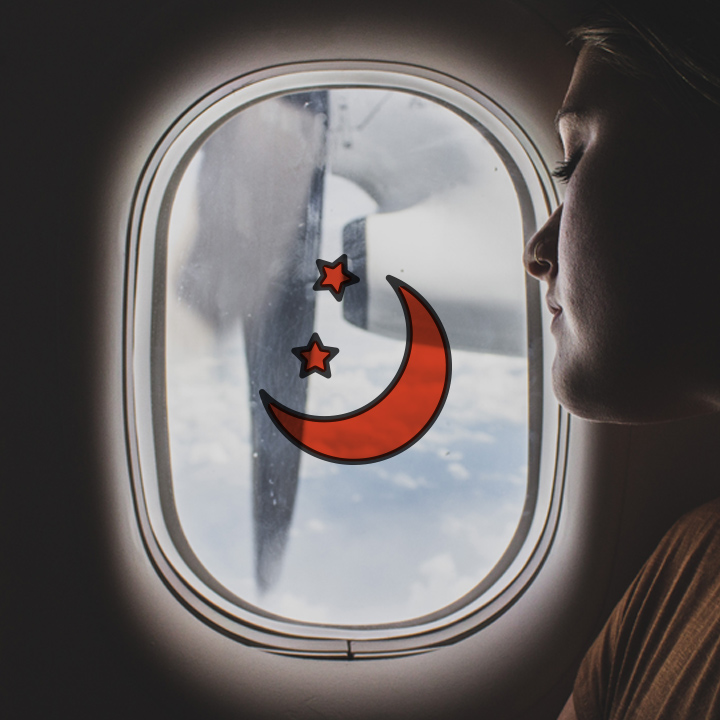 You can't control how other passengers will affect your flight…
…but you can make sure you have an amazing nap, and that all starts with having one of the best travel pillows.
The difference in having a good, comfortable flight to your destination and a rough, unsettling one is often hidden in the small details. One of the most important is the quality of the snooze you can take on the plane.
What affects the quality of your nap, you ask? How you're feeling, the people around you, and the neck pillow you choose to pack of course. 💤
We can't really give advice on how to feel good (other than drink lots of water and dress comfortably) or who else will be on your flight, but we can give you a list of the best travel pillows for napping on an airplane. If you're in need of a good pillow and a comfortable journey, then read on.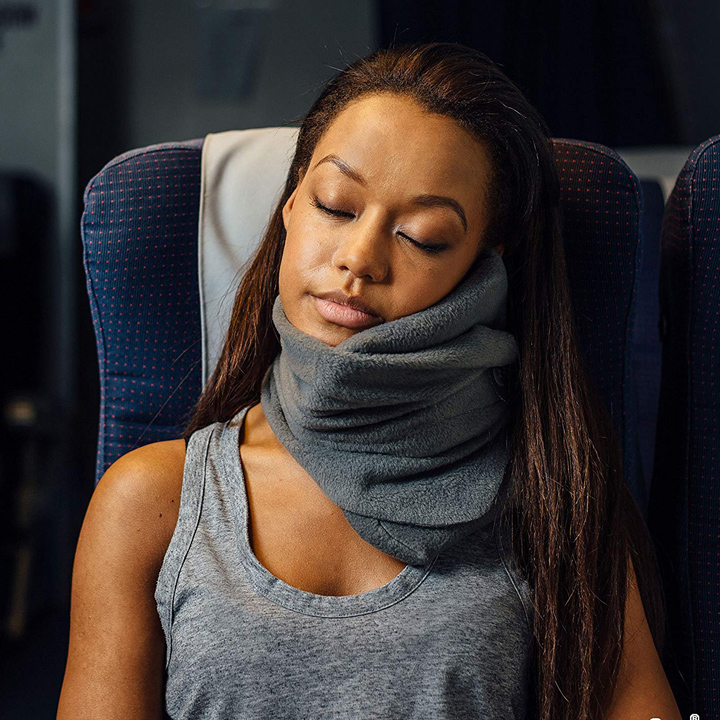 There's something about this pillow that is really intriguing – it's the shape and the size. It's by no means the typical definition of a "pillow."
The Trtl Pillow has been scientifically proven to keep your head in a better position during rest, you won't be nodding with this little guy. It's machine washable, super-soft, lightweight, and easy to travel with.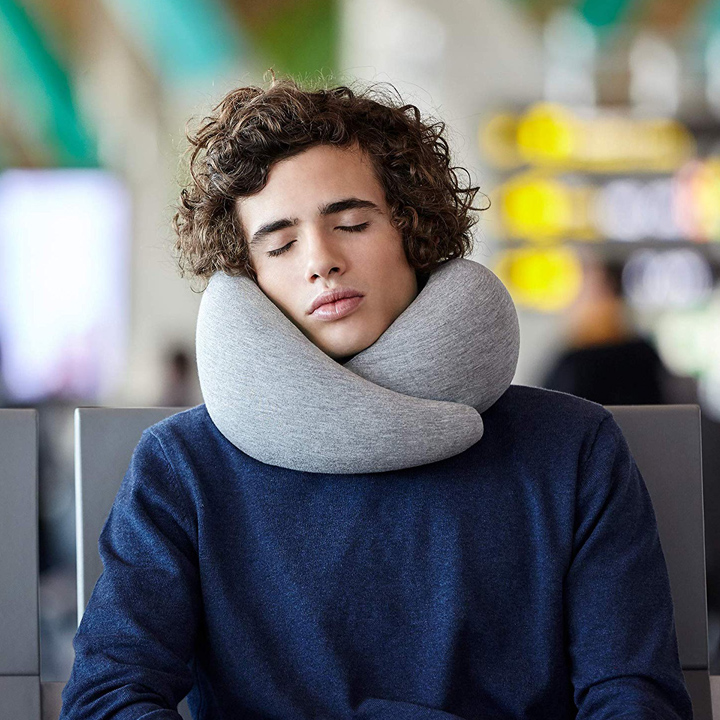 The OSTRICH Pillow Go is made of memory foam, which speaks for itself. It's like sleeping on a cloud. Plus, you can snap it in front of you and roll it up nice and compact. It rolls into half its size. You'll feel like you're laying on your pillow at home because it completely molds to fit you.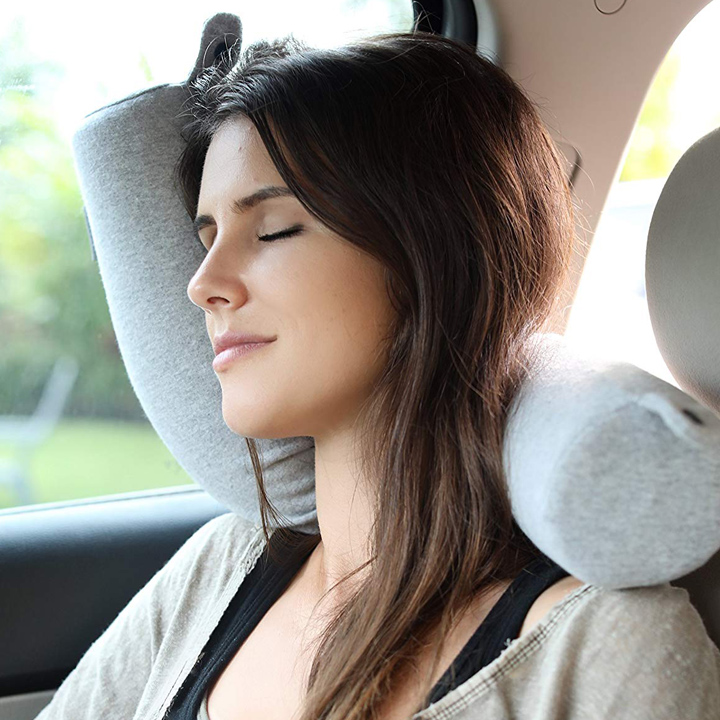 If the flat, wrap-style pillow isn't your thing, then try the Dot & Dot Twist Travel Pillow. It folds and bends around your neck, your head, your upper back, however you want to sleep.
But what's even better – you can wrap this around your lumbar for support in your lower back or as a leg rest. So while you can use this pillow to take a nap, it can provide comfort for you at other moments during travel too. Maybe while you're on the bus, sitting in the airport, or need to rest your legs a bit.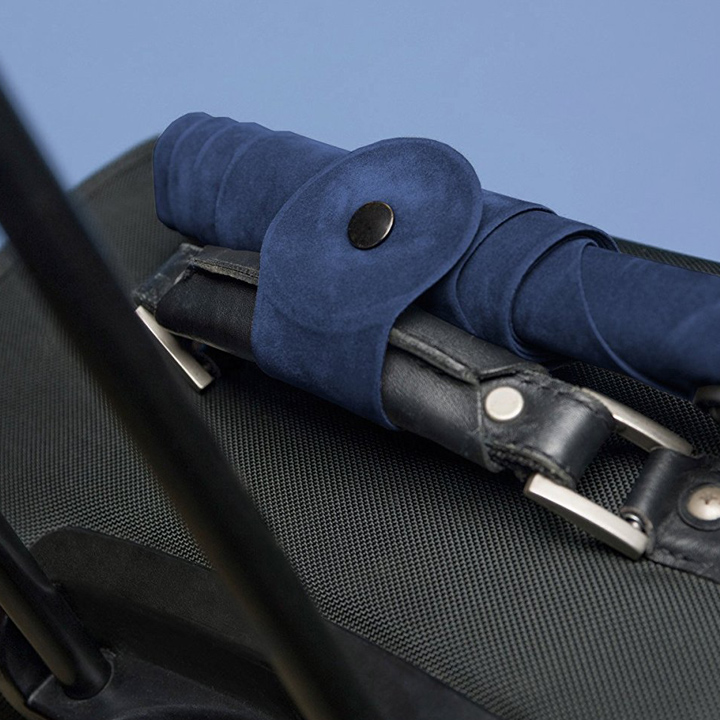 As big as this Travelrest Ultimate Inflatable Pillow inflates to, it folds up really small which is an added bonus to stick in your carry on or personal item. Sometimes lugging around a regular size travel pillow isn't your top priority, so give this one a go.
It inflates and wraps in front of you, behind you, or on the side of you. It keeps your head from falling, another ingenious way to avoid post-flight neck pain.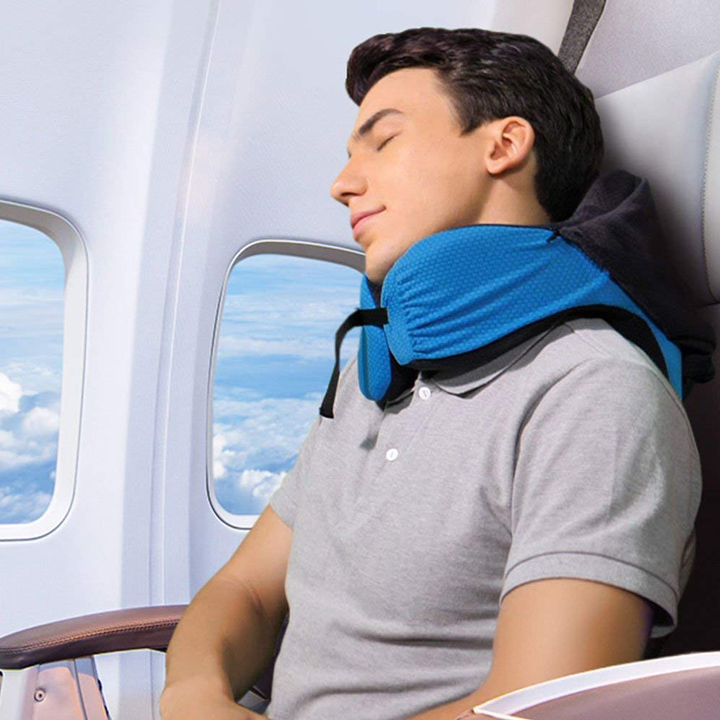 The science behind this memory foam pillow is pretty fascinating. It's designed to keep your cervical spine properly aligned while you sleep, which in turn, reduces and prevents fatigue.
You can lay on it or clip it around you if you're sitting up. Plus, this LANGRIA Memory Foam Pillow features a detachable hood that's easy to remove. Why would you need a hood? The hood covers your eyes, blocking out the additional light. If you're a lover of sleeping in pitch black then you definitely want a hood!
The Huzi Infinity Pillow is a convenient addition to your everyday life and your airplane naps. It's a soft, wrappable pillow. It's a bit larger than the twist pillow or the inflatable pillow, but it can still be rolled up and fit into a carry-on.
It's useful for sleeping, reading and supporting your neck, or if you're going to watch a movie too. Its shape is an 8 or an infinity symbol, so there are many ways to shape it to your comfort.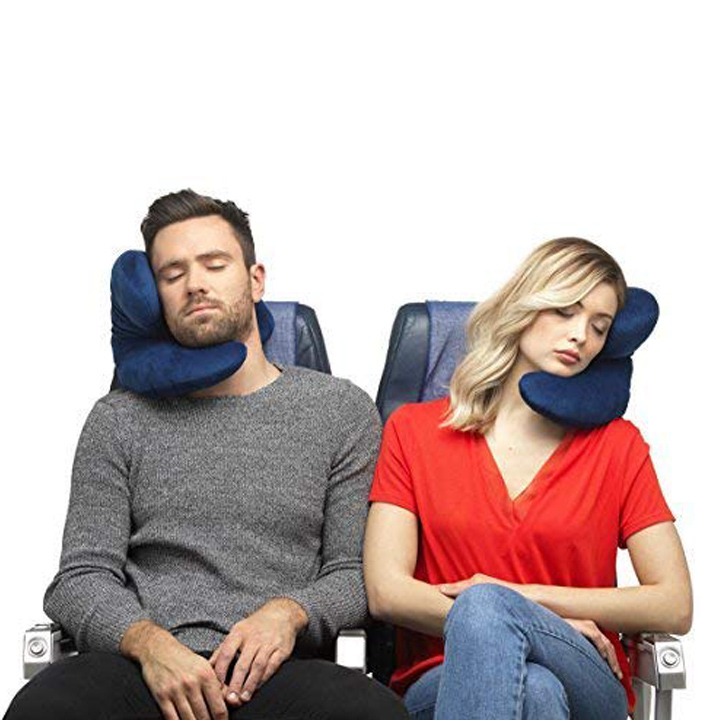 The J-Pillow is, well, shaped like a J. The benefit to this shape is again, to properly support your neck and spine when you doze off. The J sits beneath your chin and to the side of your head, similar to the way you'd lay on a regular pillow at home.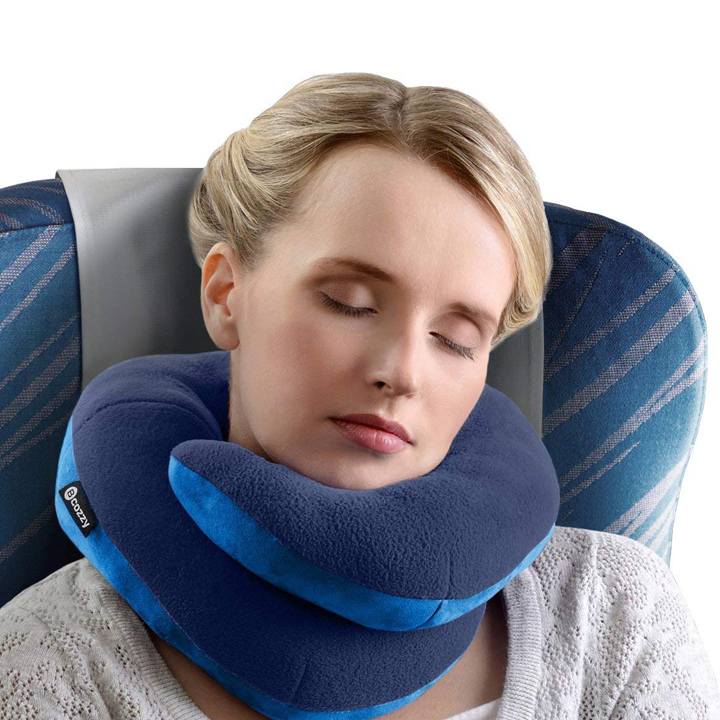 The BCozzy Chin Supporting Travel Pillow offers 360-degree comfort in any sitting position, around your head and neck. The chin support keeps your head from falling forward.
This pillow is more standard looking then some of these other pillows, so if traditional is your style, then this is it! You can manipulate the arms of the pillow so that it works perfectly for your body.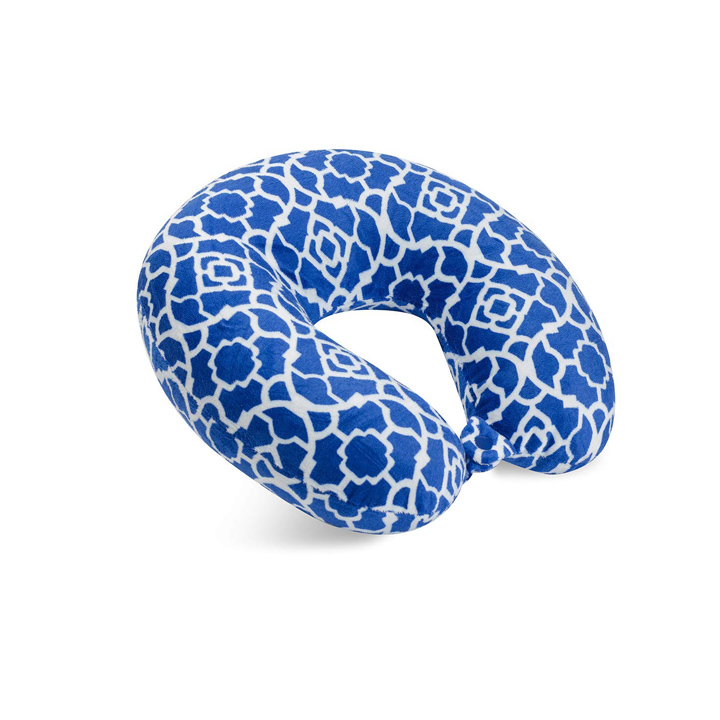 It's feather soft, made of microfiber, and its machine washable. World's Best is a classic neck pillow, but what we like about this one is that it has a snap closure, to keep it nice and secure. This pillow ain't going nowhere when you fall asleep!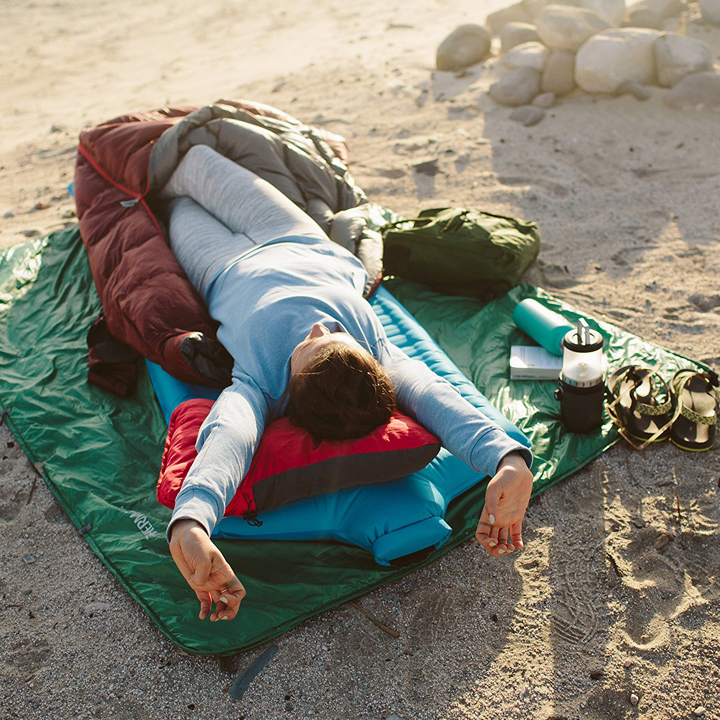 Last but not least, if you prefer something more similar to a traditional pillow, then the Therm-a-Rest Travel Pillow is the one for you. It packs down small and compresses to fit in your carry on and then expands up to 4 inches thick when its naptime. It's machine washable, easy to carry, and comes in all different colors!
With all these options for plane pillows, which will you choose? The softest, twistiest, most compact? Or is scientific alignment more important? Now that you've seen our list, what do you think? Have you used any of these pillows before? What do you recommend? Leave us a comment below! 😴