Okay, friends—festival season is here.
For most of us, the giddy excitement felt when dreaming about those sunny days and starry nights, dancing your little heart out to sets you'll never forget and staying up late camping with friends, is soon followed by another not-so-pleasant emotion: disappointment.
Why? Because it means you need to make a decision; you can't see 'em all. Even if money's no object, real-life things like jobs, family, travel constraints, so on, and so forth, stand in the way of escaping to the make-believe magic of the festival world.
Need some help deciding where to head next? Here are our top five favorite music festivals that can give you some inspiration on where to point your compass.
5. EDC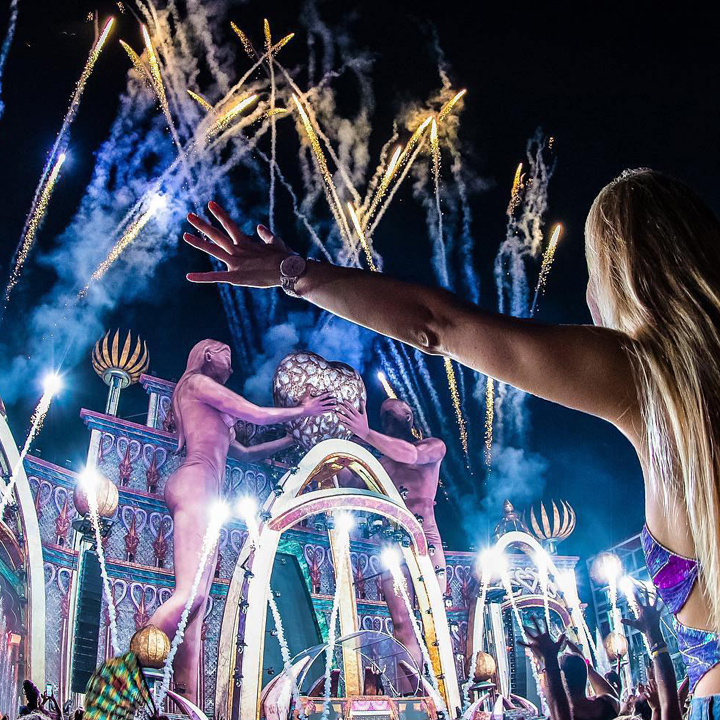 We hope you like bright lights and flashy things! If you don't, you probably shouldn't head to Electric Daisy Carnival (EDC)—or maybe just avoid Las Vegas altogether. It's only fitting that the most rave-centric music festival in the United States should take place in America's neon capital!
EDC is the end-all be all of electronic music festivals and boasts the most thorough, expansive lineup of EDM DJs year after year. The stages are unreal, the costumes are insane, and the dance moves boast some of the best shuffling you've ever seen. If you've never watched a sunrise set, it's definitely something worth experiencing. Pack up your men's festival clothing, women's sequined attire, and don't forget a bathing suit to lounge by the pool in recovery mode.
Pro Tip: Hydration is an absolute must. It's hot in Nevada and you'll likely be sweating a bunch. Make sure you have a portable water bottle or a hydration pack that can you can keep sipping on throughout the day. You often don't realize how dehydrated you are until it's too late!
4. Electric Forest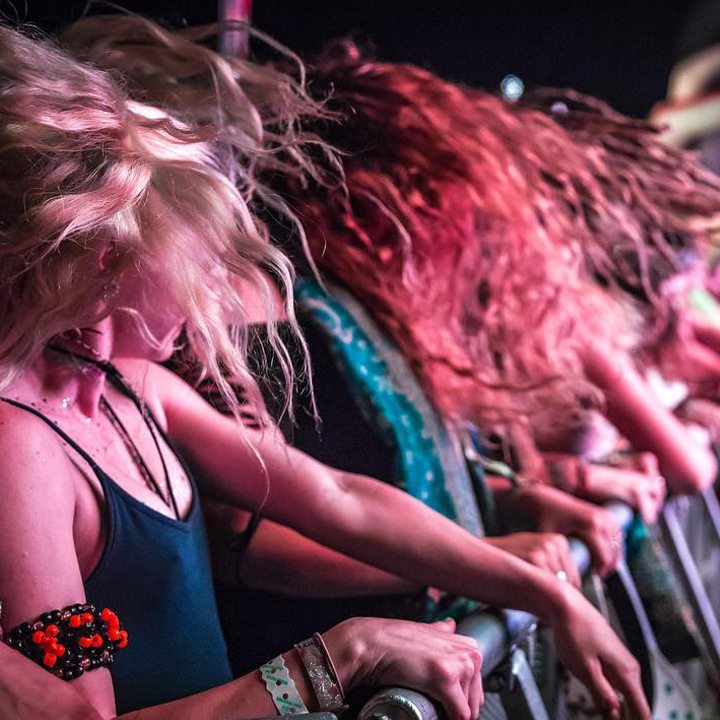 Let's pivot on that vibe and turn our thoughts to Electric Forest—which is pretty much the counter-opposite of EDC. Instead of taking place in a mega-metropolis where the city never sleeps and everything is go, go, go, Forest encourages you to retreat to the woods of Rothbury, Michigan for an enchanted experience you won't soon forget.
Ditch hotel rooms for tents, skyscrapers for towering trees, and lose yourself in nature where you'll be sure to find much more than what you came with. No, not just mosquito bites. The connections people make at Electric Forest—to music, themselves, and each other—are what people travel here for. You'll dance to an eclectic lineup of jam bands and electronic music before peeling yourself back to the real world (trust us, you won't want to leave).
Pro Tip: When you're out in nature, it's tough to stay clean; doubly so during a festival. Electric Forest is a long event, and it's important to take the necessary precautions for cleanliness. Baby wipes, hand sanitizer, and toilet paper are your best friends. There are facilities where you can shower or go to the bathroom, but the lines are always too long. It's always best to try and clean what you can with your own supplies.
3. Bonnaroo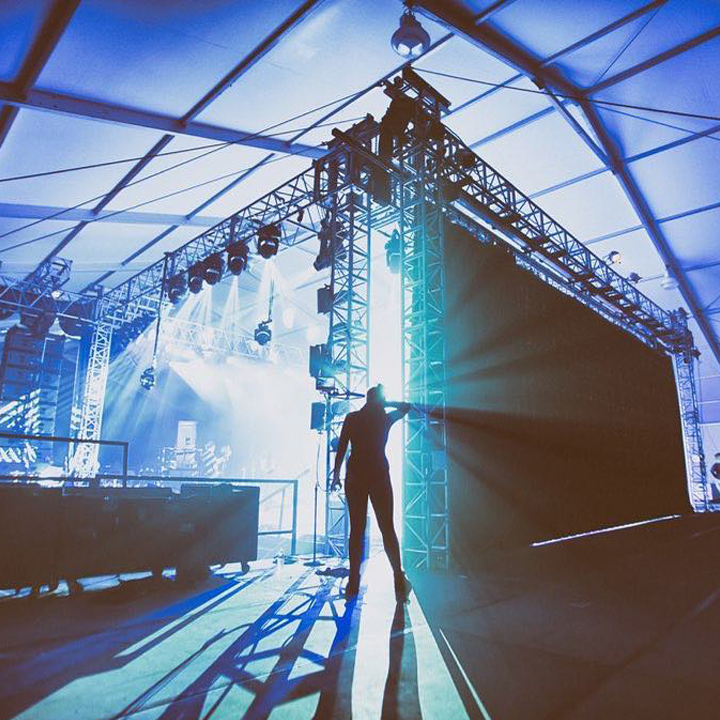 Manchester, Tennessee turns into a sort of artificial city every summer Bonnaroo rolls around. Camping is a true part of the experience, where 90-plus percent of attendees spend the majority of their time. There, they can enjoy a massive number of activities in a community setting. And it doesn't stop going. Grab a donut at 4:00 in the morning or dance until dawn at the silent disco with your twin souls.
Of course, the epic lineup of diverse artists never disappoints, either.
Pro Tip: The weather in Manchester can be a little volatile. No matter what your weather app says, be sure to pack for both rain and extreme heat. You may even find that you apply sunscreen and a rain jacket within the same afternoon! Umbrellas can be useful as both sun shade and protection from a downpour.
2. Coachella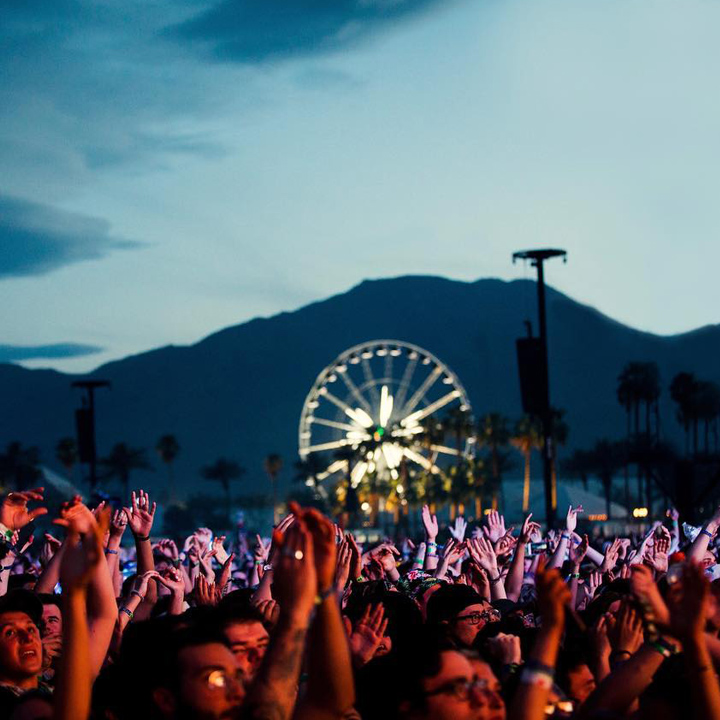 Arguably the most famous music festival in the U.S., people from all over the world travel here in hoards and take over the So. Cal. desert for two weekends every spring. Why is Coachella so famous? Their production factor is out of this world with massive stages, amazing art installations, and interactive experiences. You'll find top musical talent spanning all music genres, ensuring there's lil' bit of something for everyone's palette and preference.
Camp on or offsite at Coachella depending on what you can afford. The ticket price is steep, but oh-so-worth it.
Pro Tip: Coachella is huge. It's easy to get separated from your friends. Even worse, cell reception is almost nonexistent. It's best to establish a location where everyone can regroup if you lose each other. There are always a few central, notable landmarks at the event that are good meeting points. Setting a spot before the event will save your friend group a lot of stress.
1. Burning Man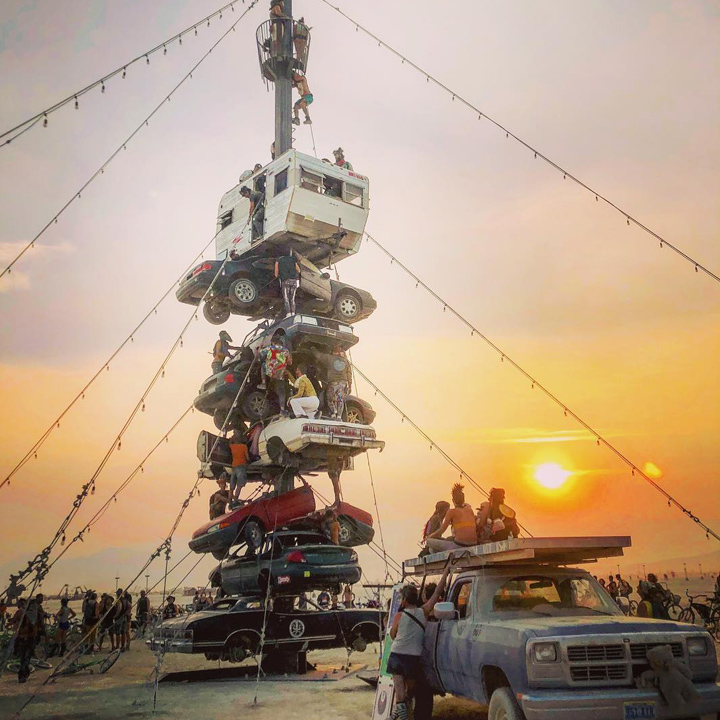 If Woodstock is the grandfather or music festivals, then Burning Man is its last living descendant. Except only it's not a festival, it's a community. Unlike Bonnaroo in Memphis, it is literally a temporary city called Black Rock City made in the Middle of Nowhere, NV. The experience is unlike any other: a total sum of all its participants, unlimited as your imagination.
Pack in everything you need for a week, then leave no trace. Barter, share, create, volunteer, make art, perform music, and participate as an active citizen in Black Rock. It's a place where you find out who you are and take that one step further. The lineup is irrelevant; here, it's all about radical self-expression and radical self-reliance up until the grand finale—the burning of the Man, a night before Labor Day (no, not a coincidence).
Pro Tip: Burning Man is a very different experience from many other festivals. Once you're at the venue, bartering is more valuable than having actual money. Be sure to bring some rare, shiny, or valuable item with you in bulk. Trading these away will help you acquire any essentials you forget or run through too quickly.
There you have it! Our top five music festivals, each offering a slightly different flavor. From ravers to hippies, hipsters to burners, one of these festivals is sure to feel like home.