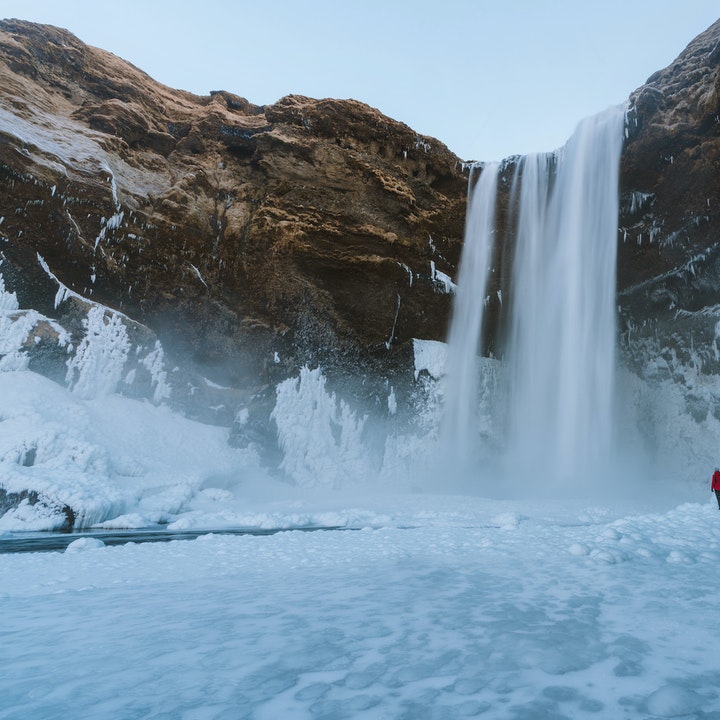 Travel to Iceland to chase the Northern Lights, taste fermented shark, take a dip in the Blue Lagoon, and see incredible sights of nature like geysers, volcanoes, glacial lakes, waterfalls, and ice caves.
Get ready for this trip with your travel journal, a packing list on Pack This app, and our guide to the unique Nordic island country of Iceland.
General Information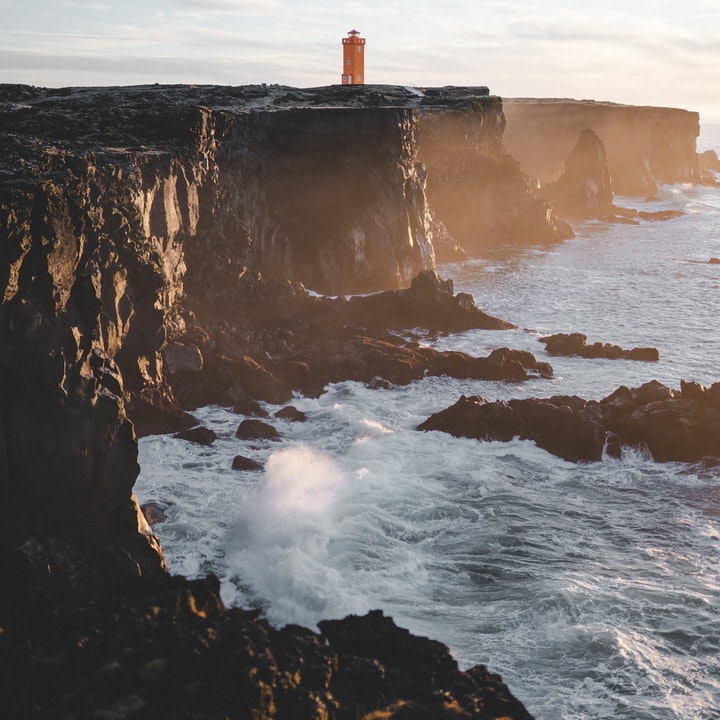 • Population: Roughly 371,000
• Capital: Reykjavík
• Location: Iceland is a Nordic island country in the North Atlantic Ocean.
• Flag: Described as, "The civil national flag of Icelanders is blue as the sky with a snow-white cross, and a fiery-red cross inside the white cross."
• Time Zone: Greenwich Mean Time (GMT)
• Currency: Icelandic króna (ISK)
• Language: The official and national language is Icelandic.
• Climate: The climate of the coast is subarctic but the rest of the country's climate varies. The south coast is warmer, wetter, and windier than the north coast. The Central Highlands are the coldest part of the country and low-lying inland areas in the north are the driest. Snowfall is common in the north.
• Religion: Icelanders practice freedom of religion. However, the Church of Iceland, a Lutheran body, is the state church.
• Travel Visa: To find out if a visa is required for your country — and easily get yours if needed — check out iVisa.com.
• Best Time to Visit: Visit during summer, June to August, for warmer temperatures! If you're looking to see the Northern Lights, you'll need to visit during the winter.
Health & Safety
• As of April 2022, the CDC does not recommend travel to Iceland, as COVID-19 rates are still very high in the country. If you must travel to Iceland, make sure you are vaccinated.
• Find information regarding COVID-19 and travel to Iceland here: https://is.usembassy.gov/
• Follow the CDC guidelines for current travel advisories, as well as the U.S. Embassy guidelines.
Typical Costs in Iceland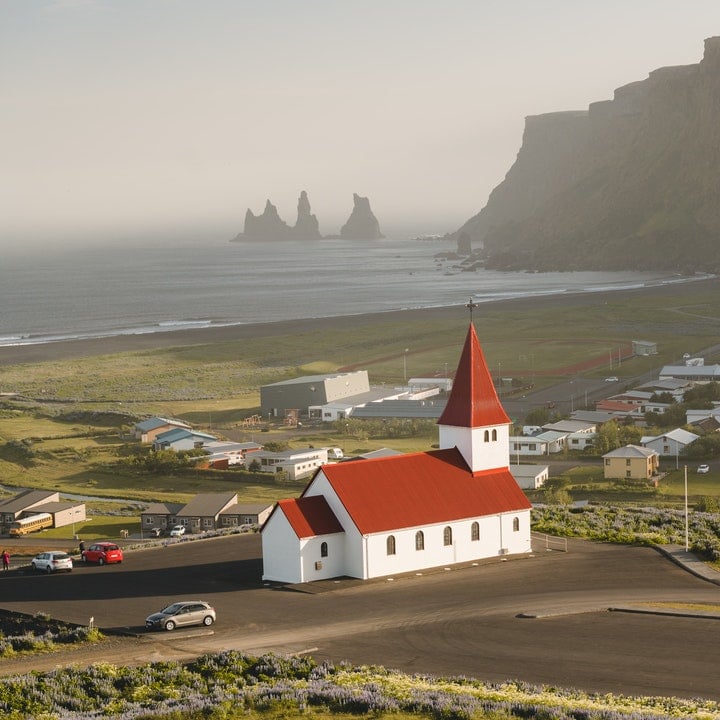 The average price of accommodation for one person in Iceland is kr10,552, which equals roughly $80 USD. Accommodation prices will vary depending on the length of stay, the number of people, and the level of luxury.
Consider the average cost of food in Iceland to be kr3,783 per day, roughly $30 USD per day. When you travel to Iceland, tips are usually 5-15%. 
Food To Eat in Iceland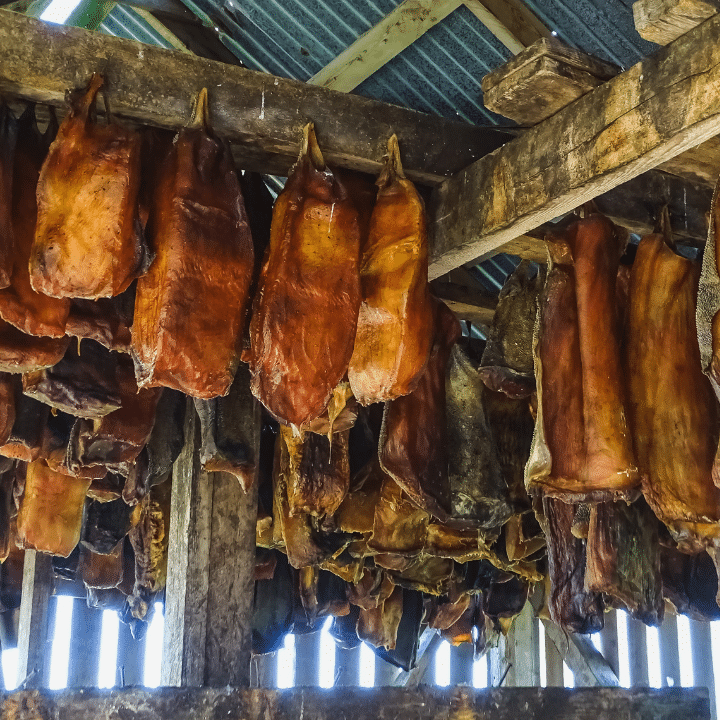 • Pylsur is the Icelandic hot dog, made famous by a place called Bæjarins Beztu, in downtown Reykjavik. These hot dogs are made with lamb meat! Order with homemade crispy onions and sweet mustard, or raw onion, ketchup, and remoulade. The ketchup is made with apples so it's a little bit sweeter. You'll see people lining up at the hot dog stand for this local delicacy.
• Skyr is an Icelandic cultured dairy product with the consistency of strained yogurt, but a milder flavor. It is consumed like yogurt. You may have heard of Siggi's!
• Hákarl, or fermented shark, is the national dish of Iceland. It's Greenland shark or other sleeper shark that has been cured with a particular fermentation process and hung to dry for four to five months. It is an acquired taste and it makes it on our list of the 21 most weird and exotic foods of the world.
• Lamb is served often in Iceland, and it's said to taste a little different because many of the country's lambs are allowed to roam and nourish themselves on berries and plants in the fields. Have it in a stew or roasted in gravy.
• Rúgbrauð or rye bread, is a staple on most menus in Iceland. It's eaten in many different ways – topped with smoked salmon, chopped/blended and added to ice cream, served with butter and salt, etc. Locals will tell you the only way to make rye bread correctly is by burying it in a pot 30 centimeters in the ground next to a bubbling geyser.
• There are lots of local meats and seafood you can try: horse, whale, shark, goose, reindeer, and even puffin. These are not everyone's taste, though!
Drinks To Try In Iceland
• Brennivin is a local schnapps that's called "black death." It's been in Iceland for a few centuries now since the Danish started importing it in large quantities. The best way to try it is chilled in a small shot glass. Skal!

Want to learn how to say cheers in other languages?
• Skyr drykkur is the drink form of skyr. Yep, that's right – drinkable yogurt!
• Reyka, a type of vodka, uses water drawn from a lava field to create a pure and unique distillation.
• We're saying it. Travel to Iceland and drink the water! The pure water!
Top Cities To Visit in Iceland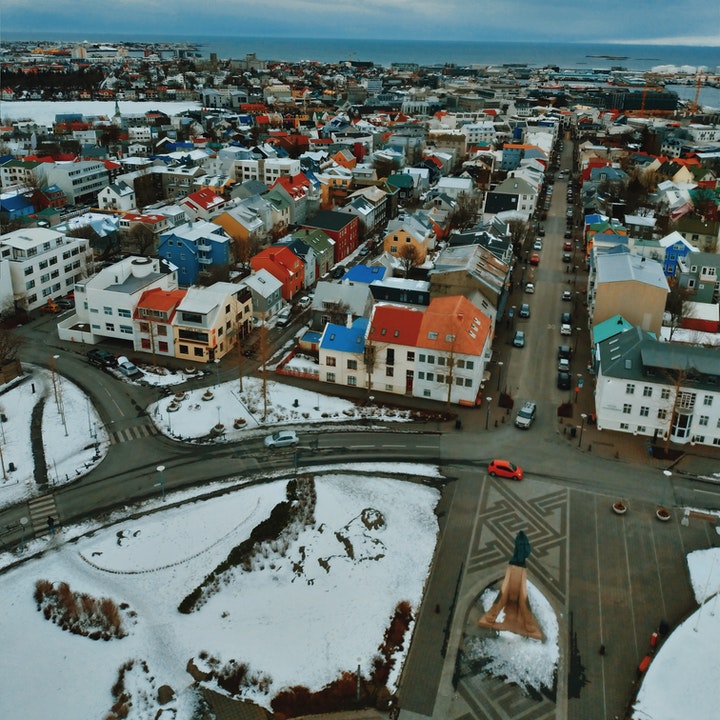 • Reykjavik is the capital city and the largest city in Iceland. Visit this city for a unique music scene, delicious local cuisine, and some incredible nightlife. Go dancing! There are museums to visit, restaurants to try, and the city is a gateway to all of the incredible adventures in nature you can have in Iceland.
• Grindavik is a fishing town on the southern side of Reykjanes Peninsula. This town is just three miles away from the infamous Blue Lagoon – so it's a good spot to stay before you head there and 'the Bridge Between the Continents', where you can learn about the Mid Atlantic Rift that runs through Iceland. Lots of nature to see here!
• Vik is a remote seafront village. Visit Dyrhólaey for some incredible views, Reynisfjara Black Sand Beach, the Mýrdalsjökull Glacier, and the Voyages Friendship Statue.
• Most people travel to Iceland to see the beautiful parts of nature that most other places in the world just don't have. Enter Akureyri. Akureyri is Iceland's "capital of the north" and it's the gateway to some incredible Icelandic experiences. Visit the Myvatn region, Dettifoss waterfall, Godafoss waterfall, and Asbyrgi canyon.
Must-See Sights In Iceland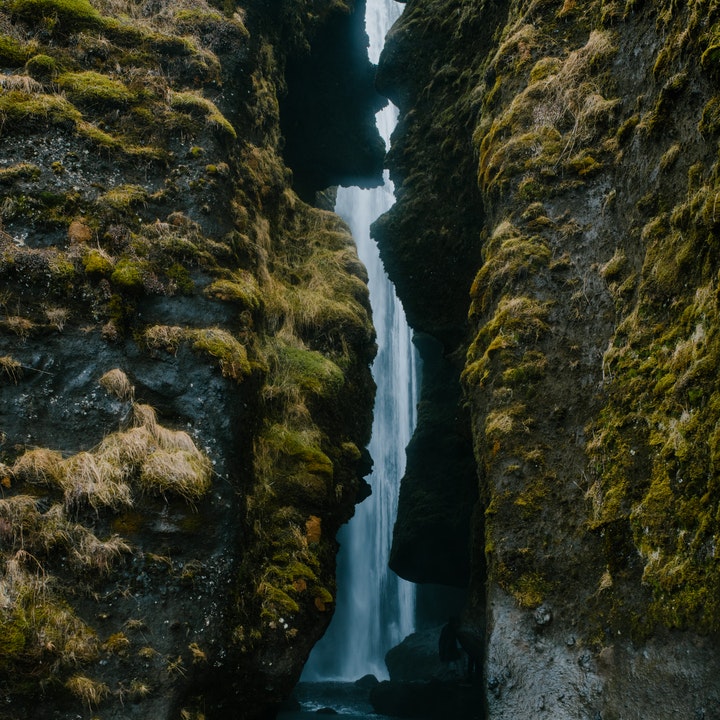 • Blue Lagoon
• Gullfoss Falls
• Skógafoss
• Seljalandsfoss
• Jökulsárlón
• Þingvellir National Park (UNESCO World Heritage)
• Hallgrímskirkja
• Mývatn
• The Icelandic Phallological Museum (houses the world's largest display of penises and penile parts)
• Dettifoss
• Dyrhólaey
• Reynisdrangar
• Kerid Crater
• Skaftafell
• Reynisfjara Beach
• Vatnajökull National Park (UNESCO World Heritage)
• Surtsey Island (UNESCO World Heritage)
How To Get Around Iceland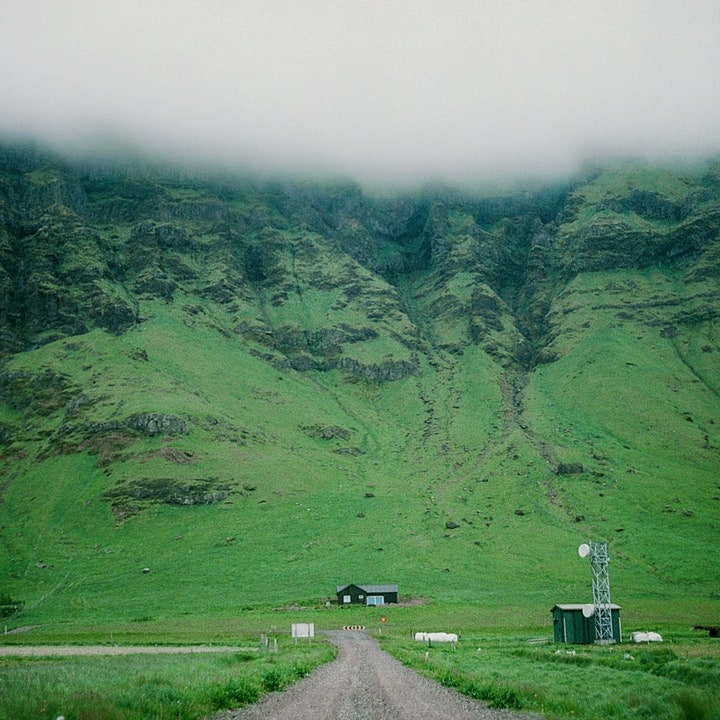 When you travel to Iceland, in the main cities and towns, you can travel around Iceland via bus. You can also rent a car and travel around the country this way, or take a ferry to Denmark and the Faroe Islands. These are the only options – no trains in Iceland.
Bucket List Experiences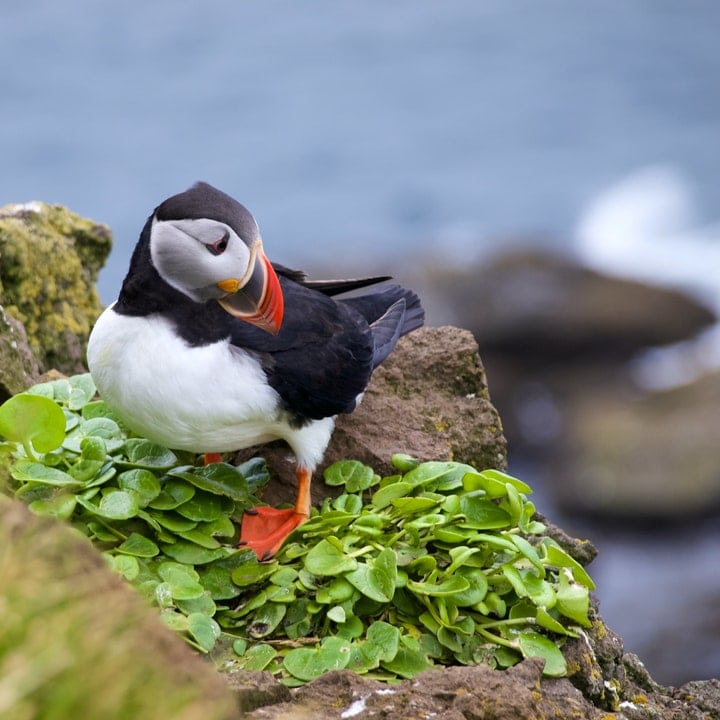 • Rent a van and drive the Ring Road – a route that circles the island. Look for hitchhikers!
• Visit an ice cave!
• Go for a dip in the Blue Lagoon.
• See the Northern Lights!
• Watch a geyser erupt.
• See puffins at the Latrabjarg cliffs.
• Golden Circle Tour!
Where To Book Flights
The cost of airfare can quickly eat up your budget.
>> Click here to find the best flights to Iceland.
Where To Book Accommodations
Iceland is home to some fantastic hotels.
>> Click here to find the best hotel deals in Iceland.
Housesitting is a great way to cut down on travel costs.
>> Click here to find housesitting opportunities in Iceland.

Hostels are an affordable option when it comes to accommodations.
>> Click here to find hostels in Iceland.
Booking a vacation rental can help to save the budget.
>> Click here to find vacation rentals in Iceland.
Best Travel Tours/Packages In Iceland
GAdventures: Iceland Northern Lights & Golden Circle – 5 days
Iceland's otherworldly aura seems to heighten at the winter months, when viewing of the Northern Lights is at its peak and the contrast between the cool, crisp air and its steaming geothermic hot springs heightens. Couple that with hiking through Þingvellir National Park, meeting the famous Icelandic horse, exploring lava caves, and chasing waterfalls, and you've got yourself a spectacular winter adventure like no other.
ToursByLocals: The magical Snæfellsnes peninsula – shore excursion from Grundarfjördur
The Snæfellsnes peninsula is an area of extraordinary beauty, many folk legends and some say supernatural energy. Long before present day, believers in extra terrestrial life discovered the unique aura around the beautiful Snæfellsnes glacier at the peninsula's tip, French writer Jules Verne, set a portion of his 19th century adventure, Journey to the Centre of the Earth there.
Additional Reading
Books: The History of Iceland by Gunnar Karisson; Names for the Sea: Strangers in Iceland by Sarah Moss; The Promise of Iceland by Kari Gislason
Podcasts: All Things Iceland; The Reykjavik Grapevine's Podcast; Honest Iceland Talk
Movies That Will Make You Fall in Love with Iceland: Tomb Rada; Interstellar; Game of Thrones; Star Wars; Oblivion;Fast & Furious 8 – all have scenes shot in Iceland!
Check out these Journo Adventures of travelers who have visited! @Ranaham saw lots of sights and @stest had a great time exploring with family!
Now that you've seen our guide for travel to Iceland, what did you think? Did we miss anything? Leave us a comment below!