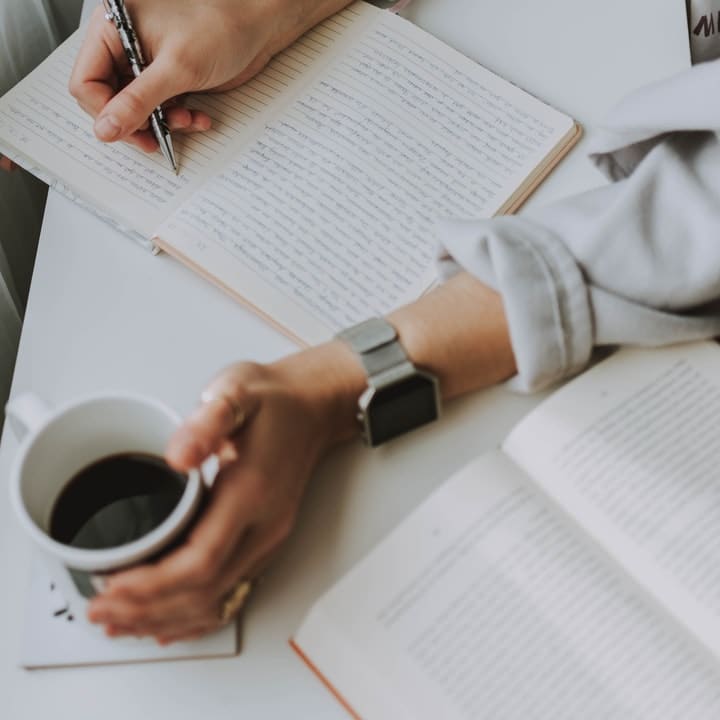 Moments or stories you may have forgotten. Memories that make you smile like a kid. A memento to pass along to future generations.
There are endless ways a travel journal can leave a mark on our lives, and if you're looking to start one, you'll need our guide to travel journal prompts.
Below are the 21 best travel journals this year.
Prefer old-school? Here are the best paper journals.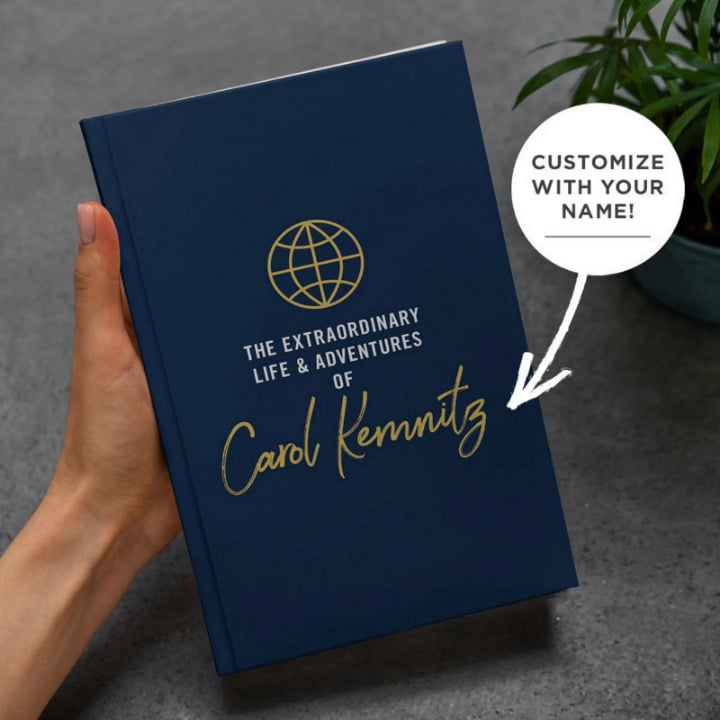 With this custom travel diary, you don't need to worry about finding a power outlet, charger, or wasting any time. All you need is a pen and your memory!
This lined journal is straightforward, it's simply lined – no prompts, no fuss. But these journals serve a purpose for some of us! Maybe you want to jot down notes from your tour, remind yourself about a story, or remember each little moment before you head home.
If you are wondering how to start a journal and for travel journal ideas, check out our guide here.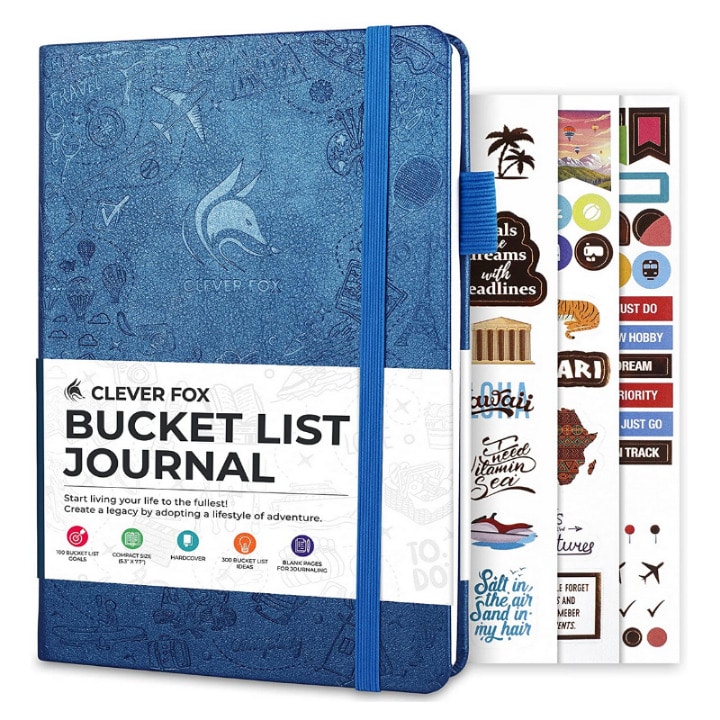 We love the idea of a bucket list journal, a journal you can keep at home while you plan your next trip!
This one features a vision board section, bucket list ideas, and places to record moments and memories from your travels. This journal includes pockets, bookmarks, and 3 sheets of colorful stickers too.
With so many places and moments during travel, travel journal ideas are endless!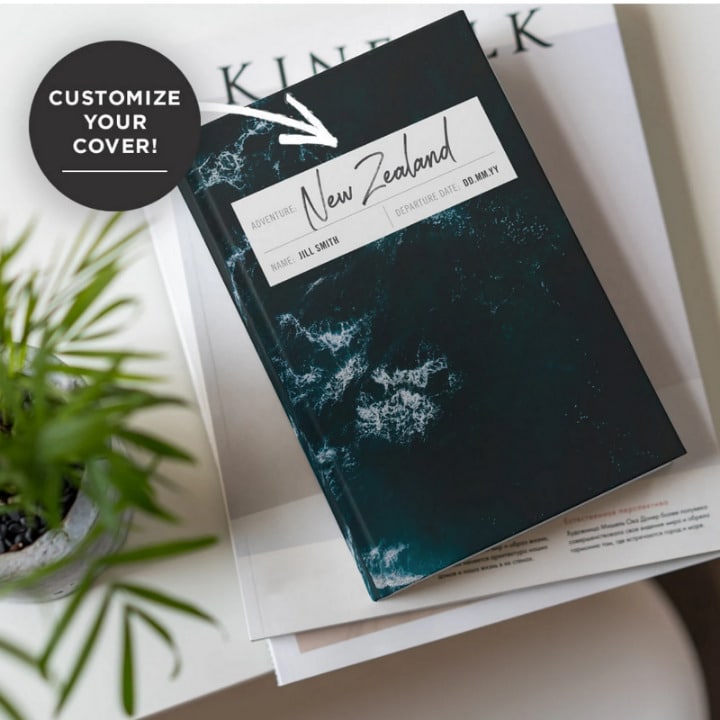 This custom trip journal is simple and gets the job done. If you're looking for a journal that can double as a grocery list spot, somewhere to write directions, doodle, play tic-tac-toe during travel delays, or journal your favorite moments, this is it!
With the gorgeous ocean graphic on the front, you can customize the front with the Adventure title, Name, and Departure Date. No frills here!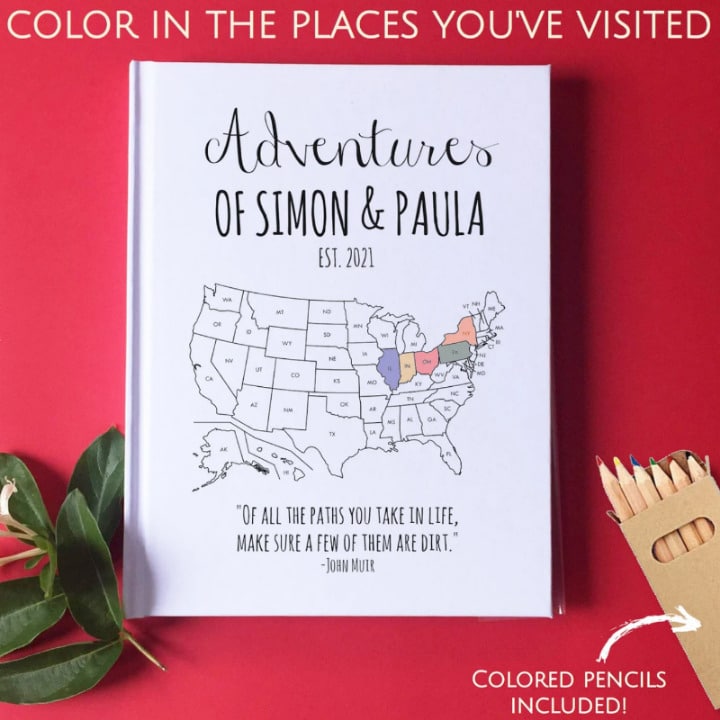 We love this travel map journal made specifically for couples (or friends! Or siblings!) because it's a great way to remember a trip you took with your travel buddy. You can choose from unlined, lined, or with prompts.
We think this journal makes a great wedding guest book idea – have your guests write a travel quote or travel tip for you!

Need travel journal ideas? Check out our guide here.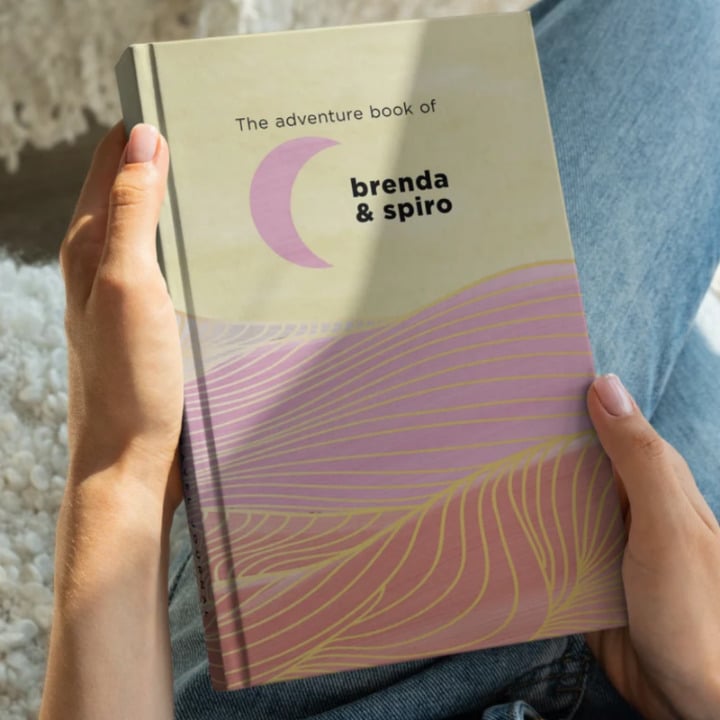 Is there an art-lover in your life? Or do you fancy visiting all the museums when you travel? This abstract journal is a perfect gift for anyone who appreciates art and writing.
It's ideal for those who travel (or want to), the homebody, for daily gratitude, a "morning journal," and any other reason to journal!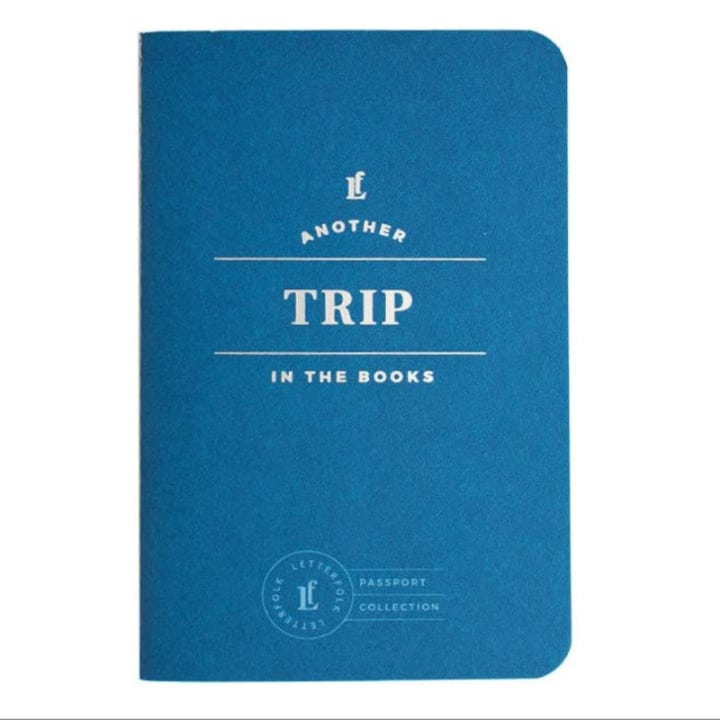 This journal gives us major Passport vibes from the cover – and we love that! This is a 48-page pocket-sized journal that includes 20 entry pages, so there's plenty of space to document each day of your adventures, special moments, quirky stories, lessons learned, and more.
There's a flight log, pages to draw, doodle, and attach receipts and a bucket list section. Our favorite part of this journal is the 'Rite of Passage' page that lists things you MUST do as a travel junkie – our fav is 'made a friend in a new place' and 'left my comfort zone.'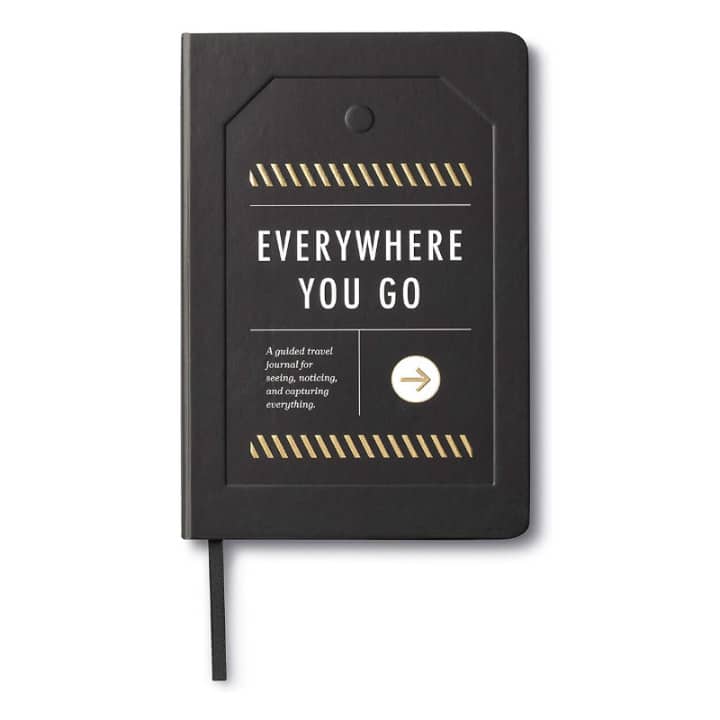 This travel journal digs a little deeper past the surface, to help us remember why we love to travel so much: for the little moments. The moments of awe and wonder. The moments of peace and mental clarity.
This journal prompts travelers to respond to things like, 'Something I'm feeling that I'd like to feel more often,' and 'This is something I'm noticing about myself' – some really cool travel journal ideas within.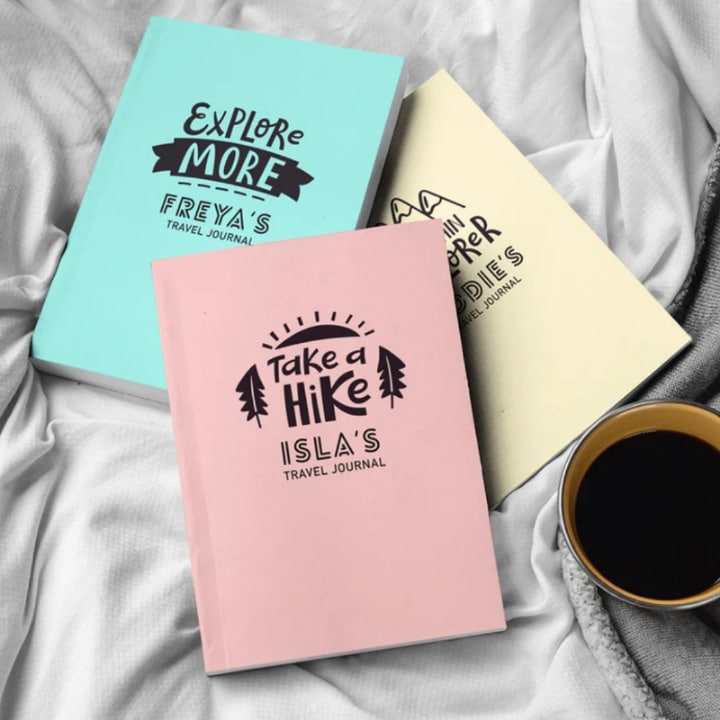 Bright and simple, this journal can be customized with your name, the color of your choice, and a 'travel badge' you'd like to incorporate. The badges say things like Adventure, Mountain Explorer, Explore More, etc.
A bright little journal will do the trick for your next adventure!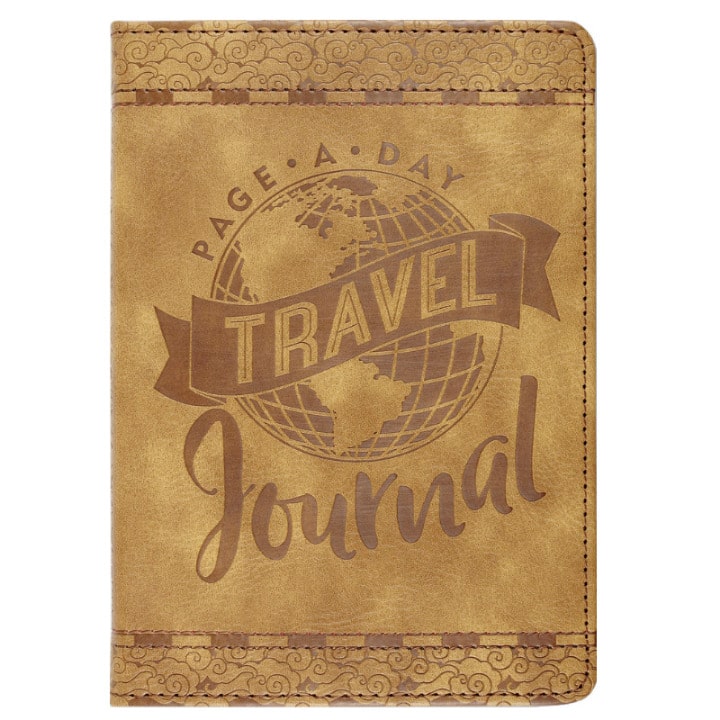 This journal is simple and easy to follow, it guides you to write each day! With lined pages and posts for the date, your location, and the weather – that's all you need!
Looking for more travel journal ideas? Check out our guide.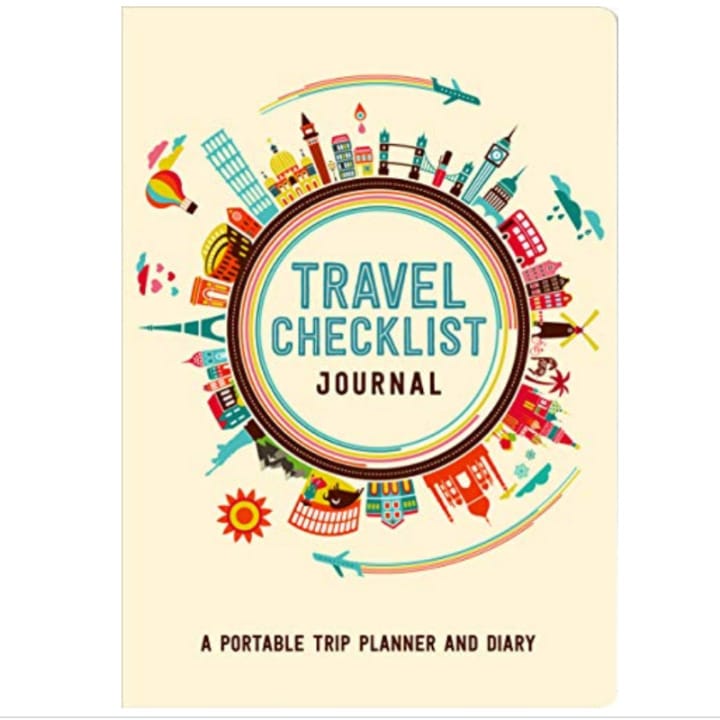 Are you a fan of lists? This journal is for you – it's jam-packed with packing lists and lots of little prompts to write on each day you travel. Add in "a fun story from today" or "what I'll remember most" as you journal and reflect on each day.
Psst! This one comes with a list of metric conversions and foreign phrases too.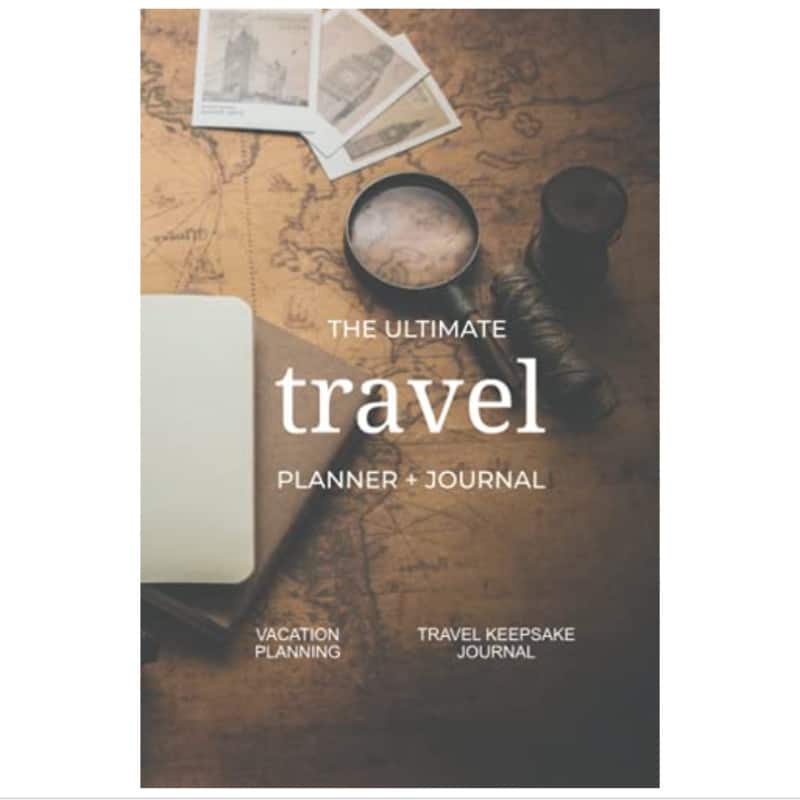 This journal is considered ultimate because it tackles two parts of travel – the planning and the experiencing!
Inside, this planner/journal includes travel tips and tricks, updated COVID travel restrictions & requirement guidance, vacation planning worksheets, itinerary design, passenger information, travel budget, to-do lists, packing lists, logistics checklist, and journal prompts.
We think you'll love the travel journal ideas in this little guy.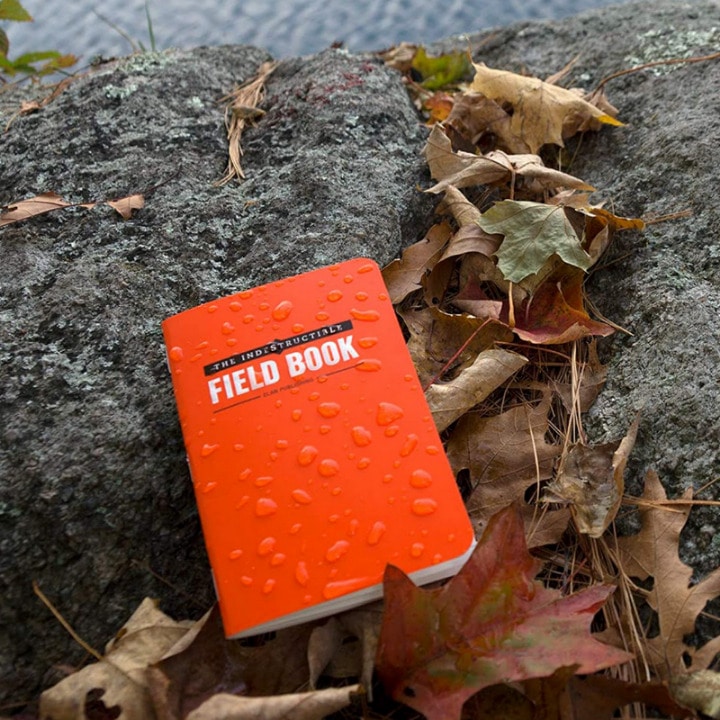 What we love about this one is that it's good in harsh weather and the rain! There's always a chance someone knocks over some water or you end up running through the raindrops, and with the Indestructible Field Book you won't need to worry as much.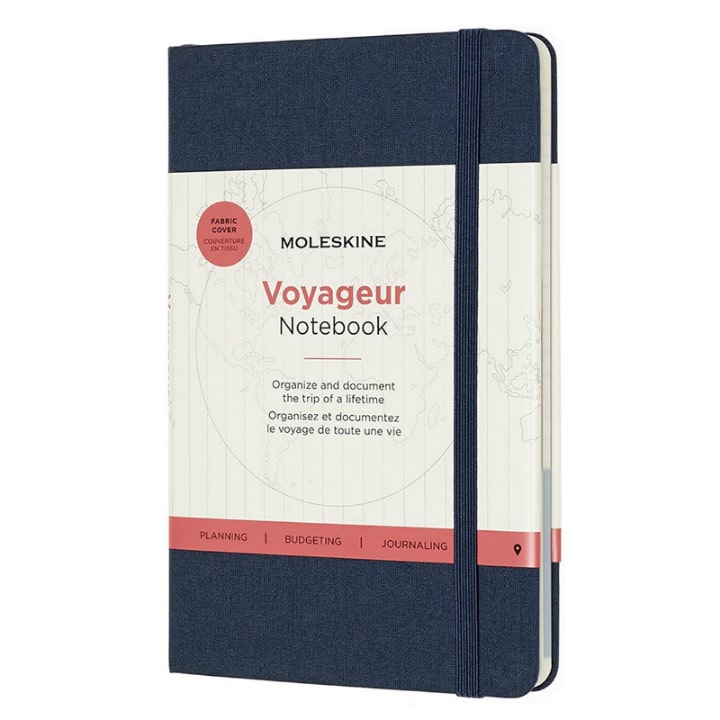 Everyone loves a good Moleskin, they are such classic notebooks. The Voyageur includes pockets for holding small pieces of paper like receipts or ticket stubs, lined sheets for journaling, and packing list spots too.
Bon voyage!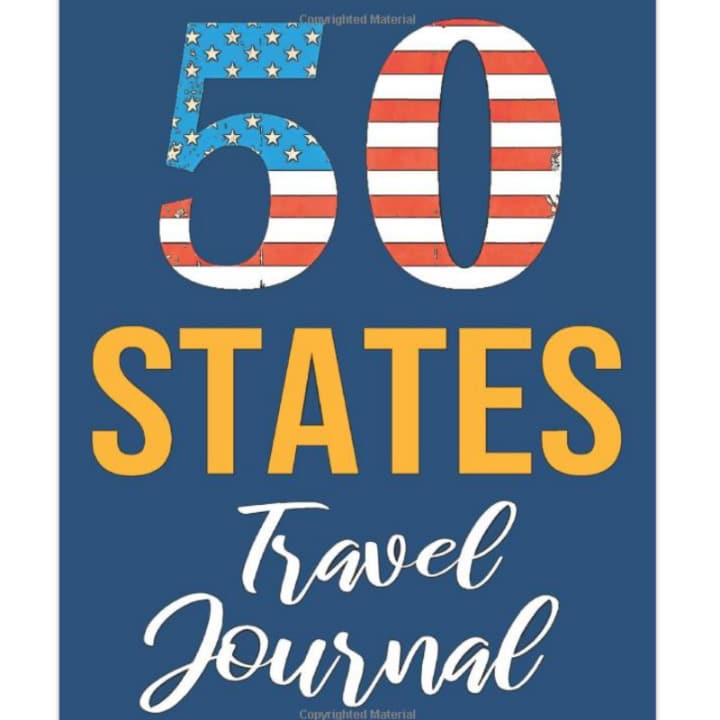 Have you always wanted to see the 50 states?! This guided journal is a great way to complete the 50 states challenge. From the Statue of Liberty to Yellowstone, there are so many cool things to see in the U.S.!
Grab a journal that helps you document it all.
We have to include a leather journal on this list because sometimes you just want to look cool. And that's okay! This sturdy journal is durable, smooth, and brings a strong leather scent to your next writing session.
You'll need to supply travel journal ideas and prompts, as these pages are blank and waiting for you!
Writing isn't your thing? There's an app for that!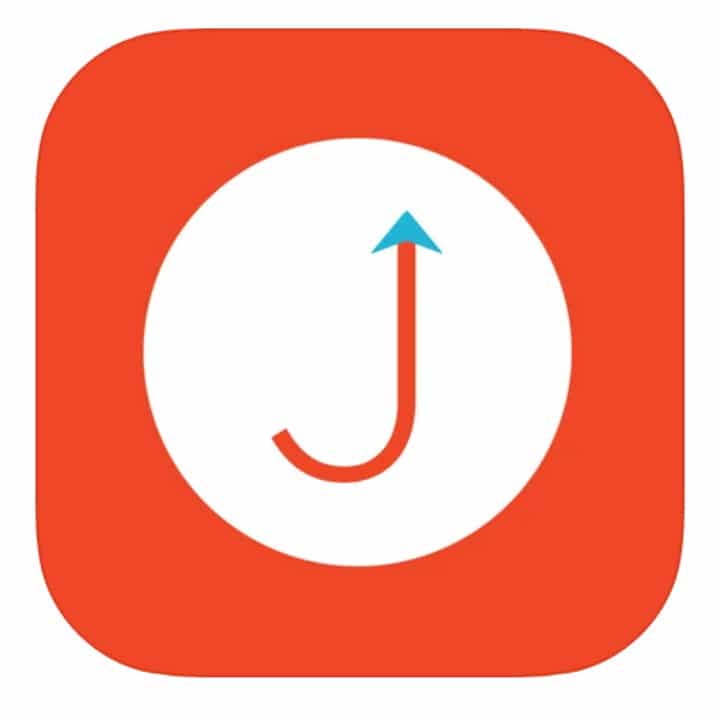 Journo is loaded with cool capabilities that make it so much easier to document your trips. And even comes with your very own travel blog so your friends and family back home can follow along (and endlessly drool at your adventures 🤤).
We can instantly print your Journo adventures and create a coffee table book for you – what a memento!
Journo is available on iOS for iPhones and iPad, with Android coming soon. Of course, there are a few other travel journal apps out there and I encourage you to compare with Journo and use whichever you think is best.
Psst! Remember Journo has several apps designed to help you have the best adventure. We know you'll love Life listr and Pack This as you journal.
Tell your story, change the layout, add pictures, and then print it! This is a cool little memento to have once the memories start to fade – you can always read about it again.
Remember, carrying a journal is great for at-home tasks and journaling, but also to have on hand during travel delays, long train journeys, and during any down time on your trip. Check out our guide on how to start your journal and 100 travel journal prompts and more.
What did you think of our list? Leave us a comment below!