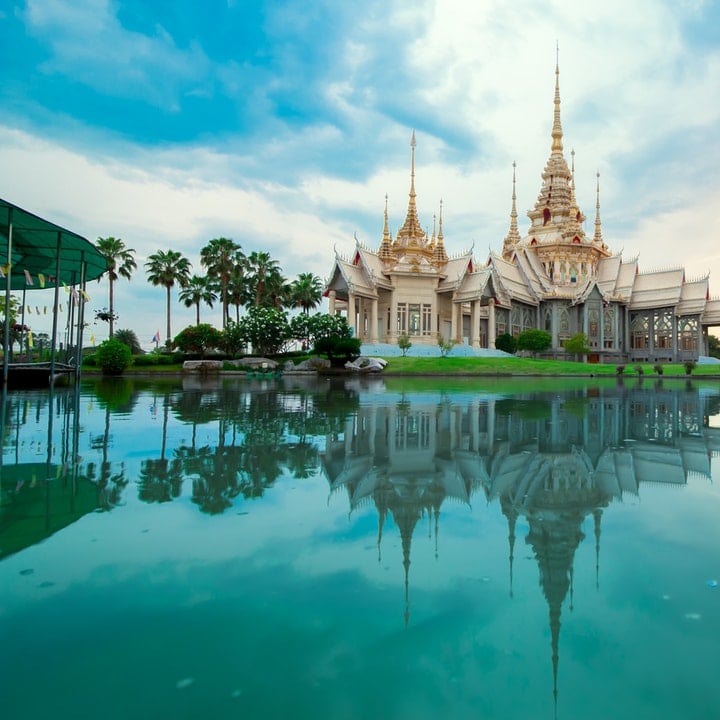 Have you ogled over the incredible architecture and history behind the Buddhist temples in Thailand? Or over the hustle and bustle in Bangkok? Or wondered how the street traffic and floating markets work so well? We have!
Travel to Thailand will give you a rich history lesson, exposure to another religion, beautiful beaches, and energetic nightlife. Did we mention you'll eat some yummy food too?
When you travel to Thailand, take a look at our guide below to get started with planning. Psst! Get your travel journal ready for this one, you're going to need it!
Thailand is #8 on our list of the 10 Best Countries to Visit in the World, combining lush rainforests and serene beaches, invigorating nightlife, and moments of complete serenity.
General Information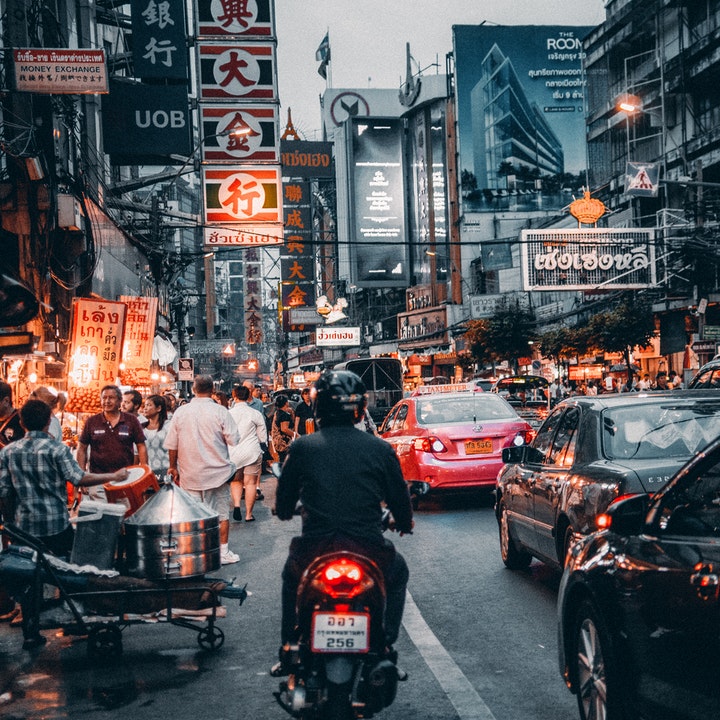 • Population: 69.63 million
• Capital: Bangkok
• Location: Located in Southeast Asia at the center of the Indochinese Peninsula. It shares borders with Myanmar, Laos, Cambodia, and Malaysia.
• Flag: The flag consists of five horizontal stripes: red, white, blue, white, and red, with the central blue stripe being twice as wide as the others.
• Time zone: Indochina Time (GMT+7)
• Currency: Baht (฿) (THB)
• Language: Official language is Thai. Other languages spoken include Isan, Kam Mueang, Pak Tai, and Malay.
• Climate: Thailand's climate is influenced by monsoon winds, so most of the country is classified as Köppen's tropical savanna climate. Most of the south and the eastern tip are considered a tropical monsoon climate, while parts of the south are a tropical rainforest climate.
• Religion: No official state religion, however, the country's most prevalent religion is Theravada Buddhism.
• Visa Requirement: To find out if a visa is required for your country — and easily get yours if needed — check out iVisa.com.
• Best Time to Visit: Visit during the cool and dry season between November and early April, temperatures range from 84°F to 97°F.
Health & Safety
As of August 2021, the CDC recommends avoiding travel to Thailand as COVID-19 rates are very high. If you must travel to Thailand, make sure you are fully vaccinated.
• Find information regarding COVID-19 and Thailand here: https://th.usembassy.gov/

• Follow the CDC guidelines for current travel advisories, as well as the U.S. Embassy guidelines.
Typical Costs in Thailand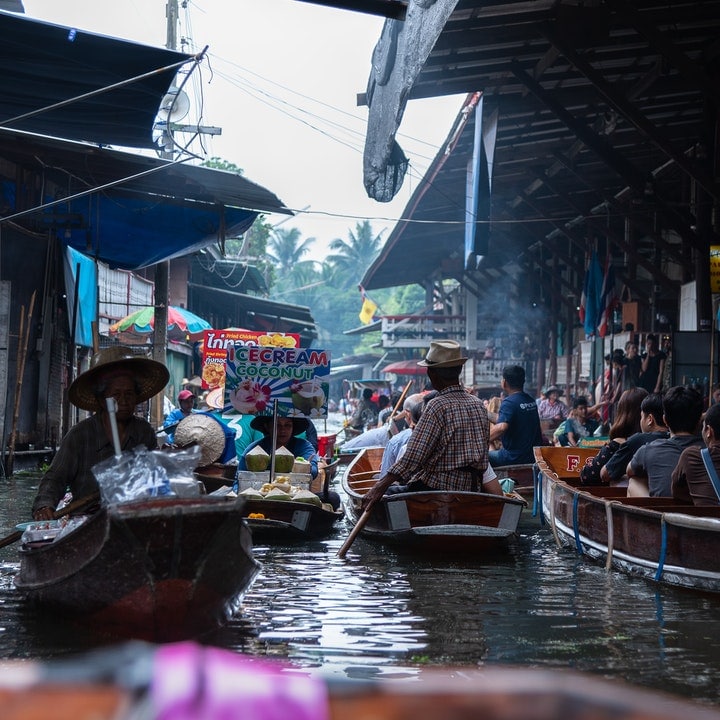 Travel to Thailand can be very affordable, it all depends on what you buy, if you're looking for luxury, and where you are in the country. The average cost of a basic Thai meal in a restaurant is 90 – 150 baht, which is roughly $2-$5. Bottled water will cost you less than 50 cents.
Accommodation can be very affordable, you will spend more if you're looking for something more luxurious.
Food to Eat in Thailand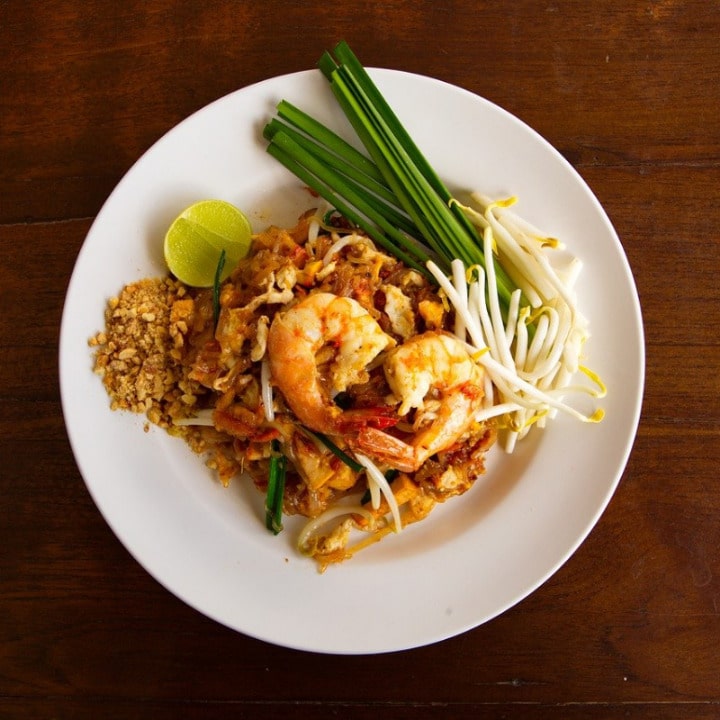 Khao Soi is a Burmese-inspired creamy coconut curry noodle soup, most often known as the essential northern Thailand dish. Starting with a coconut curry base, boiled egg noodles, and chicken, beef, pork, or vegetarian, the dish is then garnished with deep-fried crispy egg noodles, pickled mustard greens, shallots, lime, and fried ground chilies.
Pad Thai is a tourist favorite and a good way to start your journey into Thai cuisine. These are Thai style fried noodles, served with shrimp, chicken, and sometimes can be offered in a vegetarian option. Find it on any street corner as a tasty, affordable meal when you travel to Thailand.
Tom Kha Gai is chicken in coconut soup and it's a good option for you if you don't like or can't handle the spicy stuff. It's still a super yummy sweet flavor because of the coconut milk.
Pad See Ew features wide rice noodles in a dark soy sauce, chicken, pork, or beef, Chinese broccoli, and cabbage. Another popular dish for those just starting out with Thai cuisine.
Guay Teow is any type of noodle soup, which means it can consist of chicken, pork, beef, rice noodles, egg noodles, wontons, meatballs, the list goes on. You can get creative with different condiments and add some kick if you like.
Tom Yum Goong is a spicy shrimp soup featuring shrimp, mushrooms, lemongrass, chili, galangal, kaffir lime leaves, shallots, lime juice, and fish sauce.
Khao Pad is fried rice. Do I need to say more?
Som Tam is a spicy green papaya salad featuring shredded green papaya, tomatoes, carrots, peanuts, dried shrimp, runner beans, palm sugar, tamarind pulp, fish sauce, lime juice, garlic, and chilies. The ingredients are combined using a mortar and pestle, making these flavors really explode.
Mango Sticky Rice is commonly found as street food in Thailand, like a decadent dessert. It has been described as sweet, creamy, salty, and tangy.
Drinks to Try in Thailand
Cha Yen, or Thai iced tea, is strongly brewed Ceylon tea blended with a mix of ingredients such as orange blossom water, star anise, crushed tamarind seed, and sometimes other spices.
Nam Manao, also known as a "Thai limeade" combines lemon, lime, sugar, water, salt, ice, and mint. It's a refreshing thirst quencher after a long day of exploring.
Nam Anchan, or butterfly pea tea, is an herbal tea made from butterfly pea flowers.
Coco Yen, or iced cocoa, combines cocoa powder, sugar, condensed milk, hot water, and full cream milk. It's served on ice.
O-liang, or Thai Iced Coffee, combines Robusta coffee grounds, brown sugar, and various grains and seeds like cardamom, corn, soybeans, rice, and sesame seeds.
Top Cities to Visit in Thailand
Bangkok is the capital of Thailand, and it's probably one of the most unique capitals you'll ever visit. It combines the ancient world wisdom of temples and golden palaces with vibrant nightlife and floating markets. The Wat Arun Temple is a must-visit, as well as the floating markets for a true Thai experience. So many things to see and do!
Chiang Mai is known as Thailand's "Rose of the North," where the remains of ancient walls encircle over 30 temples. You'll find there's a strong combination of history and modern charm in this city, with temple visits during the day and an eclectic Night Bazaar in the evenings.
Stay in Krabi Town to visit this gorgeous region of Thailand, known for jungles, limestone cliffs, and the Instagrammable-isles floating in the Andaman Sea. Visit Tiger Cave Temple, PhraNang Cave Beach, and Railay Beach.
Pattaya is a relaxed area perfect for exploring the beaches and coast of Thailand. Visit the Sanctuary of Truth, the Big Buddha Temple, and spend time outdoors ziplining, swimming, and relaxing.
Must-See Sights in Thailand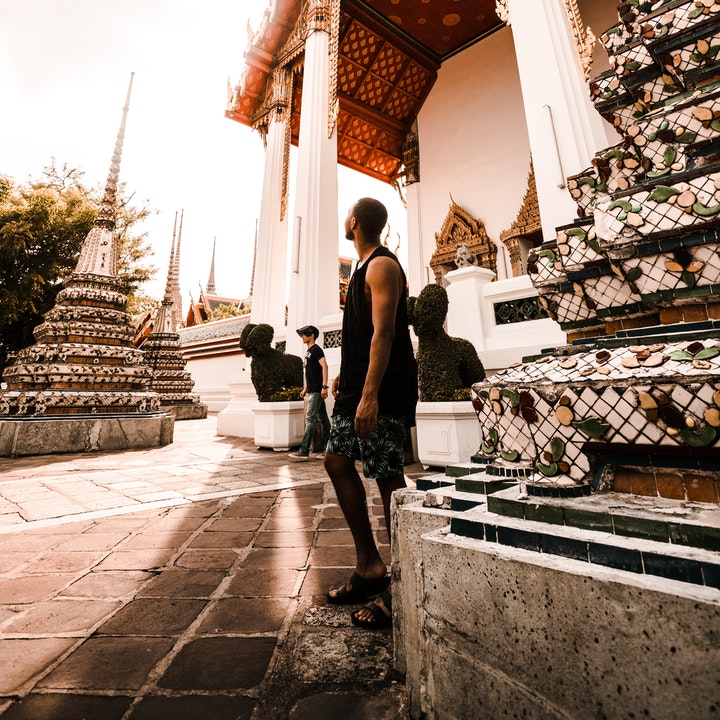 The Grand Palace
Wat Phra Chetuphon (Wat Pho)
Wat Arun Ratchawararam Ratchaworamahawihan
Railay Beach
Similan Islands
Ko Lipe
Khao Yai National Park
Wat Rong Khun – White Temple
Wat Phra That Doi Suthep, Ratchaworawihan
Nong Nooch Tropical Garden
The Big Buddha
The Sanctuary of Truth
Secret Buddha Garden
Elephant Sanctuary
Wat Rong Seur Ten – Blue Temple
How To Get Around Thailand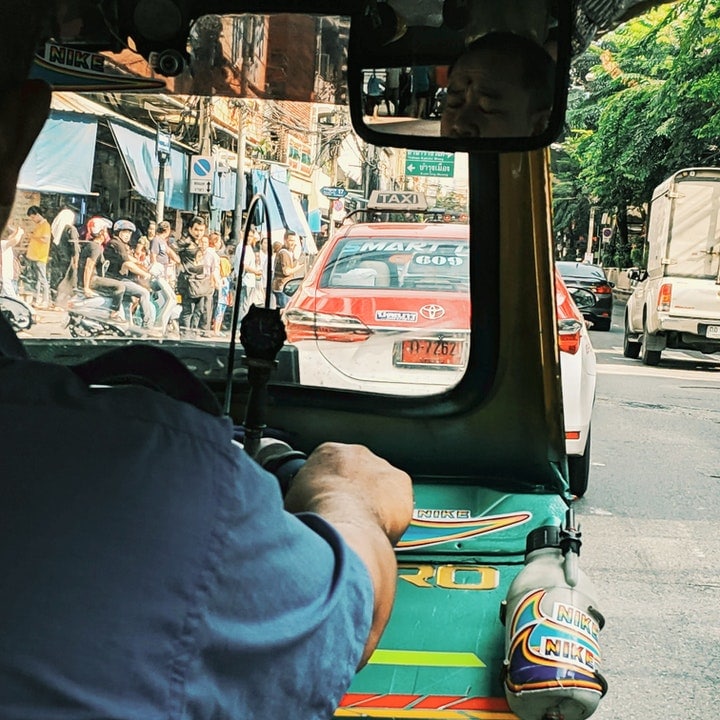 As far as transportation goes, street taxis, tuk-tuks, and ferries are easy to use and offer affordable options. Watch out for scammers, like tuk-tuk drivers who offer to be your dedicated driver for the day – this is an old scam! Don't fall for it!
Bucket List Experiences in Thailand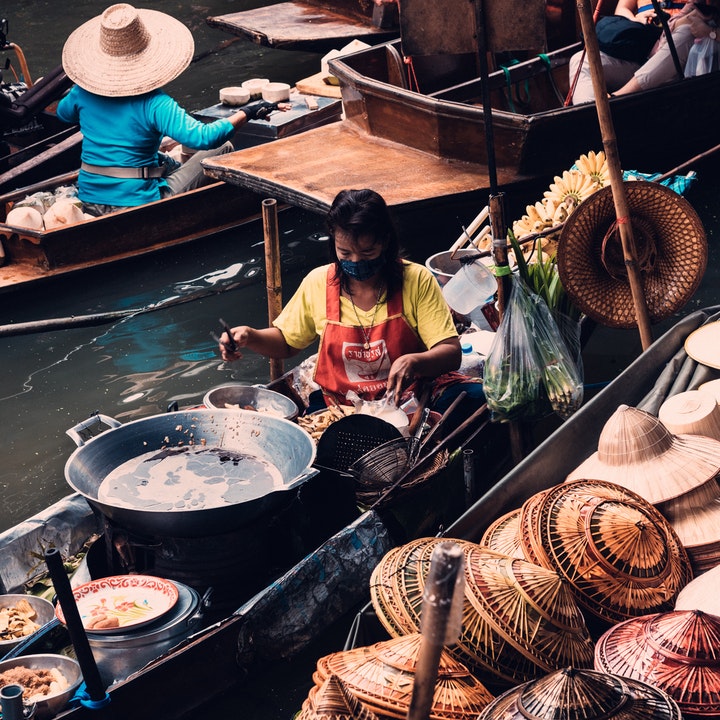 • Visit the elephants around Chiang Rai at the Anantara.
• Hike through the jungles in Chiang Mai and visit hill tribes.
• Go rock climbing in Krabi, located in the south of Thailand. The steep limestone cliffs offer gorgeous views for this activity.
• Spend time at a Buddhist temple, like the White Temple or Wat Rong Seur Ten, the Blue Temple.
Where To Book Flights
The cost of airfare can quickly eat up your budget. Click here to find the best flights to Thailand.
Where To Book Accommodations
Thailand is home to some fantastic hotels. Click here to find the best hotel deals in Thailand.
Housesitting is a great way to cut down on travel costs. Click here to find housesitting opportunities in Thailand.
Hostels are an affordable option when it comes to accommodations. Click here to find hostels in Thailand
Booking a vacation rental can help to save the budget. Click here to find the best vacation rentals in Thailand
Best Travel Tours & Packages in Thailand
Toursbylocals: Kanchanaburi Elephants and Tigers Lovers – 1 Day
GAdventures: Sailing Thailand – 7 Days
TourRadar: Ultimate Thailand – 11 Days
Additional Reading
Podcasts: The Bangkok Podcast | Conversations on Life in Thailand's Buzzing Capital, Surviving Thailand 101, All About Thailand
Books: What Could Be Saved by Liese O'Halloran Schwarz, Bangkok 8 by John Burdett, Sightseeing by Rattawut Lapcharoensap
Movies to make you fall in love with Thailand: The Beach, Shutter, Good Morning Vietnam(primarily filmed in Thailand)
Check out these Journo Adventures of travelers who've documented a trip there: @ramonasmith enjoyed the night market, @LADS69 booked a Thai massage and a sunset cruise, and @janaelise explored waterfalls and temples in Chiang Mai.
Now that you've seen our guide to travel to Thailand, what did you think? Leave us a comment below!