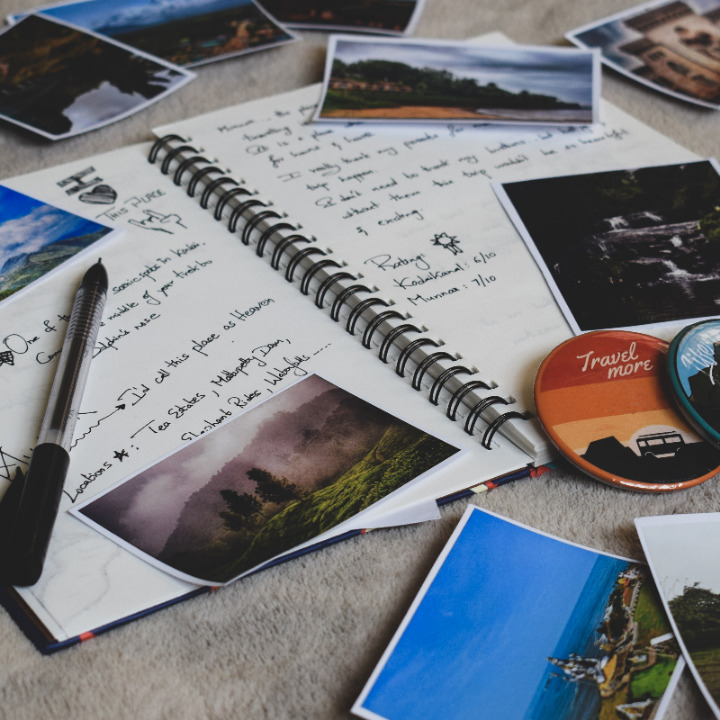 There's nothing like traveling somewhere new and experiencing once-in-a-lifetime moments. You can never have enough travel journal ideas to help stretch out those moments a little further, to make them last a little longer.
One way we can remember those moments is with a pen and a journal. Having lots of travel journal prompts is a great way to make sure you can relive your favorite memories you've made while traveling. 
Here are 100 travel journal ideas and prompts for any adventure.
We've taught you how to create a travel journal, but the list for creating and writing in these little books of paper goes on and on. Whether you want to draw, collage, write, use bullets, or simply write from prompts. There are so many ways to keep a travel journal.
First things first, check out a paper journal or a digital journal app, like Journo.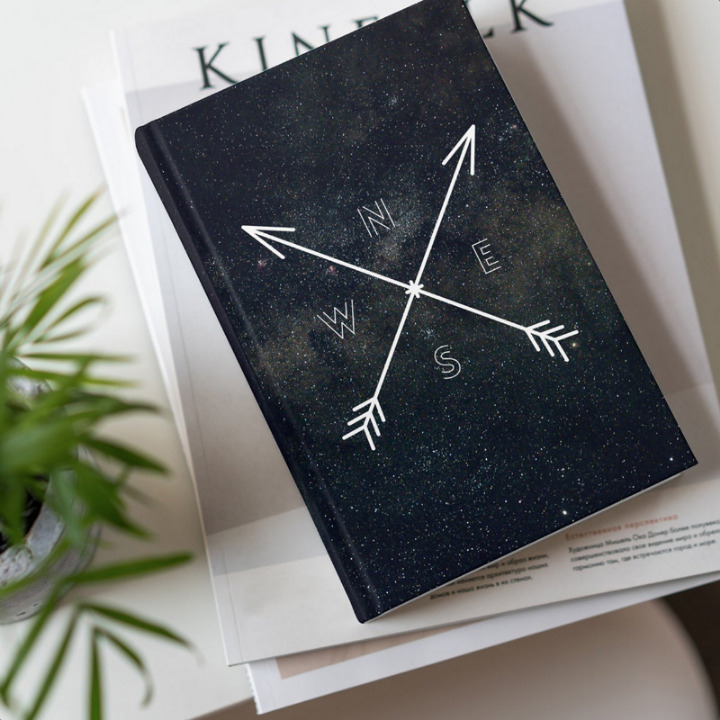 Journals like the Quintessential 'North Star' Travel Journal, the Personalized Boarding Pass Journal, and The World is a Book' Travel Journal are great options for starting your first travel journal.
If you're looking for something more digital-friendly, download the Journo app. Create your own story with Journo – From classic journal writing to travel maps, and photo books, you'll be able to document your adventures, print your journals, publish your travels online, and much more.
We give you the tools you need to immediately start writing your own amazing story!
Determine when you want to create your travel journal.
Do you want to write out prompts before your trip starts? While you are traveling and exploring new places? Or after you come home?
Travel journals are created by you and for you, so you can decide when and where to start creating the perfect journal for you.
Determine the overall layout and aesthetic of the journal.
Before we get to writing, take a look at different creative ideas of physically crafting your journal on Tumblr and Pinterest. Some people turn theirs into a sketchbook of each place they visit, then add more as they go along.
Will you add art? Will it strictly be journal entries or prompts?
Consider making it a bullet journal, or parts of it.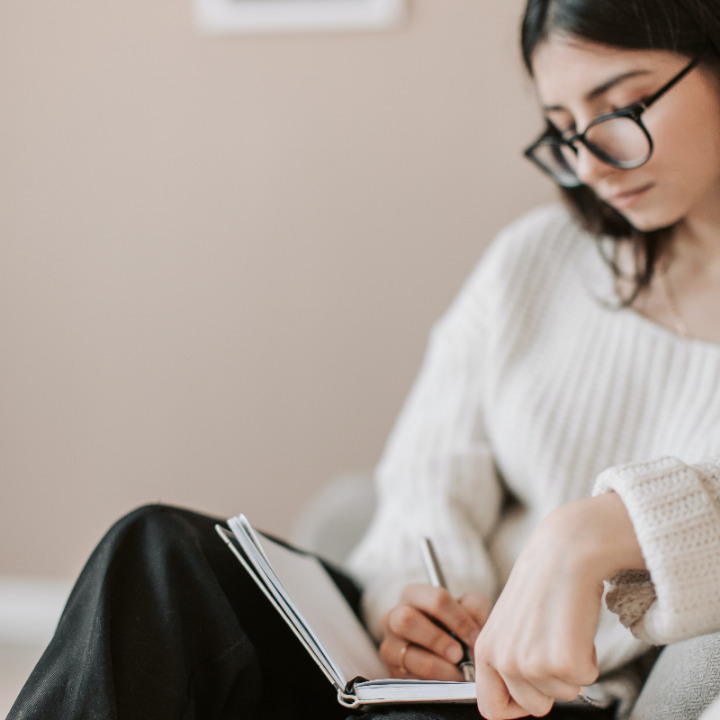 Bullets and lists are a great way to remember your favorite things about a place or a road trip. But they are also great for writing down before you leave – list things you want to see, experiences you want to have, locals you want to meet.
The opportunities for lists and bullets are endless! You can craft your trip around lists too. Do you want to learn about a new place through their coffee shops? Bars? Parks? Public transportation? I vow to explore London through it's coffee or tea shops. What's on your bucket list bullet list?
Be prepared to decoupage.
Decoupage? That sounds like a fancy term, and it is. But this is your journal, so it can be whatever you want it to be! Tape in receipts, notes, and all the little pieces of papers that end up in your carry-on. Include brochures, maps, tickets, and draw sketches too. Make it look pretty, or not. It's yours!
Create a photography challenge or photography bingo.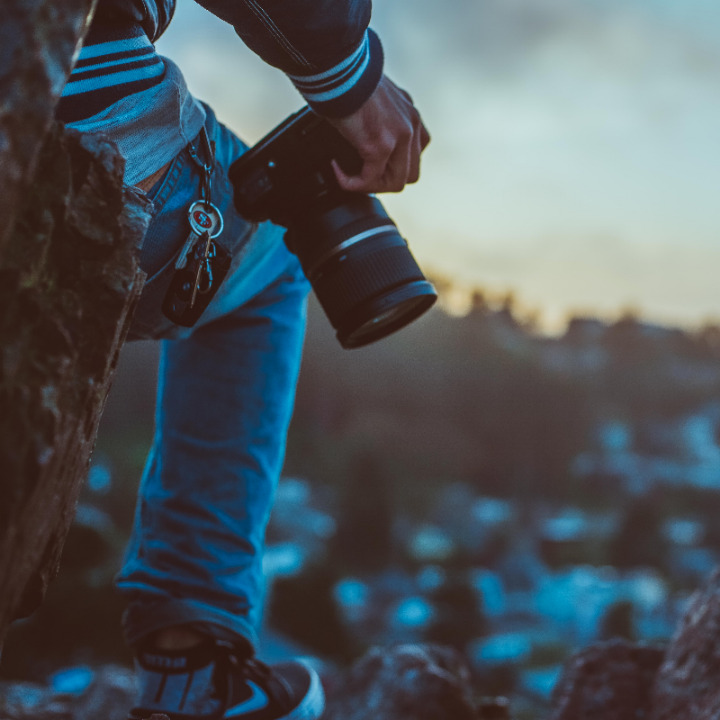 This is a fun way to ensure you see all you want to and take pics of all the fun things at your travel destination. Simple create a bingo board in your journal, and then list things in the boxes that you'd like to have pictures of.
This can include landmarks, sights, street food, nature, textures, flowers, sunset, 'in my bag', and so many other fun ideas. A great way to get creative in your travel journal!
Psst! If you're using a digital journal like Journal, you can add these photos right onto the app whenever you take them.
Now it's time to start writing.
Here are 100 writing prompts to get you started:
General writing prompts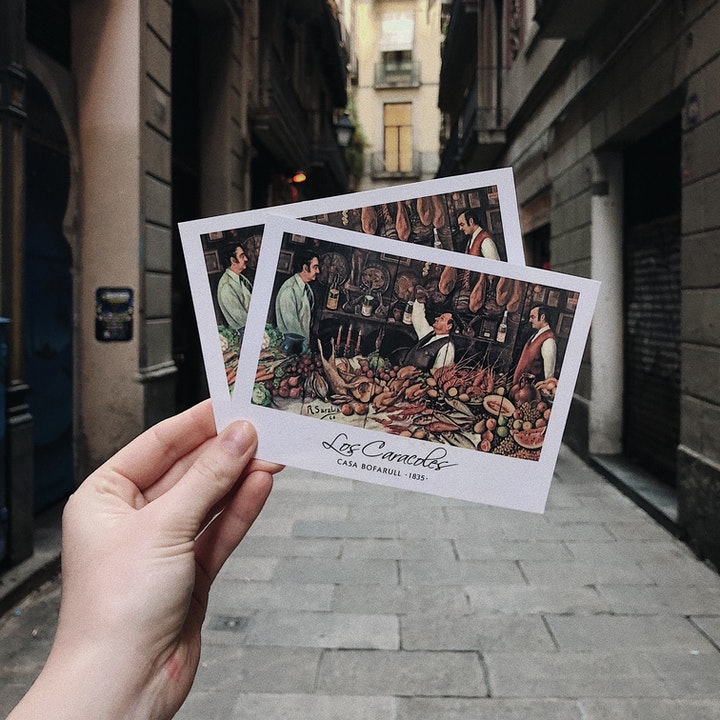 Write a postcard to a friend or family member from a place you'll never forget.
You're traveling around the world in 180 days, what will you bring?
You're going on a 5-country tour of Europe: What do you eat?
Write a letter home to your best friend describing what you miss about home.
Taking a cruise with your best friend, but when you arrive at the ship you find it's a senior citizen cruise. Describe your first day.
Your flight is cancelled and you are stuck in the airport for 34 hours. Write about your time at the airport.
How can you feed your sense of adventure, without leaving home?
What's more important, the journey or the destination?
How has travel changed your life?
What is one event around the world you would love to attend? Why?
If you were a tourist in your own city for a day, what would you do?
If you could go on a trip with anyone, dead or alive, who would you go with and where?
Share a time when you got lost while traveling.
What fear have you overcome while traveling?
Write a review of the best hotel, hostel, or Airbnb you've ever stayed in.
Write about a hike or outdoor experience you enjoyed – using all five senses.
If you were to write a travel memoir, what would the first chapter be?
Think of the most beautiful place you've ever been to. Describe it using all five senses.
Think back to an interesting conversation you've had while traveling and begin your story with that dialogue.
What do you think is the biggest misconception about travel?
What is the biggest lesson that travel has taught you?
Choose a trip you haven't written about yet. Choose a different time period, and write about the trip as if it happened in that time period.
Visit a beautiful beach. A message in a bottle washes up onto the shore. What does it say?
Imagine you had an extra day on a trip you loved. What would you do?
Write a letter of gratitude to someone who showed you an act of kindness while traveling.
Write about a trip with multiple destinations, from the perspective of your backpack.
What is one thing you've learned from a local while traveling?
Write about a road trip you went on, from the perspective of someone or something else (maybe your car, wallet, side mirror, etc.).
Remember a time when you met people while traveling that felt like family.
Have you gotten out of any sticky situations on the road? Tell us!
If you could change anything about any of your trips, what would it be and why?
What languages do you speak?
What countries and places around the world fascinate you?
What is your next adventure?
Have you fallen in love while traveling? Talk about how you met and how your love progressed.
What have you explored locally or regionally in your home country that has made you feel adventurous?
Where would you go to learn more about your ancestors? Is it a dream trip?
What is one destination that you will never forget?
What is one destination you could permanently move to?
Where do you get your sense of wanderlust from?
What's the weirdest food you've tried around the world?
Would you rather see a bunch of cities in one trip for a shorter amount of time or spend more time in each city, and visit fewer? Why?
Have you visited any of the Wonders of the World?
Have you visited any UNESCO World Heritage sites? Which do you want to visit?
Have you visited any sites lived in or frequented by your favorite musicians? Or celebrities?
If you could speak, write, and read one additional language to your own, which would it be? Why?
What is the best local fast food you've had in a foreign country?
Do you prefer to travel alone? Or in a group?
Which literary city would you love to visit? Why?
What's your favorite travel show? Why?
Prompts before you go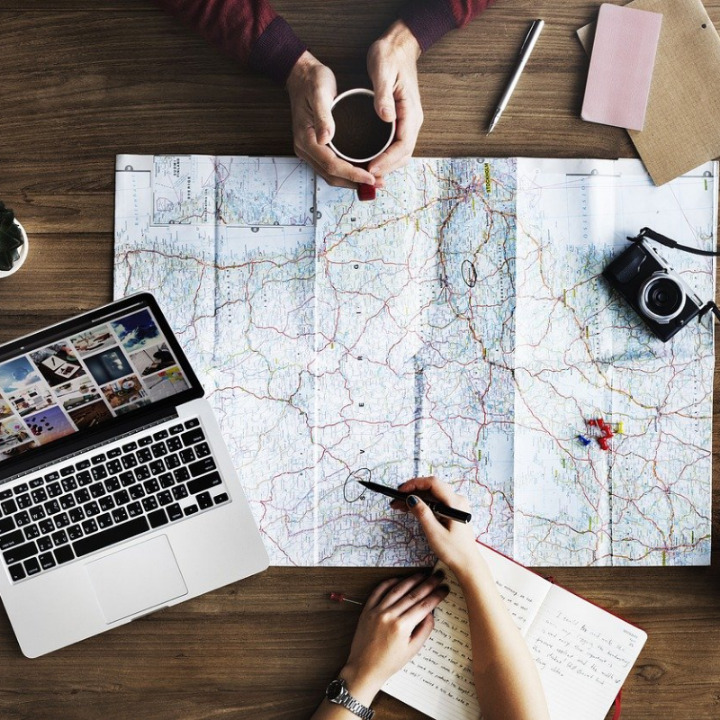 What is on your bucket list at this destination?
What have you enjoyed about planning this trip the most?
Why did you choose this itinerary?
What are your expectations of this destination or experience?
What are you most excited about? Why?
Are there any local delicacies you can't wait to try?
What is something new you want to try at this destination?
What souvenir do you want to bring home? And for whom?
What do you want to learn on this adventure?
What have you researched about this destination already?
Is this a solo trip or are you traveling with friends or family?
Are you hoping to relax or go on adventures on this trip?
What do you know about this destination?
Give yourself a piece of advice before you leave on the trip.
Prompts while you're there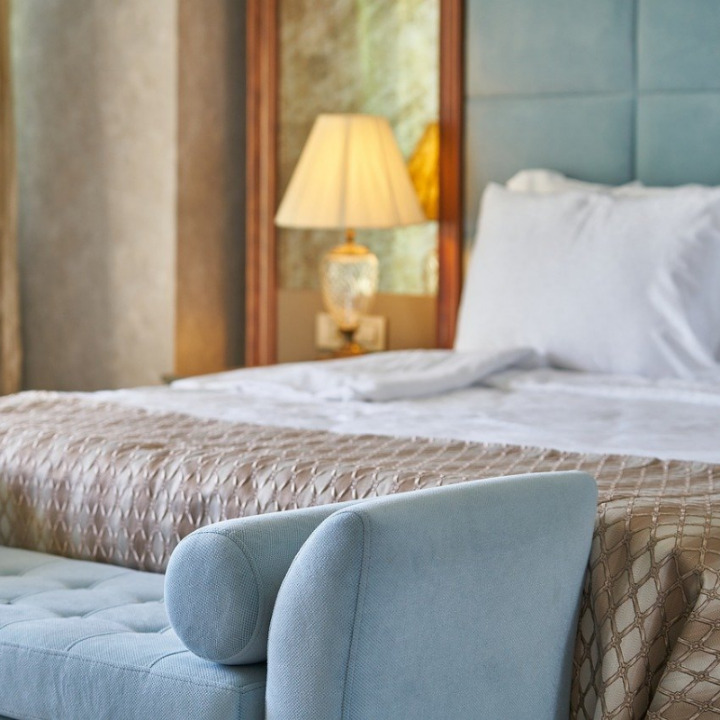 What was your first impression of your destination? What did you see, hear, smell first?
Draw a local landmark.
Describe your hotel lobby/room or Airbnb residence.
What did you experience today that you enjoyed? Even the small things…
What was the worst thing that happened today?
Did anything make you smile, laugh, or cry?
Did you try something new?
What has been a total surprise about this destination?
What are the cultural differences between your culture and theirs?
Which traditions would you like to adopt?
Describe how people dress for work and play.
What meal can you eat again and again?
How do the people here spend their time on the weekends?
What emotions have you felt during this trip?
Are there any current events at your destination that are affecting you?
How did an experience, person or place make you feel today?
Have you met any locals? Describe them.
Did you learn any new words or phrases today? How did you learn them?
Sketch a moment you want to remember.
Describe an everyday activity you observed.
Have any of your perceptions or opinions changed?
What will you miss when you return home?
Have you tried a local beer or wine yet?
Prompts after you've left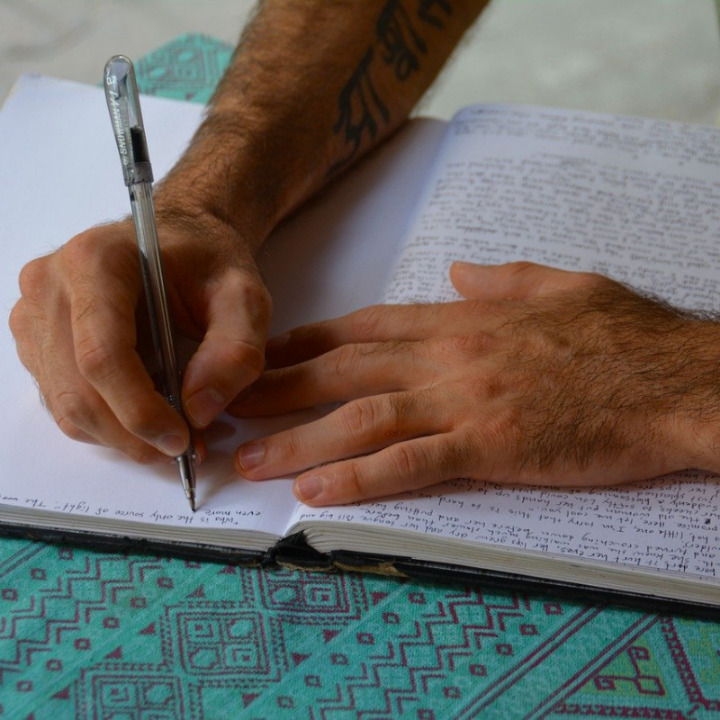 Overall, would you visit again?
Would you change anything about the way you visited – the accommodations, the transportation, activities, etc.?
What was your favorite meal?
What was your favorite tour or activity?
What were the highlights of your trip?
Did this adventure help you grow?
Where do you want to go next and why?
What is one thing you wish you would've done?
Recall something funny that happened on this trip.
Were there any trip disasters?
Describe your favorite day or evening on this trip.
How did you feel when you arrived home?
What's one piece of advice you would give someone else going on this trip?
Now that you've seen our list, what do you think? Leave us a comment below!