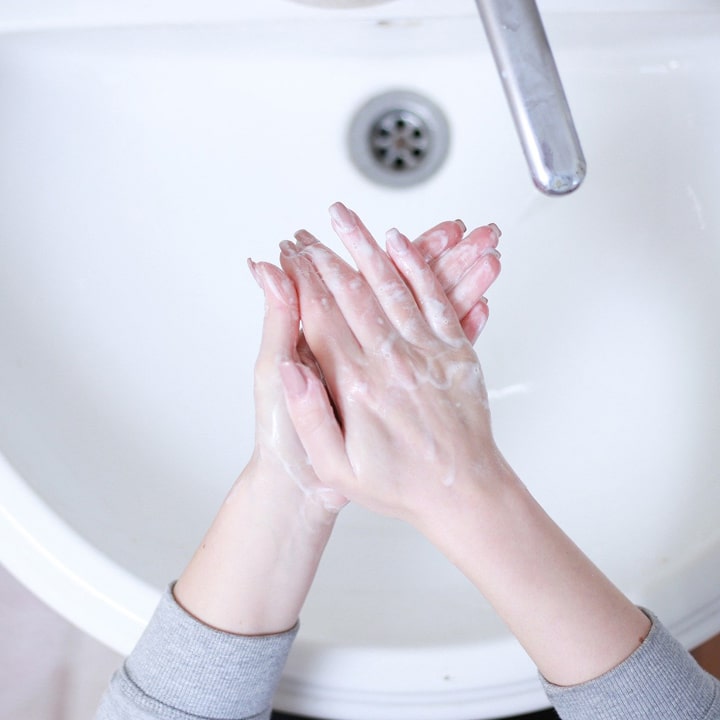 Wearing masks, washing our hands, and maintaining a safe social distance are a few ways for us to stay germ free while we travel.
But aside from these safety practices, we should be traveling with more germ free, antibacterial, and antimicrobial products than normal while in the midst of the ongoing pandemic.
Now wait a minute, we don't mean you need to pack bottles of hand soap or Clorox wipes (although these are super important!). There are tons of travel-size alternatives to stay healthy, be responsible, and clean whether you're flying far away or taking a road trip.
Here are 11 products to keep you germ free on the road.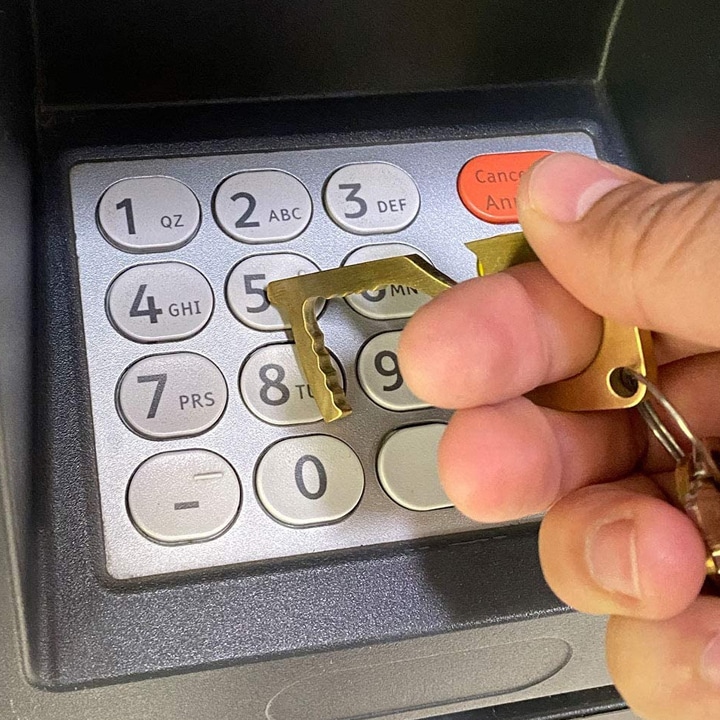 Stay healthy and germ free with this Clean Travel Touch Tool. This little guy sits on the top of our list because it helps you complete simple tasks while avoiding contact with objects like elevator buttons or public door handles, atm keypads, and more.
By minimizing the things you touch, you are lessening the number of germs that you come into contact with, which could prevent illness.
This tool is stylish, easy to carry, and slips right onto your keychain! Bonus: it doubles as a bottle opener too! With the Clean Travel Touch Tool, you are one step closer to a germ free trip.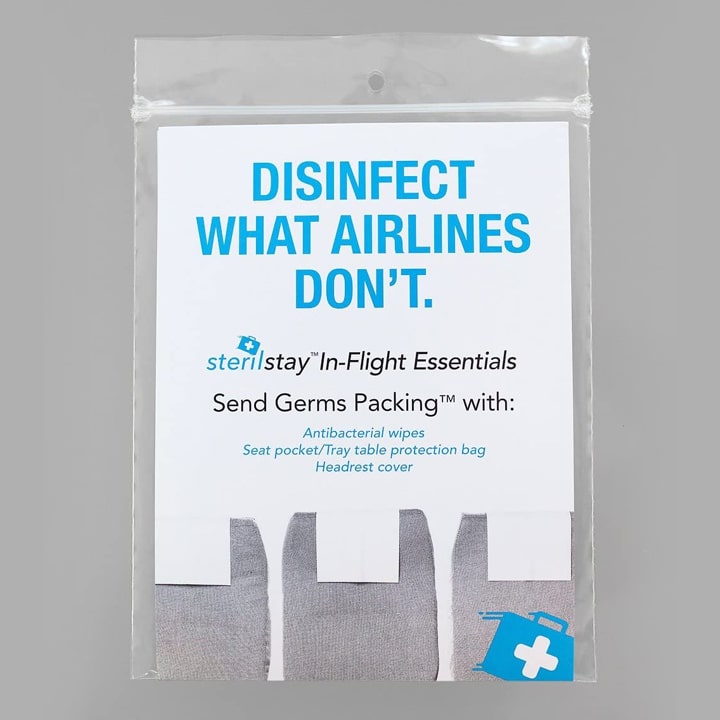 When you walk onto an airplane, it should feel clean, well as clean as it can be! If you're worried about additional germs lingering around, there are plenty of other airplane passengers worrying too.
Grab this in-flight essentials kit to help settle your mind. In this kit, you'll get three antibacterial wipes to sanitize your hands and clean shared surfaces like armrests, tray tables, seat buckles and air vents, a seat pocket/tray table protection bag, and a headrest cover to keep your hair and face clean.
Use this kit in a multitude of places, maybe on a long bus ride, a train ride, or on other public transportation too!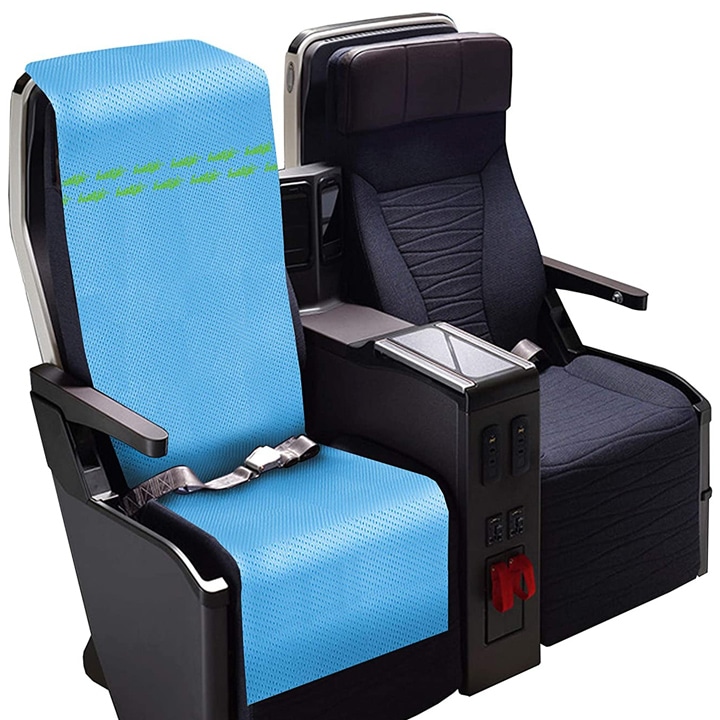 Did you know there are disposable airplane seat covers? For just $10?
Consider purchasing a disposable airplane seat cover, like these from Fresh Flight, to protect yourself from germs on the airplane seat.
Using adhesive tape, you can stick the seat cover along the seat to create a barrier between your body and the seat. In addition, use the antimicrobial wipe to clean the armrest and table tray.
These covers are compatible in Economy, Comfort Plus, Business, and First Class seats. Plus, these are definitely useful in other places, like on buses or trains.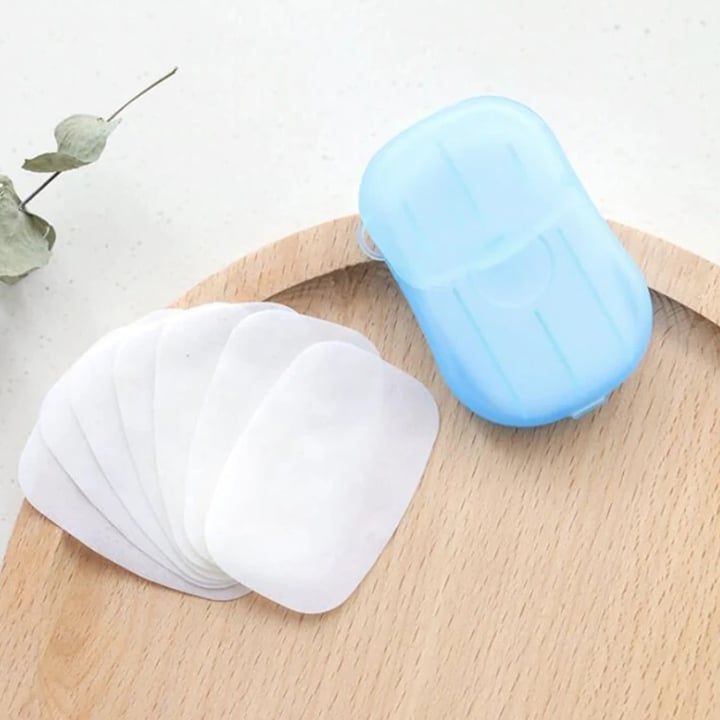 When you're on the go, you're probably carrying hand sanitizer in some form, however, it would benefit you to have soap as well. Just add water to one of these tiny little soap sheets and voila! You have soap.
We love that you can throw these in your purse, your carry-on, a backpack, and even in your pocket in the event that you might need them – and don't have to worry about leaks!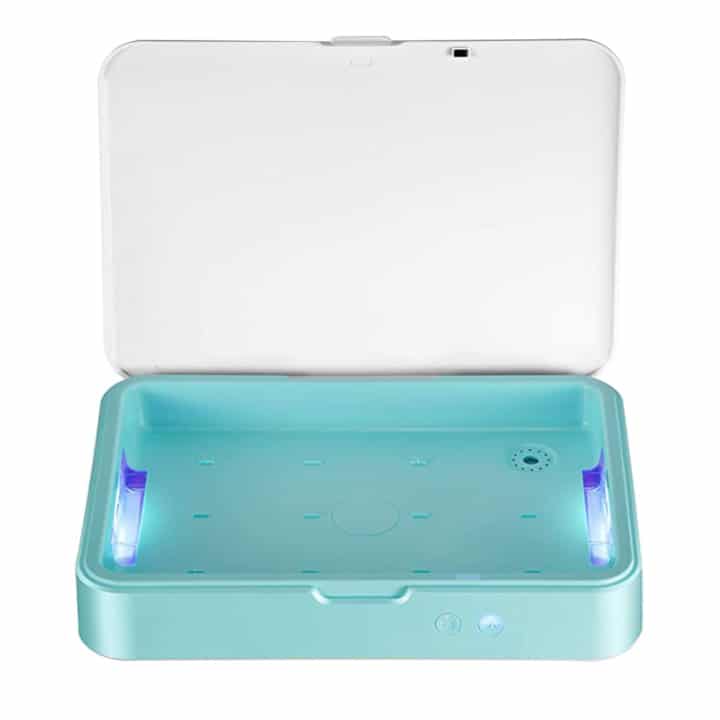 One of the dirtiest surfaces we encounter every day: our cellphones. This portable cell phone cleaner is ideal for keeping your phone clean whether you're traveling domestically, internationally, locally, or even staying at home.
It's compact, portable, and will fit all kinds of devices and small objects. When the cleaner is done cleaning, it automatically shuts off.
In addition, use your favorite oils for the aromatherapy function – we recommend lavender, a relaxing, calming scent.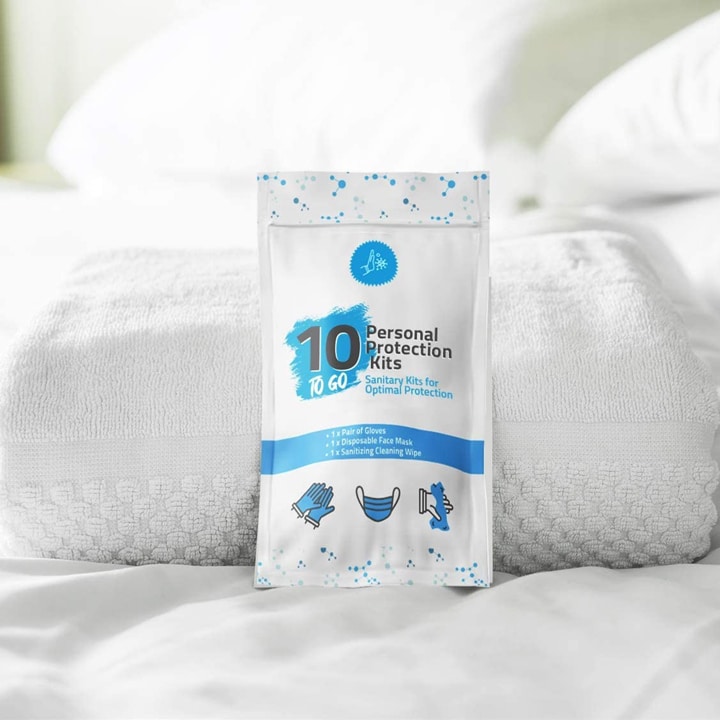 It's important that you have the following protective equipment (all included this kit!) when you are traveling: a face mask, protective gloves, and disinfecting wipes.
These will come in handy in so many places including hotels, gyms, restaurants, airplanes, bus stops, train stations, Airbnb's, and more. Use a wipe to clean the hotel room remote, wipe down the light switches in the Airbnb, or utilize the hand railing on the bus.
The options are endless. Wearing a mask may be required in many crowded places around the globe, including museums and other crowded areas. Don't let your lack of a mask ruin your trip, and grab one of these kits.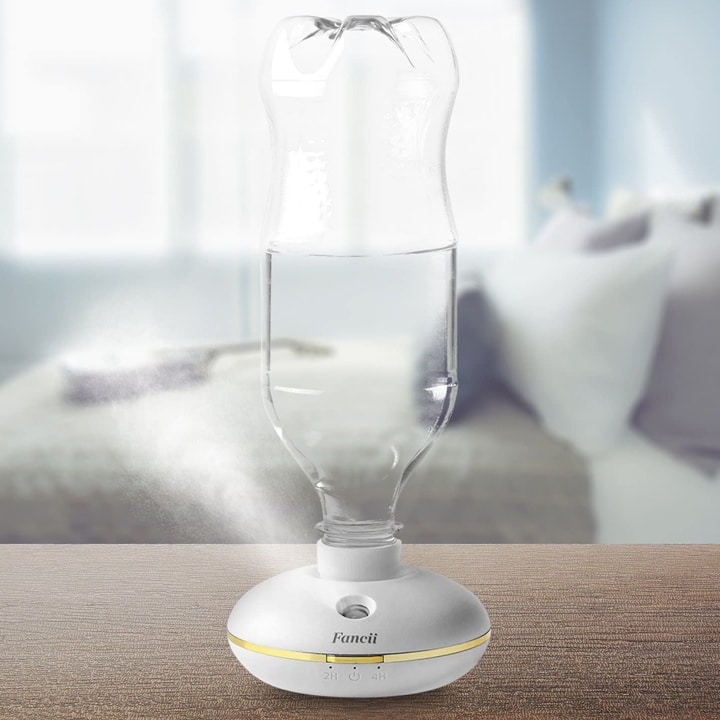 Breathe in fresh, clean air with this personal mini humidifier. This little item projects hygienic, humidified air quickly and quietly, is compact, and easy to carry.
It runs on batteries or can be plugged in via a USB. Plus, it only needs a standard sized water bottle to become a humidifier! This is a clean, safe, convenient way to humidify the air around you and maintain a healthy breathing environment. One step closer to germ free.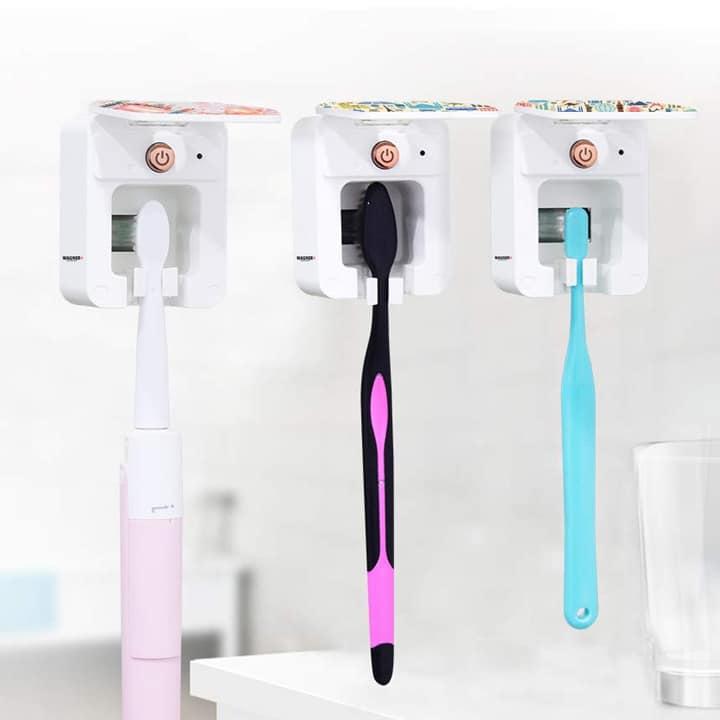 One important hygiene tool that follows you on your travels: your toothbrush.
You travel with a toothbrush cover over your toothbrush to keep it protected from outside germs, but, when was the last time you washed the toothbrush itself?
This deep toothbrush sanitizer is perfect for home or on the go using advanced LED lights to sanitize your toothbrush. Running on a lithium-ion battery, the sanitizer lasts for 28 cleaning cycles, at 6 minutes each. The tool fits all toothbrush heads and is a great way to clean the one thing that cleans your mouth.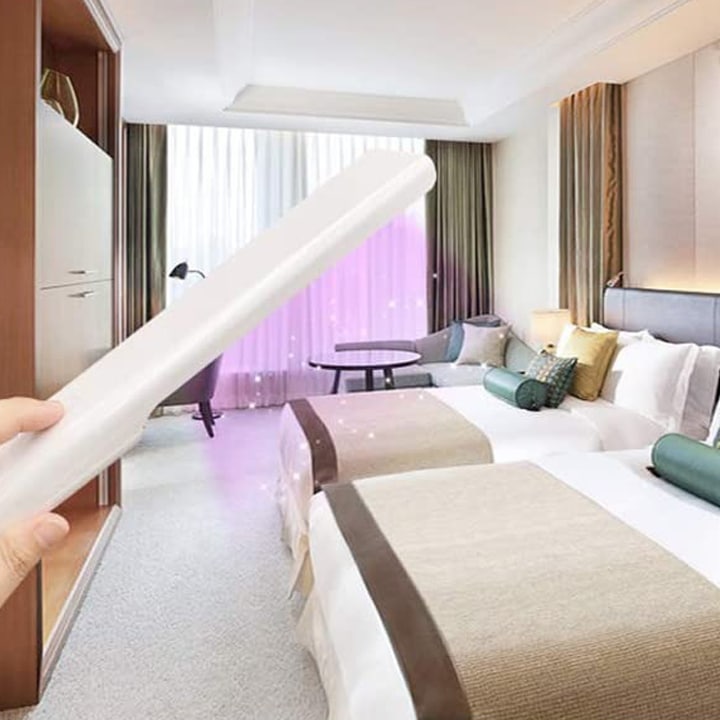 A portable UV wand is crucial for your next trip.
This wand uses LED light to eliminate bacteria on a variety of surfaces including toilets, pillows, beds, desks, towels, and more.
It's convenient to carry, charges by USB, and is completely safe to use on all kinds of surfaces. Its one-touch operation and automatic shut off make it ideal for on-the-go, especially in a hurry!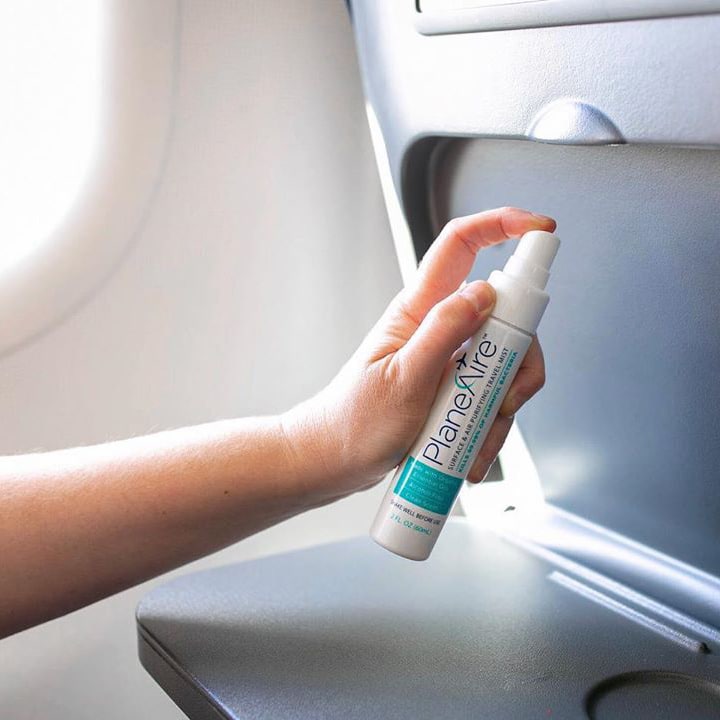 PlaneAire surface and air travel mist is another great way to clean the air around you as you travel.
PlaneAire, made from 100% pure certified organic essential oils and a potent proprietary blend of organic fruit acids, can be sprayed directly on surfaces, in the air, or on a tissue to be used as a wipe.
It comes in a TSA-approved size, however, PlaneAire is great for use not only on airplanes, but in restrooms, on shopping carts, deliveries, tech devices, bottoms of shoes, waiting rooms, on gym equipment, at the ATM, on luggage, in the air, and in hotel rooms!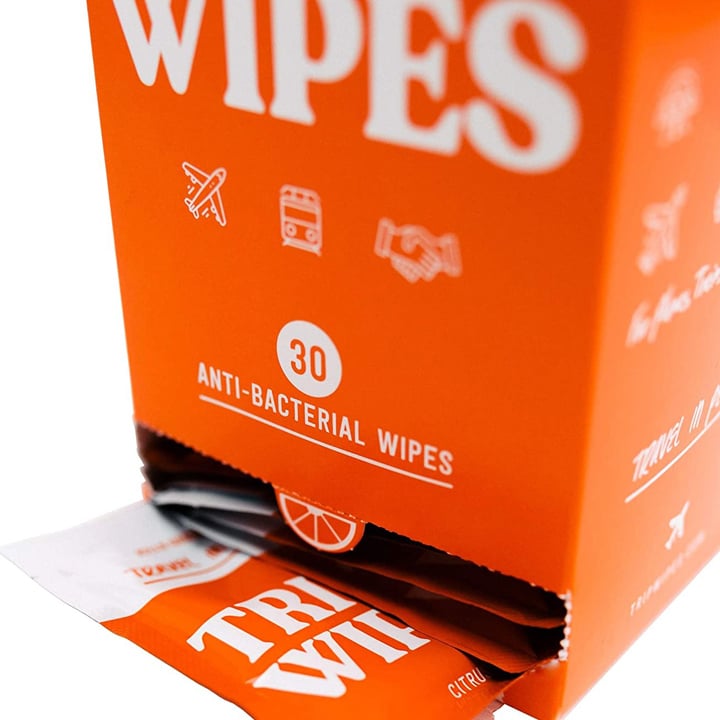 Trip Wipes come in a convenient little box perfect on a road trip, in your luggage, or carry-on.
Trip Wipes are antibacterial hand wipes that eliminate 99% of the germs on your hands. Not only do these wipes smell incredible and help keep us healthy and germ free, but they are biodegradable and non-toxic too!
So many of these items come in handy during your day-to-day at home too. Maybe you frequent the local coffee shop or spend a lot of time in the car, in which case, we say definitely bring some Trip Wipes and the Clean Touch Travel Tool (seriously you have to try this) with you!
Psst! Make sure you're bringing your own blanket on the airplane, these are oftentimes a feeding ground for germs! Pack a reusable straw and cup, use these whenever you can!
What do you think? Did we miss any products to keep you germ free on the road? Leave us a comment below!