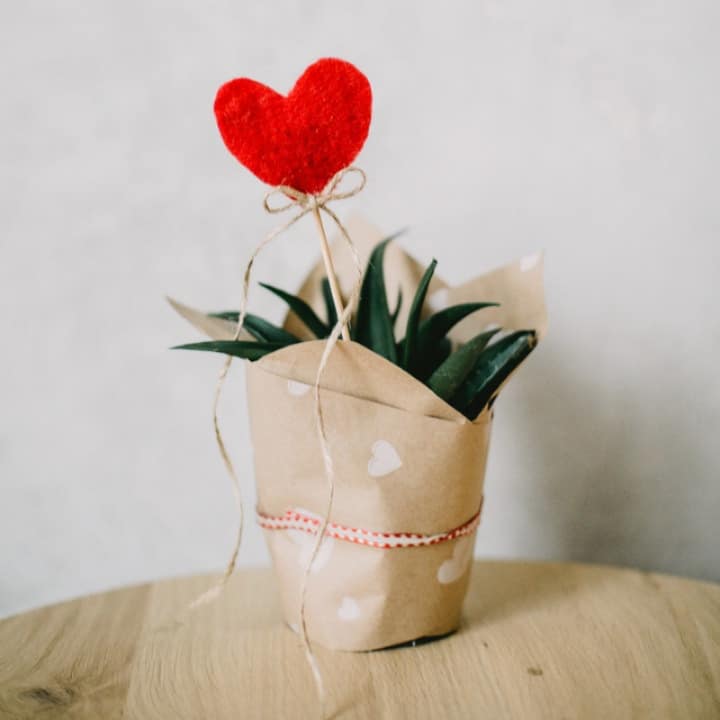 We LOVE Valentine's Day because it's a day where we get to focus on all the love around us. Love with friends, family, gal pals, fur babies, and romantic love too.
While it's known for being the "Hallmark holiday," we think Valentine's Day is a great way to surprise someone with a personalized Valentine's Day gift. Traveler's too!
Check out our list of 12 Personalized Valentine's Day gifts for any traveler.
For Him & Her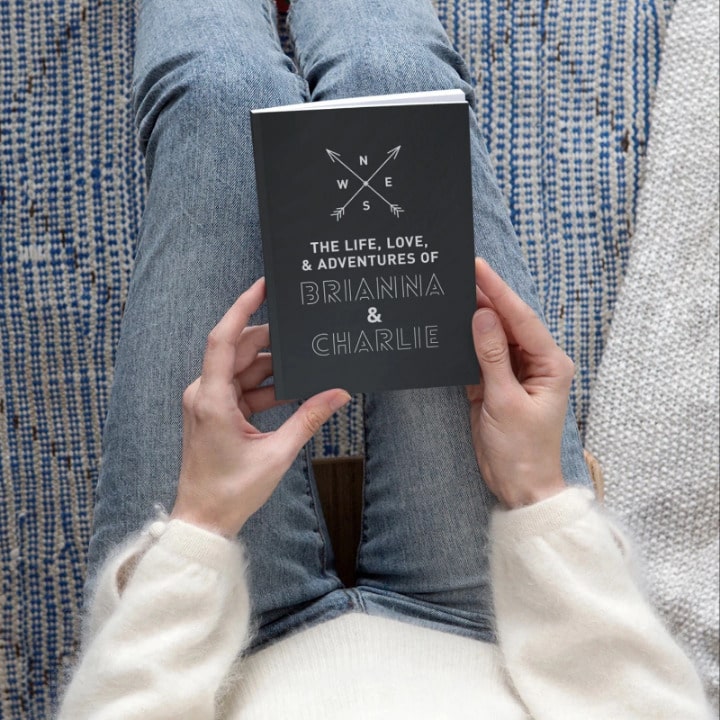 No matter who you're celebrating with this Valentine's Day, a personalized journal is a fun way to remind them of the beauty of writing, collecting, and recollecting.
This journal is hardcover and features 80 college ruled pages for writing down moments, memories, and planning more travel of course! First, choose a color: Dark Blue, Sky Blue, Black, or Sunset, then toss in the two names. The journal reads, "The Life, Love, & Adventures of _____ & _____."
We know your traveler is going to love this one!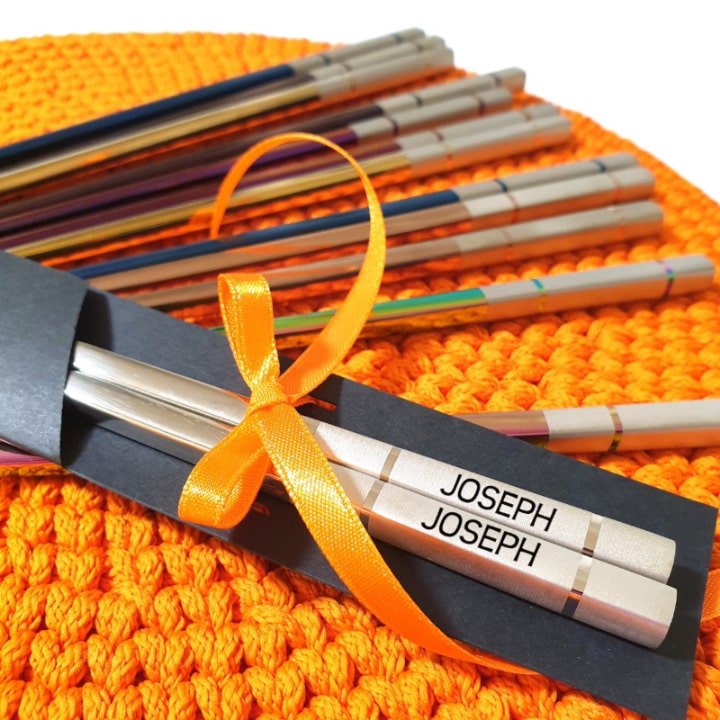 Does your love bug love Asian food and culture?! This is the ideal gift on Valentine's Day – one that will fill their heart and their stomach. 😉
These natural bamboo chopsticks are hand-finished from untreated solid wood. They come in a beautiful wooden case, which can be engraved with a message, quote, or name.
This gift will come in handy for all those nights-in with takeout and it's good for the environment.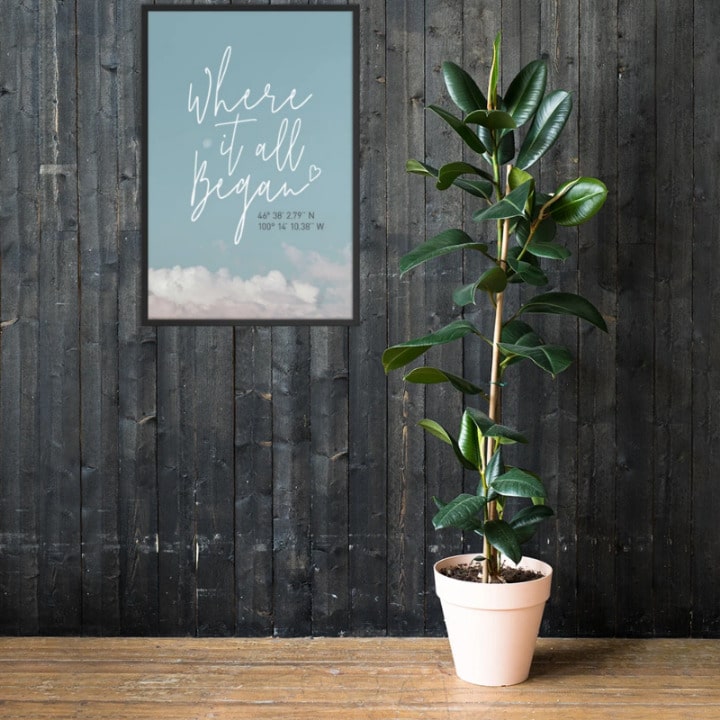 Nothing says "I love you" more than an adorable piece of wall art with the coordinates of where you met, got engaged, married, conceived a kid, or anywhere that's significant to the two of you.
It's personal, sentimental, and a fun way to remember that time. It's super easy too – you'll go to this site: https://www.gps-coordinates.net/ and enter the address of your special spot, then send the coordinates into Journo and voila! Choose from different colors, sizes, and whether or not you need a frame.
This one makes a great anniversary gift too!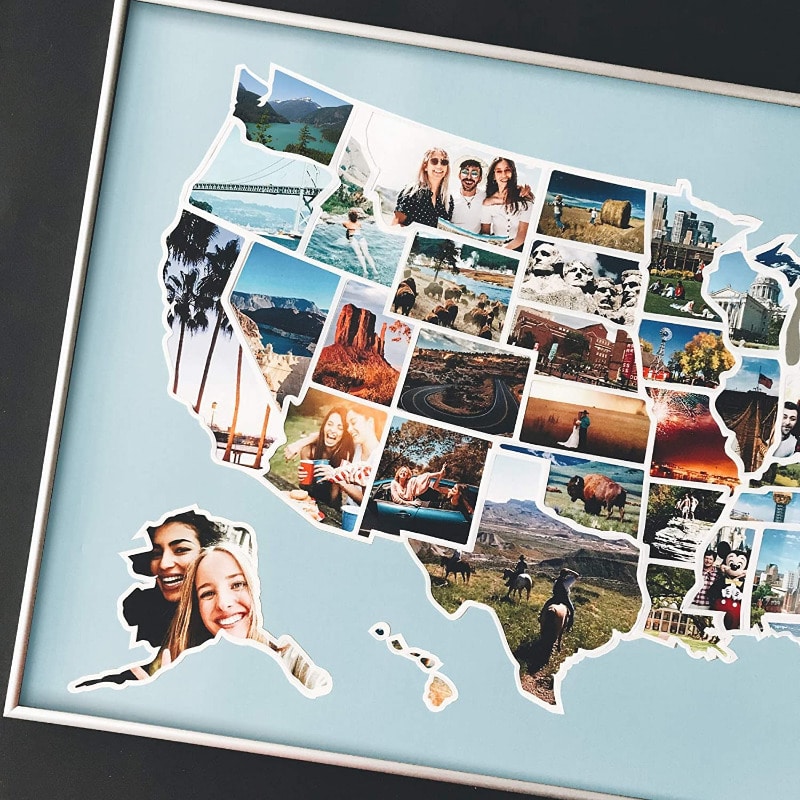 This customizable USA Photo Map is a great gift for anyone who's road-tripped with their love and wants to remind them of the great memories they made.
The map comes printed on a durable, flexible plastic, so it does not need a glass piece over the top. A great, fun way to remember an awesome trip.
For Him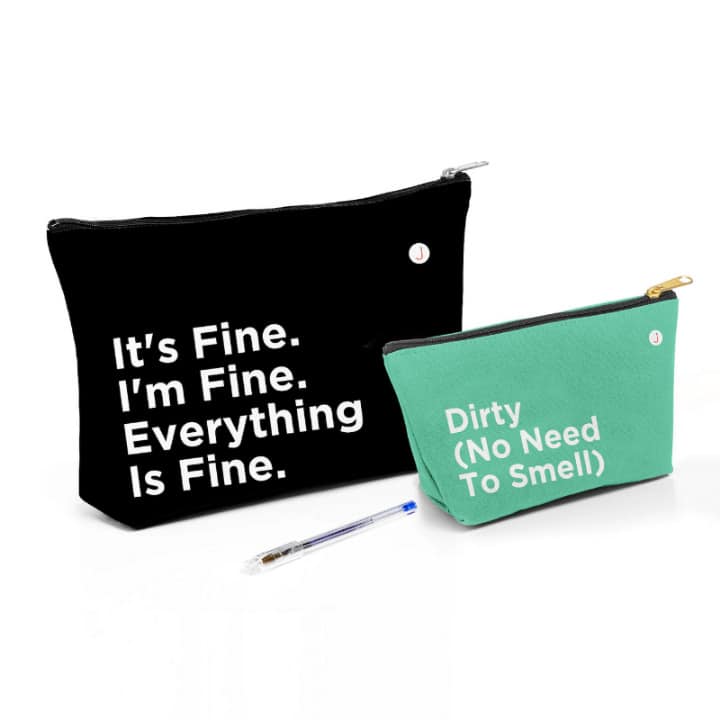 Every traveler needs an accessory pouch. Why not make it special this year with a personalized one for your best guy?
These carry-all pouches are perfect for, well, whatever the heck you wanna toss inside… and they all come with a saying any travel junkie will get a kick out of! Feel free to personalize your very own, too!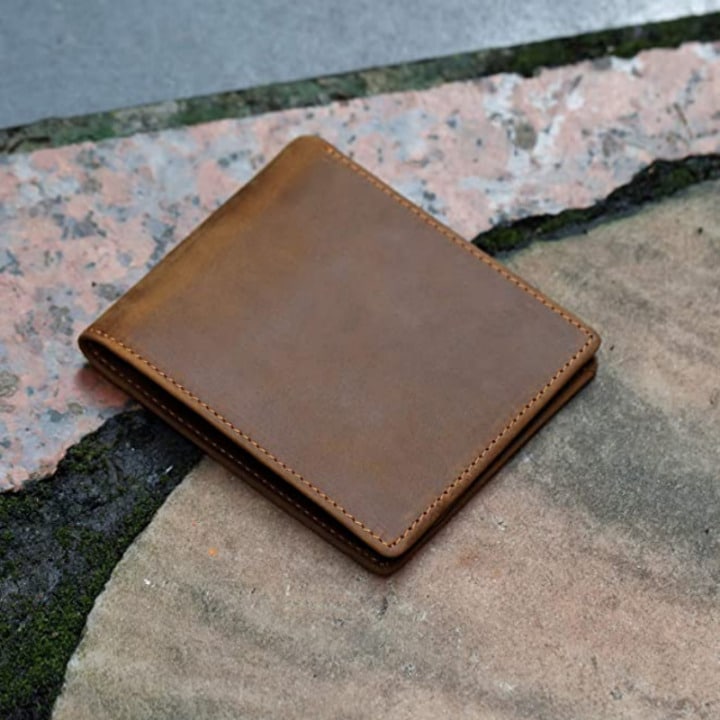 How about an engraved, personalized leather wallet for him this year?
We know guys go through wallets pretty quickly, so he may be in need of a replacement already. He'll be reminded every time he opens his wallet, of you! It includes two clear ID sleeves, two cash pockets, and eight credit card slots.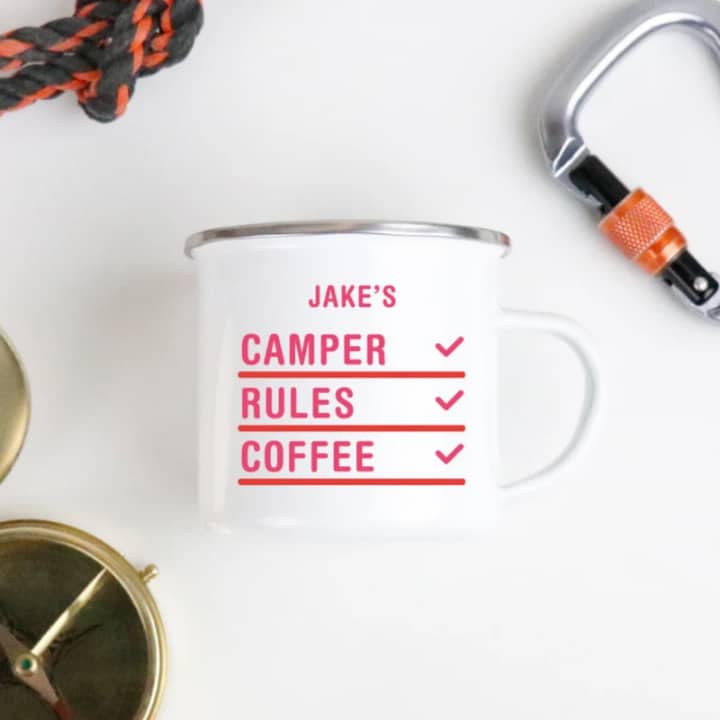 These personalized mugs are a great way to tell your husband that you love him!
You simply cannot go wrong with a hilarious mug like this. See his eyes light up and a grin grow ear to ear as he unwraps this unique gift from you. No matter the occasion, you've got something he'll love – and think of you daily for!
These enamel camping mugs will outlive any other mug he has because they're built to! So not only do they look good, they'll last forever to boot.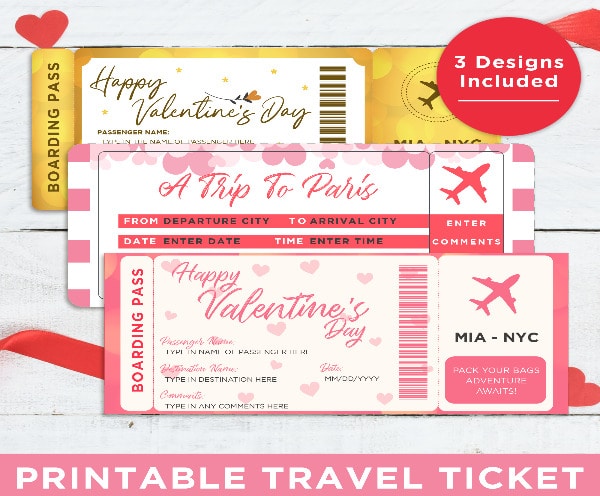 What guy doesn't love a surprise get-away?
Address an envelope to him and customize him a surprise travel ticket! Add his name, departure date, message, who he's traveling with, who the gift is from, and the destination. Such a fun way to surprise your loved one with a trip, or even a trip one day!
So. Much. Fun.
For Her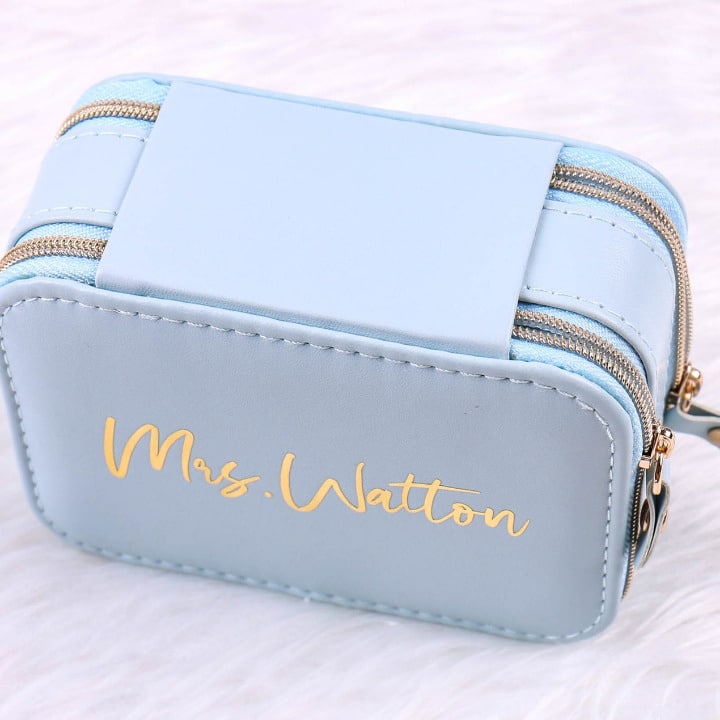 When your lady travels, sometimes she wants to look nice, wear her favorite jewelry, and keep it safe while traveling. This customized travel jewelry box will do just that.
Choose from pink, or blue, and personalize the jewelry box for your favorite lady.
This box will certainly keep her jewelry safe while she travels, whether it's for one night or twenty!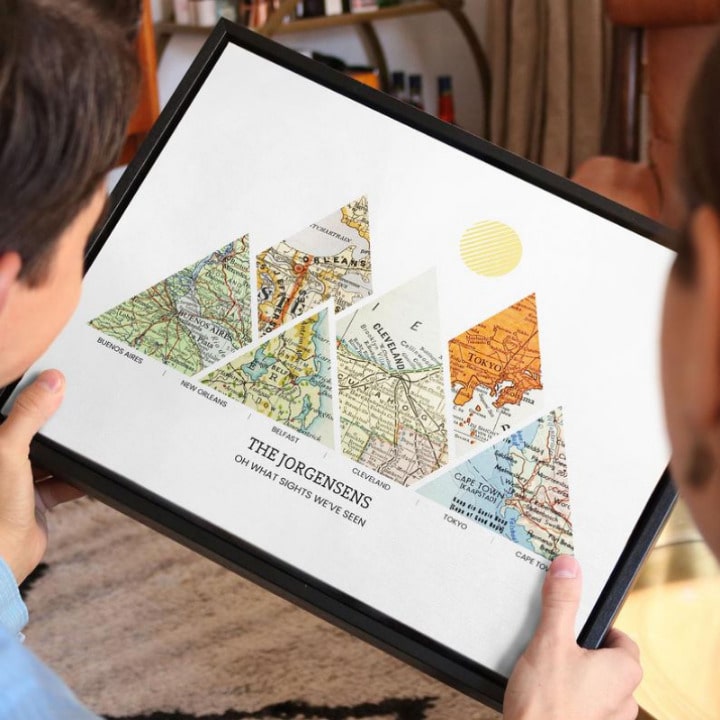 Let's face it, we know it can be hard to buy for the lovely lady in your life.
This personalized adventure map print from Etsy is a fun way to remind your gal of her favorite places. Choose from 3-8 locations to include in the print, select a frame, select a size, and your gift will be on its way.
It's handmade, something she'll love, and a fun way to look at maps differently.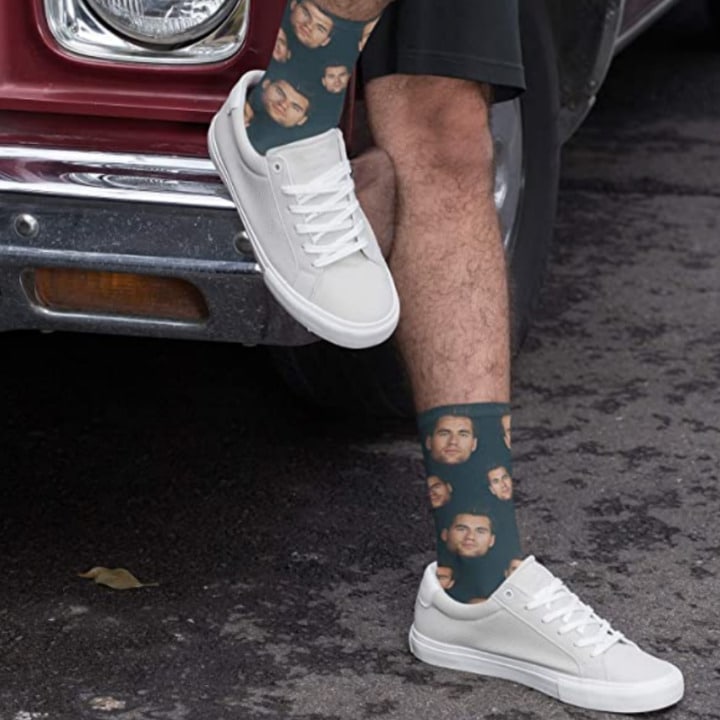 What could be better for your wife or girlfriend than a pair of socks with your face on them?! We truly can't think of anything else.
These customized face socks are a fun way to show your love for her and to remind her of you. These would make great birthday gifts, holiday gifts, anniversary gifts too. Maybe print out a picture of your fur babies (or real babies) and make those socks too!
She can bring these anywhere and wear them on the plane while she's traveling or feeling homesick too.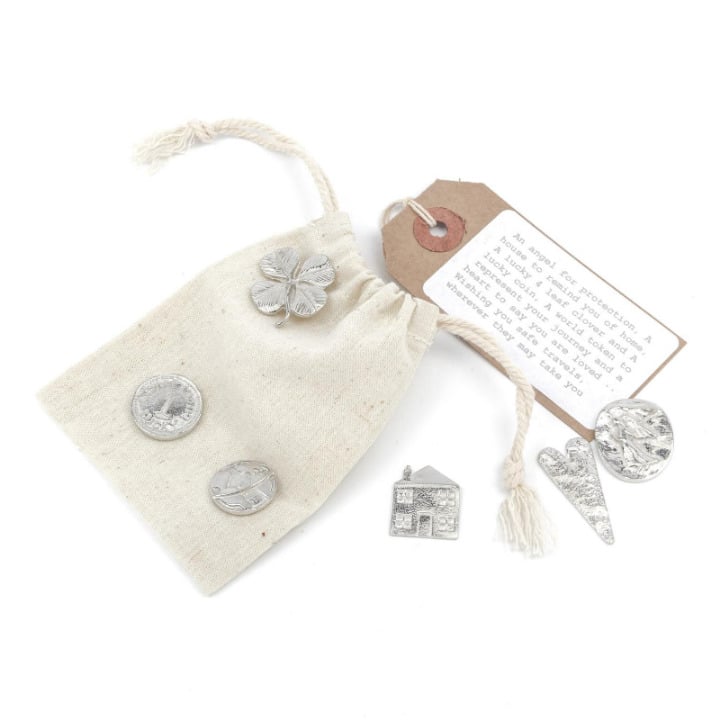 This Travel Keepsake Gift Set can be given to travelers and wanderers of all ages. It's a sentimental moment that you want this lady to be safe when she travels.
The gift set features 6 little pewter pocket keepsakes: a heart, a world, a house, an angel, a lucky coin, and a clover leaf. These are all meant to remind your traveler to stay safe and that they are loved at home. Each keepsake comes with a description and a personalized message can be left too.
An incredibly thoughtful gift to show some love on Valentine's Day!
Now that you've seen our list of the best Valentine's Day gifts for any traveler, what do you think? Leave us a comment below!