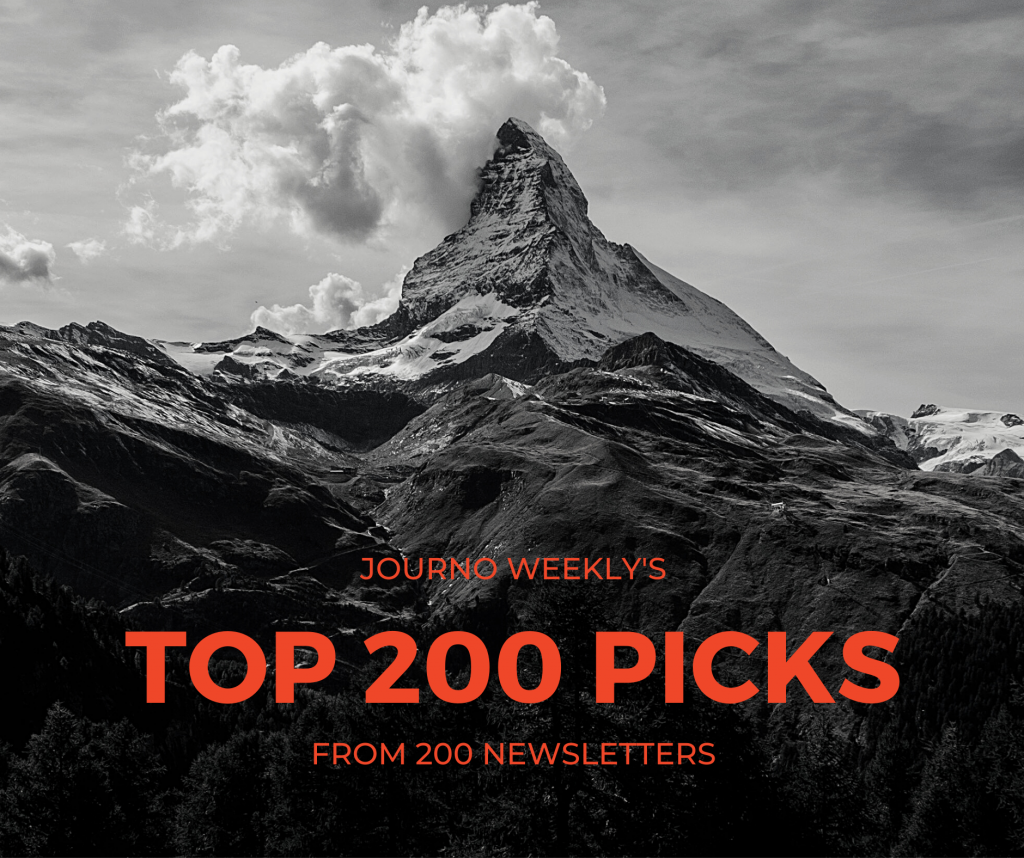 For nearly 4 years we've sent our travel junkie community a weekly email chock-full of travel tips, resources, new gear, trivia, and more.
It's easily been one of the most loved emails of our over 210,000 subscribers… which is why we've consistently pumped these fun newsletters out for you for so long.
Since we just surpassed our 200th edition, we thought you'd get a kick out of the most popular picks throughout that time.
So without further ado, here are our — and our readers — favorite picks from 200 Journo Weekly's:
CATEGORIES:
• Top 20 Dane's Dad Jokes
• Top 20 Blog Posts
• Top 20 Travel Products
• Top 20 Travel Quotes
• Top 20 Digital Nomad Hacks
• Top 20 Travel Trivia
• Top 20 News Headlines From The Travelsphere
• Top 20 Guess The View's
• Top 20 Travel Fund Boosters
• Top 20 Travel Hacks
Top 20 Dane's Dad Jokes
(Answers at bottom)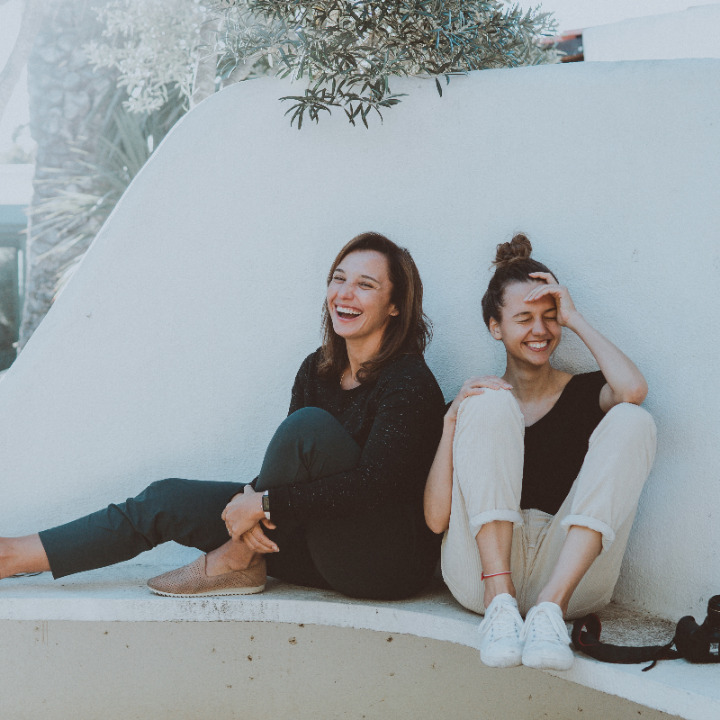 If there is one thing we love doing at Journo almost as much as traveling and spending time with our families and friends, it's got to be laughing.
Just like you guys, the whole Journo team looks forward to Dane's weekly Dad Joke. It was pretty easy to come up with 20 of our favorites.
We hope you are ready to do some serious chuckling and we apologize in advance if we make your stomach ache. Enjoy!

1.  Which U.S. state is famous for its extra-small soft drinks? 
2.  What travels around the world but stays in one corner? 
3.  What goes through towns, up hills, and down hills but never moves? 
4.  What did the ocean say to the shore?
5.  What happens when you wear a watch on a plane?
6. Why can't bikes stand up on their own? 
7. What do you call driving on backcountry roads with the high beams on at night? 
8. What do you call a cow who travels with you and can make phone calls? 
9. Why don't mummies go on vacation? 
10. Where do math teachers go on vacation?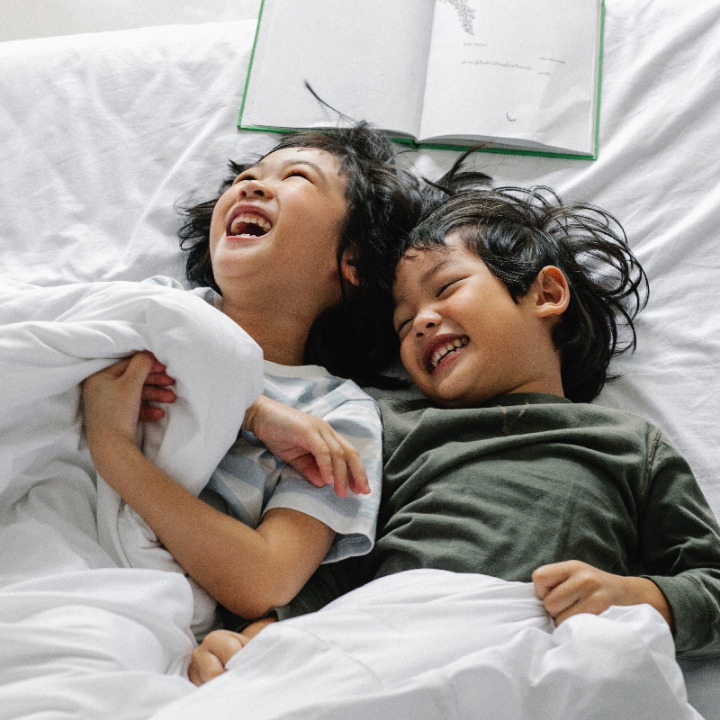 11. Why did the witch stay in a hotel? 
12. What might a fork in the road lead to? 
13. How does a Flat Earther travel the world? 
14. What do you call a time traveler's fart? 
15. Where do sharks go on vacation? 
16. Where do hamsters go on their holidays?
17. Where do bees go on their holiday?
18. Why is Peter Pan always flying?
19. What do you get when you cross a snake and a plane?
20. What's worse than raining cats & dogs?
Top 20 Blog Posts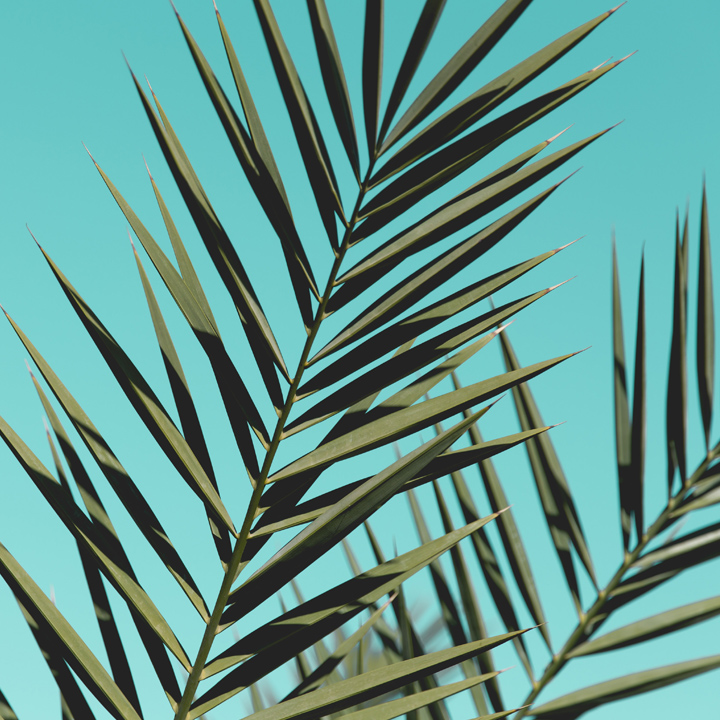 Sometimes splurging is totally worth it.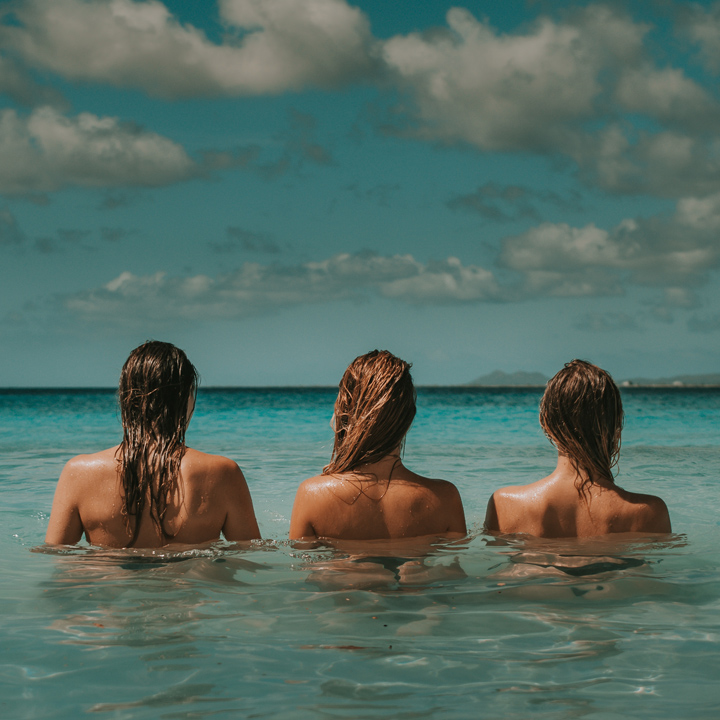 It's important to follow certain rules of etiquette when we travel. Just like on an airplane, on a train, or in a hotel, nudist beaches have terms of etiquette too.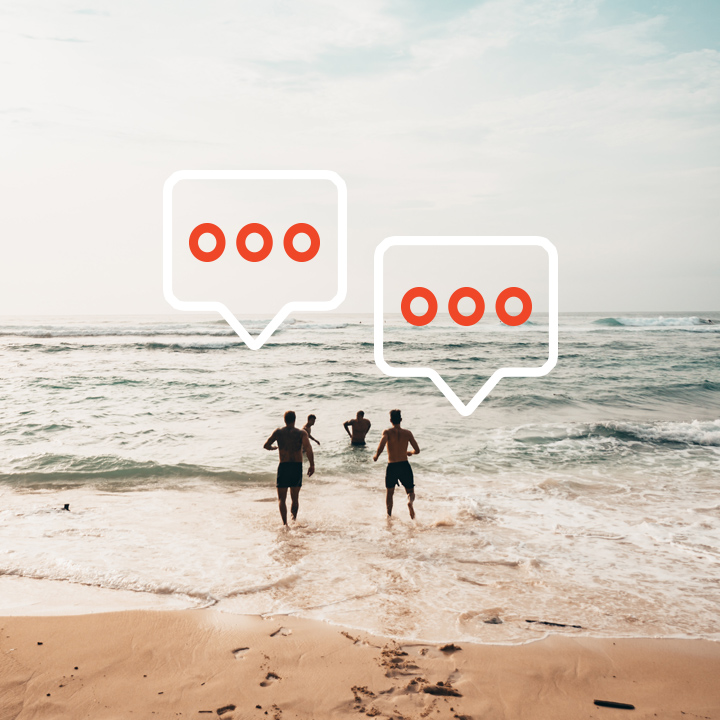 Meeting new people is one of the best parts of traveling.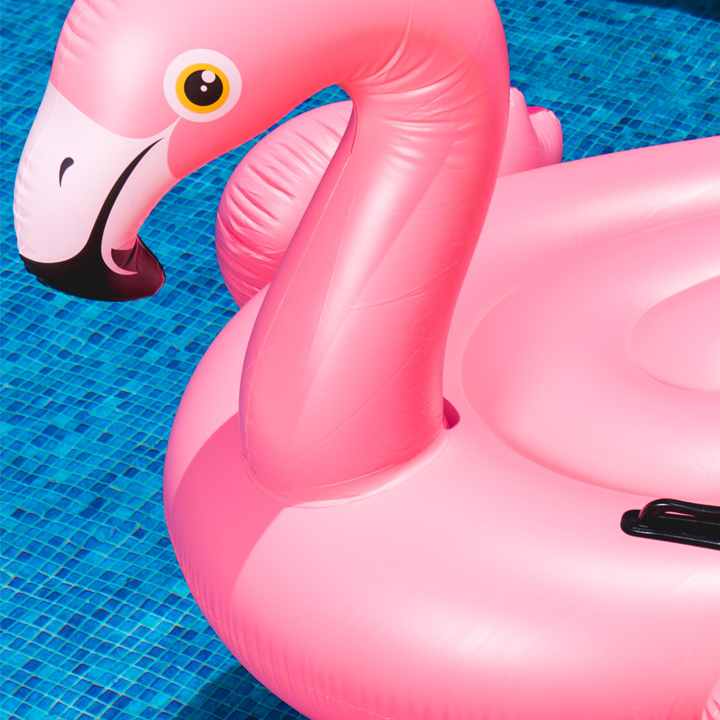 Get creative this summer with a fun pool float.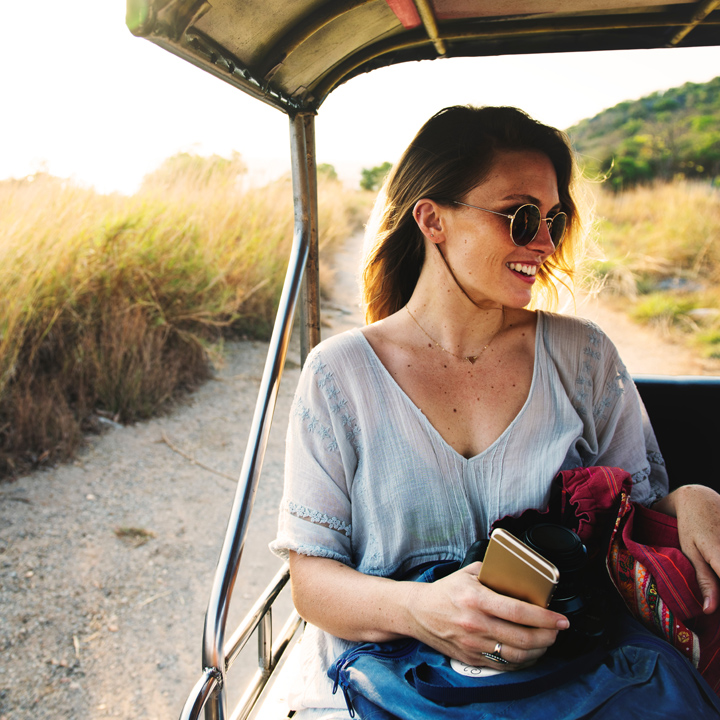 If you want to go on adventures and build connections, take a look at our list of 14 adventurous women's travel groups or companies that offer women-only tours. ✈️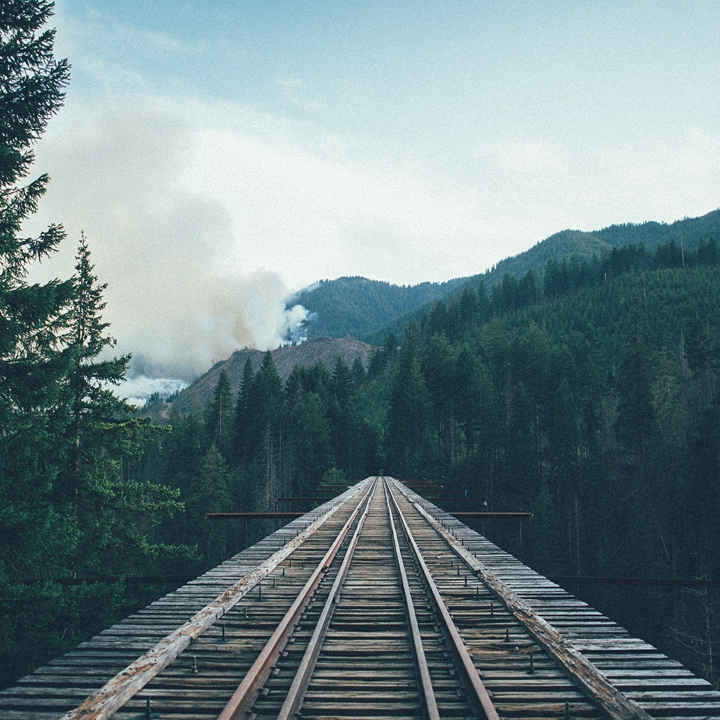 Looking for spectacular views of Argentina or the Swiss mountains? Check out our guide to spectacular train trip journeys across the globe. 🚅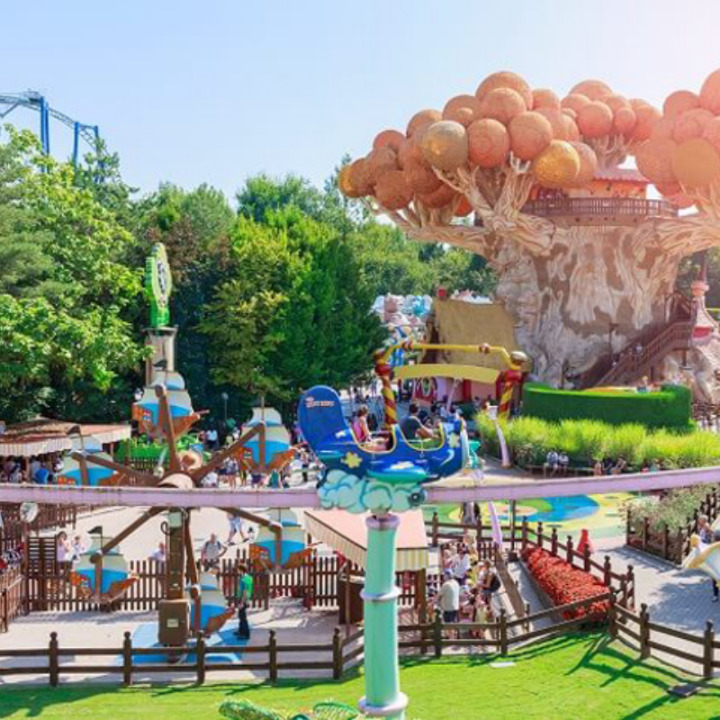 No matter what your age amusement parks are a fun place to hang out.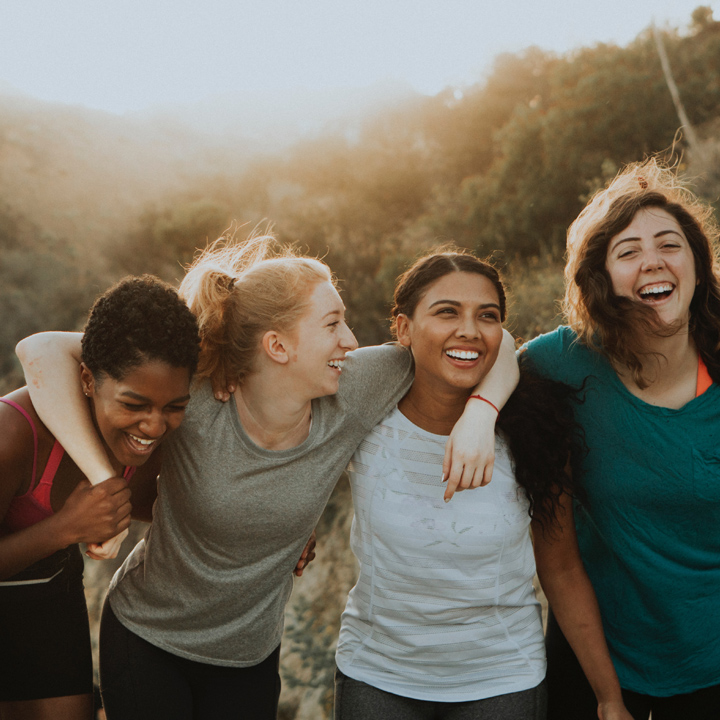 Whether you're adventurous, laid back, a wine-lover, or a road tripper, we've created a list of 12 bachelorette party destinations for every type of girl.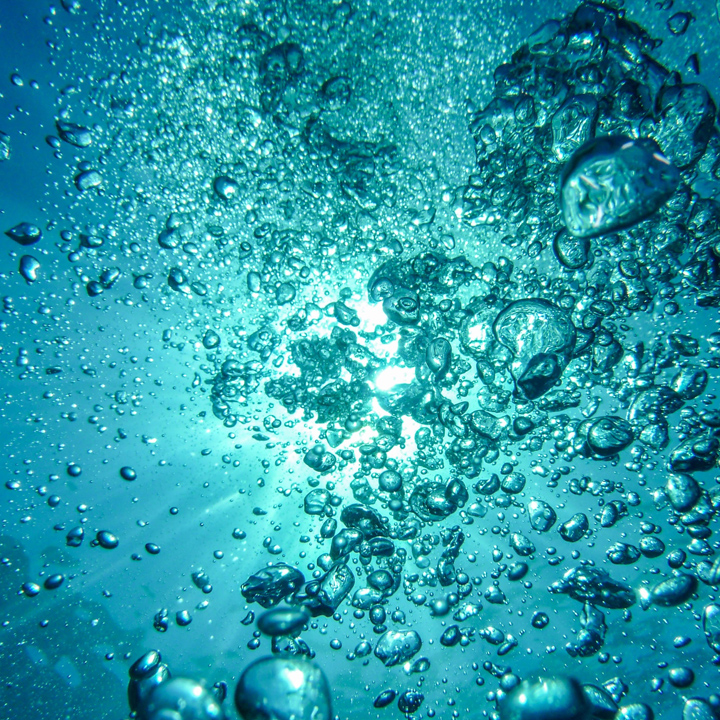 Water parks are a great way to spend lazy days in the sun or get your heart pumping with thrilling adventure. The biggest water parks in the world are sure to make a splash on your next vacation.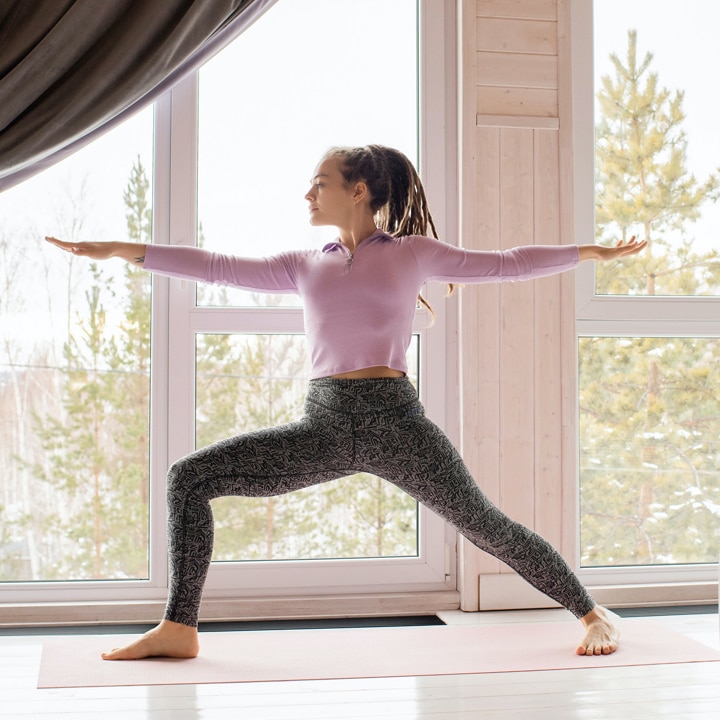 I know what you're thinking: are hotel room workouts just as good while you're stuck at home?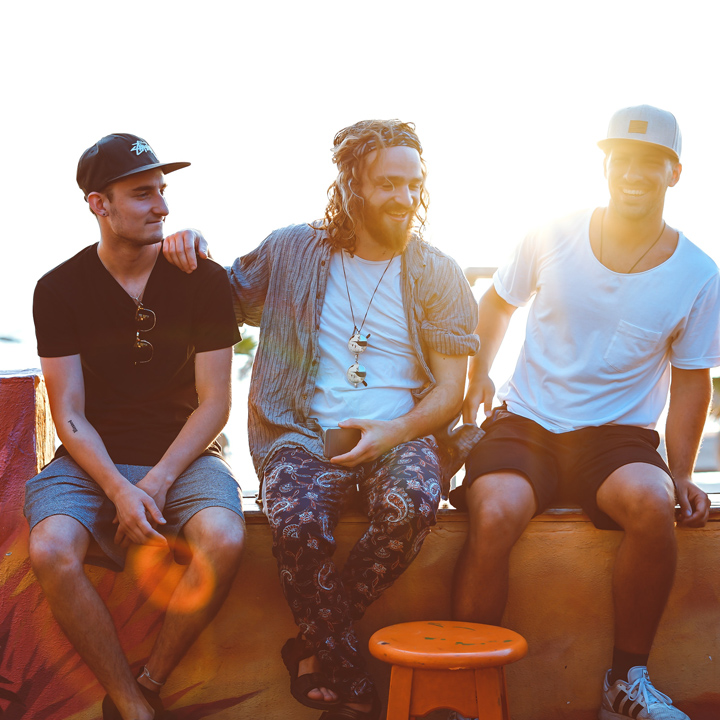 Planning a guys-only getaway for the occasion? Ready to shower the soon to be groom with fun? You can find a location for your bachelor party depending on the type of celebration you're looking for.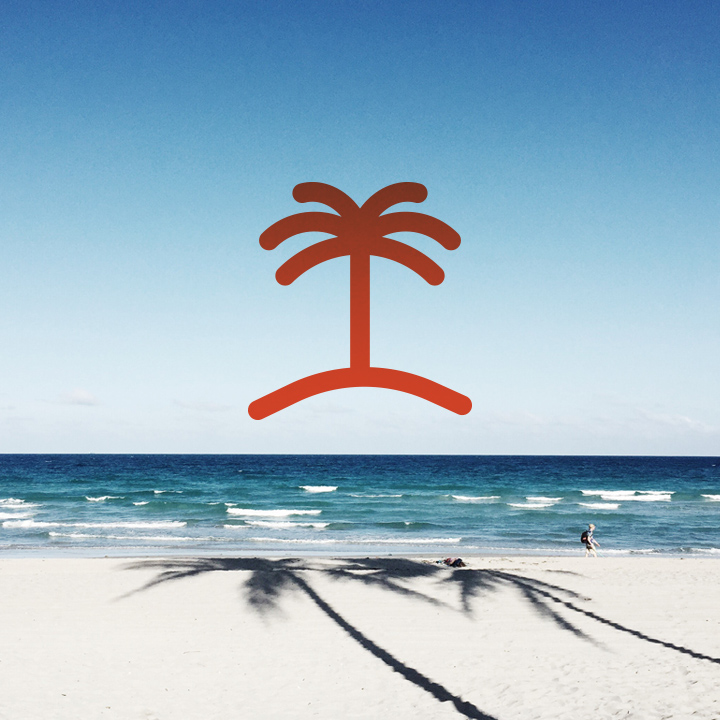 Ready to head to the beach? Here are 8 of the best beach resorts in the world.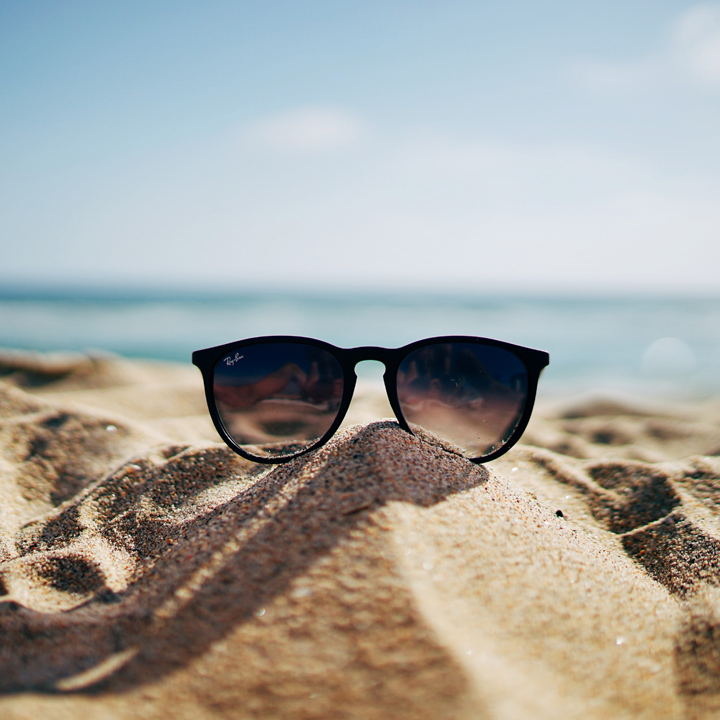 Don't let burnt skin, dehydration, or hot sand ruin your next day by the water and check out our guide of what to pack in your beach bag!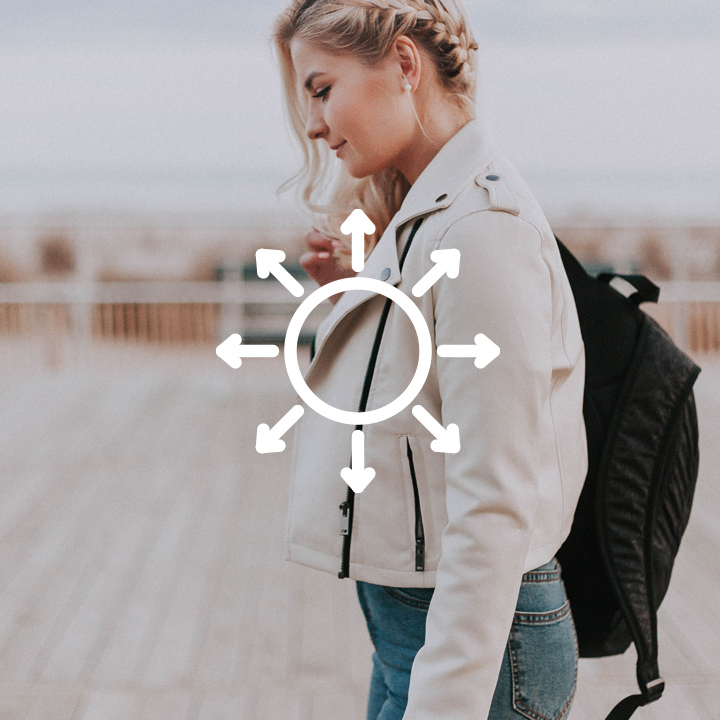 Sometimes traveling solo is exactly what you want and exactly what you need.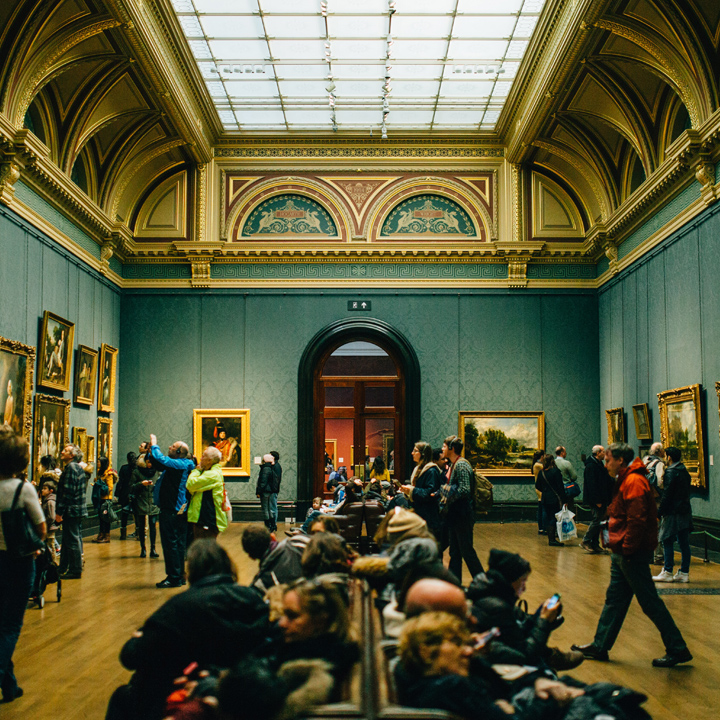 There are so many places to learn more about our world, check out our list of world-class art galleries to visit before you die.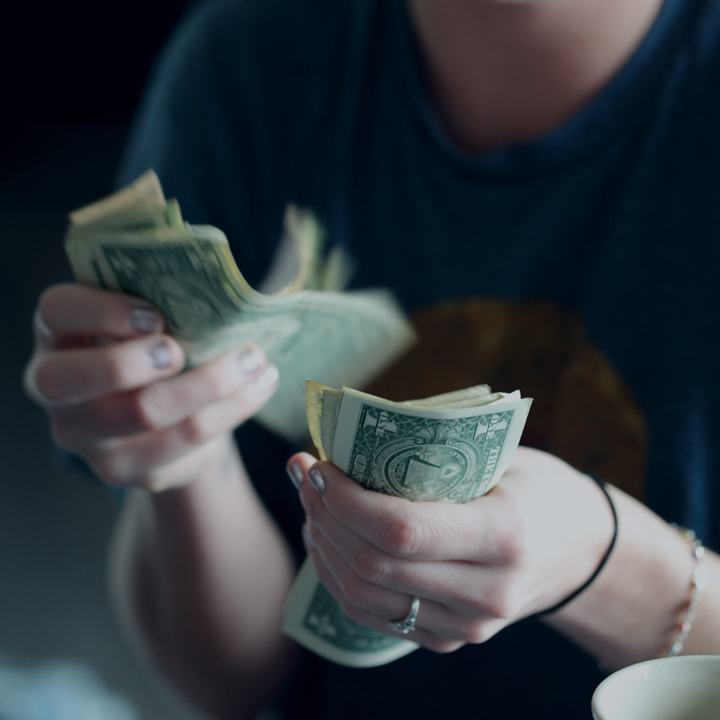 There are lots of cheap vacation ideas that will let you go on amazing adventures, fun journeys, and spontaneous trips for great prices – and they won't feel any different.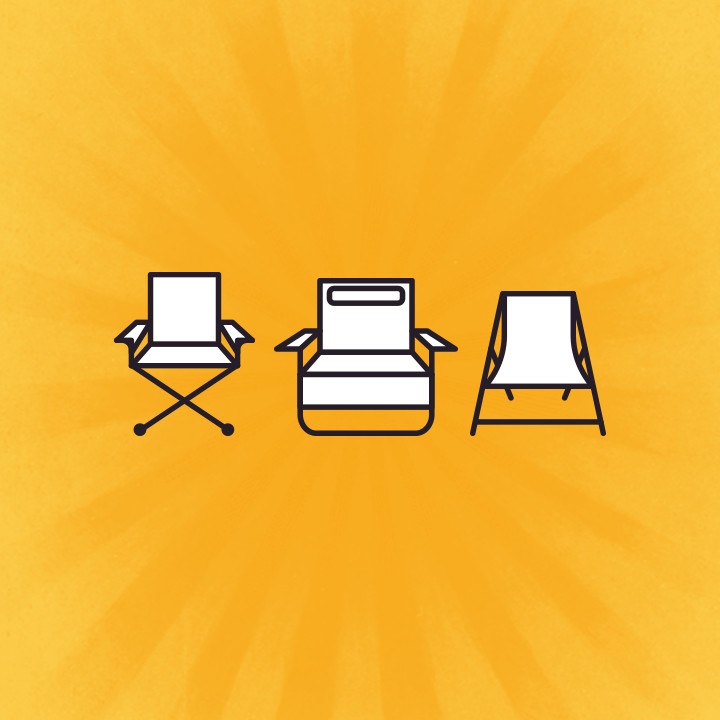 We compiled a list of the best portable sitting solutions for every outdoor excursion: from the beach to your backyard and even some options for the little ones. 👶 😊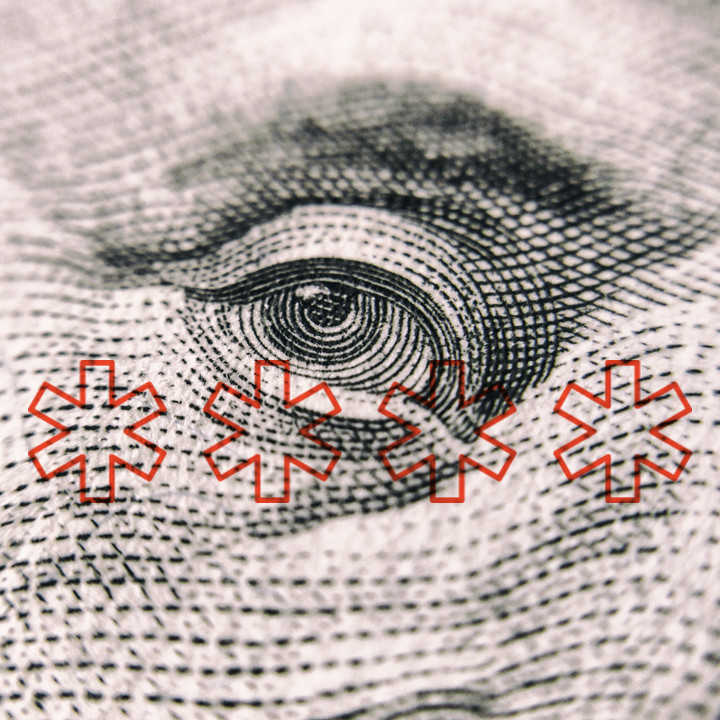 In the worst-case-scenario and your stuff is lost or stolen while traveling, you won't be totally screwed because in a world where paying with plastic is the norm, cash is still king and will not fail you in an emergency.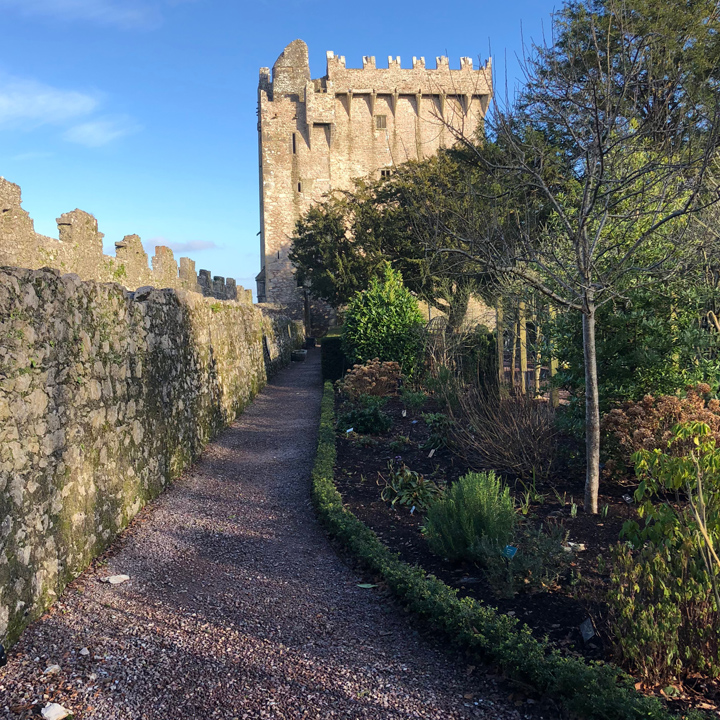 Nothing comes close to the magic and beauty behind the Blarney Stone.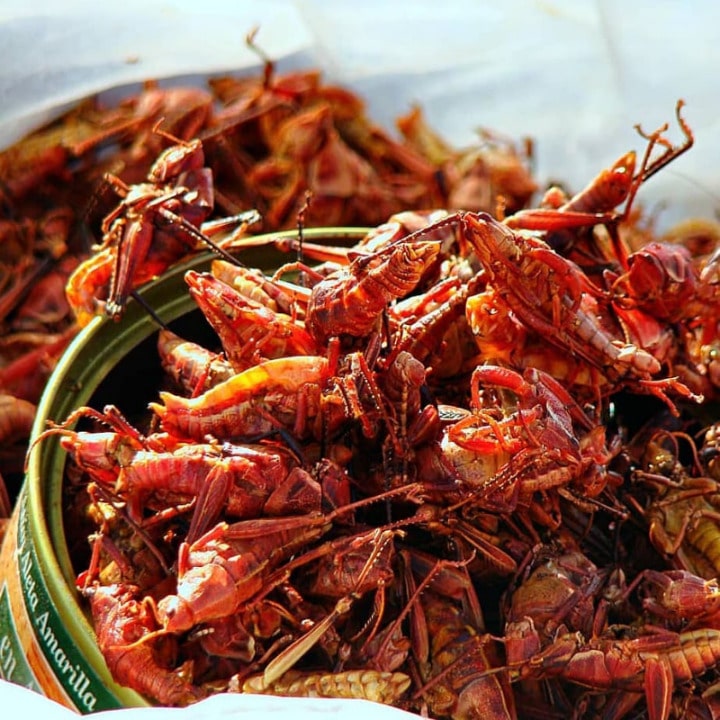 When we journey to faraway places, food is one way we learn and soak in a new culture or a new place. Especially when it comes to weird foods.

Top 20 Travel Products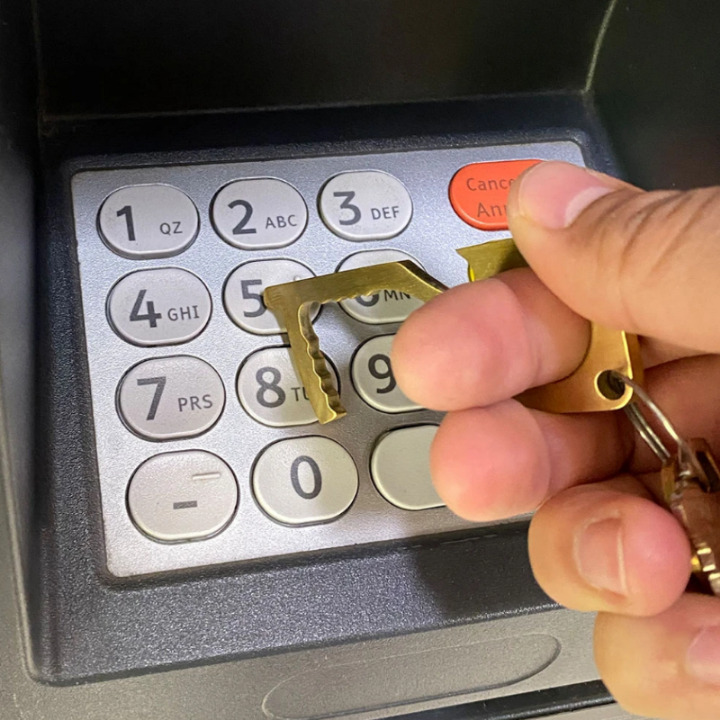 With this CleanTravel™ Touch Tool in hand, life can thankfully feel safe again because you will reduce public, point-of-contact area touch over 99% on buttons, handles, doors, keypads, and more.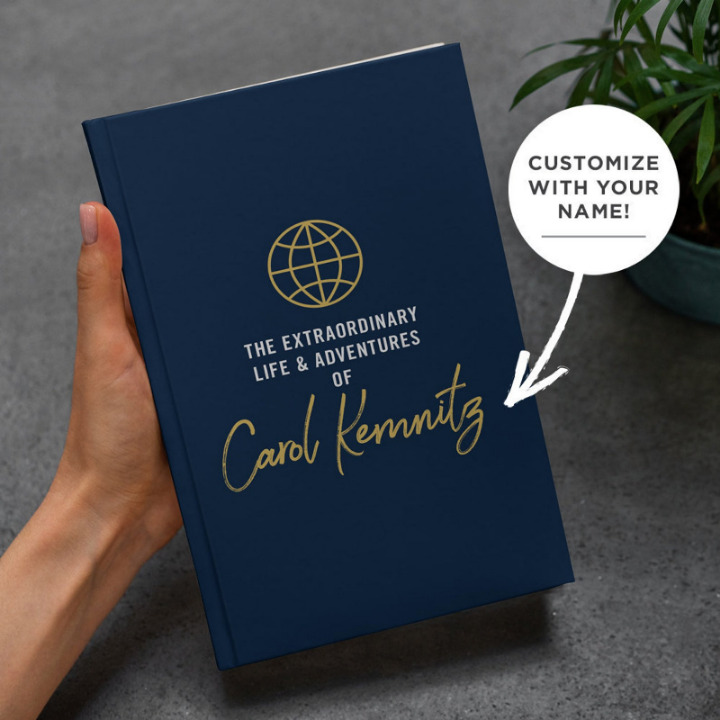 You won't forget your Extraordinary Life and Adventures when you have a travel notebook handy and might as well choose one of these and have it customized just for you (or your friend – this thing makes the perfect gift). 📓🖊️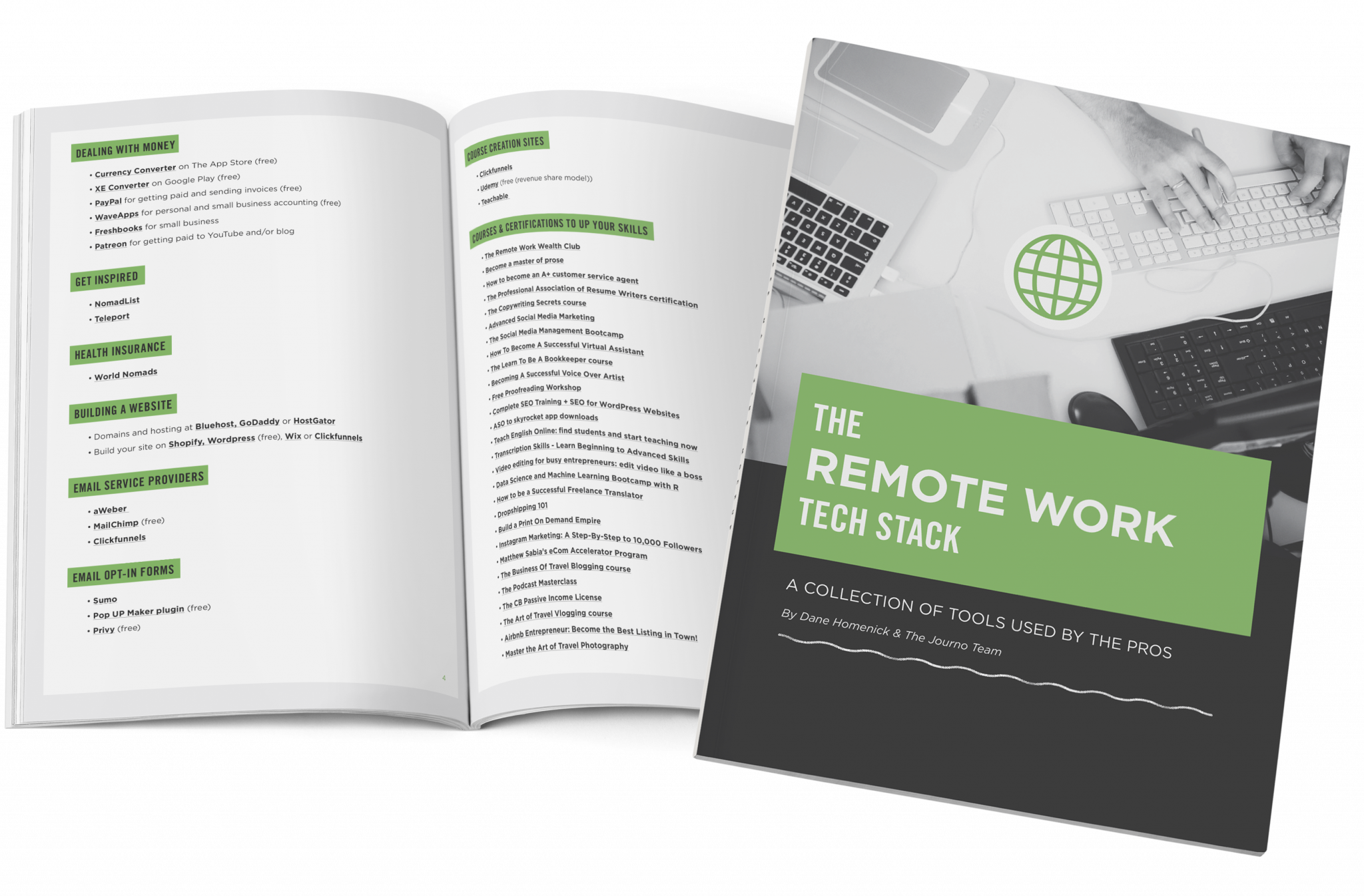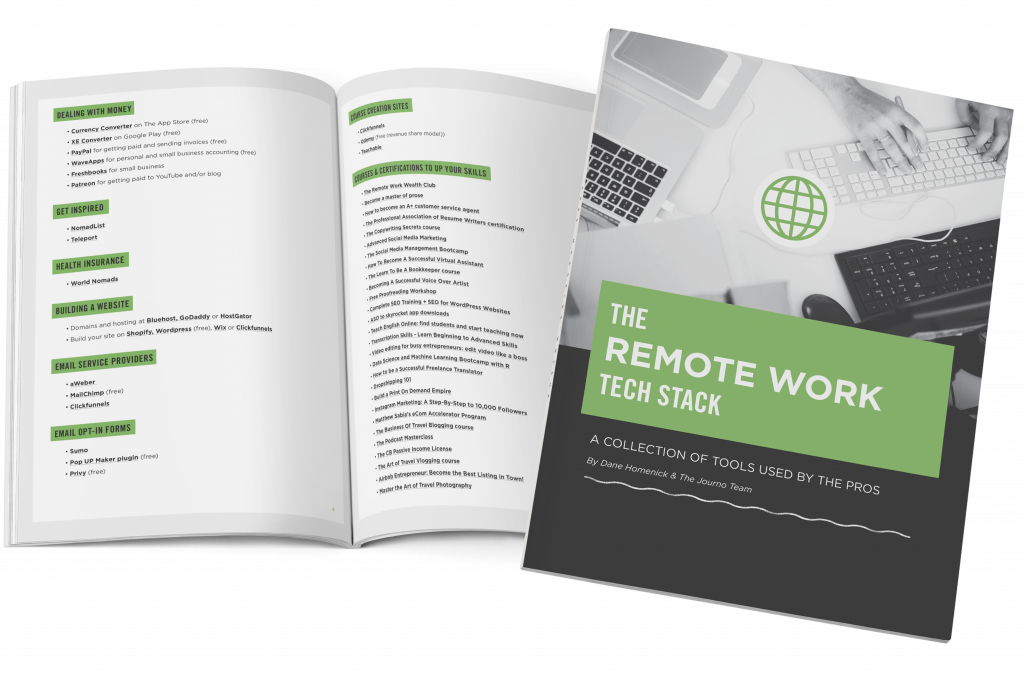 Download our Remote Work Tech Stack so you can work less, get more done, and make more money.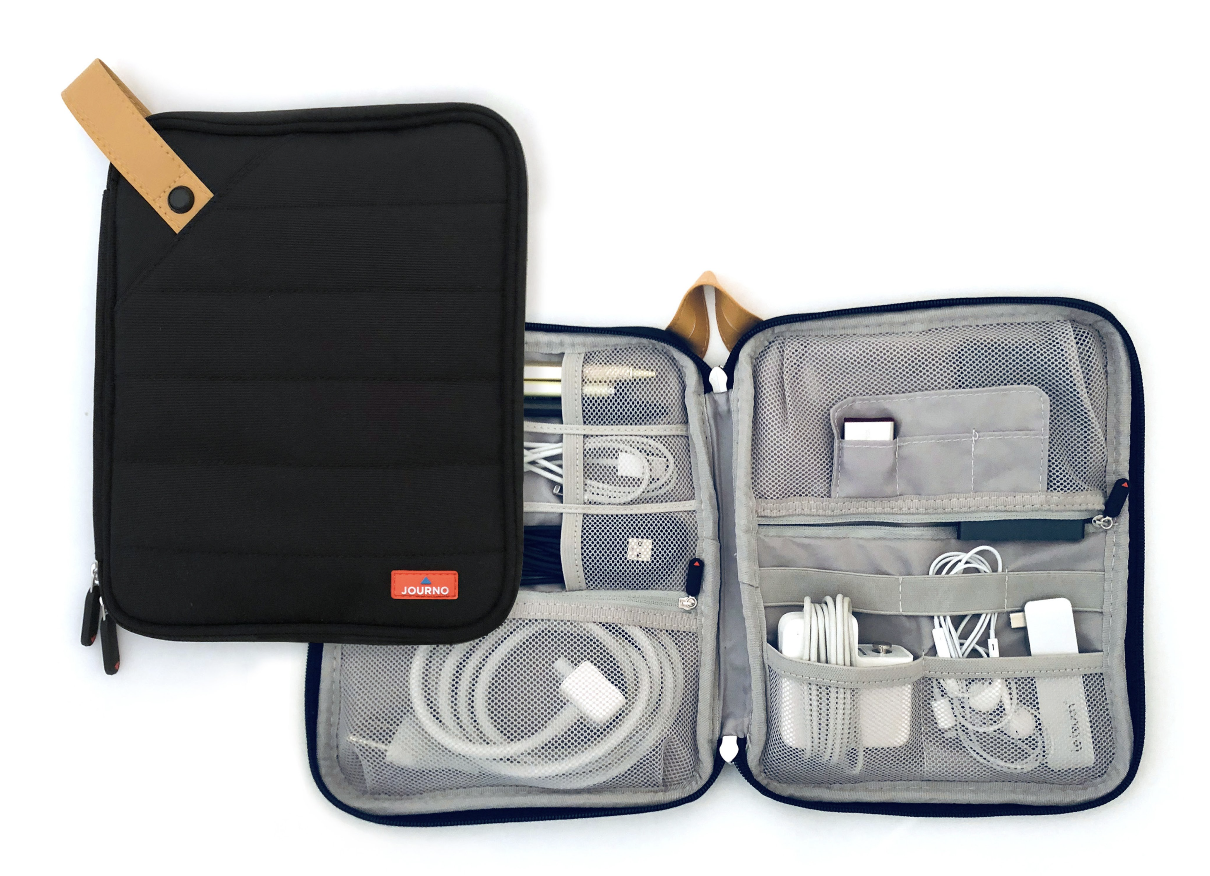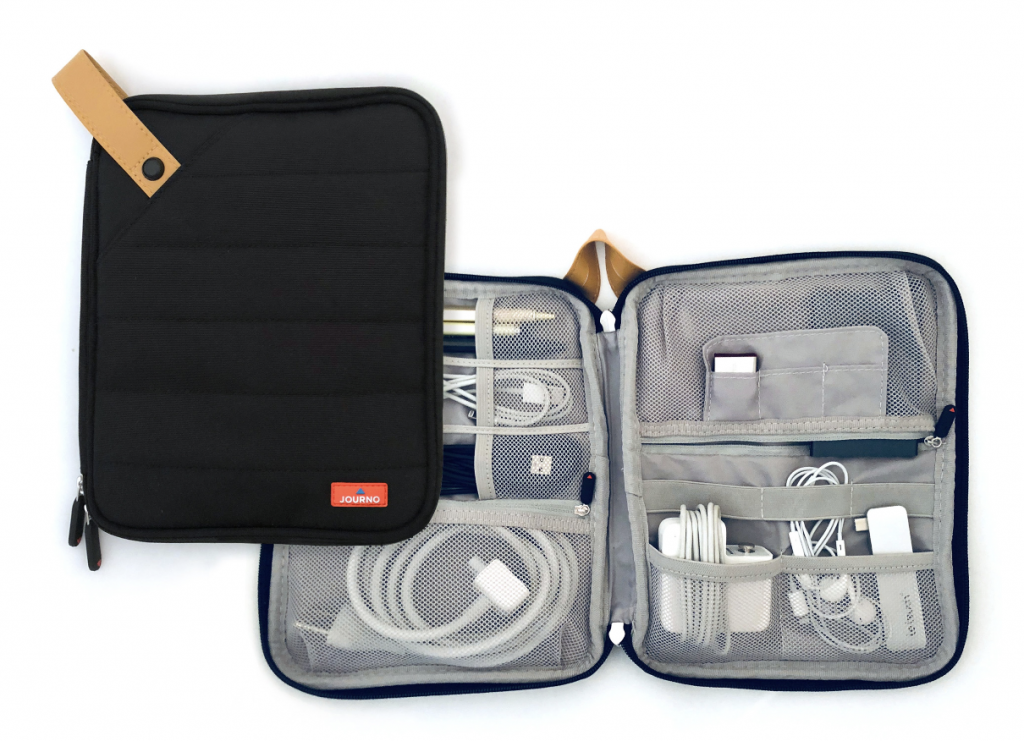 Made for all your electronic tech gadgets! Perfect for cables, accessories, phones, tablets, hard drives, chargers, USB, memory cards & more.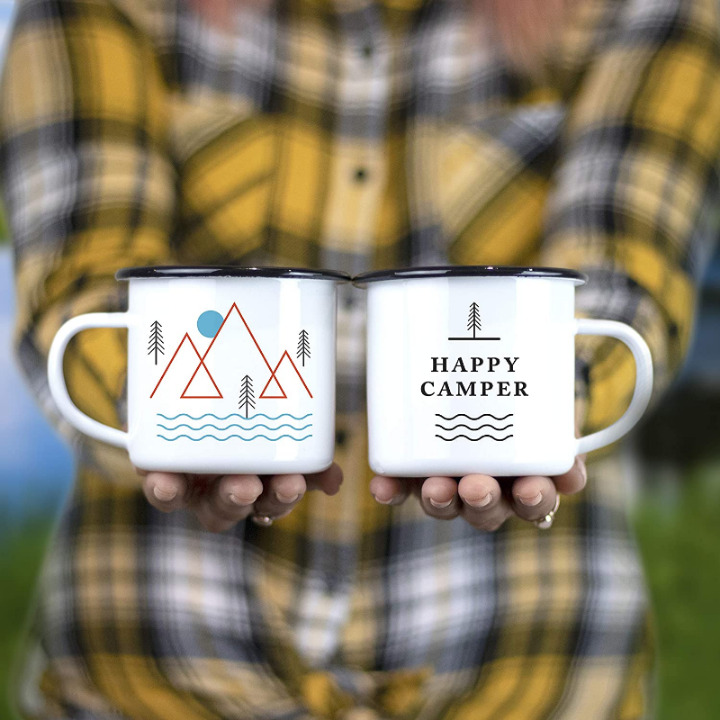 If the best moments in life are shared, why not double-up with our crowd-favorite camping mugs?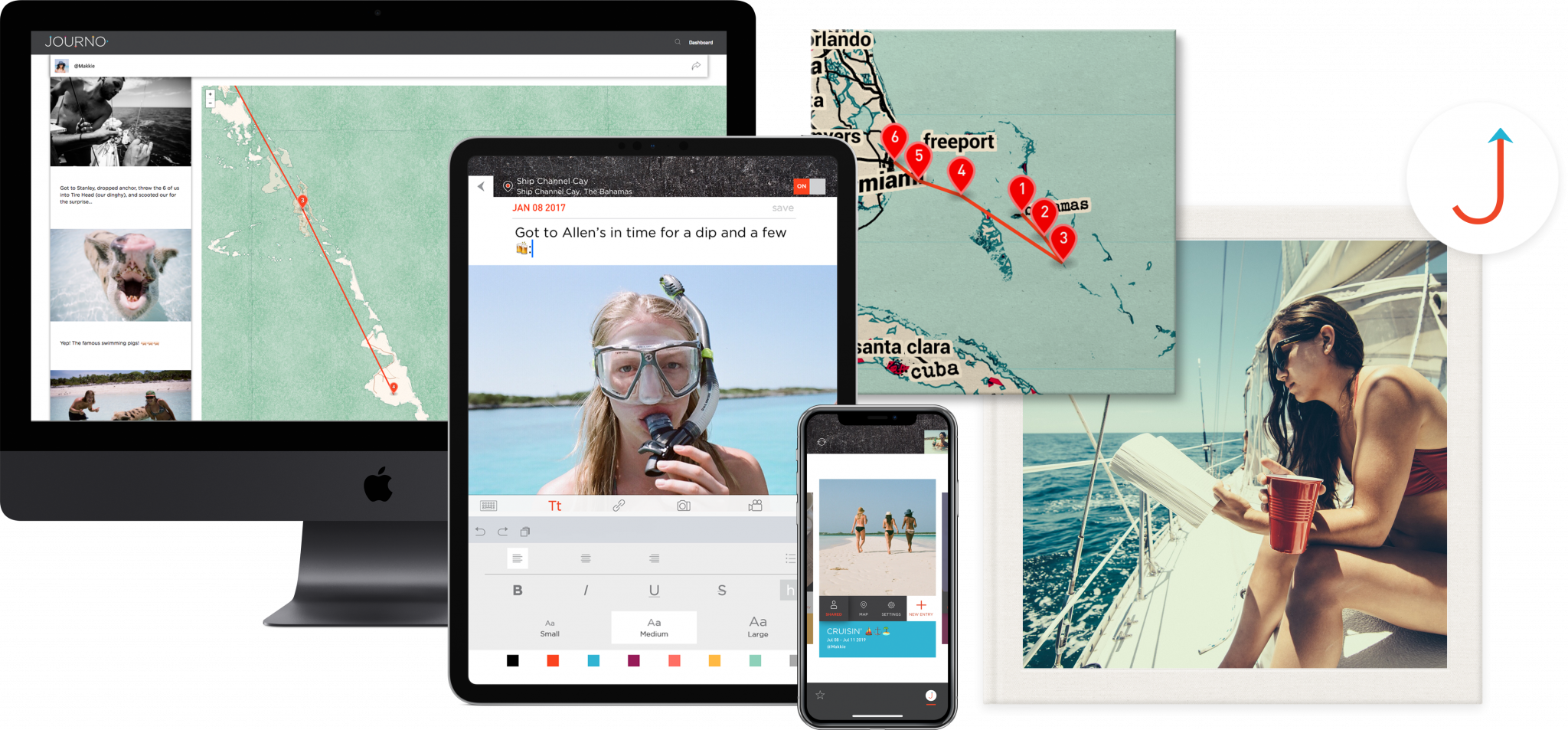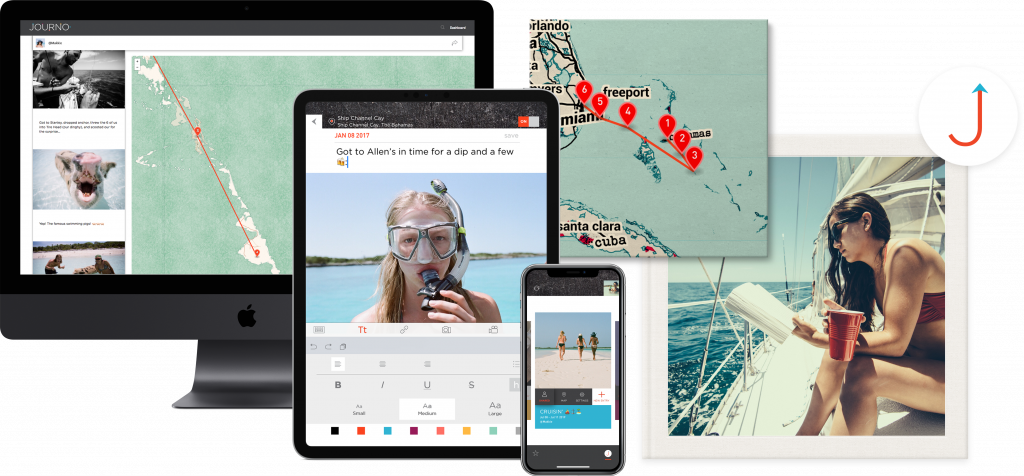 Create your own story with Journo! From classic journal writing to travel maps and photo books, you'll be able to document your adventures, print your journals, publish your travels online and much more!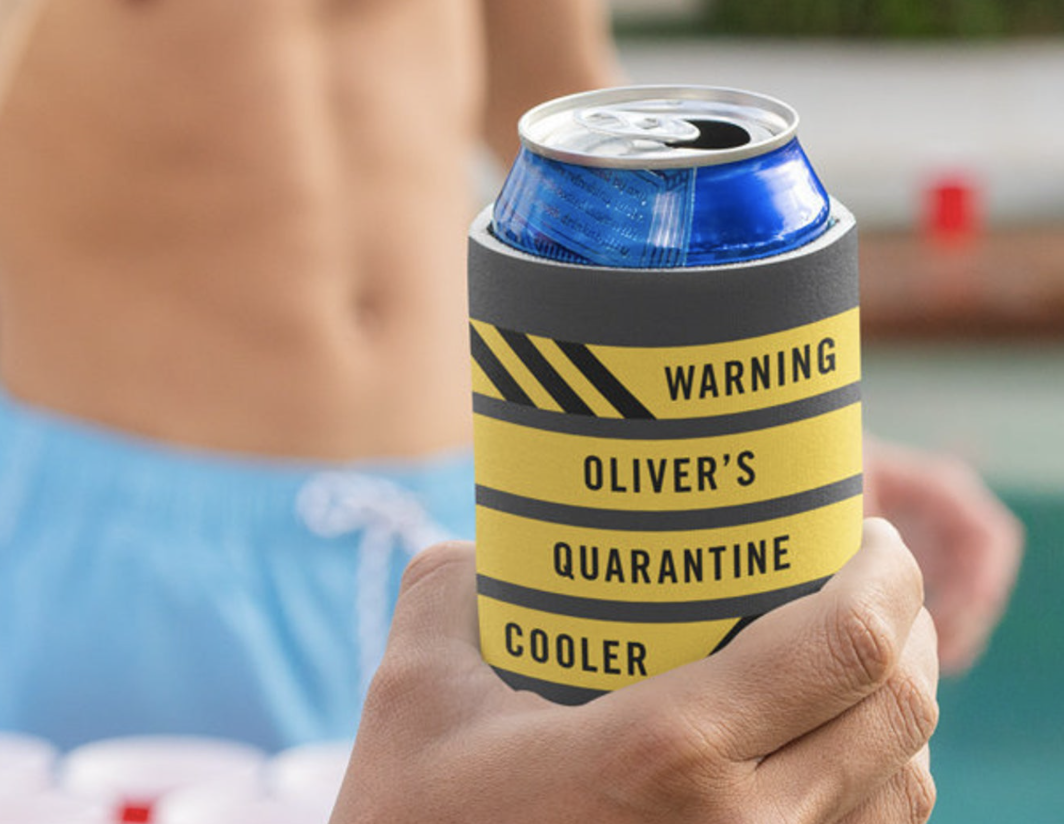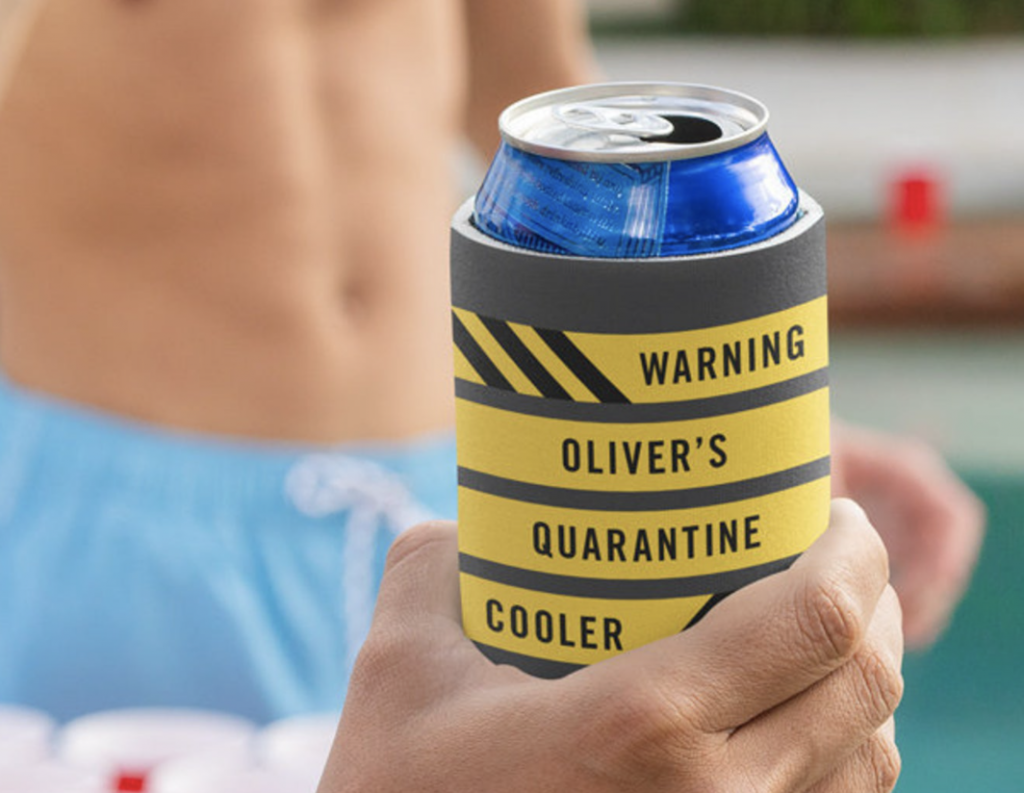 Quarantining can be thirsty work! 😅 And if you've got to work, you may as well have some fun while you are doing it with this funny koozie!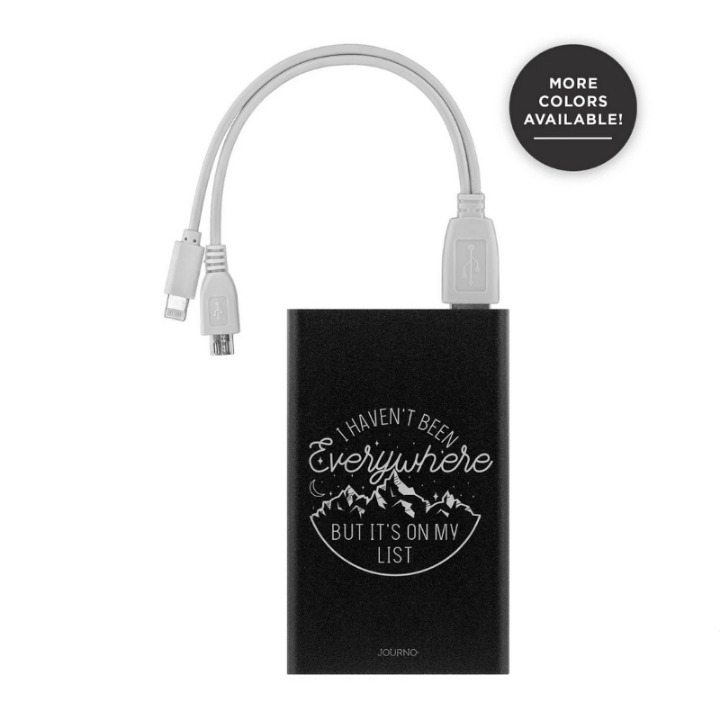 With this rechargeable "pocket charger" you will never have to worry about your gadgets dying on the go again. And the best part? No need to find a wall plug to do it!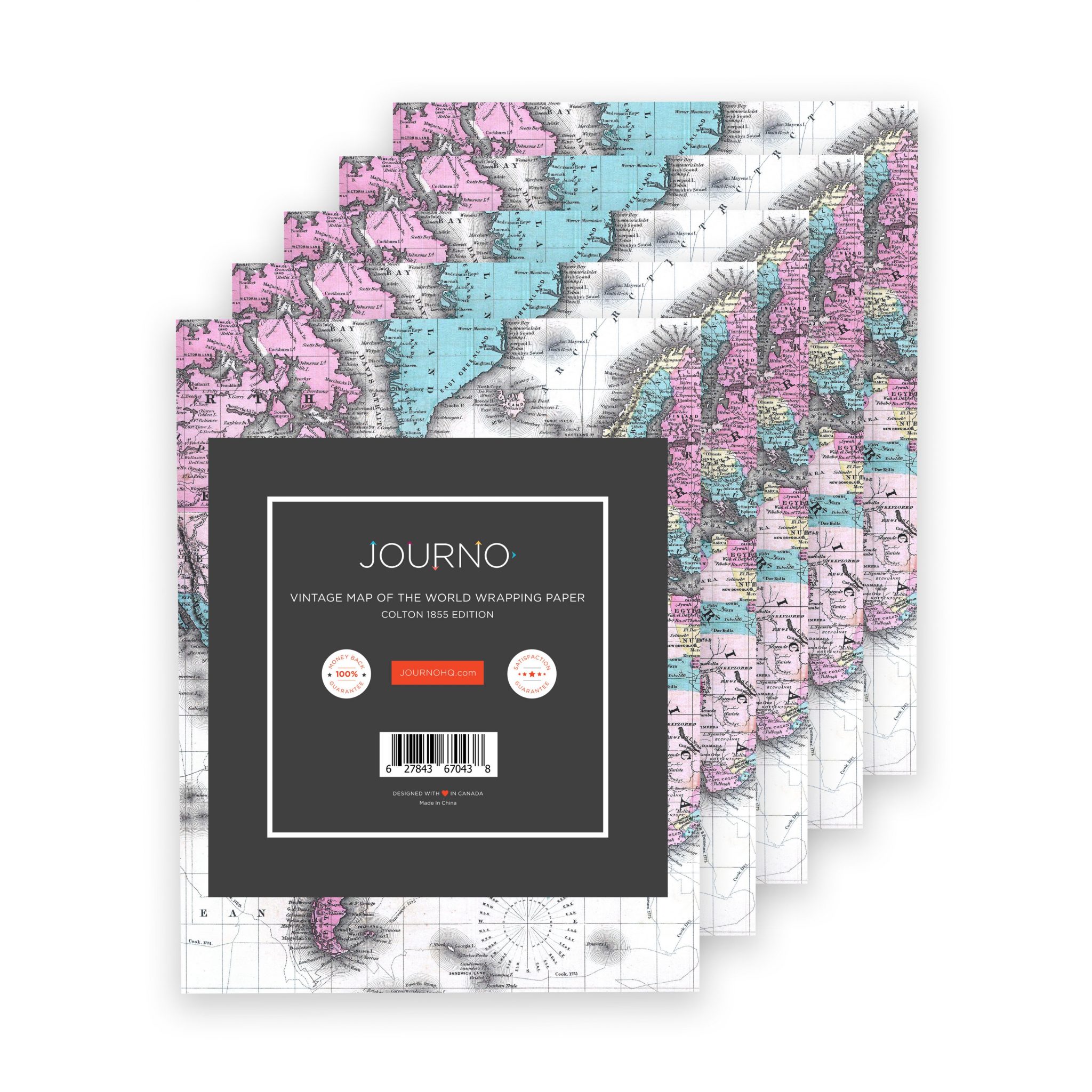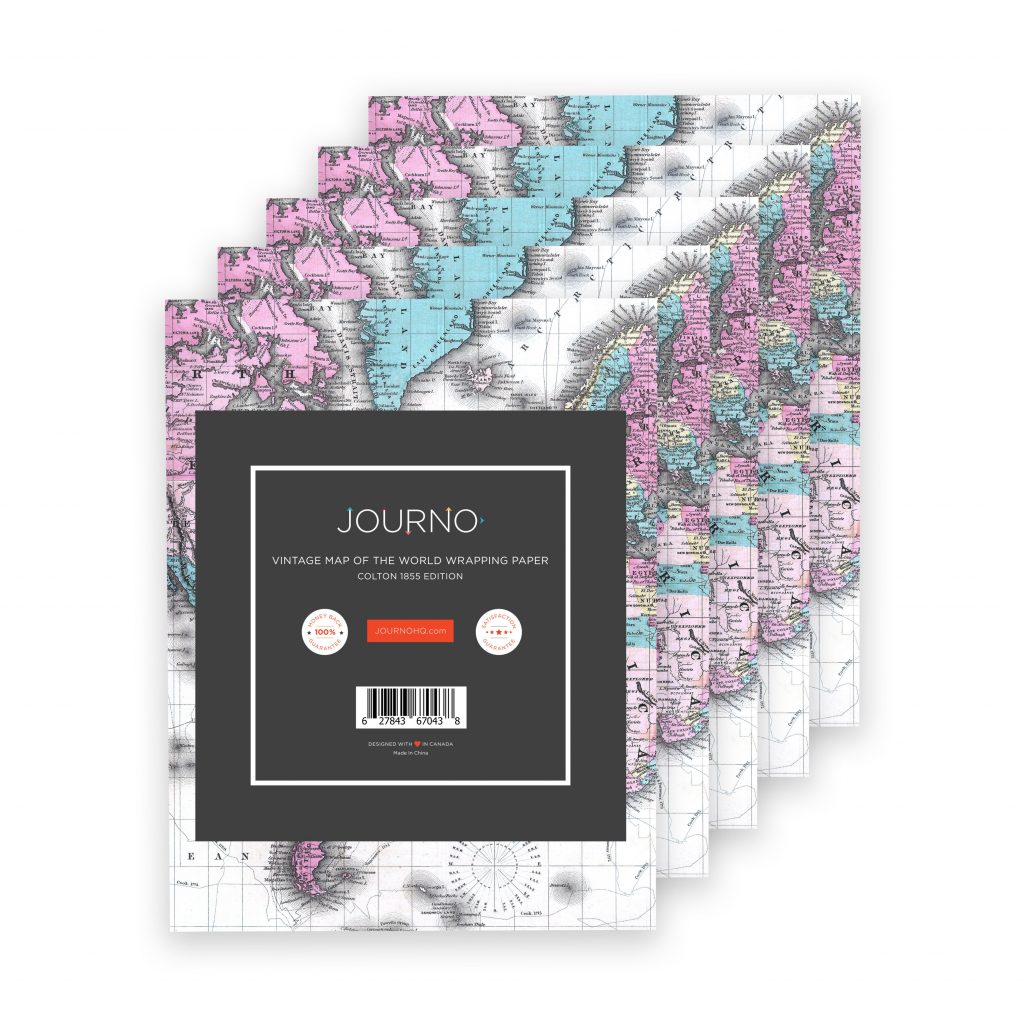 No more boring wrapping paper for you. Instead, crank up your present a notch with this cool and colorful global design!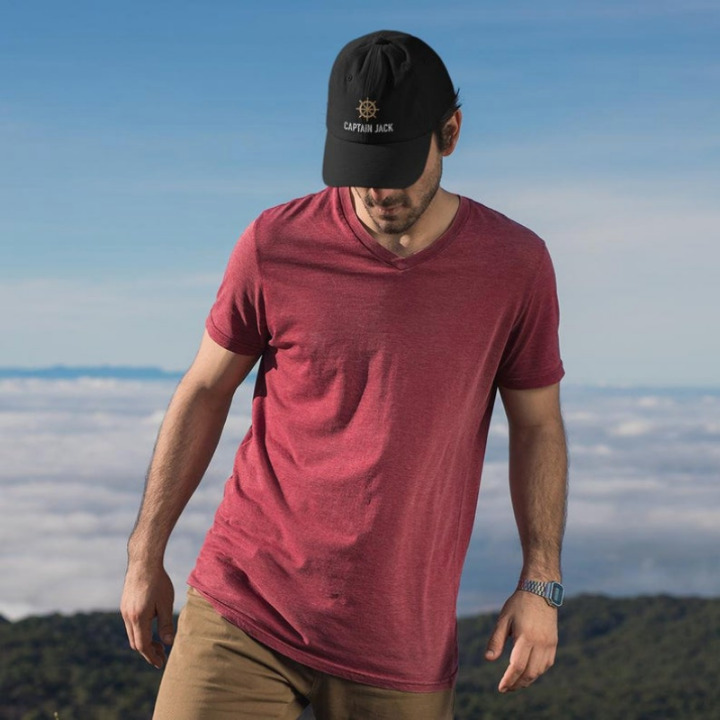 Who's The Captain of your ship?! This is the perfect hat for that Dad (or Mom!) in your life with their name embroidered on the front! Or, of course, any real captain of any real boat!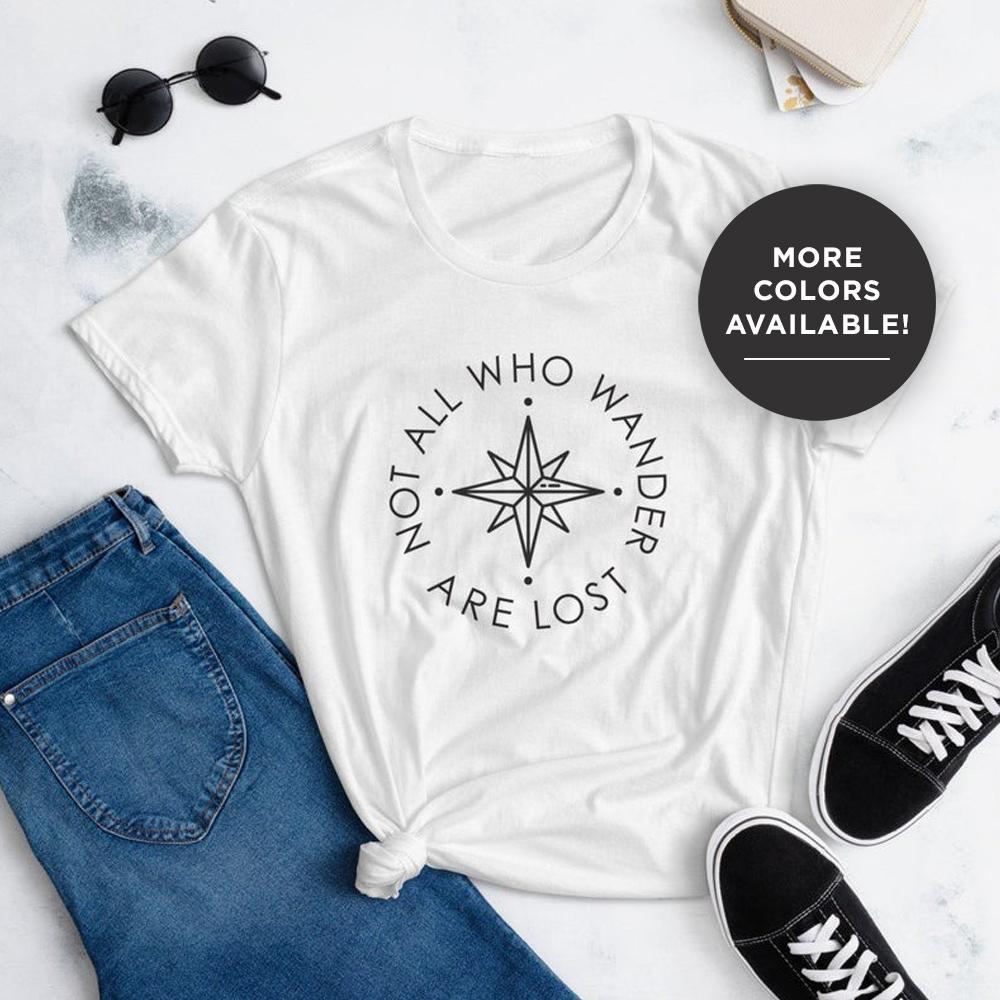 Now here's a tee every adventure-lover can get behind! 🌍💪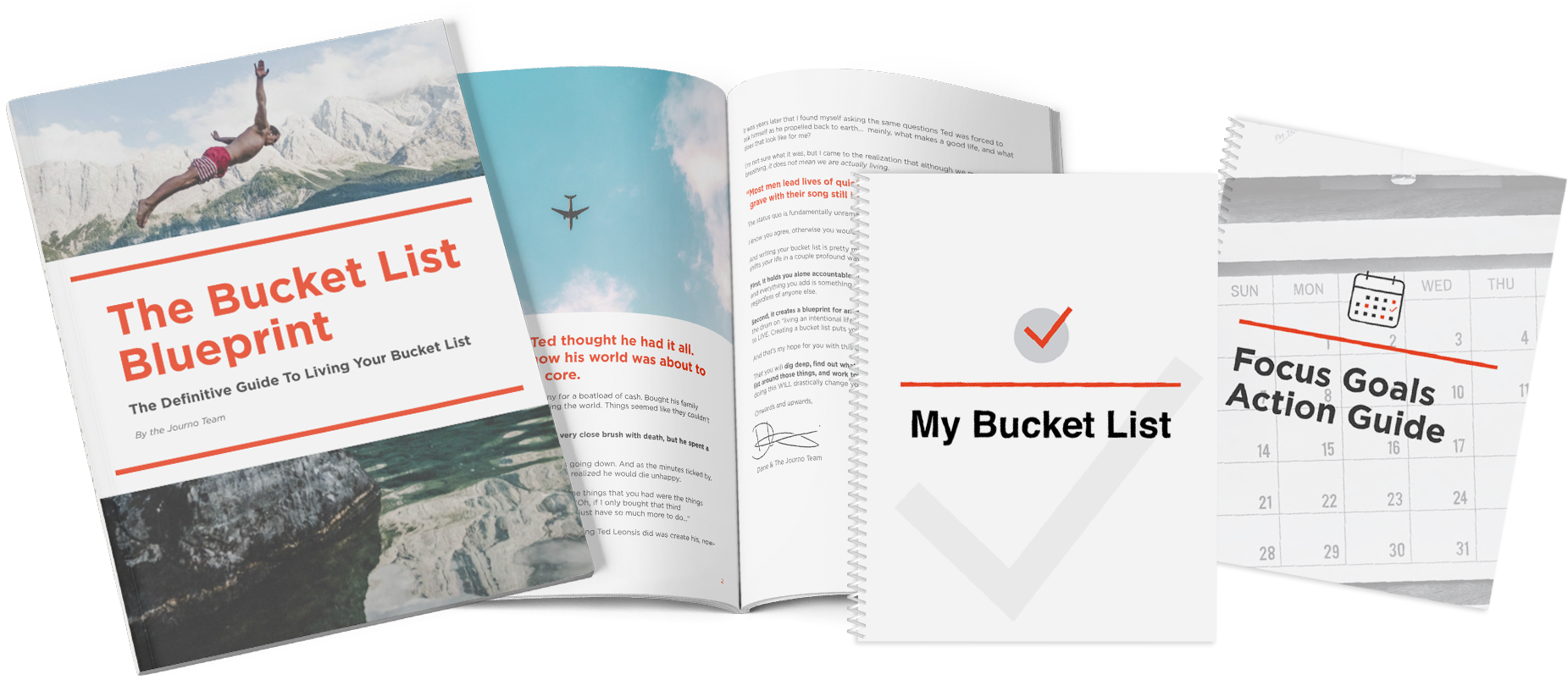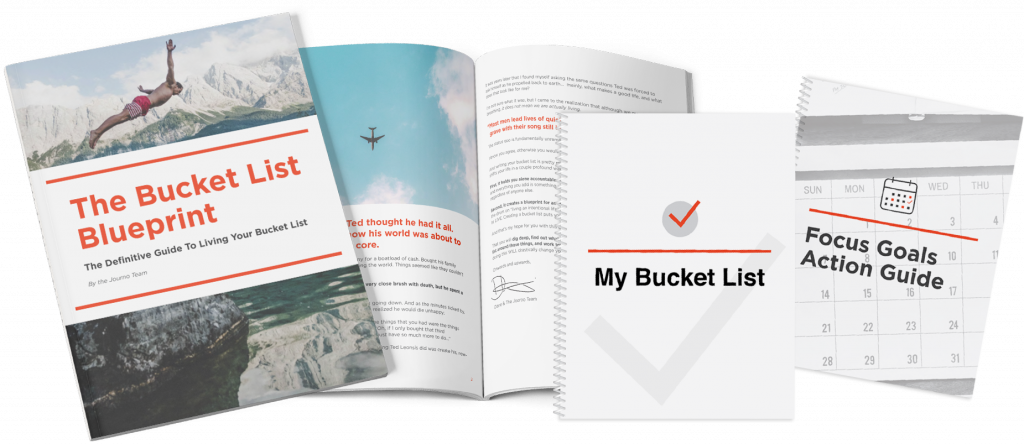 The simple (yet extremely powerful) step-by-step blueprint that's GUARANTEED to have you living your best bucket list life in no time.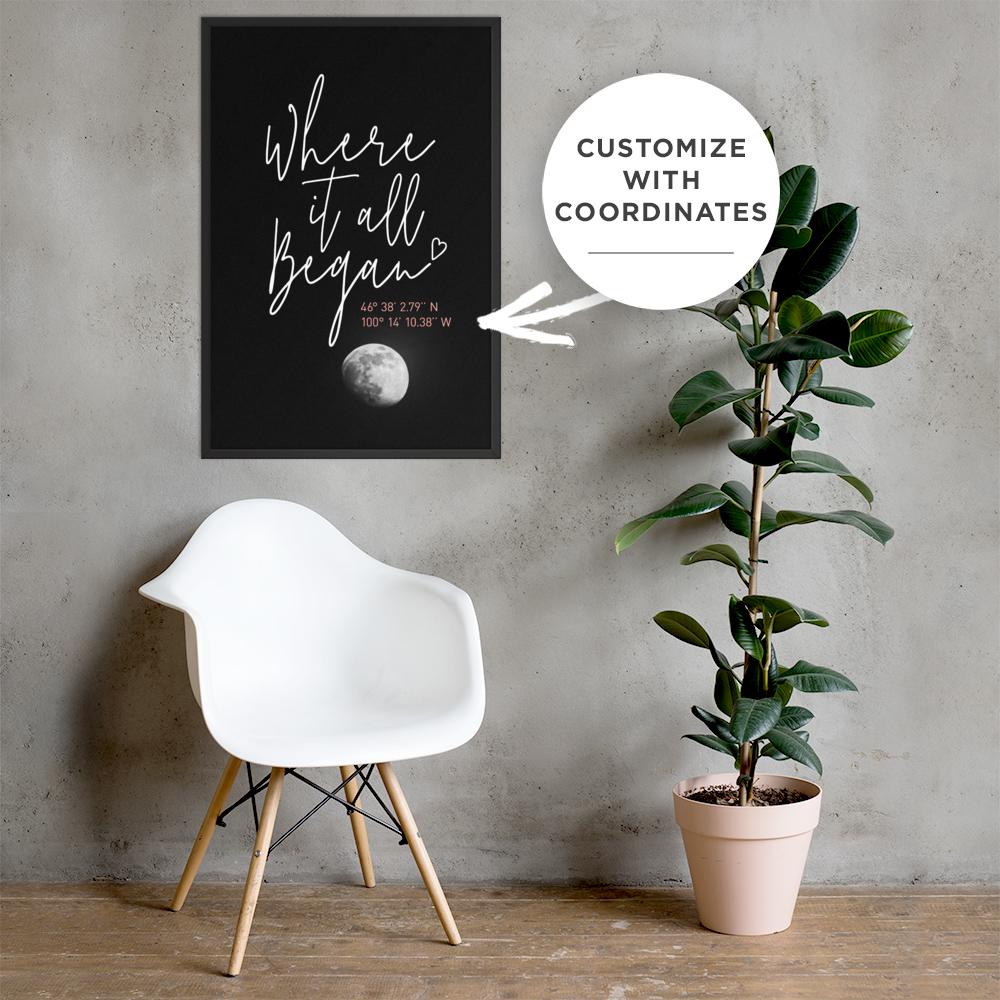 Behold the ideal gift at a price you can't beat. Immortalize a special spot on earth by engraving their (or your!) favorite place into a stunning memento they'll want to display forever.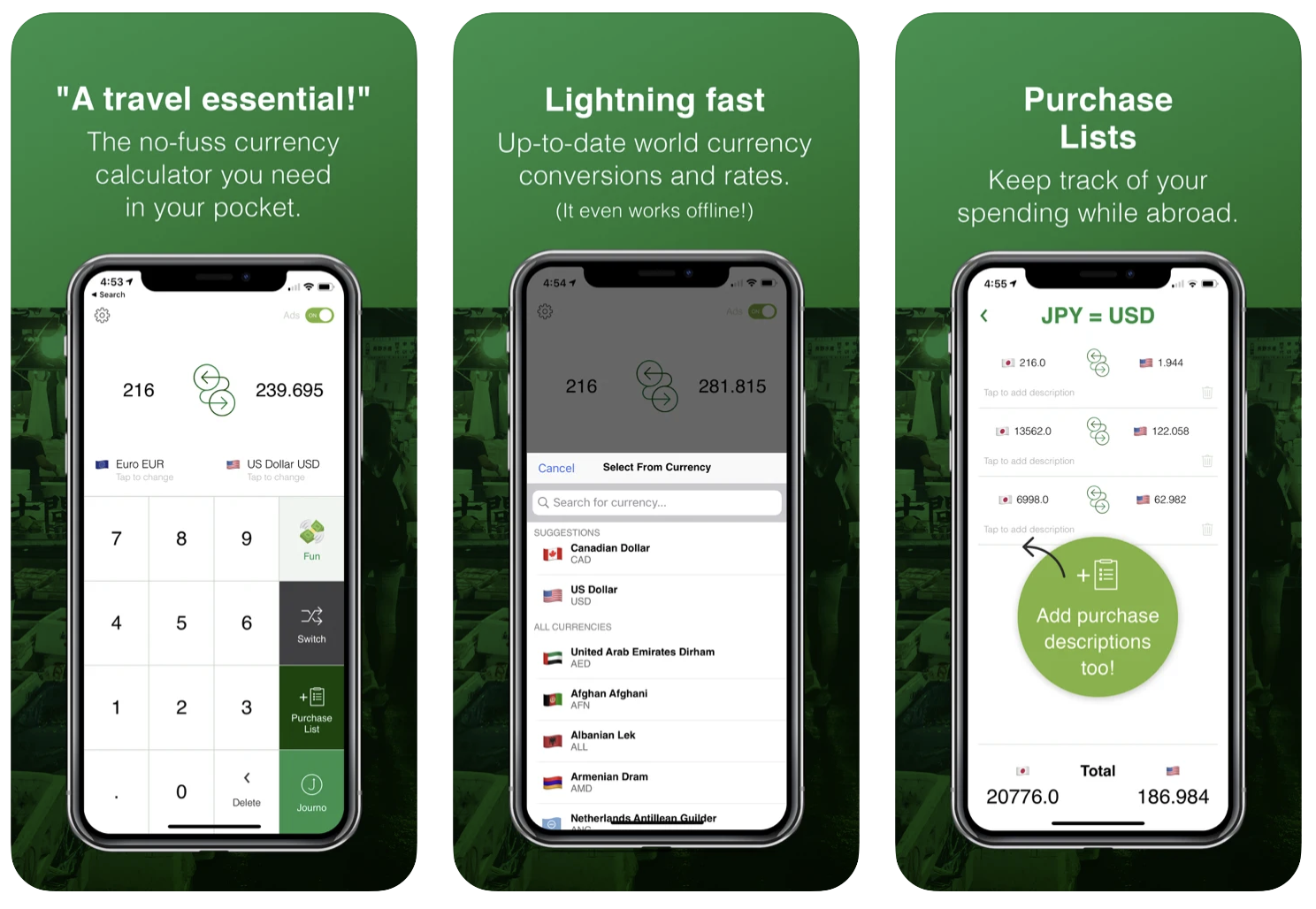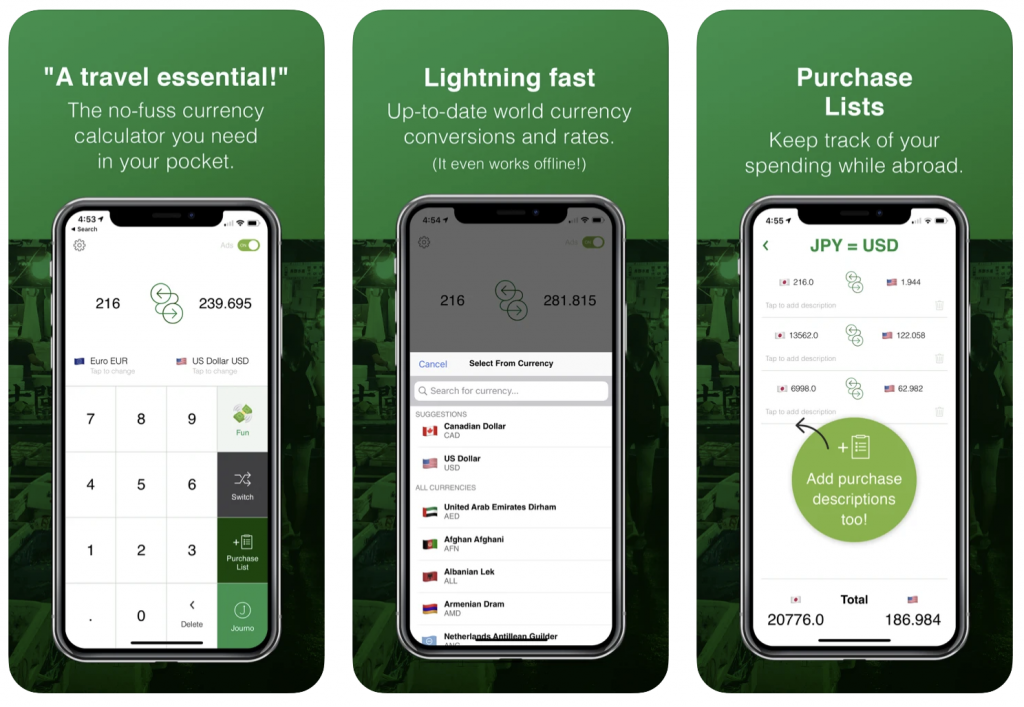 Ever wonder how much you're ACTUALLY spending while on a trip? Not anymore…
Currency Converter is the easiest way to get real-time exchange rates and keep track of your money while traveling.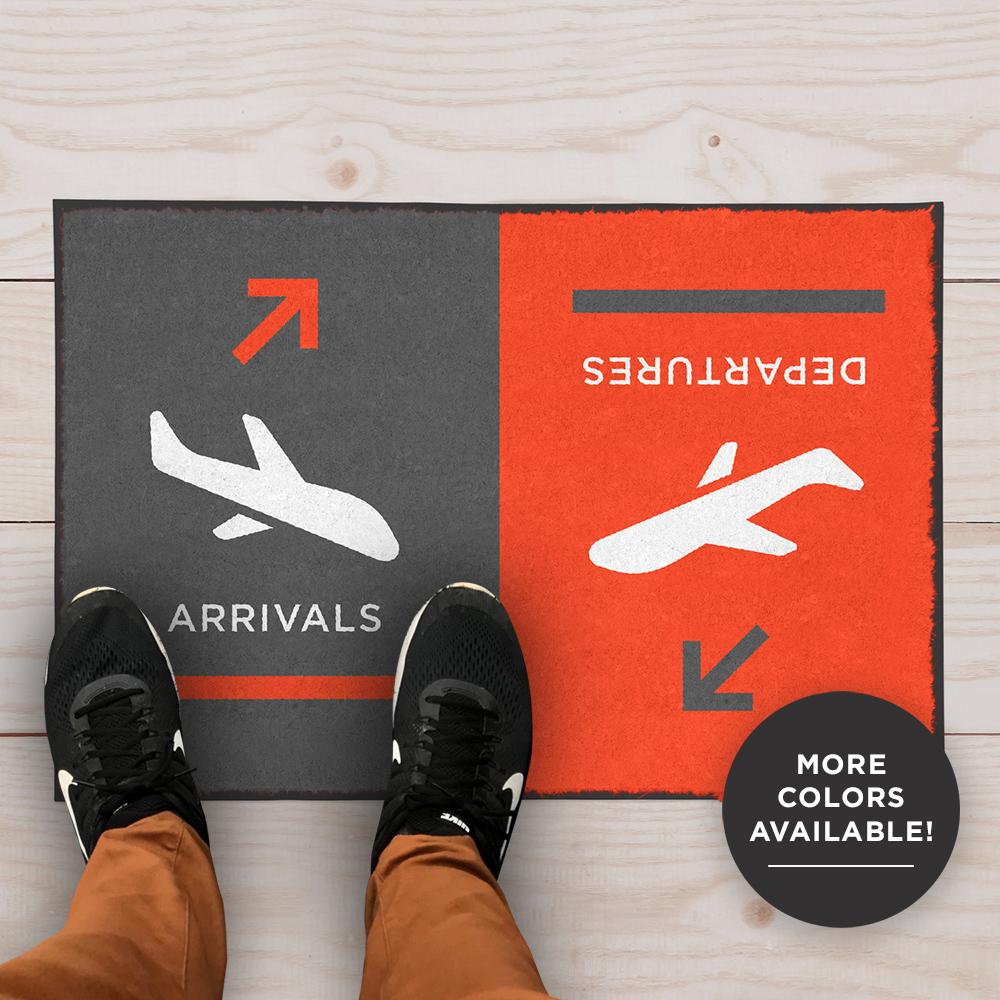 Usher your guests in and out of your house with this cheeky airport inspired welcome mat!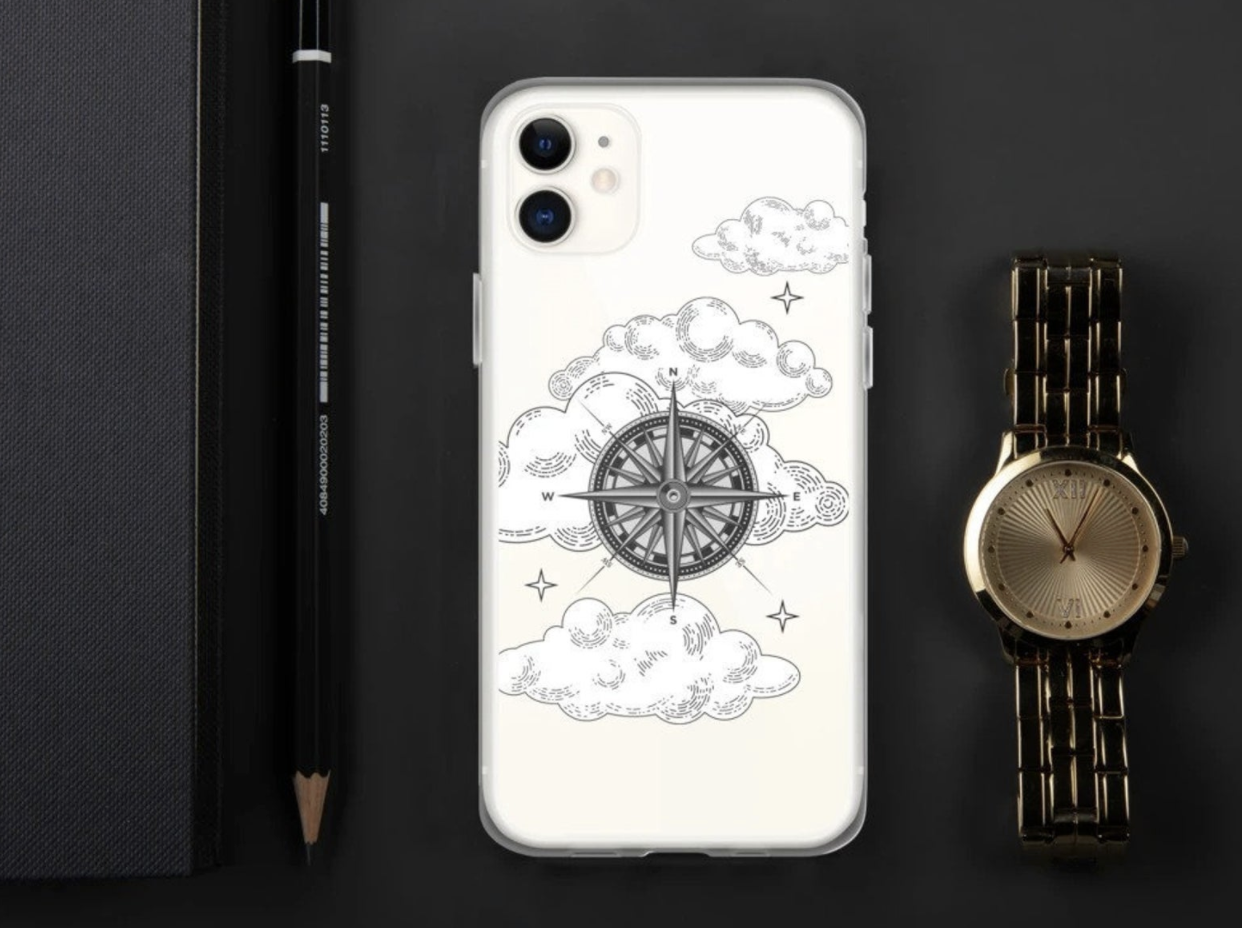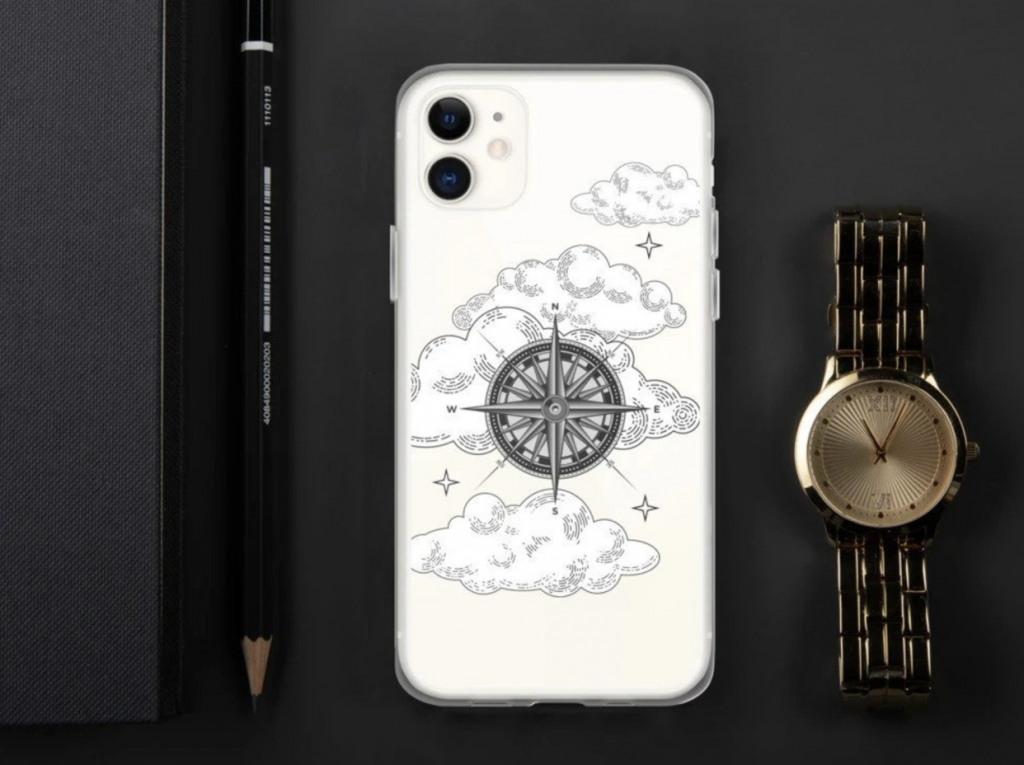 Every great phone needs a great case to keep it looking good and working well. And this one does both strikingly well.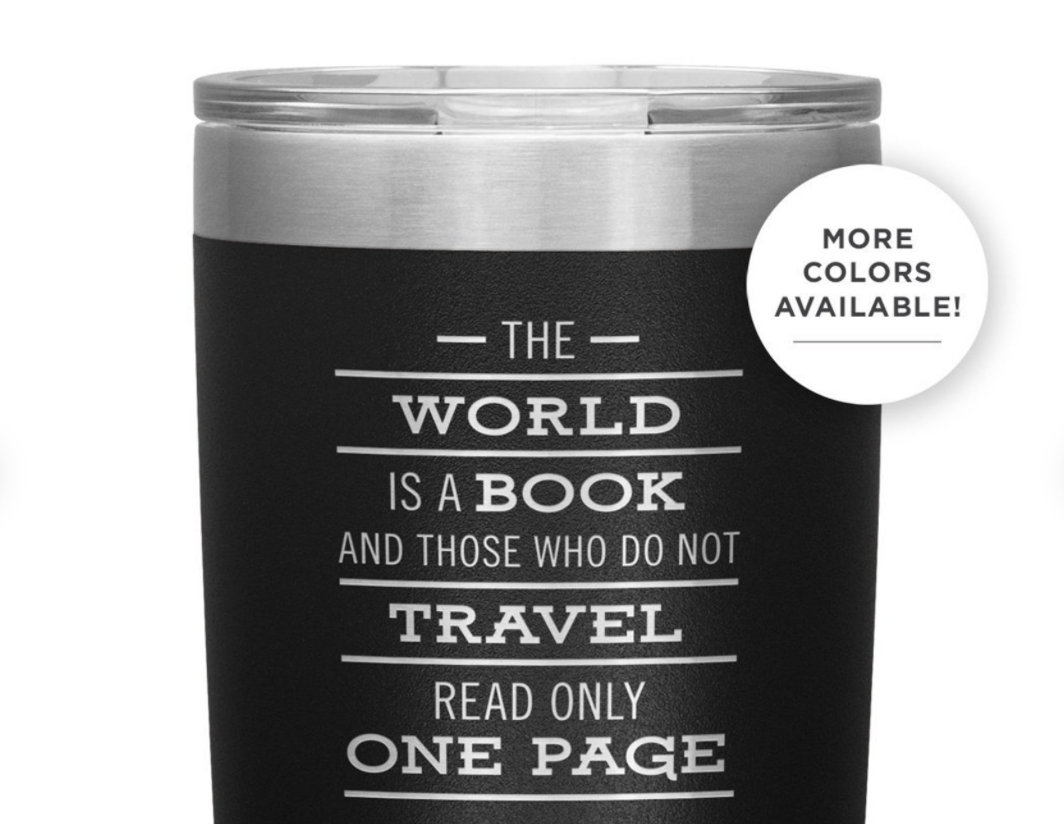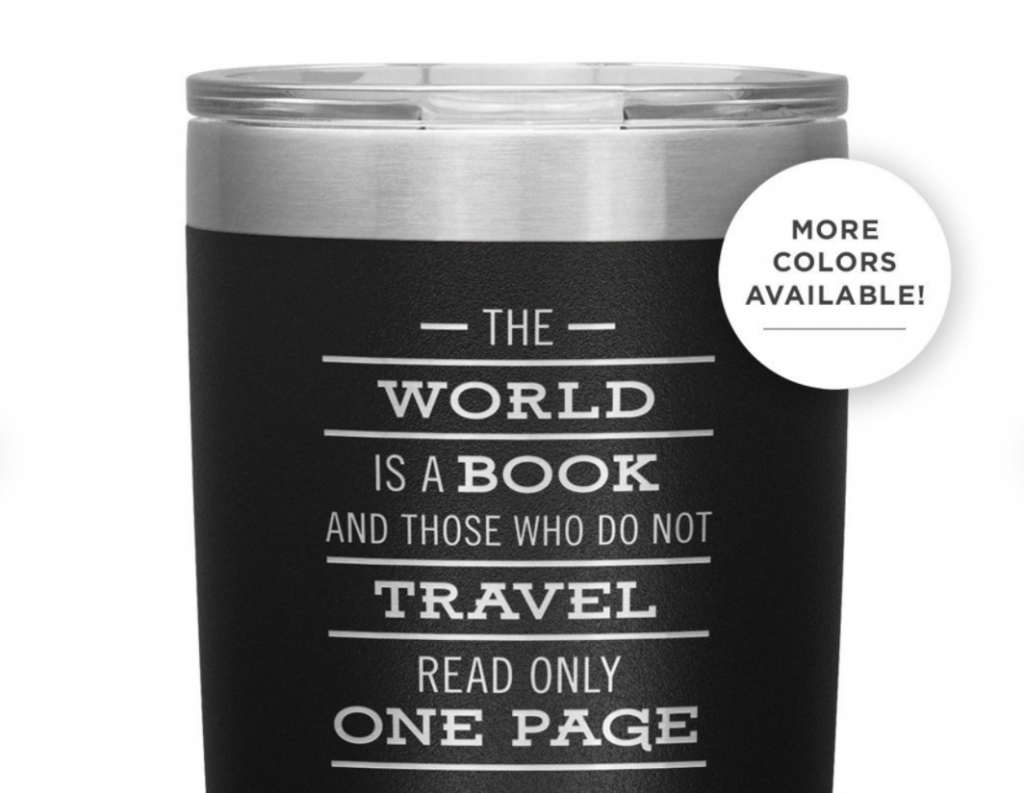 This one goes out to those who know… 🌎📖
Whether it's to keep your morning joe from getting cold, or pouring a long-awaited evening libation you want to keep cold…
…this to-go mug is sure to brighten your day, while encouraging others to "turn the page," too. 😉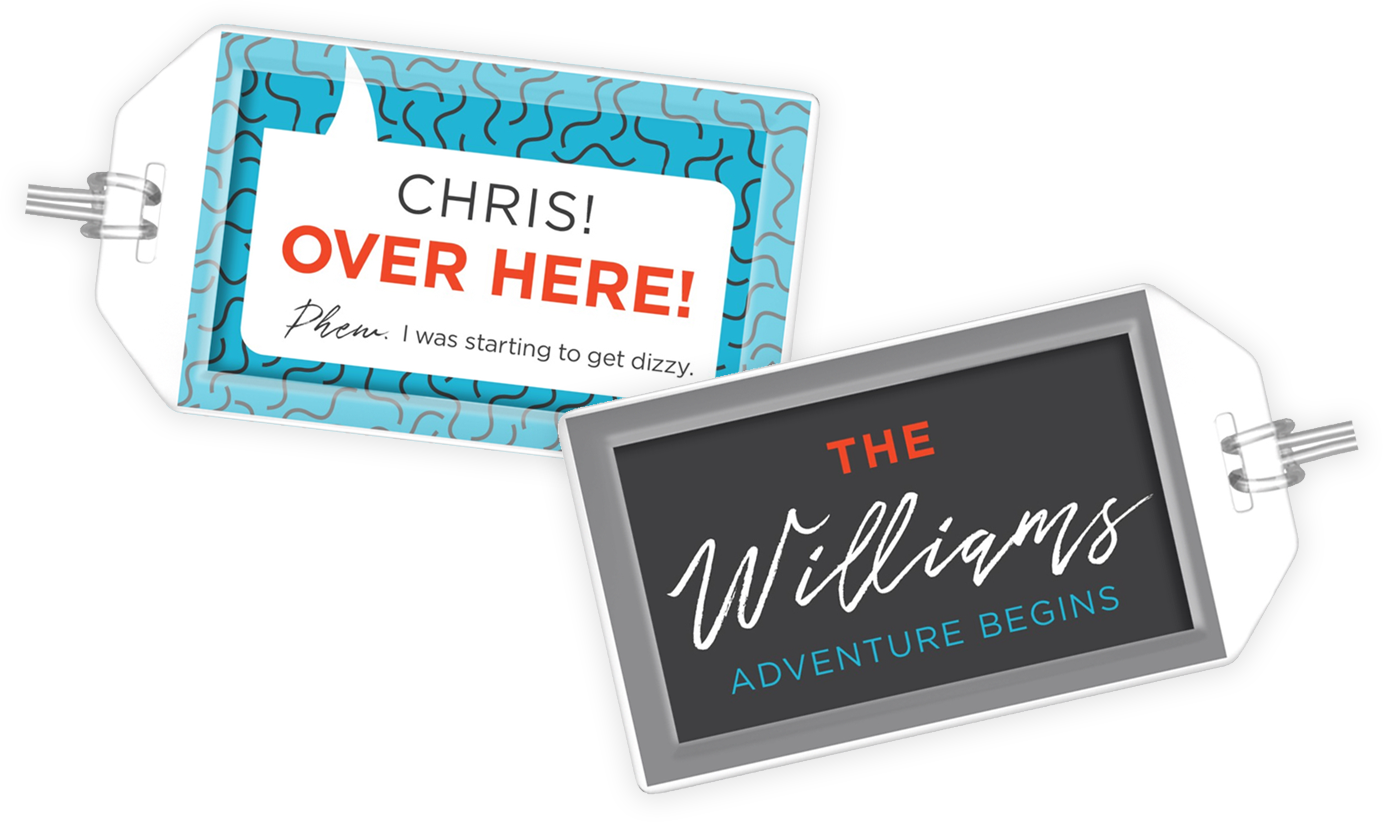 They're fun, they're personal, and they completely eliminate confusion at the hectic arrivals belt. Grab yours free now.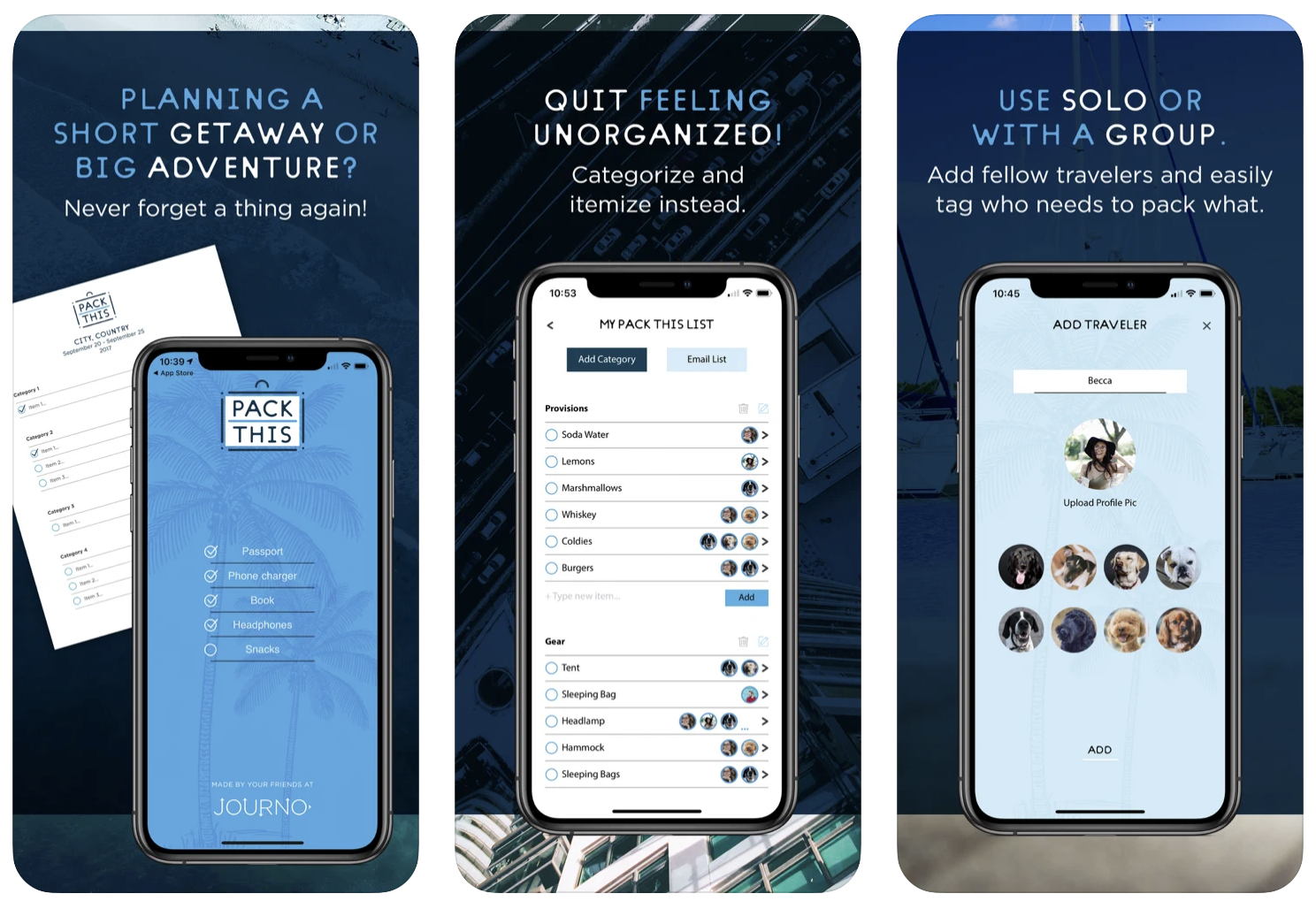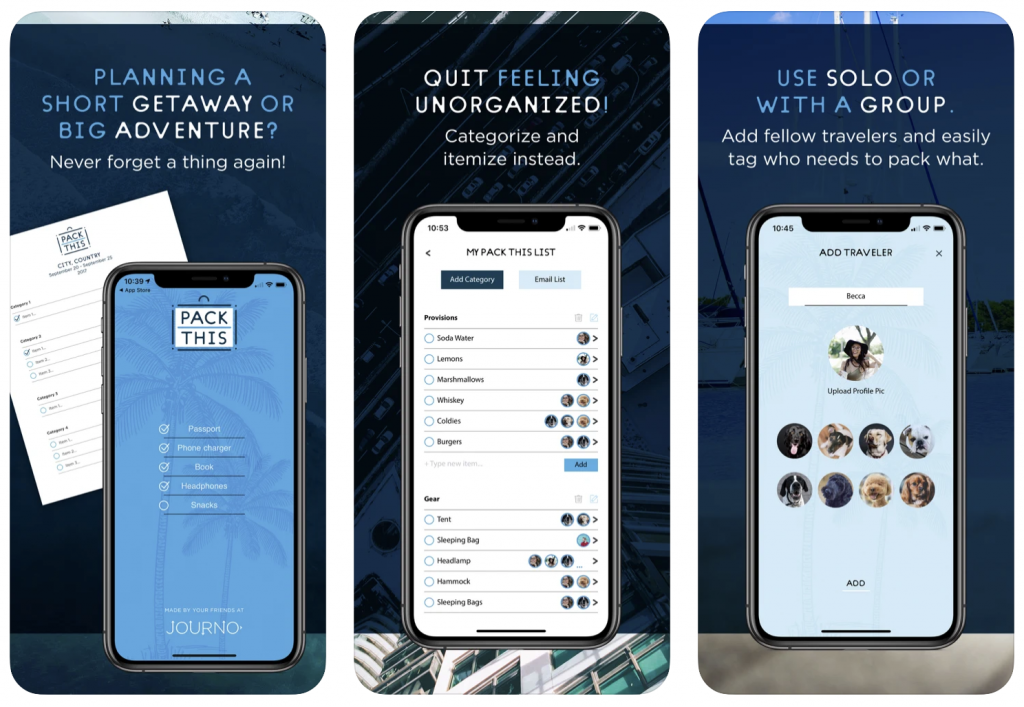 Worried you're going to forget something important on your next trip? Not anymore! With Pack This, you'll never forget a thing again.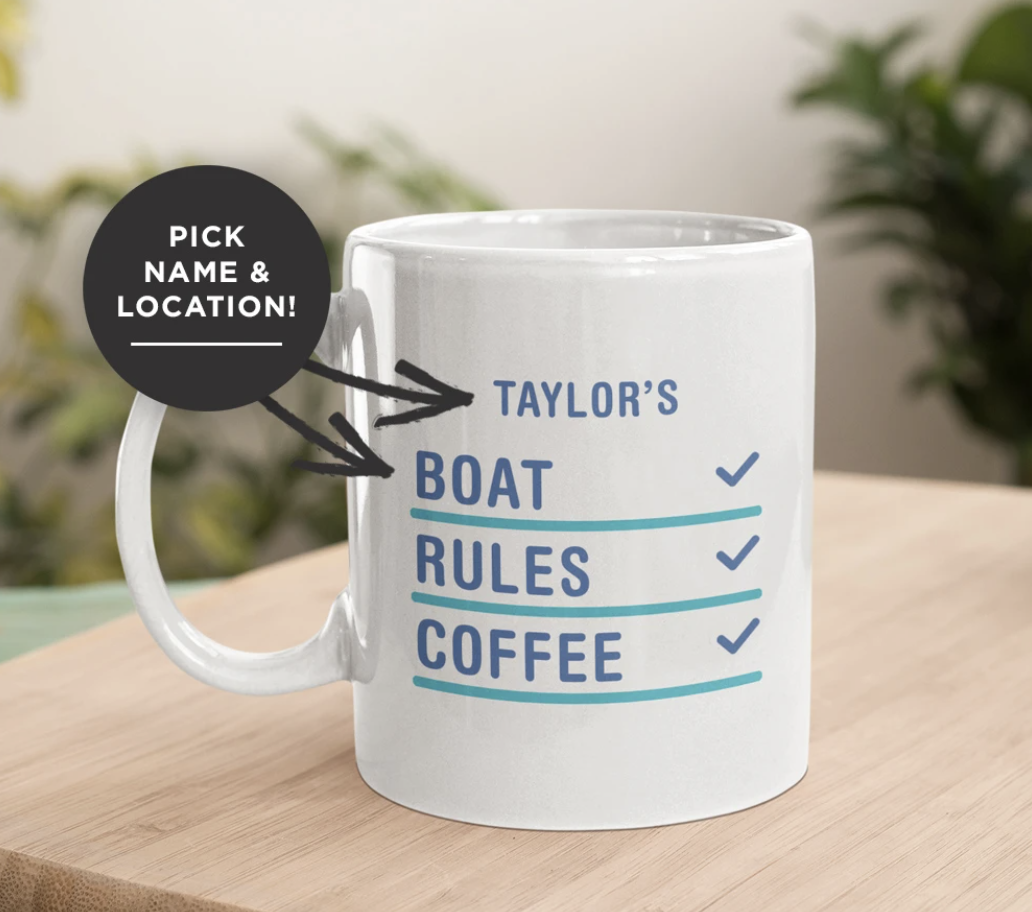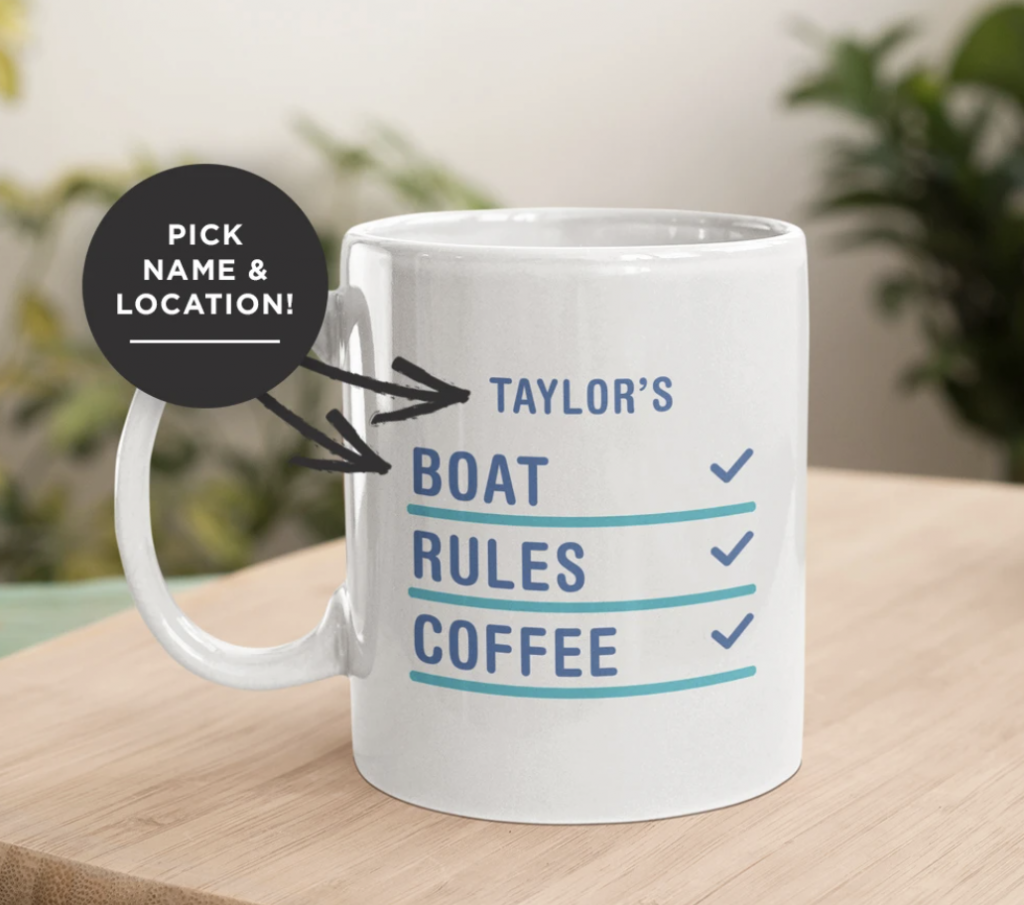 Whether you are at your cabin, your house, your boat, or your RV, you gotta have rules (and your coffee!)… And you've gotta have your coffee, it might as well be in your own personalized mug!

Top 20 Travel Quotes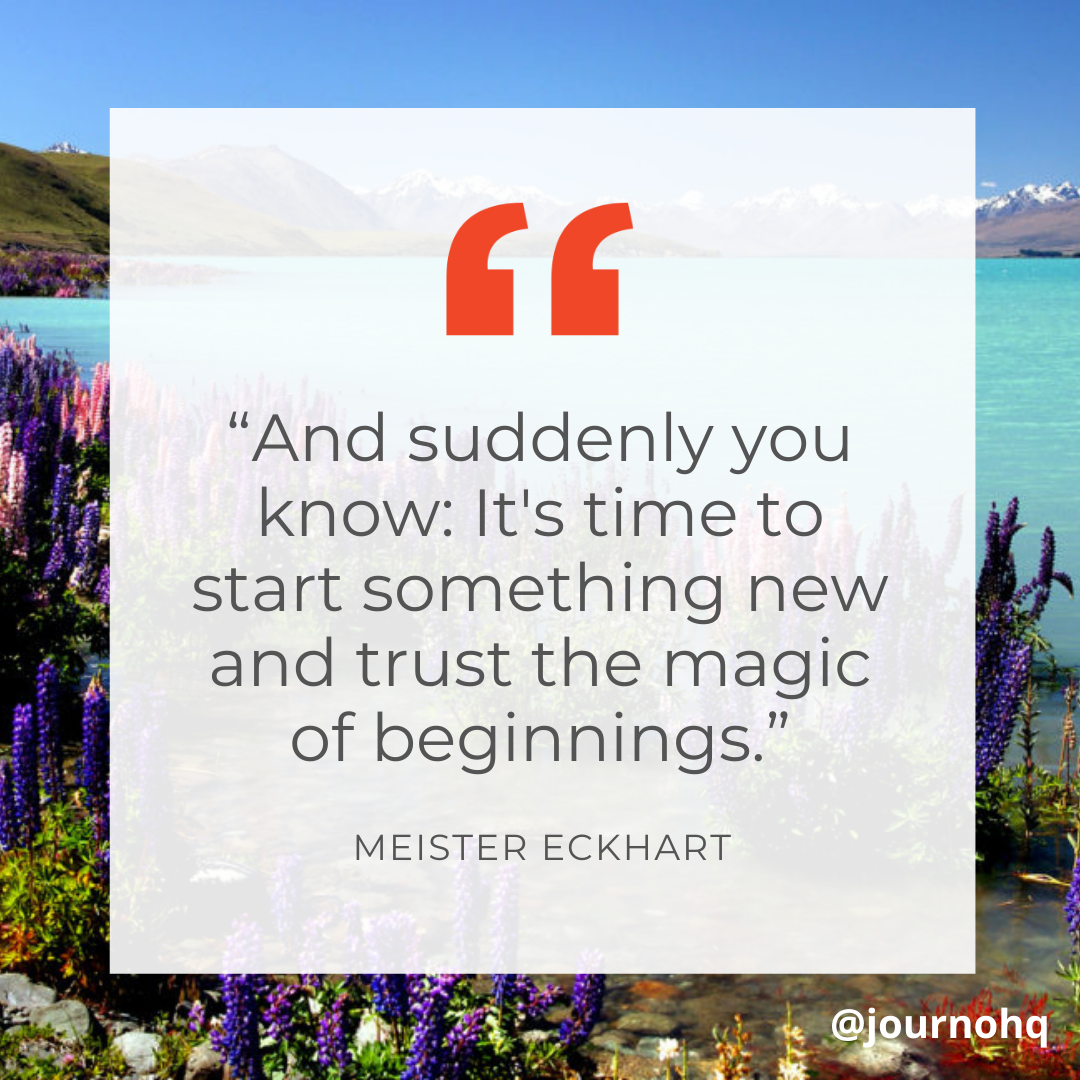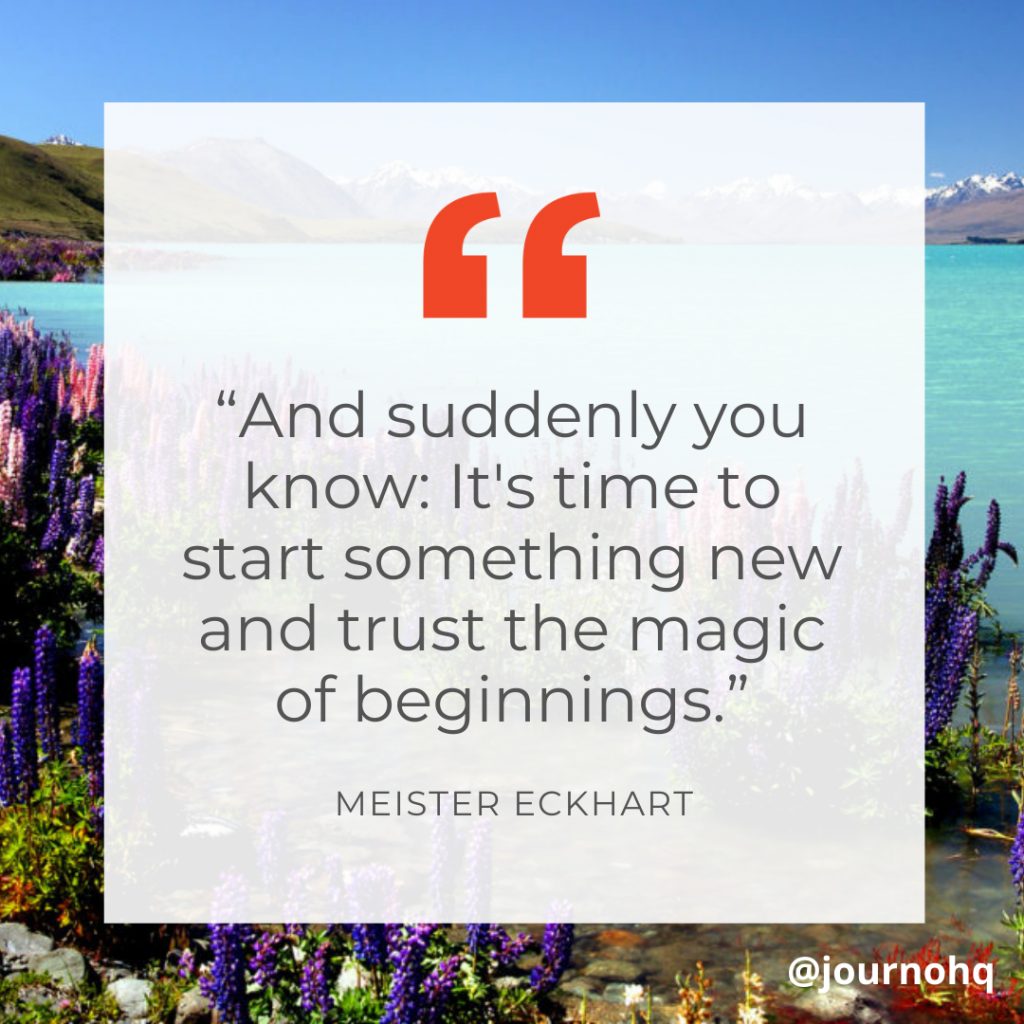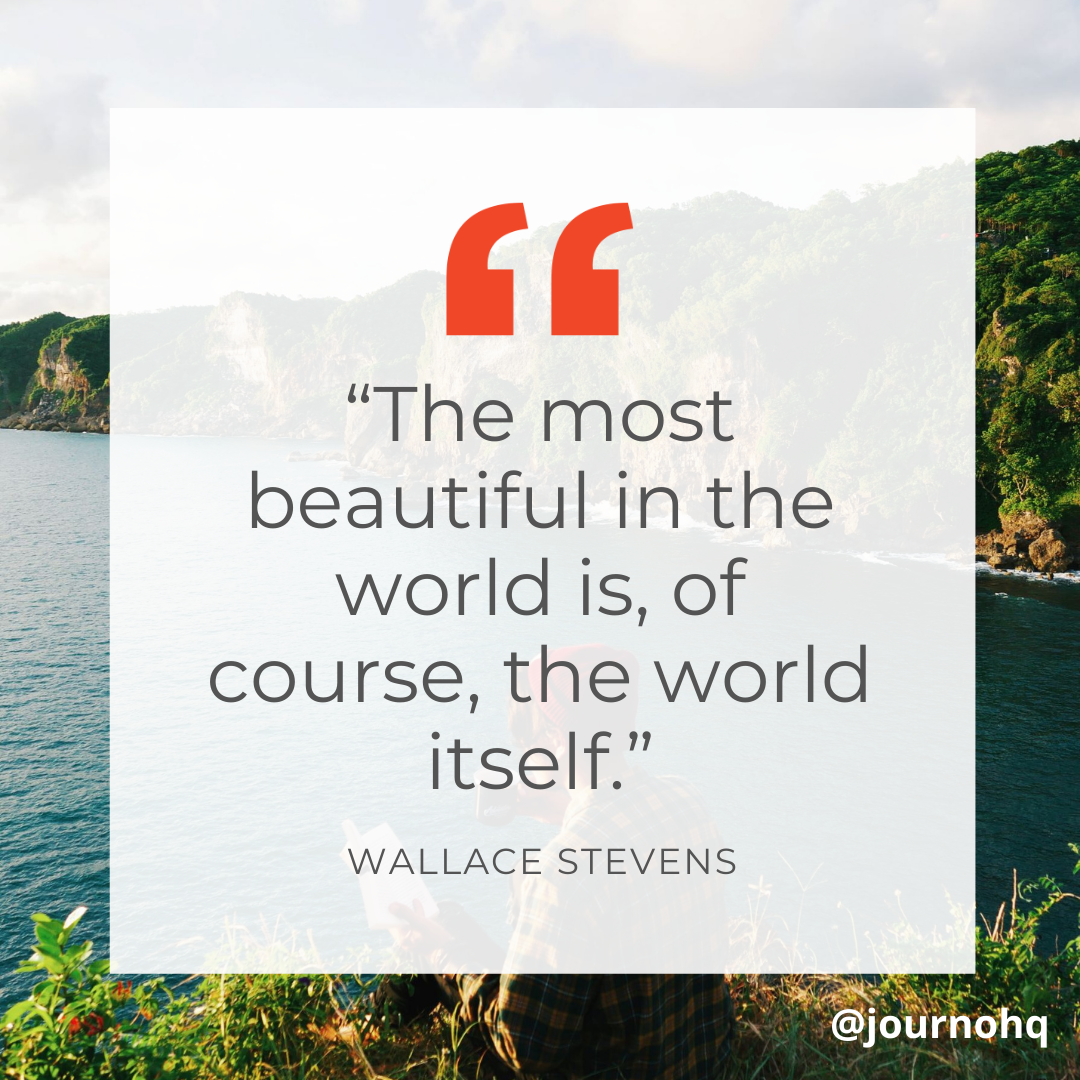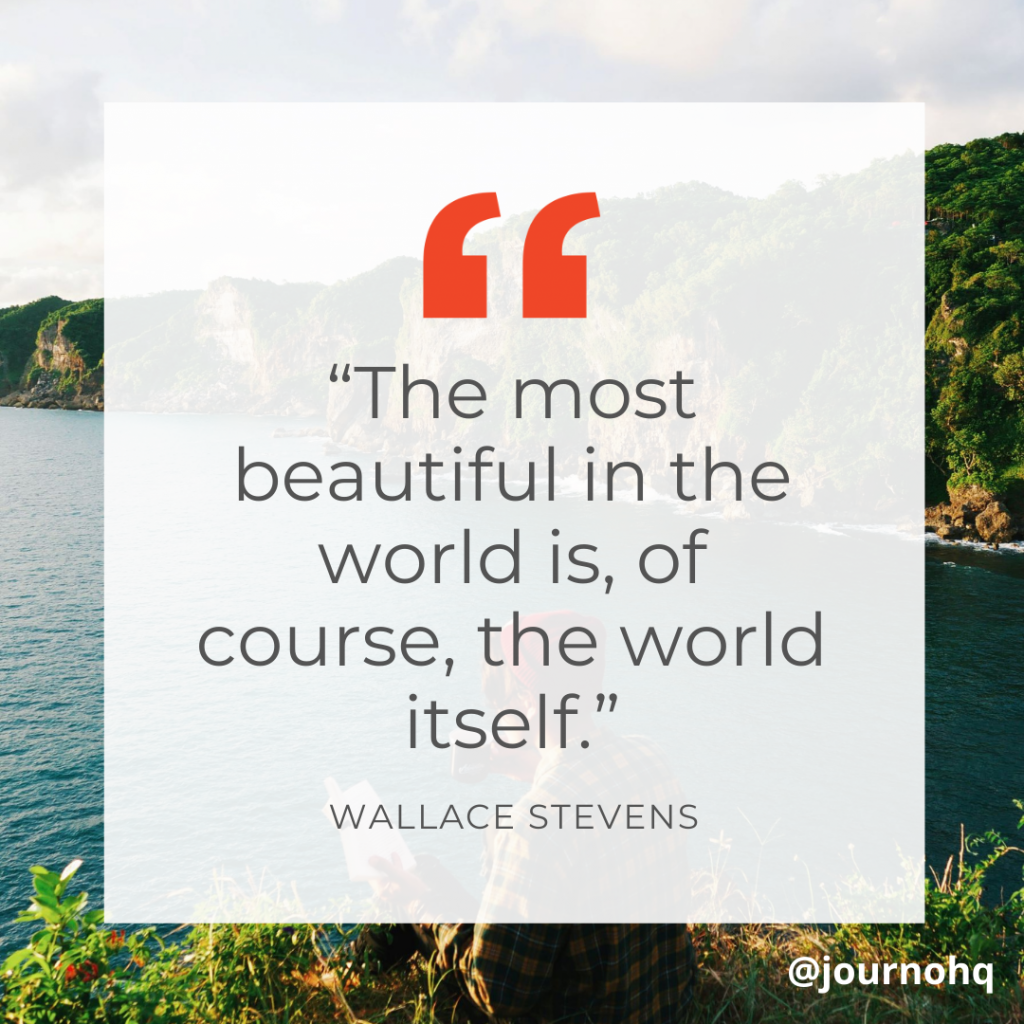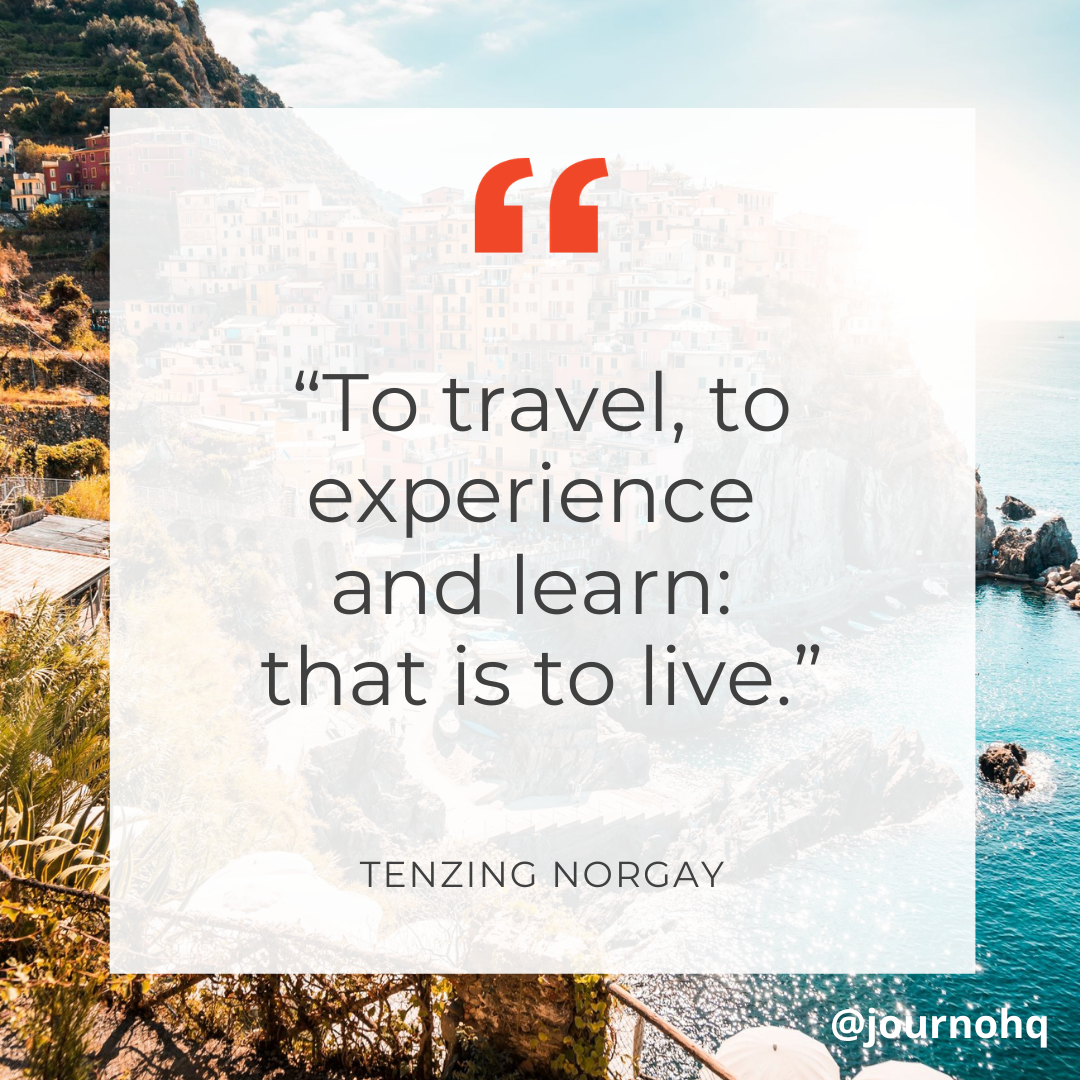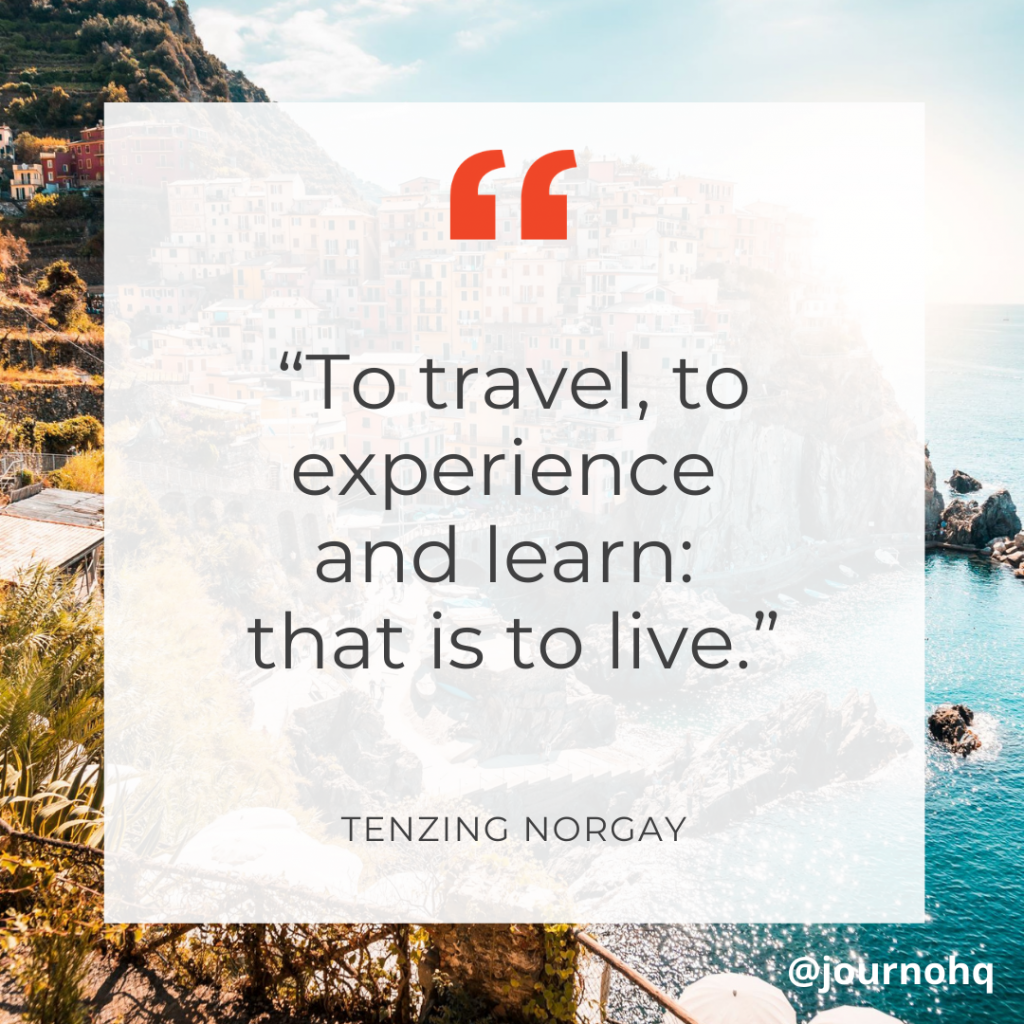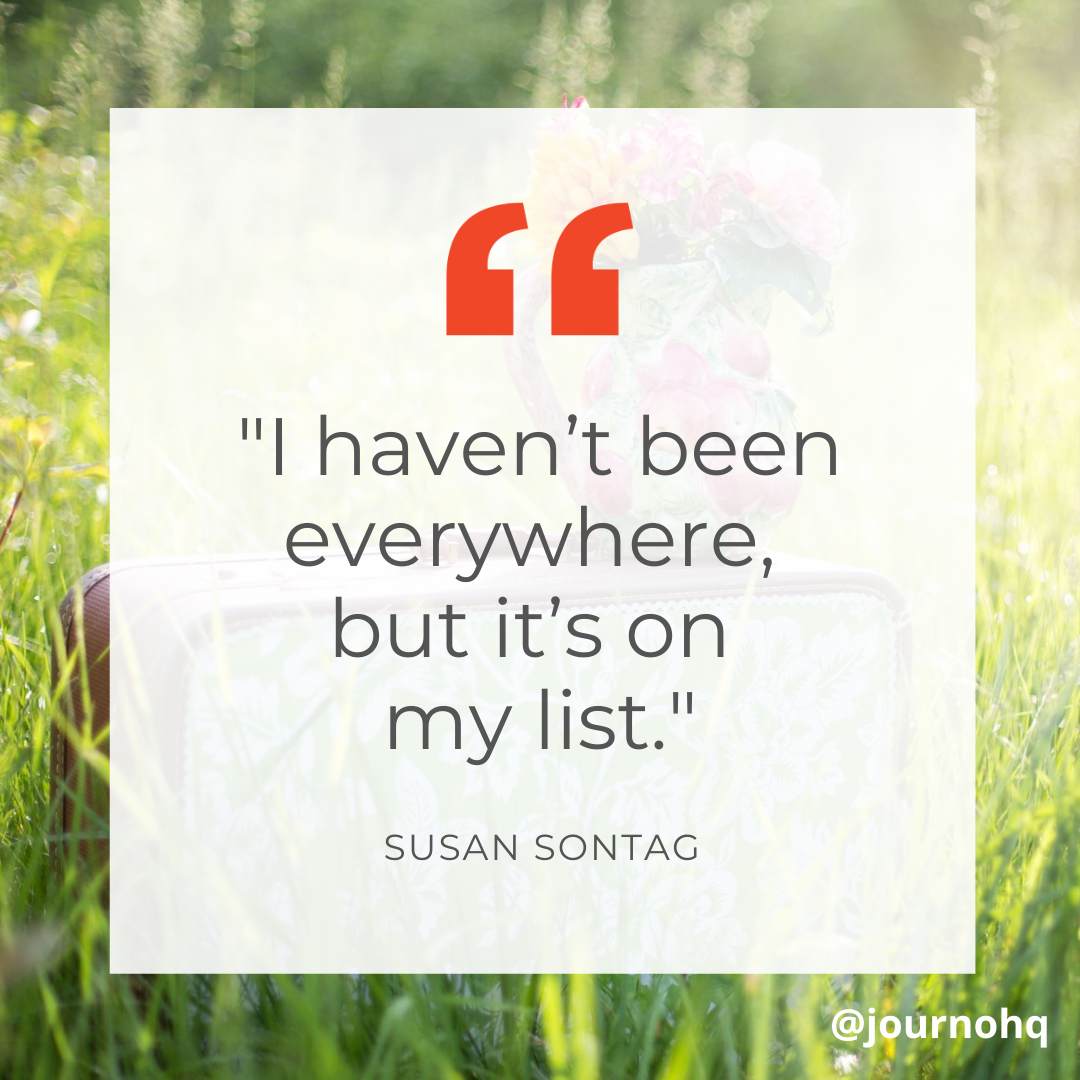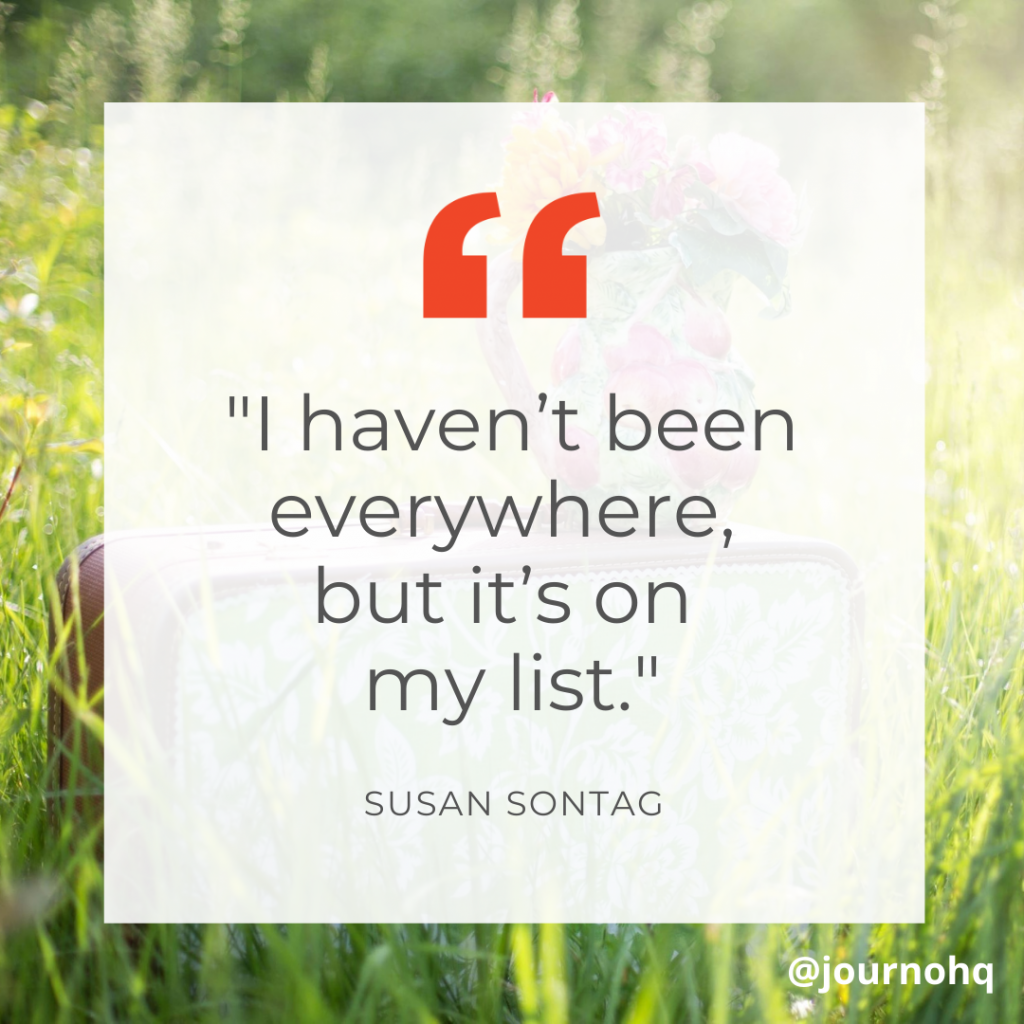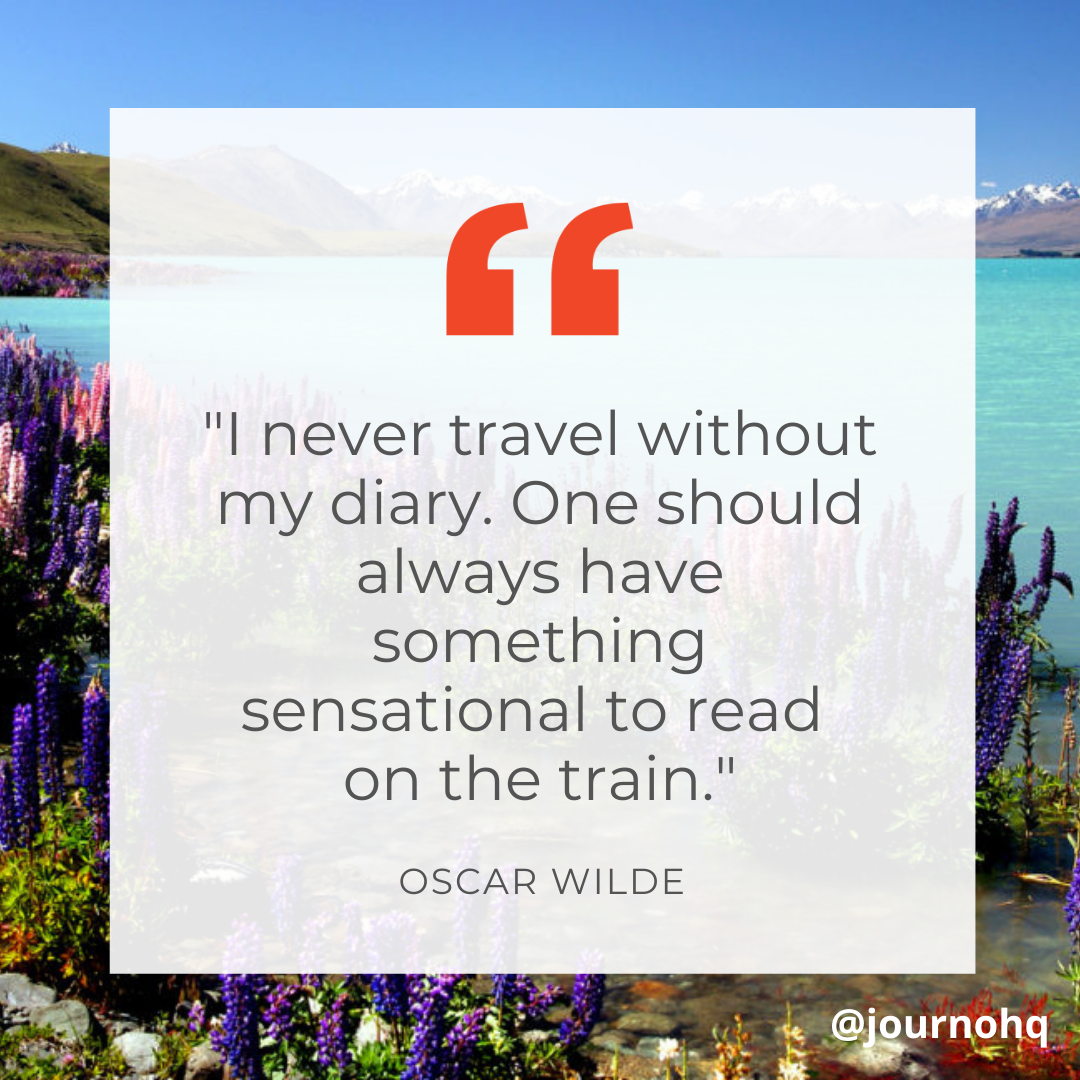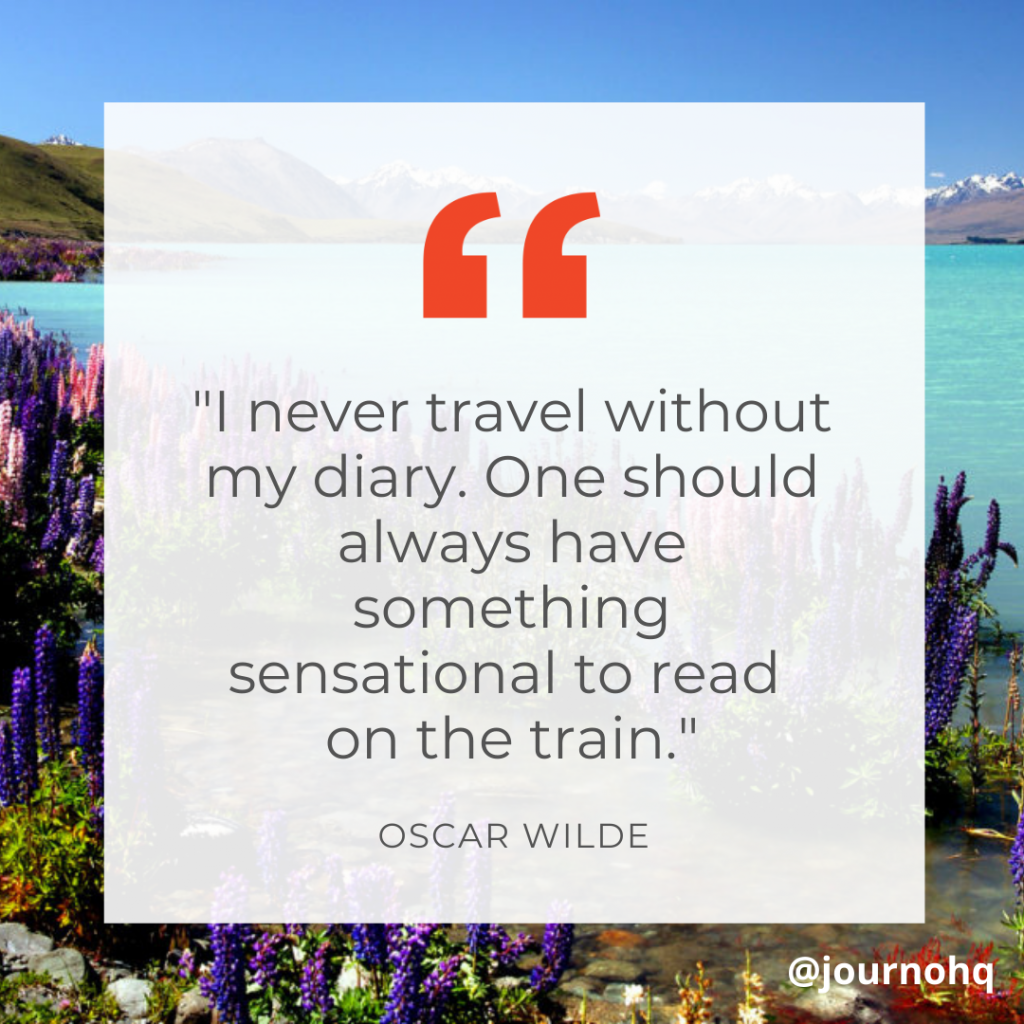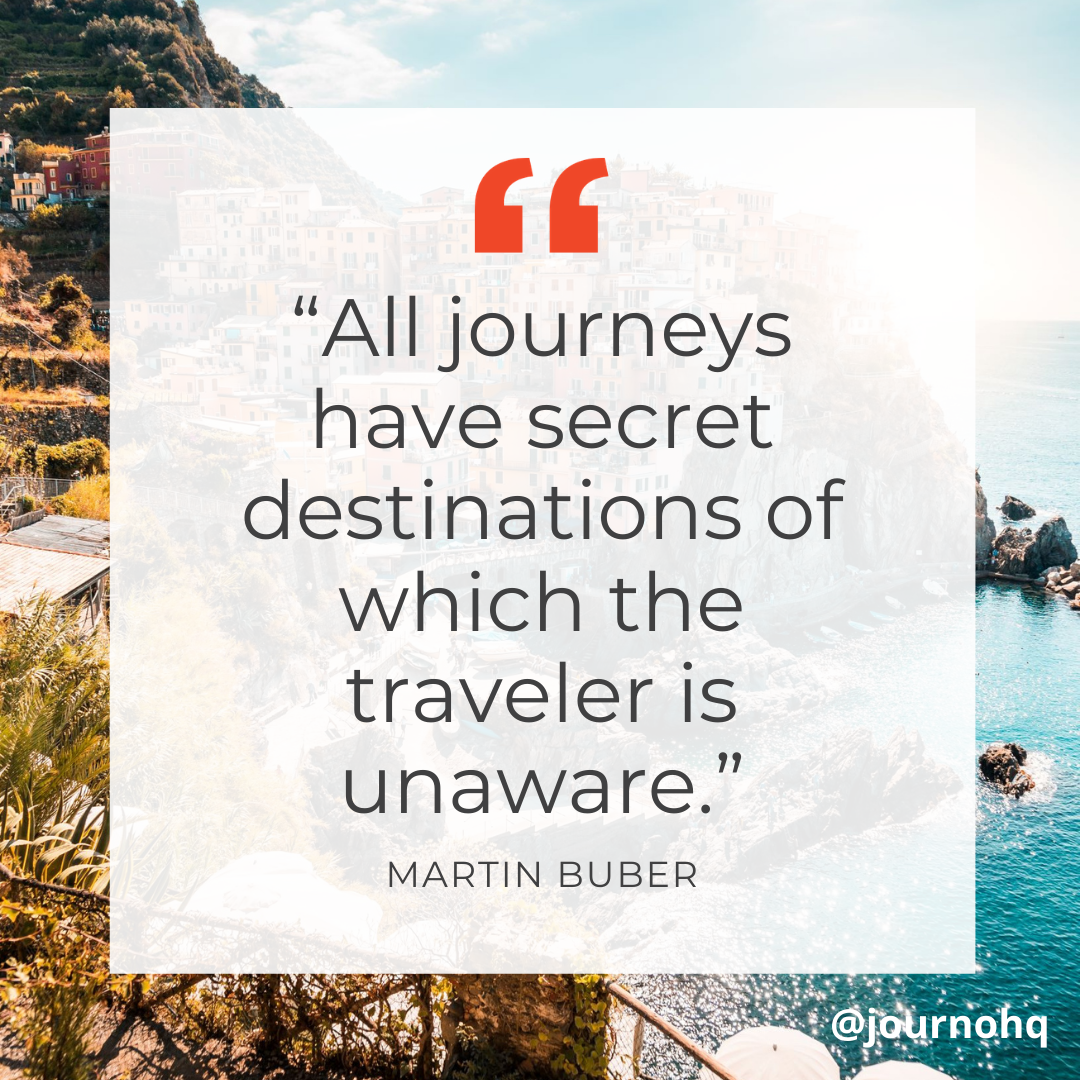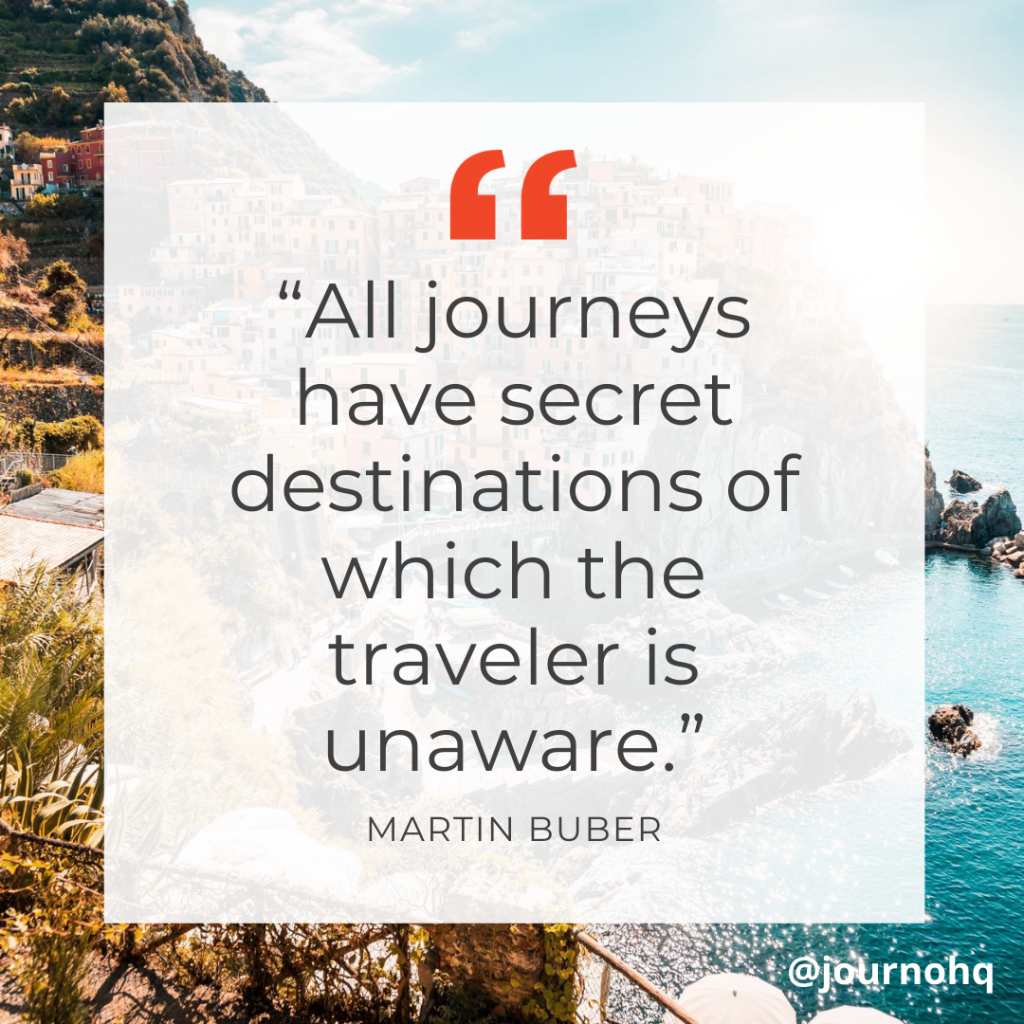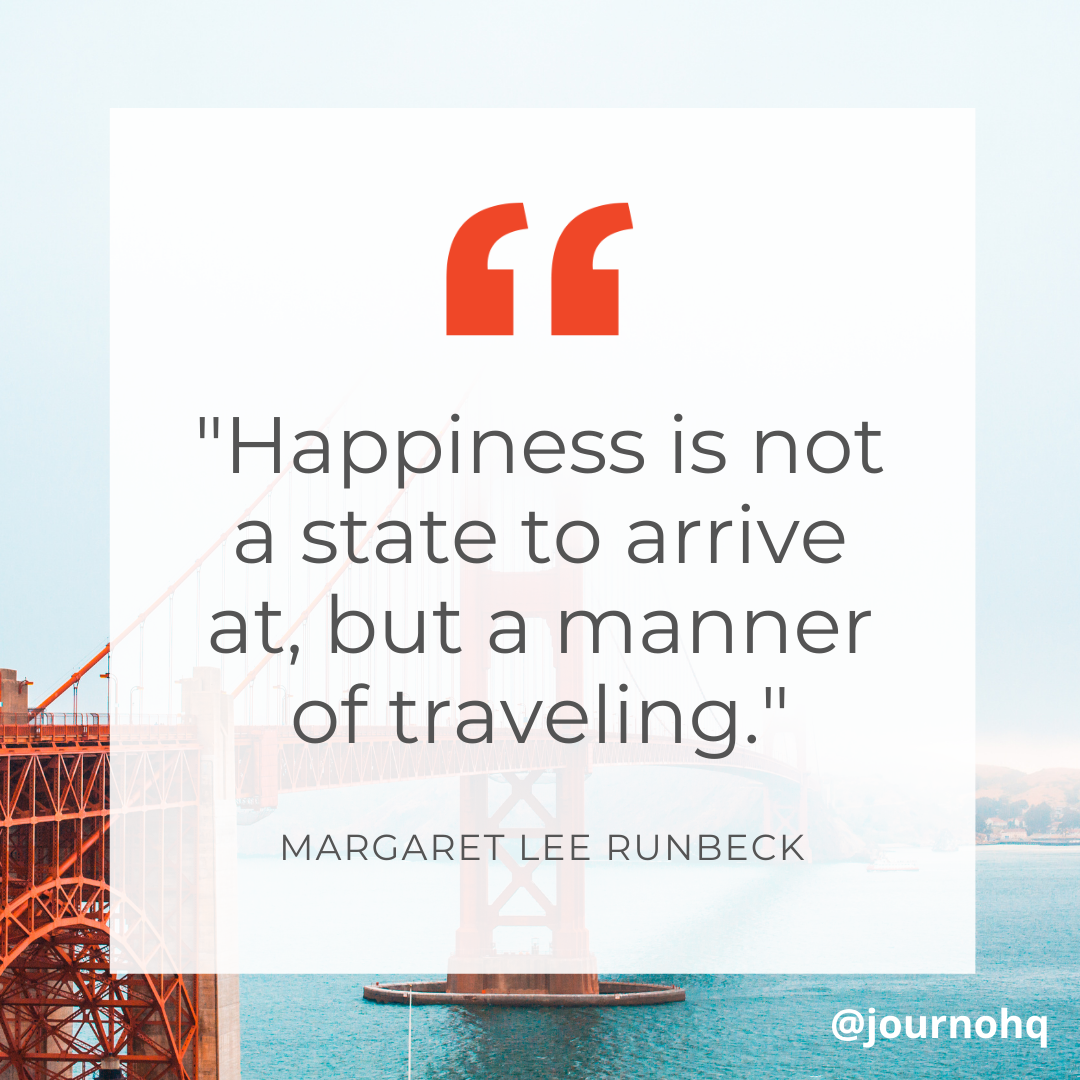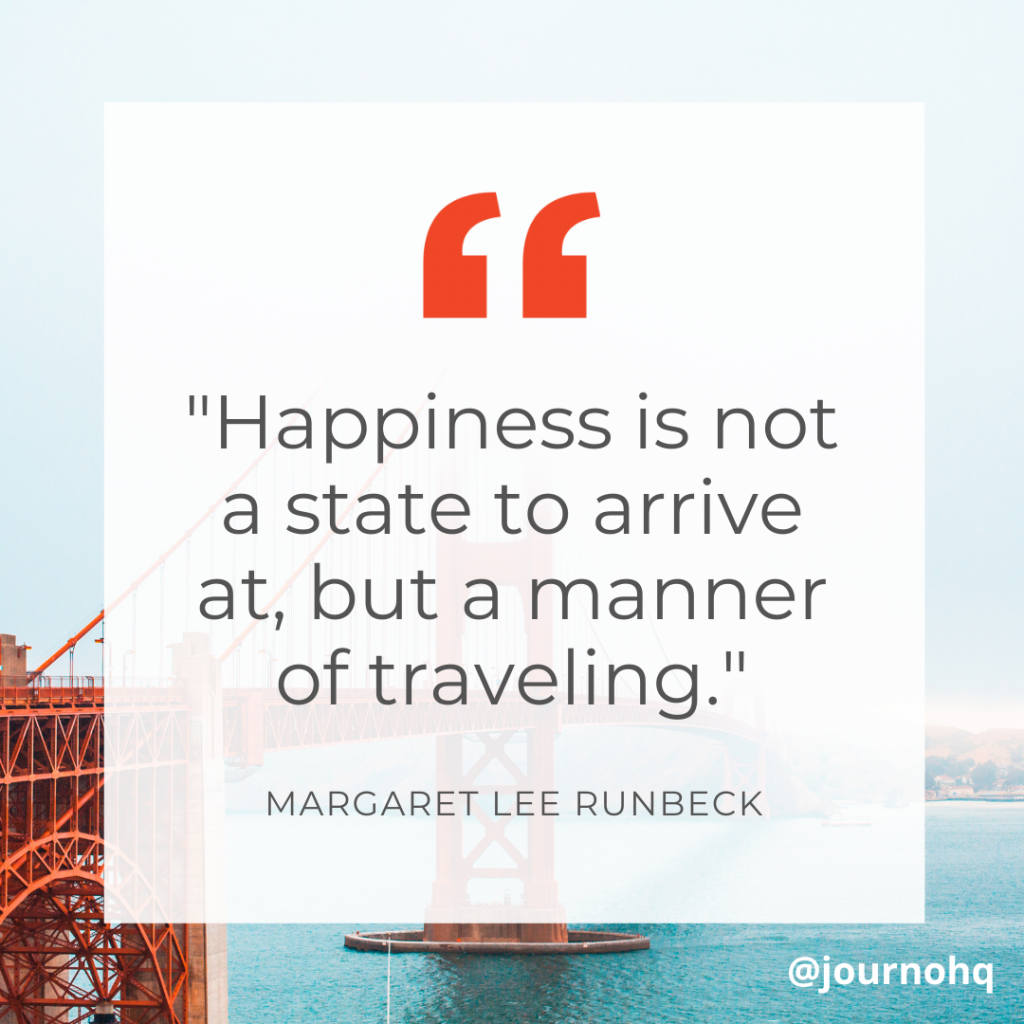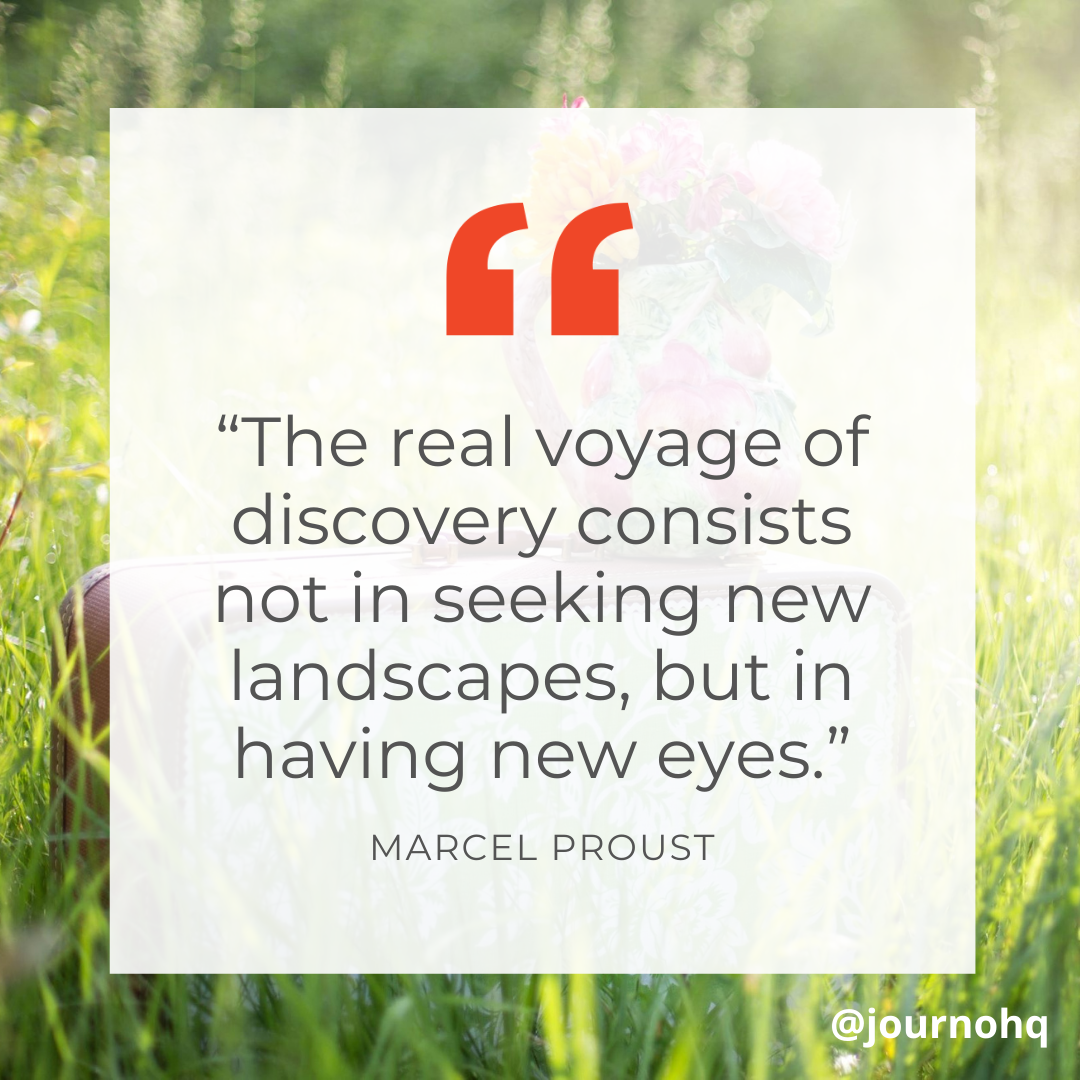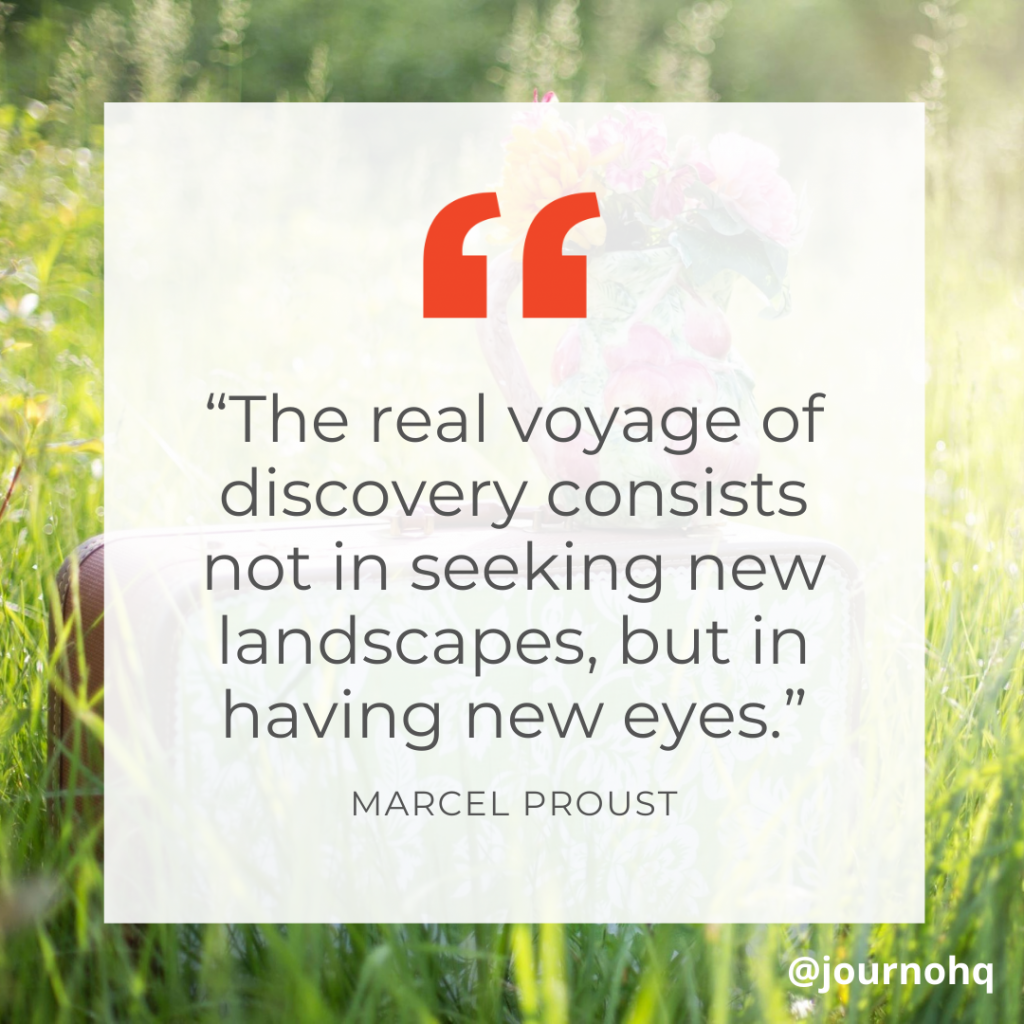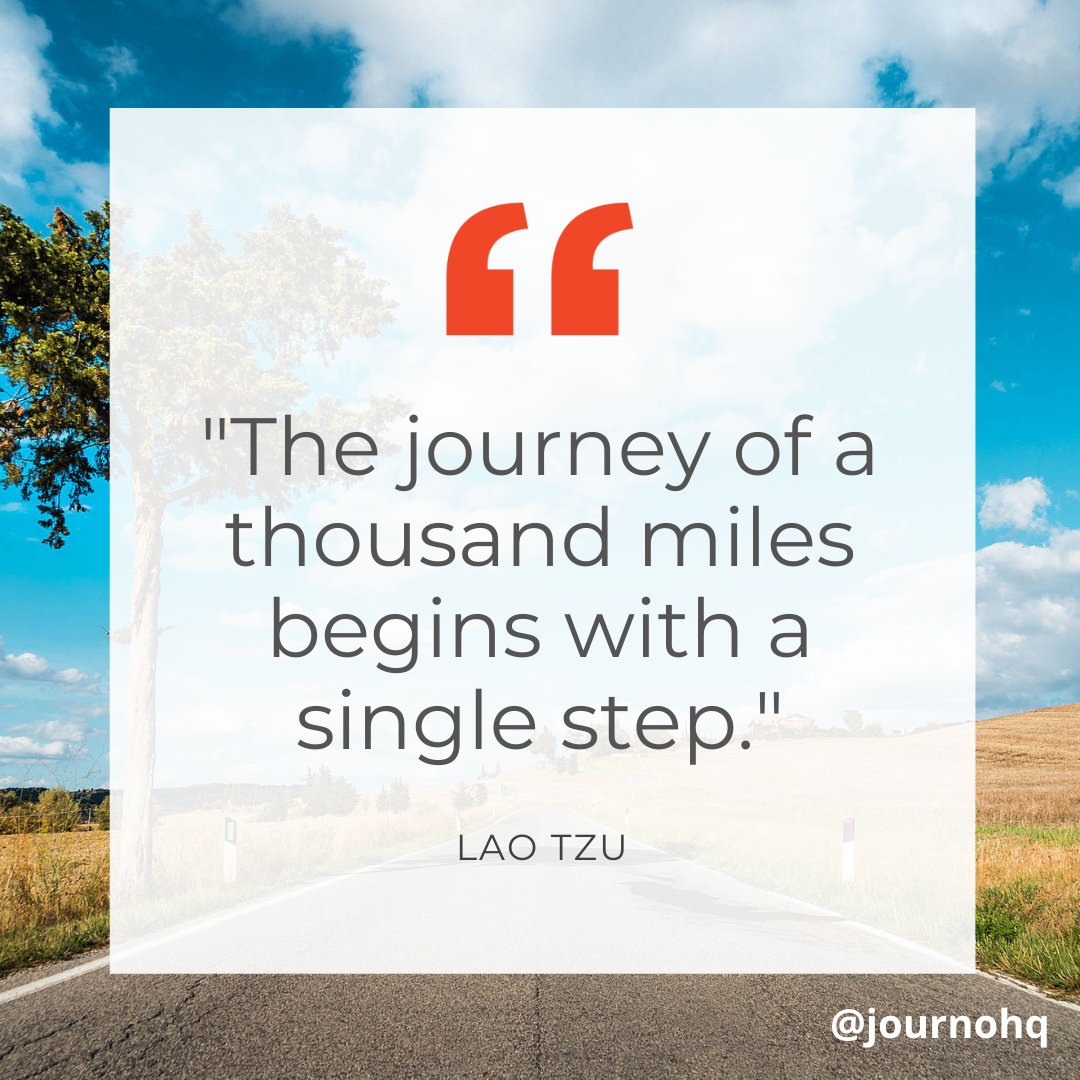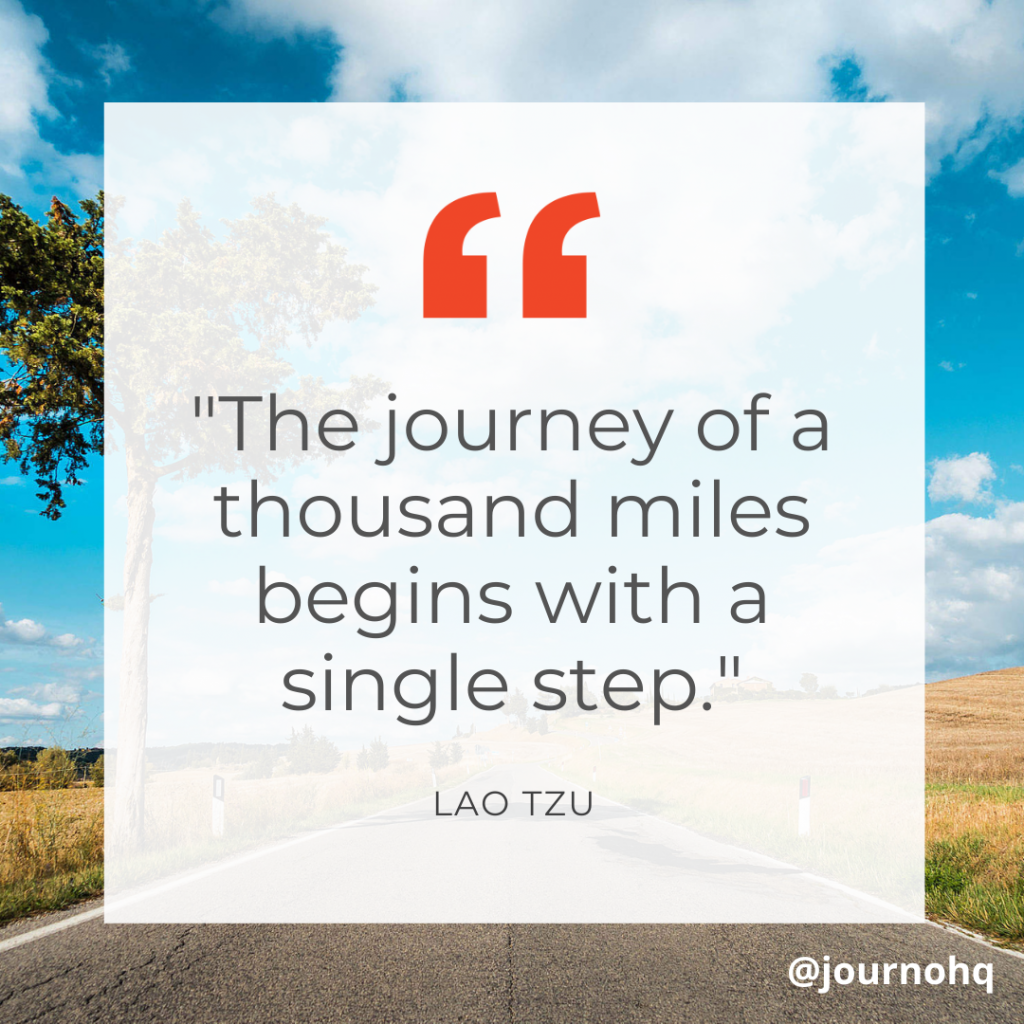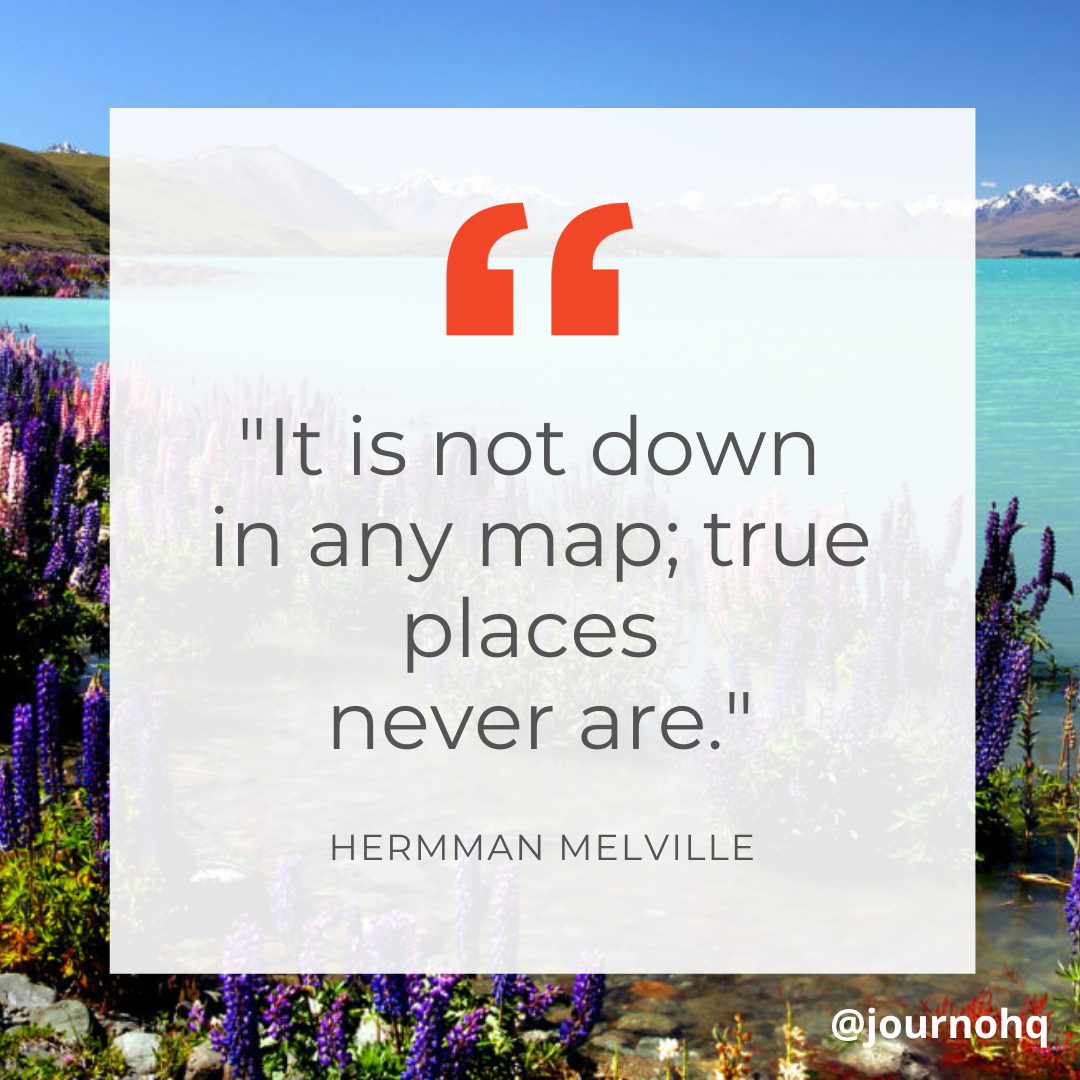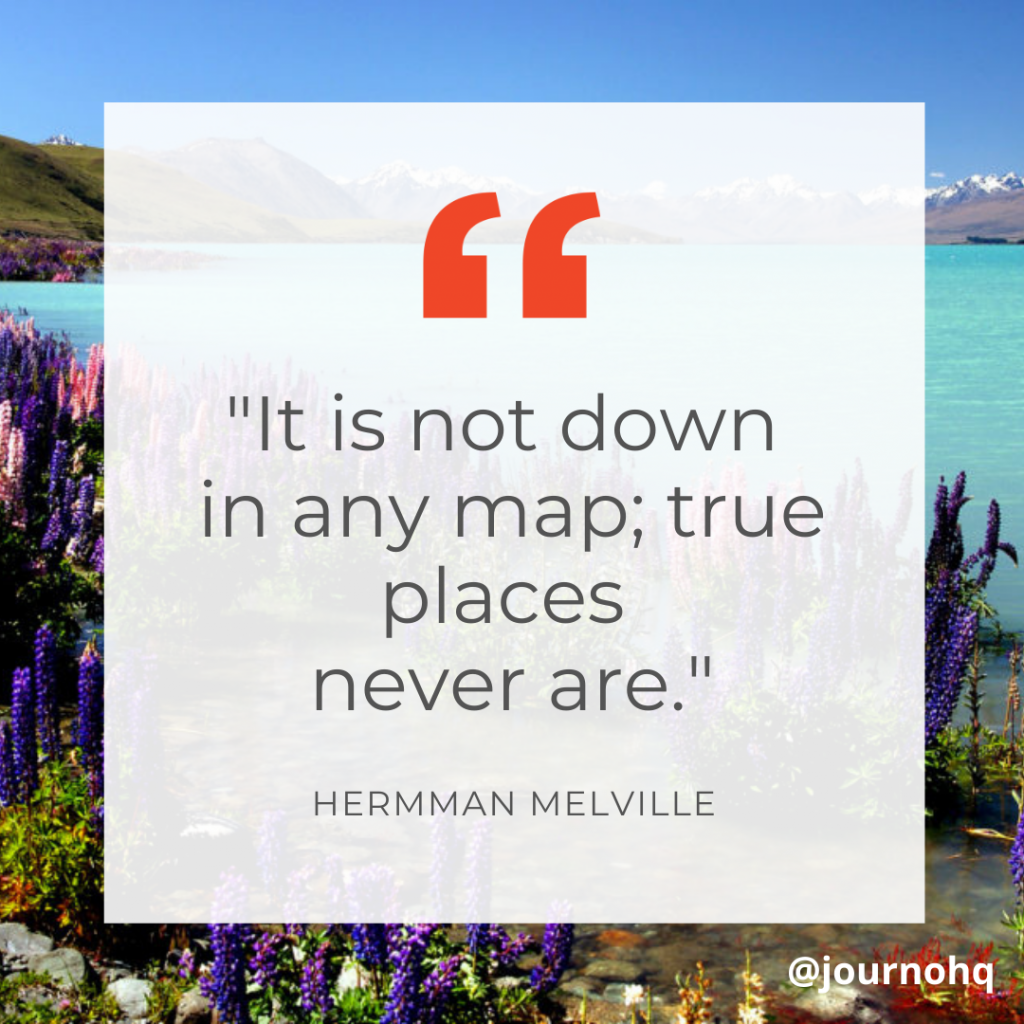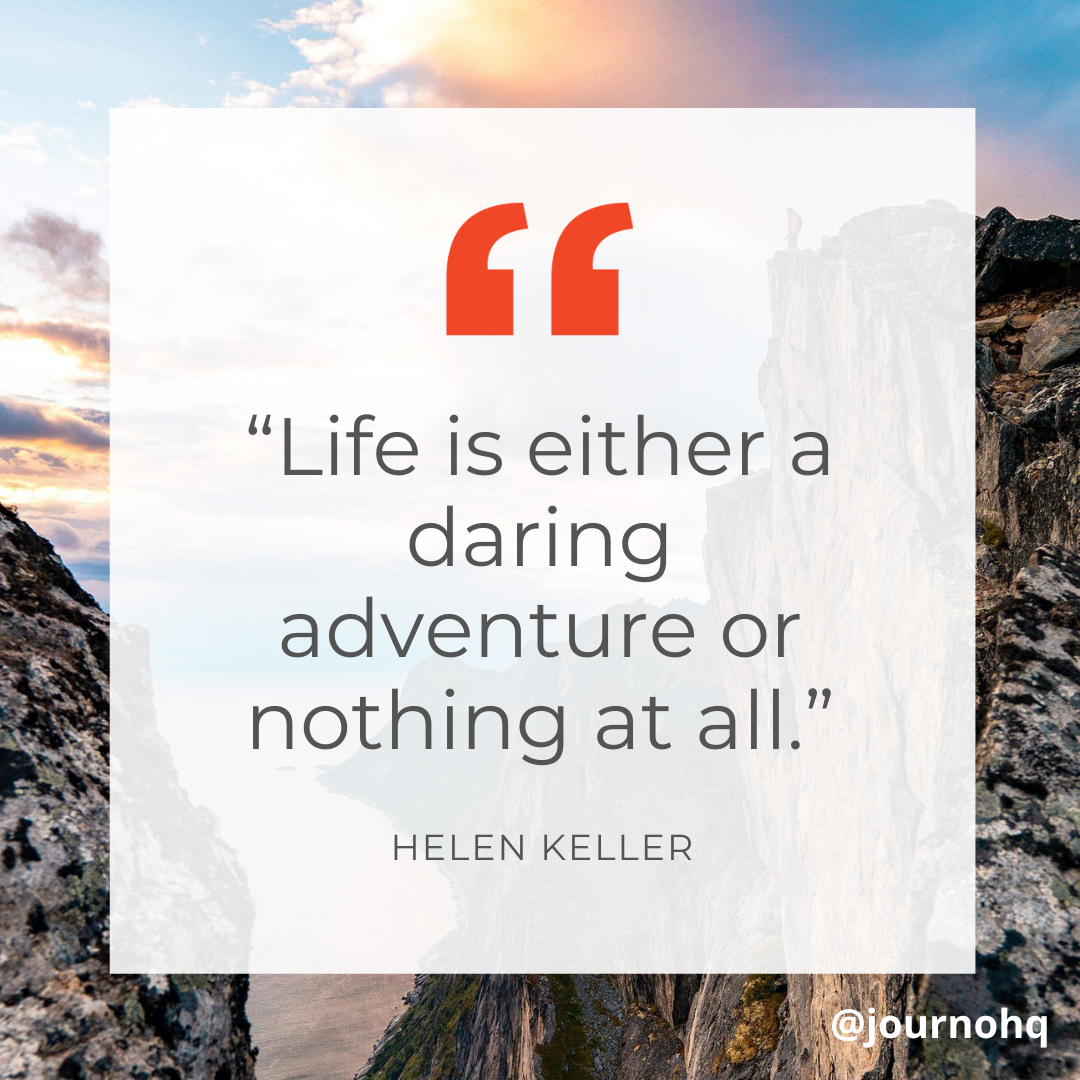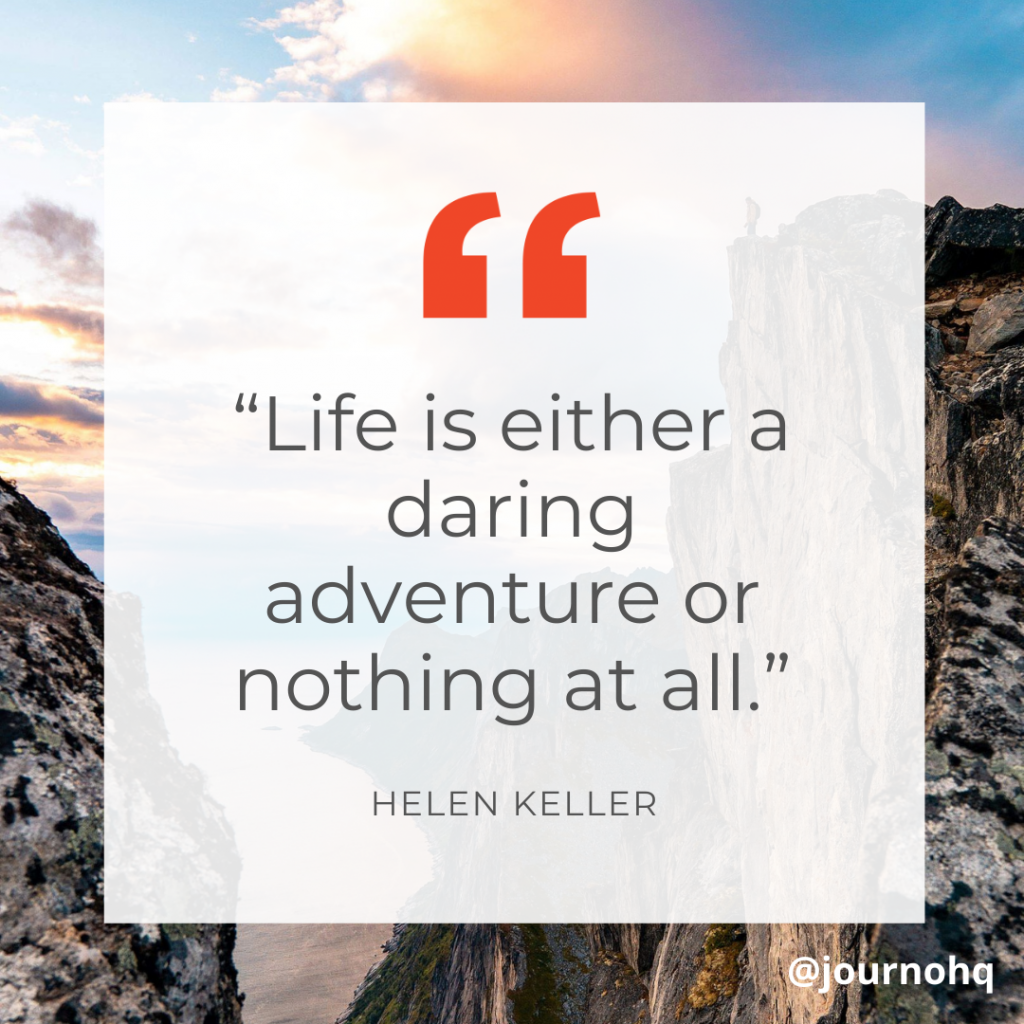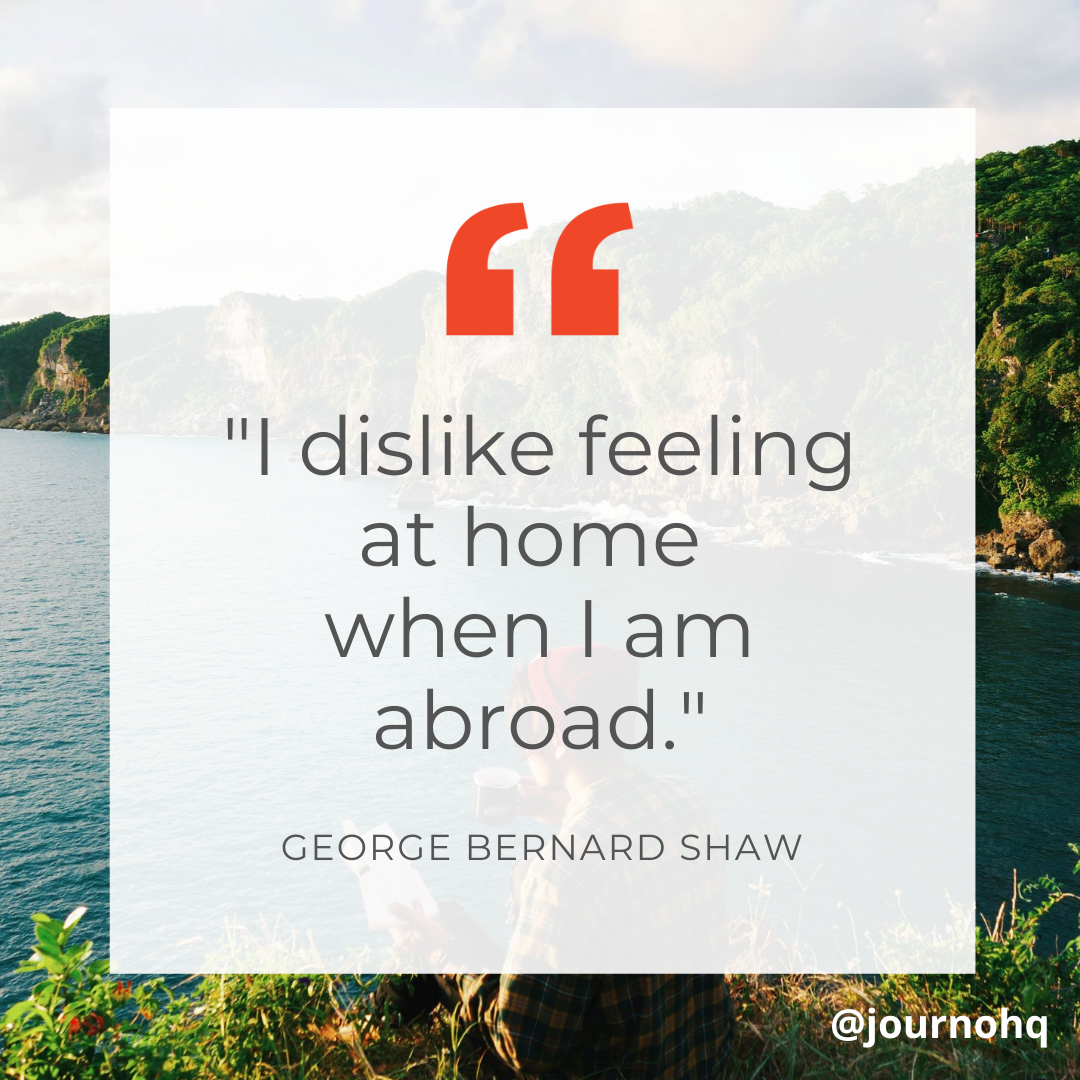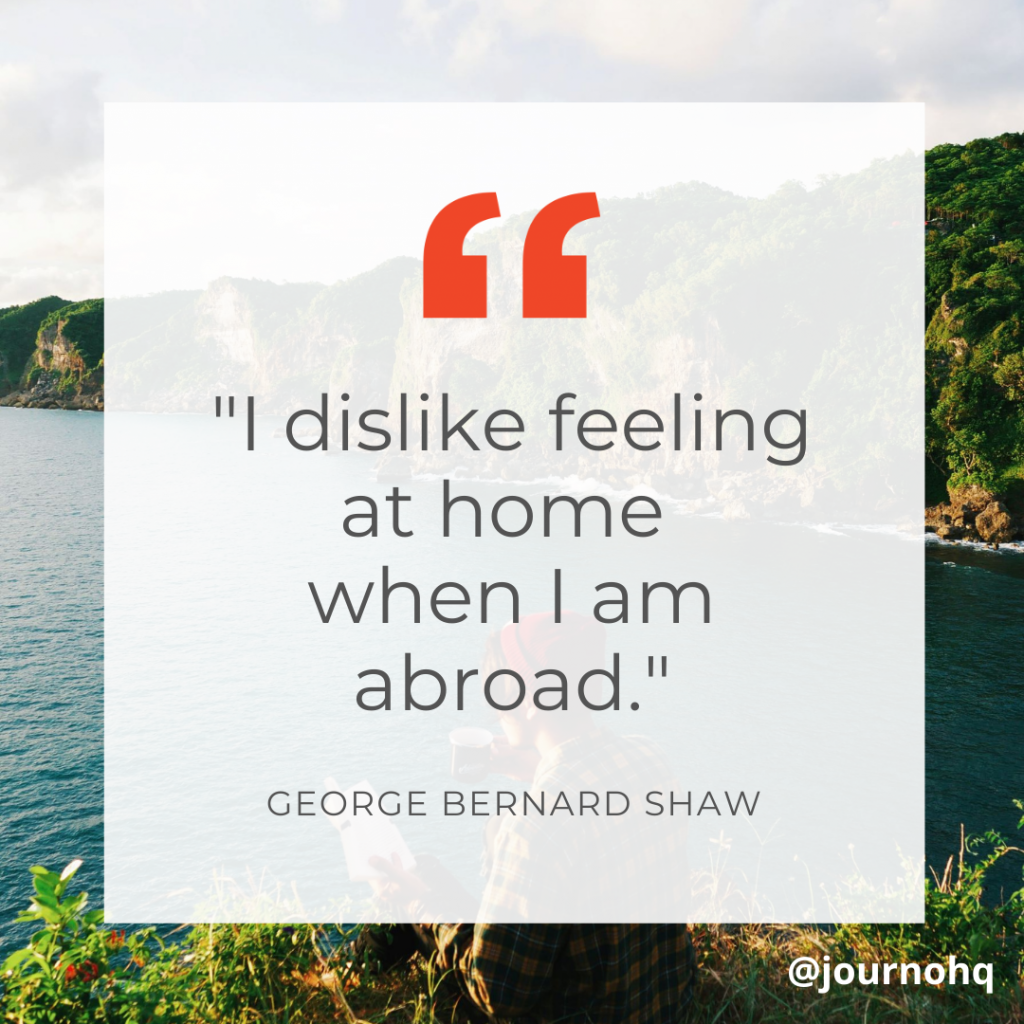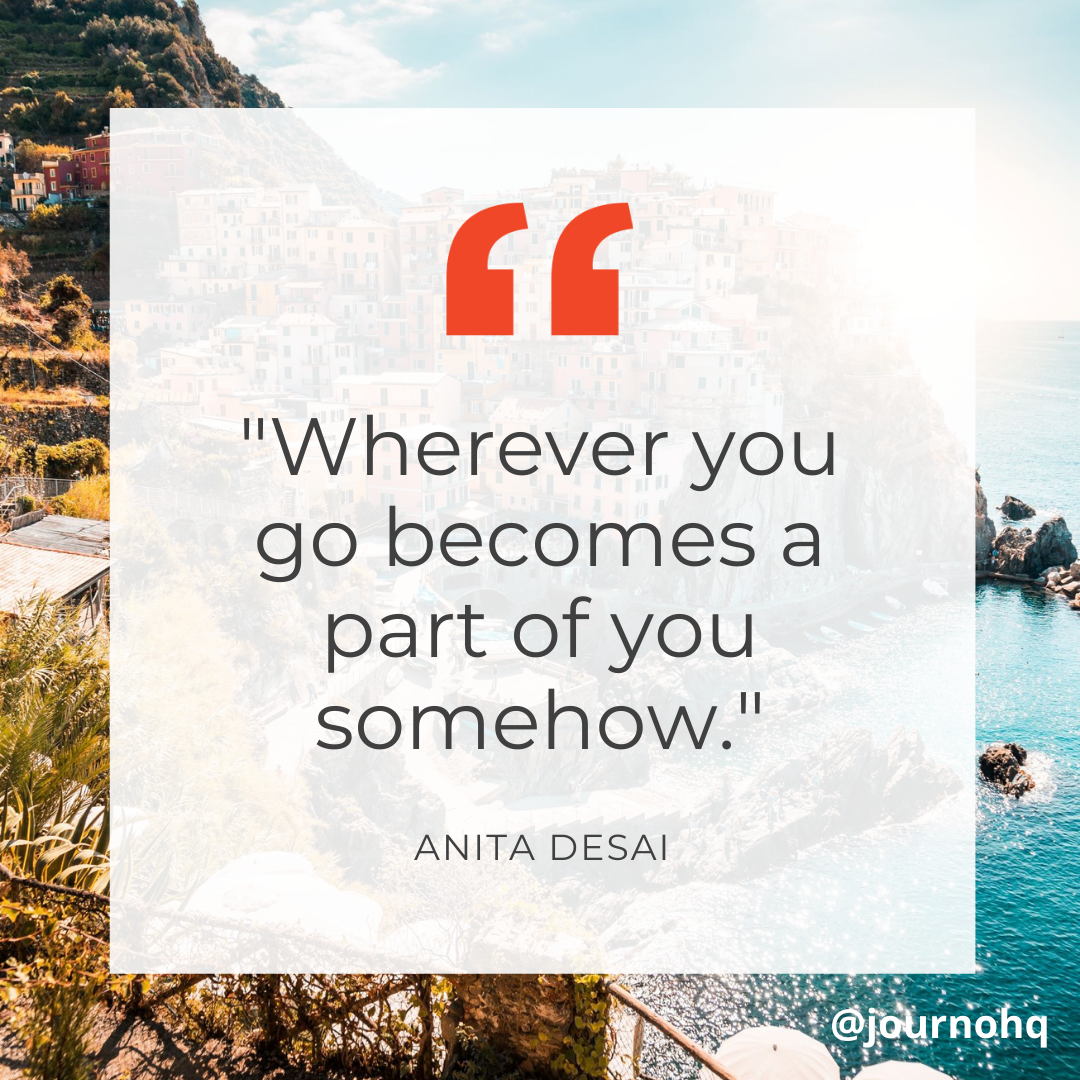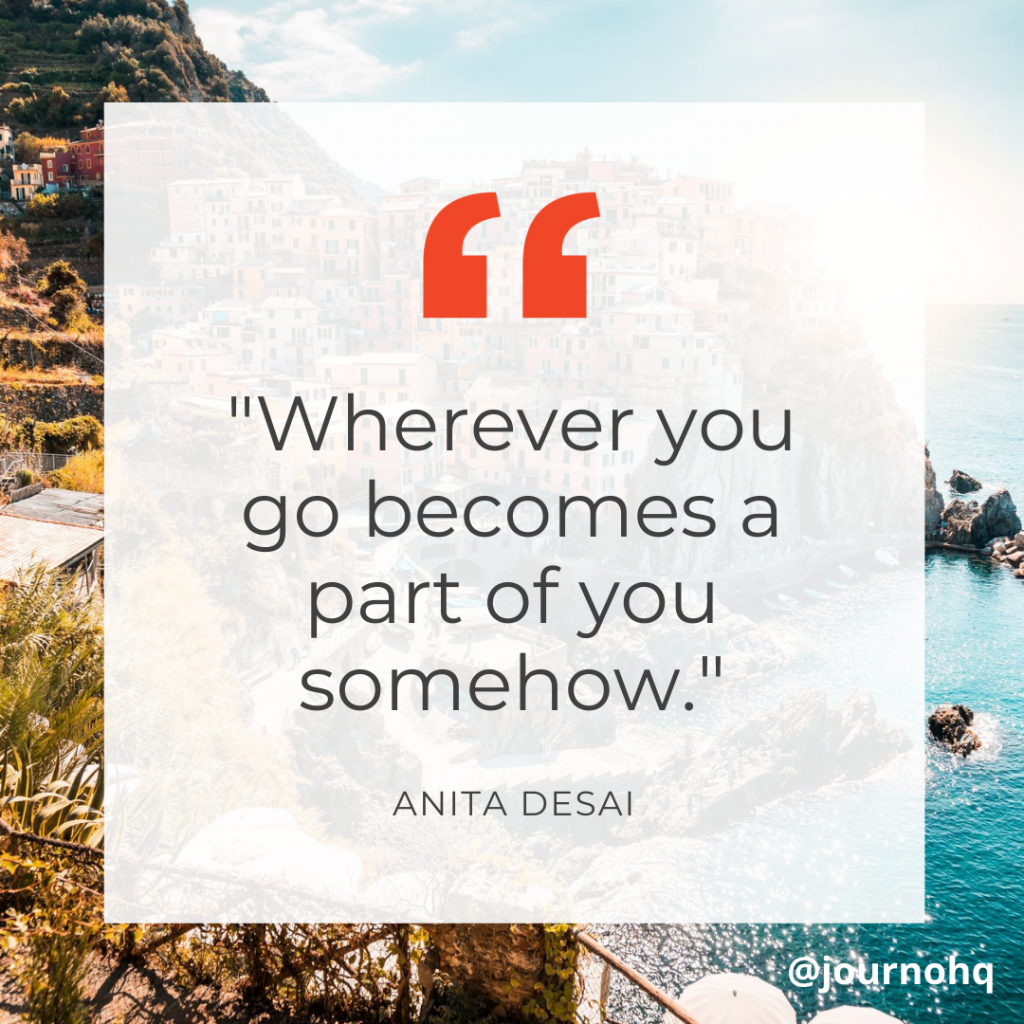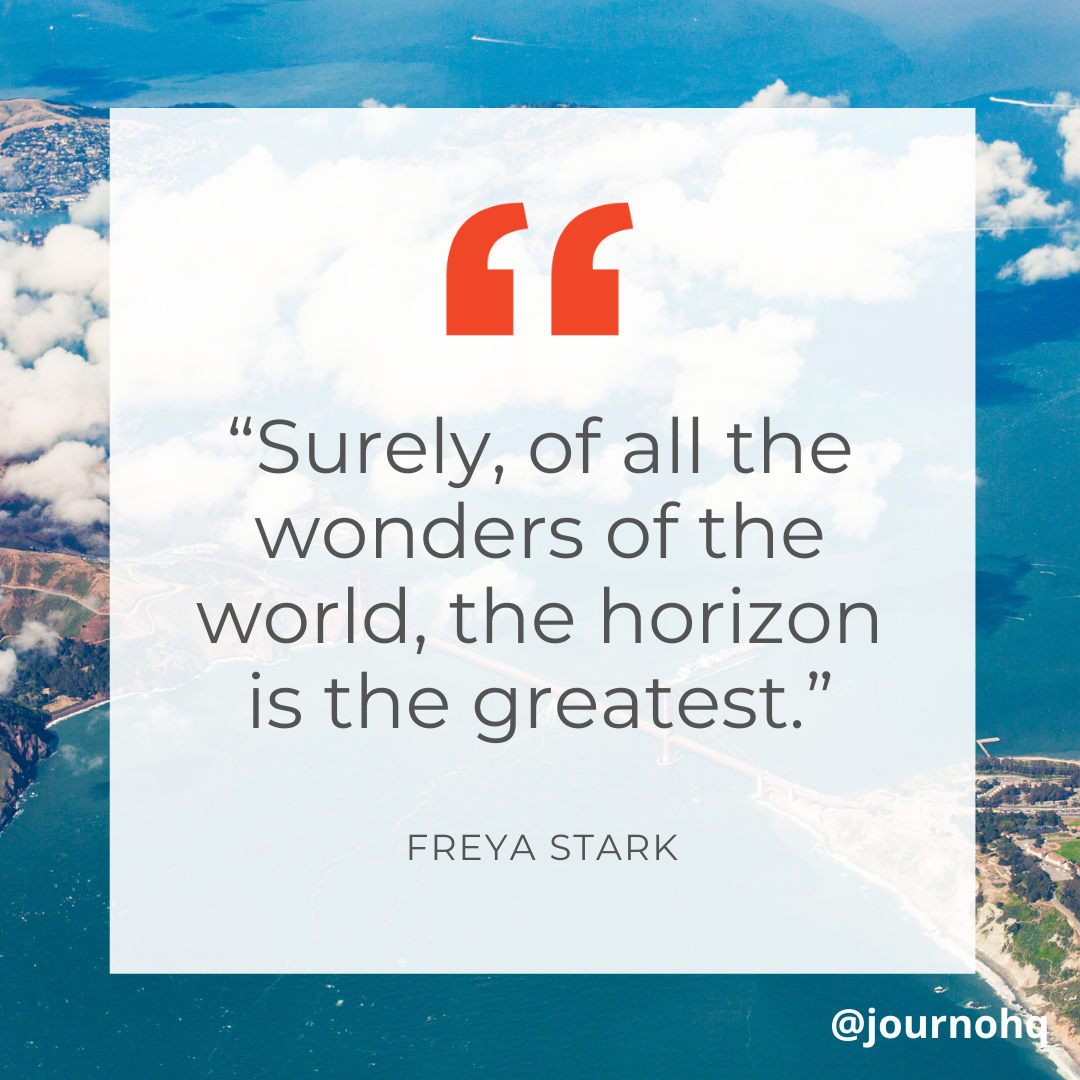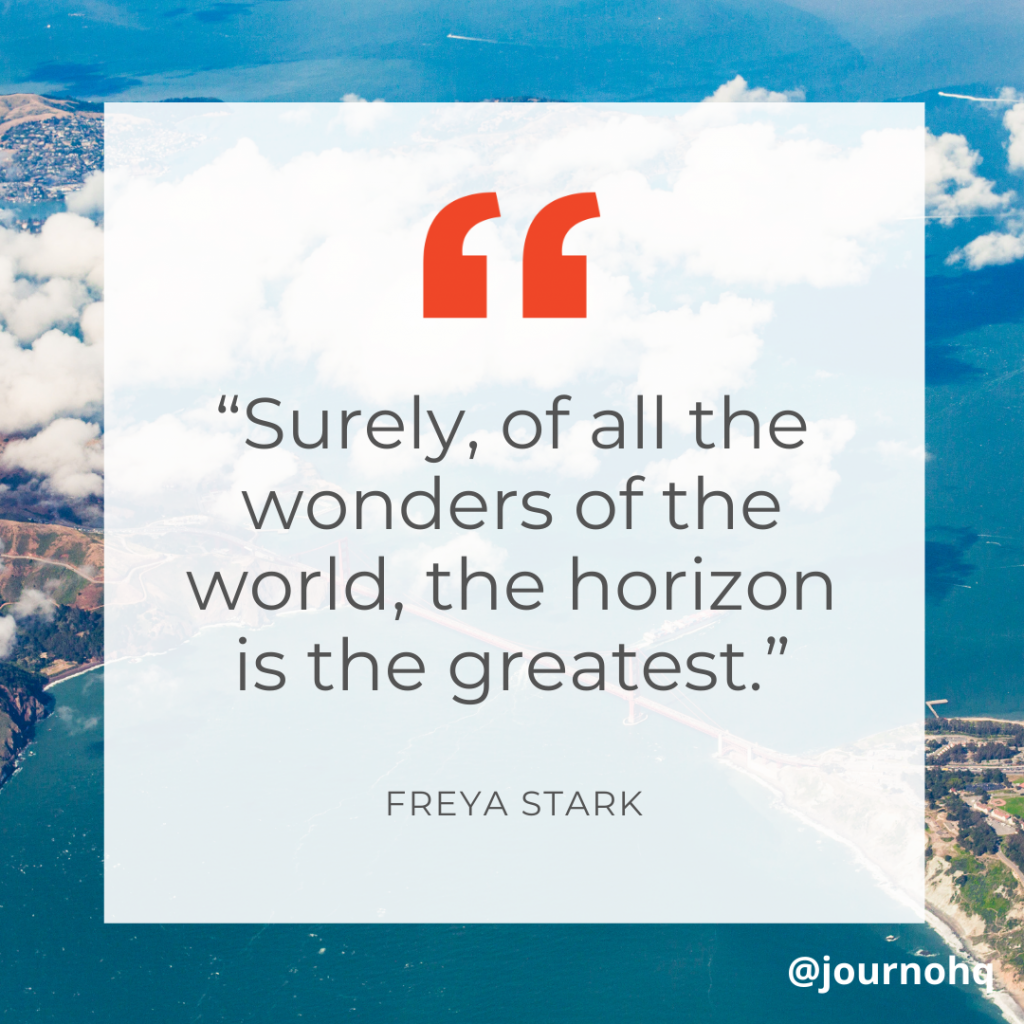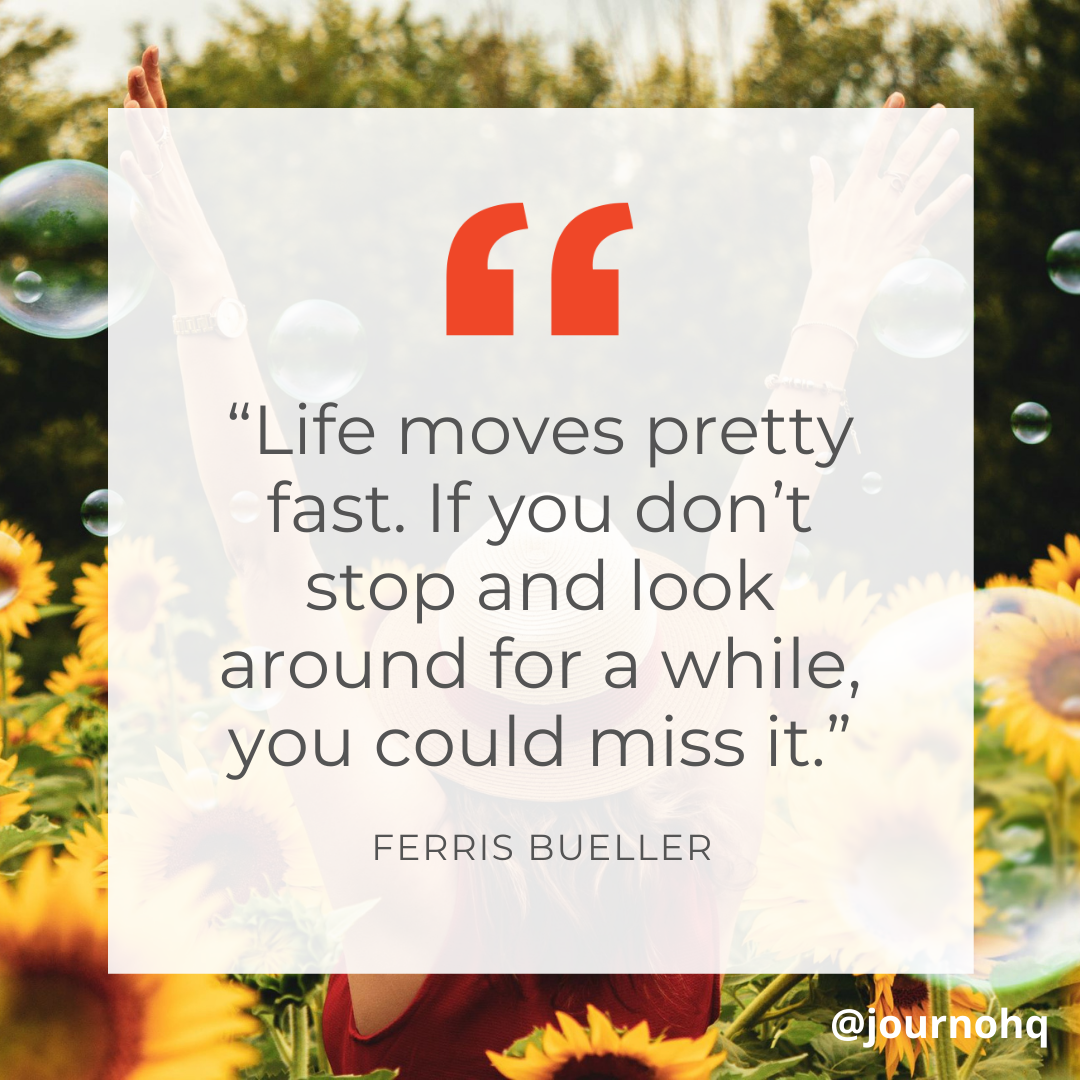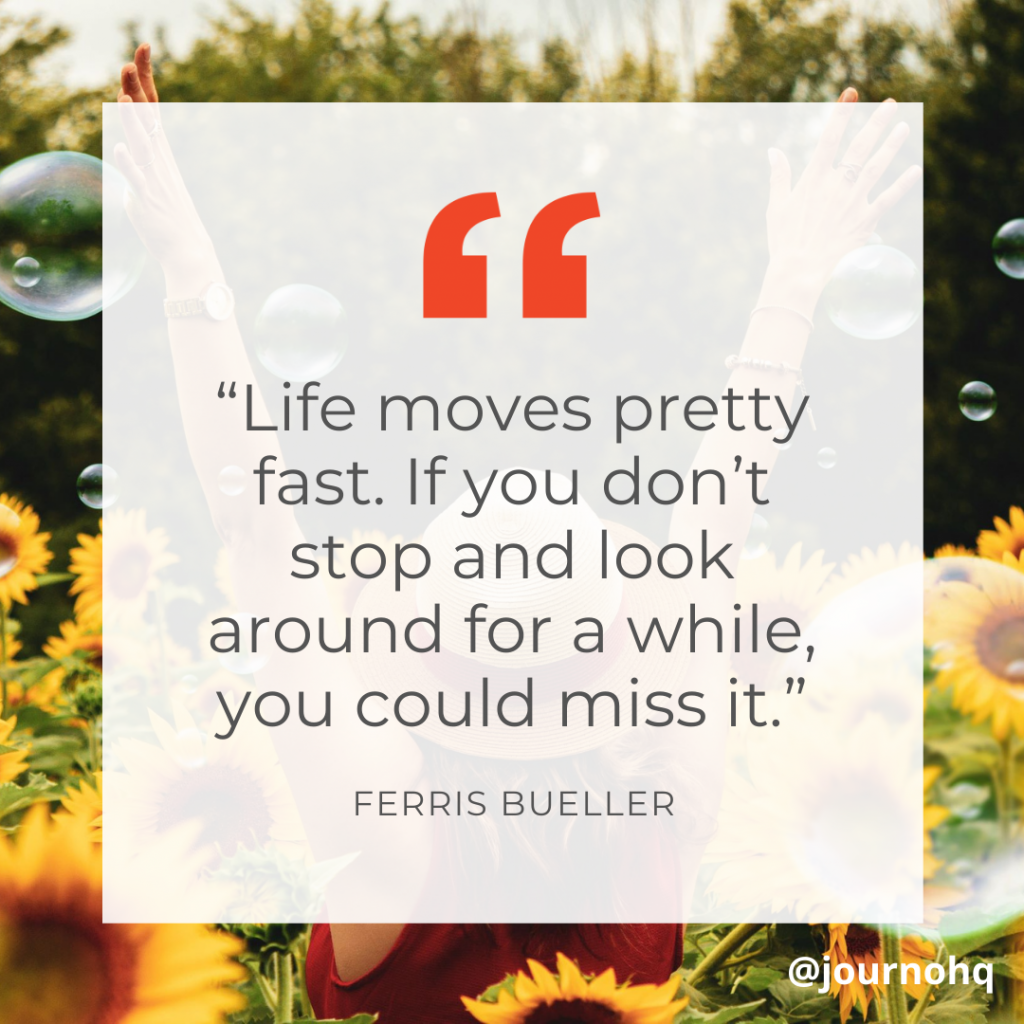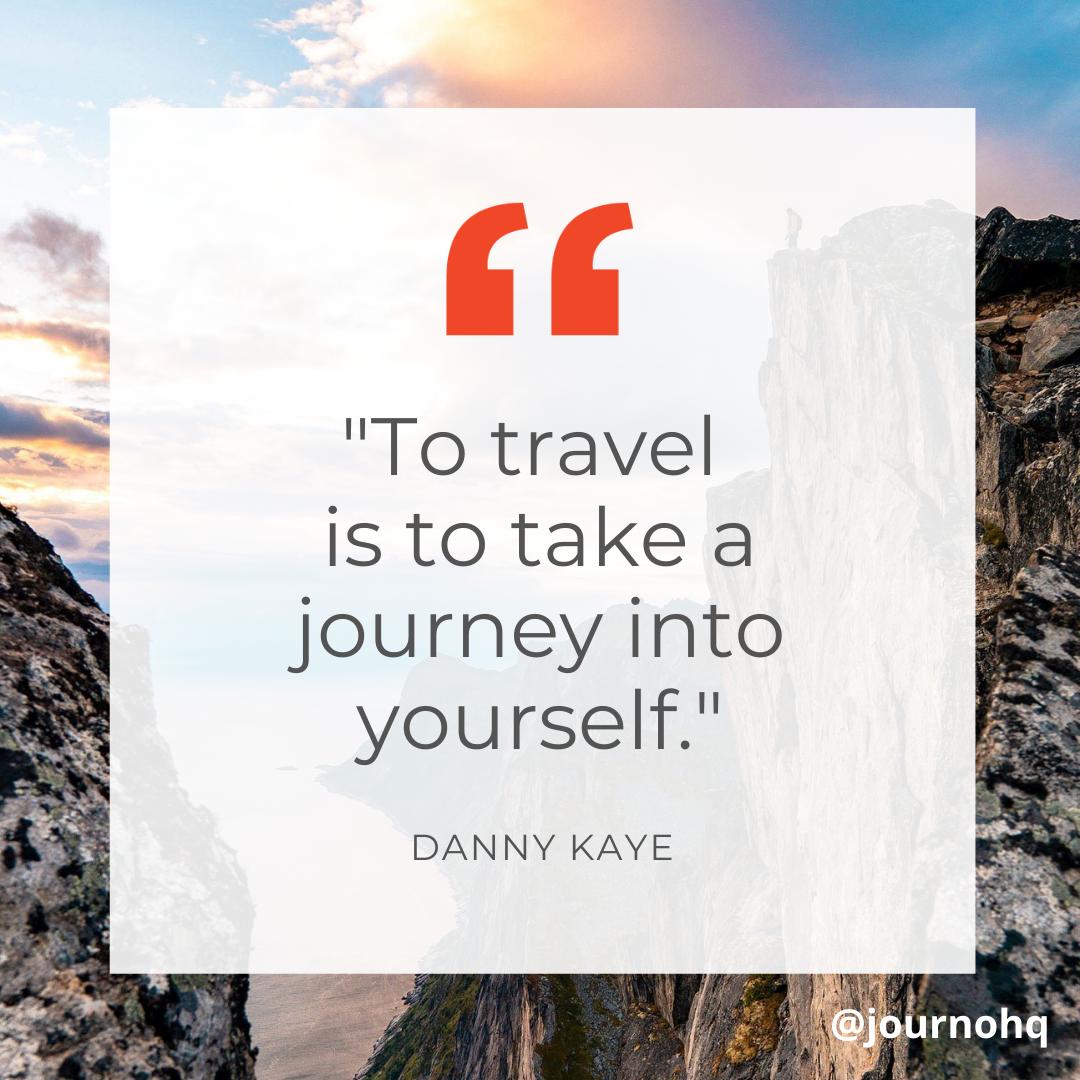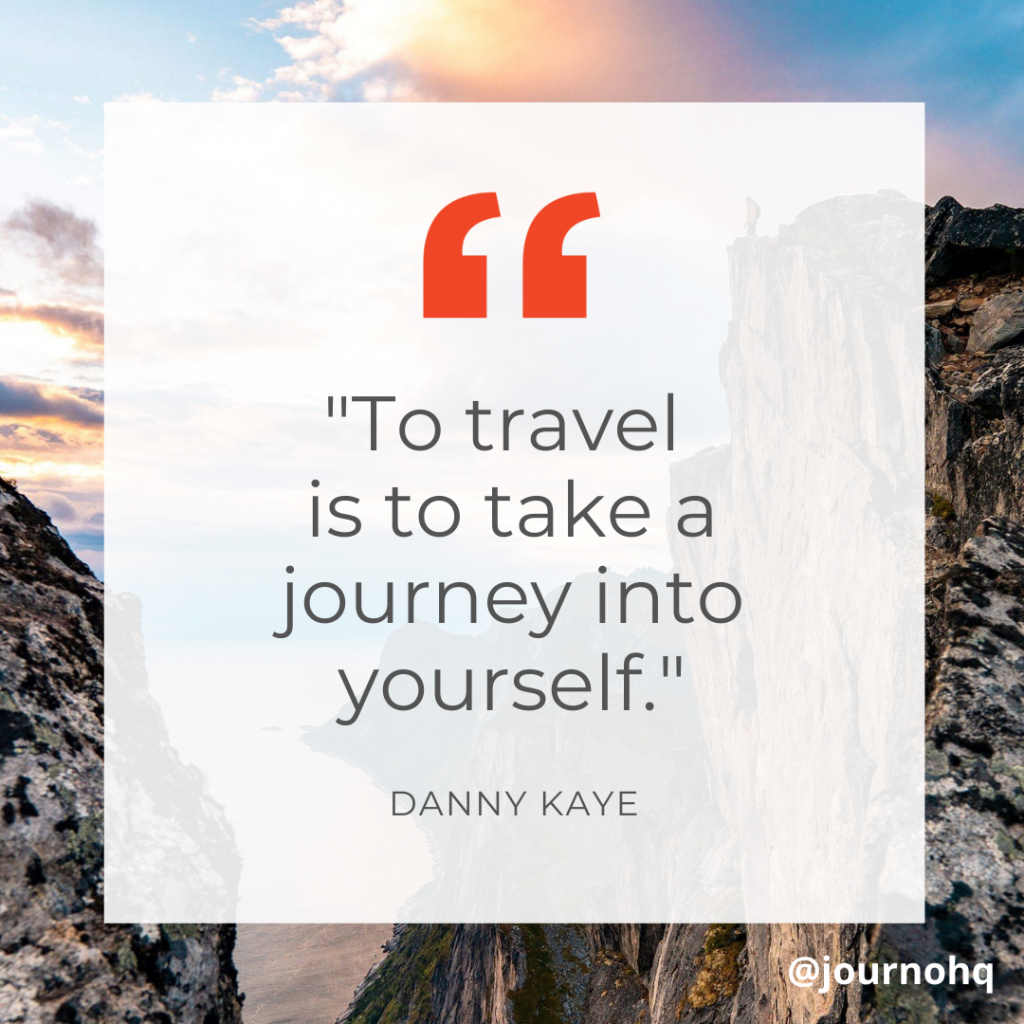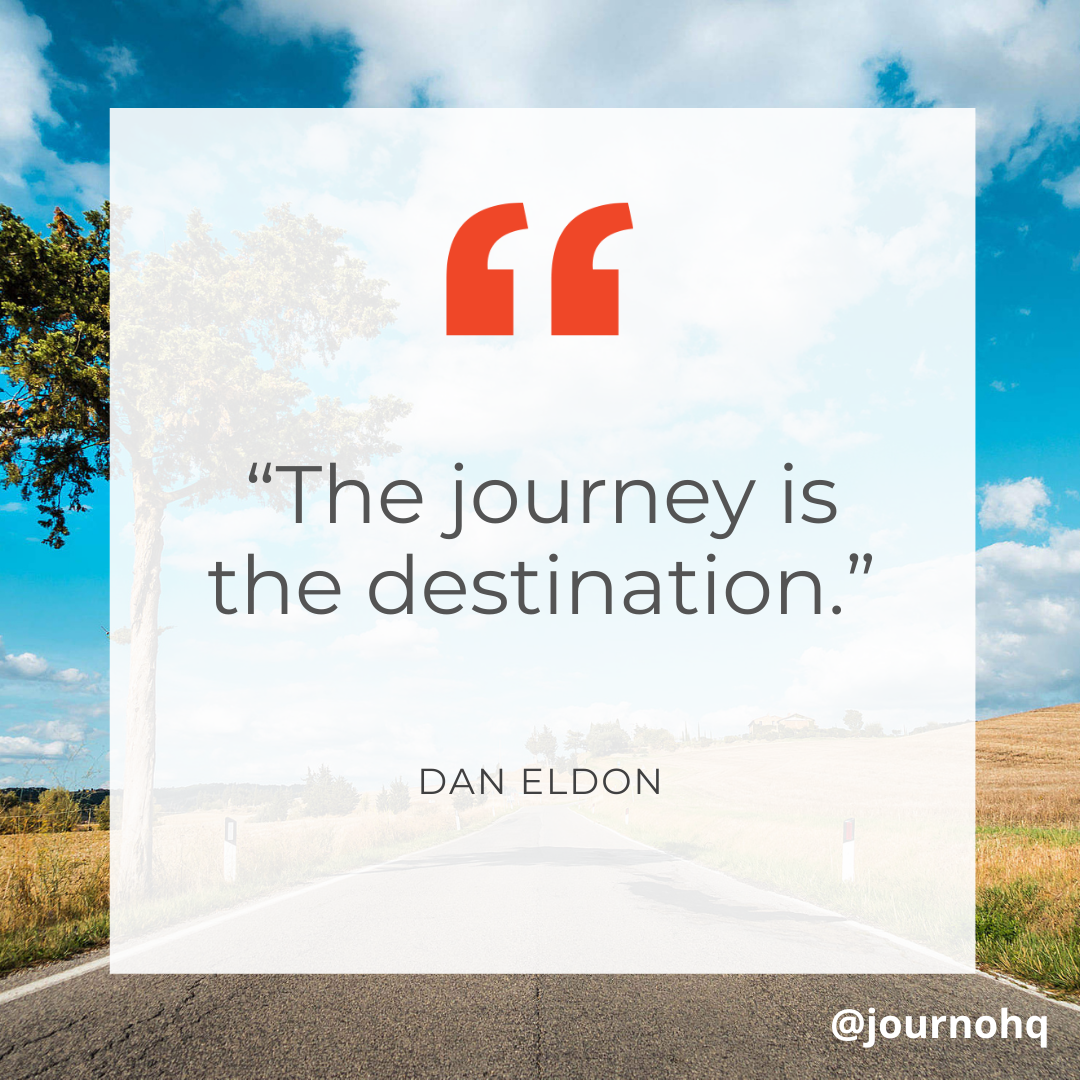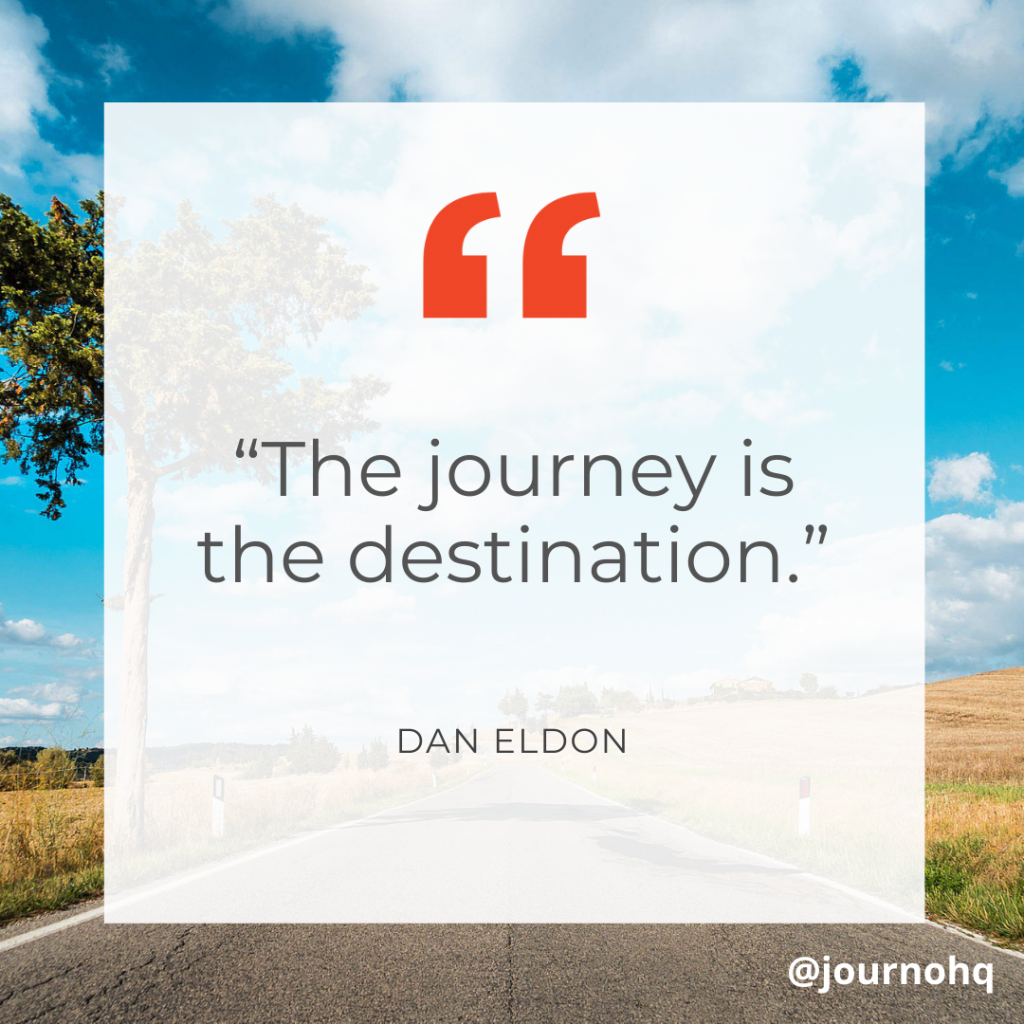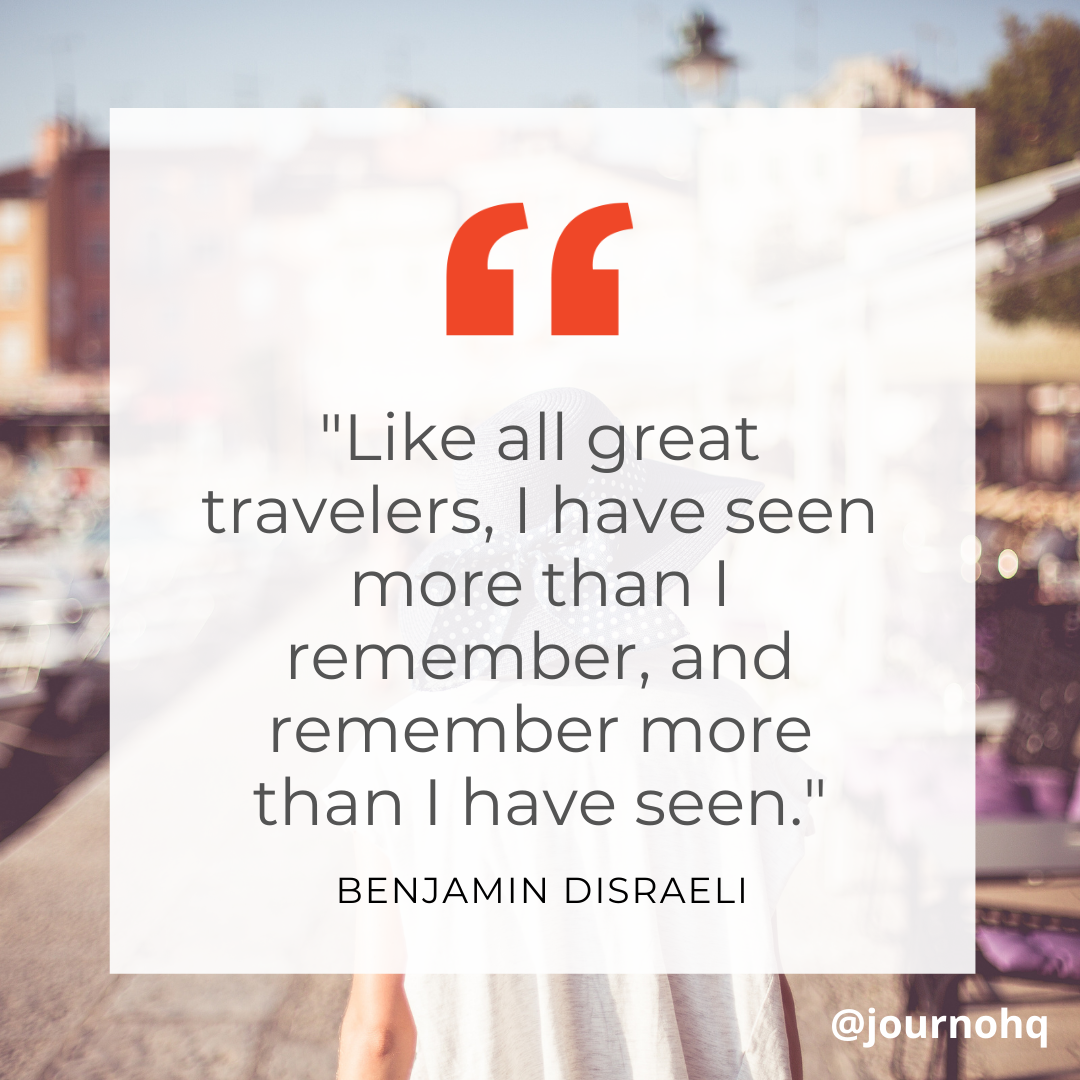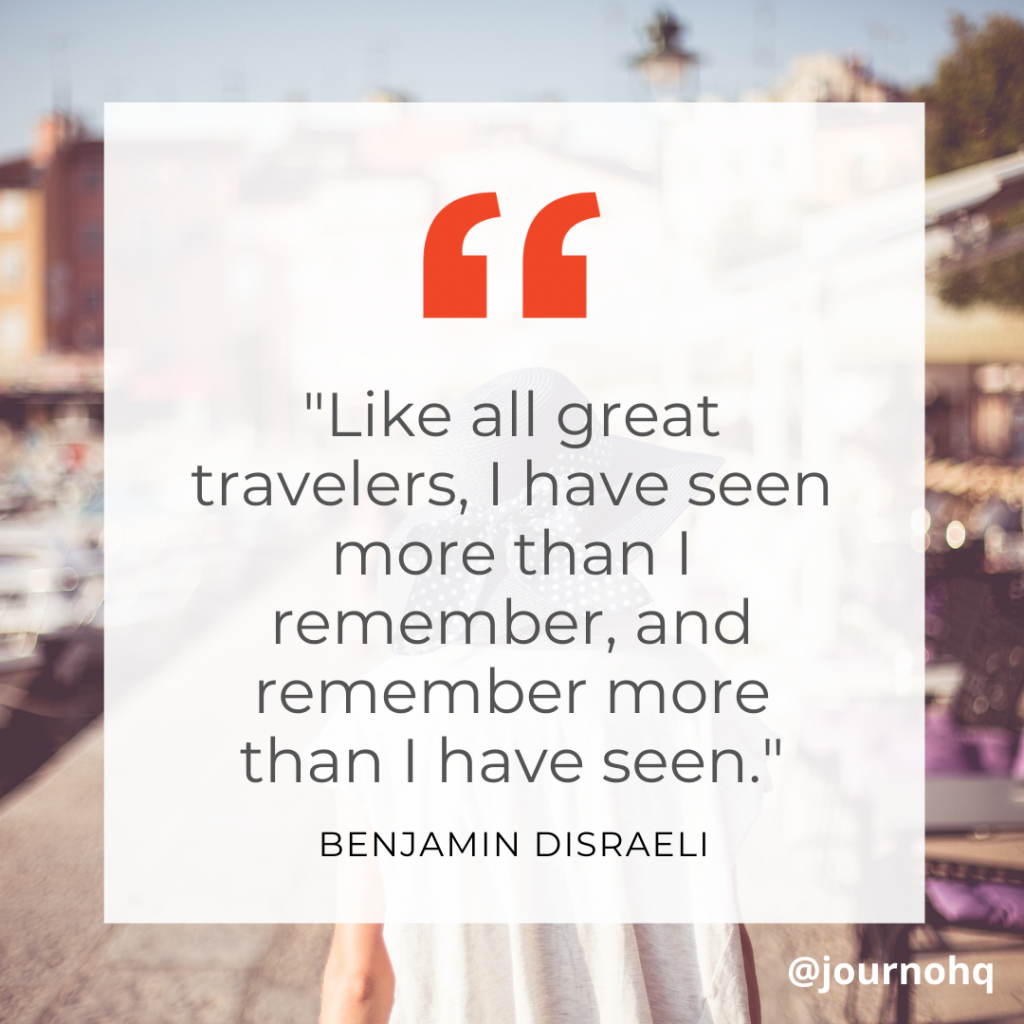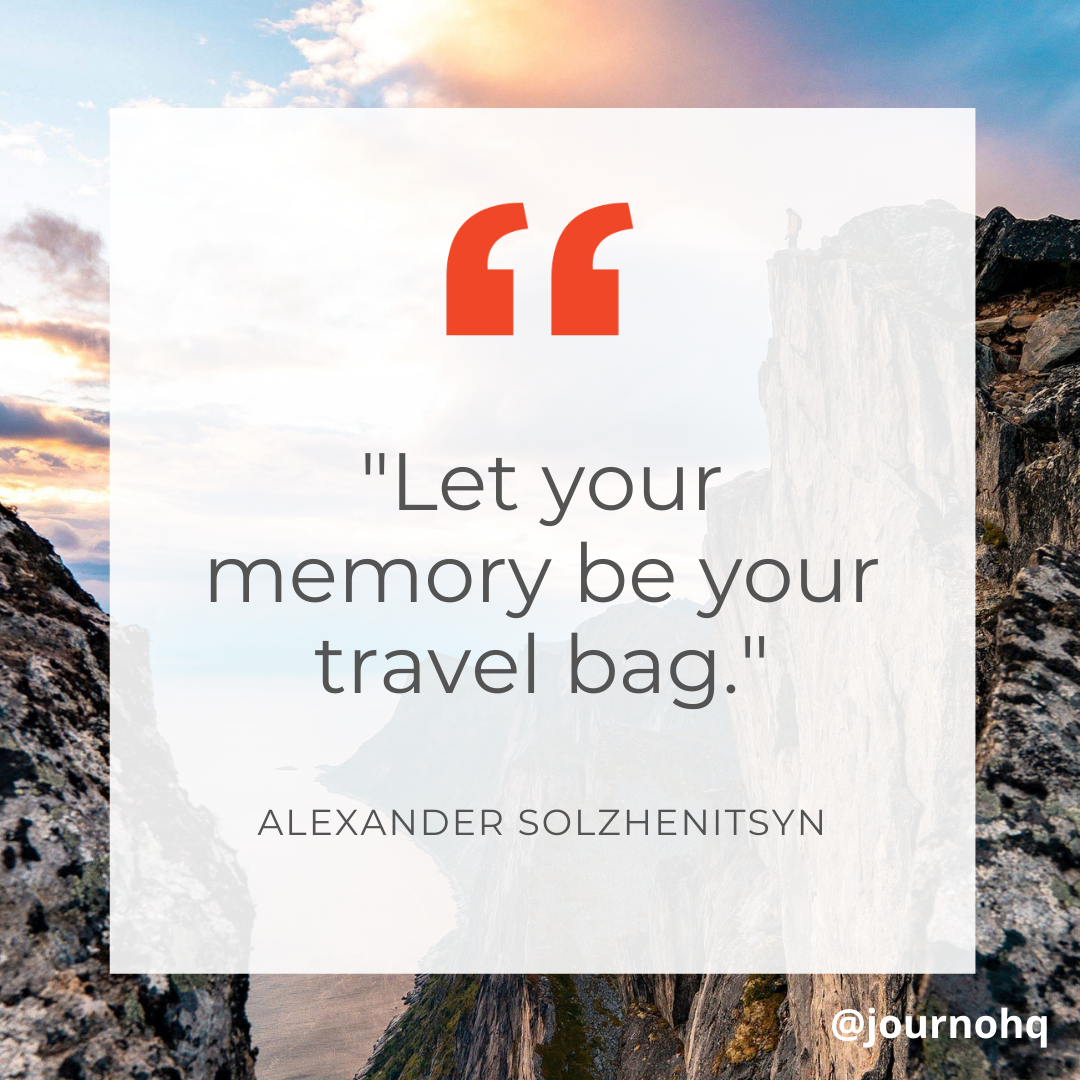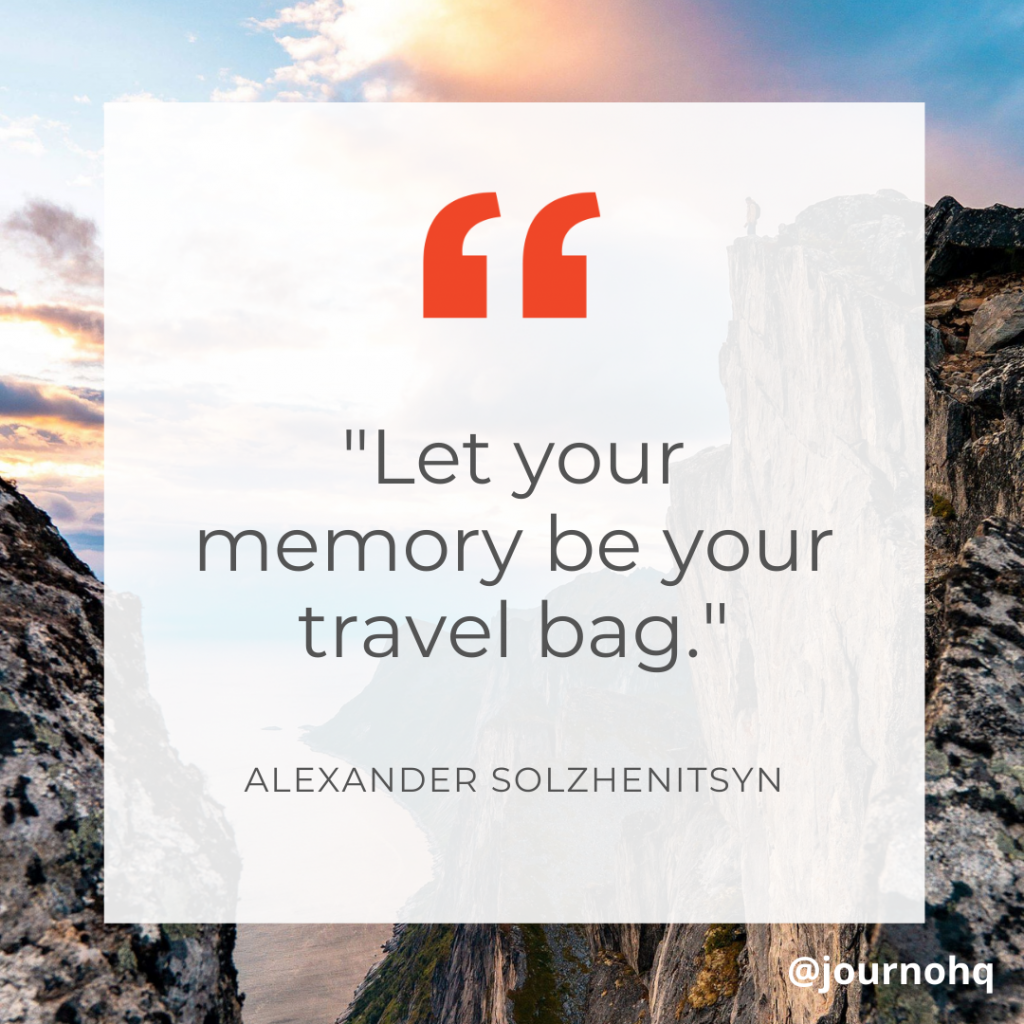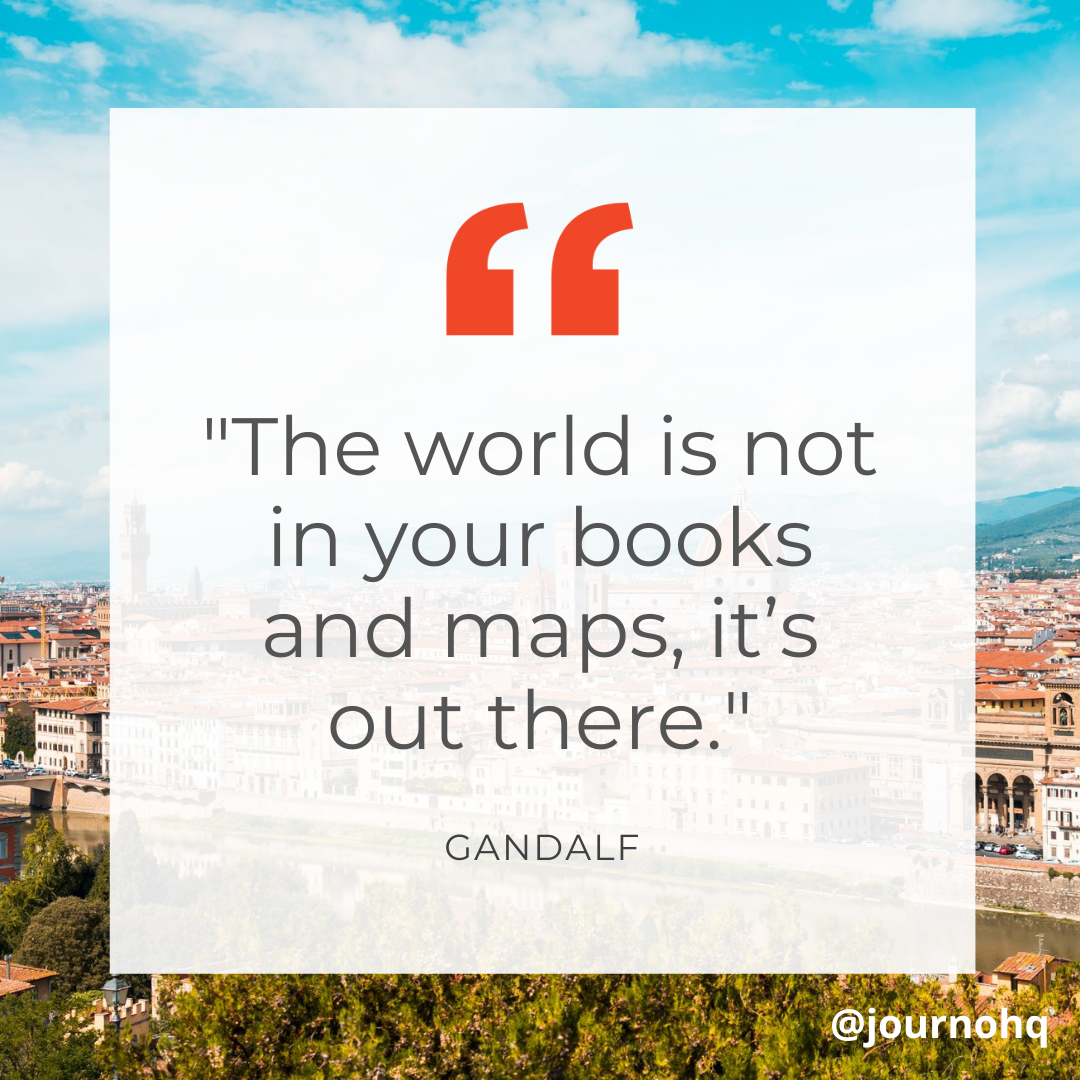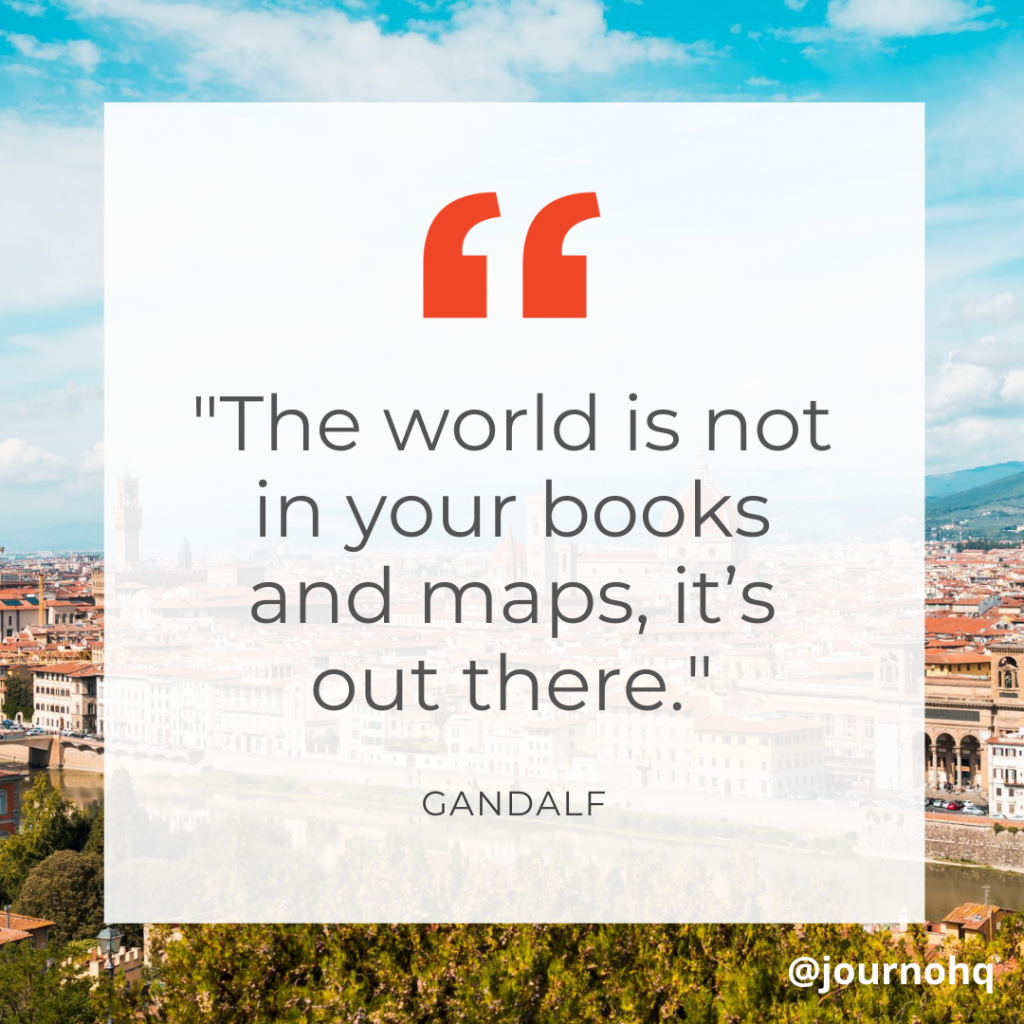 Top 20 Digital Nomad Hacks
Fiverr Fantastic
There are far too many hats to wear as an entrepreneur… and you only have so much time and energy, right? Right! This is why you need to work smarter, not harder.
One inexpensive way to do just that is to use Fiverr.com for all the tasks you shouldn't be doing. With thousands of high-quality gigs starting at $5, this site just might become your new best friend (and help add a lot more revenue to your side hustle). Click here to check it out now.

Free Logo Maker
ICYMI, there is an amazing new logo maker app for iPhones & iPads: Iconic. It's totally free to download and begin designing logos with ease. The best part? It has a 'Brand Kit' that allows you to store all your favorite fonts, colors, logos, and submarks in one clean place. Check it out here.

How You Can Build Sites Fast
When we first started building sites, we used WordPress templates on Bluehost. And although that's not a bad place to start, there's a new(ish) tool in town that makes every single step of the process a piece of cake: ClickFunnels. If you haven't built your site yet, consider this free trial to see first hand how much easier life will be for you.

Screenshots Made Easy
If you need to take a screenshot of an ENTIRE webpage — including what's below the "fold" — you should grab the GoFullScreen Chrome extension. Click here to install for free.

Apptastic
Almost 10 years ago Marc Andreessen famously and, correctly, said "software is eating the world." Of course, there are loads of ways to earn an income online, but creating software isn't nearly as hard as you think it is once you understand that you don't need to be the one writing code.
Dane talks about this in-depth in his interview on the #1 travel podcast, Zero To Travel. Want to create an app or cool tool of your own? Pick up DNS for help getting started.

Quarantine Side Hustles
Although most of us aren't in full quarantine, you most likely have local restrictions still in place that are keeping you inside more often than you'd otherwise be. So why not make the most of it and create a life changing side hustle? To help you start, here are 5 Ways To Create A Side Hustle In Self-Quarantine.

Meet Edgar 🤝
We use MeetEdgar to schedule ALL of our social media posting because, well, it saves us COUNTLESS hours and makes it a total breeze to upload one cool piece of content and have it sent to all of our accounts. Click here to try it for free and see for yourself how powerful this tool is.

SimpleScan
Here's the easiest document, receipt, passport, and PDF scanner in the App Store (I'm a little biased since I made it… but I do think you'll enjoy it). It's free, and allows you to "run your office" from anywhere. Download now.

#WFH Tips To Avoid Burnout
If you're new to working from home (#WFH), you need to be careful to prevent burnout because your work zone now overlaps your play zone. To help, here are 13 tips to put into place immediately. Each one goes a long way in your mental health while hustling from the abode.

Quick – Yet Mind Blowing – Reads
Here are 3 books that I guarantee you won't want to put down. Not only are the pages beautiful to flip through, but the snippets on each page might also just give your brain the shock it's needing.
• Damn Good Advice
• It's Not How Good You Are, It's How Good You Want To Be
• Whatever You Think, Think The Opposite
Thank us later. 😊

Back, Back, Back It Up
I don't worry much about losing "stuff" in my life. Most things I don't care much about if the kids break them or they go missing. But holy sh*t I'd lose my mind if something happened to my computer! I'm not talking just about someone stealing it at a cafe or something horrible like that…
I'm talking about dropping it or I spill my coffee on it. Well, that worry is LONG GONE since I started using BackBlaze because now all my stuff is securely backed up to the cloud, 24/7. Oh, the peace of mind!Check out how it stacks up against other services or take my word for it and try it free here.

Take Control
If this pandemic has taught us anything, it's that anything can happen. And with the US unemployment rate as high as it is (with the benefit coming to a halt), it has also taught us that "a secure job" isn't so secure after all.
Instead, we need to do everything we can to be in control of our futures, no matter what's tossed our way. And that's why we built Digital Nomad Secrets, as the absolute easiest way to get started building an ASSET no one can take from you. At this special COVID price, it's the tiniest investment you can make for the realistic expectation of incredible results. Click here to see what we mean.

The World's Best Automated Proofreader
Grammarly will save your butt more times than you can count. When you're the one writing, it's so easy to miss your errors. But install this on your computer and it will highlight all your grammar and spelling mistakes.
It may not read every website you're working in, but it will definitely catch most. Totally free, you can get it here.

Traffic Secrets
Unlike The Field Of Dreams, if you build it they will not just come. And because your side hustle lives and dies off the traffic you can muster, it's worth spending 80% of your time on.
But don't worry, this free book makes it incredibly easy to figure out how to do this (in loads of free ways). Click here and cover shipping to get this game-changing book to your doorstep.

Font Party
It's hard to stand out online… especially on social media where people's "swipe finger" moves faster than a bullet! But one of the easiest ways to grab attention is also incredibly simple: change up your fonts. And when you use Font Party, it's a total breeze! Click here to download Font Party for free on The App Store.

Build It, In A Jiffy, At A Killer Price
Need a website? Whether you're building a portfolio site for your freelance work, or a cool new tool for your industry, or a shop for your business… you need to check out Bluehost.
The Journo blog is built on Bluehost because the price is unbeatable, the support is instant, and they make it a breeze to build sites. Consider getting in on their special intro offer before you miss out.

Confessions Of The Pricing Man
The right pricing can change everything. Here are two great resources to help you price your work properly:
• Confessions of the Pricing Man: How Price Affects Everything
• Digits to the Left: How "Left-Digit Bias" Changes Buying
If you don't already have a side hustle, consider Digital Nomad Secrets, our step-by-step guide to creating a successful WFH income from scratch.

Bookkeeping Made Easy
Bookkeeping is a drag. Time-consuming, confusing, messy. But with a killer software program on your computer, it's now a cinch. If you don't have a program yet, you're in luck because the insanely popular Freshbooks has a 50% off sale on right now. Definitely worth checking out if you want to save loads of time and energy on the stuff that software should be doing for you.

Find A Gig, Quick
The business world is online, which means that you can get hired from a company in Capetown, or Helsinki, or Beijing. The opportunities are seemingly endless, but where do you look to find a great gig? Easy: check out these 9 sites for finding the best entry-level remote jobs.

The Most Persuasive Word Of All
The art of persuasion can be a tough nut to crack. It's why copywriters charge so much (check out The RWWC for more on that). Thankfully, there are a few tips that can change everything for you, and you can start using them in the next 30 seconds. The best one is this: The Astounding Power Of Because.

Top 20 Travel Trivia
(Answers at bottom)
1. Which continent is the only one to not have ants?
a. Brunei
b. South Korea
c. Antartica
2. Where is the best-preserved meteor crater located?
a. Texas
b. Arizona
c. Alaska
3. Which country was the Lord Of The Rings trilogy filmed in?
a. Dubai
b. Argentina
c. New Zealand
4. Which nation does NOT officially have a rectangular national flag?
a. Nepal
b. Japan
c. United Kingdom
5. In which country is the humble 'thumbs up' gesture considered a great insult?
a. Iran
b. France
c. Switzerland
6. How high is Mount Everest?
a. 1550 m
b. 2900 m
c. 8848 m
7. What are the official colors worn by Vatican's Swiss Guards?
a. red, yellow, and blue
b. green, white, and orange
c. purple, brown, and gold
8. Where did the bungee jump originate?
a. Grand Canyon
b. Mt. Fuji
c. Pentecost Island
9. From which hotel did Alexander Graham Bell make the first London phone call?
a. Golden Chalet
b. Walnut Inn
c. Brown's Hotel
10. Which luxury hotel is inside the world's tallest building, the Burj Khalifa?
a. Armani Hotel Dubai
b. Louis Vuitton Hotel Dubai
c. Gucci Hotel Dubai
11. Which lake is famously referred to as the 'Jewel of the Italian Lakes'?
a. Lake Superior
b. Lake Huron
c. Lake Como
12. Where are the Whitsunday Islands located?
a. Malaysia
b. Australia
c. Philippines
13. Which of these countries ISN'T landlocked?
a. Turkey
b. Nepal
c. Armenia
14. What is the world's deepest lake?
a. Lake Baikal
b. Crater Lake
c. Loch Ness
15. Where can you find the Seven Coloured Earths?
a. Mauritius
b. Arizona
c. Berlin
16. How many capital cities does South Africa have?
a. 1
b. 5
c. 3
17. What was the first ever travel agency?
a. Direct Travel
b. Thomas Cook
c. Internova Travel Group
18. On which continent would you find Lake Vostock?
a. Asia
b. North America
c. Antartica
19. Which is colder: The North Pole or South Pole?
a. North Pole
b. South Pole
c. They're the same
20. Who was the first musical band to travel to all seven continents to play a concert?
a. Metallica
b. The Beatles
c. Boyz II Men
Travel Trivia Answers
1.  Antartica
2.  Arizona
3.  New Zealand
4.  Nepal
5.  Iran
6.  8848 m
7.  Red, yellow, and blue
8.  Pentecost Island
9.  Brown's Hotel
10. Armani Hotel Dubai
11. Lake Como
12. Australia
13. Turkey
14. Lake Baikal
15. Mauritius
16. 3 - Cape Town, Bloemfontein and Pretoria
17. Thomas Cook
18. Antartica
19. South Pole
20. Metallica
Top 20 News Headlines From The Travelsphere
• The most-wishlisted off-the-grid Airbnbs in the U.S. (Remember to claim your free credit at Airbnb.
• The Queen wants you to come over and watch a flick.
• The world's most frequent flyer crosses yet another outrageous milestone.
• Google adds augmented reality (AR) to their Live View maps, making it easier not to get lost in a new city.
• Flight attendant walks you through the nastiest parts of the plane.
• Microsoft's new flight simulator is as close to the real deal as you can get.
• The "World's Last Blockbuster" is now on Airbnb.
• Is flying safer than grocery shopping? Here's what Harvard says.
• Who you should travel with, based on your zodiac sign.
• Russian pilots under investigation for altering their flight path to form a lewd picture (click the link in the article to see their "flight path"… you can't make this stuff up).
• This iconic NYC toy store is becoming an Airbnb for one night.
• Be sure to let the hotel know you conceived your baby there. You know, just in case they want to give you free stays for 18 years.
• Here's a cruise ship you can buy.
• Listen to a forest somewhere in the world. Yes, I wrote that correctly.
• Safest travel destinations based on threat of disease.
• Singapore Airlines is serving up $400 dinners on a parked jumbo jet.
• Could COVID be the end of backpacking as we know it?
• Flight attendant reveals what you should NEVER consume on an airplane.
• Could "trains" run more travel in the future? Elon Musk's HyperLoop and China's 620 km/h train are betting on it.
• Delta offers at-home COVID tests for international travel requirements.

Top 20 Guess The View's
(Answers at bottom)
1. Where Is The Gum Wall Located?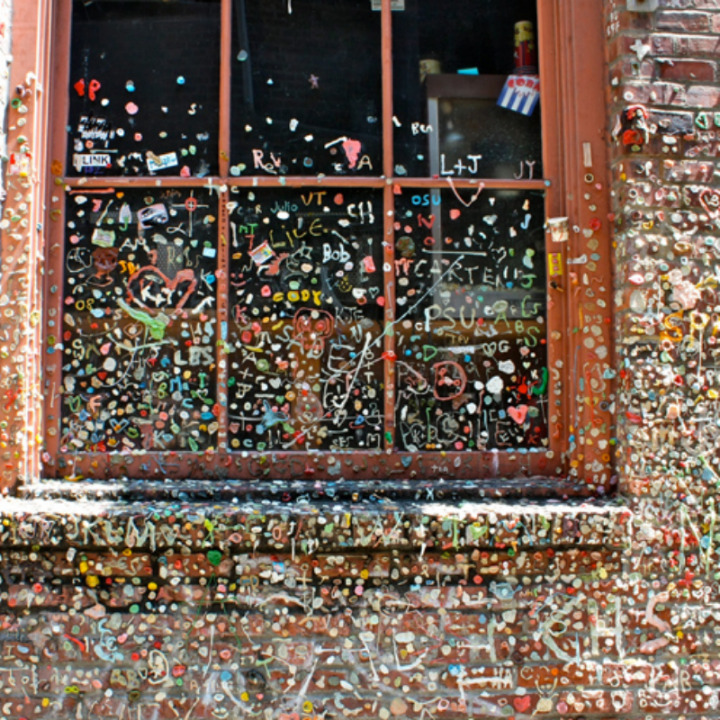 2. Where Is Gereja Ayam (a.k.a. the chicken church) Located?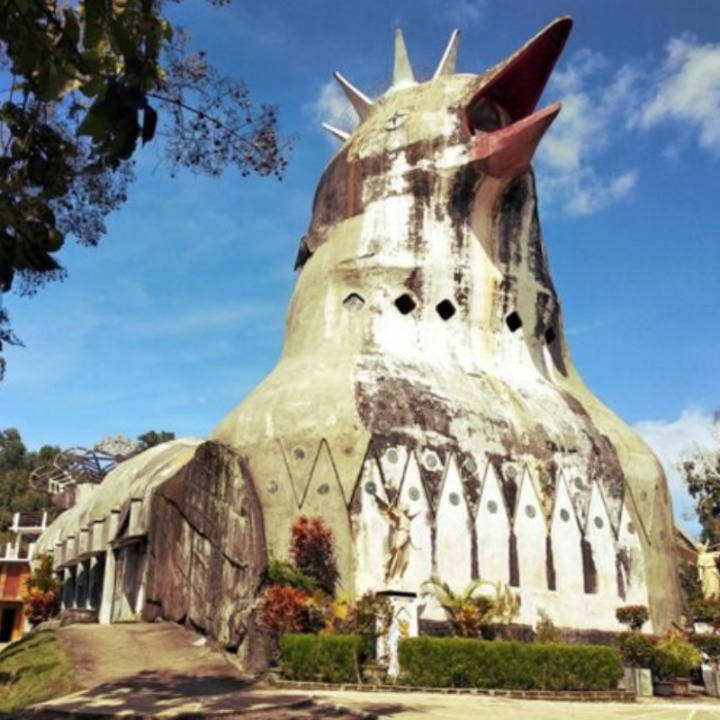 3. Where Is The Atomium Located?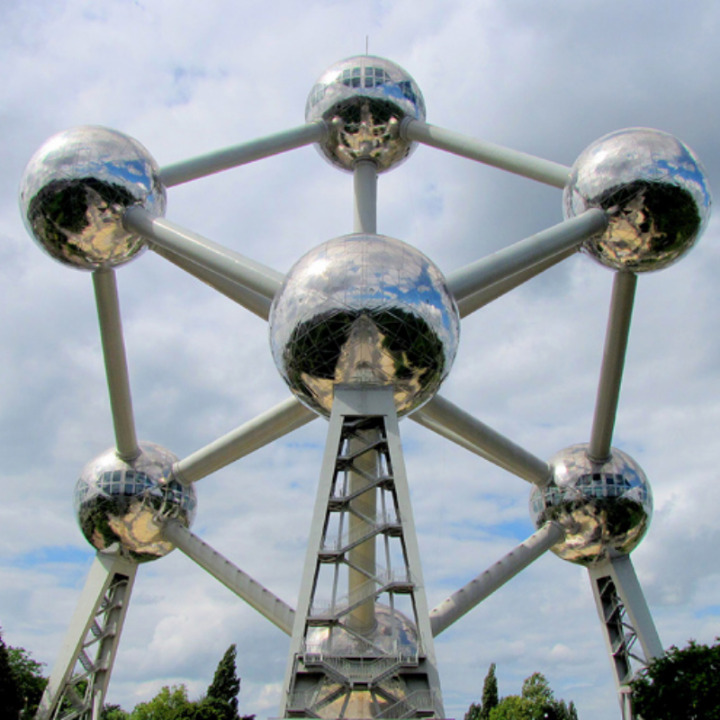 4. Where Do You Find The 'Hand Of The Desert'? Mano del Desierto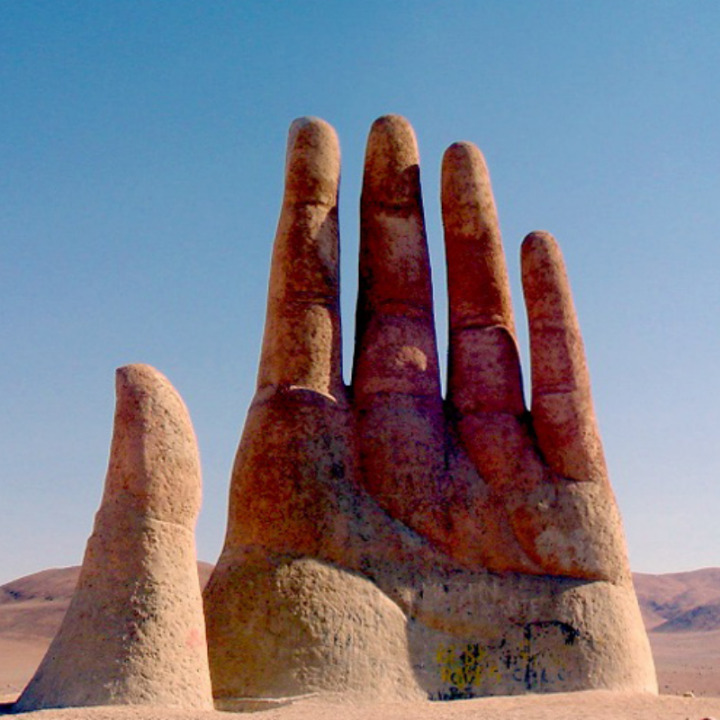 5. Which country is home to the Moeraki Boulders?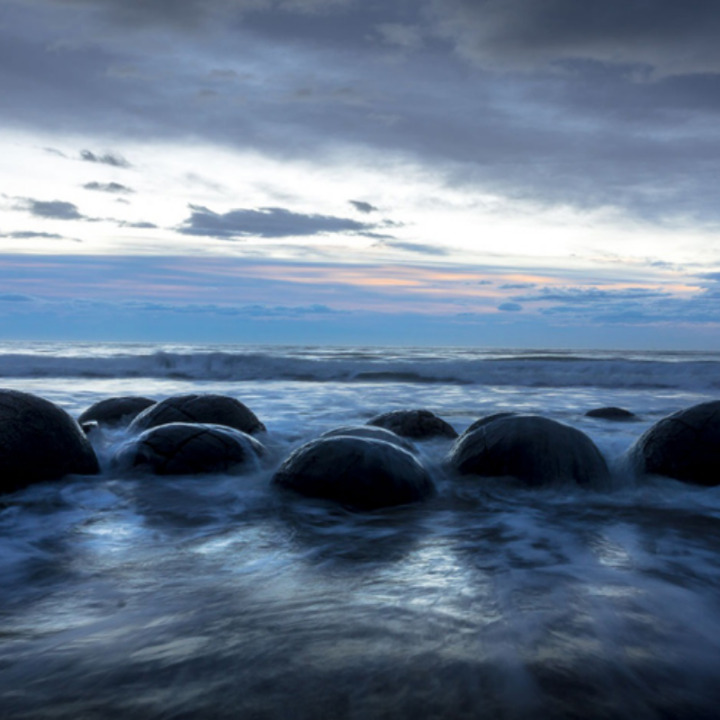 6. Where Is The Angel Of The North Sculpture Located?
7. Where Is The Aachen Cathedral Located?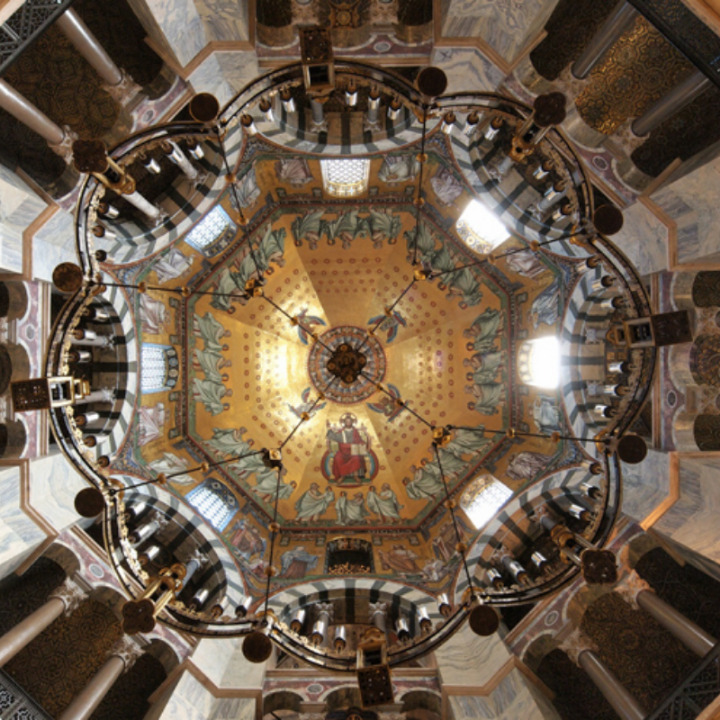 8. Where Do You Find This Contemporary Art Museum?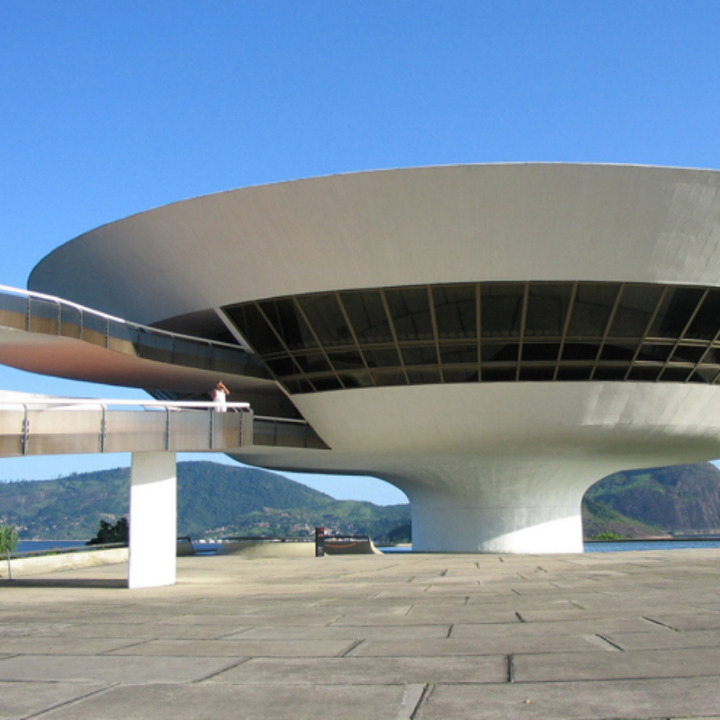 9. Name This Beach, Known For Its Pink Sand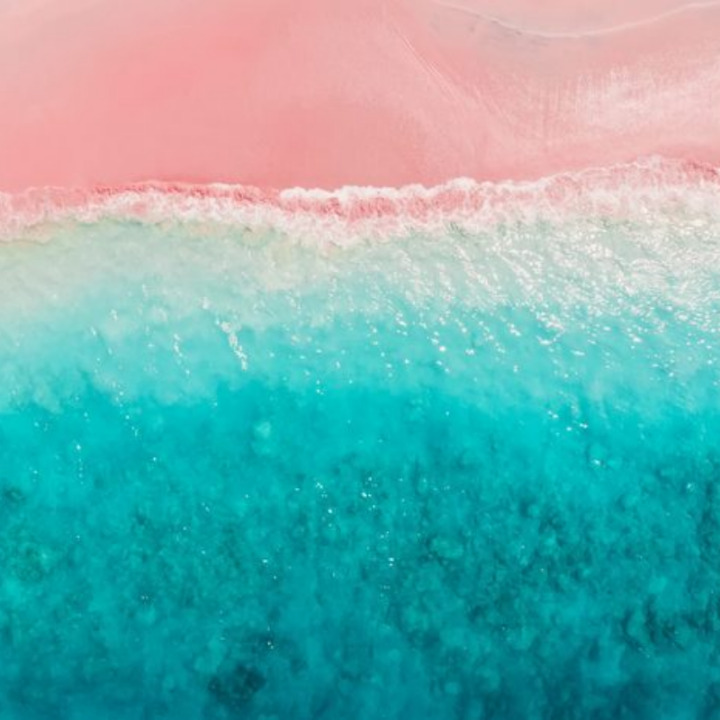 10. Where is the big Pineapple located?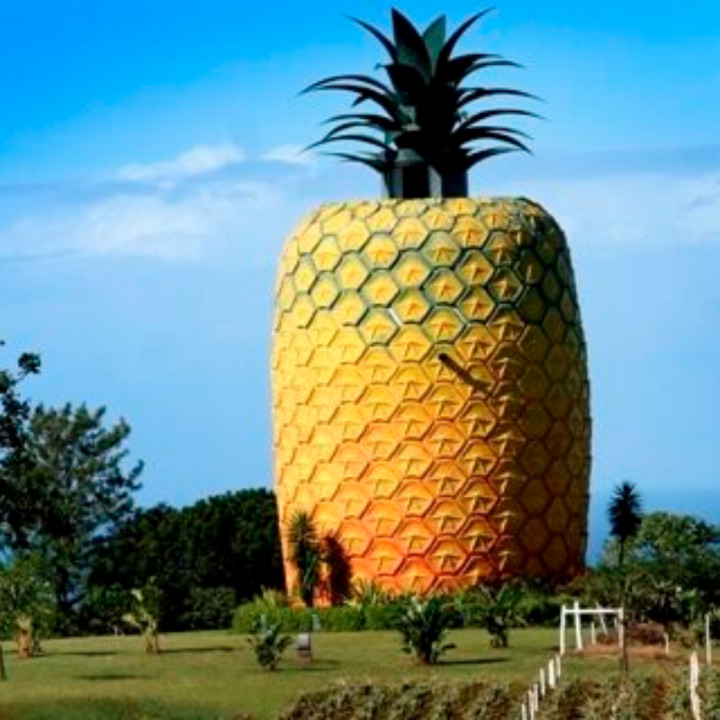 11. Where are these steps located?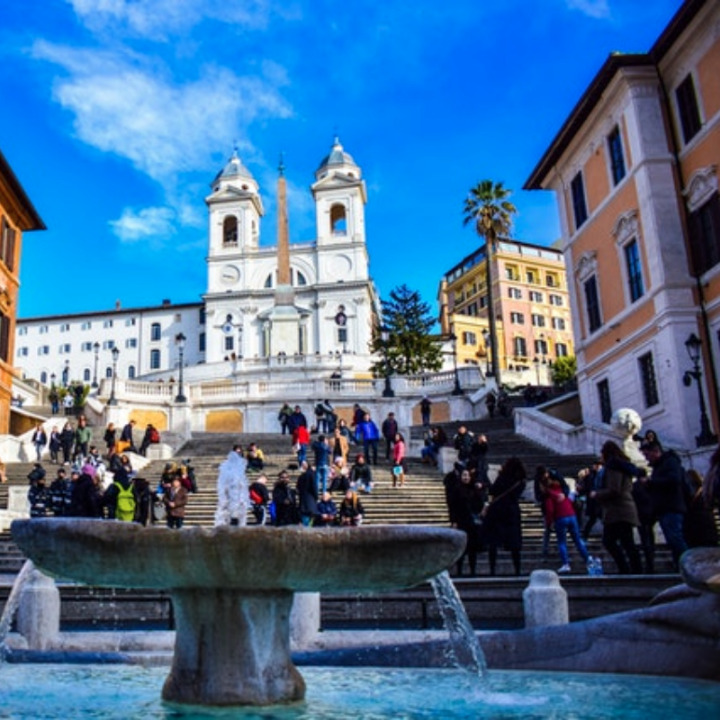 12. Which Famous Attraction Is Under Renovation?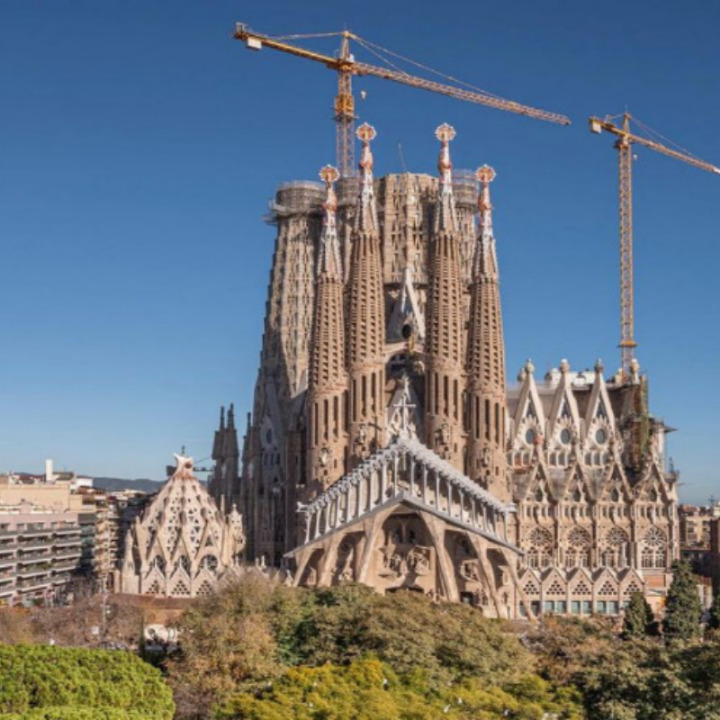 13. Where Are These Historic Ruins Located?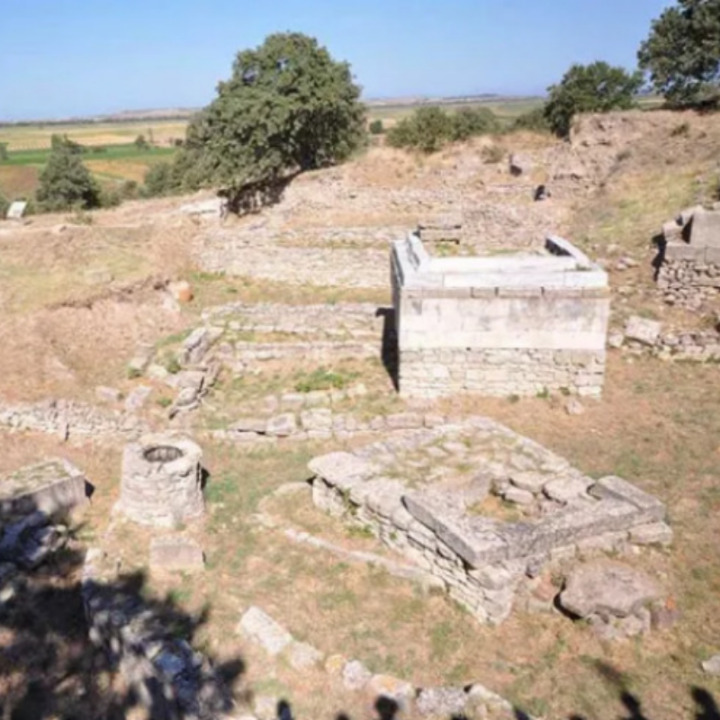 14. Where Would You Find These Mountaintop Ruins?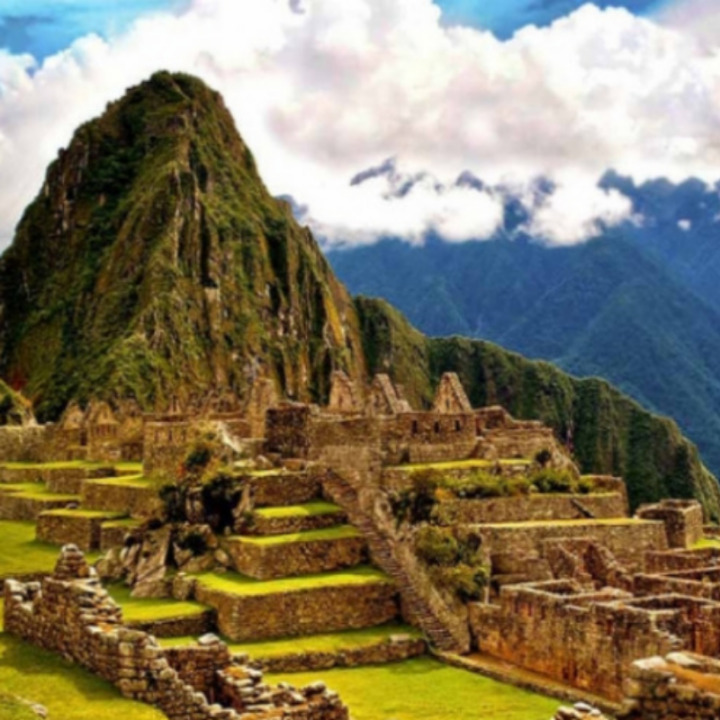 15. Can you name this statue?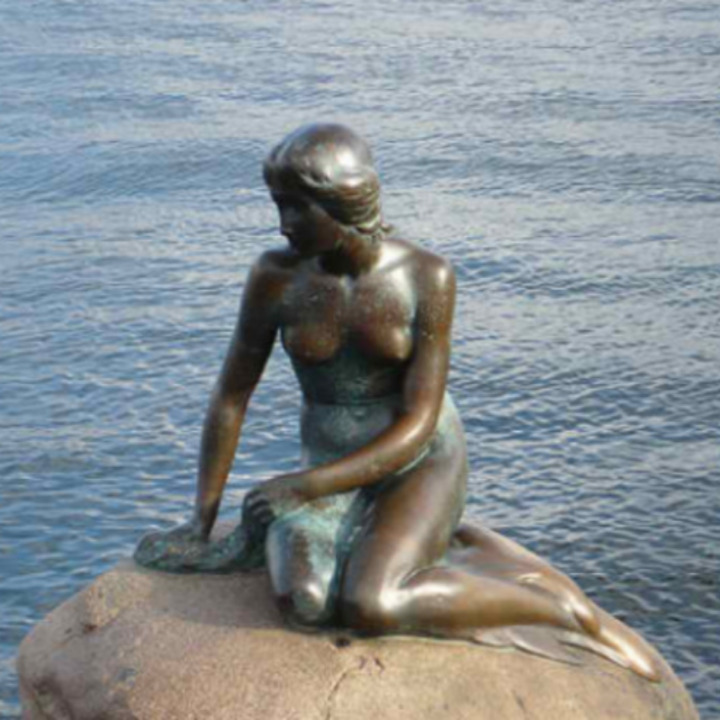 16. Where can you find the World's Largest Chest Of Drawers?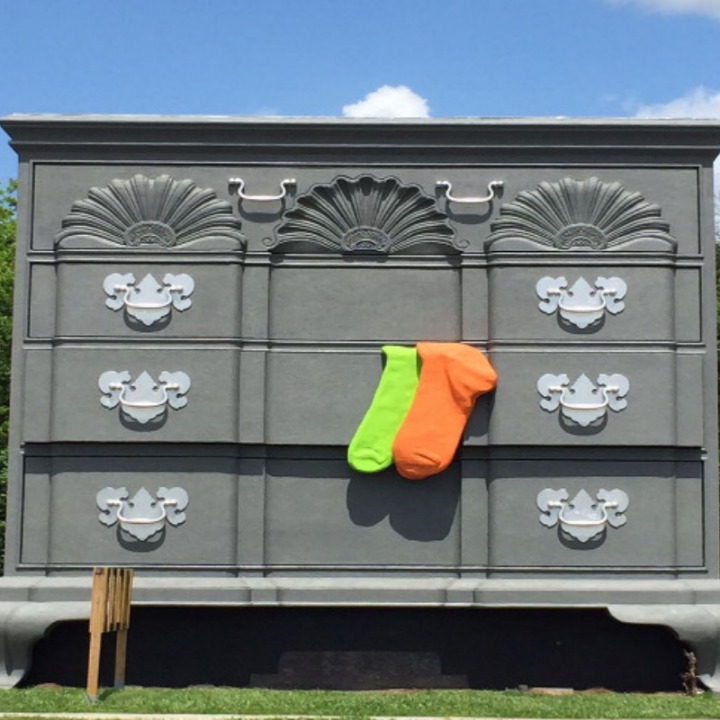 17. What's The Name Of This Colorful Amsterdam Tourist Attraction?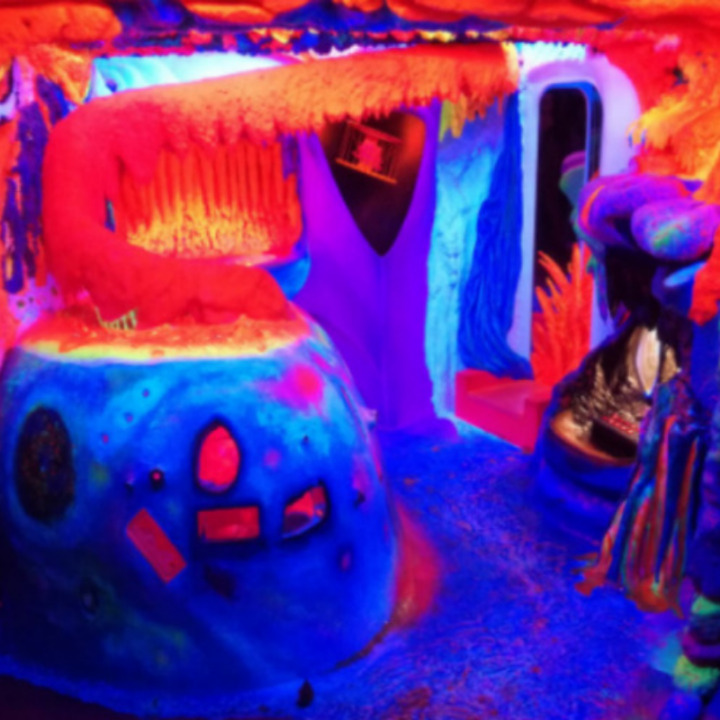 18. Can you name Turkey's most popular tourist attraction?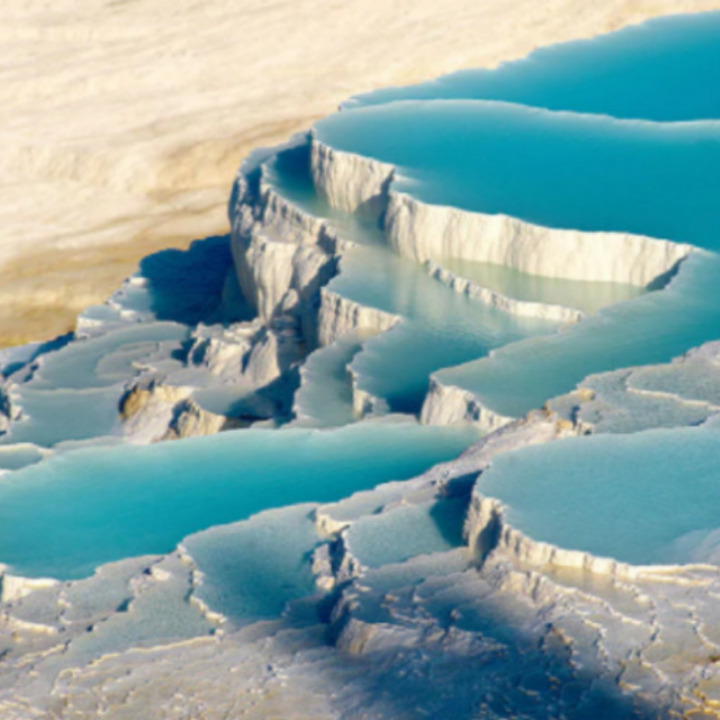 19. Can you name this famous sink hole found in Oregon, USA?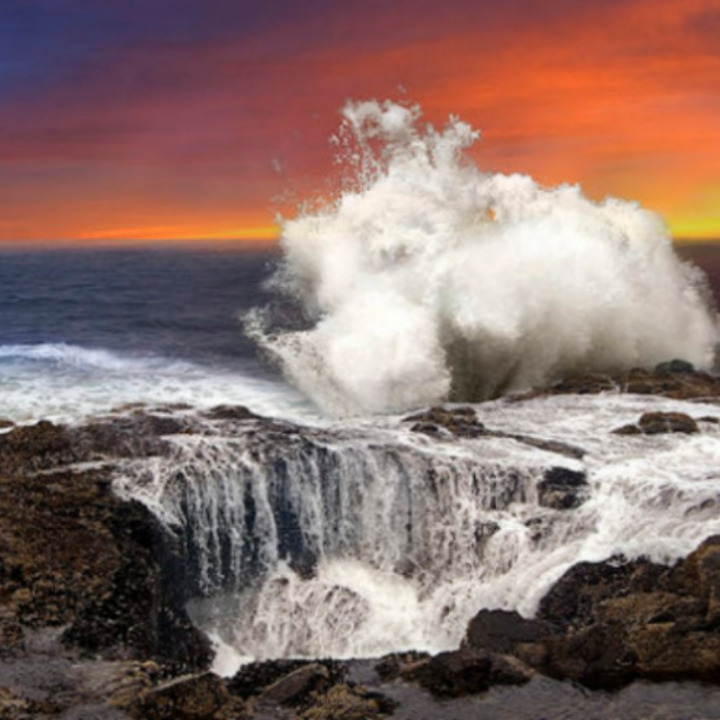 20. Where Is Elephant Rock Located?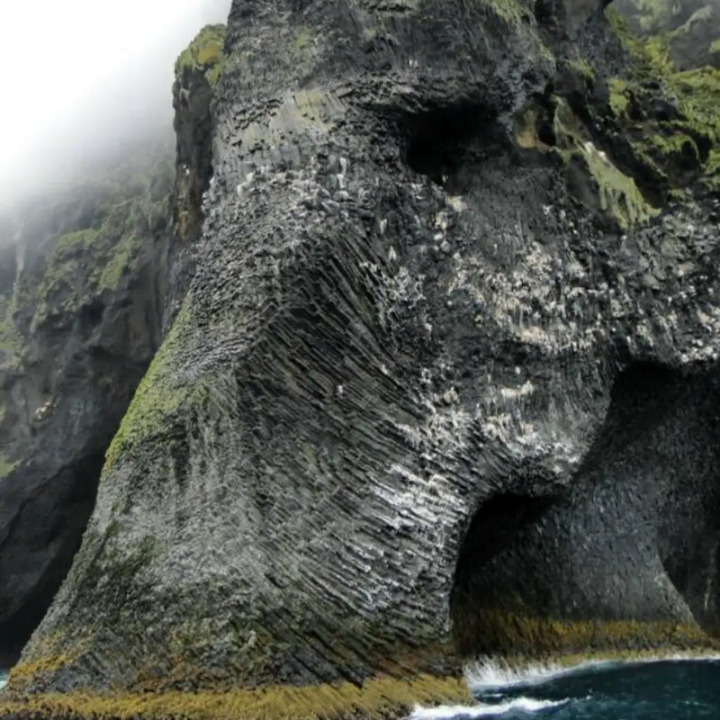 Top 20 Travel Fund Boosters
Cash In On Your Old iPhone
Instantly sell your iPhone, tablet, MacBook, or other used electronics on Whistle. Get paid via PayPal, Venmo, Cash App, or Gift Card (with a 10% bonus for signing up now) within 24 hours.
You receive a free, fast shipping kit sent to your door, so no work required. (They're currently accepting iPhones 7 and later) Click here to turn your old devices into some extra travel fund cash.

Quick Win – Surveys
Want a quick win? Sign up at Branded Surveys for an easy way to put a few bucks in the kitty. Want more? Check out PayMeDollar and DollarClix.

Stash It Here
Out of sight, out of mind. So, instead of cash burning a hole in your pocket, toss anything under a $10 or $20 inside your physical stash box. Here's how to make or buy one:
Make it:
• Grab an old shoebox
• Grab a mason jar
• Want to get your hands dirty and have some fun (cheap entertainment as well!), click here for how to make a DIY Travel jar and click here for how to make a DIY Shadow Box.
Buy it:
• Sterling James Co. Travel Fund Piggy Bank
• Americanflat Vacation Fund Shadow Box
• Foreside Wooden Adventure Bank

Global ATM Alliance
If you're considering a new bank, consider one that's part of the Global ATM Network so you don't get charged to pull out cash around the world.

411 For Free
Dialing 4-1-1 can cost you up to $1 each time! So, if you need to call 4-1-1, do it by first dialing 1-800-FREE-411 or GOOG-411.

Budget Right
You may already use a personal accounting or budgeting program and, if so, that's awesome. If not, you should be because how else can you easily see where all your money is going? Here are a few we like:
• Mint
• Prism
• Acorns
• Albert

Practice Delayed Gratification
Time Discounting Bias is the preference for immediate gratification over potentially much bigger long term financial rewards and goals.
Basically, we forget how much better it is to have that money for the future than it is to spend right now.
So practice delaying your gratification, which will improve your willpower muscle and ultimately help you fill your travel fund faster. Every day is a new exercise in delayed gratification when you decide to save now instead of spending on unnecessary things.

Discount Auto-Pay
Auto-pay your cell phone bill. Opting for auto-pay can knock off $5-10 per month with most carriers. If you're on a family account with multiple lines, this can knock off $5 per line. Look into a discount for other payments you can pre-pay too.

Keep The Change
Bank of America has a cool program they call 'Keep The Change.' The idea is exactly like the example in the video above: they'll automatically round up every payment to the dollar and transfer that change to your savings account. Check it out here.

Cancel Your Cable
There's no reason to pay so much for TV when you can stream everything for a fraction of the price. Use Netflix, Amazon Video, Fire TV Stick, or the Channels app.

Cut Your Mobile Usage
Here are a couple of great sites to compare the best plans on different carriers, based on what your actual usage is:
Bulb Swap
Save $50-75 per year by swapping your most-used bulbs with CFL bulbs (which last 10 times longer than traditional bulbs) or LED bulbs (which last 25 times longer than traditional bulbs) that bear the "Energy Star" label.

Set, Forget, Save
Since we spend a lot on heating and cooling our homes, you can save anywhere from $300-$600 a year with a simple programmable thermostat. Here are the best options for you:
• Honeywell RTH6360D1002/E
• Emerson 1F78-151
• Orbit 83521 Clear Comfort

Stay Clean While You Stay Flush
Showers are a real waste. So in addition to taking shorter showers, pick up one of these efficient showerheads and reduce water usage by almost 2,500 gallons per year.
• Delta 52672-15-BG
• Niagara Conservation Sava Spa
• AquaSpa WaterSense Certified High-Pressure

Vampire Load
Some of your electronics never truly power off, costing you up to $200 a year! That's why they call it Vampire Load! But it's easy to prevent with one of these smart power strips:
• Heyvalue Smart Power Strip
• Teckin Smart Power Strip WiFi Power Bar

Less Meat?
Eat less meat while still hitting your protein quota, and don't pay a premium for the pre-cut stuff.

Don't Buy Water
Bottled water is 600x more expensive than tap water, and horrible for the environment. Instead, grab a Brita Pitcher or Tap Filter (which I used for years and was great) instead.
And if you're feeling fancy, pick up a Soda Stream instead of buying carbonated water.

Price Compare Your Groceries
Here's a pretty cool grocery store price comparison tool. That easy.

Amazon Does It All
By far one of the best, most convenient ways to save money and avoid going to the grocery store. Plus, they boast that you can save a WHOPPING 40% on your groceries, and have additional weekly deals and exclusive coupons. Click here for details.
And since your time is valuable, but you don't dig Amazon Fresh, check out these additional options for delivery: Instacart and Shipt.

Get Discounted Gift Cards
Buy gift cards for LESS than their value, instantly saving you money. For example, buying a 10% off gift card costs you $90, but it's worth $100 in the store. You can get these for loads of grocery stores like Walmart, Whole Foods, Target, etc. Here are the best discount sites to check out:
• Cardpool
• Raise
• Gift Card Granny
• CardCash

Top 20 Travel Hacks
Cash Back Or Travel Rewards?
This is a tough one because it depends on your goals and spending habits… but we make the decision easy for you in this article: Cash-back vs. Travel Rewards Credit Cards: Everything You Need To Know 2021. Take a read and make sure you maximize your earnings on your day-to-day spending.

Quick Accommodation Pricing
If you like Airbnb, use this nifty map to find average prices around the world.
If you prefer hotels, Budget Your Trip will give you a decent gauge (also a great resource for finding pricing on food and entertainment).

Track It All
Start. Here. Now. It keeps track of all your points from all your different accounts in one place. And it's free. Click here to start now.

Shop & Earn
Use Evreward to search all the point shopping sites and show you who has the best rewards for what you're looking to buy.

House Sit
House sitting is amazing. Here's the gist: get FREE accommodation for watching the family's pup or cat. Check out House Carers or Trusted House Sitters. To go deeper, read Where To Find The Best House Sitting Jobs Abroad.

Stick To Your Alliance
There are three main alliances, and most airlines are a part of one of them. The important thing to remember is that if you earn points on one carrier in an alliance, you can book on another carrier in that same alliance — the points transfer, but not merge. So then it's wise to shoot for one major airline in an alliance, not two. Learn more in our Ultimate Guide to Airline Alliances, Partners and Travel Reward Charts.

Wine, Dine, And Earn
You gotta eat, so might as well get some points while you do it:
• Mileage Plus Dining (United)
• Rapid Rewards Dining (Southwest)
• SkyMiles Dining (Delta)

Survey Points
Got a few mins to burn? Take a survey, get points:
• E-Rewards
• Opinion Miles Club (United, US Residents Only)

Roulette Getaway
If you don't care where you go, and it's last minute, then we've got a really sweet (and fun!) hack for you: Go to SkyScanner. Enter your departure city, departure date, and 'Everywhere' for destination. Then click 'Search Flights' and see what ya get.

Book "Secret Hotels"
Have you heard of "Secret Hotels" before? The idea here is that you pick a hotel knowing only the star rating, general location, and a few other amenities and get up to 60% off (I've done this in Vegas numerous times and it's worked awesome… and speaking of Vegas, I've also used SmarterVegas successfully a few times and it rocks too).
For secret hotels, the big ones like Hotwire and Priceline's Express Deals are the best.

Open Middle Seat Trick
When booking seats for two people, always pick a window and aisle (if three seats in a row) closer to the back (use SeatGuru to check). If the plane fills up, the middle seats will start to fill from the front backward. If someone sits between you, then trade them and sit together as you would have anyways. This can get you a row to yourself pretty dang often.

2 Great Hotel Upgrade Hacks
Slip 'Em A $20
When at check-in, fold a 20 between your credit card and ID (which they always ask for at some point during check-in). Don't be blatant, but ensure they can see something there. Ask for a 'complimentary upgrade.' If you get one, or some other nice perk, they get the cash. If not, keep your cash. Works all the time.
Offer Up A Review
During check-in, ask them if they are on TripAdvisor because you'd love to write a nice review. Sometimes this small gesture can lead to a room upgrade, free wifi or free breaky.
Google Flight Graph
If have a specific destination but are open to dates, you'll have a much better chance at cheaper flights. Use Google Flights' "date graph" to see a calendar view of prices so you can nab the best price.

Pay What You Want?
Another hotel angle is "Hotel Bidding." We keep a finger on the pulse in the travel industry and we don't think price bidding on hotels is a long-term option, but it's available now and it's well worth looking into. Keep in mind it can be slightly time-consuming and confusing at first, but just refer to Better Bidding for detailed help if needed.
Priceline's "Name Your Own Price" tool is the best option for this. It's not easy to find, but go here and scroll down until you see the button for it.

Your "Prime Booking Window"
Get a gauge on the best time to book with CheapAir's "prime booking window" because when you book matters the most (on average this is 2-3 months out for domestic and 3-8 months out for international, but the tool will tell you more).

Introducing, Skiplagged
Search SkipLagged to find insane loopholes in airline pricing not usually posted elsewhere. If you find one, book it quick because Airlines try to patch up these errors as quickly as possible.

Track Prices With Ease
If you don't like the flight prices you see, keep track of them while also setting up price drop alerts on Hopper for push and/orAirfarewatchdog for email.

Couch Surf
Couch surfing is another gem for free accommodation. The best site is Couchsurfing.com. A bit wary of doing this? Give our article Is Couchsurfing Safe? What You Need To Know Before Trying It a quick read.

Easy Point Redemption
Earning points can be easy, booking with them not so much. Thankfully, Award Magic makes booking with your points a piece of cake.

Avoid Sneaky Hotel Fees
Nothing is worse than looking at your bill at the end of your stay and being surprised by fees you didn't know you'd have to fork up for. Instead, be prepped by reading these 13 Hidden Hotel Fees You Might Not Know About.

Dane's Dad Joke Answers
Mini-soda!
A stamp!
The road!
Nothing, it just waved!
Time flies!
They're two-tired!
A bright idea!
A moo-bile phone!
Because they are afraid to relax and unwind!
To Times Square!
She heard they had great broom service!
A flat tire!
On a plane!
A Blast From The Past!
Finland!
To Hamsterdam!
Stingapore!
He neverlands!
A Boeing Constrictor!
Hailing taxis!
Guess The View Answers
1.  Downtown Seattle
2. Central Java (Indonesium)
3.  Brussels (Belgium)
4.  Mano del Desierto
5.  New Zealand
6.  Gateshead, Tyne and Wear, England.
7.  Aachen, Germany
8.  The Niterói Contemporary Art Museum, Rio de Janeiro, Brazil
9.   Harbour Island, Bahamas
10. Bathurst, South Africa
11. The Spanish Steps in Rome
12. The Basilica of the Sagrada Família in Spain
13. The Ruins of Troy are found in Turkey
14. Machu Picchu
15. The Little Mermaid
16. High Point, NC
17. Electric Ladyland
18. Pamukkale
19. Thor's Well
20. Iceland

That's it! Which was your favorite pick? Tell us below!