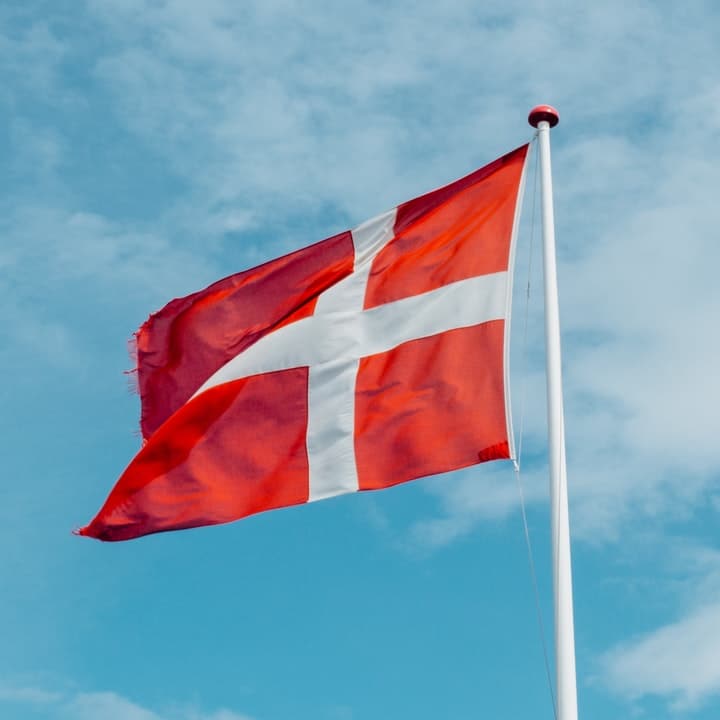 From the land of the Vikings to one of the most peaceful societies, Denmark is a destination for travel junkies, history lovers, and sustainability enthusiasts! 
Explore the complex bike lane system, try the hundreds of variations of smørrebrød, visit The Little Mermaid, and learn all the ways Denmark has become such a "green" place to live.
Here is our guide to Denmark in 2022.
General Information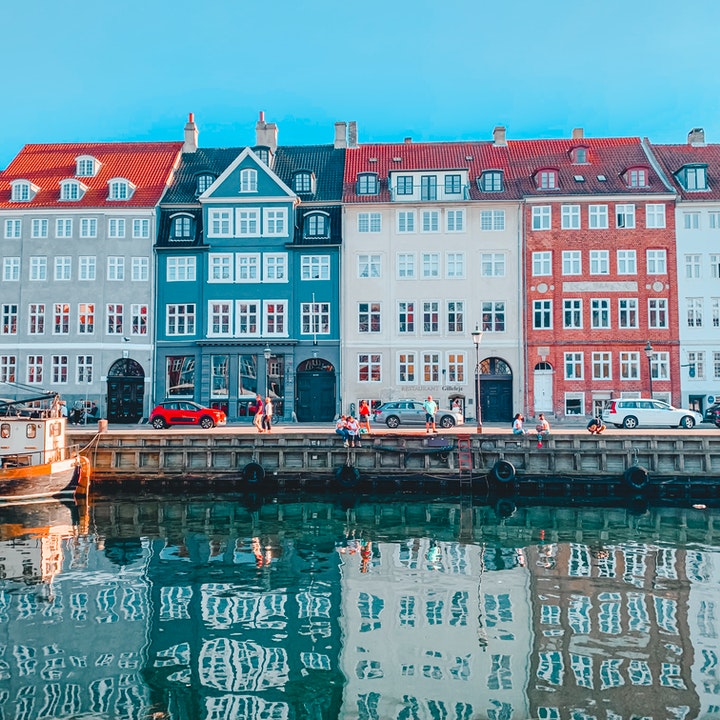 Denmark is such a peaceful place for several reasons, a few being that they believe in a strong work-life balance (sticking to a strict 37 hour work week), taxes are straight forward (albeit high), and the country is constantly finding ways to leave the earth with less of a carbon imprint.
When you travel to Denmark, the only word you'll need to know is hygge, pronounced "hooga", which is an idea that means taking time away from the daily rush to be together with people you care about or to be by yourself and enjoy the simpler things in life.

Some fast facts about Denmark:
Denmark is a pioneer in promoting sustainability, the country aims to be carbon neutral by 2050. There are so many cool green initiatives and projects going on in this country, do a quick Google search or visit the main website.
Denmark is a bicycle nation, with over 7500 miles of bike lanes. It is more common to walk or ride a bike than it is to own a car.
Denmark is one of the oldest monarchies in the world.
41% of Denmark's energy comes from wind turbines.
Population: Roughly 5.8 million
Capital:  Copenhagen
Location: Denmark is a Nordic country in northern Europe. It shares a border with Germany and sits on both the North Sea and Baltic Sea. 
Flag: The flag is a red and white Nordic cross, and the cross-section of the cross sits to the left side of the flag. It is the world's oldest national flag.
Time Zone: Central European Time or Central European Summer Time 
Currency: Danish krone
Language: Danish is the national language and German is a recognized language. Many people in Denmark speak English as a second language.
Climate: Denmark has a temperate climate with mild winters and cool summers.
Religion: Christianity is dominant, however citizens are free to adhere to any faith. 
Travel Visa Information: To find out if a visa is required for your country — and easily get yours if needed — check out iVisa.com.
Best Time to Visit: Try to travel to Denmark from June through August, where temperatures are comfortable and you can spend lots of time outside! 
Health & Safety
As of April 2022, the CDC does not recommend travel to Denmark, as cases of COVID-19 are still very high. If you must travel to Denmark, make sure you are fully vaccinated before you go. 
Find information regarding COVID-19 and travel to Denmark here: https://dk.usembassy.gov/ 
Follow the CDC guidelines for current travel advisories, as well as the U.S. Embassy guidelines.
Typical Costs in Denmark
The average price for one person for accommodation in Denmark is kr494, roughly $71 USD. When dining out, the average price per traveler is kr124 per person, or roughly $14 USD. Breakfast is usually slightly cheaper.
Food To Eat in Denmark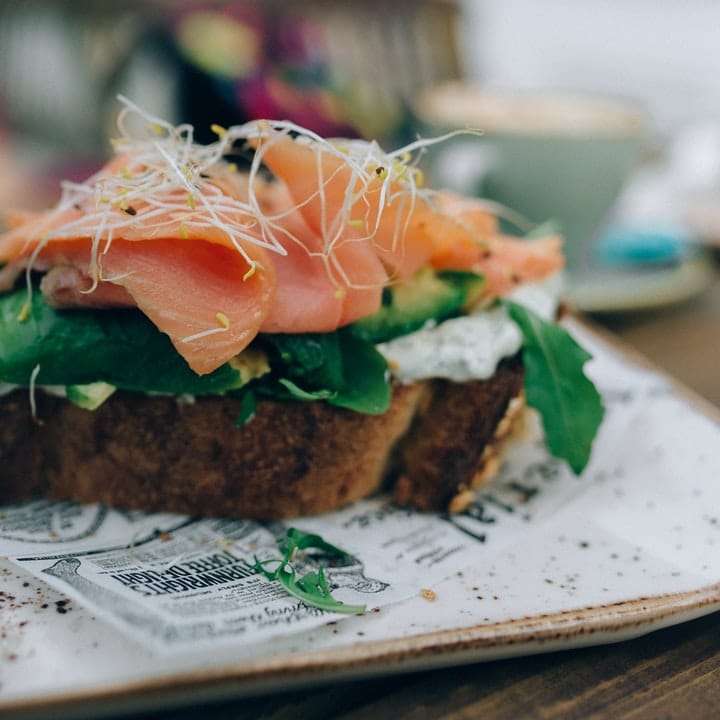 When you travel to Denmark, you must try Smørrebrød. These are open-faced sandwiches with delicious toppings! You can find them on the menus at little cafes as well as fancier restaurants. Of the many variations, a few popular variations include roast beef with remoulade and fried onion on rye bread or eggs and shrimp with mayonnaise, and a squeeze of lemon on rye bread. Sometimes eaten for breakfast!
The Danish national dish is Stegt flæsk med persillesovs, or crispy pork with parsley sauce. It's served with boiled potatoes, parsley sauce, and pickled beetroot. You can find it in many places.
Frikadeller or Danish meatballs, are a popular dish in Denmark. They usually consist of equal calf and pork, flour, eggs, milk, onions, and spices. They're a popular topping for Smørrebrød too – hot or cold.
Pork is a very popular dish in Denmark. Around the holidays, you'll find Flæskesteg og Brun Kartofler, roast pork served with sugar-brown potatoes. The potatoes are boiled and then pan-fried with butter and sugar. Yum!
Travel to Denmark for Medister pølse, or Medister sausage, a traditional spiced pork sausage. This is a beloved dish you can find in many establishments, with a rich flavor and some spice.
Now in addition to the Medister pølse, the regular pølse, which are the Danish version of a hotdog, are also a yummy meal. A traditional pølse is topped with remoulade, mayonnaise, sweet pickles, pickled red cabbage, and crispy fried onions. There are many hot dog carts, or pølsevøgn, where you can find pølse from some legendary makers!
If you enjoy eating seafood, you must try fresh seafood in Denmark. Denmark sits on a sea! The most popular dishes include Herring and fiskefrikadeller, but you should also try plaice filet, cod, and shellfish.
Try tarteletter, puff-pastry tart shells filled with chicken, white asparagus, and a white sauce made with butter, flour, and milk, then mixed with carrots and peas. 
Drinks To Try in Denmark
Please note: These drinks all include alcohol.
Akvavit is a popular liquor made from grains and potatoes. The distinct flavor usually includes several spices, usually caraway and dill. You can buy it in many places.
Carlsberg beer is a true testament to Danish beer – popular not only in Denmark but around the world. The brewery offers beers of all kinds, it is one of the bestselling Danish beers. Travel to Denmark is incomplete without trying this beer. Hurra!
Mead has been a foundational part of Danish culture. It's been around for a very long time! Mead is derived from two main ingredients, fermented honey and water and then spices are added for flavor. Think of it like a cider. 
Top Cities to Visit in Denmark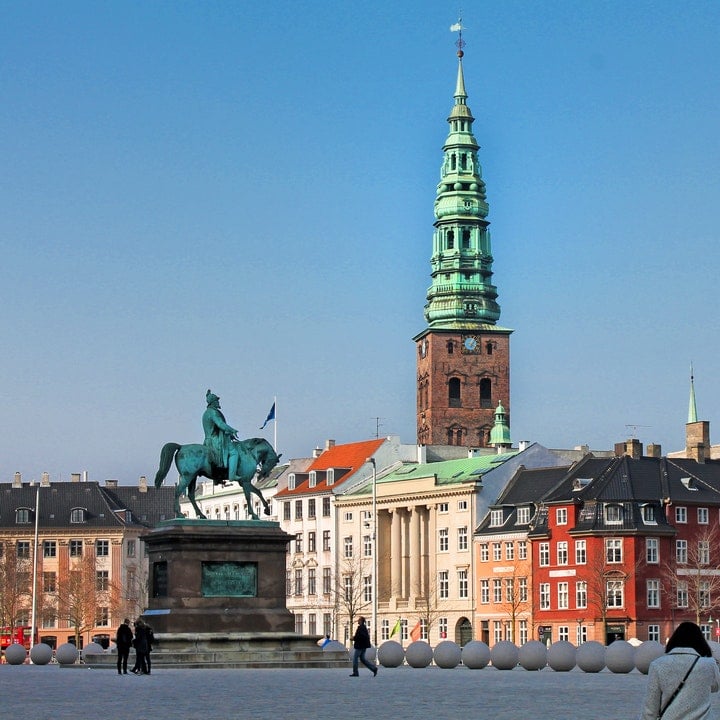 To travel to Denmark, you must travel to Copenhagen. The country's capital is a northern European metropolis complete with waterfront bars, incredible sustainability initiatives, Michelin-starred architecture, museums, amazing architecture, and more. Here's the stuff you can't miss: take a green bike tour, visit Christiania (a somewhat 'hippie' community and commune that sits in an area that was once military barracks and city ramparts), visit the castles, say hi to The Little Mermaid, check out Tivoli Gardens (the second oldest amusement park in the world), make your way to Nyhavn, a gateway from the sea to the inner city, that is now a popular area for shops and restaurants, the Louisiana Museum of Modern Art, Ny Carlsberg Glyptotek, the Black Diamond, Kunsthal Charlottenborg, National Museum of Denmark, Børsen, Kastellet, Christiansborg Palace, and the Botanical Garden.
Aarhus has been described as a cultural center and exuberant university town, with a preserved old town and historic village, Den Gamle By. In Denmark's second largest city, go back in time at Den Gamle By, hang out with the art crowd in Godsbanen, relax in Marselisborg Forests, visit Denmark's largest church and see the architecture (Aarhus Cathedral), and if you're a foodie, check out the central food market.
Ribe is the oldest town in Denmark, founded around the year 700, making it the oldest town not only in Denmark but in Scandinavia. This little old town is filled with history, so we suggest taking a tour and reading up on this quaint place, home to half-timbered houses and winding cobble streets. Visit the cathedral, learn about the Vikings and the witchcraft trials, and relax by The Wadden Sea, a UNESCO site.
Odense is a fairytale-esque town, the birthplace of Hans Christian Andersen. Visit Egeskov Castle, the Funen village, the castles in the countryside, Odense cathedral, the Munke Mose gardens, and see the town by riverboat. 
Must-See Sights in Denmark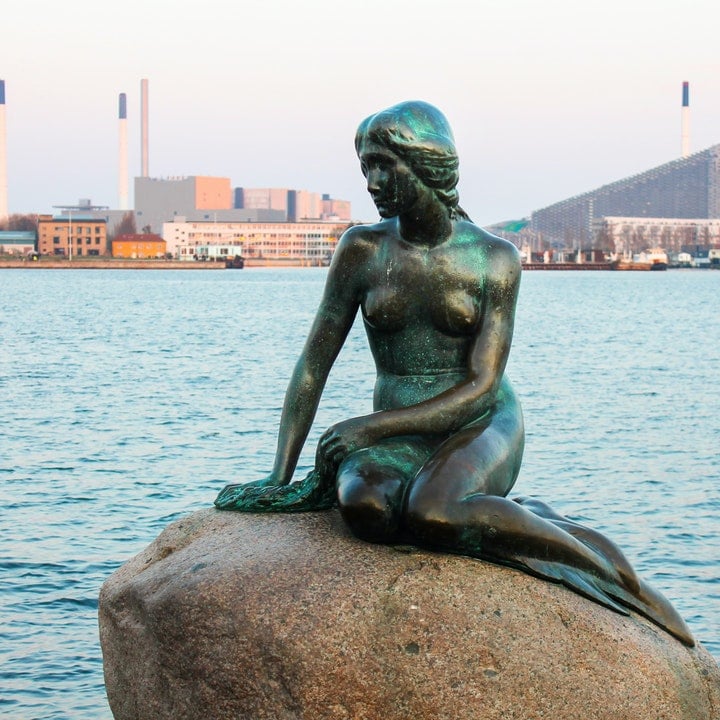 Nyhavn
The Little Mermaid
The Hans Christian Andersen Museum
Tivoli Gardens
Rosenborg Castle
Louisiana Museum of Modern Art
Amalienborg
Christiansborg Palace
The Ny Carlsberg Glyptotek
The Round Tower
Kronborg Slot
National Museum of Denmark
Frederiksborg Castle
Torvehallerne
Strøget
Møns Klint
Stevns Klint – UNESCO World Heritage site
The King's Garden
Christiania
Ribe
The Wadden Sea – UNESCO
The Faroe Islands
How To Get Around Denmark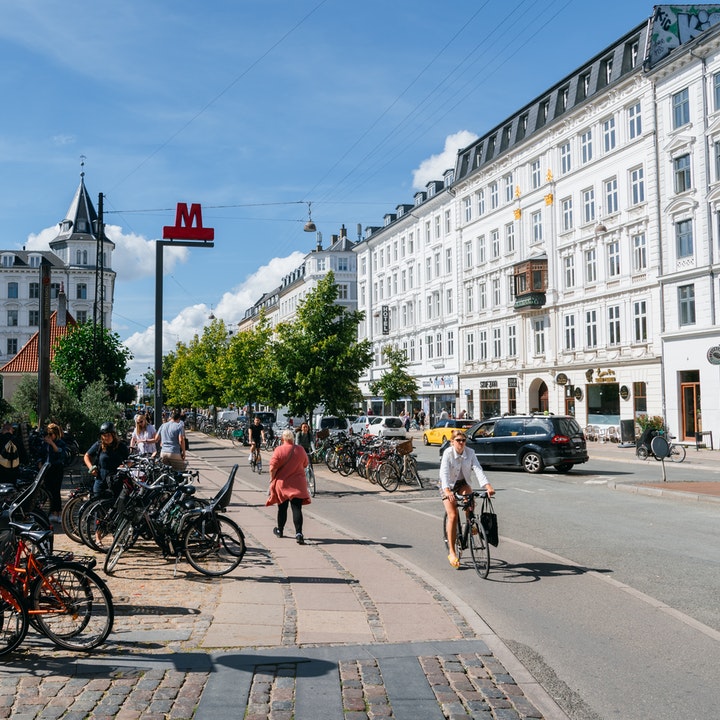 If you really want to live like a Dane, then you should consider renting a bicycle when you travel to Denmark. You'll know exactly what we mean when you visit – there are bikes everywhere!
But what's even cooler – there are bike lanes and paths created for bikes all over too, especially in Copenhagen. You can walk around most cities. There are trains and buses as well. The Danes are well organized and on time! 
Bucket List Experiences in Denmark
Tour Copenhagen by bike. Learn all about the country's sustainability initiatives.
Visit all the castles!
Visit the old town of Ribe, the oldest town in Denmark and Scandanavia. 
Where To Book Flights
The cost of airfare can quickly eat up your budget.
>> Click here to find the best flights to Denmark.
Where To Book Accommodation
Denmark is home to some fantastic hotels.
>> Click here to find the best hotel deals in Denmark.
Housesitting is a great way to cut down on travel costs.
>> Click here to find housesitting opportunities in Denmark.

Hostels are an affordable option when it comes to accommodations.
>> Click here to find hostels in Denmark.
Booking a vacation rental can help to save the budget.
>> Click here to find vacation rentals in Denmark.
Best Travel Tours/Packages in Denmark
TourRadar: Copenhagen & North Zealand Cycling Holidays in Denmark – 8 days
Denmark is great for cycling holidays. Varied landscapes await you in the small kingdom. From breathtaking coastlines to small idyllic harbour towns to extensive fields and lush forest landscapes, everything is there. Your bike is the vehicle of choice. Leave everyday life behind and immerse yourself in a real cycling paradise.
ToursByLocals: Witchcraft in Ribe: culture, history and mystery in a private tour
The tour takes you back 400 years. We walk around the same streets as the young woman Maren, when in the 1620's she chooses to seek her happiness in Ribe. Today, her name still lives. Didrik Skrædder (Didrik Tailor) is envious of Maren's success and accuses her of having caused his illness through witchcraft. Maren Splid is burned on the fire just outside Ribe on a cold ANovember day 1641. On this tour we see Maren's home from the outside before your private and knowledgeable guide invites you to experience the brand new Museum of Witches which, with its unique use of sound and colours, tells of witch persecution. In Europe tens of thousands suffered a fate like Maren. The museum is in a former grocery store from the 1580s, Quedens Gård, where Maren was a regular visitor. Focus on this tour is put on the incredible but true story of Maren, a strong but cheeky woman whose trial is extraordinary well documented. In fact, Ribe was known for its Ribe court of law which enforced a particularly strict legal order.
Additional Reading
Books: Fairy Tales by Hans Christian Andersen; The Little Book of Hygge by Meik Wiking; The Skin is the Elastic Covering that Encases the Entire Body by Bjørn Rasmussen
Podcasts: What the Denmark; Global Denmark Podcast; The Snak
Movies That Will Make You Fall in Love with Denmark: Nightwatch; Babette's Feast; Another Round
Check out these Journo Adventures of travelers who have been there! @stest enjoyed time by the beach with family!
Now that you've seen our guide for travel to Denmark, what did you think? Did we miss anything? Leave us a comment below!