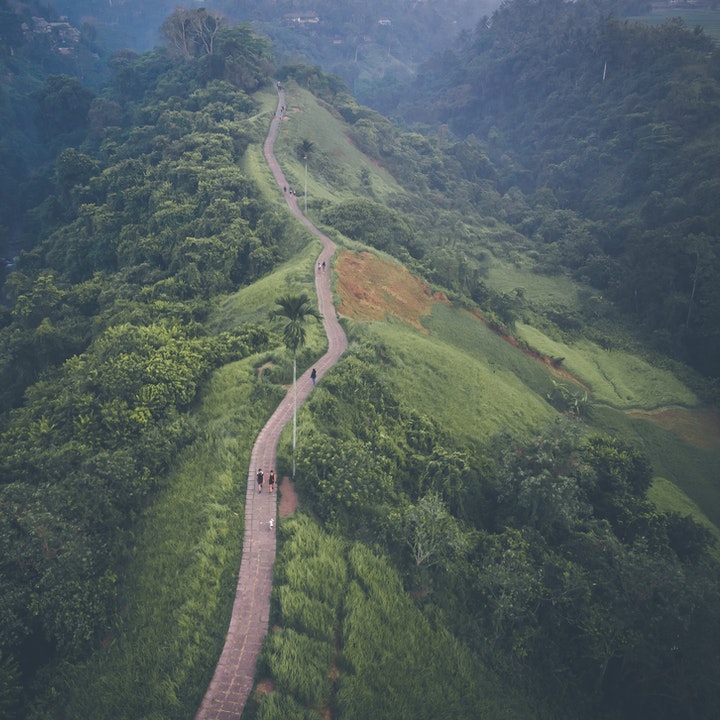 Rice fields, beaches, and temples are all waiting for you when you travel to Indonesia – which is home to over 17,000 islands. Islands like Bali, Sumatra, Java, and more.
Are you looking for a beach, a city, or to travel back in time to an ancient religious temple? Indonesia offers all of these things and more.
When you travel to Indonesia, take a look at our guide below to get started with planning. Psst! Get your travel journal ready for this one, you're going to need it!
General Information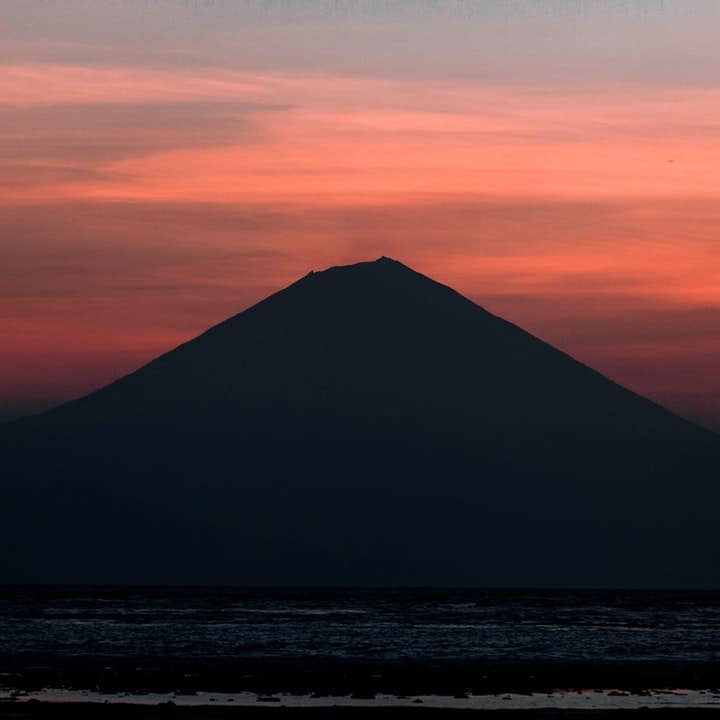 • Population: Roughly 270.3 million
• Capital: Jakarta
• Location: Indonesia is the world's largest island country in Southeast Asia and Oceania between the Indian and Pacific Oceans, consisting of over 17,000 islands.
• Flag: Red and white stripe stacked vertically
• Time Zone: Western Indonesia Time, Eastern Indonesia Time, Central Indonesia Time
• Currency: Indonesian rupiah
• Language: The official language is Indonesian, but there are over 700 regional languages.
• Climate: The country has two seasons, a wet season and a dry season, with no extremes of summer or winter. Temperatures run fairly evenly year round.
• Religion: Th constitution guarantees religious freedom, but the government officially recognizes only six religions: Islam, Protestantism, Roman Catholicism, Hinduism, Buddhism, and Confucianism.
• Visa Requirement: To find out if a visa is required for your country — and easily get yours if needed — check out iVisa.com.
• Best Time to Visit: Visit Indonesia between April and October, during the dry season.
Health & Safety
• As of November 2021, the CDC recommends you are fully vaccinated when you travel to Indonesia. Right now, COVID-19 cases are low.
• Find information regarding COVID-19 and Indonesia here: https://id.usembassy.gov/
• Follow the CDC guidelines for current travel advisories, as well as the U.S. Embassy guidelines.
Typical Costs in Indonesia
In comparison to the United States, travel to Indonesia is incredibly cheap, well, we mean when you get there.
When purchasing food, a simple meal costs 25,000 Rp or $1.78, a three-course meal at a mid-range restaurant for two people costs around 200,000 Rp $14.24, and grocery store items like eggs, milk, and bread are all roughly $1. Street food is also relatively cheap in comparison.
While getting around, a one-way ticket for the local bus is 5,000 Rp or 36 cents, and a monthly pass costs 200,000 Rp, or $14.24.
Food To Eat in Indonesia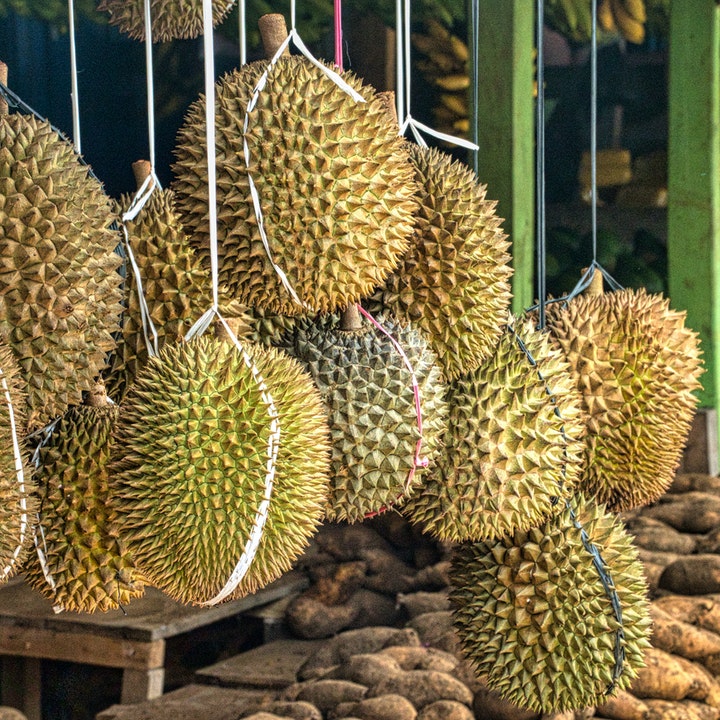 • Nasi Goreng is a must try when you travel to Indonesia. It's a dish made with fried rice, meat and/or vegetables, and an assortment of seasonings such as sweet soy sauce. Yum!
• Sate Padang (Padang satay) is a specialty satay from Minangkabau cuisine, made from beef cut into small cubes with spicy sauce.
• Durian Ice Cream is a yummy dessert when you travel to Indonesia. Durian is an edible fruit of several tree species.
• Pepes is an Indonesian cooking method using banana leaves as food wrappings.
• Nasi Uduk (coconut rice) is made by cooking rice in coconut milk instead of water, along with clove, cassia bark, and lemongrass. The coconut milk creates a much richer flavor.
• Bakso is an Indonesian meatball, or a meat paste made from beef surimi. It's similar to the Chinese beef ball, fish ball, or pork ball.
• Sate Ayam is a Southeast Asian dish of seasoned, skewered, and grilled meat, served with a sauce. It was believed to have been started in Javanese cuisine.
• Martabak is a stuffed pancake or pan-fried bread that is commonly found in the Arabian Peninsula and Southeast Asia.
• Pisang Goreng is a fritter made by deep frying battered plantains, usually enjoyed as a snack.
• Looking to try something a bit more exotic when you travel to Indonesia? Try fried grasshoppers or one of the other items on our list of weird foods in the world.
Drinks To Try in Indonesia
• Bakpao and Kopi (baozi and coffee) is a delicious combination of coffee and a yeast filled bun. Indonesia is a large producer of coffee, so it's a must that you try some while you're there – you won't be disappointed.
• Bajigur is a traditional Sundanese drink, made with palm sugar, coconut milk, ginger, and Vanilla essence. This is a comforting, warm drink when you're feeling homesick (although we hope not) when you travel to Indonesia.
• Bir Pletok is made from ginger, lemongrass, cardamom, cinnamon, sappan wood, and sugar. How tasty does that sound?!
• Es Selendang Mayang is a Betawinese traditional dessert with colorful chunks of cakes made from rice flour that is served with coconut milk, palm sugar syrup, and ice cubes.
Top Cities to Visit in Indonesia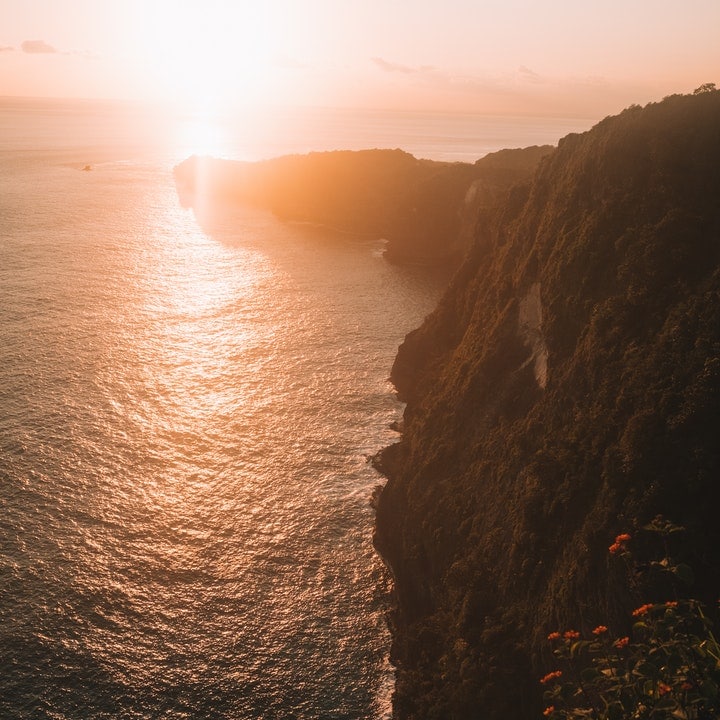 • Ubud, Bali, is known as Bali's spiritual heartbeat. It was once a peaceful hippie town, but it's gotten a bit busier. The busy center is filled with yoga centers, meditation, wellness centers, etc.
You do not need to go far to escape the busy city center. Visit the Sacred Monkey Forest Sanctuary, Campuhan Ridge Walk at sunrise, the Saraswati Temple, the Elephant Cave, and more. So much to see and do!
• Jakarta is the melting pot of Indonesia – filled with people who come from all over to live there – a bit more cosmopolitan than other cities in Indonesia. Check out the Istiqlal Mosque, the National Monument, National Museum, and Jakarta Old Town.
• Kuta is home to the best beaches in Bali, the Satria Gatotkaca Statue, and the Bali Sea Turtle Society. This is more of a tourist-y spot, but beautiful nonetheless.
• Denpasar, another city located in Bali, is home to the airport and attractions like Sindhu Market, Renon Square, and Sanur Beach.
• Java is home to Borobudur, a 7th-century Mahayana Buddhist temple, and the world's largest Buddhist temple. You do not want to miss this temple when you travel to Indonesia!
Must-See Sights in Indonesia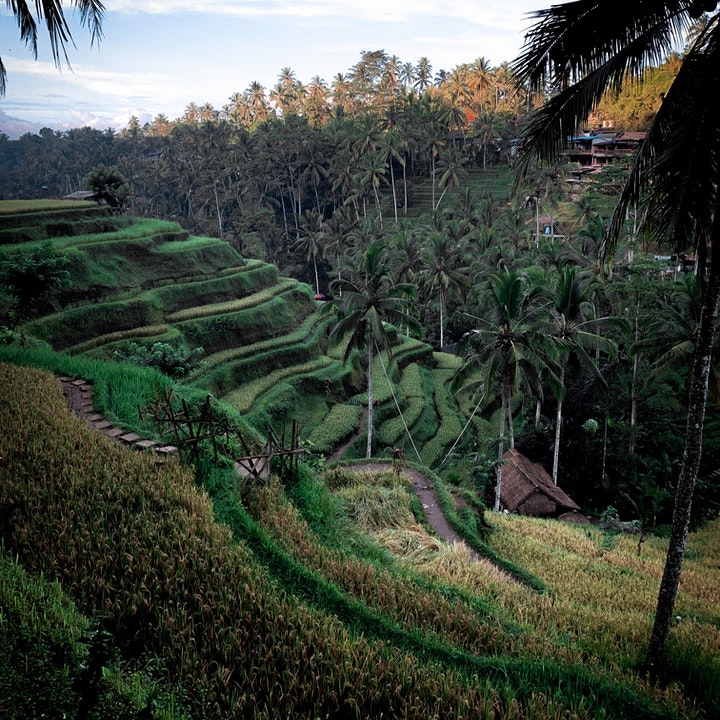 • Gili Islands
• Borobudur Temple
• Uluwatu Temple
• Prambanan Temple
• Sacred Monkey Forest Sanctuary
• Komodo National Park (UNESCO World Heritage site!)
• Seminyak
• Tegallalang Rice Terrace
• Ulun Danu Beratan Temple
• Sanur
• Besakih Temple
• Goa Gajah
• Pura Penataran Agung Lempuyang
• Tirta Gangga
• Pink Beach
• Ujung Kulon National Park
• Devil's Tears
• Canggu Beach
How To Get Around Indonesia
Going from island to island, air travel is the quickest and most convenient. Getting around on one island is fairly simple and cheap: bus, taxi, motorbike, becak or ojek. Prices will vary depending on where you are.
Before you set off for Indonesia, double check this international travel checklist planning guide so you don't forget anything!
Bucket List Experiences in Indonesia
• The Bali Swing.
• Stay on or near a rice field.
• Go on a tour of Komodo island and look for a Komodo dragon!
• VIsit Pink Beach.
• Go trekking at Bukit Lawang – one of the last places on Earth to watch Orangutans in the wild.
Where To Book Flights
The cost of airfare can quickly eat up your budget.
>> Click here to find the best flights to Indonesia
Where To Book Accommodations
Indonesia is home to some fantastic hotels.
>> Click here to find the best hotel deals in Indonesia
Housesitting is a great way to cut down on travel costs
>> Click here to find housesitting opportunities in Indonesia
Hostels are an affordable option when it comes to accommodations.
>> Click here to find hostels in Indonesia
Booking a vacation rental can help to save the budget.
>> Click here to find the best vacation rentals in Indonesia
Best Travel Tours in Indonesia
TourRadar: Bali Bucket List – 10 days
Start in Canggu and end in Seminyak! With the Adventure tour Bali Bucket List Original 10 Day Tour, you have a 10 days tour package taking you through Canggu, Indonesia and 5 other destinations in Indonesia. Bali Bucket List Original 10 Day Tour includes accommodation in a hotel as well as an expert guide, meals, transport and more.
ToursbyLocals: Orangutan & Local Heritage Private Tour into Indonesian Borneo – 4 days
This is a journey to see the only Great Ape living outside Africa-Orangutan "Man of the Forest". Exploring the third biggest island in the world-Indonesian Borneo and the magnificent Sekonyer River inside Tanjung Puting National Park. You will stay in the traditional wooden houseboat and its all nature element: the rhythm of the jungle, dancing trees, monkey calls, bird sounds, and thousands of stars. Local cuisine will accompany you to find the meaning of every detail.
TourRadar: Jakarta to Ubud – 14 days
Start in Jakarta and end in Ubud! With the Explorer tour Jakarta to Ubud, you have a 14 days tour package taking you through Jakarta, Indonesia and 6 other destinations in Indonesia. Jakarta to Ubud includes accommodation in a hotel as well as an expert guide, meals, transport and more.
Additional Reading
Podcasts: speak i n d o, Ibu Ery Podcast, The NOW! Bali Podcast, Being Bali
Books: A Brief History of Indonesia: Sultans, Spices, and Tsunamis: The Incredible Story of Southeast Asia's Largest Nation; Eat Pray Love; The Birdwoman's Palate
Movies That Will Make You Fall in Love with Indonesia: Eat Pray Love; Aruna and Her Palate; The Sinking of the Van der Wijck
Check out these Journo Adventures of travelers who have spent time in Indonesia: @ramonasmith on their journey through Bali & Vietnam, @Pickles trip to Bali, and @ilariabonomo's visit to Madakaripura Waterfall.
Read about the 10 best countries to visit in the world.
Now that you've seen our guide for travel to Indonesia, what did you think? Leave us a comment below!