When you travel to Portugal, you will experience happiness, joy, history, art, music, and another destination off your bucket list!
This country packs a punch with Pasteis de Nata, Porto wine, the Palace of Pena, Belem Tower, and cute little yellow tram cars to bring you around the cities.
Ready to pack your bags? Don't forget your international travel checklist planning guide and your travel journal!
General Information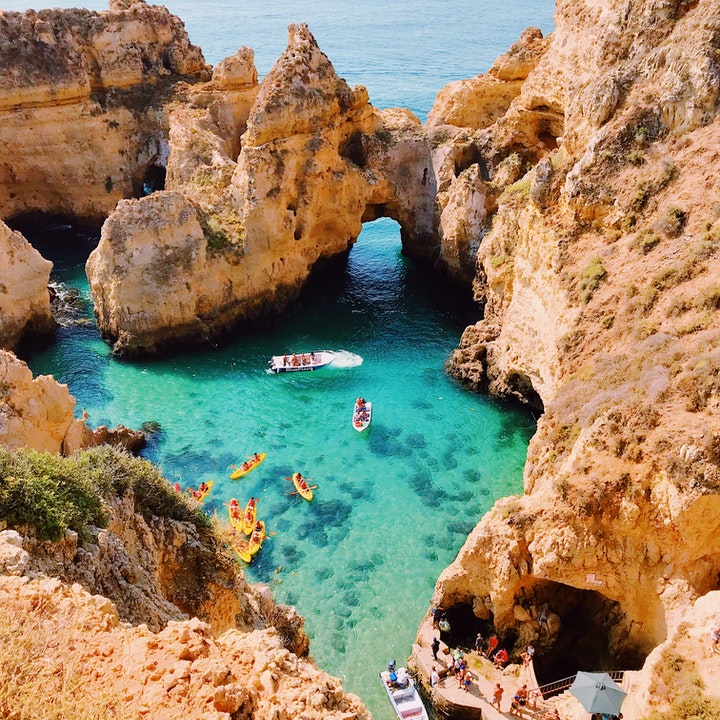 • Population: Roughly 10.3 million
• Capital: Lisbon
• Location: Sits to the left of Spain
• Flag: Left side is green, ride side is red, coat of arm sits between the two sides
• Time Zone: Western European Standard Time
• Currency: Euro
• Language: Portuguese
• Climate: Mainly a Mediterranean climate
• Religion: There is no official religion, but most of the country is Roman Catholic.
• Visa Requirement: To find out if a visa is required for your country — and easily get yours if needed — check out iVisa.com.
• Best Time To Visit: Fall(September-October) or Spring (March-May)
Health & Safety
• As of November 2021, the CDC does not recommend travel to Portugal, COVID-19 cases are still high. If you must travel to Portugal, make sure you are fully vaccinated before doing so.
• Find information regarding COVID-19 and Portugal here: https://pt.usembassy.gov/
• Follow the CDC guidelines for current travel advisories, as well as the U.S. Embassy guidelines.
Typical Costs in Portugal
Eating in Portugal is considered cheap by U.S. standards. Lunch from a bakery can cost around €5, and in a cafe usually, it costs between €5 and €12. Dinner will cost a little more. A cup of coffee is also €1 or .50 €.
Food To Eat in Portugal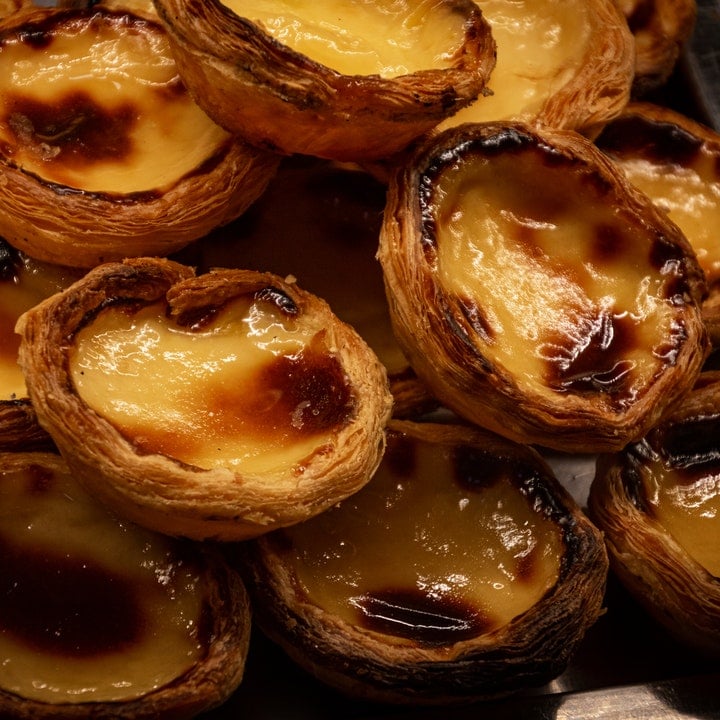 • Bacalhau in Portuguese means cod, so this dish is essentially dried and salted cod. You have to eat it in the beautiful country of Portugal, that greets the Atlantic Ocean (plenty of fish!). Hey, it's the national dish, too.
• Pastéis de Bacalhau are salted cod fritters or codfish cakes – a combination of cod and deep fried potatoes. You'll see this staple is a popular appetizer when you travel to Portugal.
• Sardinhas Assadas, is a classic grilled sardines dish and a very traditional dish in Portugal. You will find this dish at many festivals in Portugal, cooked on an open grill. It's simple but packs a punch with bold flavors.
• Arroz de Pato, also known as "duck rice" is a stew that features savory, shredded duck, chunks of smokey bacon, fatty chouriço, and stock-infused rice.
• Cataplana de Marisco is a blend of different tasty kinds of seafood, such as prawns, littleneck clams, and chorizo sausage. All combined together in one skillet, the dish brings aroma and flavor together.
• Gambas a l'Ajilo is a sweet shrimp dish that is also popular in Spain. Big, sweet shrimp are marinated with salt and garlic and cooked in olive oil.
• Pasteis de Nata isa Portuguese egg custard tart pastry dusted with cinnamon. Trust us, these things are so good, you are going to want to add 'travel to Portugal' to your to-do list.
• Francesinha is a sandwich originally from Porto, made with bread, wet-cured ham, linguiça, fresh sausage like chipolata, steak or roast meat, and covered with melted cheese and a hot and thick spiced tomato and beer sauce.
Drinks To Try in Portugal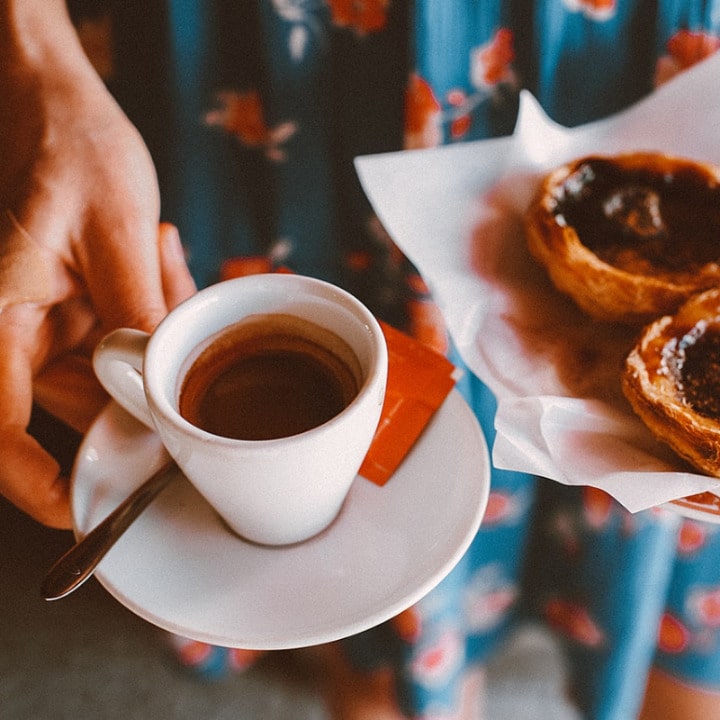 • Medronho is a spirit that's made from Medronho berries, which grow wild throughout Portugal. It's become increasingly popular.
• Coffee is common for many people in Portugal. They like to go out and grab a cup from the local coffee shop in the mornings, rather than make it at home.
• Beirão is made from 13 seeds and herbs from all around the world, like eucalyptus, cinnamon, rosemary, alecrime, and lavender. It has a slightly sweet taste with a herby and medicinal flavor.
• You have to try the Porto wine when you travel to Portugal.
Top Cities To Visit in Portugal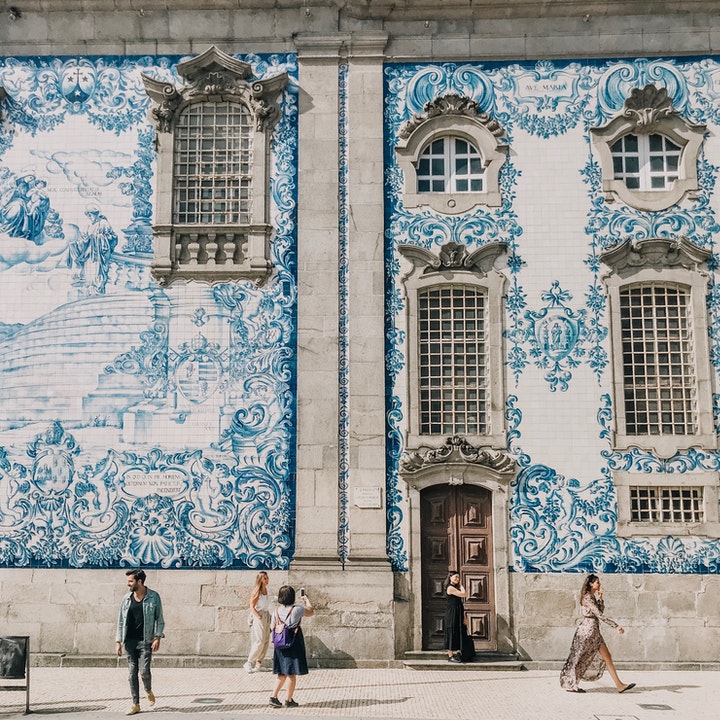 • Lisbon is a European capital that is sure to live up to its reputation. It's got great nightlife, vibrant museums, yummy food and wine, markets, and more. Check out São Jorge Castle, Carmo Convent, Sé Cathedral, The National Azulejo Museum, and the Belém Tower when you travel to Portugal.
• Porto is a vibrant destination for foodie lovers and adventurists. Did we mention it's home to old town, a UNESCO World Heritage site? Check out Praia dos Ingleses, Livraria Lello if you're a book lover, Mercado Bom Sucesso, Rua das Flores, and Igreja do Carmo.
• Albufeira hugs the coast of the southern Algarve region, home to some of the best beaches in Europe and popular among visitors. When you travel to Portugal, it is so important that you stop here, enjoy the beach, feast on seafood, and party hard.
• Funchal is said to have been a bridge between the old and new worlds. Check out Pico de Arierio, Monte Palace Madeira, and Santa Maria Street.
Must-See Sights in Portugal
• Park and National Palace of Pena
• Belém Tower
• Castelo de S. Jorge
• Livraria Lello
• Praça do Comércio
• Jerónimos Monastery
• Ponta da Piedade
• Chapel of Bones (Évora)
• Benagil Caves
• Sanctuary of Christ the King
• Ursa Beach
• Praia da Adraga
• Boca do Inferno
• Igreja do Carmo
• The Initiation Well
• The Jerónimos Monastery
How to Get Around Portugal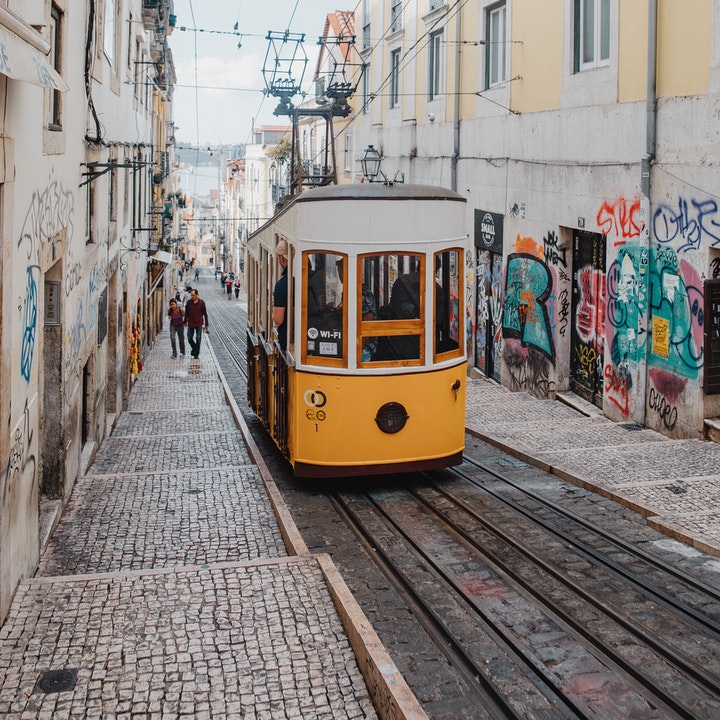 There are a few ways to get around Portugal, including trains, busses, trams, motorbikes, cars, and cycling. Many of these options are affordable and easy to use – travel to Portugal will most likely be a flight(or two), depending on where you are located.
Riding one of the tram cars is an experience you should add to your list!
Bucket List Experiences in Portugal
• Climb the Initiation Well.
• Tour the National Palace of Pena
• See Igreja do Carmo.
• Visit the Christ the King Statue.
• Visit Belem Tower.
Where To Book Flights
The cost of airfare can quickly eat up your budget.
>> Click here to find the best flights to Portugal
Where To Book Accommodations
Portugal is home to some fantastic hotels.
>> Click here to find the best hotel deals in Portugal
Housesitting is a great way to cut down on travel costs.
>> Click here to find housesitting opportunities in Portugal
Hostels are an affordable option when it comes to accommodations.
>> Click here to find hostels in Portugal
Booking a vacation rental can help to save the budget.
>> Click here to find the best vacation rentals in Portugal
Best Tours/Travel Packages in Portugal
TourRadar: Heart of Portugal – 9 days
With our Heart of Portugal tour you'll find yourself immersed in the culture and custom of the Portuguese people. Traverse her scenic roads, cook in a wood-fired oven, alongside a Portuguese family, enjoy off-the-beaten-path adventure and sample the diverse dishes and distinctive wines of the area. Experience not simply the points of interest, but places of prominence that only a local can share. Enchant yourself in her stunning landscapes, colorful people, irresistible food and luscious wines. You'll be enriched and delighted by "Europe's Best Kept Secret".
ToursbyLocals: Full Day Tour of Sintra and Cascais Highlights
On this full day narrated tour, I will give you a tour of Pena Palace, a romantic site which was home to the last generation of Portuguese royalty. We will also do a small tour of the town itself and get the chance to taste Portugal's culinary traditions by trying out the local pastries specific to Sintra.
GAdventures: Highlights of Portugal – 7 days
In Portugal, the sun is bright, the food is delicious, and the living is easy. Wander the hilly streets of coastal Lisbon, where you can munch on a custard tart while gazing at sun-dappled architecture. Get your fill of history and culture at UNESCO World Heritage Sites like the Monastery of Batalha, Coimbra University, and the picturesque town of Sintra (optional). End the tour in Porto, where the majestic Douro Valley begs for you to lounge back with a glass of port wine in hand. Felicidades! And welcome to Portugal.
Additional Reading
Podcasts: The World Nomads Podcast: Portugal; The Amateur Traveler
Books: The Book of Disquiet by Fernando Pessoa; The year of the death of Ricardo Reis by José Saramago; Conquerors: How Portugal Forged the First Global Empire by Roger Crowley
Movies To Make You Fall in Love with Portugal: Tabu, Blood of my Blood, Lisbon Story; Night Train to Lisbon
Check out these Journo Adventures of travelers who have spent time in Portugal:
@markwilliams has been hopping to several parts of the country!
Now that you've seen our guide for travel to Portugal, what did you think? Are you ready to jet off?