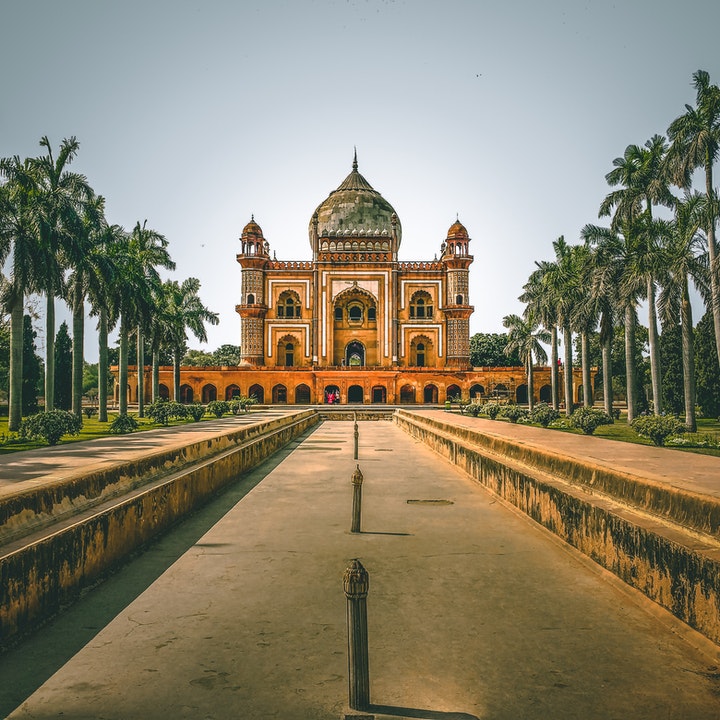 Travel to India on your bucket list? As one of the most popular tourist destinations in the world, and one of the oldest civilizations in the world, the country is booming with natural beauty, bustling cities, temples, and palaces.
Marked off by mountains and the sea, India is its own little paradise in southeast Asia.
Visit the Taj Mahal, travel the Golden Triangle, follow Buddha's footsteps, and explore the colorful celebration of Holi.
Here's all you need to know for travel to India in 2022.
General Information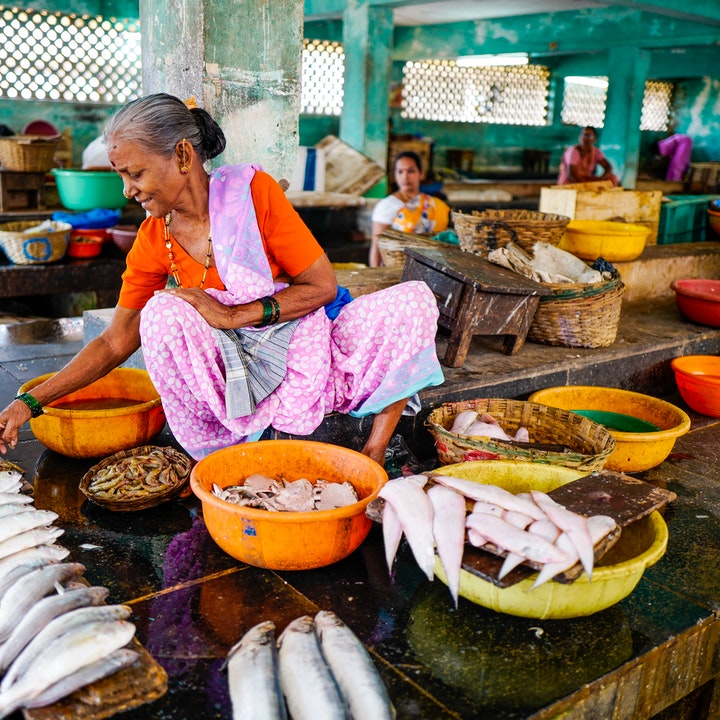 Population: Roughly 1.3 billion (2nd most populous country)
Capital: New Delhi
Location: Located in southeast Asia, India shares borders with Pakistan, China, Bangladesh, Bhutan, Myanmar, and Nepal. The county sits on the Bay of Bengal and the Arabian Sea.
Flag: Three horizontal strips of India saffron, white, and green with Ashoka Chakra, a 24-spoke wheel, in the middle.
Time Zone: India Standard Time (GMT + 5:30)
Currency: Indian rupee (₹) (INR)
Language: The official languages are Hindi and English, but there are no recognized national languages.
Climate: Most of the country is considered to have a tropical climate, with wet and dry tropical weather.
Religion: The Indian subcontinent is the birthplace of four major religions: Hinduism, Buddhism, Jainism, and Sikhism. The constitution says that India has no state religion.
Travel Visa Information: To find out if a visa is required for your country — and easily get yours if needed — check out iVisa.com.

Best Time to Visit: Visit from December to March, during India's winter.
Health & Safety
As of June 2022, the CDC says the number of cases of COVID-19 in India is low. If you must travel to India, make sure you are fully vaccinated.
Find information regarding COVID-19 and travel to India here: https://in.usembassy.gov/
Follow the CDC guidelines for current travel advisories, as well as the U.S. Embassy guidelines.
Typical Costs in India
For one person, accommodation in India will cost roughly ₨1,120, or $14 USD. An average meal for one person will cost roughly ₨273, or $3.50 USD. This is the price of street food or fast food.
Foods To Eat in India
When you travel to India and are looking for a tasty, satisfying meal, try masala dosas. These are thin and pancake-like, stuffed with potatoes.
Samosas are a popular snack for tea time – these are made of potato stuffing, fried or baked, and served with mint or tomato chutney.
Tandoori chicken or tandoori murgh is special because of how it is prepared. It is cooked at high temperatures in cylindrical clay ovens called tandoor, which creates a juicy piece of chicken with a smokey flavor. The chicken is marinated in yogurt, seasoned with tandoori masala, nutmeg, and cumin.
Butter chicken, which you may have tried before, is a popular dish that combines chicken, tomato, butter, red chili powder, garlic, ginger, fenugreek, and cream. It's a dish you will love.
Travel to India and you're probably looking for some naan. This is a popular flatbread with a chewy texture that consists of white flour, yeast, eggs, milk, salt, and sugar, baked in a tandoor oven.
Chutneys are the base of Indian cuisine. They are made of pickled or stewed fruit and vegetables that are cut into small chunks, then seasoned with spices such as cumin, cardamom, tamarind, ginger, and turmeric. They are served in small, round bowls and are used to cool the palate.
Roti is a flat, unleavened bread made with wholemeal flour. It is cooked on an iron griddle called a tava. Yes, you can eat these at breakfast time!
Chicken biryani consists of rice, spices, chicken, eggs, or vegetables, and other optional ingredients such as dried fruits, nuts, and yogurt. Briyani can be made with different kinds of meat.
Drinks To Try in India
Masala chai is made with black tea, whole milk, sugar and spices (will vary) such as cardamom, cinnamon, cloves, star anise, ginger, black pepper and nutmeg.
Lassi is made with the base of yogurt, and can be made sweet or savoury. This drink is a great "tranquiliser" for spicy Indian food.
Paneer Soda is made with the water or essence of roses, sugar, and soda or sparkling water. This is a common, refreshing soda often sold by street vendors in India.
Filter coffee, also called Filter Kaapi, is made by filtering coffee slowly through a stainless steel filter before being mixed with milk and sugar.
Toddy, or palm wine, or coconut wine, is an alcoholic beverage made from the fermentation of sap extracted from palm trees, such as coconut.
Top Cities to Visit in India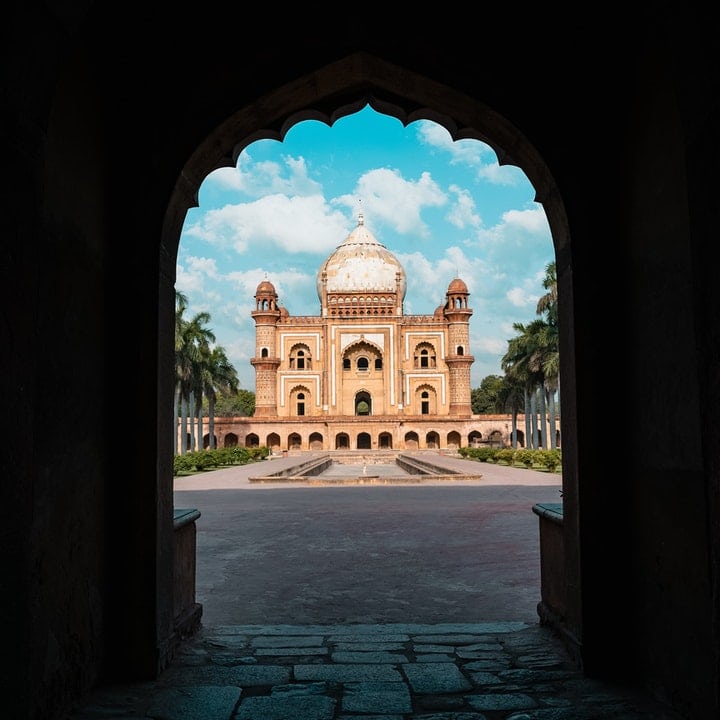 When you travel to India, you'll find that there's so much to do in the capital city of New Delhi.
The city is home to almost 22 million people living in shanty neighborhoods to palaces. Sights you can't miss include the 17th Century Red Fort, Chandi Chowk for shopping and haggling, the India Gate, Jantar Mantar (features sundials that are still used to predict the weather), Humayun's Tomb, the Lodhi Garden, and more.
In new Delhi, you can also pay a visit to Raj Ghat, a memorial to Mahatma Gandhi.
Mumbai is home to historical sights, cultural institutions, markets, and so many opportunities to see the incredible architecture. One of the most well known historical sights is the Gateway of India, and you can see it in Mumbai! You can also see Chhatrapati Shivaji Terminus, Haji Ali Dargah, Mount Mary's Basilica, the Taj Mahal (UNESCO World Heritage site + Wonder of the world!), Elephanta Cave Temples, Chor Bazaar, The Sanjay Gandhi National Park, Colaba Causeway, Juhu Beach, Babulnath Temple, and more.
Goa is located on the west coast of India, and it's a beach lover's paradise. Think white sand, palm trees, and crystal clear waters. Yes, please! When you travel to India, you'll find the hustle and bustle in the cities, but make a stop in Goa for some well-deserved R&R after all that haggling! Visit the Saturday Night Market, Basilica of Bom Jesus, Menezes Braganza Pereira House, Bhagwan Mahavir Wildlife Sanctuary, the Tropical Spice plantation, and more.
Must-See Sights in India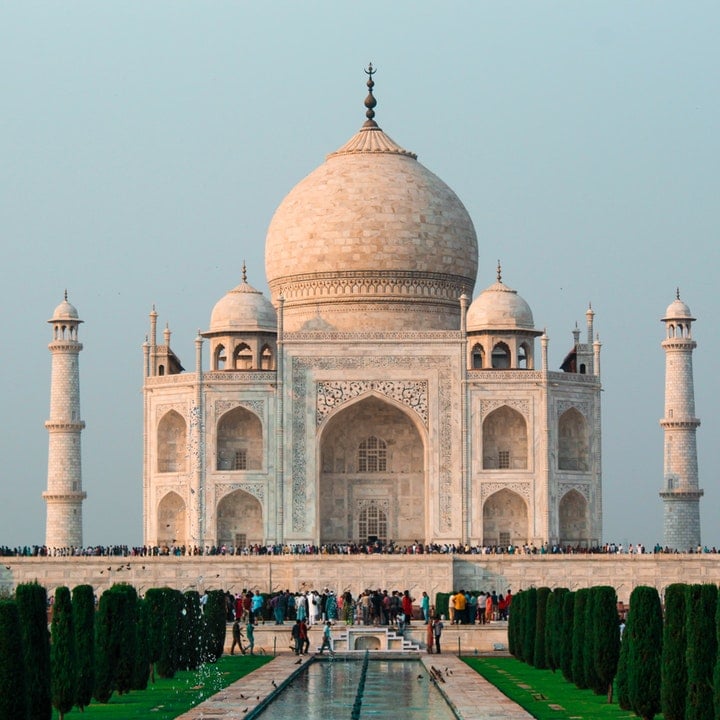 Taj Mahal (UNESCO World Heritage & Wonder of the World)
Amber Palace
Hawa Mahal
Red Fort (UNESCO site)
City Palace, Jaipur
Humayun's Tomb (UNESCO site)
Jim Corbett National Park
Agra Fort (UNESCO site)
India Gate
Ajanta Caves (UNESCO site)
Valley of Flowers National Park
Victoria Memorial
Mahabodhi Temple
Raj Ghat
Jama Masjid 
Periyar National Park
Elephanta Caves (UNESCO site)
The Golden Temple (Be sure you are dressed appropriately.)
…there are so many! 
How To Get Around India
While you're packing for travel to India, be sure to pack your patience. This country is not known for having quick, efficient forms of travel, however, public transportation is reliable.
Travel by train is affordable, accessible, and will take you everywhere in the country.
You can travel by bus in more rural areas, with different classes to meet every budget, and you can travel by plane depending on where you need to go.
You can rent a car, however, in the cities you will likely be sitting in traffic and in more rural areas, the roads are in poor condition.
Bucket List Experiences in India
Visit the Taj Mahal, a UNESCO-World Heritage site and a Wonder of the World.
Visit Jaipur, the Pink City.
Go camping in the Thar Desert.
Go paragliding in Bir Billing.
Experience Holi at Vrindavan.
Where To Book Flights:
The cost of airfare can quickly eat up your budget.
>> Click here to find the best flights to India.
Where To Book Accommodations
India is home to some fantastic hotels.
>> Click here to find the best hotel deals in India.
Housesitting is a great way to cut down on travel costs.
>> Click here to find housesitting opportunities in India.

Hostels are an affordable option when it comes to accommodations.
>> Click here to find hostels in India.
Booking a vacation rental can help to save the budget.
>> Click here to find vacation rentals in India.
Best Travel Tours/Packages in India
TourRadar: Royal India – 14 days
Experience the richness of Indian culture on this classic Royal India tour. Begin in Delhi with a visit to old and new Delhi, explore the magnificent Taj Mahal in Agra, and the stunning pink city, Jaipur visiting famous landmarks including the magnificent Amber Fort. Continue to the sacred city of Hindu's – Pushkar; wander around the famous 8th century Brahma Temple dedicated to Lord Brahma and Pushkar Lake. Then travel to Rajasthan's most romantic city, Udaipur to witness its rich history matched by its picturesque setting among the Aravalli Mountains and three manmade lakes. While in Jodhpur explore the majestic Mehrangarh Fort, Patwon ki Haveli and in Jaisalmer the Salim Singh ki Haveli. On the way to Bikaner and Mandawa, you will see the most beautiful wall paintings and mansions before traveling back to Delhi for last-minute shopping.
ToursbyLocals: Sunrise Taj Mahal Tour
It is a cultural/historical tour of Agra, in this day tour we visit one of the the modern wonder of the world "Taj Mahal" (listed in UNESCO).
GAdventures: Uncover India: High Deserts and Markets – 15 days
Now's the time to explore India on your terms with this tour that's affordable for young travellers. Join us on a 15-day tour that showcases India's man-made wonders and natural marvels without missing its most famous cities and sights. Get your phone ready for the shining marble of the Taj Mahal and the sparkling shores of Goa, not to mention Rajasthan's colourful forts and temples. Then opt to put your phone away as you truly connect with the culture and spirit of this incredible land. Our expert Chief Experience Officers (CEOs) let you and your fellow travellers encounter India the way you (and your wallet) like.
Additional Reading
Movies That Will Make You Fall in Love with India: A Little Princess; Jungle Book; Slumdog Millionaire; Eat Pray Love
Books: Eat Pray Love; India After Gandhi by Ramachandra Guha; The Argumentative Indian by Amartya Sen
Podcasts: The Mythpat Podcast; Maed in India
More from Journo:
The History & Heritage of an Iconic Indian Sandal
Breakfasts from Around the World: 52 Traditional Dishes
Check out Lomo & Joy's adventures in India, Timothy's adventures, and Sikkim Adventures with @Daredevil90!
Now that you've seen our guide to India, what did you think? Did we miss anything? Leave us a comment below!