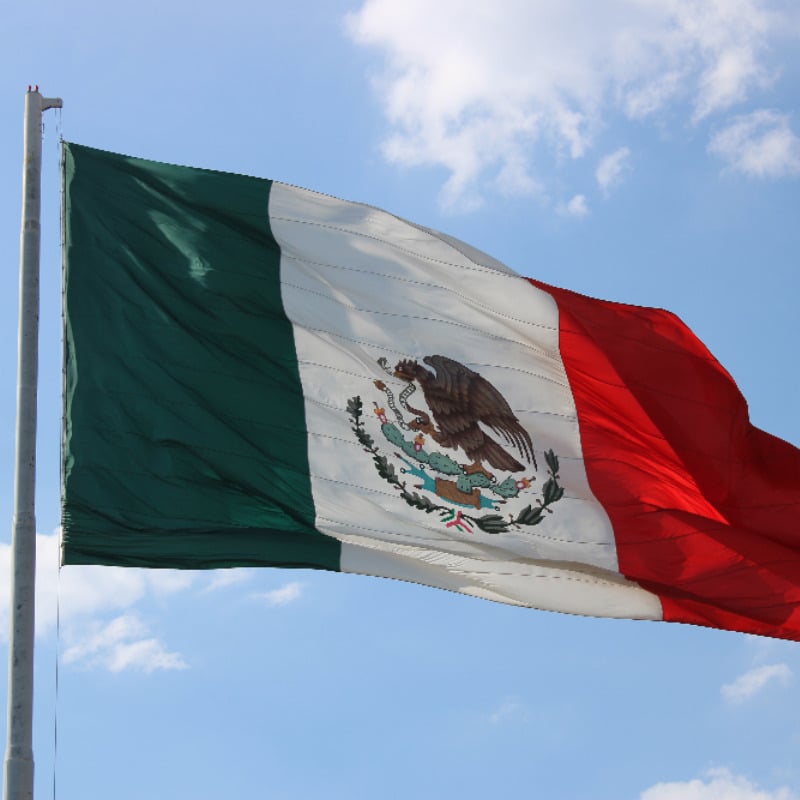 Travel to Mexico will fulfill your sense of wanderlust through historical sites, the most lovely Mexican dishes, and Mezcal, art, and nightlife.
In this country, you can swim in pink lakes, celebrate the Day of the Dead, chow down on Mexican street corn, learn about the land of the Aztecs, and step inside Frida Kahlo's house.
Here's all you need to know to travel to Mexico in 2022.
General Information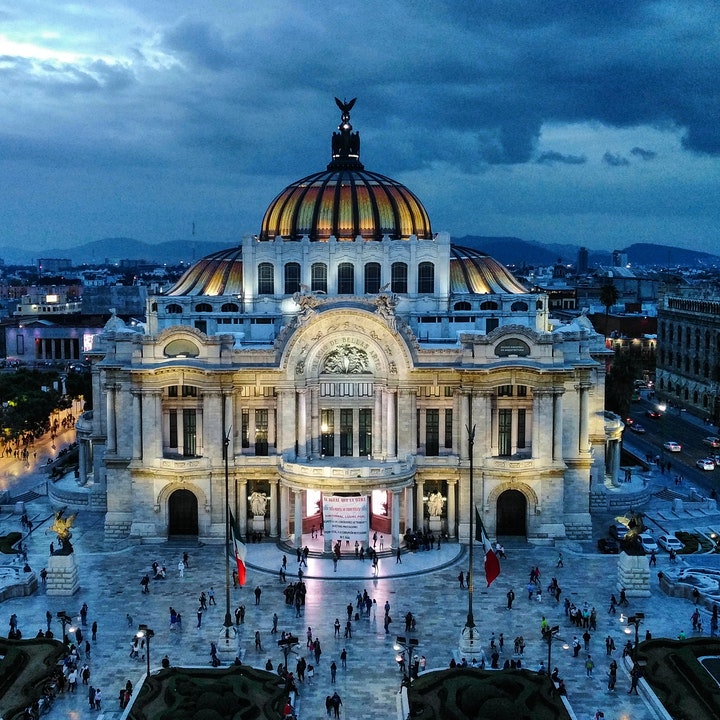 Population: Roughly 126 million people

Capital: Mexico City
Location: Mexico is located in the southern portion of North America, sharing borders with the United States, Guatemala, and Belize. 
Flag: Three stripes of green, white, and red with the national coat of arms in the center. 
Time Zone: CST or MST 
Currency: Mexican peso 

Language: The national language is Spanish, and other recognized languages are Amerindian languages.
Climate: The climate varies due to the size and location of the country. The Tropic of Cancer splits the country into temperate and tropical zones. 
Religion: Roman Catholicism is the country's most dominant religion. It is the second-largest Catholic community in the world, after Brazil. Other religions include Protestantism or no religion. 
Travel Visa Information: To find out if a visa is required for your country — and easily get yours if needed — check out iVisa.com.
Best Time to Visit: Visit between November and March for the nicest weather, but the most crowds. November is warm, dry, and a good time to avoid heavy rainfall. 
Health & Safety
As of June 2022, the CDC is reporting a moderate number of cases of COVID-19 in Mexico. ​​When you travel to Mexico, make sure you are vaccinated and up to date with your COVID-19 vaccines.
In addition to COVID-19, the CDC recommends you "practice enhanced precautions" when visiting Mexico because of an increased number of cases of monkeypox in several countries. 
Find information regarding COVID-19 and travel to Mexico here: https://mx.usembassy.gov/ 
Follow the CDC guidelines for current travel advisories, as well as the U.S. Embassy guidelines.
Typical Costs in Mexico
When you travel to Mexico, expect the cost for one person for accommodation to be roughly M$674, or $34 USD. Dining out in Mexico will cost around M$161 per person, or $8 USD. Street food is generally cheaper, as in most places. Of course, if it's El Pollo Loco, from our list of fast food in other countries, it's affordable.
Food To Eat in Mexico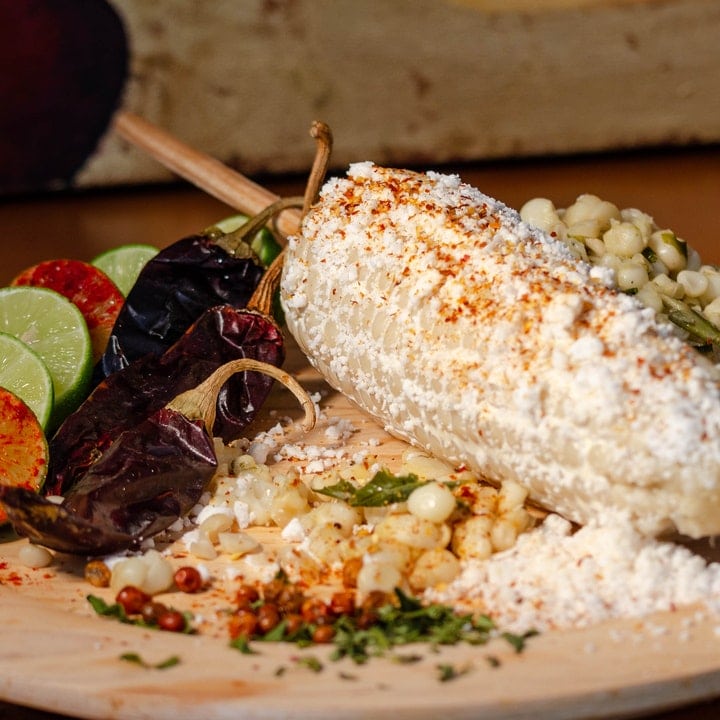 Travel to Mexico for elote, or Mexican street corn. You can get regular corn on the cob, but Mexican street corn is slathered in mayonnaise and then sprinkled with cotija cheese and chilli powder. It is heavenly.
Mole is usually served in the U.S. over enchiladas. All moles feature chiles, but modern moles can be made with chocolate, spices and other ingredients like nuts, seeds, garlic, onions, cinnamon and all types of chiles.
Flautas are rolled-up flour tortillas stuffed with beef, chicken, or cheese. Then, it's deep fried. Yum!
Chilaquiles are most often served as a brunch dish in Mexico, and that's why they made it on our list of 52 Breakfasts around the world. Similar to nachos, chilaquiles are soaked in a red or green chilli sauce and then topped with cojita cheese and onions.
Order fajitas at a Mexican restaurant and you will not be disappointed. They come with beef, chicken or shrimp, peppers and onions, and tortillas to roll all the goodies into.
Guacamole with tortilla chips or chicharones. Order it as an appetizer ahead of the rest of the delicious food you'll be eating.
Churros are a common dessert – they're soft and chewy, and crispy.
Tacos. Duh!
Drinks To Try in Mexico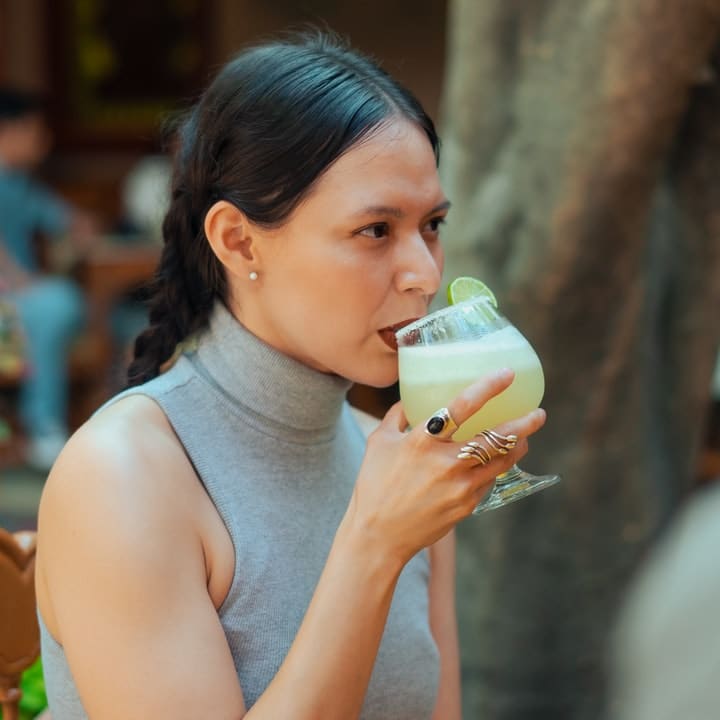 Mezcal is a distilled alcoholic beverage made from the maguey plant native to Mexico. 
Margaritas! The iconic cocktail for Taco Tuesdays and Cinco de Mayo – no matter where you are celebrating. Learn how to make them with our guide: 16 Iconic Cocktails From Around the World & How To Make Them.
Tequila! The infamous liquor is aplenty in Mexico and absolutely delicious.
The Margarita Al Pastor from Licoreria Limantour in Mexico City was voted one of the best bars in the world in 2021.
Horchata began in Spain but was imported to the Americas and now it is known as the common rice beverage found in Mexico. The Mexican version features soaked white rice and other spices. 
Top Cities To Visit in Mexico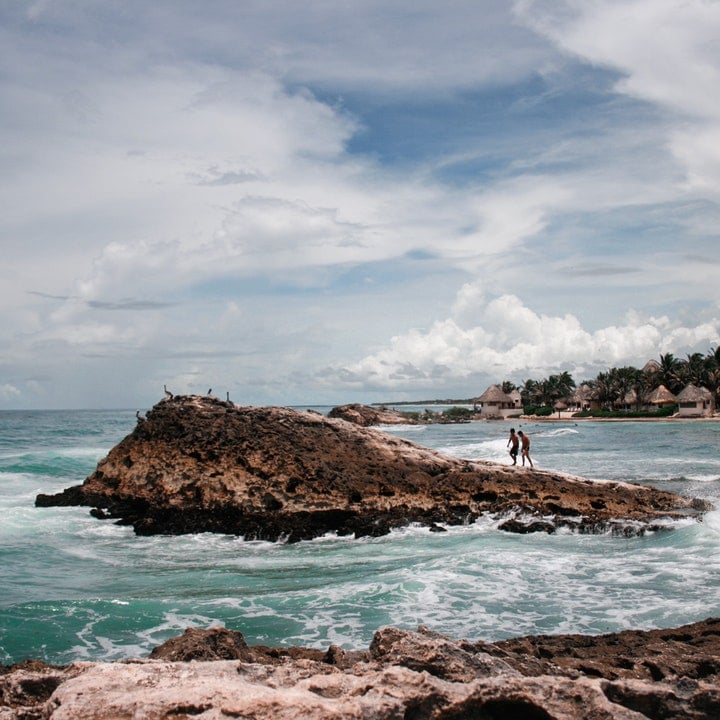 Mexico City, the capital of Mexico, is home to a plethora of delicious food, vibrant nightlife, arts, and history. The city can be compared to any other metropolis, due to its scale and incredible energy. Enjoy the city's nightlife and walk around Centro Historico, but take time to learn about the city's history(which dates back to the Aztecs) during the day. Visit Museo Nacional de Antropologia, Chapultepec Castle, Palacio de Bellas Artes, the Cathedral, and Frida Kahlo's Casa Azul to start.
Cancun is known for its sea, sun, and Tequila. And that's still true! However, there's much more to the city. While there are plenty of places to party, there are luxury options as well as family-friendly excursions too.
While many people say that Tulum is a tourist trap, and maybe in some ways it is, there are still some beautiful things to see and delicious restaurants to try. Tulum was one of the last cities to be built by the Mayans, and the Mayan ruins overlook the city. You can not leave Tulum without visiting El Castillo, the Temple of the Frescoes, the Temple of the Descending God, and swimming in a cenote.
Must-See Sights in Mexico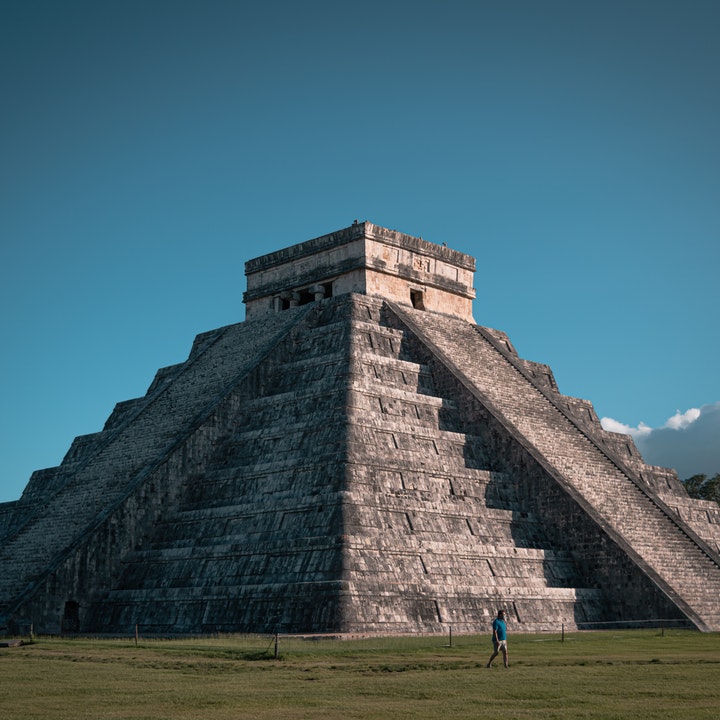 Tulum Archaeological Zone
Chichen Itza (El Castillo) (Wonder of the world)
La Catedral Metropolitana
Teotihuacán
Ox Bel Ha, the world's largest underground cave system.
cenotes of Yucatán
Hierve el Agua
Las Pozas
Las Coloradas
Parícutin (Wonder of the World)
Museo Nacional de Antropología
Palacio de Bellas Artes
Frida Kahlo Museum
Templo Mayer Museum
Cancún National Marine Park/Underwater Museum
Mexico City Cathedral
Ik Kil
Chapultepec Castle
Pyramid of the Sun
Copper Canyon
The Arch of Cabo San Lucas
Island of the Dead Dolls
Templo de Santo Domingo de Guzmán
Agua Azul Waterfalls
Museum of the Mummies of Guanajuato
Xoximilco
Archaeological Site of Yaxchilán
…..we could go on for days!

How To Get Around Mexico
The most common way to get around most cities in Mexico is via the public bus system, this is easy, safe, and cheap. You can also use the subway system. There is no train system in Mexico, but you can rent a car – this is an affordable option.
Bucket List Experiences in Mexico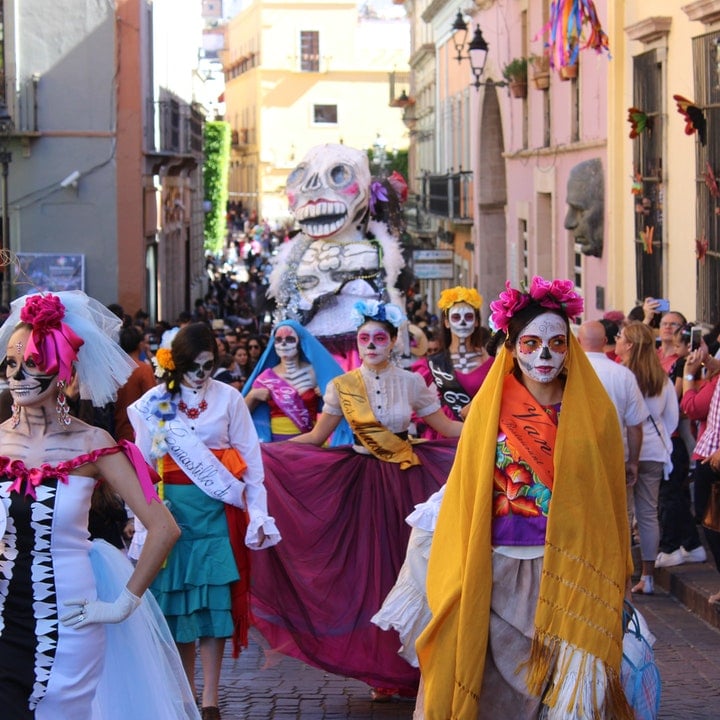 Visit Chichen Itza, one of the 7 New Wonders of the World.
Learn how to salsa.
Swim in a cenote.
Visit the pink lakes of Las Colorados.
Visit Frida Kahlo's home in Mexico City or the museum.
Experience La Dia Del Los Muertos, or Day of the Dead.
Take a train ride through Copper Canyon.
Visit Oaxaca – a UNESCO World Heritage site.
Attend a Lucha Libre fight!
Where To Book Flights
The cost of airfare can quickly eat up your budget.
>> Click here to find the best flights to Mexico.
Where To Book Accommodation
Mexico is home to some fantastic hotels.
>> Click here to find the best hotel deals in Mexico.
Housesitting is a great way to cut down on travel costs.
>> Click here to find housesitting opportunities in Mexico.

Hostels are an affordable option when it comes to accommodations.
>> Click here to find hostels in Mexico.
Booking a vacation rental can help to save the budget.
>> Click here to find vacation rentals in Mexico.
Best Travel Tours/Packages in Mexico
TourRadar: Mexico's Day of the Dead in Oaxaca National Geographic Journeys – 7 days
Celebrate one of Mexico's most intriguing—and unusual—festivals in the eclectic city of Oaxaca, where indigenous culture holds strong. During Day of the Dead, which takes place at the end of October and early November each year, pre-Hispanic traditions honouring the departed merge with Catholic feasts to create a truly unique holiday. Delve into the bizarre and beautiful spirit of Día de los Muertos, witnessing spectacular street dances, costumes, and altars while discovering the picturesque landscapes and mouthwatering flavours of Oaxaca.
GAdventures: The Most Mexico: Central Mexico, Yucatan & Cancún – 16 days
Can't decide where to travel in Mexico? Then just, you know, don't and choose this epic 16-day adventure that hits all the best parts instead. Travel from one oh so beautiful hostel to the next as you venture from Mexico City all the way to Cancún. You'll discover the cultures, landscapes, and flavours (tacos and tequila just scratch the surface) of Central Mexico before heading to the jungles, ruins, and white sand beaches of the Yucatán Peninsula. Cap things off with a few incredible days of classic Cancún good times, and you've got yourself a Mexico adventure you'll never forget.
ToursbyLocals: Chichén-Itzá – The Private Full Day Tour
One of the new 7 wonders of the new world, along with the Chinese wall, the Taj Mahal and others, the majesty of Chichén Itza involves the city that has a giant solar clock. Here, we will find the mixture of 2 cultures the Mayan and Toltec.
Additional Reading
Movies To Make You Fall in Love with Mexico: Coco; Frida; El Infierno; The Book of Life; Roma
Books: This is Mexico; We Are Not From Here; We Are All the Same in the Dark
Podcasts: Mexico Unexplained; Dream to Destination; Lost in Mexico
Check out these Journo Adventures of travelers who have been there! @corinabotello took a tour of the West Coast and into Mexico, @Nedwoc watched a Luche Libre fight, and @Emmaf_5 found tons of mole in Oaxaca.
Now that you've seen our guide for travel to Mexico, what did you think? Leave us a comment below!