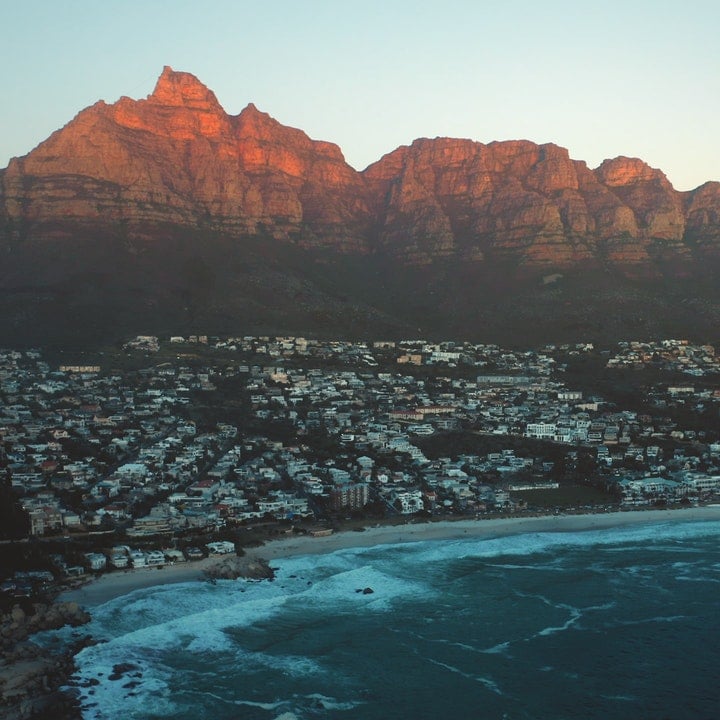 Home to not one, not two, but nine UNESCO World-Heritage sites, travel to South Africa should be added as an item on your bucket list.
With African, Dutch, French, Malay, and other cultural influences on food, music, clothing, and more, South Africa is a destination for adventurists, animal lovers, and travel junkies alike.
Psst! Grab your travel journal and a few of these travel journal writing prompts before you head on your journey!
Here's our 2022 guide for travel to South Africa.
General Information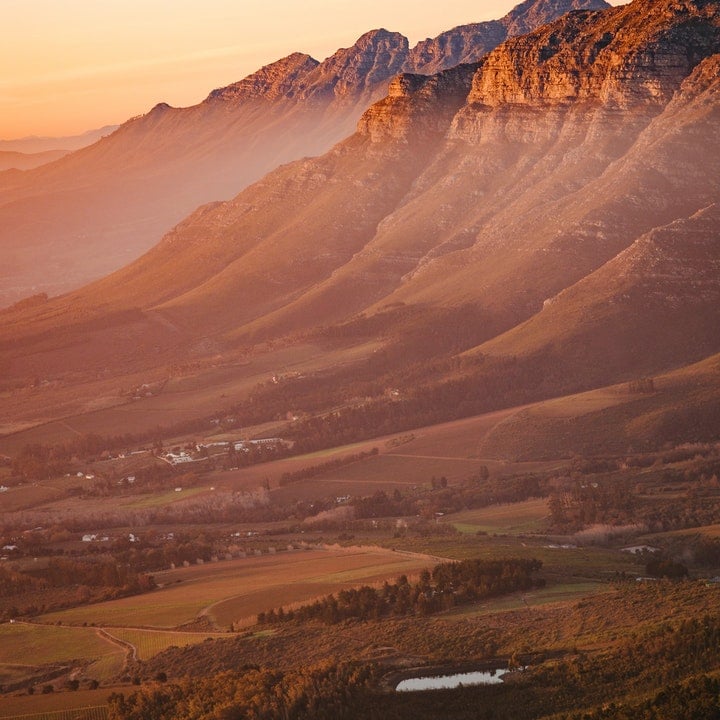 • Population: Roughly 60 million
• Capital: Pretoria (executive); Bloemfontein (judicial); Cape Town (legislative)
• Location: The southernmost country in Africa, South Africa shares borders with Namibia, Botswana, Zimbabwe, Eswatini, Mozambique, and Lesotho.
• Flag: Red and blue with a black isosceles triangle on the left side and a central green band that splits into a horizontal Y. Yellow band around the isosceles triangle, and white bands around the Y.
• Time Zone: South Africa Standard Time (GMT+2)
• Currency: South African rand (ZAR)
• Language: South Africa has 11 official languages: Zulu, Xhosa, Afrikaans, English, Pedi, Tswana, Southern Sotho, Tsonga, Swazi, Venda, and Southern Ndebele.
• Climate: A generally temperate climate, because the country sits in the Southern Hemisphere and is surrounded by the Atlantic Ocean and the Indian Ocean on three sides.
• Religion: The majority of religion practiced in South Africa are Protestants and Catholics.
• Travel Visa Information: To find out if a visa is required for your country — and easily get yours if needed — check out iVisa.com.
• Best Time to Visit: The best time to visit South Africa is from May to September when the weather is best for viewing big game. From November to February, also a good time to visit, expect rainier days but still warm temperatures.
Health & Safety
• As of March 2022, the CDC does not recommend travel to South Africa if you are not up to date with vaccines, as cases of COVID-19 are high.
• Find information regarding COVID-19 and travel to South Africa here: https://za.usembassy.gov/
• Follow the CDC guidelines for current travel advisories, as well as the U.S. Embassy guidelines.
Typical Costs in South Africa
$1 (USD) equals 15.05 ZAR (South African Rand). Expect to spend roughly R699, or $45 per night per person for accommodation. This varies depending on how luxurious your accommodation is, whether you book a hostel or hotel, etc. When dining, expect to spend roughly R122 ($8) per person per meal or roughly R300 ($24) per person per day. The usual tip amount for guides or service providers in South Africa is 5%-15%.
Food To Eat in South Africa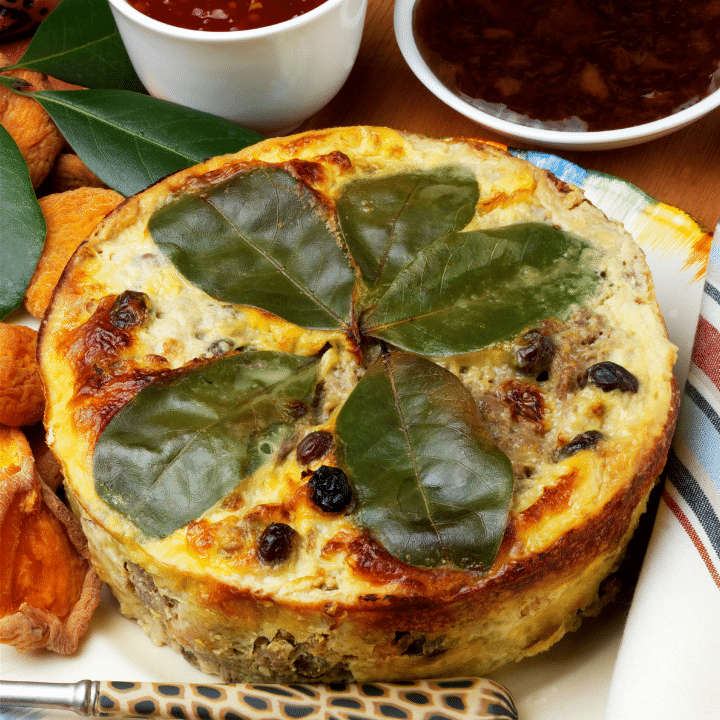 African cuisine has been influenced by many cultures throughout the decades, including African, Dutch, French, Malay, and more. When dining out, it is custom to tip in South Africa, roughly 10-15%.
• If your tour guide or better yet a local invites you to a Braai when you travel to South Africa, you best say yes! Braais are more than just barbecued food and grilling, they are a social event for everyone to enjoy and rooted deep in South African culture. Similar to a barbecue at home, friends and family bring meats to grill, salads, etc. to contribute to the meal and time spent with each other.
• Vetkoek are another wholesome dish from South Africa – these are fried doughnuts stuffed with minced meat, boerewors, or cold meats. The term "vetkoek" translates to "fat cake," and we can see why! You can find these at braais, from food trucks, at restaurants, and almost everywhere.
• You might try Boerewors when you travel to South Africa. It's sausage! Boerewors is a rich, spicy sausage that originates from both South Africa and Namibia, meaning "farm sausage."
• Biltong is a beloved snack and simply – a dried, cured, and spiced meat. It's similar to beef jerky, but not as sweet.
• Bobotie consists of spiced mince, an egg-based topping, and traditionally raisins or sultanas. This is a sweet dish that can include curry, almonds, and turmeric.
• Koeksisters are a tasty tea-time treat! They are fried pieces of dough – crispy outside, doughy inside, and pure bliss.
• Considering that you will be in a country that touches two oceans on three sides, you should probably give the fish and chips a try. You can find it almost anywhere when you travel to South Africa.
• The tomato Bredie is a hearty stew that will soothe your stomach and your soul. It was first introduced to South Africa by Malays that were brought there – it's clear to see its Asian influence. It's cooked with lamb, oriental spinach or tomatoes, cinnamon, ginger, chili, beans, cardamom, and Cape water lilies. What a combination!
• The Gatsby sandwich is a popular dish that many people rave about when visiting South Africa. Call it what you will – a sub, grinder, or hoagie, this monstrous sandwich features french fries, polony, and pickles.
Drinks To Try in South Africa
• Umqombothi is a Xhosa beer. It's low in alcohol content and high in vitamin B.
• Witblits, also known as "white lighting," is a grape-fermented amateur brandy. This is compared to American moonshine.
• South Africa is known for being the home of internationally acclaimed wines! Try them all.
• Beer goes hand in hand with braais. Try one (or all) of the many local beers in South Africa.
Top Cities To Visit in South Africa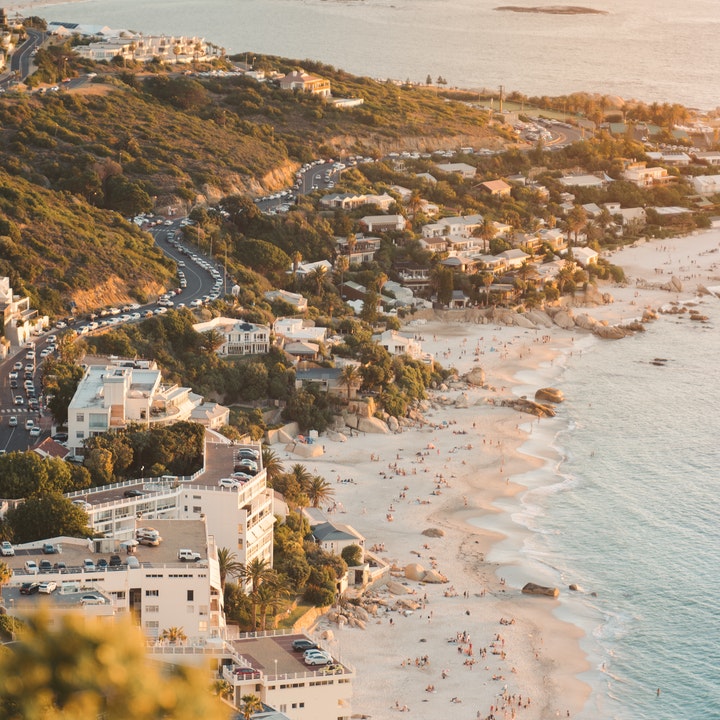 • Johannesburg is a good mix of city life, adventure, wildlife encounters, and historical sights to see. It's South Africa's biggest city and an economic/cultural capital. Psst! It's also home to the world's largest urban forest. Visit the Johannesburg Art Gallery, the Apartheid Museum, Mandela House, Soweto's Vilakazi Street, and take a trip to the Cradle of Humankind.
• When you travel to South Africa and visit Cape Town, spend a day at the beach, hike Lion's head, get an aerial view of the city, and explore the wildlife! Visit The Cape of Good Hope Nature Reserve for wildlife encounters like the "Big Five" – elephants, lions, leopards, buffalo, and rhinos – and hiking. In addition, you can visit Robben Island, home to the prison where Nelson Mandela was held for 27 years.
• Durban is not the most popular city in South Africa, however, there are several hidden attractions that make it worth visiting. Check out Valley of a Thousand Hills, North Beach, The Big Swing, Mzinyathi Falls, and Rastafarian Caves.
Must-See Sights in South Africa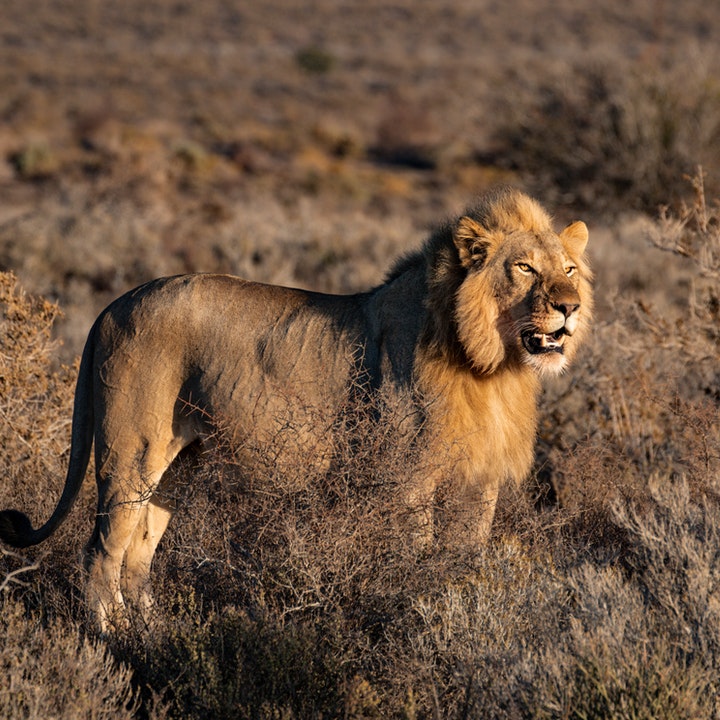 • Kruger National Park
• Maclear's Beacon
• The Garden Route
• Kirstenbosch National Botanical Garden
• Robben Island
• Cape of Good Hope
• Addo Elephant National Park
• Lion's Head
• Cape Point
• Apartheid Museum
• Hluhluwe–iMfolozi Park
• Sabi Sands Game Reserve
• Blyde River Canyon
• Cango Caves
• God's Window
• Cradle of Humankind (UNESCO-listed!)
• Boulders Penguin Colony
How To Get Around South Africa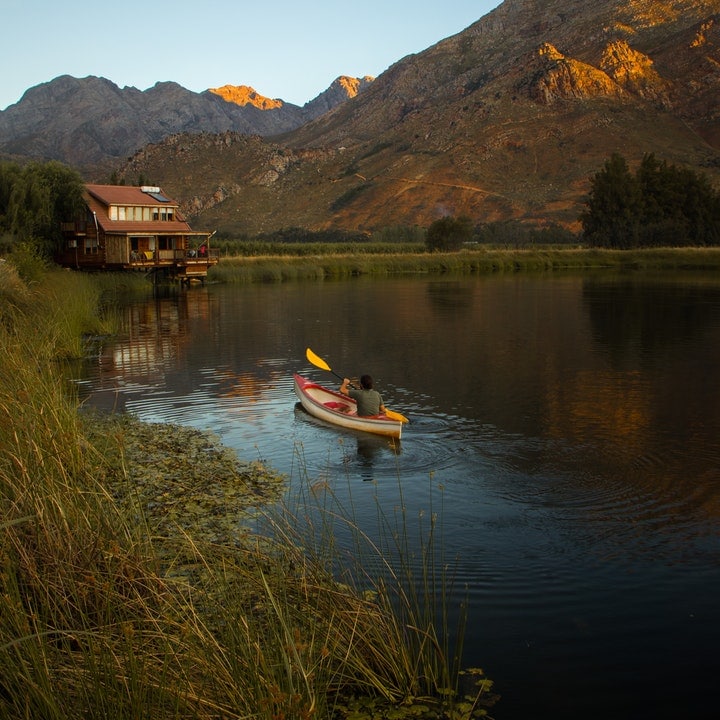 There are many ways to travel locally in South Africa. Public transportation includes a few bus options, small flights, trains, and car rentals. Research your options before you travel to South Africa, and see which option is best for your time there.
Bucket List Experiences in South Africa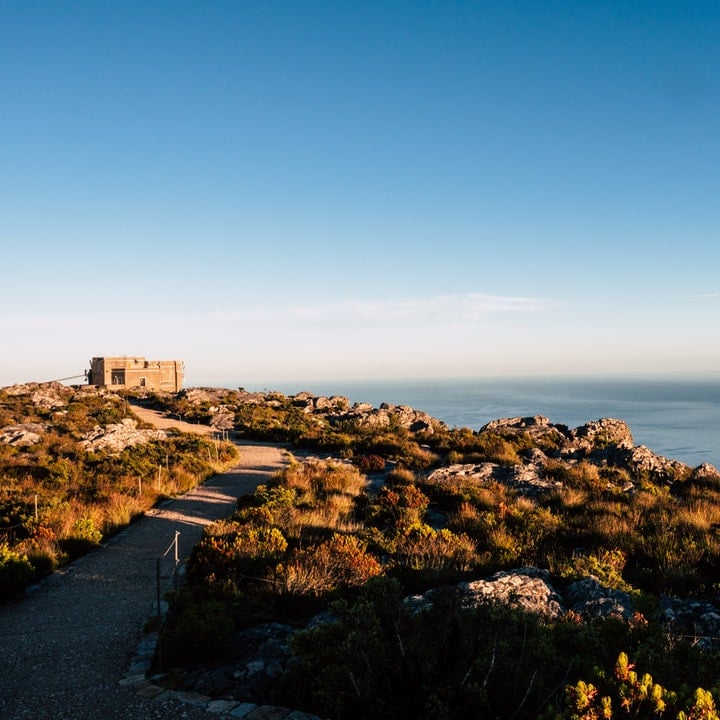 • Take a road trip along the Garden Route.
• Self-drive yourself through a safari in Kruger National Park.
• Hike up Table Mountain.
• Drive Panorama Route and see sights like Blyde River Canyone, the largest green canyon in the world.
• Take on the Otter Trail.
• Jump off Bloukrans, the highest commercial bungee jump in the world.
Where To Book Flights:
The cost of airfare can quickly eat up your budget.
>> Click here to find the best flights to South Africa.
Where To Book Accommodations:
South Africa is home to some fantastic hotels.
>> Click here to find the best hotel deals in South Africa.
Housesitting is a great way to cut down on travel costs.
>> Click here to find housesitting opportunities in South Africa.
Hostels are an affordable option when it comes to accommodations.
>> Click here to find hostels in South Africa.
Booking a vacation rental can help to save the budget.
>> Click here to find vacation rentals in South Africa.
Best Travel Tours & Packages in South Africa
GetYourGuide: 5 Day Johannesburg and Cape Town Tour
Start and end in Cape Town! With the Explorer tour 5 day Best of South See the very best of Johannesburg and Cape Town in a single tour. Visit some of South Africa's most important attractions including Pretoria, the Cradle of Humankind, the Cape Winelands, and much more.
GAdventures: Southern Africa Encompassed – 15 days
Witness traditional dancing, explore the Okavango Delta with a wildlife walk and bush camping, track rhinos on foot in Zimbabwe's Matobo National Park, and capture the "big five" (in photo form, of course) in South Africa's Kruger National Park, while camping keeps you close to the incomparable scenery.
ToursByLocals: Arts, crafts and culture of Cape Town Full Day Tour
Discover the work of many well known artists who have made the Cape their home. We visit the best shops and galleries that offer jewelery, pottery and local crafts and also pay a visit to vibrant local craft markets.
Additional Reading
Moveis to Make You Fall in Love with South Africa: Tsotsi; Angeliena; Catching Feelings
Books: Country of My Skull; Burger's Daughter; A History of South Africa
Check out these Journo Adventures of travelers who have visited South Africa! @bkomitogottlieb enjoyed a wine tasting with friends and @Strevor saw some amazing wildlife!
Now that you've seen our guide for travel to South Africa, what did you think? Did we miss anything? Leave us a comment below!