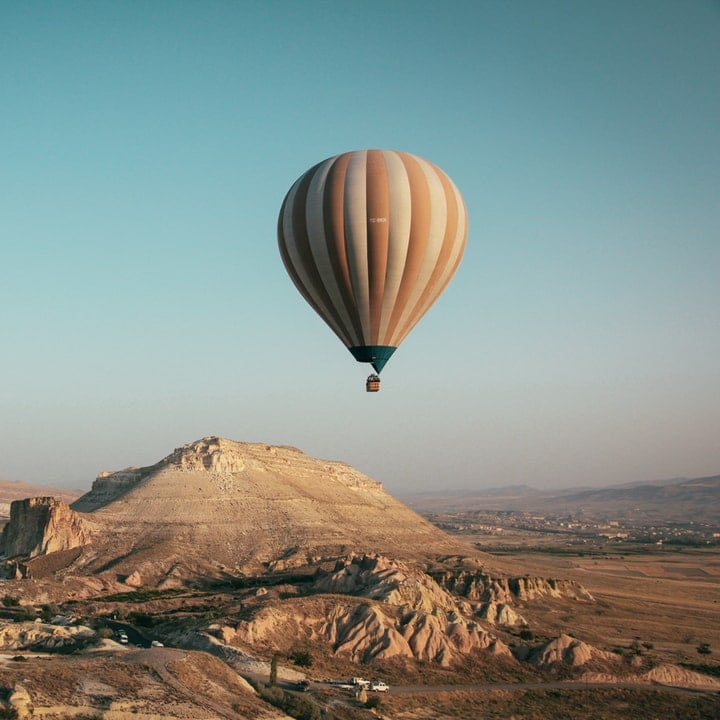 Travel to Turkey means traveling to a mecca of multiple cultures – bringing together Central Asian, Middle Eastern, Mediterranean, Eastern European, and Balkan cuisines, art, and history.
There is so much to see, learn, and do in Turkey!
Ready to pack your bags? Don't forget your international travel checklist planning guide and your travel journal!
General Information
• Population: Roughly 83.6 million
• Capital: Ankara
• Location: Middle East, shares borders with Bulgaria, Greece, Syria, Iraq, Iran, Armenia, and Georgia
• Flag: A red flag featuring a white star and a white crescent.
• Time Zone: TRT, Turkey Time, also known as the Arabia Standard Time and Moscow Time Zone
• Currency: Turkish lira
• Language: Predominantly Turkish, other languages spoken include Kurdish, Zaza, Laz, Kabardian-Cherkess, and Arabic.
• Climate: The Turkish coasts have a temperate Mediterranean climate, with hot, dry summers and mild to cool wet winters. The mountains close to the coast prevent this Mediterranean climate from moving inland, so the interior of Turkey is a continental climate with contrasting seasons.
• Religion: There is no official religion in Turkey, it allows freedom of religion. The most dominant religion in Turkey is Islam.
• Visa Requirement: To find out if a visa is required for your country — and easily get yours if needed — check out iVisa.com.
• Best Time to Visit: Spring and fall are the best times. Over the summer, the temperatures get extremely hot.
Health & Safety
• As of November 2021, the CDC does not recommend travel to Turkey COVID-19 cases are still very high. If you must travel to Turkey, make sure you are fully vaccinated before doing so.
• Find information regarding COVID-19 and Turkey here: https://tr.usembassy.gov/
• Follow the CDC guidelines for current travel advisories, as well as the U.S. Embassy guidelines.
Typical Costs in Turkey
Eating a meal in Turkey is cheap compared to eating a meal in the United States. The Turkish lira is currently .078 of a U.S. dollar. A typical meal costs anywhere from 12-20 TRY, or $0.93 or $1.56.
Getting from A to B will also be cheap, tram rides and metro rides are 1.25 TRY, taxi rides between 5-13 TRY, a local bus is 2-3 TRY, and a ferry roughly 2.80.
Food To Eat in Turkey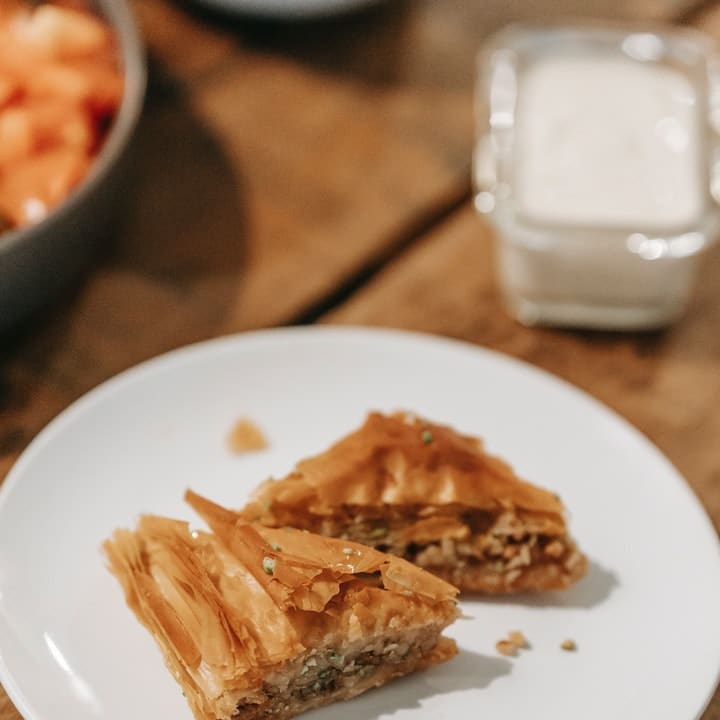 Traditional Turkish food is said to be a continuation of the Ottoman Empire cuisine. This type of cuisine brings together Central Asian, Middle Eastern, Mediterranean, Eastern European, and Balkan cuisines, for something quite spectacular. Note: The cuisine will vary depending on the region of Turkey that you are visiting.
• Leblebi is a street food snack made from roasted chickpeas – sometimes salted or seasoned as well.
• Durum, meaning "roll", is a Turkish version of the doner kebab found in many places around the world. Psst! You might want to travel to Turkey for plenty of reasons, but one reason should be to try the Durum from Durumzade shop in Istanbul, featured on No Reservations with Anthony Bourdain.
• Pide is boat-shaped flatbread, similar to a pizza, it's cooked in a brick or stove oven and topped with cheese, onions, peppers, tomatoes, sausage, eggs, etc.
• Simit are bagel-shaped pieces of bread that are coated with sesame seeds. A fun, easy, cheap street snack.
• Baklava is a sweet pastry made with layers of phyllo dough filled with chopped nuts, syrup, or honey. It is very popular in central Asia.
• Lahmacun is a wrap topped with ingredients like minced meat (commonly lamb or beef), vegetables, herbs, onions, tomatoes, and spices. It resembles a thin crust pizza, but it's a wrap. To eat it, you roll it like a wrap.
• Borek is a stuffed pastry made with a thin flaky dough like phyllo or yufka and filled with meat, cheese, or vegetables.
• When you travel to Turkey, you must try kofte! Kofte is the meatball's cousin. It's made with minced or ground meat (typically beef, lamb, or chicken) onions, herbs, and spices.
• The Islak Burger is not pretty to look at, but it's said to be a favorite among locals and visitors alike, especially after a few beers. The burgers are dunked in a garlicky tomato sauce before being left to steam in a glass box.
• You must try the lamb! It is the most popular meat in Turkey, and it is most often what the Turkish are referring to when they say "meat."
• Kunefe is a cheese-filled dessert made with shredded kadayif dough soaked in sweet syrup and topped with clotted cream. When it's served hot, it's got a great stringy cheese pull – yum!
Drinks To Try in Turkey
• Turkish coffee is close to a double espresso, and it sure won't disappoint. It gets its flavor partially from the brewing process, which involves being made in a special pot called cezve, traditionally made from copper. It is sweetened with white sugar, so if you don't like sweet coffee, be prepared. You can order it as: sade (no sugar), az şekerli (slightly sweetened), orta (mildly sweetened), and şekerli (sweet). Coffee is an important part of the culture – it is offered during meetings, after a meal, and it is a ceremonial step before a wedding engagement.
• Fresh pomegranate juice is available at juice stands everywhere in Turkey. Did you know Turkey is one of the world's largest producers of pomegranates?
• Salep is made from salep flour, which is made from orchid tubers. This drink is served as dessert and dusted with cinnamon. It's said to have a rich floral flavor.
• The people of Turkey are always drinking tea! So when you travel to Turkey, you should be too. You can assume it is always black tea.
Top Cities to Visit in Turkey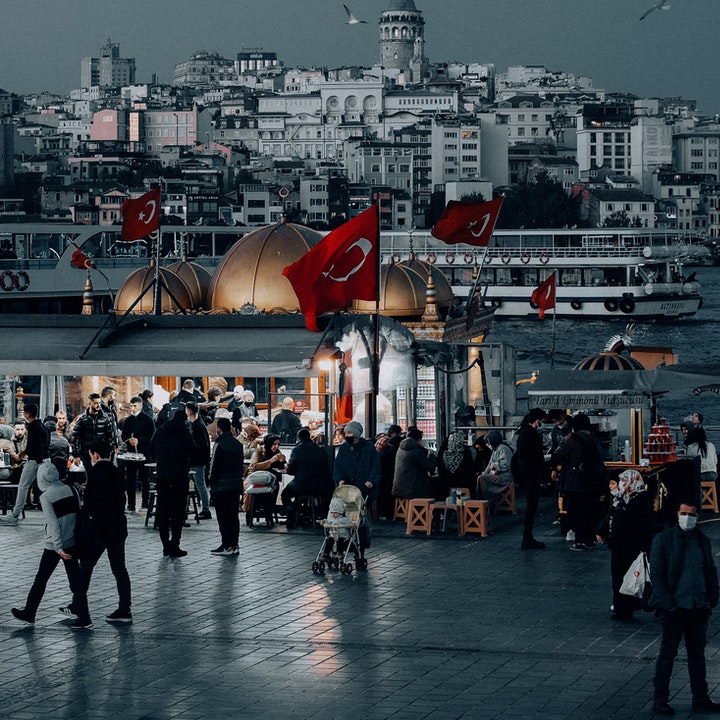 • Istanbul is a fascinating place to be because, over time, several cultures have left their mark on the city. It's known for being multiple cities in one. Visit Dolmabahce Palace, Hagia Sophia Mosque, Sultanahmet District, the Bosphorus Strait, and Aya Sofya. Your trip will not be complete without a visit to the Grand Bazaar – shop til' you drop, bargain away, drink tea, and appreciate the craftsmanship of the artisans.
• Cappadocia – we know this technically isn't a city, but a region – but we had to point it out. When you search for Cappadocia on the internet, you're sure to see the beautiful images of hot air balloons across the beautiful sky. There's hiking, history, hot air balloons, and incredible sights to see in his region. When you travel to Turkey, visit the Göreme Open-Air Museum (a UNESCO World Heritage site), the Zelve Open Air Museum, Kaymaklı Underground City, and Kızılçukur Viewpoint.
• Antalya sits on the Gulf of Antalya (Antalya Körfezi) and is the largest city on Turkey's western Mediterranean coastline. The old-city district, Kaleiçi, is home to restored Ottoman homes on winding lanes. Visit Antalya Museum, Hadrian's Gate, and Yivli Minare.
• When you think of travel to Turkey, you most likely think of Cappadocia or Istanbul, but there's more to the country than those places. For instance: Alanya. This seaside city has great nightlife and everyday charm. Visit Alanya Castle, Tersane, Ehmedek, and the Red Tower.
Must-See Sights in Turkey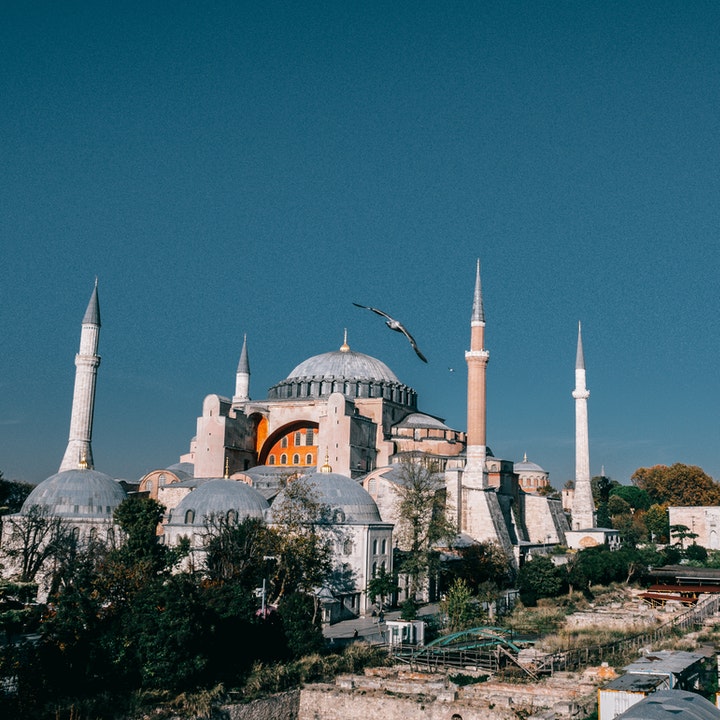 • Hagia Sophia
• The Blue Mosque
• Topkapi Palace Museum
• Grand Bazaar
• Basilica Cistern
• Galata Tower
• Suleymaniye Mosque
• The Temple of Artemis
• Mount Nemrut
• Göbeklitepe
• Likya Way
• Celsus Library, Ephesus
• House of Virgin Mary
• Aya Sofya
• Kariye Museum
• Hierapolis
• Bergama Acropolis
How To Get Around Turkey
A popular way to get around Turkey is by bus, but you can also take advantage of a good rail system. Public transport options include suburban train, city bus, metro, tram, minibus, and taxi. It's easy to get around!
Bucket List Experiences in Turkey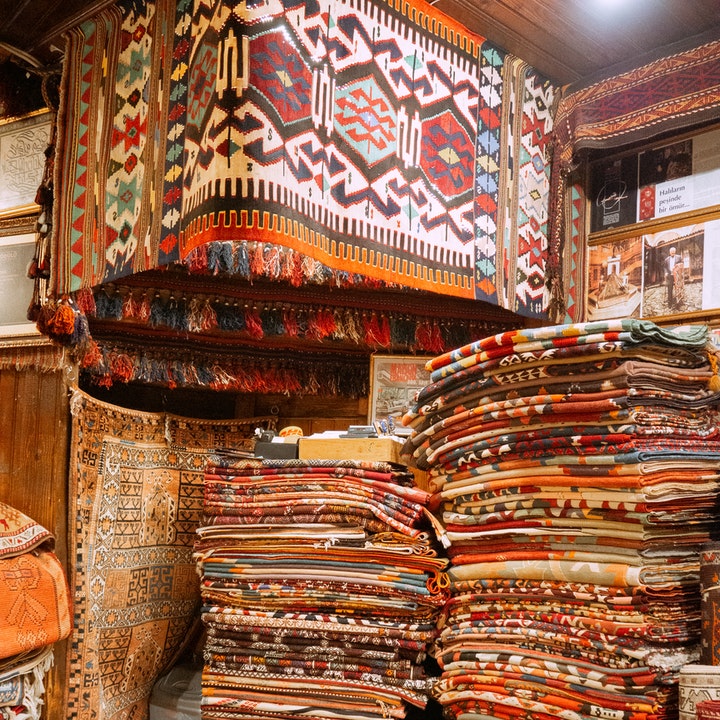 • Visit the infamous Grand Bazaar and haggle your way through.
• Take a hot air balloon ride over Cappadocia.
• Visit the ancient ruins of Hierapolis.
• See the underwater ruins of Kekova.
• Stay in a cave hotel!
Where To Book Flights
The cost of airfare can quickly eat up your budget.
>> Click here to find the best flights to Turkey.
Where To Book Accommodations
Turkey is home to some fantastic hotels.
>> Click here to find the best hotel deals in Turkey.
Housesitting is a great way to cut down on travel costs.
>> Click here to find housesitting opportunities in Turkey.
Hostels are an affordable option when it comes to accommodations.
>> Click here to find hostels in Turkey.
Booking a vacation rental can help to save the budget.
>> Click here to find vacation rentals in Turkey.
Best Travel Tours & Packages in Turkey
TourRadar: Best of Turkey – 13 days
Highlights: 
• Marvel at the magnificent Hagia Sophia in Istanbul.
• Step back in time and see the Trojan Horse in Troy.
• Discover impressive classical Roman sites near Antalya.
• Drive through the stunning volcanic Cappadocian Valley.
ToursbyLocals: Commagene, Mt. Nemrud, Karakuş Tumulus, Cendere Bridge, Pirre and Arsemia full-day tour
Here you will enjoy the real magic of Greak and Persian statues of the ancient Commagene temple and tomb. You'll also visit the capital city of the Commagene Kingdom; Arsaemia; another tumulus at Karakus Hill and Cendere Bridge.
Additional Reading
Books: The Bastard of Istanbul by Elif Shafak, Memed, My Hawk by Yashar Kemal, Human Landscapes from my Country by Nazim Hikmet
Movies That Will Make You Fall in Love with Turkey: Once Upon a Time in Anatolia, The Edge of Heaven, A Touch of Spice
Podcasts: Ottoman History Podcast, Onbironsekiz
Check out these Journo Adventures of travelers that have visited Turkey! @RonnaRoundtheWorld hopped from Turkey to Greece and @Ewaldontheroad stopped at the Blue Mosque!
Now that you've seen our guide on travel to Turkey, what did you think? Leave us a comment below!