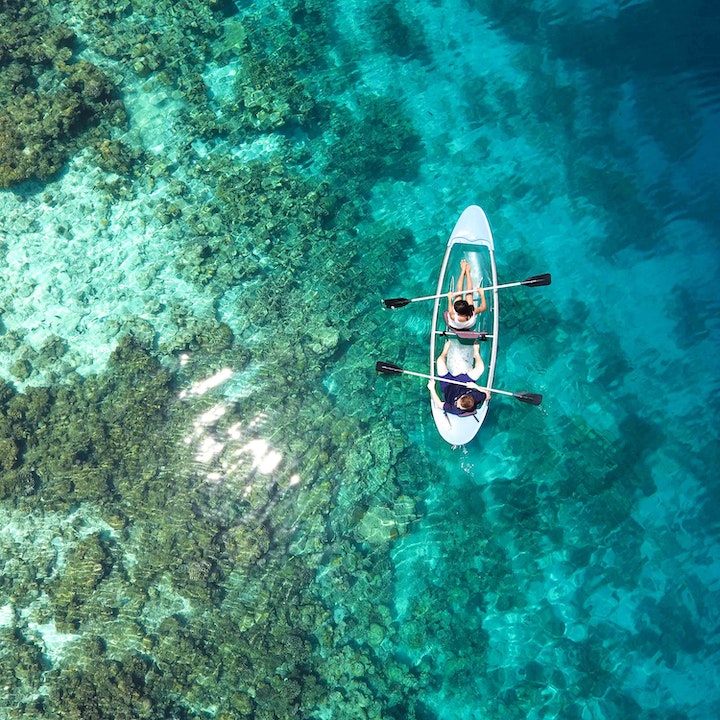 The Maldives is an island nation sitting in the Indian Ocean, with cultural influences from India and Sri Lanka. Of the 1,192 islands, 200 are inhabited by people. 
This gorgeous destination is perfect for a romantic getaway, a relaxing family vacation, or for the beach lover in your life. It's home to 5% of the planet's reefs, making it ideal for snorkeling and swimming with sea animals.
With tons of activities, beaches, water villas, and an undersea restaurant, your visit to the Maldives will be nothing short of rejuvenating.
Here's all you need to know for travel to the Maldives in 2022.
General Information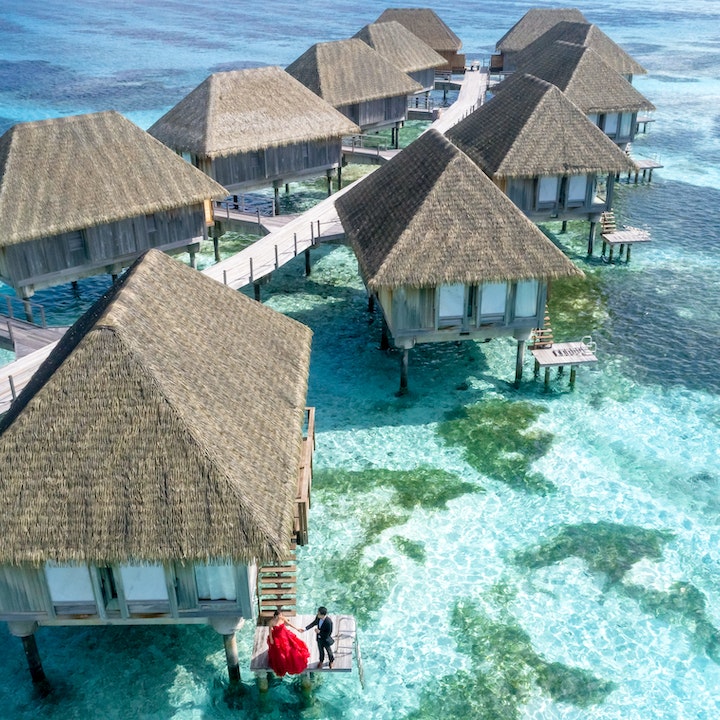 Population: Roughly 580,000
Capital: Malé
Location: A nation of 1,192 islands located in the Indian Ocean that spans across the Equator. 
Flag: The flag is green with a red border and a white crescent in the middle.
Time Zone: Maldives Time (UTC + 5:00)
Currency: Maldivian rufiyaa (MVR)
Language: Dhivehi
Climate: The Maldives has a tropical monsoon climate, meaning it is always hot and humid.
Religion: The official state religion is Islam.
Travel Visa Information: To find out if a visa is required for your country — and easily get yours if needed — check out iVisa.com.
Best Time To Visit: The best time to visit is between November and April. The weather is warm and tropical, with lower humidity.
Health & Safety
As of September 2022, the number of cases in the Maldives is unknown. When you travel to Maldives, make sure you are up to date with vaccines.
Find information regarding COVID-19 and travel to the Maldives here: https://mv.usmission.gov/
Follow the CDC guidelines for current travel advisories, as well as the U.S. Embassy guidelines.
Typical Costs in The Maldives
The average price for one person for accommodation in the Maldives is MVR1,449, or roughly $93 USD. Meal prices will vary when you travel to the Maldives, between cheap eats and more luxurious dining. When dining out, a typical meal will probably cost roughly MVR386 per person, or $25 USD.
Food To Eat in The Maldives
When you travel to the Maldives, there are so many cultural influences on the food, it's sure to be a tasty trip! Fish is the main staple, but the food is also influenced by Indian and Sri Lankan cuisines.
If you're not sure where to chow for dinner tonight in the Maldives? Read this guide on how to choose a great restaurant while traveling.
Garudhiya, or fish soup, consists of fish, water, and salt. This traditional dish is served with lime, rice, chili, and onions.
Mas Huni, or shredded smoked tuna, is served with grated coconut, lemon, and onions. This is the most popular breakfast in the Maldives, served with chapati bread called Roshi.
Boshi Mashuni, or a banana flower salad, is a mixture of crunchy, shredded banana flowers and fresh coconut. How good does that sound?
Fried yams! Yes, please! Travel to the Maldives and enjoy this staple snack. Crunchy on the outside, moist on the inside. Delicious always.
Masroshi, or tuna stuffed chapati), is bread stuffed with smoked tuna, coconut, curry leaves, and spices. Yum!
Bis Keemiya, or samosa, is a pastry filled with tuna/hard boiled egg, sliced onions, and sautéed shredded cabbage. 
Saagu Bondibai, or Sago pudding, is Sago warmed with coconut milk, and laced with condensed milk, plus the essence of cardamom and rose. This is a popular vegetarian dish in the Maldives.
Drinks To Try in The Maldives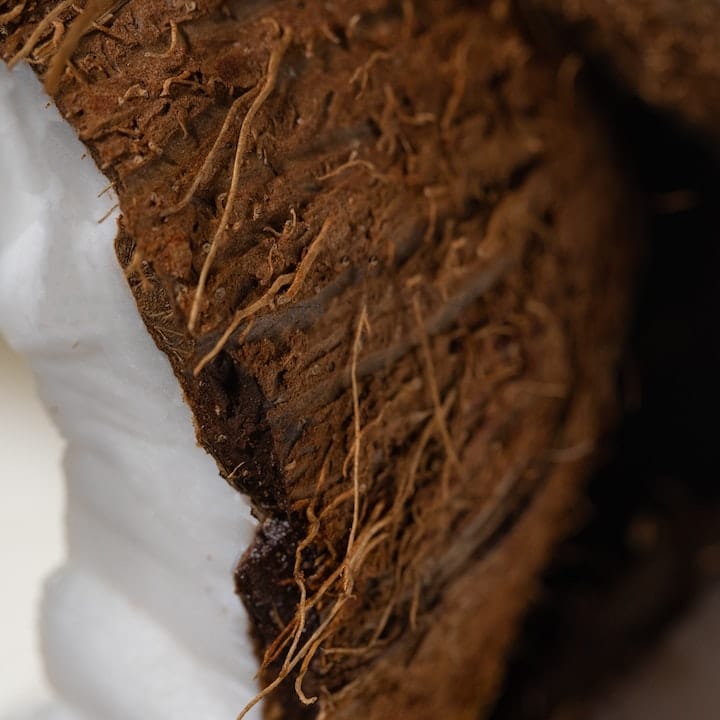 Before you travel to the Maldives to enjoy alcohol, note that it is easily available in resorts and on boats, but it is effectively banned for the local population and not easily accessible on public islands. Also, be sure to drink bottled water while you visit.
Enjoy freshly-squeezed fruit juice in the Maldives. Stick to in-season fruit. Papaya, pineapple, watermelon, and mango are favorites of both locals and visitors.
This one might surprise you: Coca-Cola. The reason we are recommending you try a Coke when you travel to the Maldives is that the Maldives is the only place in the world where Coca-Cola uses desalinated water. The Maldivian Coke is said to have a different taste, and is less sweet than a regular Coke. You can visit a Coca-Cola factory in Thulusdhoo. 
Coconut water straight from the fruit. This is common, refreshing, and delightful.
Maldivians like their tea, or Sai. They drink it all day every day. Sai complements hedikaa, or small snacks that locals enjoy in the evening.
Top Islands to Visit in The Maldives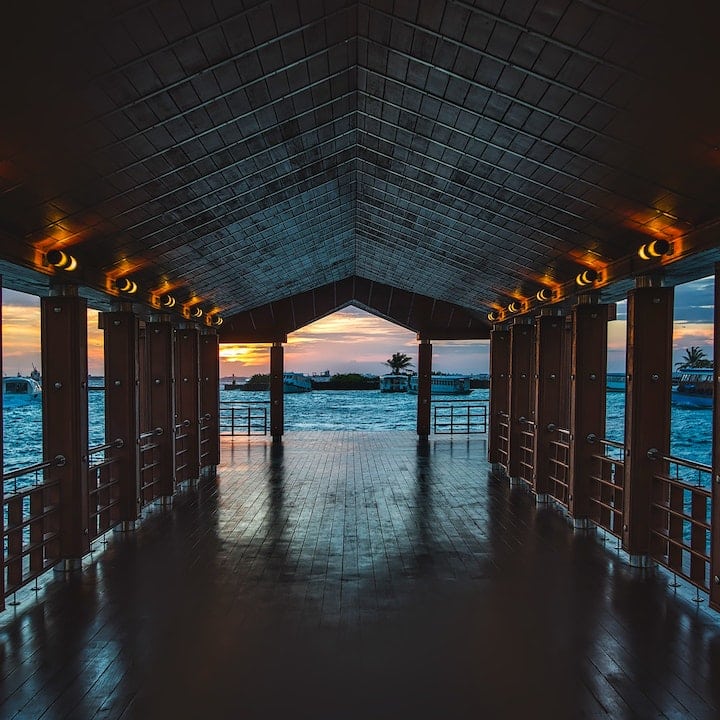 A visit to the Maldives means a visit to an island nation! How could we possibly pick just a few? Head to Olhuveli Island, Dhaalu Atoll, Meerufenfushi, and Furanafushi Island for starters.
Travel to the Maldives and you will most likely spend time in Malé, the capital, and the ancient King's Island, where royal dynasties ruled. From that time period, the 17th-century Old Friday Mosque, 12th-century Dharumavantha Rasgefaanu Miskiiy, National Museum building, and the Medhu Ziyaarai (central tomb) are still standing.
In Fuvahmula, you'll find ancient Buddhist stupas, mud baths, photographic lakes, and tiger sharks. Head to Ari Atoll for paradise beaches and Kuramathi for all-out luxury. 
Must-See Sights in The Maldives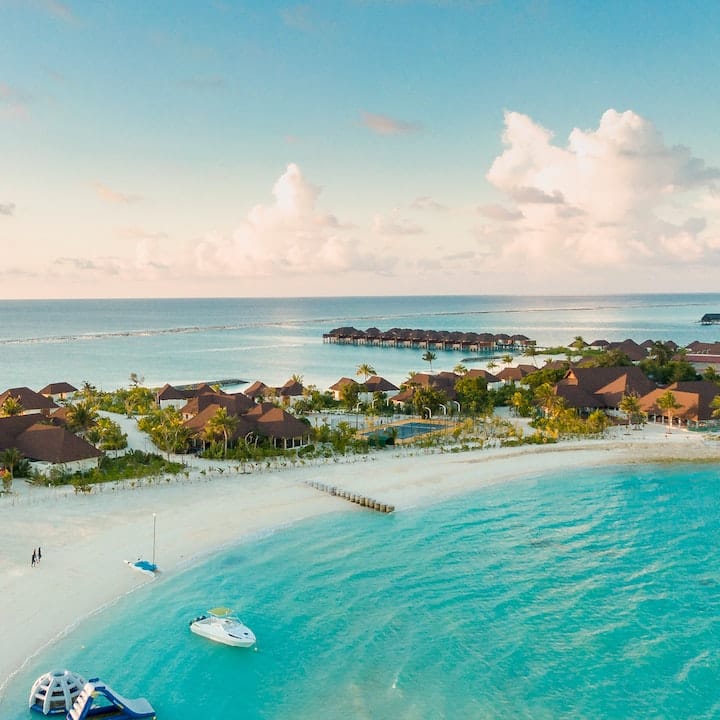 SO many islands! 
Meeru Island
Ithaa Undersea Restaurant
Malé Atoll
Ari Atoll
Hukuru Miskiy
National Museum, Maldives
Sea of Stars
Tsunami Monument 
How To Get Around The Maldives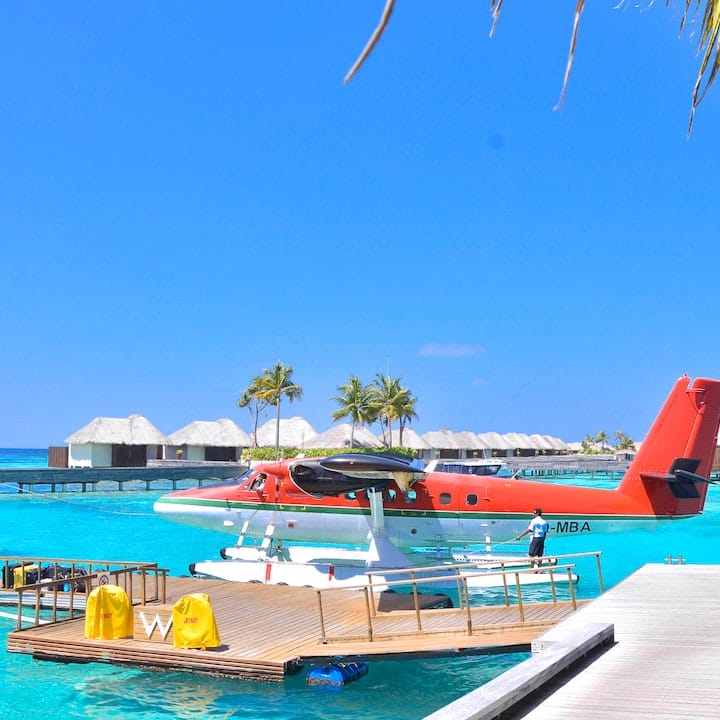 It's no surprise that the main way to island hop and get around this country is by boat or by plane. But there are many ways to do it.
You can book a domestic flight or a seaplane. If you're on a budget, consider taking the public ferry which can get you to any of the inhabited islands. There are luxury yachts and speedboat services.
At the resorts, you can ride bikes around the island. Most of the Maldives is car-free. 
Bucket List Experiences in The Maldives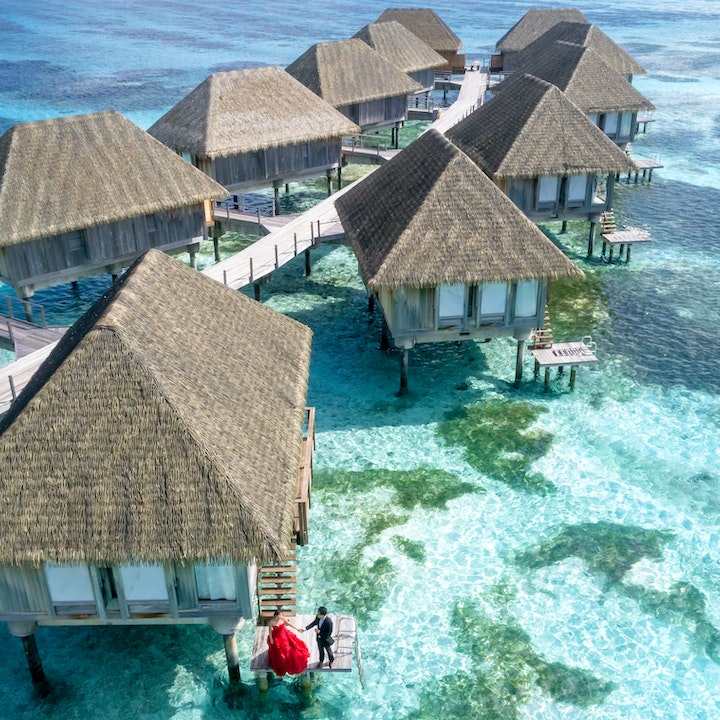 Stay in a villa that sits over the water.
Visit an undersea restaurant.
Swim with Manta Rays in Hanifaru Bay.
Swimming with whale sharks.
Where To Book Flights
The cost of airfare can quickly eat up your budget.
>> Click here to find the best flights to Maldives.
Where To Book Accommodations
The Maldives are home to some fantastic hotels.
>> Click here to find the best hotel deals in the Maldives.

Housesitting is a great way to cut down on travel costs.
>> Click here to find housesitting opportunities in the Maldives.
Hostels are an affordable option when it comes to accommodations.
>> Click here to find hostels in the Maldives.
Booking a vacation rental can help to save the budget.
>> Click here to find vacation rentals in the Maldives.
Best Travel Tours/Packages in The Maldives
TourRadar: Dream Escape to Maldives – 7 days
Start and end in Male! With the Explorer tour Dream Escape To Maldives, you have a 7 days tour package taking you through Male, Maldives and Hulhumale. Dream Escape To Maldives includes accommodation, meals, transport and more.
GAdventures: Maldives Dhoni Explorer – 7 days
The extraordinary islands of the Maldives are some of the world's most spectacular and a multi-day cruise on a dhoni boat is the best way to take it all in. This seven-day cruise takes you to turquoise lagoons, perfect beaches, and isolated sandbars that might have only existed in your dreams until now. Every day offers calming sea breezes and countless photo opportunities with time in between to relax on the sundeck or socialize with fellow travellers over a great seafood meal. With a dhoni cruise boat as your home base for this adventure, you'll have everything you need at your fingertips.
Additional Reading
Movies You'll Love: Fight Club – Members Only; Nina; Ghosts Can't Do It
Books: The Maldives: Islamic Republic, Tropical Autocracy; Gatecrashing Paradise: Misadventure in the Real Maldives; Maldives: The Very Best of Michael Friedel
Check out these Journo Adventures of travelers who have been there! @corinnefenech visited Sri Lanka and the Maldives while @markblum was able to visit Sri Lanka, the Maldives, and India!
Now that you've seen our guide to travel to the Maldives, what did you think? Leave us a comment below!