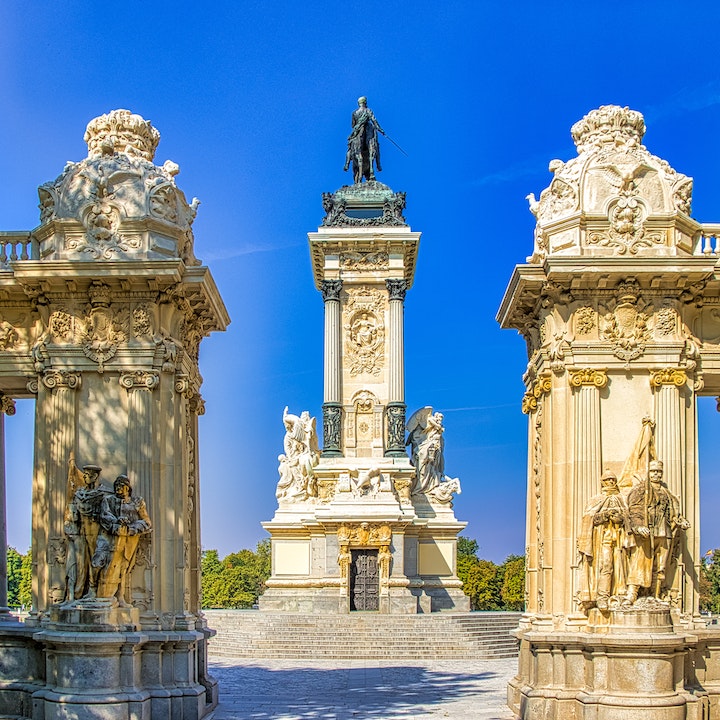 Travel to Spain to see 47 UNESCO World Heritage sites, drink sangria, and Spanish wine, visit destinations for cheese lovers, and view artwork from some of the most talented artists to walk this earth.
Let's dive in! Here is our guide for travel to Spain.
General Information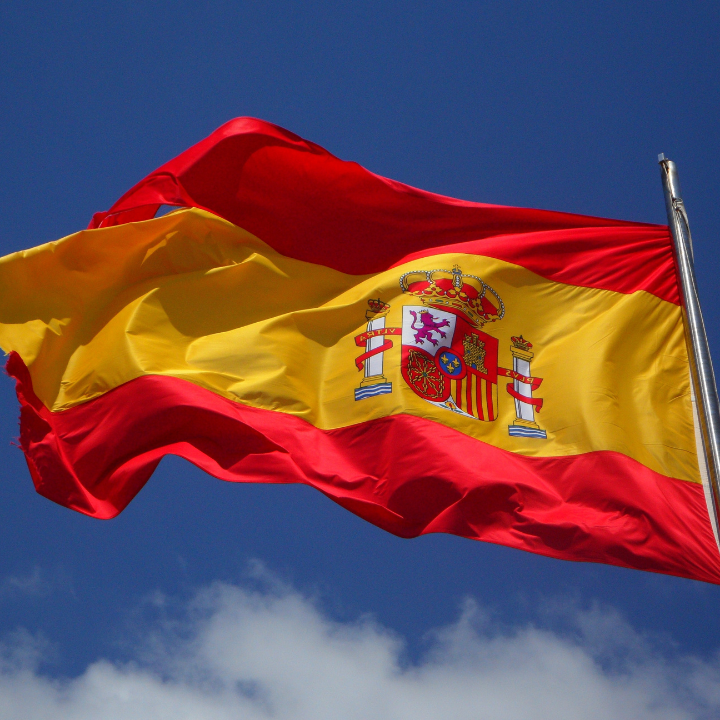 Population: 47 million
Capital: Madrid
Location: In southwestern Europe, Spain shares borders with Portugal, Gibraltar, and France.
Flag: The flag has three horizontal stripes: red, yellow, and red, the yellow stripe being twice the size of each red stripe. The coat of arms sits off centre to the left.
Time Zone: UTC +0 to +1
Currency: Euro
Language: The official language is Spanish.
Climate: The different areas of Spain experience different climates, including a Mediterranean climate, a semi-arid climate, and an oceanic climate.
Religion: Roman Catholicism is the dominant religion in Spain, but the religion no longer has official status by law. There are other religions practiced, and many who do not associate with a religion as well.
Visa Requirement: To find out if a visa is required for your country — and easily get yours if needed — check out iVisa.com.
Best Time To Visit: Travel to Spain in the late spring or early fall – you'll see better temperatures and fewer crowds.
Health & Safety
According to the CDC, travel to Spain is safe and there are no notices currently in effect for Spain. The CDC recommends staying up to date with routine vaccines before you travel.
Find information regarding COVID-19 and Spain here: https://es.usembassy.gov/
Follow the CDC guidelines for current travel advisories, as well as the U.S. Embassy guidelines.
Typical Costs in Spain
You can expect to spend about €53 for one person for accommodation in Spain, and about €106 for two people. Taxi rides are more expensive than public transportation in Spain. A typical meal when dining out will cost €13.
Food To Eat in Spain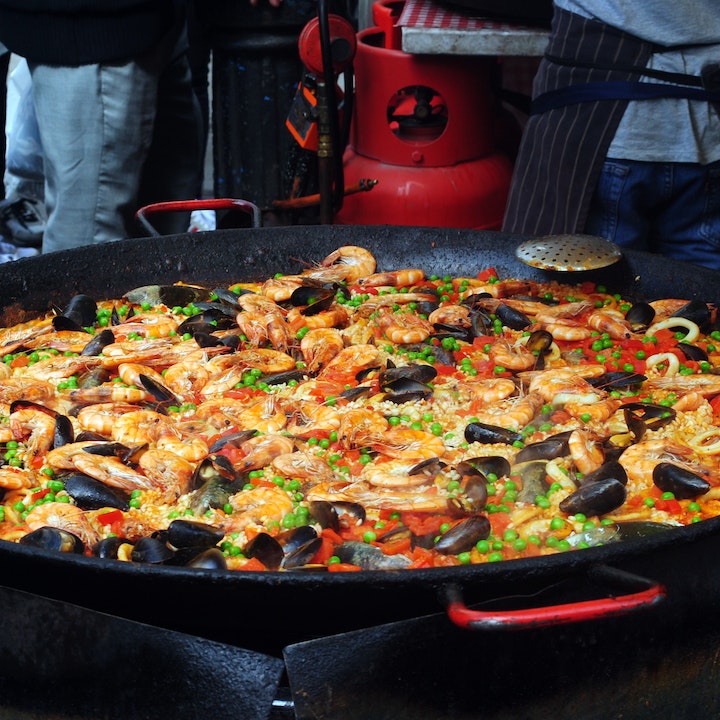 Paella is a Spanish dish you'd be sad to miss when you travel to Spain. The dish is incredibly popular and a traditional dish in the country. It includes rice and seafood. Yum!
Another traditional dish served in Spain is gazpacho. It is made with ripe tomatoes, olive oil, garlic, bread, peppers, and cucumber – all blended together until it is smooth. Not the same as tomato soup!
Spain is known for being home to some amazing cheeses and cheese destinations. It made our list here!
Chunks of fried potatoes and a variety of sauces…patatas bravas of course!
Chorizo. Ah, the lovely meat. It's fermented, cured, smoked meat.
Jamon Iberico or Iberian ham is very popular in Spain – it's dry cured ham. Spain is the world's number one producer of the meat too.
Churros are a worldwide favorite, but a must when you travel to Spain! These are fried, sugary sticks. When paired with Spanish hot chocolate, they are Churros Con Chocolate.
Crema Catalana might look eerily similar to creme brulee. That's because it is! France and Spain have been in a debate for centuries about who made the dessert first.
Drinks To Try in Spain
Cava is the Spanish version of Champagne – a must try when you travel to Spain. It is made the same way as Champagne, just with different grapes. There are several varieties including blanco (white) and rosado (pink), and most are grown in the Penedès region in Catalonia.
Ready for tapas? Well, what goes best with tapas? Sangria, of course! The traditional recipe is made with red wine, brandy or vermouth, sliced apples and oranges, and sparkling soda. Psst! We have a recipe for the classic cocktail here.
Granizado is made with crushed ice and fresh fruit juice or syrup – there are tons of flavors to choose from and you can find it almost anywhere in Spain.
Try the wine! Also, consider this Montserrat and Spanish winery tour from Viator.
Top Cities To Visit in Spain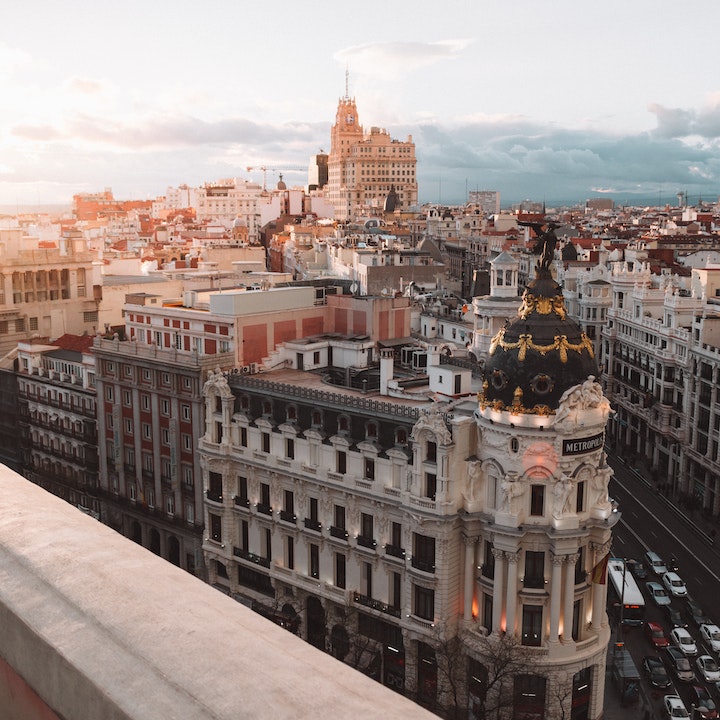 Barcelona, is the hip, cultural hub of Spain. It's an easy city to walk around and has lots of fun things to do and restaurants to try. Stroll La Rambla and marvel at the wonder of La Sagrada Familia. Travel to Spain would be incomplete without seeing Antoni Gaudí's masterpiece, as well as some other cool things he did too, like Casa Batlló and Casa Milà. And don't forget Park Güell! Stop for a coffee at Els Quatro Gats, known for being a hub of creativity bringing together artists and musicians. Spend some time in the Gothic Quarter and the Picasso museum.
Madrid is the capital of Spain and another eclectic city to visit. Did we mention it's the home of flamenco? Pretty cool! Visit Museo del Prado, considered one of the world's best art galleries. Then, head to Museo Nacional Centro de Arte Reina Sofía, home to art from both Salvador Dali and Pablo Picasso. Head to Plaza Mayor, visit the "street that never sleeps", the Gran Vía, and watch the changing of the guard at the Royal Palace of Madrid.
Valencia is just a few hours away from Barcelona. In Valencia, you must visit the Old Town, enjoy tapas, look out for street art and spend time at any of the city's rooftop bars.
Seville has some of the hottest summers in Europe, but summer might be the best time to go! It is a very walkable city. Visit the Alcazar Royal Palace, Seville Cathedral and La Giralda, Plaza de Espana, Metropol Parasol, and check out some flamenco dancing.
Other cities to visit when you travel to Spain: Grenada, Cordoba, Ibiza, San Sebastian and Pamplona (for the Running of the Bulls!). Also, the La Tomatina festival is pretty cool too.
Must-See Sights in Spain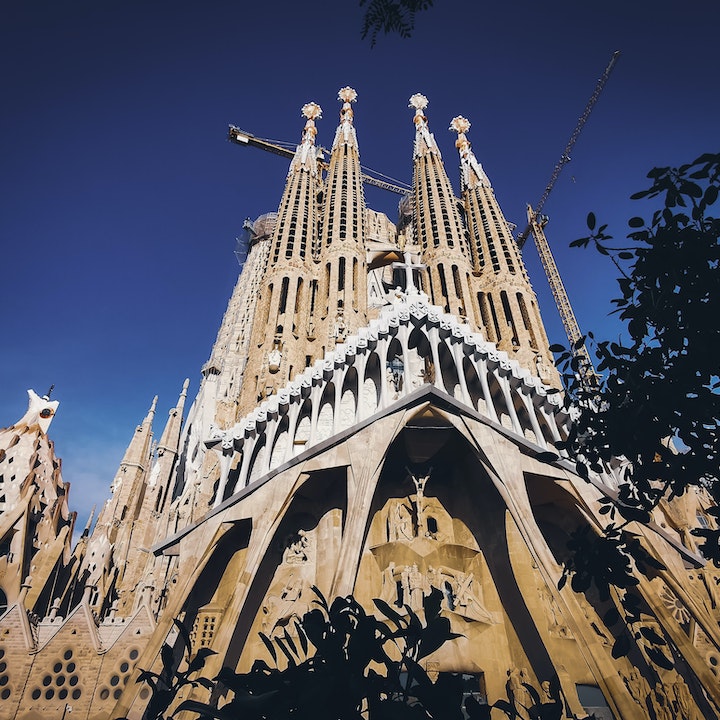 There are so many magical places to visit when you travel to Spain, it would be nearly impossible to list them all. Here's a start.
La Sagrada Familia
Park Güell
Mosque-Cathedral of Córdoba
Plaza de España
Guggenheim Museum Bilbao
Plaza Mayor
Royal Palace of Madrid
Casa Batlló
Spotify Camp Nou
Aqueduct of Segovia
Magic Fountain of Montjuïc
Mount Teide
Picasso Museum
La Rambla
Ronda
Abbey of Montserrat (read more here)
How To Get Around Spain
By train: Spain's train network is fast, efficient, and comfortable. It connects Madrid to many cities across the country.
By bus: The bus will take longer, but it is the most affordable.
By foot: Within a major city, you can walk by foot fairly easily.
By taxi: Depending on your budget and how far you are traveling, the taxi can be a good option.
Bucket List Experiences in Spain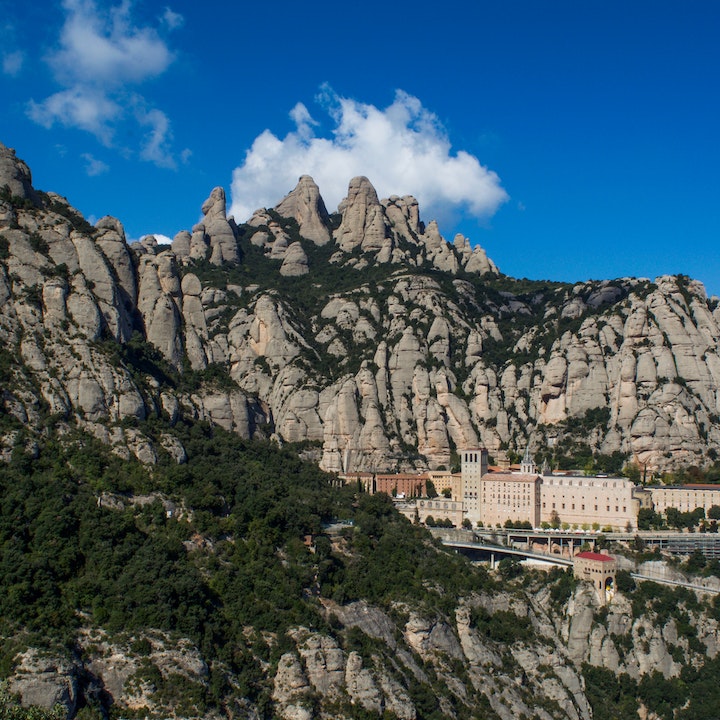 Visit La Sagrada Familia in Barcelona.
Try the coques and cookies made by nuns at the abbey of Montserrat.
Visit the largest functioning Royal Palace in the world, the Royal Palace of Madrid.
Visit the many Game of Thrones locations.
Visit the Real Alcazar Palace in Seville (UNESCO World Heritage site!).
Go to a soccer game!
Where To Book Flights
The cost of airfare can quickly eat up your budget.
>> Click here to find the best flights to Spain.
Where To Book Accommodations
Spain is home to some fantastic hotels.
>> Click here to find the best hotel deals in Spain.
Housesitting is a great way to cut down on travel costs.
>> Click here to find housesitting opportunities in Spain.
Hostels are an affordable option when it comes to accommodations.
>> Click here to find hostels in Spain.
Booking a vacation rental can help to save the budget.
>> Click here to find vacation rentals in Spain.
Best Travel Tours & Packages in Spain
GAdventures: Classic Spain – 15 days
In Spain, a country that's filled with flavour, artistry, and passion, there's no such thing as going halfway. Start in the south, where the Andalucian capital of Seville will introduce you to the most firey of dances — the flamenco. Head north and get a taste of Spain's Basque and Catalan provinces: vibrant Barcelona, unhurried San Sebastián, Logroño's famous cuisine, cosmopolitan Madrid, and the mighty Pyrenees. Each region of Spain has their own distinct character, style, and language to offer. Get it all here.
TourRadar: Charming Spain – 9 days
Start in Madrid and end in Barcelona! With the Explorer tour Charming Spain – 9 Days, you have a 9 days tour package taking you through Madrid, Spain and 6 other destinations in Spain. Charming Spain – 9 Days includes accommodation in a hotel as well as an expert guide, meals, transport and more.
ToursByLocals: Seafood, Wines and Highlights, Walking Tour in Vigo
With 15 Michelin star restaurants, Galician cuisine is at a high point. The excellent quality of its products and high standards are having an effect on the whole sector. I consider local cuisine one of the musts in the area. So, why not to include it in a tour? We'll stroll the city stopping in the main spots, while learning about Vigo history. We'll find out about traditional products, like ham, cheese, and exotic canned food in the displays of a gourmet shop. We can taste and learn about D. O Galician wines and find out about gears and breeders in the area. We'll try famous Galician seafood: local oysters, and octopus "a feira". . A refreshing white wine would be the perfect match to finish a memorable day in Vigo. We'll learn the ropes of the city, and enjoy the views from a viewpoint. This way, you'll have a summary of Vigo, without leaving behind the excellence of its flavours.
Additional Reading
Movies That Will Make You Fall in Love with Spain: El Laberinto Del Fauno – Guillermo del Toro 2006; Ocho Apellidos Vascos – Emilio Martínez-Lázaro 2014; La Lengua De Las Mariposas – José Luis Cuerda 1999
Books: Iberia; Salt to the Sea; The New Spaniards;
Podcasts: When In Spain; Nómadas; Notes in Spanish
Check out the Journo Adventures of travelers who have been there!
Now that you've read our guide, did we miss anything? Leave us a comment below!