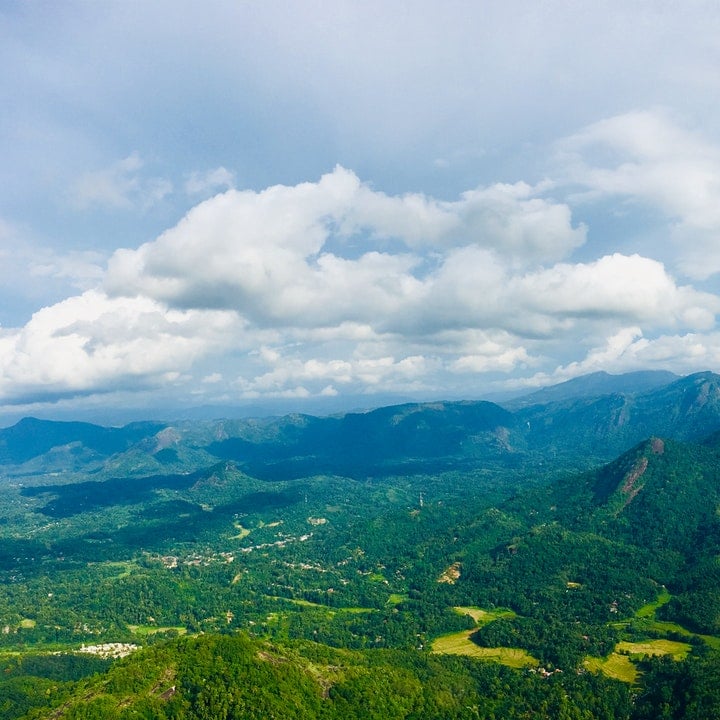 Sri Lanka is a vibrant destination located in Asia, that features gorgeous beaches, tea plantations, and ancient cities. Travel to Sri Lanka to explore the jungle, visit temples, or spend the day at an elephant orphanage.
When you travel to Sri Lanka, take a look at our guide below to get started with planning. Psst! Get your travel journal ready for this one, you're going to need it! 
Sri Lanka is #10 on our list of 10 Best Countries to Visit in the World, with a variety of places to see and spices to try.
General Information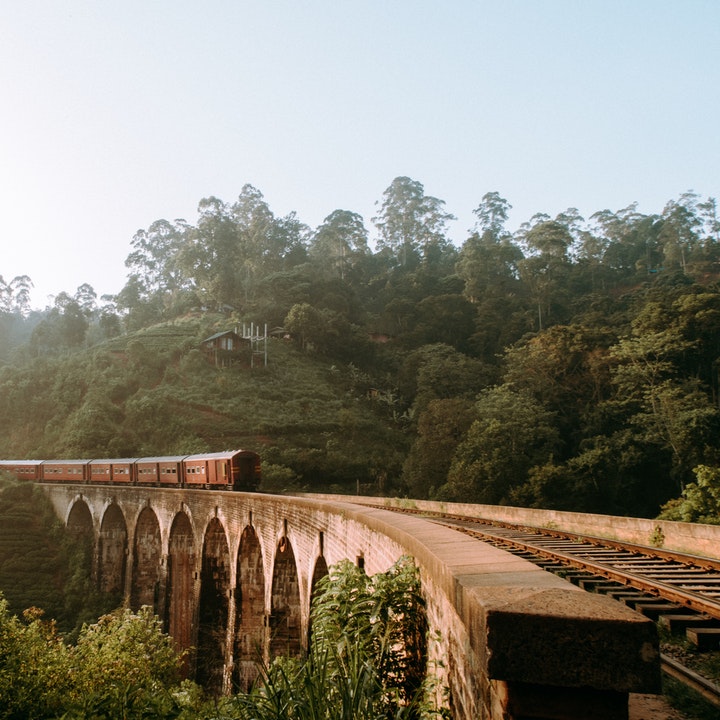 • Population: Roughly 22 million
• Capital: Colombo
• Location: An island in south Asia that lies in the Indian Ocean, southwest of the Bay of Bengal, and southeast of the Arabian Sea, separated from the Indian subcontinent by the Gulf of Mannar and the Palk Strait.
• Flag: A golden lion holding a kastane sword in its right paw on a maroon background with four gold bo leaves.
• Time Zone: India Standard Time (GMT+5:30)
• Currency: Sri Lankan rupee
• Language: Sinhala, Tamii
• Climate: The climate is tropical and warm, because of the ocean winds.
• Religion: The official religion is Buddhism, but other religions practiced include Hinduism, Islam, and Christianity.
• Visa Requirement: To find out if a visa is required for your country — and easily get yours if needed — check out iVisa.com.
• Best Time to Visit: Visit the west and south coasts between December and April, visit the east coast from May to October.
Health & Safety
As of September 2021, the CDC does not recommend travel to Sri Lanka, as COVID-19 cases are very high. If you must travel to Sri Lanka, make sure you are fully vaccinated.
• Find information regarding COVID-19 and Sri Lanka here: https://lk.usembassy.gov/
• Follow the CDC guidelines for current travel advisories, as well as the U.S. Embassy guidelines.
Typical Costs in Sri Lanka
Remember, you will need a visa to enter Sri Lanka, for Europeans, North Americans, and Australians, that cost is roughly $35.
You can find reasonably priced accommodation and cheap accommodation. As always, food costs will vary depending on what you're eating and where. Expect to pay between 200-300 rupees ($1.40 – 2.10) for local food and 600-900 rupees ($4.15-6.25) for a meal in a restaurant. Pretty cheap!
Long distance bus rides and train rides are also very cheap, compared to what we know in North America, when you travel to Sri Lanka. We're talking under $5!
Food To Eat in Sri Lanka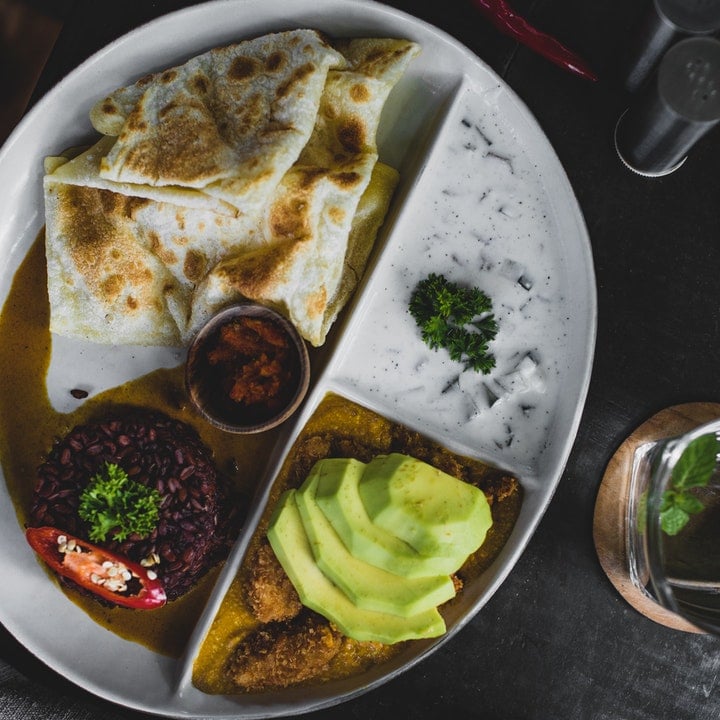 • Rice and Curry is an extremely common dish in Sri Lanka. The most common version is Dahl Curry, which features lentils, tomatoes, and chilies. It is a mild curry, often fed to kids. Other versions include pumpkin curry, potato curry, eggplant curry, chicken/fish curry… the list goes on!
• Hoppers are thin pancakes with crispy edges. Egg hoppers feature an egg in the middle – a simple yet satisfying dish you can find in many places when you travel to Sri Lanka.
• Wood apple is a Southeast Asian fruit with a pungent, almost blue cheese aroma. It can be eaten out of its shell or in a smoothie.
• Coconut Roti combines coconut, flour, salt, and small amounts of water, and it's then cooked on a hot pan. This simple dish is popular and comes in different consistencies depending on how it's cooked.
• String Hoppers are noodles – that they enjoy eating for breakfast! Quite the culinary experience, eh? The noodles are made with rice flour and pressed into a noodle shape and steamed. Eat them with coconut sambal, dahl curry, and coconut milk curry.
• Vegetable Roti are delicious little triangles of yummy goodness that you can find almost anywhere in Sri Lanka. Inside these little skillet-fried pockets are spicy vegetables, sometimes fish or egg. Bonus: They cost roughly 30 cents.
• Kottu is made of roti (flat bread), vegetables, oil, spices, and egg/chicken or cheese. It's a popular street food – easy, fast, and greasy!
• Coconut & Honey pancakes are thin pancakes made of flour and water, filled with caramelized coconut and honey. Easy to eat and perfect for breakfast, snacks, dessert!
Drinks To Try In Sri Lanka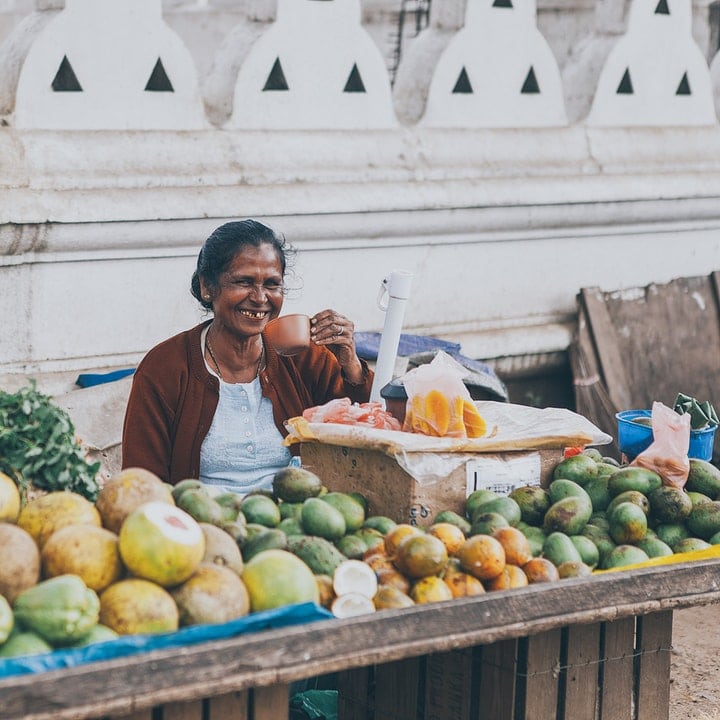 • Te (tea) in Sri Lanka, is said to be some of the best tea in the world, so naturally, you need to try it while you are there. It's the national drink and Sri Lanka is the third-largest tea producing country in the world.
• A toddy is a mildly alcoholic fermented drink that is tapped from palm trees (often illegally).
• Arrack is a potent liquor made from the sap of palm trees.
• Grab a coconut and enjoy fresh coconut water!
Top Cities To Visit in Sri Lanka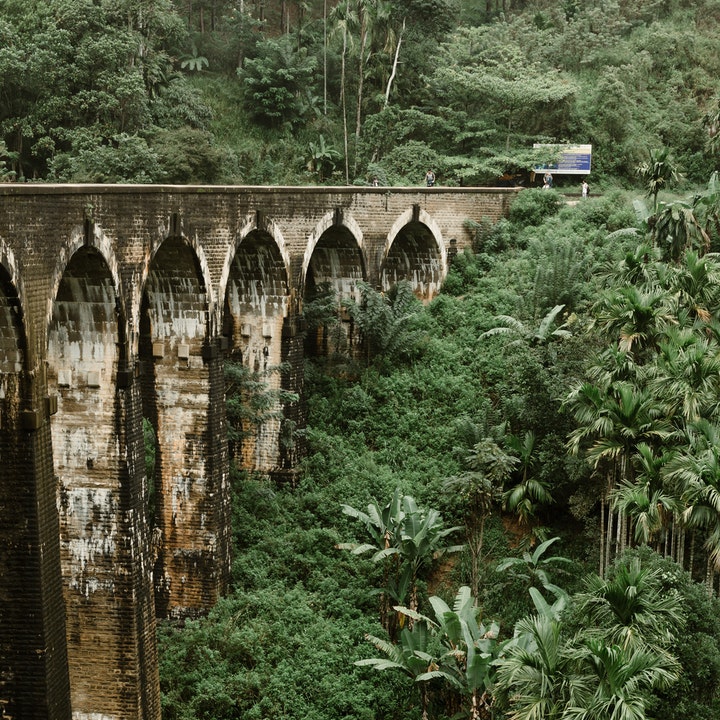 • Colombo is an active city that is worth a stop when visiting Sri Lanka. Check out Gangaramaya Buddhist Temple, Mt. Lavinia Beach, Pettah, and save time to explore the Talangama Wetland.
• Did you know the Sri Lankan city of Kandy is a UNESCO World Heritage site? Yep, it is. This spot features sacred landmarks, landscaped gardens, and cultural museums – what else? The Temple of the Sacred Tooth Relic (houses the relic of the tooth of Buddha), the Esala Perahera Festival, and a Ceylon Tea museum.
• Negombo is Sri Lanka's most popular resort area, and with close proximity to Colombo, it makes it easy for visitors to get there. Enjoy nature at the Muthurajawela Marsh, relax on Negombo beach, and shop at the local fish market.
• Nuwara Eliya is known as "Little England" due to its cool climate and colonial-era bungalows. The city is located in the tea country hills of Sri Lanka. Stop by Hakgala Botanical Gardens, the Seetha Amman Temple, and Galway's Land National Park when you travel to Sri Lanka.
Must-See Sights in Sri Lanka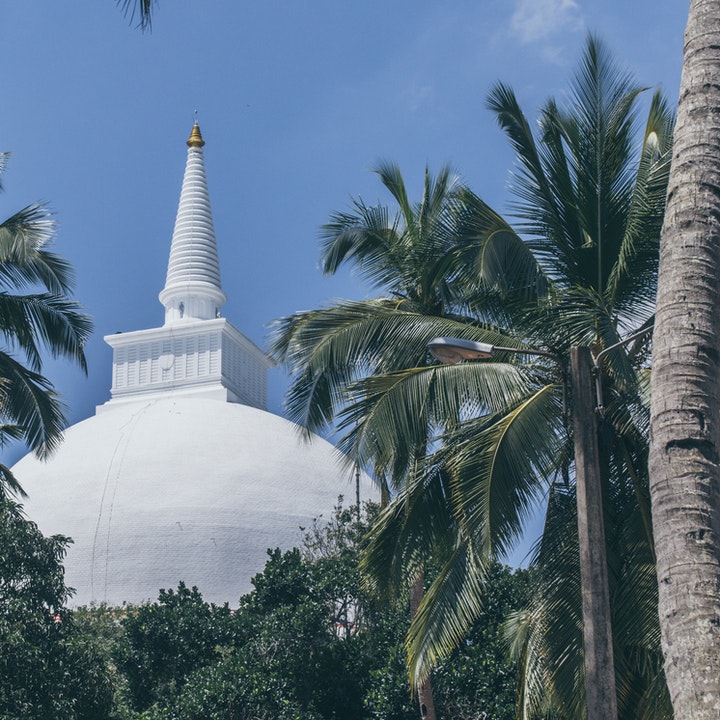 • Sigiriya (Lion Rock)
• Cultural Triangle
• Yala National Park Safari
• Dambulla Royal Cave Temple and Golden Temple (UNESCO site)
• Temple of the Sacred Tooth Relic
• Sri Pada
• Elephant Orphanage
• Gangaramaya Temple
• Nine Arches Bridge
• Rawana Falls
• Jetavanaramaya
• Galle Dutch Fort
• Dambulla Cave Temple
• Gal Viharaya
How To Get Around Sri Lanka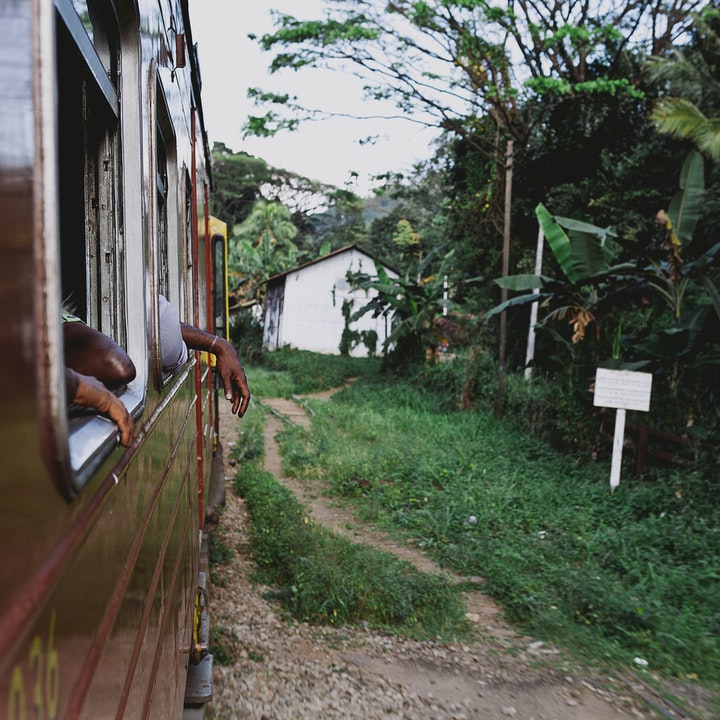 In Sri Lanka, you can hire a car and driver, take a taxi/ tuk-tuk, or use public transportation. Unfortunately, there is a lack of domestic flight options. Consider hiring a car or taking taxis when it's possible, the public transportation is cheap but in some cases, uncomfortable. However, the country has been upgrading all aspects of travel, so maybe the rides are more comfortable.
Bucket List Experiences in Sri Lanka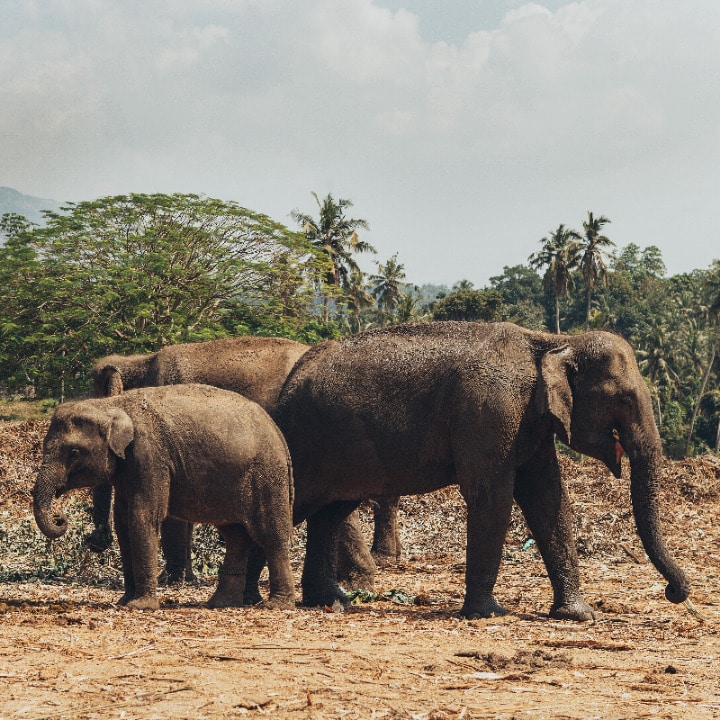 • Visit the Temple of the Sacred Tooth Relic – seeing Buddha's tooth?! Does it get any cooler than that?
• Visit an elephant orphanage! It's not every trip we take where we can meet and observe such incredible creatures.
• Climb Pidurangala rock and enjoy the sunrise over Sigiriya. Psst! This spot isn't as well known.
WHERE TO BOOK FLIGHTS:
Click here to find the best flights to Sri Lanka.
WHERE TO BOOK ACCOMMODATION:
Click here to find the best hotel deals in Sri Lanka.
Click here to find housesitting opportunities in Sri Lanka.
Click here to find hostels in Sri Lanka.
Click here to find the best vacation rentals in Sri Lanka.
Best Travel Tours/Packages in Sri Lanka
TourRadar Safari in Sri Lanka – 9 Days
Start and end in Colombo! With the Wildlife tour Safari in Sri Lanka – 9 days, you have a 9 days tour package taking you through Colombo, Sri Lanka and 10 other destinations in Sri Lanka. Safari in Sri Lanka – 9 days includes accommodation in a hotel as well as an expert guide, meals, transport and more.
Tours By Locals – Sri Lanka Unwrapped Secrets in Round Tour from Galle 
I will share my found and learnt secrets of Sri Lankan specialities with you during this 8 days and 7 nights tailor made private tour. We will have an immense touch of culture, nature, environment, ancient skills & heritage!
TourRadar Sri Lanka One Life Adventures – 12 Days
Start in Negombo and end in Colombo! With the Adventure tour Sri Lanka One Life Adventures – 12 Days, you have a 12 days tour package taking you through Negombo, Sri Lanka and 9 other destinations in Sri Lanka. Sri Lanka One Life Adventures – 12 Days includes accommodation in a hotel as well as an expert guide, meals, transport and more.
Additional Reading
Podcasts: The Bad Take Podcast, The F Word, The Curionomist Podcasts
Books: Running in the Family by Michael Ondaatje, This Divided Island by Samanth Subramanian, Cinnamon and Elephants
Movies to make you fall in love with Sri Lanka:
The Bridge on the River Kwai, Indiana Jones and the Temple of Doom, Elephant Walk, Paradise Road
Check out @corinnefenech's Journo Adventure of her trip to Sri Lanka! She spent lots of time swimming and sunbathing. 🙂
Now that you've seen our guide for travel to Sri Lanka, what did you think? Leave us a comment below!