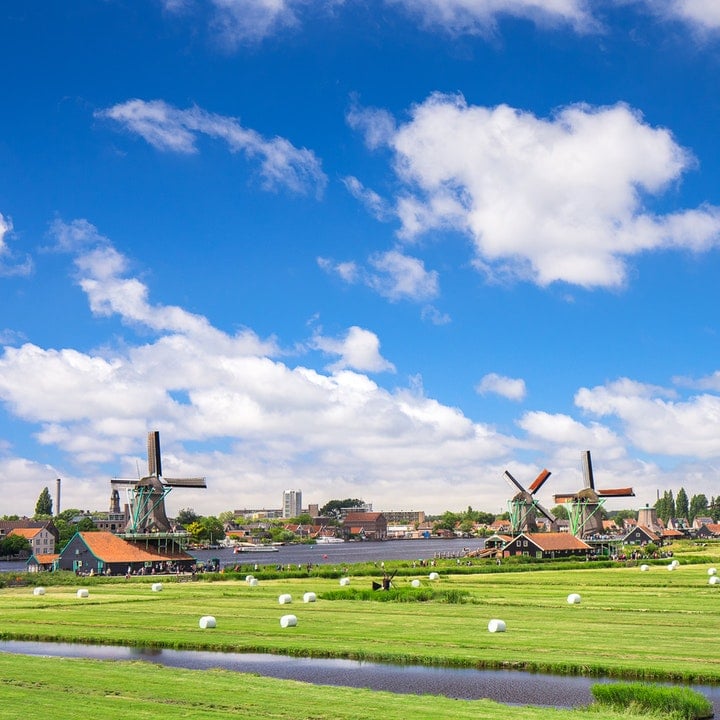 With an advanced train network for easy travel around the country, beautiful tulip farms to visit, and infamous sights like the Anne Frank House and the Van Gogh museum, it's time to travel to The Netherlands.
Enjoy a canal cruise on one of the many canals or travel by bike, as the locals do. Did we mention there are lots of places to enjoy both sweet and savory crepes? And if you're interested in cannabis tourism, the capital city of Amsterdam is a destination for you.
When you travel to The Netherlands, take a look at our guide below to get started with planning. Psst! Get your travel journal ready for this one, you're going to need it!
The Netherlands is #9 on our list of the 10 Best Countries to Visit in the World, combining old architecture, history, crepes, stroopwafels, Heineken, Van Gogh, and so many other cool details. 
General Information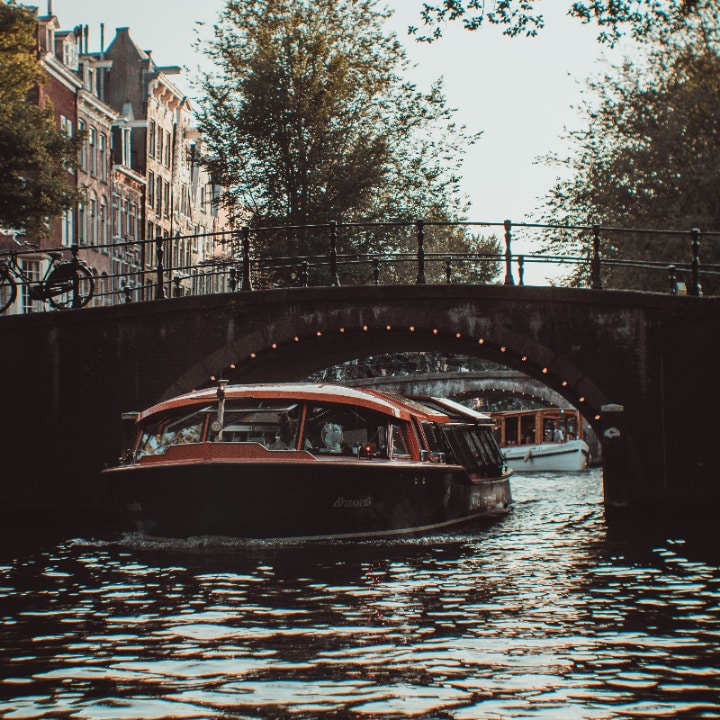 • Population: Roughly 17.28 million
• Capital: Amsterdam
• Location: Located in Northwestern Europe, the country shares borders with Belgium and Germany.
• Flag: A horizontal tricolour of red, white, and blue.
• Time Zone: Central European Time (GMT +2)
• Currency: Euro
• Language: The official language is Dutch. Other languages spoken include English, Papiamento, West Frisian, Dutch Low Saxon, Dutch Sign Language, Limburgish, Sinte Romani, and Yiddish.
• Climate: The Netherlands has a mild maritime climate, with moderately warm summers, cool winters, and typically high humidity.
• Religion: Predominantly Christian until the late 20th century, and is now one of the most secular societies in the world.
• Visa Requirement: To find out if a visa is required for your country — and easily get yours if needed — check out iVisa.com.
• Best Time to Visit: Visit during June, or between September and November. Temperatures are pleasant and it's not as popular.
Health & Safety
As of August 2021, the CDC recommends avoiding travel to The Netherlands as COVID-19 rates are very high. If you must travel to The Netherlands, make sure you are fully vaccinated.
• Find information regarding COVID-19 and The Netherlands here: https://nl.usembassy.gov/
• Follow the CDC guidelines for current travel advisories, as well as the U.S. Embassy guidelines.
Typical Costs in The Netherlands
The costs in the Netherlands are pretty comparable to other European countries. For instance, most daytime meals will be roughly 8-14 Euros, depending on what you get and where you go. You can eat from food stalls or trucks, cafes, or fancier restaurants. Taxi rides are more expensive than bus rides, bikes, or canal rides.
Food To Eat in The Netherlands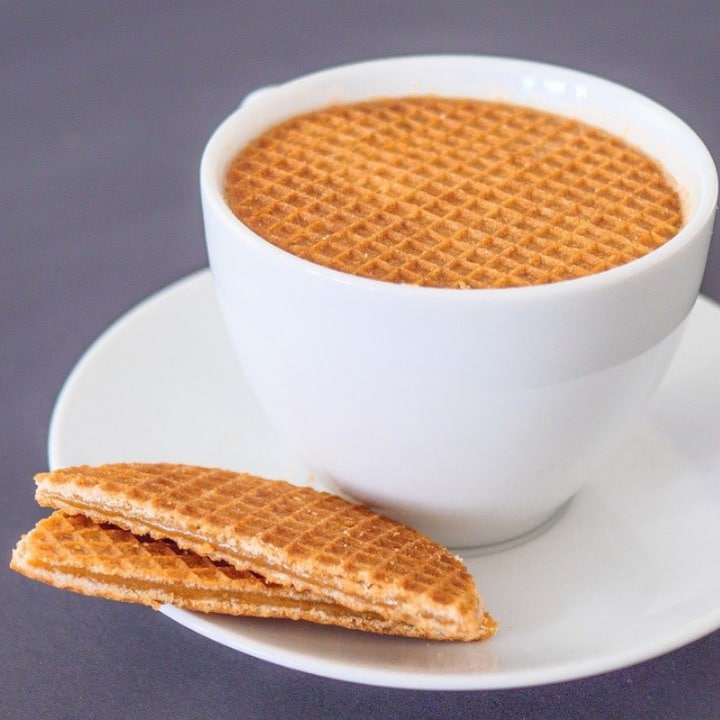 • When you travel to The Netherlands, stroopwafel are a staple. These are traditional Dutch cookies made by two thin waffle wafers stuck together with caramel syrup. Yum! Some shops dip their stroopwafel in chocolate and cover them with more goodies like sprinkles and cookie pieces.
• The Dutch know their cheese (Kaas). The country's specialty is Gouda, named after the city. It's pronounced how-da, not like how we know of it in America. We're telling you, try all the cheese.
• Hagelslag is the most popular bread topping in The Netherlands, believe it or not! Hagelslag are sprinkles. Yes, sprinkles that we typically enjoy on cupcakes and ice cream. Enjoy chocolate hagelslag, fruit flavoured hagelslag or anise seed (licorice seed) hagelslag. When you travel to The Netherlands, you'll find a large part of the population enjoying bread with butter and hagelslag.
• You'll find smoked sausage in every cafe and restaurant in The Netherlands, so there will always be variety. You should try Metworst(ground pork), Rookworst(pork, pork/beef, pork/veal, or turkey), Braadworst(pork, beef, or veal), and Frikandel (pork, chicken, horse).
• Kibbeling is a popular Dutch snack in The Netherlands, consisting of battered chunks of fish, served with a mayonnaise-based garlic sauce or tartar sauce.
• Bitterballen, another Dutch snack, starts off with a thick stew, thickened with roux and beef stock and packing it with meat. Then, it's refrigerated until it firms. The mixture is then rolled into balls, breaded, and fried.
• Crêpes, another Dutch staple, are very thin pancakes, usually ordered sweet or savory. When in Amsterdam (where cannabis tourism is big and munchies run rampant), crêpes are everywhere. Try The Happy Pig Pancake House. 🙂
• Patatje Oorlog (War Fries) is another take on french fries. If you've enjoyed poutine in Canada, think of war fries like The Netherland's poutine. These fries are loaded with layers of mayonnaise, peanut satay sauce, diced raw onions, and sometimes ketchup. If this doesn't sound like your thing, order fries with mayonnaise(it's not like mayo in the U.S.). Visit Vlaams friteshuis vleminckx for the best fries.
• Stamppot (Mash Pot) is The Netherlands national dish consisting of potatoes mashed with vegetables. The pairings usually include sauerkraut, endive, kale, spinach, turnip greens, or carrot, and onion. The dish is usually served with sausage, julienned bacon, stewed meat, cheese, gherkins, nuts, or pickled onions.
Drinks To Try in The Netherlands
• Koffie Verkeerd is coffee with hot milk, known as coffee au lait as well. When you travel to The Netherlands, enjoying Koffie Verkeerd should be high on your list.
• Dutch Bier is beer! While the Dutch typically enjoy pale ales, order a bokbier and witbier. Bokbier is sweet and malty while Witbier is sweet and spicy.
• Verse Munt Thee is fresh mint tea. In Amsterdam, you'll see many people order this warm beverage after dinner, as it settles the stomach and is comforting.
• Chocomel is served warm, and it's hot chocolate! It makes it onto our list because it's not uncommon to hear the Dutch order hot chocolate with this brand name.
• Advocaat is a typical Dutch alcoholic beverage, made from eggs, sugar, and brandy. It's typically added to a variety of cocktails, desserts, or it can be sipped on its own.
Top Cities to Visit in The Netherlands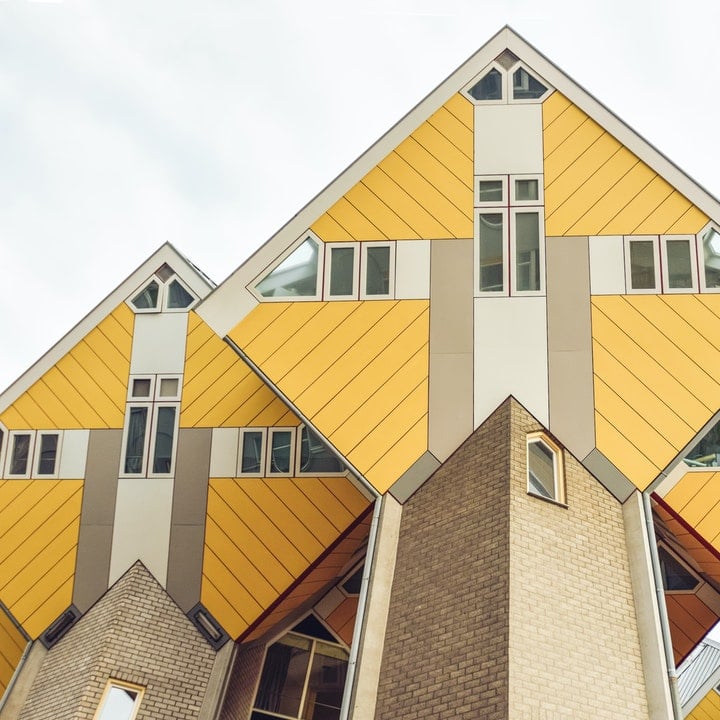 • Amsterdam is an eclectic, fun destination that combines canals, bridges, and some great food. Book tickets early for the Anne Frank House, visit the Van Gogh Museum, and the world's only floating flower market. Other popular spots include the Rijksmuseum, Happy Pig Pancake House, Rembrandt House, and Vondel Park. Rent a bike and ride around this small city for the day.
• Rotterdam is an urban city that boasts interesting architecture and is a beautiful city to see during travel to The Netherlands. Another great place to rent a bike and ride around, check out the old Dutch-style houses, the Erasmus Bridge, Delfshaven, and the Maritime Museum.
• The Hague sits on the western coast of The Netherlands on the North Sea and it is the third largest city in the country. Here, you can see royal palaces, fishing harbors, and all the Dutch things you hope to. Psst! The people of The Hague are known as 'Hagenaars' and 'Hagenezen'. Check out The Mauritshuis Royal Picture Gallery, Scheveningen Beach, Escher in Het Paleis, and Madurodam.
• Maastricht is the capital of The Netherlands' southernmost region, Limburg. The city has two town squares: Vrijthof and Markt. Also, Maastricht's Vestigingswerken, or old town, attracts visitors to this city too. Check out Maastricht Underground, Boekhandel Dominicanen, Fort Sint Pieter, the Basilica of St. Servatius and more.
Must-See Sights in The Netherlands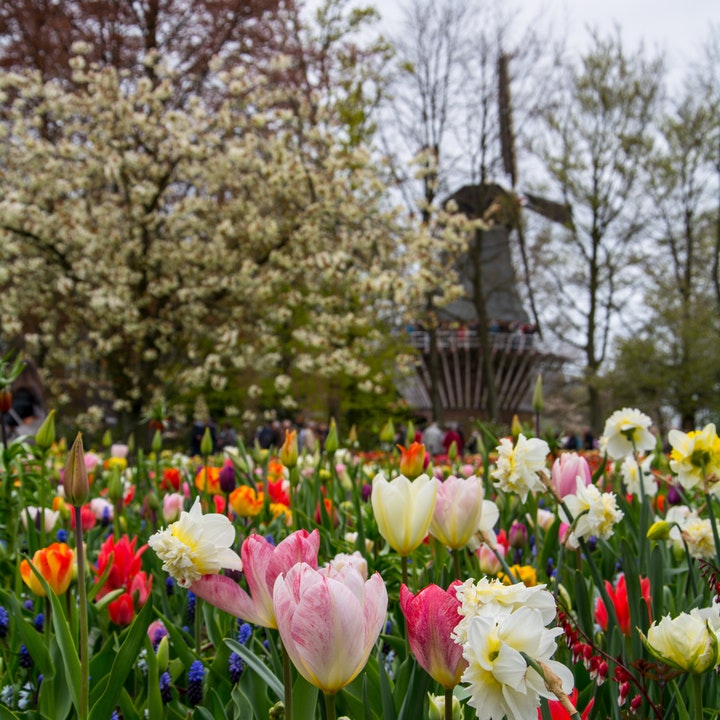 • Rijksmuseum
• Keukenhof
• Vondelpark
• Cube Houses
• Bloemenmarkt
• Anne Frank House
• Van Gogh Museum
• The Heineken Experience
• Muiderslot
• Rietveld Schröder House (UNESCO site)
• Rembrandt House Museum
• Madurodam
• Dam Square
• Royal Palace Amsterdam
• The Oude Church
• Ons' Lieve Heer op Solder
• Windmills at Kinderdijk
How To Get Around The Netherlands
The best way to get around The Netherlands is via bus or train. It is a small country and the bus and train system are strong and organized. The furthest trip across the country is under three hours. While you are exploring each city, consider renting a bike or traveling on foot.
Bucketlist Experiences in The Netherlands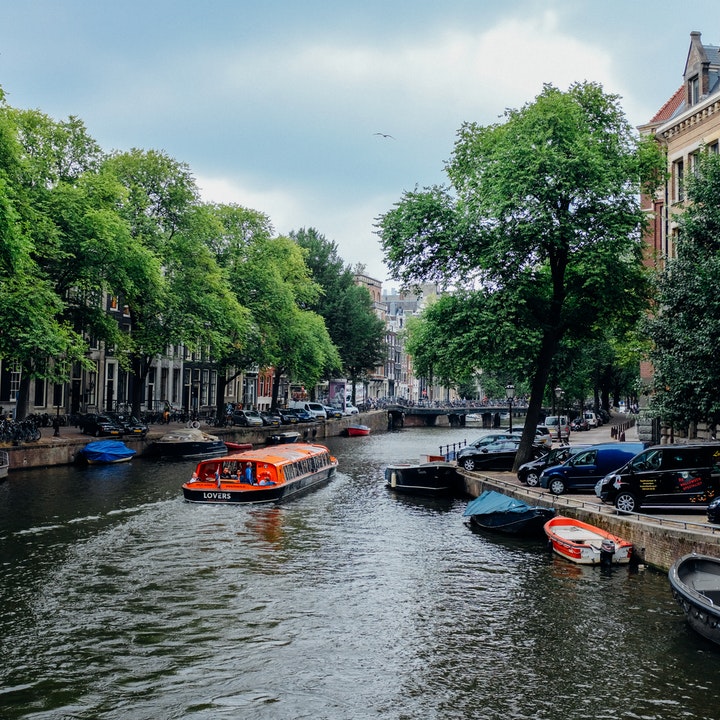 • A visit to the Anne Frank house in Amsterdam. The house has been refurbished, however, the layout of the house remains the same. Step inside and you'll feel yourself transport to another time period.
• Visit the world's only floating flower market (in the spring if you can!).
• Book the 'Seven Sins of Amsterdam' tour, after all, Amsterdam is known to many as Sin City.
• Take a boat ride down a canal in Amsterdam. Cheesy, but memorable nonetheless.
WHERE TO BOOK FLIGHTS:
Click here to find the best flights to The Netherlands.
WHERE TO BOOK ACCOMMODATIONS:
Click here to find the best hotel deals in The Netherlands
Click here to find housesitting opportunities in The Netherlands.
Click here to find hostels in The Netherlands.
Click here to find the best vacation rentals in The Netherlands.
Best Travel Tours & Packages in The Netherlands
TourRadar: Best of the Netherlands – 7 days
Start and end in Amsterdam! With the In-depth Cultural tour Best of the Netherlands, you have a 7 days tour package taking you through Amsterdam, Netherlands, and 10 other destinations in Netherlands. Best of the Netherlands includes accommodation in a hotel as well as an expert guide, meals, transport, and more.
TourRadar: Pearls of Holland Cycling – 7 days
Start and end in Amsterdam! With the Bicycle tour Pearls of Holland Cycling, you have a 7 days tour package taking you through Amsterdam, Netherlands, and 4 other destinations in Netherlands. Pearls of Holland Cycling includes accommodation in a hotel as well as an expert guide, meals, transport, and more.
Tours by Locals: Countryside Tour Full Day
I will pick you up in Amsterdam and we'll drive to:
Broek in Waterland
Monnickendam
Edam
De Rijp
Beemster polder
Schermerhorn windmill
EF Tours: Amsterdam, The Hague & Leadership Conference (for students)
See firsthand just how connected healthcare and wellness really are as you explore both topics from a local and global perspective. Your first stop is The Hague—known as "The International City of Peace and Justice." Here, you'll discover the importance of healthcare as a human right and discuss what it takes to protect it. Then, head to Amsterdam: home to winding canals and cycling citizens. Sit down with locals to learn why Dutch healthcare is among the best in the world (and be sure to share a stroopwafel, too). End your trip in Berlin, where you'll come together with other students and teachers to focus on The Impact of Sports & Wellness around the world.
Additional Reading
Podcasts: Echt Gebeurd, DutchPod101, Yous & Yay: New Emotions, SBS Dutch
Books: The Secret Diary of Hendrik Groen, 83¼ Years Old by Peter de Smet, The Dinner by Herman Koch, The Diary of a Young Girl by Anne Frank, The Discovery of Heaven by Harry Mullisch
Movies to make you fall in love with The Netherlands: The Diary of Anne Frank, A Bridge Too Far, Diamonds Are Forever
Check out these Journo Adventures of travelers who've documented a trip there: @Tmigler enjoyed a cute bakery on 9 Streets in Amsterdam, @Susalynn and company enjoyed a beer canal-side in Amsterdam, and @ryanpage and his crew made friends in Geleen.
Now that you've seen our guide to travel to The Netherlands, what did you think? Leave us a comment below!