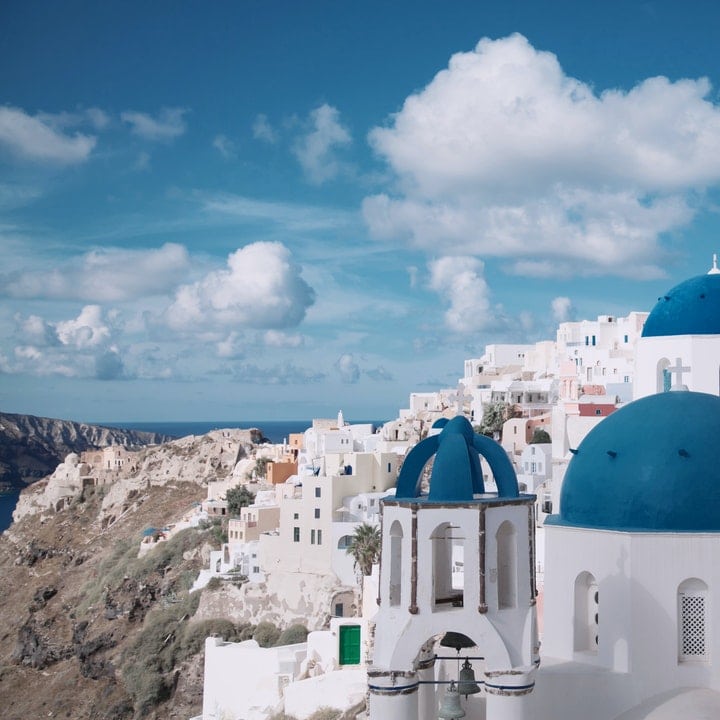 Greece is home to the Acropolis of Athens, the gorgeous beaches of Santorini, seafood and souvlaki galore. When you travel to Greece you can see the set of Mamma Mia.
We know you'll be shouting, "it's all Greek to me!" as you stroll through this beautiful country, but be sure to pack your sunscreen because it gets hot when you travel to Greece.
When you travel to Greece, take a look at our guide below to get started with planning. Psst! Get your travel journal ready for this one, you're going to need it!
Greece is #3 on our list of the 10 Best Countries to Visit in the World, and it's simply because it doesn't miss a beat with beautiful landscapes, delicious food, welcoming people, and gorgeous beaches. Every corner combines ancient history with modern charm.
General Information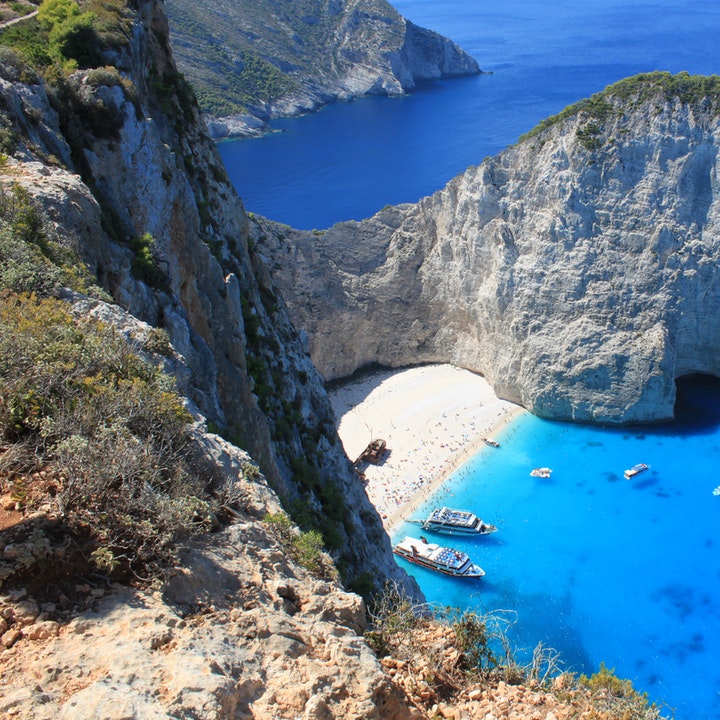 • Population: Roughly 10.7 million
• Capital: Athens
• Location: Greece sits on the Mediterranean Sea and shares borders with Albania, North Macedonia, Bulgaria, and Turkey. The country and its islands touch the Mediterranean Sea, the Aegean Sea, and the Ionian Sea.
• Flag: Features 9 equal strips of blue and white, the flag is a national symbol of Greece, and is popularly referred to as the "blue and the white." In the upper left corner, sits a blue canton bearing a white cross; the cross symbolizes Eastern Orthodox Christianity, the main religion of Greece.
• Timezone: Eastern European Summer Time
• Currency: Euro
• Language: Greek
• Climate: The climate is primarily Mediterranean, featuring mild, wet winters and hot, dry summers.
• Religion: Mainly Greek Orthodox, however citizens can practice whichever religion they choose to.
• Visa Requirement: To find out if a visa is required for your country — and easily get yours if needed — check out iVisa.com.
• Best Time to Visit: The best time of year to visit Greece is during a shoulder season, spring (April to June) or fall (September to October). You'll find mild weather and fewer crowds!
Health & Safety
As of May 2021, the CDC recommends avoiding all travel to Greece, even fully vaccinated travelers may be at risk for getting and spreading COVID-19 variants. If you must travel to Greece, get fully vaccinated before travel.
• Find information regarding COVID-19 and Italy here: https://it.usembassy.gov/covid-19-information/
• Follow the CDC guidelines for current travel advisories, as well as the U.S. Embassy guidelines.
Typical Costs in Greece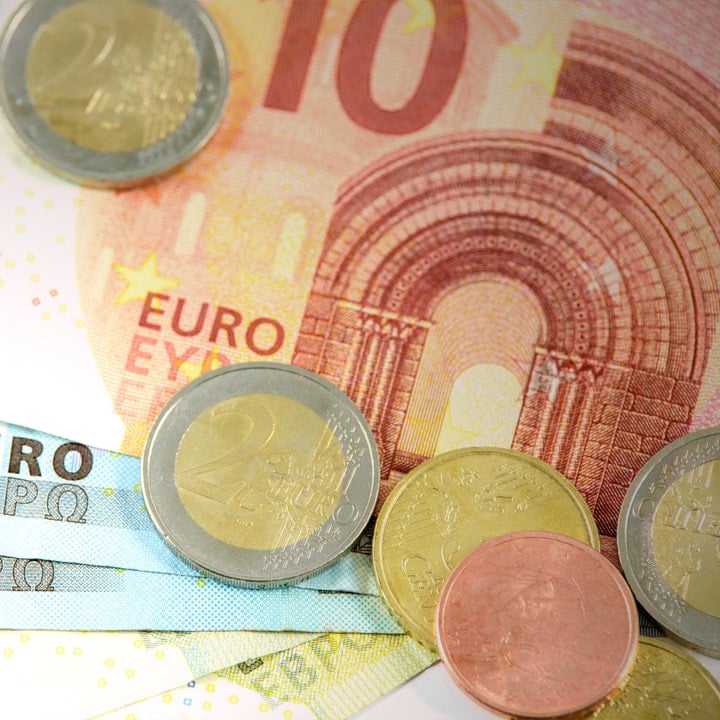 • When eating in Greece, street food will cost you under 5 Euros, while a cheap meal at a cafe will be closer to 10 Euros. If you go out to a restaurant, depending on location and tourist spots, it could be 20-30 Euros. Don't forget you'll probably be drinking wine too! 😉
• It is okay to tip for exceptional service in Greece when dining, in a taxi, or on tours. 5-10% is plenty.
Food to Eat in Greece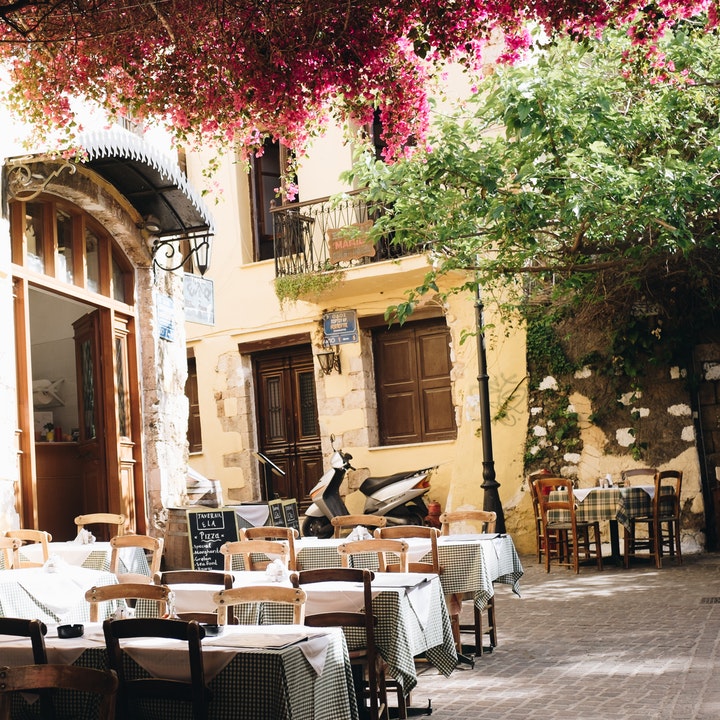 • Souvlaki are meats like pork, chicken, and lamb that are cooked on large pits before transferring charred chunks to skewers. Best with fried potatoes, tzatziki sauce, and pita bread. This is the #1 food you need to try when you travel to Greece.
• Horiatiki, also known as "Greek salad," features fresh local ingredients: tomato, cucumber, onion, feta cheese, and olives finished with oregano, salt, and olive oil.
• Amygdalota, an almond cookie associated with the Cyclades, sometimes called "Greek macaroons".
• Baklava is a layered pastry dessert made of filo pastry, filled with chopped nuts, and sweetened with syrup or honey. Baklava is popular along the Mediterranean.
• Bougatsa isa Greek breakfast pastry made with semolina, custard, cheese, or minced meat filling between layers of phyllo.
• Kolokithokeftedes, also known as Courgette Balls, are zucchini fritters made with feta and herbs.
• Gyros are similar to souvlaki, they both include meat that has been cooked on a vertical rotisserie. Gyros are usually wrapped or stuffed in a pita with tomato, onion, and tzatziki sauce.
• Tzatziki, also known as cacık, or tarator, is a dip, soup, or sauce made of salted strained yogurt or diluted yogurt mixed with cucumbers, garlic, salt, olive oil, sometimes with vinegar or lemon juice, and herbs such as dill, mint, parsley, and thyme.
• Saganaki in Greece is any dish made out of a small pan, the most common version of Saganaki is fried cheese.
• Moussaka is a Greek dish made of ground lamb, eggplant, and tomatoes, with cheese on top.
• Dolmades are common in this region, and the Greek version is made with either cabbage or vine/ grape leaves, stuffed with rice mix, shaped into little rolls, and boiled until tender.
Drinks to Try in Greece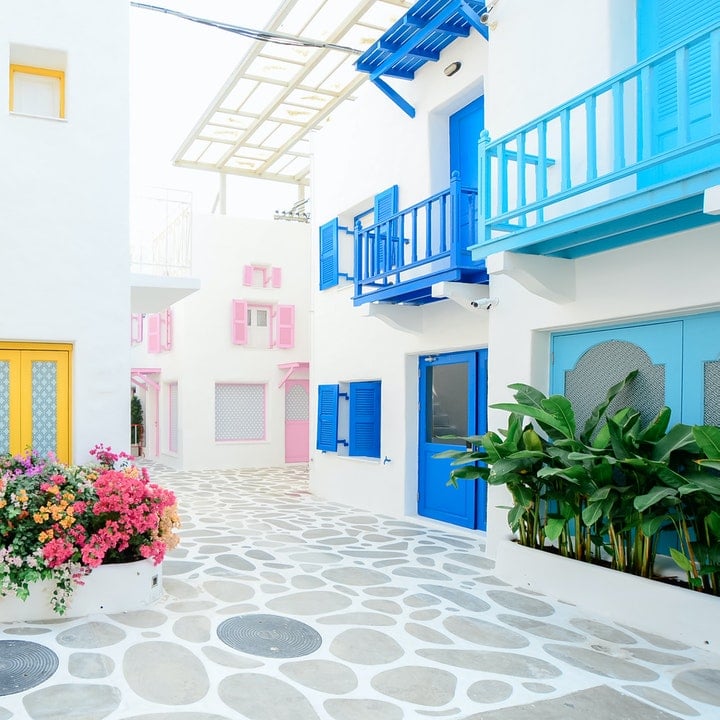 • An iced cappuccino or a frappe, these are both great to drink while bathing in the sun. The frappe is made from instant coffee and water, filled with milk and ice, and a foamy top.
• Retsina is the wine that will be served at every dinner. It is the world-famous resinated Greek wine served cold in glass bottles.
• Ouzo is an anise-flavored liquor in Greece that is very popular.
• Mythos is the mythical Greek beer that you must try while there. It is light and has its very own unique flavor.
Top Cities to Visit in Greece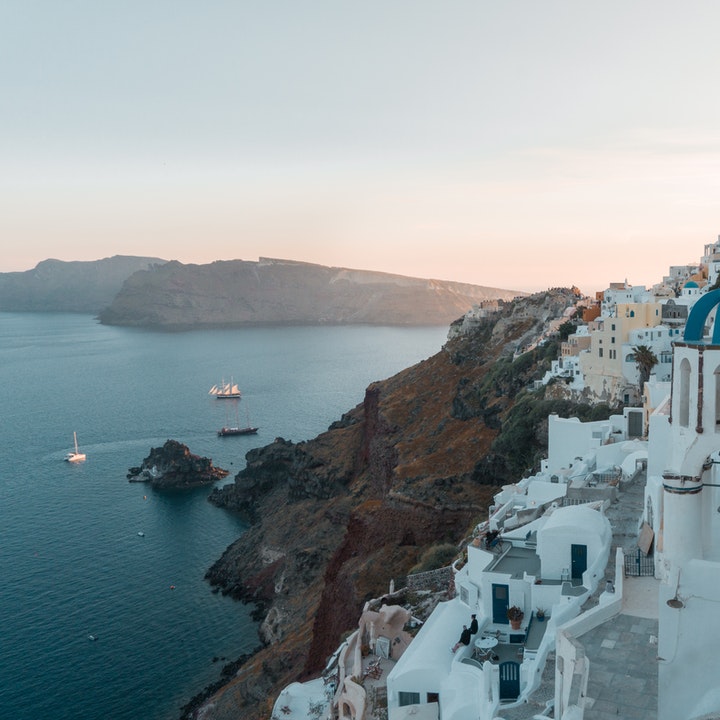 • Athens, the capital of Greece, combines ancient ruins with modern day life. The most essential visits you must make in Athens: The Parthenon and the Acropolis.
• Crete (not a city but an island!) boasts a plethora of archaeological and mythological history, after all, it is the birthplace of modern European civilization. Visit the Imbros Gorge, Rethymnon Old Town, the Gorges of Theriso, and Elafonissi Beach to start.
• Oia, is a small coastal town on the Greek island of Santorini. It's quite stunning, carved out of Santorini's cliffs, with white buildings and blue roofs. Visit Amoudi Bay, watch the sunset, and stroll along the water. Psst! You won't want to leave. 😉
• Rhodes Town is the largest of the twelve Dodecanese islands and by far the most popular. This city has everything from beaches, bars, and ruins. Stop by the Palace of the Grand Master of the Knights of Rhodes, the Archaeological Museum, the Old Town, and the Colossus of Rhodes to start.
• Thessaloniki sits on the edge of the Thermaic Gulf and satisfies the beachgoer as well as the party person. It's known for some of the best nightlife. Check out the Church of Saint Dimitrios, the Ladadika District, and the Rotunda to start.
• Fira, capital of Santorini, one of Greece's most famous islands, is a vision of gorgeous white buildings draped along a cliff overlooking the sea. Visit the beautiful cathedrals scattered throughout and enjoy your time by the water.
Must-See Sights in Greece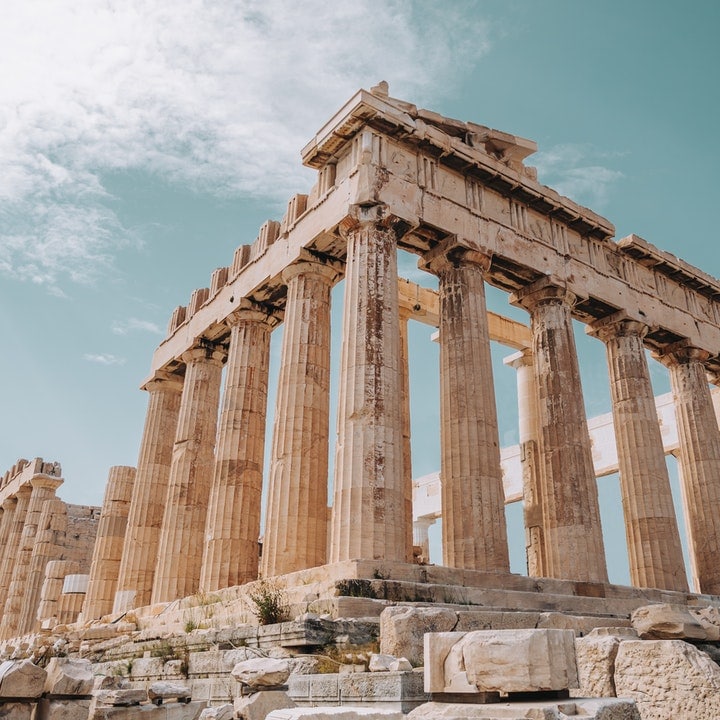 There are truly so many incredible, historical places to visit in Greece. Please visit these to start, but know that wherever you visit you will be immersed in an incredible culture.
• Acropolis of Athens
• Parthenon
• Meteora – UNESCO listed
• Temple of Olympian Zeus (One of the 7 Ancient Wonders of the World)
• Delos
• Ancient Agora of Athens
• The Minoan Palace of Knossos
• Erechtheion
• Balos Beach
• Delphi Archaeological Museum
• Psst! There are several UNESCO World Heritage sites in Greece: Temple of Apollo Epicurius at Bassae, Acropolis, Athens, Archaeological Site of Delphi, Medieval City of Rhodes, Meteora, Mount Athos, Paleochristian and Byzantine Monuments of Thessaloniki, Sanctuary of Asklepios at Epidaurus, Archaeological Site of Mystras, Archaeological Site of Olympia, Delos, Monasteries of Daphni, Hosios Loukas and Nea Moni of Chios, Pythagoreion and Heraion of Samos, Archaeological Site of Aigai (modern name Vergina), Archaeological Sites of Mycenae and Tiryns, The Historic Centre (Chorá) with the Monastery of Saint-John the Theologian and the Cave of the Apocalypse on the Island of Pátmos, Old Town of Corfu, and the Archaeological Site of Philippi.
How to Get Around Greece
• Public transportation is an option! Check out the highly efficient bus system, but it's best to avoid the train system, which is not the most organized.
• If you're staying for a while, consider renting a moped rather than a car, which can be pricey.
• When traveling between islands, take ferries when you can. Book tickets in advance!
Bucket List Experiences in Greece
• Climb the Acropolis – bring water!
• Visit The Minoan Palace Of Knossos in Crete.
• Hike Samaria Gorge, the longest gorge in Europe.
• Bask in the sun or visit sea caves on Navagio Beach In Zakynthos, also known as Shipwreck.
• Visit the Temple of Zeus at Ancient Olympia, the birth place of The Olympics.
• Hike around the Dragon Lakes in Epirus.
• Climb to the summit of Mount Olympus – Greece's highest peak and home to the throne of Zeus.
Where to Book Flights & Accommodations
For Flights:
>> Click here to find the best flights to Greece
For Accommodations:
>> Click here to find the best hotel deals in Greece
>> Click here to find housesitting opportunities in Greece
>> Click here to find hostels in Greece
>> Click here to find the best vacation rentals in Greece
Best Travel Tours and Packages in Greece
Intrepid Travel: Athens to Santorini – 8 Days
TourRadar: Mt. Olympus Hiking Adventure – 3 Days
GAdventures: Sailing Greece Mykonos to Athens – 8 Days
Island of Spinalonga and Olive Oil Factory – 1 day
Additional Reading
• Check out Helinika's awesome videos to learn essential Greek phrases and other cool tidbits about the language.
• Podcasts: Ancient Greece Declassified, The History of Ancient Greece
• Books: The Rise of Athens: The Story of the World's Greatest Civilization, Greek to Me: Adventures of the Comma Queen, The Odyssey
• TV & Film: Mamma Mia, Two Strangers(Greek)
• Check out these Journo Adventures of travelers who've documented a trip there:
https://www.journohq.com/journo/greece-2018-93573
https://www.journohq.com/journo/16-ancient-greece-day-2-in-athens-05450
https://www.journohq.com/journo/griswolds-25th-epic-adventure-45040
Now that you've seen our guide to Greece, are you ready for your next trip? Which sight do you want to see the most? Leave us a comment below!