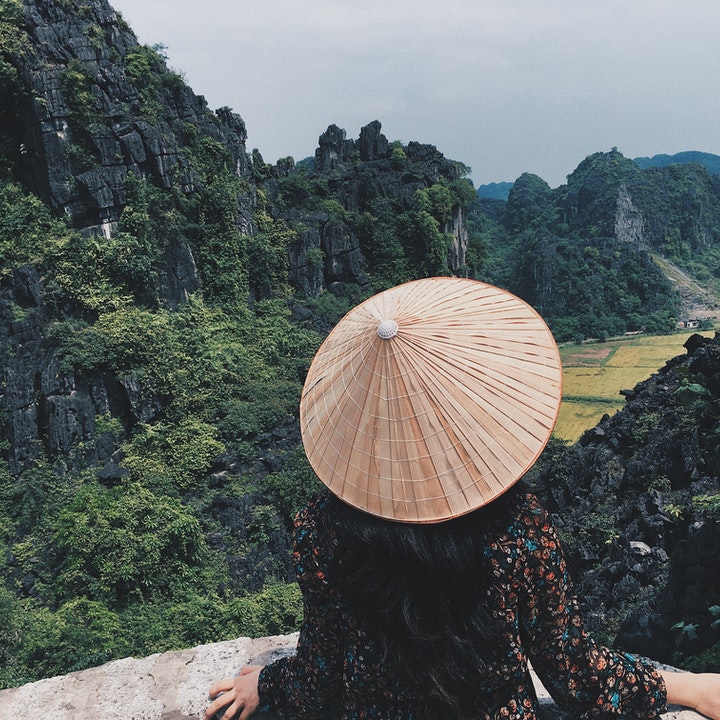 When you travel to Vietnam, immerse yourself in the culture – step into the temples (always dress appropriately!), trek through the mountains, and chow down on the delicious Phở or Bánh Mì.
If you are traveling to Vietnam, take a look at our guide below to get started with planning. Psst! Get your travel journal ready for this one, you're going to need it!
Vietnam is #5 on our list of the 10 Best Countries To Visit in the World because it has exciting city life as well as jungles, forests, and temples.
General Information
• Population: Roughly 96 million
• Capital: Hanoi
• Location: Located in Southeast Asia, Vietnam shares borders with Cambodia, Laos, and China.
• Flag: A red flag with a gold star that sits directly in the center.
• Timezone: Vietnam Standard Time (Indochina Time), 7:00 hours ahead of Coordinated Universal Time or UTC.
• Currency: đồng
• Language: Vietnamese
• Climate: Vietnam has a tropical monsoon climate with high humidity. However, varied terrain means the temperature and seasons vary across the regions. The temperature typically ranges between 70°F and 95°F throughout the year.
• Religion: There is no state religion, the country practices freedom of belief and religion. Those that follow a religion follow some sort of Vietnamese folk religion, Buddhism, and Catholicism.
• Visa Requirement: To find out if a visa is required for your country — and easily get yours if needed — check out iVisa.com.
• Best Time to Visit: March and April are the best months to visit Vietnam, the temperatures are moderate and rainfall is light. Psst! Vietnam is extremely backpacker friendly, with plenty of hostel options.
Health & Safety
As of July 2021, the CDC states that the number of cases of COVID-19 in Vietnam is low. The CDC recommends you receive your vaccination(s) before you travel, although travel to Vietnam is currently relatively safe.
• Find information regarding COVID-19 and Vietnam here: https://vn.usembassy.gov/u-s-citizen-services/covid-19-information/
• Follow the CDC guidelines for current travel advisories, as well as the U.S. Embassy guidelines.
Typical Costs in Vietnam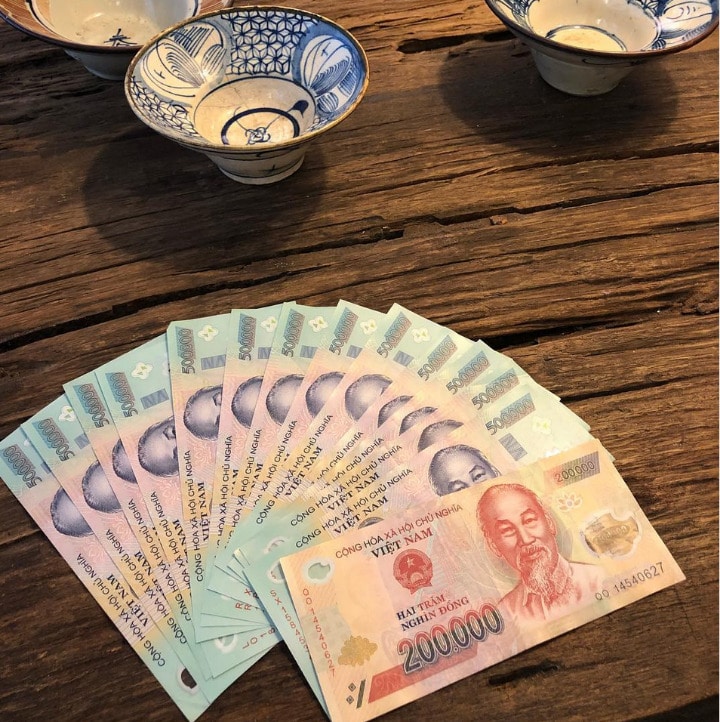 If we compare the đồng to the American dollar, here are a few comparisons:
Bottle of water 500ml : 4-6k VND ($.20-.30)
Bottle of soda 390ml : 7-10k VND ($.35-.50)
Fresh fruit from a street vendor : 20k VND ($1.00)
Fresh coconut from a street vendor : 10-20k ($.50-1.00)

Also, Uber rides are incredibly affordable in Vietnam.
Food to Eat in Vietnam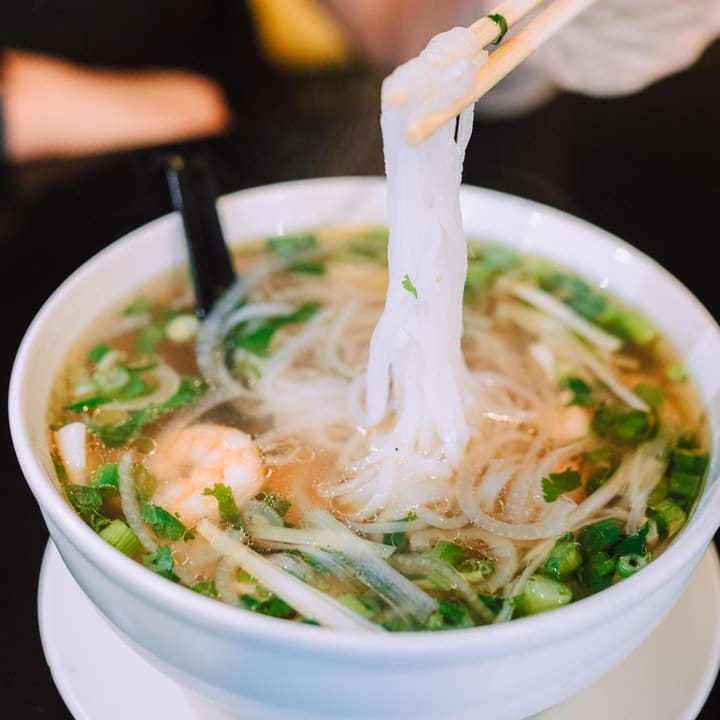 • Phở! Everyone knows Pho! The iconic Vietnamese dish is a soup dish consisting of broth, rice noodles, herbs, and meat, sometimes chicken. When you travel to Vietnam, you can find Pho; in homes, from street vendors, in restaurants. It's the national dish of this country.
• Bánh Mì is a short baguette with a thin, crisp crust and soft, airy texture. A Bánh Mì sandwich (like a sub) incorporates meats and vegetables such as chả lụa (pork sausage), coriander leaf (cilantro), cucumber, pickled carrots, and pickled daikon. Lots of variations to this one, but a country fav and an international fav!
• Mì quảng is a must-try dish in Vietnam. It combines noodles, peanuts, rice crackers, pork, and a turmeric broth. It's served on many occasions and will most often be found in the Quảng Nam Province in central Vietnam.
• Bò kho usually comes with beef, but you can get it with any meat, or tofu. The meat is simmered on a low heat in fish sauce, sugar, and either water or coconut water, with carrots, onions, and coriander. When you eat this dish, rip off chunks of bánh mì — or French bread — and dip it in the stew. Yum!
• Gỏi cuốn is a Vietnamese spring roll or rice paper roll, consisting of pork, prawns, vegetables, bún, and other ingredients wrapped in Vietnamese bánh tráng.
• Bún bò Huế is a great example of a Vietnamese dish that combines salty, sweet, and spicy. The broth is made by simmering beef bones with lemongrass and fermented fish sauce. The dish is served with beef, pork, noodles, herbs, vegetables, and chili.
• Bún chả features rice vermicelli, grilled pork, fish sauce, and herbs. It's simple, but tasty.
• Bún mắm combines whatever was on sale at the market that day! But most commonly those ingredients are: rice vermicelli, fish paste, seafood, pork, and a combination of greens and sprouts.
• Chả giò (South) / Nem rán (North) is a Vietnamese spring roll with minced pork and veggies wrapped in rice paper and fried until brown.
• Gà nướng sả is a grilled chicken dish that's cooked with lemongrass and fish sauce, usually served with vermicelli noodles.
Drinks To Try in Vietnam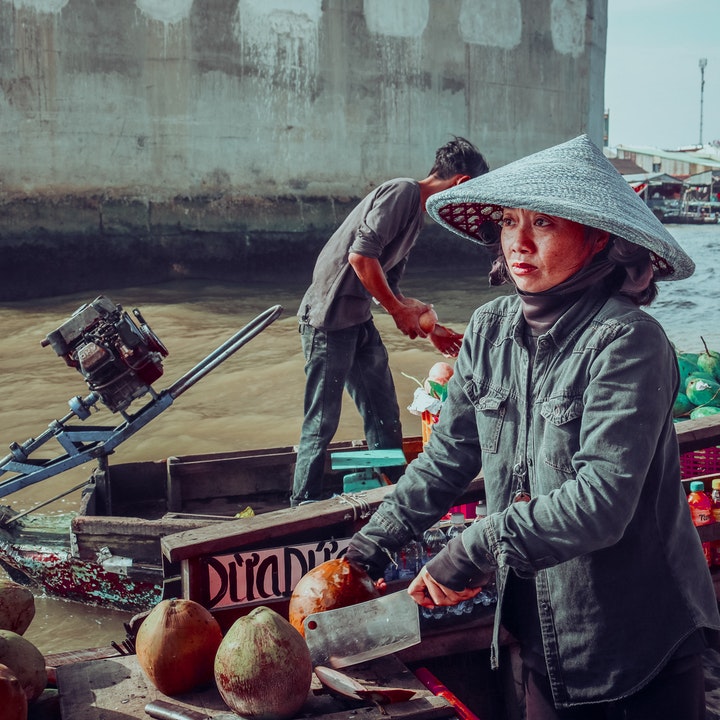 • Dừa Tươi (Fresh coconut) is..well…fresh coconut, duh! This coconut water is grassier, sweeter, and more full-flavored than the coconut water you have probably tried in a carton. They're harvested, kept on ice, and then hacked open with a machete for you to enjoy. Here's an interesting internet fact: Locals will advise you not to drink coconut water after 5 p.m. if you want to sleep well, because they believe it has diuretic properties.
• Rượu Nếp Cẩm (Sticky rice wine) is a strong alcohol (29.5%), mainly enjoyed by men during a social hour in Vietnam. Sticky rice wine (rượu nếp cẩm) is smoother and sweeter than regular rice wine.
• Cà Phê (Coffee) is not made with Arabica beans, but rather Robusta beans. In Vietnam, the beans are roasted with butter and fish sauce to bring out chocolate notes in the final brew. Vietnamese coffee is prepared using a small metal drip filter, and is most commonly served over ice.
• Nước Sâm (herbal tea), commonly served over ice, is a sweet and nutty herbal tea. This kind of drink is perfect while you are walking the streets in a market. According to Chinese medicine, Nước Sâm is believed to have "cooling" properties, the most basic recipe contains sugar cane, nettle leaves, grass roots, and corn silk.
• Nước Mía (sugar cane juice) comes from squeezing the juice out of the stalks of sugar cane! But we promise, it isn't as sweet as it sounds. It's mixed with juice from the calamansi, a tiny sour citrus fruit that smells like a mandarin. The juice has a crisp grassy flavor, also considered "cooling."
• Trà Atisô (artichoke tea) is believed to have liver-cleansing and detoxifying properties. There are two versions: a sweetened yellow version made from the artichoke flower and a bitter black version made from the artichoke stems.
• Egg Coffee is basically a dessert, so it's a drink you can eat. It's made with egg yolks, sugar, and condensed milk. You must try!
Top Cities to Visit in Vietnam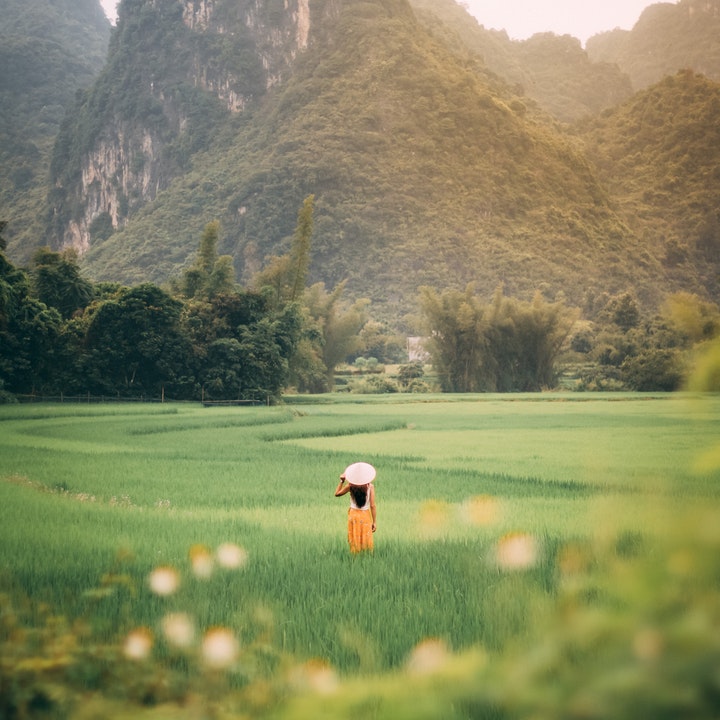 • Ho Chi Minh City is Vietnam's largest economic center and cultural capital, featuring skyscrapers, charming French colonial structures, and pagodas. You'll enjoy an exciting nightlife in Ho Chi Minh, delicious street food, and plenty of history. Visit The War Remnants Museum to learn more about the Vietnam War, check out the Cu Chi Tunnels, and be sure to grab some pho along the way!
• Hanoi is Vietnam's capital, and it has preserved both historical monuments and architecture while making room for more modern developments. This city is bursting with both French and Chinese influences and features more than 600 temples and pagodas. The best way to explore Hanoi is by taxi. Be sure to explore the Old Quarter, the Temple of Literature and National University (many devoted to Confucius), and the Hoa Lo Prison for a step back in time.

• Hoi An sits on the Vietnamese coast and it is remembered as being a an important Southeast Asian trading port back in the 15th-19th centuries. On the 14th day of each lunar month, Hoi An trades electric lights for traditional colored lanterns. Stroll through Hoi An Ancient Town, the Night Market, and An Bang Beach.
• Da Nang is a good representation of the newer Vietnam. This city has become a magnet for visitors around the world, while maintaining authentic local food and friendly local vibes. Explore the limestone caves and Buddhist grottos of the Marble Mountains, but save time to visit the incredible Golden Bridge too. Trust us, you won't want to miss it.
• Halong Bay is an incredible experience all within itself. People visit for the limestone islands, rock formations, and caves. Spend your time by the water via boat, kayak, or on a tour.
• Nha Trang is the 'relaxing riviera of southern Vietnam,' according to TripAdvisor. Enjoy the beautiful beaches and explore the historic Po Ngar temple complex. If you like adventure, try the bun cha ca, a soup made from sailfish and jellyfish. Otherwise, Nha Trang has great fresh seafood, noodles, and pancakes!
• Hue should be on your list when you travel to Vietnam, it's home to several UNESCO World Heritage sites to cross off your list. Check out Hue Imperial City, Bach Ma National Park, the Tomb of Minh Mang, and the Tomb of Tu Doc.
• Da Lat has cooler temperatures than southern Vietnam, and features beautiful French-era buildings. Visit Datanla Falls, the Crazy House, Linh Puoc Pagoda, Thien Vien Truc Lam, and more.
Must-See Sights in Vietnam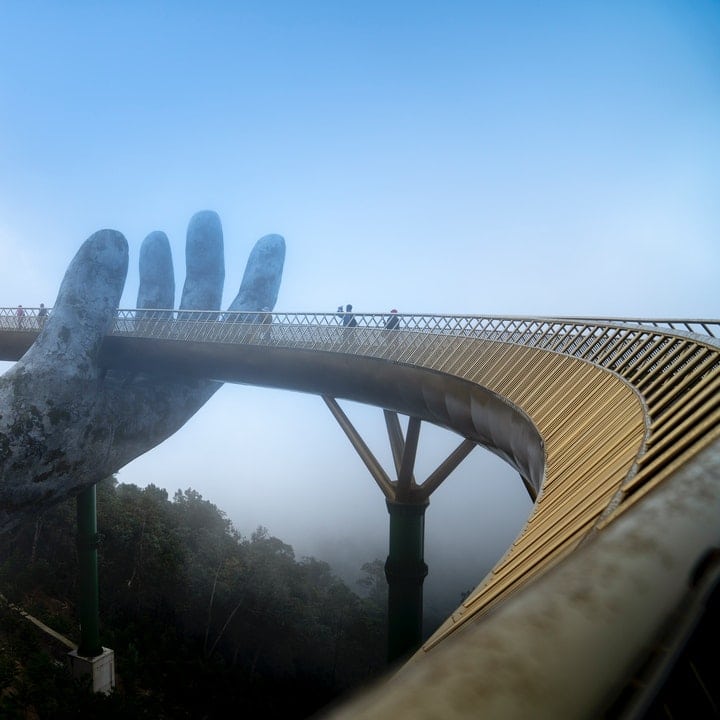 • Cu Chi Tunnels
• Old Quarter, Hanoi
• The Marble Mountains
• Hue Imperical CIty (citadel)
• Lady Buddha
• Po Nagar Cham Towers
• Temple of Literature
• The Golden Bridge
• Tam Cốc-Bích Động
• Ben Gioc Waterfall
• Thein Mu Pagoda
How to Get Around Vietnam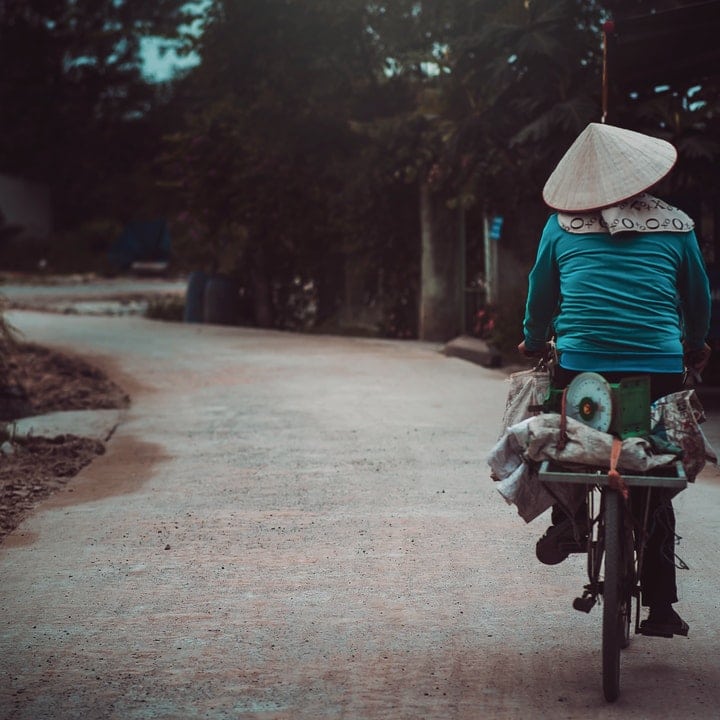 Depending on where you are, the best way to get around Vietnam may change. However, in most cities, you can walk by foot – be mindful when walking across the street or with traffic, there are lots of people and motorbikes, but they will make way. Motorcycle taxis and motorbike rentals are another fun way to see many parts of Vietnam.
Bucket list Experiences in Vietnam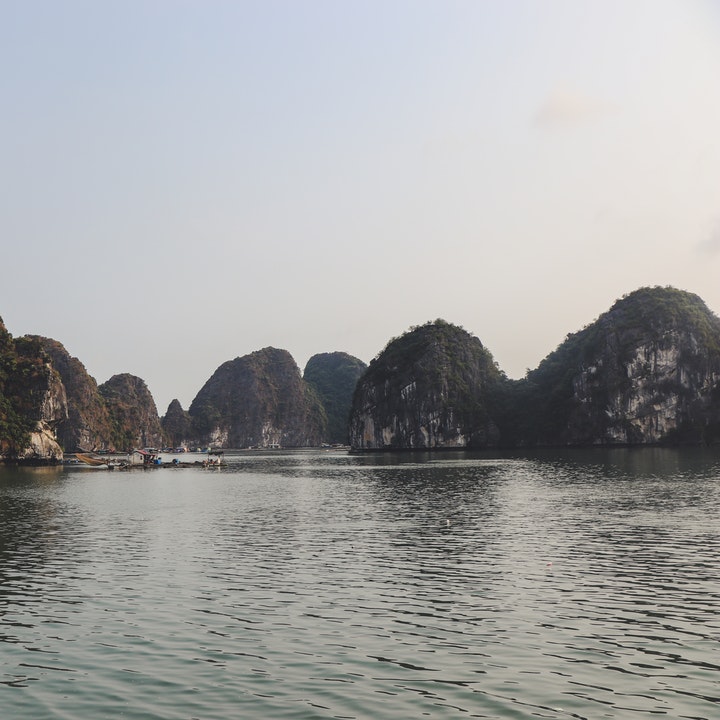 Visit floating markets on the Mekong.
Stroll through Hanoi's Old Quarter.
Ride the Hai Van Pass, known to be one of the most scenic stretches of coastal road in the world.
Take a scenic boat ride on Halong Bay, these are views you only see in movies.
Where to Book Flights
The cost of airfare can quickly eat up your budget. Click here to find the best flights to Vietnam.
Where to Book Accommodation
• Vietnam is home to some fantastic hotels. Click here to find the best hotel deals in Vietnam.
• Housesitting is a great way to cut down on travel costs. Click here to find housesitting opportunities in Vietnam.
• Hostels are an affordable option when it comes to accommodations. Click here to find hostels in Vietnam. You may even be able to snag a last minute deal!
• Booking a vacation rental can help to save the budget. Click here to find the best vacation rentals in Vietnam.
Best Travel Tours/Packages of Vietnam
Intrepid Travel: Vietnam Express Southbound – 10 days
TourRadar: Ultimate Vietnam – 14 days
GAdventures: Noodles and Nightlife – 12 Days
Additional Reading
Books: A Dragon Apparent by Norman Lewis, Mad About The Mekong by John Keay, The Penguin History of Modern Vietnam by Christopher Goscha
Podcasts: Say Mê Việt Nam – Passionate Vietnam, Vietnam Innovators, Footbridge to Vietnam
Shows: Giọng Hát Việt (The Voice of Vietnam), The Face, Thách Thức Danh Hài (Comedians Challenge), Biệt Tài Tí Hon (Little But Special), Phiên Bản Hoàn Hảo (Perfect Edition)
Here are the top Journo Adventures of our travelers who've documented a trip there:
Now that you've seen our guide for travel to Vietnam, what did you think? When will you visit?! Leave us a comment below!