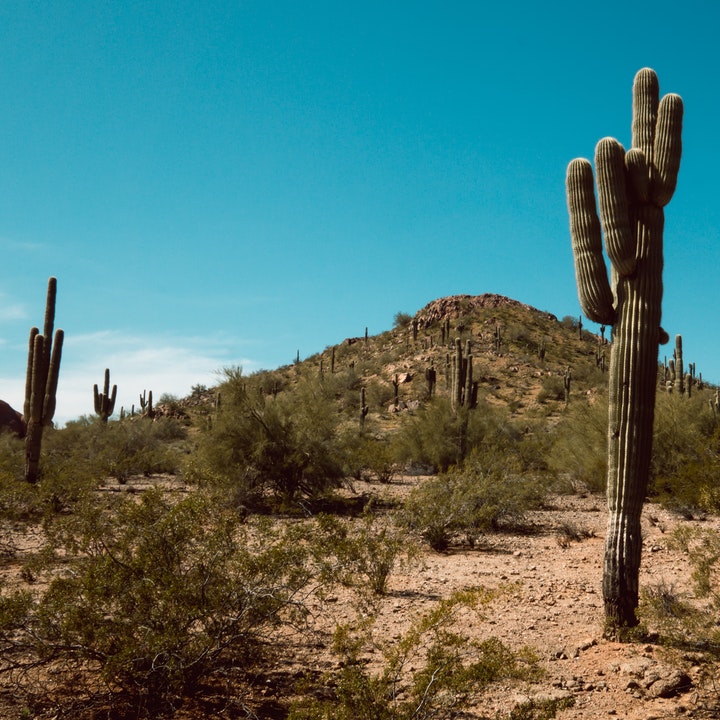 Phoenix, or the Valley of the Sun, is known for year-round sunshine and warm temperatures. It is THE Sonoran Desert city to visit in the Wild Wild West.
If you'd like to learn more about Native American culture or hike a beautiful mountain, Phoenix is the next destination for you.
The city is a great destination for all kinds of groups, from bachelor/bachelorette parties to families, and solo travelers!
Get your travel journal ready for this trip!
Here are the 26 best things to do in Phoenix.
In this guide to Phoenix, you'll find:
• The Basics of Phoenix
• A Little Bit of History
• Best Things To Do in Phoenix
• Where To Eat & Drink
• How to Get Around
• Best Places To Stay
• Where To Book Flights
The Basics of Phoenix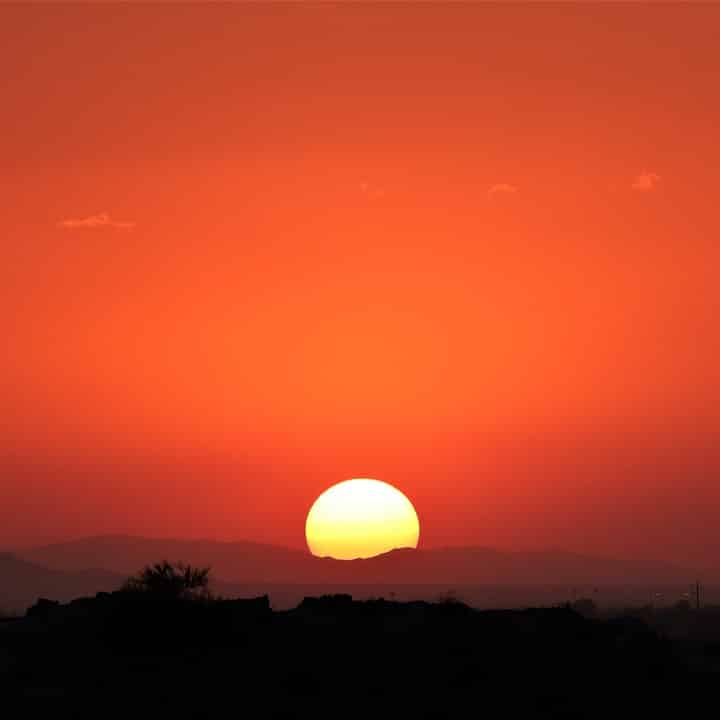 In Phoenix, the capital of Arizona, you can expect to soak up lots of vitamin D while you're outside — the area sees at least 300 days of sunshine per year. Make sure you've packed properly with the Pack This! App.
While the area sees this much sunshine, it does rain sometimes, and there are dust storms too. The rain helps nourish the desert and over 2,000 species of plants that live there. 
By far the most famous species of cacti in the Sonoran Desert is the saguaro cactus – these can grow more than 40 feet tall and live over 150 years. It can also take a very long time for their arms to grow.
It is illegal to harm a saguaro in Arizona, and considered a felony if you cut one down without a permit! So no cacti cutting while you're on vaca!
You'll be speaking English, using the American dollar, and will be looking for ways to cool down from the heat. But alas! Air conditioning is everywhere and most restaurants and bars with outdoor seating have misters to help you stay cool.
Before we discuss the 26 best things to do in Phoenix, let's learn a little bit about the city's history.
A Little Bit of History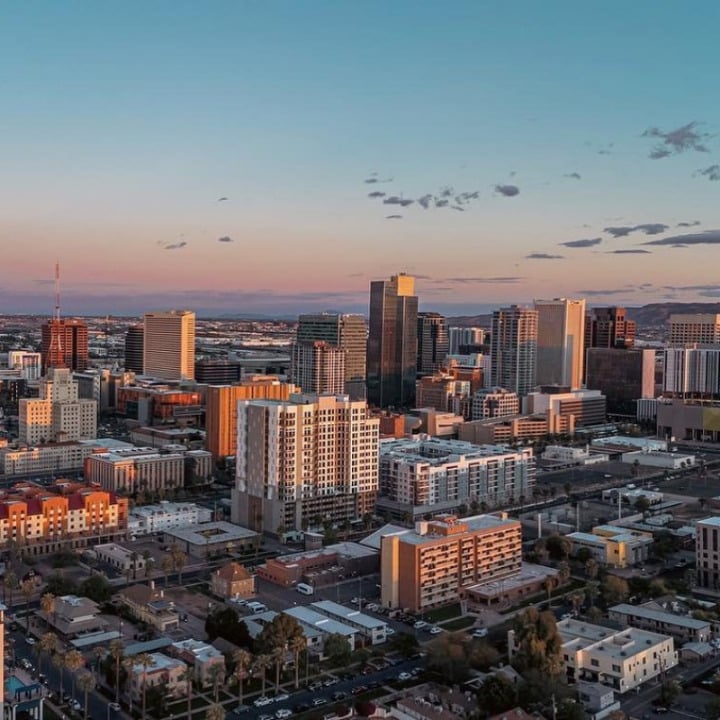 The Hohokam first settled the area around 1 AD and began to establish the canal system which enabled agriculture to flourish in the harsh desert climate. The first Europeans to arrive came at the beginning of the 16th century. Phoenix was settled in 1867 and became an official city in 1881.
It was an agricultural area that depends on large-scale irrigation projects. The economy was originally based on the 5 C's: cotton, citrus, cattle, climate, and copper. 
In the 1950s, the population of Phoenix grew as air conditioning became much more widespread. Today, the city's population continues to grow each year.
It is currently the 5th largest city in the U.S and it's the only state capital with a population of more than one million residents.
Best Things To Do in Phoenix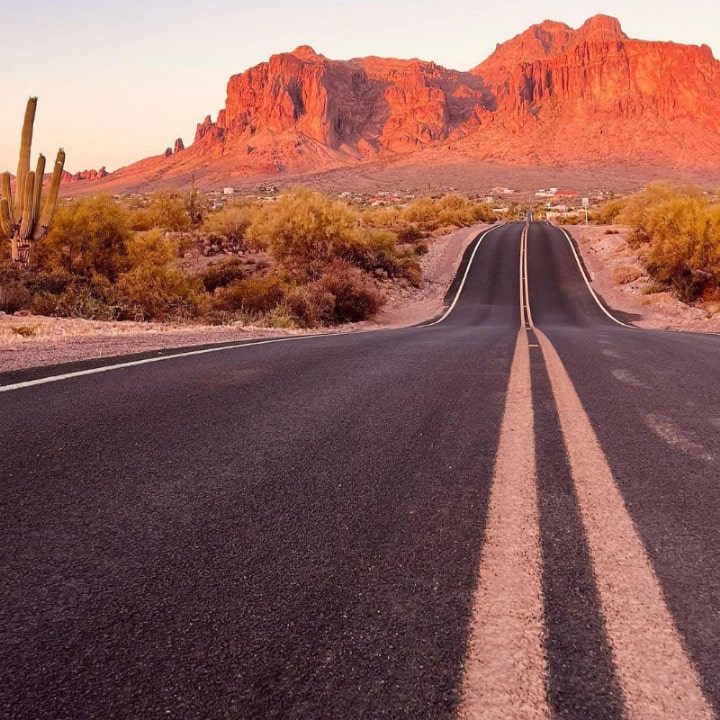 As you spend some time in Phoenix, you'll find welcoming people, delicious dishes to try all over the city, tons of opportunities to learn more about Native American history, plenty of spaces to spend time in nature, and ultimately, an urban oasis in the middle of the desert. Yep, we said it.
Attention art gallery fans! Or graffiti fans! Or people who like to look at nice things! In downtown Phoenix, you'll find the Roosevelt Row Arts District (also known as RoRo) and visitor center.
Walking around this area is one of the best things to do in Phoenix. Why? Here's a little bit more about this eclectic spot from the RoRo website: "The area is known for public art, live music performances, art galleries, eclectic boutiques, independent businesses and much more…For artists to thrive in a growing city, it is important for artists of all backgrounds to have a place to create, perform and showcase their work."
In short: the Roosevelt Row Arts District is an area of downtown Phoenix that celebrates art from local artists and it's painted all over its walls – literally!
Take a stroll and see how many you can find. While you're there, head over to The Churchill, located in(and named after) the Evans Churchill neighborhood. The goals of The Churchill are sustainability(the space was made from reclaimed shipping containers), community, creativity, and collaboration.
The space hosts service outings, artisan pop-ups, community events and fundraisers. In addition, each tenant completes four hours of community service each month as part of their "social rent." How cool is that! Sit down here to dine, drink, socialize, and connect. 
Have a beer! Try the Raspberry Blonde from Ska Brewing and the za from Freak Brothers Pizza.
With over 2,000 species that survive and thrive in the Sonoran desert, it's impossible to see all of them! That's why a visit to the Desert Botanical Garden is one of the best things to do in Phoenix.
While any tour guide can tell you about the infamous Saguaro cactus that the area is known for, there are so many other plant species at the botanical garden, including the Arizona state tree: the Palo Verde, which means "green stick" in Spanish, a beautiful tree with a green trunk and branches. The garden hosts events, classes, and research and conservation initiatives.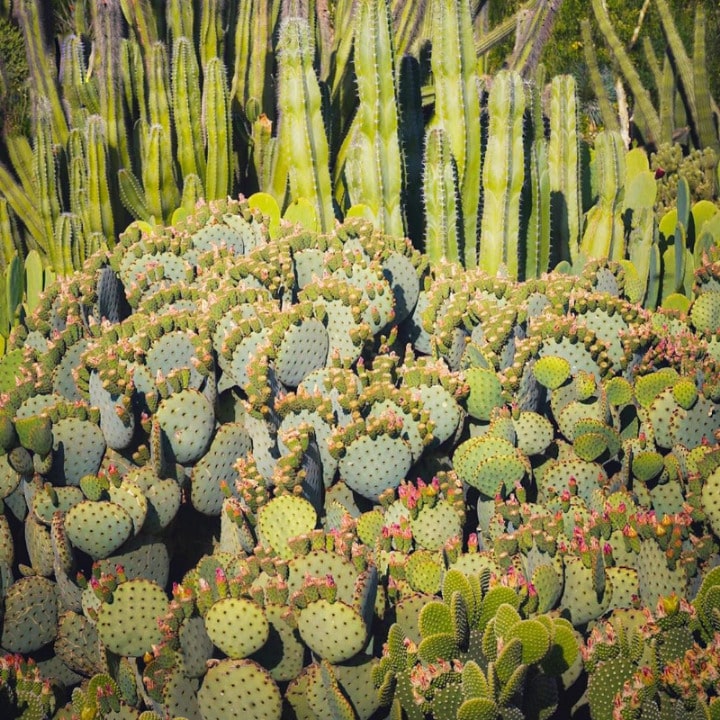 If you'd like to pop into some museums during your visit, check out the Musical Instrument Museum which houses over 8,000 instruments from 200 countries, spanning across 6,000 years of history. Psst! It's ranked one of the top 12 museums in the U.S.
Step back in time to the city's Victorian era in Heritage Square, which dates back to the 1800s. Visit the restored Rosson House Museum. Make your way to The Phoenix Art Museum, the largest art museum located in the southwestern region of the United States, which welcomes over 300,000 visitors each year.
Finally, the Heard Museum is dedicated to the advancement of American Indian art, and this shows with the growing collections, exhibitions, and festivals. There is truly so much to learn about this area of the United States through this museum.
If you fancy a hike, or two, or three, or four…Phoenix, as well as the greater Phoenix area have plenty of hiking or outdoor nature trails for you. The most well known is a visit to Camelback Mountain, by way of the Echo Canyon trail (note: this is a difficult trail). There's also South Mountain Park, Piestewa Peak, Papago Park, and Hole in the Rock, a must-see for great city views and one of the best things to do in Phoenix.
In addition to these activities, you can enjoy a day at one of many spas in the area, go for a hot air balloon ride over the desert, visit an olive oil farm, hop from winery to winery (or brewery to brewery), or catch a Diamondbacks game at Chase Field.
One of the best things to do in Phoenix? How about right outside of Phoenix? Old Town Scottsdale is an area known for its bustling social scene and nightlife. Here, you can party all day and night at pool day clubs that transform for the evenings.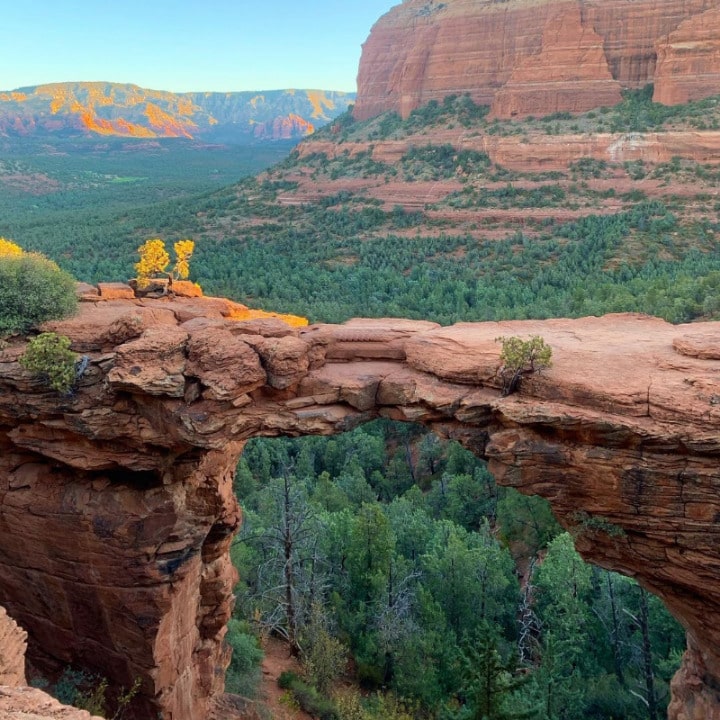 Finally, there are so many day trips that you can take from Phoenix if you're looking to see some more of Arizona. Sedona is just a two hour drive away – this is red rock country.
If you've always wanted to see it, Phoenix is a good base. In Sedona, you can hike to Devil's Bridge, Bell Rock, Cathedral Rock, and so many other trails.
On your way, stop by Montezuma Castle National Monument and Amitabha Stupa & Peace Park. If you're up for it, in a 3.5 hour drive from Phoenix, you can see the Grand Canyon, one of the 7 Natural Wonders of the World, and get your kicks on legendary Route 66.
Where To Eat & Drink in Phoenix
The Churchill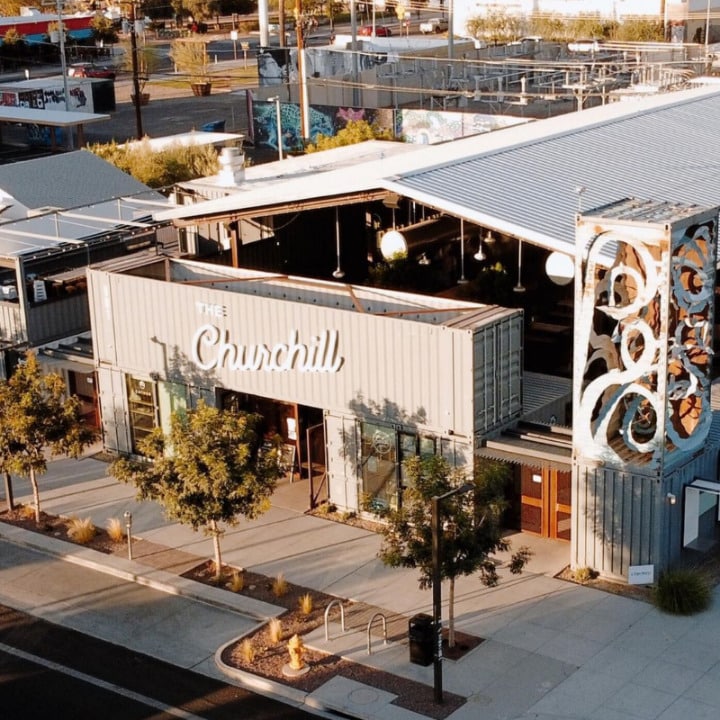 The Churchill is a fantastic, community-focused eating/drinking/social space in Phoenix. Sit down for a drink and enjoy pizza or tacos from the vendors. Taking in the community and good energy of The Churchill might be one of the best things to do in Phoenix.
Palma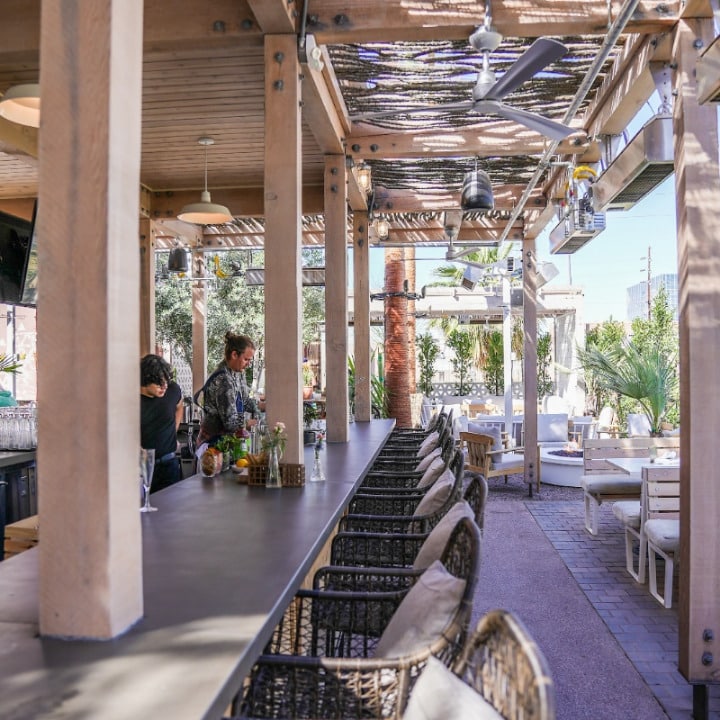 Palma gives off a beachy, Arizona-meets-Palm Springs vibe! With indoor and outdoor seating, delicious margaritas, and misters to cool you off you'll love this bar – whether you're traveling with friends (order the King's Conch – a prickly pear margarita served in a giant conch shell)  or solo.
Try the potato scallion waffle and Blood Orange Margarita, they are both *chef's kiss*.
Taco Guild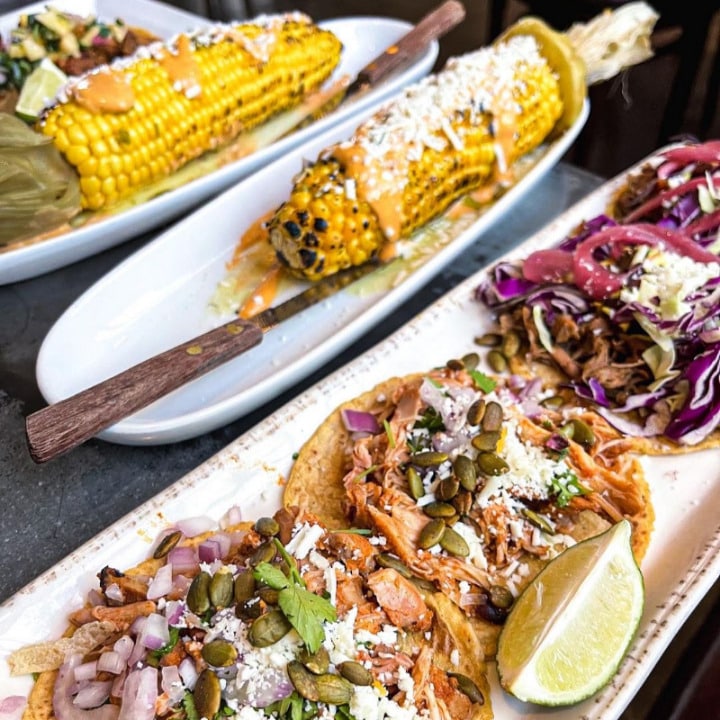 Where else in the world can you say you're eating homemade tacos in an old church? Well, we're sure there are others. But in the desert? Taco Guild was once a Methodist church dating back to the time before Arizona was even a state.
Sit inside the dining room with the warmth of the stained glass windows and enjoy a margarita. Churros for dessert! 
Postino Wine Cafe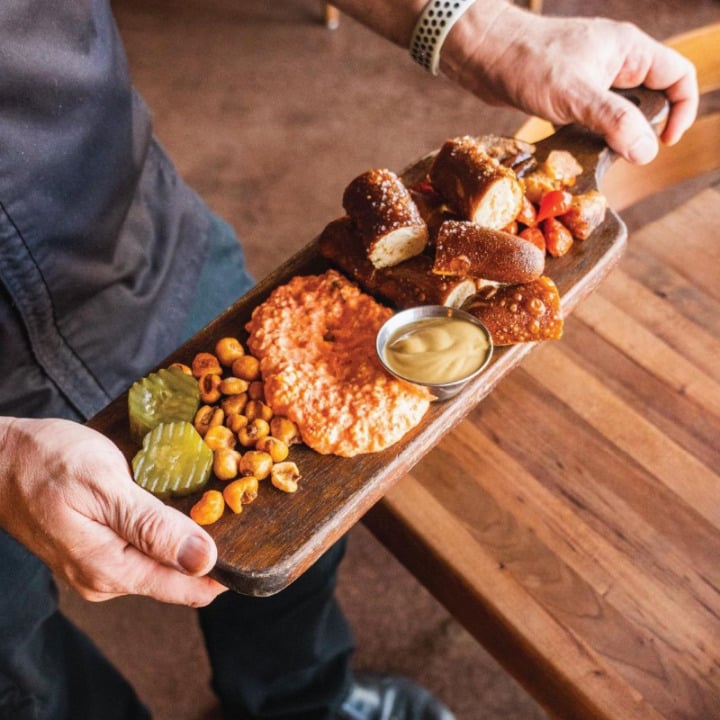 Postino Wine Cafe's mission is "to make every moment that we're a part of, one that leaves people feeling crazy-good." Cheers to that! Try the grilled cheese. And the wine.
Hash Kitchen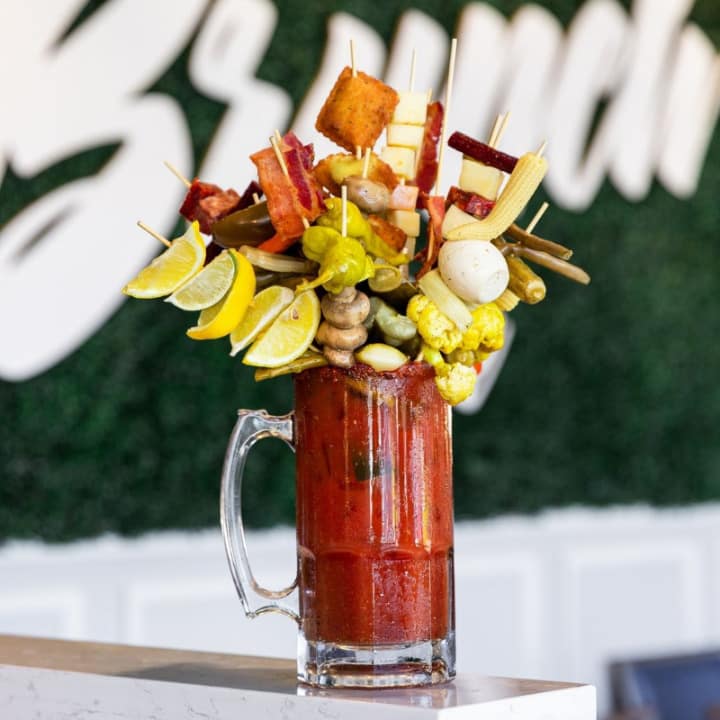 Breakfast is a staple in America, whether you're stopping at a bodega, sitting down with friends for a boozy brunch, or grabbing a quick bite at a local diner. Hash Kitchen in Phoenix does too. With a friendly, fun atmosphere and misters for outdoor seating, you'll love the young, energetic vibe of this spot. Oh, it's also known for a Build-Your-Own Bloody Mary bar.
Jalapeño Bucks
Note: this is Arizona BBQ and Arizona BBQ only! Jalapeño Bucks is known for delicious BBQ sandwiches, sides, and more. It's easy to eat and delicious. Bring your friends, bring your family, or stop by and treat yourself.
How To Get Around Phoenix
Rental car: Your best option for seeing the different sights, hiking, and taking day trips.

On foot: Not a great idea if you want to see and do lots of things. A bicycle could be a good option.
Uber/Lyft: Standard price

Buses: Phoenix has a strong bus system that covers over 500 miles in the Greater Phoenix area. The NextRide notification system will help you determine when the next bus will pull up. All you need to do is text the stop number to 22966 for the next 3 arrival times or call.
Best Places To Stay in Phoenix
Phoenix is home to some fantastic hotels.
>> Click here to find the best hotel deals in Phoenix.
Housesitting is a great way to cut down on travel costs.
>> Click here to find housesitting opportunities in Phoenix.
Hostels are an affordable option when it comes to accommodations.
>> Click here to find hostels in Phoenix.
Booking a vacation rental can help to save the budget.
>> Click here to find vacation rentals in Phoenix.
Where To Book Flights
The cost of airfare can quickly eat up your budget.
>> Click here to find the best flights to Phoenix.
Now that you've seen our guide for the 26 best things to do in Phoenix, what did you think? Leave us a comment below!