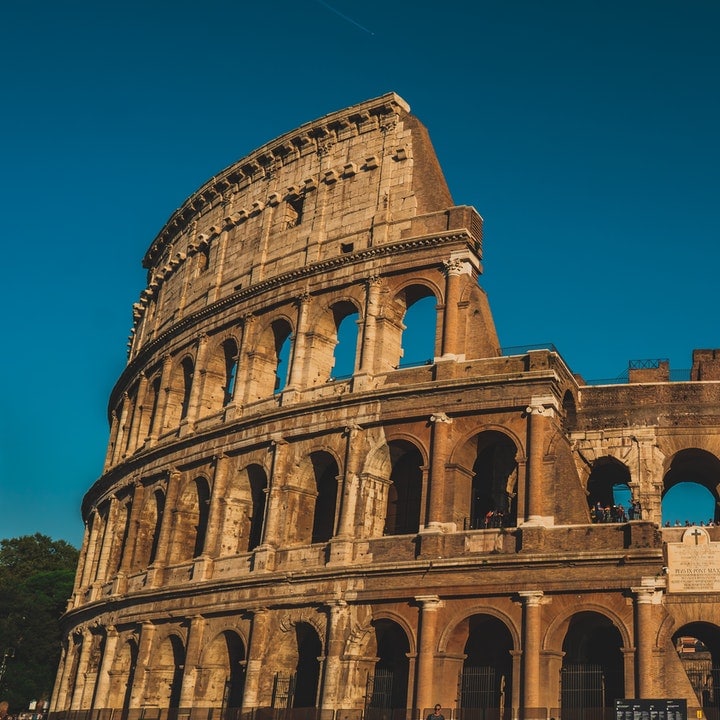 The Eternal City invites visitors and locals with enchanting sights like the Trevi Fountain, the Colosseum, the Roman Forum, and the Spanish Steps. 
When you're ready to travel to Rome, take a look at our guide below for the best things to do, where to eat and drink, and tips from locals who have lived there.
Italy is #1 on our list of the 10 Best Countries to Visit in the World, and Rome sums up why – people, food, music, art, history, experiences!
In this guide to Rome, you'll find:
• The Basics of Rome
• A Little Bit of History
• Best Things To Do in Rome
• Where To Eat & Drink
• How To Get Around
• Best Places To Stay
• Tips From Locals
The Basics of Rome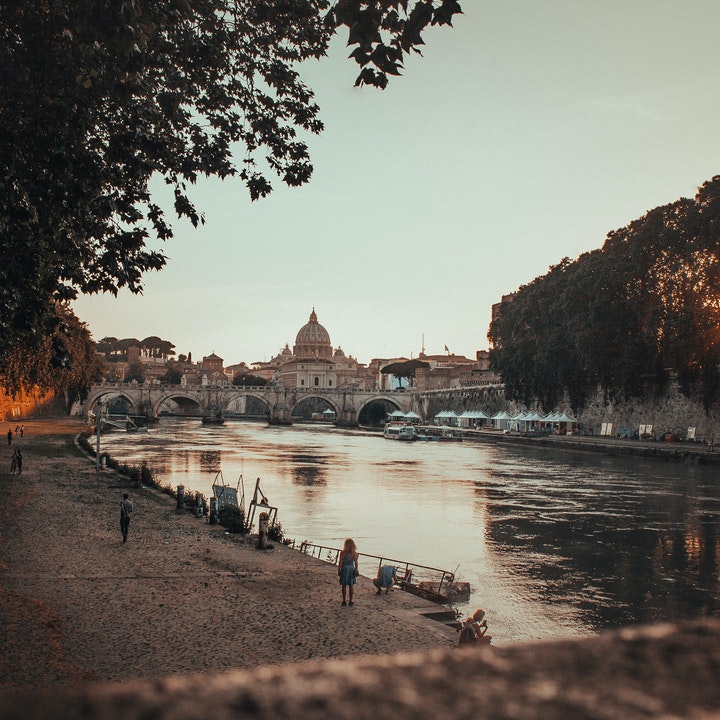 Rome, located in Italy, sits on the left side of the country. While Italian is the language of Italy, English is spoken everywhere in this city. The Euro is used and the climate is Mediterranean, with mild winters and warm to hot summers. Bring clothes to layer in. In the winter time, strolling around the city, you may easily warm up – so wear easy layers!
Remember to pack: comfortable walking shoes, a hat or sunglasses, and a water bottle. Use the Pack This app so you don't forget anything!
Psst! Rome makes our list of the 10 Most Dog-Friendly cities in the world.
A Little Bit of History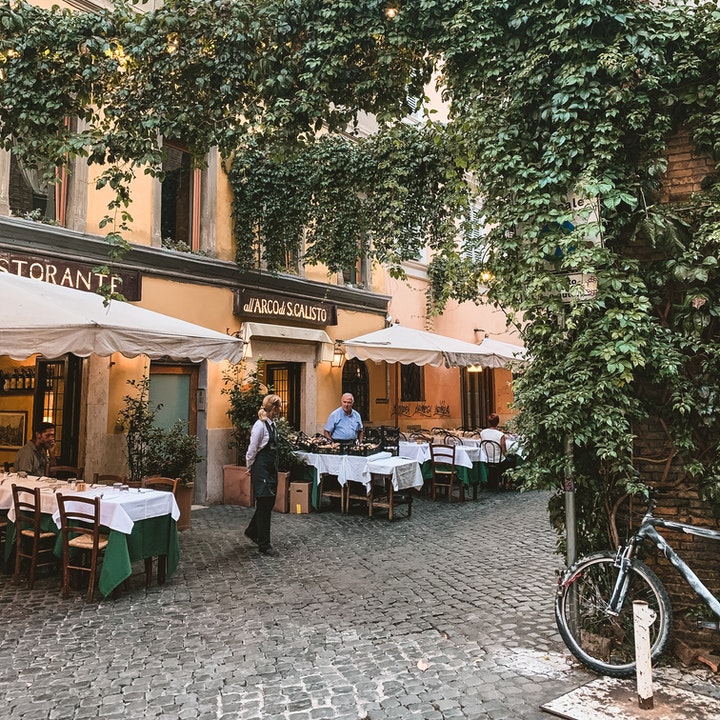 Did you know Rome was built on seven hills, known as "the seven hills of Rome"? Esquiline Hill, Palatine Hill, Aventine Hill, Capitoline Hill, Quirinal Hill, Viminal Hill and Caelian Hill.
Rome is called the Eternal City because ancient Romans believed that no matter what happened in the world, that Rome would live for eternity. When you travel to Rome and see the ancient sights, you might feel the same way.
Best Things To Do in Rome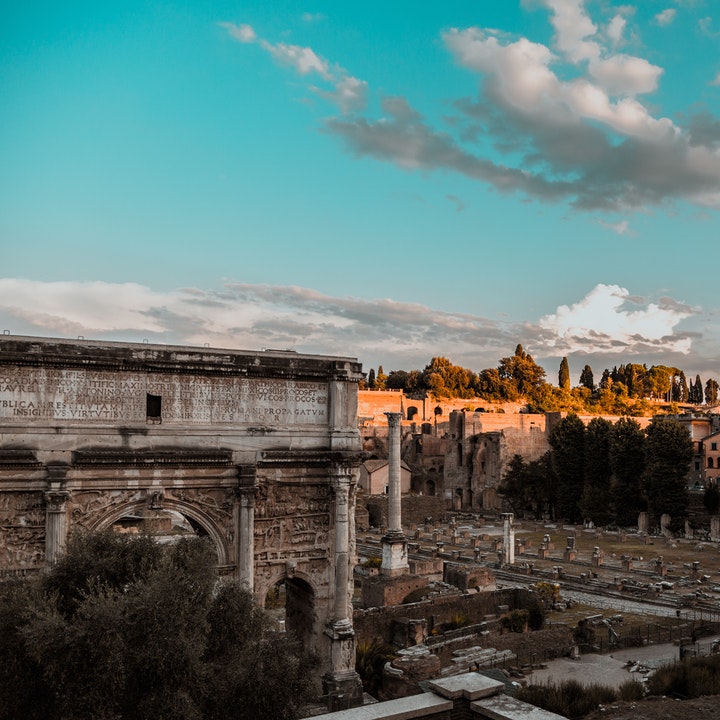 Travel to Rome for delicious gelato (avoid the fake colored ones), to throw a penny in the Trevi Fountain, and to learn a whole lot about one of the world's oldest places. Let's dive in.
The Colosseum is one of the best places to visit in Rome, and we're not just saying that because it's The Colosseum. Visiting the ancient artifacts of the Romans is a surreal experience, and you'll create memories you will never forget. When you step inside The Colosseum, you'll feel like a gladiator and transport to another time period. Pro tip: book a tour ahead of time – otherwise you will waste time waiting in line.
Steps away from The Colosseum is the heart of ancient Rome: the Roman Forum. Stroll around the ancient ruins and then make your way around the city. Pass the Altar of the Fatherland and throw a penny in the Trevi Fountain for good luck – make one wish and one wish only!
Take a picture by the Spanish Steps, visit the Pantheon, Palatine Hill, the ancient Roman crypts, and Hadrian's Villa. In addition to all of these sights, travel to Rome and add these stops to your list: St. Peter's Basilica, Piazza Navona, Castel Sant d'Angelo, Villa Borghese, Baths of Caracalla, and Pincio Promenade. Locals say a stroll through bohemian neighborhood, Trastevere, might inspire you to move to the city. 
While you are technically entering a new country and a new city, the Vatican falls within the area. This is one of the best places to visit in Rome – without a doubt. The history, art, and architecture are just a few of the incredible things you will experience when you visit the Sistine Chapel, the Apostolic Palace, and the Vatican museums. Michelangelo's 'The Last Judgement' is the painting covering the entire ceiling of the Sistine Chapel and it includes over 300 figures.
If you tour the Vatican fountains, check out these funny Latin inscriptions! Another pro tip: Be sure to book a guided tour of the Vatican ahead of time, do not show up and walk around by yourself. A tour guide is more than worth it – and you'll avoid lines. 
Our list of the best places to visit in Rome can go on for ages because the Eternal City is covered in ancient artifacts, relics, museums, and more. Around every corner, there is some piece of history. Taking guided tours is a great way to learn more about the city, also, take a ghost tour!
Day trips from Rome include visits to Pompeii (we highly recommend), the Amalfi Coast, Tuscany, and Tivoli.
Where To Eat & Drink in Rome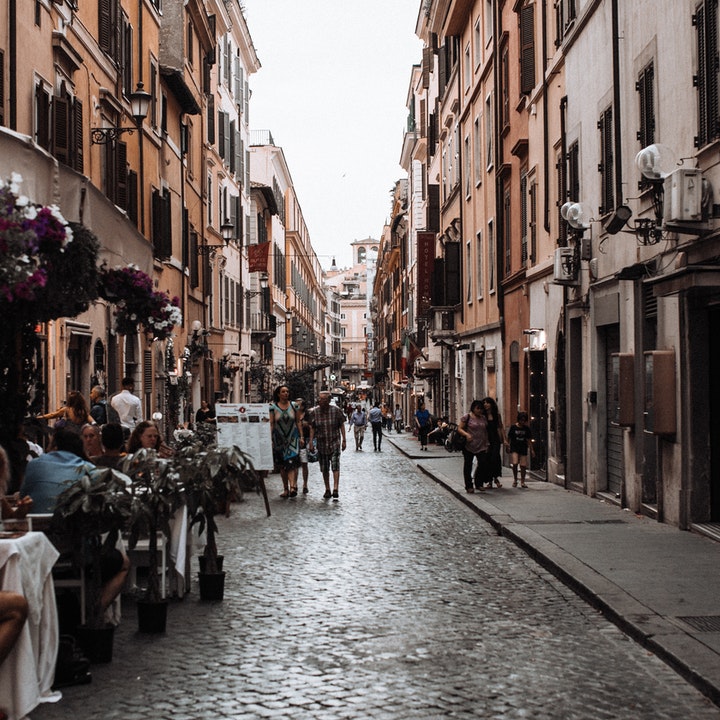 Whether you're eating at a restaurant, a trattoria, or a pizzeria, you will not be disappointed by any of the pizza, pasta, or other Italian dishes you try in Rome. At lunch time, stop into a deli and get any kind of meat and cheese combo on a sandwich. The bread is light, crispy, and flaky, the ingredients are so fresh!
When you stop for gelato, avoid the fake-colored versions, go for natural-looking ones. You could travel to Rome simply for the food, it's that good. 
Otello alla Concordia
For a great pasta dish, Otello alla Concordia, located around the Spanish Steps, is your next stop. Get a classic pasta dish or try one of their takes.
Piperno
Piperno has been owned by the same Italian family since 1860 – need we say more? They are making classic Italian dishes that you'll go nuts for.
Goloseum
Goloseum is the spot for street food or a quick grab on the go. The restaurant offers pizza, pasta, and sandwiches to take with you as you take in the sights.
Other restaurants to try: Divin Ostilia, Crab, Hostaria al Gladiatore, Hostaria da Nerone, Trattoria Luzzi, Ristorante Fiammetta, Armando al Pantheon, Retrobottega. Rome has several spots on our list for a great cocktail, check out the 50 Best Bars in the World. Looking for a coffee? How about coffee and a cat? Check out Romeow Cat Bistrot.
How To Get Around Rome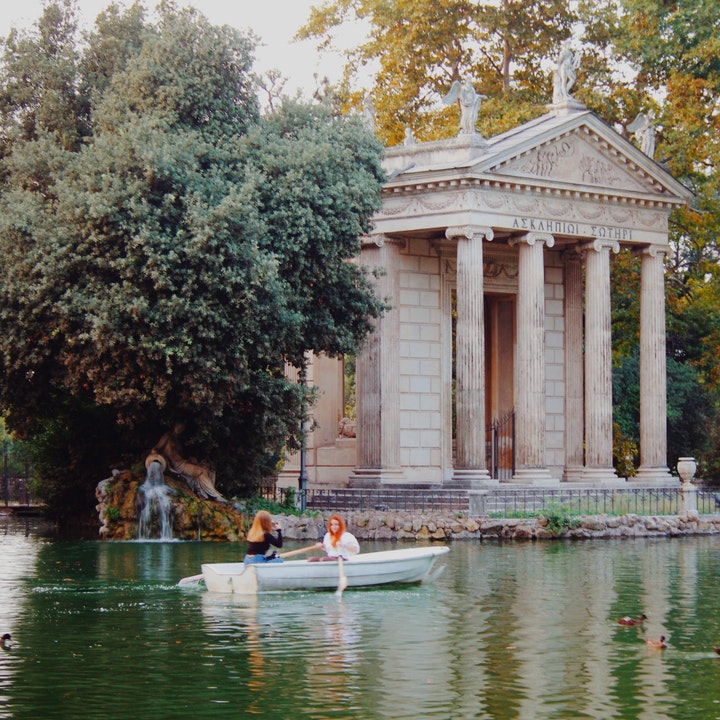 Rome is an incredibly walkable city, so before you choose to use public transportation, consider how much time you have to explore in the city, and determine if you can walk.
The next best way to get around is to utilize public transportation like the Rome Metro, the bus, or taxis. Uber is available in Rome as well as Uber Jump now offers electric bike hire through the app. 
There are plenty of ways to travel to Rome and get around Rome, for all kinds of itineraries and all kinds of budgets!
Best Places to Stay in Rome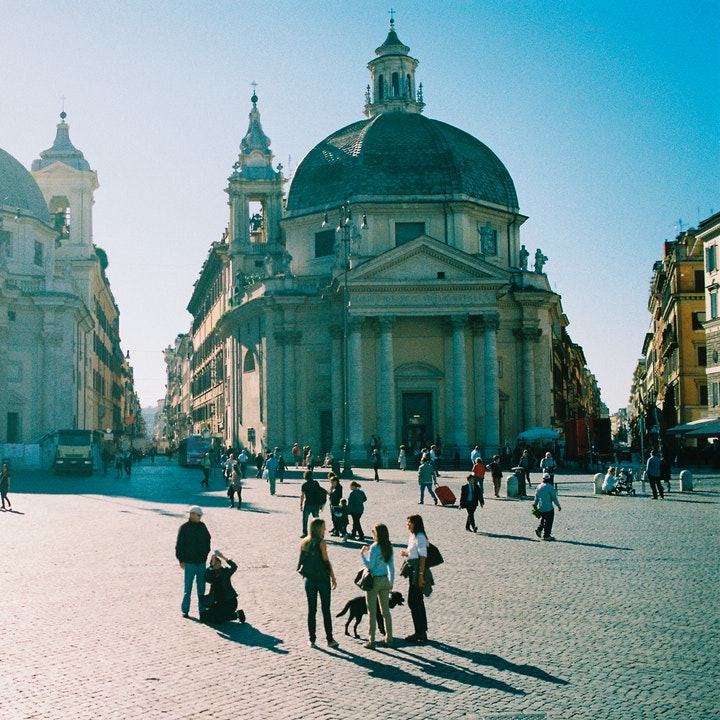 Rome is home to some fantastic hotels.
>> Click here to find the best hotel deals in Rome.
Housesitting is a great way to cut down on travel costs.
>> Click here to find housesitting opportunities in Rome.
Hostels are an affordable option when it comes to accommodations.
>> Click here to find hostels in Rome.
Booking a vacation rental can help to save the budget.
>> Click here to find vacation rentals in Rome.
Tips from Locals
"I'm sure you'll get a lot of the usual answers: the Roman Forum, the Colosseum, etc, so I wanted to send along some unique things to do in Rome instead.
Open Baladin: In the Campo de Fiori neighborhood of Rome, there's a little brewpub called Open Baladin. It opened in 1986 and serves mainly Belgian beer. It's one of my favorite breweries in Rome and, since Italy isn't known for their craft beer, it's an activity most tourists don't get to enjoy.

The Capuchin Crypt: Underneath the church of Santa Maria della Concezione dei Cappuccini there's the Capuchin Crypt, or the Crypt of the Capuchin Friars. There's five underground chambers decorated with skulls and bones (estimated to be around 3,700 corpses total). Entrance tickets are €8.50 and you're not allowed to take any photos.
Giardino Deli Aranci: This garden translates to "Orange Garden" and is located high on a hill near the Roman Forum. The views of Rome from this vantage point are spectacular.
Go Clubbing in Testaccio: Testaccio is a very non-touristy area of Rome and the nightclubs in this neighborhood are more authentically Italian than other neighborhoods in Rome. Akab is a great club for a fun night out listening to Italian music!

Take a Day Trip to Anzio: Anzio is a little known beach town about an hour train ride from Rome. Barely any tourists make the trip there and the beaches are pristine for a beach day." – Madison Krigbaum (@madisonsfootsteps)
>> Read how to experience a new place like the locals do.
Check out how other Journo travel junkies explored this city! @susannariley had a blast visiting all the spots in Rome and documenting each with a picture and @mcday stopped in Rome on a Europe trip and stayed in a lovely AirBnb near Piazza Navona!
Now that you've seen our guide on travel to Rome, what did you think? Did we miss anything? Leave us a comment below!