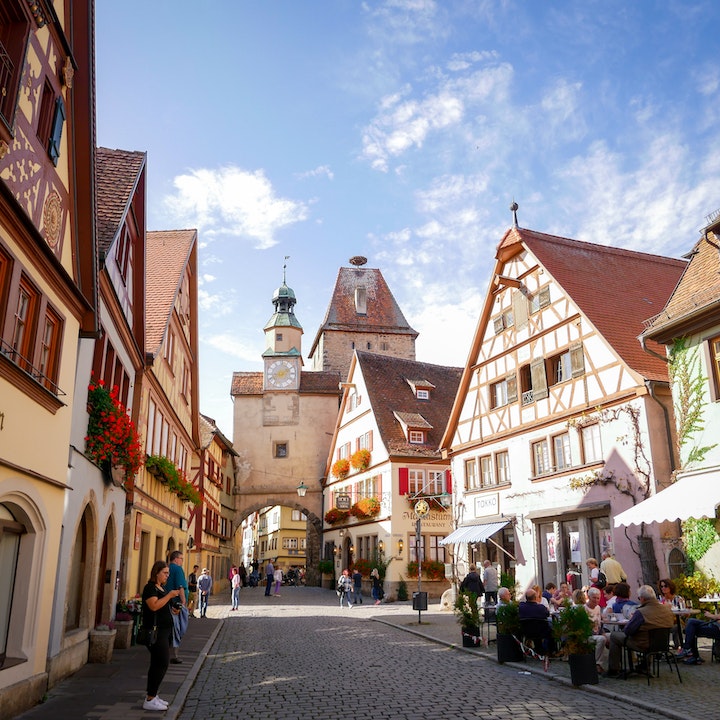 Travel to Germany is perfect for solo travelers, families, and couples. If you like music, history, art, or visiting UNESCO World Heritage sites, you've found the right place for you.
Germany is home to the third greatest number of UNESCO sites in the world and it is home to the world's largest folk festival – Oktoberfest!
Castles, pretzels and beer, fish markets, historical sights, the Glockenspiel, and more is waiting for you in Deutschland. Lass uns gehen!
General Information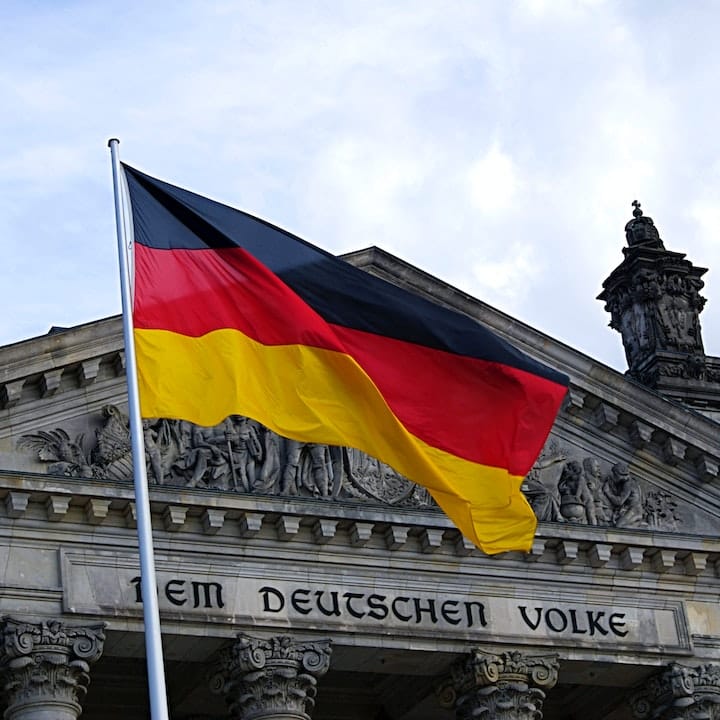 Population: 83 million
Capital: Berlin
Location: Located in central Europe, Germany shares borders with the Netherlands, Belgium, Luxembourg, Switzerland, Lichtenstein, Denmark, France, Austria, Czech Republic, and Poland.
Flag: Three horizontal stripes of black, red, and gold.
Time Zone: Central European Time
Currency: Euro
Language: German
Climate: Most of Germany has a temperate climate. This ranges from oceanic in the north to continental in the east and southeast.
Religion: Christianity is the largest religion in Germany.
Travel Visa Information: To find out if a visa is required for your country — and easily get yours if needed — check out iVisa.com.
Best Time Of Year To Visit: Travel during shoulder season and it's a bit less crowded and a bit less expensive.
Health & Safety
As of September 2022, the CDC recommends you are up to date with COVID-19 vaccines before you travel to Germany.
Find information regarding COVID-19 and travel to Germany here: https://de.usembassy.gov/
Follow the CDC guidelines for current travel advisories, as well as the U.S. Embassy guidelines.
Typical Costs in Germany
When you travel to Germany, the average price for one person for accommodation is roughly €60. That's not a bad price considering right now, the Euro and the American dollar are very close.
While dining out, expect to spend around €13 in Germany per meal or roughly €32 per day. Of course, this depends on what kind of meals you are eating, etc.
Food To Eat in Germany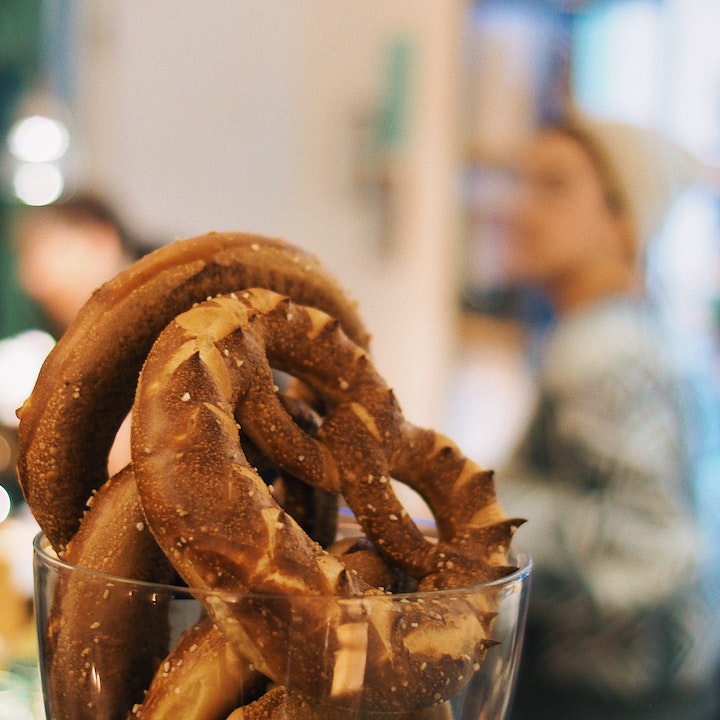 Remember to stash away any extra rolls from any hostel or hotel breakfasts in Germany. They are great for a snack or a small bite later in the day!
Pretzels and beer, please! Pretzels, or Brezeln, are a German classic and probably one of the most common foods associated with Germany. Think Oktoberfest! And pretzels and beer! These tasty snacks (or meals) were introduced to America centuries ago. Enjoy with spicy mustard, cheese, or cinnamon and sugar.
Spaetzle is a dish found most often in southern Germany. The pasta is a type of pasta or dumpling made with eggs, usually served as a side for meat dishes with gravy.
Schnitzel is a thin slice of meat that is usually pounded with a meat tenderizer, that is breaded and then fried. In Austria and Germany, Wiener Schnitzel is a protected geographical indication and must be made of veal, otherwise, it must be named slightly differently.
Currywurst is a piece of wurst, or a sausage, in a curry sauce. It is quite honestly, one of the most delicious things ever and on the top of our list of popular street food around the world.
You'll find sauerkraut with bratwurst, a very traditional German meal. Sauerkraut is sour fermented cabbage. Give it a try!
Goulash is a soup or stew made with meat and vegetables, seasoned with paprika and other spices. Although this dish originated in Hungary, it is found on many menus in Germany.

Doner kebabs is a type of kebab, made of meat cooked on a vertical rotisserie. These are simply delicious. Although this is also not a native German food, they are worth a stop in every city.
Apfelstrudel is a traditional German dessert. It's made with phyllo pastry and the filling is made with sweet apples combined with breadcrumbs, raisins soaked in rum, and cinnamon.
Schneeballen are pastries made from shortcrust pastry that are fried and dipped in powdered sugar. They are a delicacy of Rothenburg ob der Tauber, but you can find them in other places as well.
Drinks To Try in Germany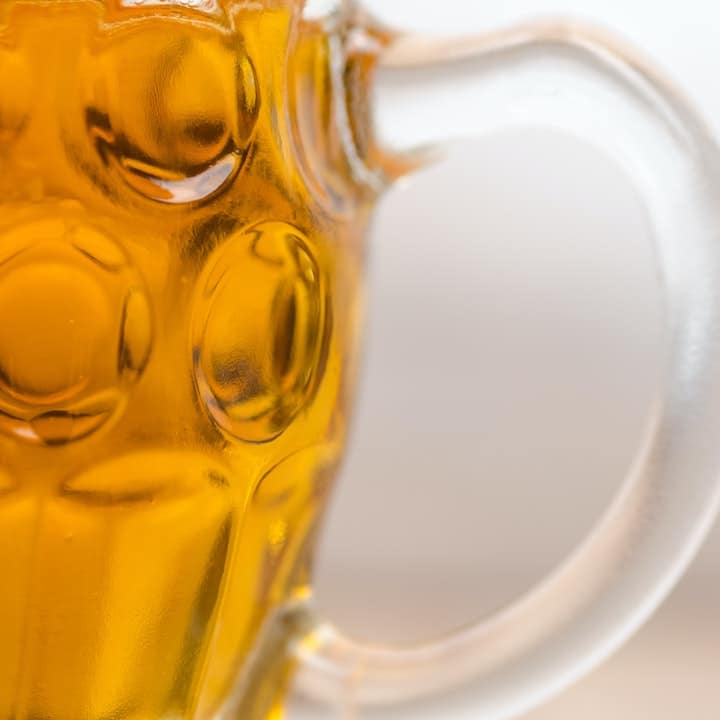 You have to try all the beer. Having a beer with friends or at the end of a long day is a part of German culture. Try as much of it as you can! And if you visit during Oktoberfest, only beers made in Munich are sold at Oktoberfest.
Gluhwein is a traditional holiday drink in Germany, red wine seasoned with spices, sometimes raisins, and served warm. Read more about it here.
Top Cities To Visit in Germany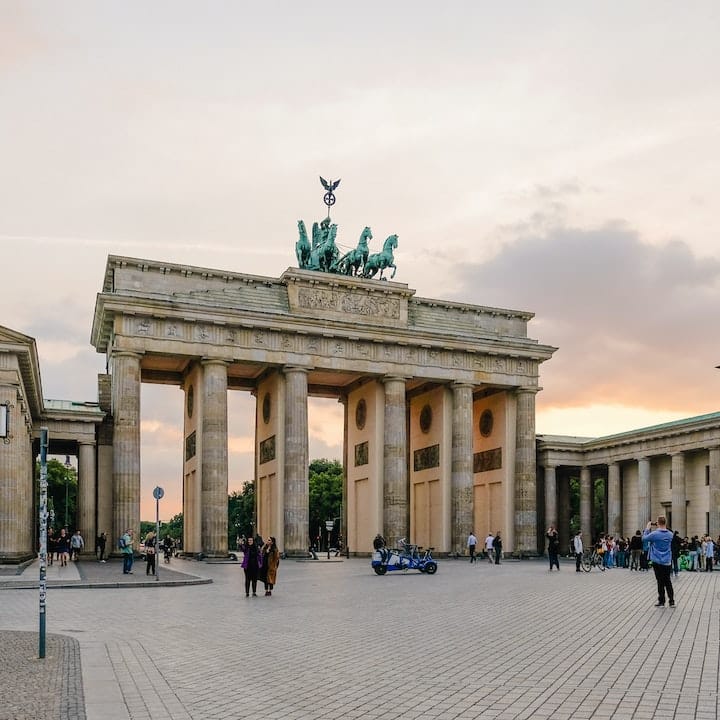 Germany is a large country with lots of different things to see and do. If you're looking for a more fairytale-like experience, you'll want to visit a town like Rothenburg ob der Tauber in northern Bavaria. Step into Rothenburg and you'll feel like you're in a storybook amidst the half-timbered houses, cobblestone streets, and old city walls.
It is a well-preserved old town, but keep in mind this is not the town or city for bars, clubs, etc. Many establishments close early in the evenings. Visit the Medieval Crime and Punishment Museum, St. Jakob's Church, and the Christmas Museum. Take a day tour or have some more fun with the Night Watchman's Tour. Also, pick up some schneeballen – trust us.
Ich bin ein Berliner! JFK's infamous sentiment translates to: "I am a jelly doughnut!" He was trying to say, Ich bin Berliner, that he was a citizen of Berlin. And for good reason! Berlin is a city full of history, delicious food, and it's a music lover's goldmine. In Berlin, you can see several historical sights from the Cold War and WWII, including Checkpoint Charlie, the East Side Gallery, the Jewish Museum, Memorial to the Jews, and the Brandenburg Gate. In addition to these sights, head over to Kreuzberg – a fun, modern area with little nooks and crannies like the Ramones museum. Oh, and eat all the currywurst you can find.
Hamburg is a charming, quirky port city. Another place for music lovers, has excellent night life, a delicious fish market, and tons of history (as most of Germany does). In Hamburg, you must visit der Fisch Markt, visit Speicherstadt at sunset (UNESCO site), the Miniatur Wunderland, the Rathaus, the Elbphilharmonie, Hamburg Dungeon, the Michel, and have a blast in Hamburg's nightlife scene – the Reeperbahn!
Heidelberg is a great getaway for poets, artists, romantics, and historians. Stroll down Hauptstraße, the main street lined with cafes, restaurants, and shops. Take a day tour of Heidelberg's old town. Visit the Heiliggeistkirche, Heidelberg University (founded in 1386, the oldest in Germany), and you must stop at Heidelberg Castle (also home to the world's largest wine barrel).
Take in all the sights as you stroll through this charming city. If you like museums, try the Pharmacy Museum, Cultural Museum, and the University Museum. Be sure to stop for some döner kebab, go on Philosopher's Walk, and be blessed by the bronze monkey on the Old Bridge.
Travel to Germany and you may end up in Munich. While this city does not have the same kind of charm as some of the others, it is still on our list of cities to visit in Germany. Here, you'll find the legendary festival of Oktoberfest – where thousands and thousands meet every year to drink beer, celebrate the harvest, and listen to traditional polka.
But if you aren't in Munich in September or October, stroll through Marienplatz and Viktualienmarkt, visit St. Peter's Church, Nymphenburg Palace, watch surfers on Isar's waves, have a beer at Hofbrauhaus, and take a gander at the Glockenspiel (but be careful of pickpockets).
Must-See Sights in Germany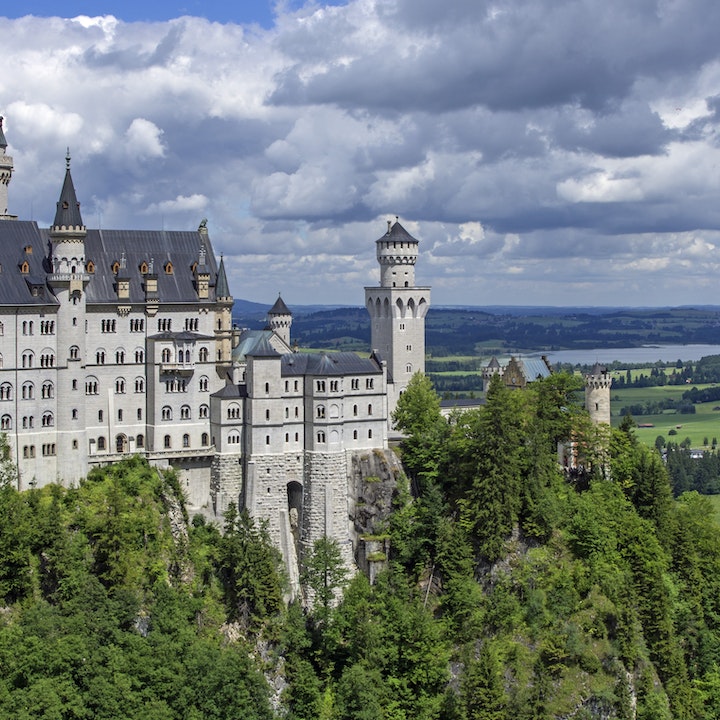 Neuschwanstein Castle (inspired Sleeping Beauty)
Brandenburg Gate
Cologne Cathedral (UNESCO)
Memorial to the Murdered Jews of Europe
East Side Gallery
Checkpoint Charlie
Heidelberg Palace
Hofbrauhaus Munchen
Victuals Market
Berlin Wall Memorial
Topography of Terror
Rhine Gorge
Reeperbahn
Asamkirche
Glockenspiel
Berlin Cathedral
How To Get Around Germany
Travel to Germany and you'll find that it is fairly easy to get around the country.
Bus: Bus system is strong and reliable. The best way to get to the more rural areas.
Train: Also reliable.
Subway: Efficient and easy to use.
On foot: If you stay in one city, you can see a lot on foot. Take advantage!
Flights: Domestic flights run often in Germany. It's easy to fly around the country or to another country because of its location.
Bucket List Experiences in Germany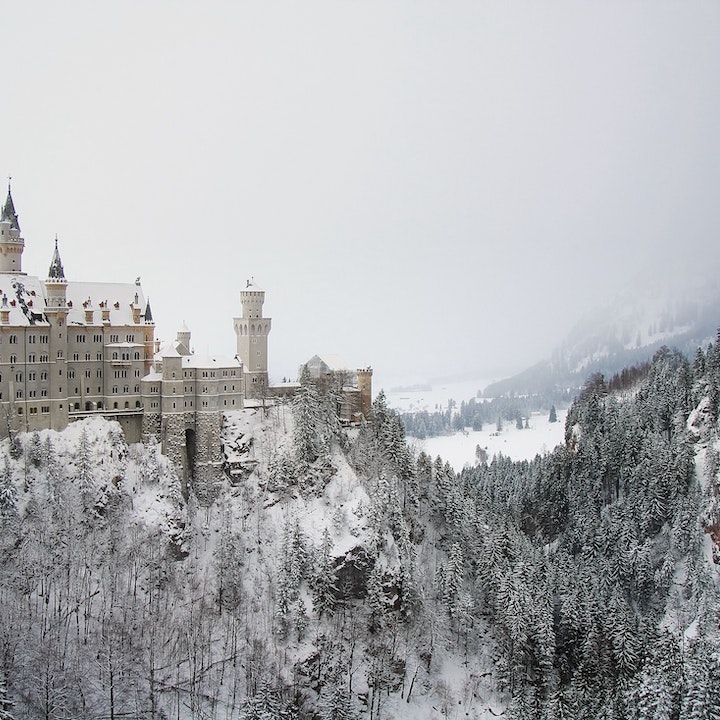 Wear your lederhosen to Oktoberfest.
Visit a traditional Christmas market.
Visit Neuschwanstein Castle.
Where To Book Flights
The cost of airfare can quickly eat up your budget.
>> Click here to find the best flights to Germany.
Where To Book Accommodations
Germany is home to some fantastic hotels.
>> Click here to find the best hotel deals in Germany.
Housesitting is a great way to cut down on travel costs.
>> Click here to find housesitting opportunities in Germany.
Hostels are an affordable option when it comes to accommodations.
>> Click here to find hostels in Germany.
Booking a vacation rental can help to save the budget.
>> Click here to find vacation rentals in Germany.
Stay safe! Read our guide on hotel room safety and security.
Best Travel Tours and Packages in Germany
GAdventures: The Best of Eastern Europe – 14 days
From fairytale Czech towns to Budapest, the Pearl of the Danube, experience the unique culture, food, and history of Eastern Europe. This two-week trip through six Eastern European countries offers an intriguing combination of urban centres, village life, and outdoor pursuits. Visit castles, churches, and romantic town squares, indulging in Berlin's café culture and Prague's beer.
TourRadar: Germany's Best – 8 days
Pay your respects at the Dachau Concentration Camp.
Visit the enchanting Christmas museum in Rothenburg.
Gaze at the awe-inspiring golden gates of Brandenburg.
Soak up the storybook atmosphere at Neuschwanstein.
ToursByLocals: Bergstrasse & Odenwald Forest – 3 days
The "Bergstrasse"(hill-road) is a delightfully scenic road that runs from Darmstadt to Heidelberg. It has lots to offer – castle, vineyards, old quaint towns & access to the lovely Odenwald Forest.
Additional Reading
Books: Buddenbrooks by Thomas Mann; Alone In Berlin by Hans Fallada; Why The Germans Do It Better;
Podcasts: Fest & Flauschig; Verbrechen; Zeitsprung
Movies That Will Make You Fall in Love with Germany: Run Lola Run; Goodbye, Lenin!; Das Boot; Sophie Scholl
Check out these Journo adventures of travelers who have been there! @ryanpage had an awesome journey!
Now that you've seen our guide for travel to Germany, what did you think? Did we miss anything? Leave us a comment below!